February 9, 2017. So, a few days ago your webmaster was sitting on the couch nursing a winter cold and looking at Marionette's Log 2016, lamenting that we were planning a stay at home program for the summer - meaning that we would not be able to 'defend' our title at the 2017 Camden Classic Cup regatta in late July.

Then - a thought! Maybe I could get another Dolphin, native to the area, to represent the class?

Then - another thought - why not get several Dolphins interested and organize a Dolphin Rendezvous? And, meet in Camden, and race together. Can't miss that!! Baring the unthinkable, Marionette will be there!
So, here we are. An email went out to the 12 Dolphin owners in Maine and at this writing we had several boats interested! We are standing by to hear from not only the other Maine boats but all Dolphin owners - here's the perfect excuse around which to plan that Maine cruising vacation! The race organizers will set up a special class just for Dolphins if we have 4 or more boats show up.
Maine, Rhode Island and Connecticut represented, so far. These are the boats/owners we have now - - still space for a few more.....
Jamie Weymouth - Dolphin, Camden, ME ..............Josh Gardner, TERN, Rockport, ME****.............Fred Croft - Paper Moon, Lincolnville, ME
Cliff Dasco - Maya Elena, Spruce Head Is, ME........Ron Breault - Marionette, Old Lyme, CT...........Jay Picotte - Recovery, Newport, RI
****Webmaster update, June 1, 2017 Looks like duty calls Josh to the west coast this summer and TERN may not even 'splash' this year. As of today we have the other 5 boats above registered, and 2 more possibles. Here's the link to the scratch sheet
This will be cruising class racing (no spinnakers or foiling boats). The real reason for going, besides meeting up with other owners and inspecting their boats, is the super venue and great shore parties organized by co hosts Lyman Morse (their Rhumb Line Restaurent below left) and the Camden Yacht Club (below right).
And, $50 of the entry fee is Tax Deductible!! It goes to LifeFlight of Maine which provides critical care transportation throughout Maine.
Marionette's experience at this regatta in 2016 is documented in this link - http://dolphin24.org/camden_cup_classic.html. And to see the official 2016 photos/video click here - scroll down to Official 2016 Camden Classics Cup Video
Here is the link to the Race website for 2017 http://www.camdenclassicscup.com/. The top bar at this link gives good regatta info including the schedule, and the Notice of Race which is listed in the Race Info section. We are working with Marnie Read at Lyman Morse on entries and getting more info on possible slips. Out of towners coming in by land can launch at Lyman Morse which is right there in the harbor.
Getting an early start on entries and slip arrangements will be important.
Webmaster Note (8:39AM): Just talked to Steve Pixley, the HarborMaster at Camden and have reservations for up to 6 Dolphins arriving Wed or Thur July 26 or 27 ($2/ft/day) departing Sunday morning July 30. Super location at the head of the harbor where Marionette stayed last year.
For information at Lyman Morse
Regatta Entries - Marnie Read - MRead@lymanmorse.com; Office: 207.236.4378; Direct: 207.230.8556; Cell: 207.266.9381
Yard Manager Bob Flight 207 236 4378; bflight@lymanmorse.com (launching/hauling)
Dockmaster Nancy Rowe 207 236 4378; nrowe@lymanmorse.com(slips/moorings)
Any questions Contact RonBreault@cs.com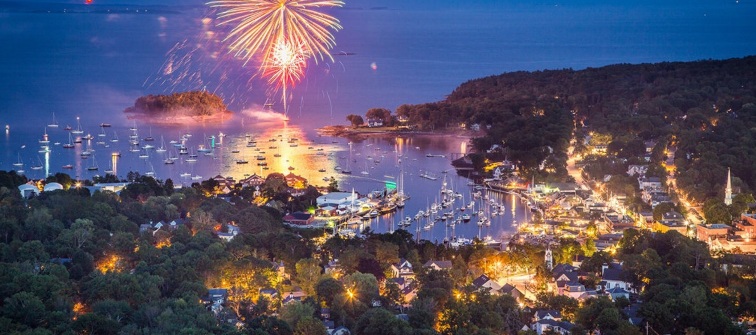 Hello Camden!
Webmaster Note #2, Feb 9, 2017 (9:52AM). Just completed Marionette's registration for this regatta. Saved $25 off the $300 registration fee because I registered early! That's the easy part. The hard part is getting there....Weather note: Winter Storm Chris has already deposited 6" on the ground in Old Lyme, 12-18" expected - indoors planning efforts for this rendezvous will help us weather this storm - provided we don't lose power/WiFi!!) 5:15 PM update 14" so far, wind 25-35 knots....
********************
February 10, 2017. Yesterday, your webmaster had an exchange of emails with Ted Smith, one of the regatta organizers.
Ron

Great news to have a Dolphin 24 fleet. Should we have some fun and call it the East Coast Championships, or even (like the local Toboggan races) The Nationals? This is our first one design class and hopefully the start of a trend.

All the best,


Ted
In depth consultations were held with the Dolphin24.org board (they voiced great concern over possible geographic envy from Dolphin owners from other parts of the country) if we called it the Nationals. Your webmaster proposed it be called the New England Dolphin 24 Championships, which has a nice sound to it. We'll let that idea roam around the ethernet for a few days before we have the Board vote on it.
Tips on filling out the Entry Form - we are in the One Design Division, and we are racing without spinnakers (Jib and Main)
Here's an aerial view of Camden Harbor with tags that show the key on-shore locations. The center of town is in back of the parking lot next to the Harbor Masters Dock where several Dolphins will docked (Note protection offered by the several nearby schooners)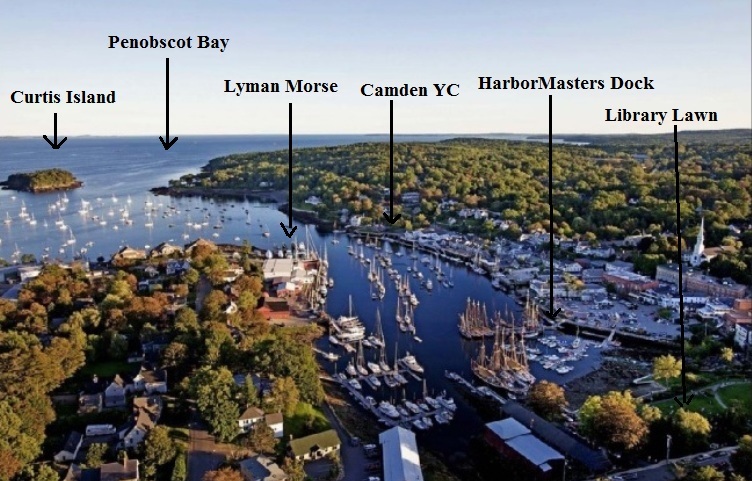 Stay Tuned
************************************
February 12, 2017. This happening for Dolpins in Camden started as a Dolphin Rendezvous and is evolving. We now have a Dolphin 24 New England Championships avoiding (narrowly) the weight of a National Championships. Dolphin owners/crew, past and present, who are not racing, are invited. And, if they wish, can assist in support roles - yet to be fully developed....
An example, Stu Polhamus and wife Cathy are coming up from Irvington, Virginia to meet other Dolphinites. His Equinox (http://dolphin24.org/Equinox.html) is his 3rd Dolphin, having bought his 1st Paciic Dolphin #271 new in 1977. In an exchange of emails, that started with a webmaster effort to get Equinox to compete, Stu emailed back (consolidated and edited)
Ron

Cathy and I have decided to come up (via automobile). Will arrive on the 26th and leave on the 30th. Sounds like a fun time. Will sign up for the parties both nights. All for a good cause. I think we actually belong to that 'assistance' program. We will be in Rockport

Best,

Stu
The Board will be meeting in coming days to develop an assignment for Stu and Cathy. Stay tuned
The ink is not yet dry on Stu Polhamus's offer of 'assistance' but we already have an assignment for him - the selection of the winner of the Ed Glover Award.

Ed, a past owner of Dolphin, an early O'Day homeported now in Camden, passed away a few months ago. His Dolphin is competing in the New England Championships. The award will be a bottle of Jack Daniels.

Click here for a larger image and you 'might' make out Jack's label.

The Board hasen't decided yet what this award will be for - stay tuned.

Webmaster postscript: Stu knows what he is in for - his comment re his assignment

Interesting. "Jack" is one of my sailing buddies also......
February 20, 2017
-
Since the Board approved our recommendation that this event be the host for our 2017 Dolphin 24 New England Championships, we have been working on a 'permanent' trophy with the help of Ron Noe, winner of the last Dolphin 24 Nationals Championship (1964?), and past owner of En Charette, Lunn #200
. W
ith a little luck, it will be found buried in one of those boxes he has in his attic/cellar. We hope to reconstitute it as our New England Championships Trophy.
Stay Tuned
And, this morning we got the following email from Marnie up at Lyman Morse
(minor edit)
Hi Ron,
I received checks from Stu Polhamus for party tickets and a donation for LifeFlight. We had a lovely conversation via phone.
Thanks so much for all your promoting!
Marnie
***********************************************.
February 27, 2017
.
The Board has made a decision re the NE Championships Trophy. Ron Noe (Encharette) did find his 1964 Nationals Trophy, a pewter tankard with glass bottom, but it was in pretty tough shape.....However, while searching, he found another trophy won that same year that the Board thought would do just fine. There is a Marionette connection....
Encharette won the 1964 Off Soundings Club Spring Series - total entries 52 - and Ron was awarded the trophy below.

It's a pewter (WRONG Sterling Silver!!!) dish with a perforated edge (left). We will mount it on teak blocks with new gold/brass, black lettering engraving plates, and a new center section disc for the new engraving.

Click on the photos for larger images
.
The magnet, below. On the right is the trophy on it's partially cleaned up blocks, freshly polished with new center plate in place, not yet engraved, and gold/brass plates not yet done.

Click on the photos for a larger view

In the 51 years since Ron won this Off Soundings Club series Dolphin 24's have won it 19 times! In the 1960s and 70s there have been as many as 8 Dolphin 24 entered.

A summary of Dolphin 24 winners will be in a separate 'exhibit' on display in Camden - a mock up of which you can see by clicking here.
More on the trophy in coming days
Website staff continues to check out possibilities for additional entries beyong the 6 we have at this date (above) - we are working on 2 'live' ones whose names are top secret. Recent updates on this project were posted from New Hampshire (Maggie) and New York (Onward and Arion)
Handicaps/Ratings. We are working on the 'handicap' system we will use to level out our Dolphins, without requiring rating certificates - inboards, outboards, roller furling, genoa size. Its very basic and is based on New England PHRF guidelines (updated to January 7, 2017) for one design boats racing in a non spinnaker event . All our boats are 'one design'. Base boat get 0 seconds (assumes inboard motor with feathering prop, or outboard motor retracted, 126% to 155 % genoa). These ratings are subtracted from the boat's finishing time. (Updated March 1, 2017)
2 bladed prop in aperature 0 seconds/mile (Corrected 3/1/2017)
3 bladed prop in aperature 3 seconds/mile (Corrected 3/1/2017)
4 bladed prop in aperature 6 seconds/mile

Largest Head sails carried - only one head sail to be flown at a time, no spinnakers (updated Feb 28, 2017)
105% of J or less 6 seconds/mile
106% to 125% 3 seconds/mile
126% to 155% 0 seconds/mile (base boat)
156% to 169% - 3 seconds/mile (added to boat's finishing time)
170% and over - 6 seconds/mile (added to boat's finishing time)

roller furling above deck drum gets 3 seconds/mile
As soon as we get all the entries info we will post the handicaps here.
*********************************************************
March 5, 2017. The permanent trophy still awaits two brass/gold engraved plates but has had an important 'international' component added. The trophy now has a custom made cast bronze dolphin - see right - mounted on the lower block. For the past 5+ years she has been laying on my computer moniter base reminding me to check what going on 'down under'.

This dolphin came all the way from Australia and was made by Alan Mountford (Blue Gum) Queensland, Australia. Her story is found by clicking here.

On her cruises in Maine Marionette has many times been escorted by dolphins, and it seemed this dolphin should to go to Maine also.

And, she will go in style.

Click here for a larger image
******************************
March 7, 2017. So, what about the Ed Glover trophy? Doesn't it need a a proper presentation? A quick tour around the Internet looking for Jack Daniels' bottle holders - and there it was - RusticShedHeads - $35 (photo at right)

Hey - I can do that! I just happened to have a model in my liquor cabinet, there's scrap wood all over the barn, nautical rope, too cold to work on the boat....

Click here for a larger image
Jack in the Box! Perfect fit! - note the latch

The Ed Glover Award will have a brass/gold plate with black letters - it is on order. It will go below the latch, centered on the door. And, there will be a full bottle behind the door! Click here for a larger image of the photo on the right.

Wonder what we will award this trophy for?

Think I'll have a drink....
Postscript March 8, 2017. We'll have an accompaning 'exhibit' explaining this award on display at Camden - a draft of which can be seen by clicking here. And, Jamie Weymouth advises we may be able to get Ed's 98 year old mom, Grace, to help Stu Polhamus with the award presentation.
*****************************************
March 8, 2017 Webmaster Note: Telling the webmaster you are entering this regatta is not the same as entering. Click here to see the up-to-date scratch sheet. And click here to go to the regatta Register page - The organizers use Regattaman as their system - it starts with asking for your email address, enter it and click search - the system guides you from there.
******************************
March 11, 2017. Engraved plates for our trophies arrived on the 9th, and had 6" of snow yesterday, so a good time to finish up the trophies before shovelling.

Here they are below with their accompanying descriptive displays.

And, we got Ron Noe (at right) to pose for a picture with his reconstituted 1964 trophy. Ron will be in Camden on Saturday to help us present the award.

Click on the photos for larger images.

Click here for an enlarged image of descriptive display for the Ed Glover Trophy

Click here for an enlarged image of the descriptive display for the New England Championship Trophy

We've had so much fun on this trophy project "Trophies" have earned their own page. Click here to go there
****************************
April 15, 2017. Regatta organizers posted the following update and a reminder for early registration discount ($25). Click here to go the full announcement.
Greetings from Maine!

Spring is here, which means summer is just around the corner! Time to finalize those summer plans to include the Camden Classics Cup, July 27-29. We will build on the success of last year's event with racing on Friday and Saturday. The Maine Maritime Museum Parade of Sail will kick off Saturday morning's race, and you won't want to miss the festive post race cocktails Friday night and the awards and dance party Saturday.We booked The Jason Spooner Band for Saturday night!

Deadlines are approaching. Sign up by June 1 to receive the Early Bird discount. Everyone will receive a 10% discount off dockage at Lyman-Morse at Wayfarer during the regatta. Call to reserve your spot on the docks at 1-207-236-7108. Check out the Scratch Sheet and Register Now. We are looking forward to seeing you this summer!
And, we are working on 2 additional possible entries for our Dolphin 24 Class - Stay Tuned.....
************************
May 2, 2017 This morning's Sailing Scuttlebutt Newsletter had an article about our happening in Camden. Here is the link
http://www.sailingscuttlebutt.com/2017/05/01/bringing-back-that-loving-feeling/
*************************************
| | |
| --- | --- |
| | June 6, 2017 Wooden Boat Magazine sent out the following email ad promoting the 2nd annual Camden Classic Cup regatta, July 27-29. As of today there are 27 entries including 5 Dolphin 24s racing in their New England Championships. |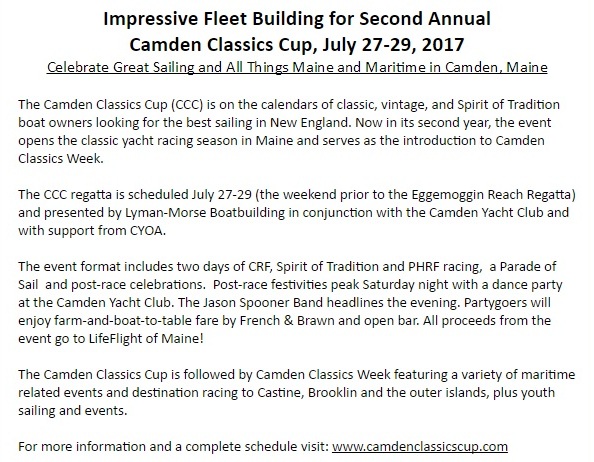 **********************************
June 22, 2016. Marnie Read at Lyman Morse needed a 'Class Flag' for this regatta. An exhaustive search of our files failed to surface our 'Class Flag', so, thanks to the efforts of our website staff, technical touch up skills of regatta staff, and baring the unforseen, here is our Class Flag - no doubt to be flown on the Race Committee boat signalling the start of the Dolphin 24 New England Championships.

Click here for a larger image

and

Click here for more on the Class Flag
******************************