August 29, 2020 - Burke Johnson is the new owner of Equinox. We've setup a new page - click here to go there
***********************************
August 1, 2020 We have a sad, and unfinished story to tell. The Rappahannock River YC's August Newsletter tells the short part of the story. Stay tuned for the full story. In the meantime Dolphin owners check your centerboard lifting tube and its joints/fittings.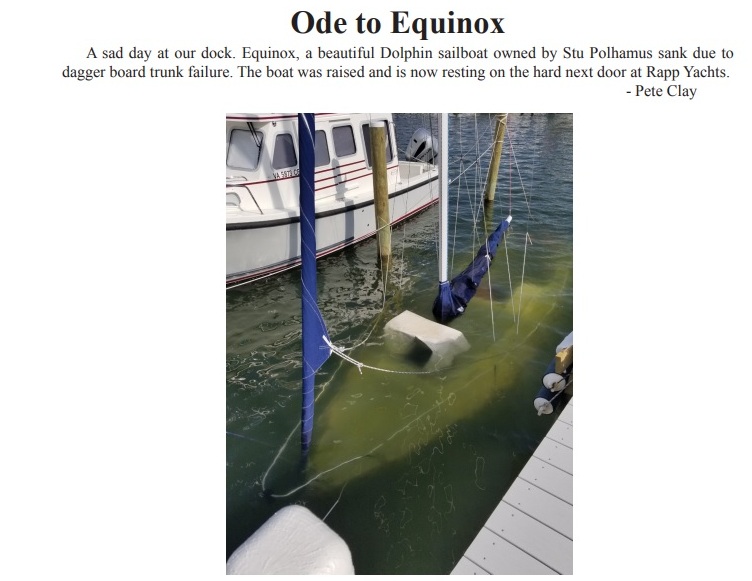 Stu is facing time pressure re the insurance settlement/etc. If anyone wants to talk him with re a salvage purchase/restoration project send me an email - RonBreault@cs.com
Stay Tuned
August 13, 2020 - Stu advised that Equinox has a new owner, Burke Johnson, who has bought Equinox out of salvage. We'll standby for Burke to check in and advise of his restoration plans. Stu has provided a dossier of painful sinking/salvage photos/videos which we will review with Burke and probably set up a special page - not a happy project for a Dolphin owner - but we're hopeful we have a happy ending.
Standing By
Fair Winds Stu
Welcome Aboard Burke
************************************
*************************************************
July 9, 2016. Stu Polhamus checking in as the new owner of Yankee #237. Stu is not new to the Dolphin game. He bought Pacific Dolphin #271 as a new boat in 1977, and is the current owner of Yankee #228. We have had several emails - here they are consolidated with minor edits.
Ron,

We can make it official - I now own Equinox, hull #237. After "sitting" for almost four years, there were some things that needed fixing.

Upon settlement on Equinox, former owner Mr. Baier had given the broker a wonderful collection (book - edition #2) of Dolphin info, apparently put together by you, which in turn the broker gave to me. (Webmaster Note: This is the Dolphin24 Website Book). I just got around to looking thru it. It appears that many ideas Mr. Baier had in working with George Prosser at 1st Mate Yacht Services came from the book.

Equinox hasn't yet reached Rappahannock River Yacht Club (RRYC) in Irvington, Virginia. The "brand new" 2012 Tohatsu suffered from four years of sitting with the original gas in the tank/fuel line/carburetor. She is now sitting at my friend's dock on Mill Creek off the Great Wicomico River in Wicomico Church. I heard from the mechanic today, and hopefully the motor will be reinstalled Sunday afternoon. If all goes well, I'll move the boat down next week.

I promise good photos once there. Also, I'll be sending some shots of hull #271 when it was new plus info to fill in her history, and an update on hull #228.

Best,

Stu


Standing by, and once again - Welcome Aboard Stu!

**************************************************
September 23, 2016. We got the following short update on #237 from Stu - more to come, (emails minor edits and consolidated)
Ron,

I have not fallen off the face of the earth. We've been away over 5 weeks this summer.

After "Equinox", #237, finally made it to Rappahannock River Yacht Club in Irvington, we had days and days of 90 degrees plus with no wind (typical of July/August on the Chesapeake).

Equinox is racing 10/1 & 10/2 in the Hospice Turkey Shoot Regatta on the Rappahannock River. More to follow.

Click here for a larger chart image

Click the return arrow on your browser to get back here

I would like to MAIL you some photos of hull #271 to go with the narrative. For some reason, I can no longer "scan" from my printer to my computer. Just need an address for you. DONE

When I visited the Dolphin site last night, I noted that #271 has a new owner. Had a great chat with Mike Yates and am sending him copies of the original Pacific Dolphin brochure & price list from 1977 (would be happy to send to you also). Told Mike that old #271 looks great. Mike said Tim McNally did a lot of good things to the boat.

More to come.....Best,

Stu

ps Will get photos of 271 to you A.S.A.P.

Webmaster Note: Click here to go to Tuuli, Mike Yates' Pacific Dolphin #271, and click here for Stu's report on Het Loo, Pacific Dolphin #271

****************************************
October 23, 2016. We've made an effort to incorporate some of the regatta brochure material into this report from Stu. Dolphin webmasters are not well known for their technology know how. Patience required.....Content on this report came in by phone, emails, notes and photos over the past 3 weeks - Stu's email below is consolidated and edited.
Ron,

Except for the trip bringing the boat from Annapolis to Irvington, this was only the 2nd & 3rd days that I have sailed the boat (five weeks away at 3 weddings this summer plus 90 degree + days with no wind). Boat performed very well, it was the skipper and his little buddy who didn't.

Racing was held on the Rappahannock River between the Robert O. Norris Bridge and Towles Point. There was good air for the Sat. race (7-9kts). Bad start. We were 3 minutes late at the line! That plus a bad move at the 3rd mark (covered by 2 big boats and had to make an extra tack). After all that, we lost to the Sailmaster by ONE SECOND on corrected time.

Sunday the air was light and flakey (4-6kts at start). Some wind shifts up to 90 degrees. We started 2 seconds after our line time in the pursuit race (slower boats start earlier, faster ones later). The problem was we started on the pin end of the line. A wind shift allowed the larger boats to catch and blanket us down the 1st leg. A little better wind later in the 5 mile race. Still did O.K. all things considered.

For 10 years I was ½ owner of Albatross, a CD 30. We sailed in the Turkey Shoot every year beginning in 2006. We finished 2nd in class twice and won our class last year! Albatross was 4th in class (Division 6) this year. On Saturday, her corrected time and ours was exactly the same. Love the Dolphin, but it has some problems (fixable) that I'm working on.

Click here for a larger image

I'm getting some photos from the race on Saturday and will send ASAP, plus some info on the history of the Turkey Shoot. My wife volunteers for our local branch, taking supplies and visiting non-medical patients.


Took off the sails and had the boat hauled yesterday "just in case" the storm (Hurricane Matthew) comes our way. One more race at RRYC on Saturday Oct. 22nd.

Best,

Stu

2016 Hospice Turkey Shoot Regatta
Final Cumulative Results - Fleet B Division 7 (non spinnaker)

Webmaster Note - the winning boat was a Sailmaster 22 - we know about this class of boat, also an S&S designed boat (#1743) - one of our Dolphin owners, Robert du Gast, sailed these same waters in one before he bought his Dolphin. Click here to go there.

Equinox heading out for the start on Saturday ("better hurry, we're late!!")

Left - Equinox on the reaching leg of the triangle course

Above - rounding the gybe mark (note the jib sheet positions - we'll hear more about this....)

Click on these two photos for a larger image

Stay Tuned
**************************************************
February 20, 2017. Stu is planning to come to Maine this summer for the 'Dolphin 24 New England Championships" being held as part of the Camden Classic Cup regatta July 27-29. Sadly, Equinox will not be making this trip but Stu has important work to do for this event! Click this link to go to our webpage for this event http://dolphin24.org/ccc2017.html
*******************************************
May 1, 2017 - Mayday!

RE: Boot Stripe scum & barbacles - 2016 season

Stu sent in the following photos taken when Equinox ended her 2016 season. I'm sure he will be sending in some photos of how she starts the 2017 season.

Click the photos for a larger image
Standing by
And then we received the following - "the new raised boot stripe" - click on the photos below for a larger image
Nice
May 5, 2017. Getting a new boot stripe requires captain and crew dress up too! Stu sent in the following picture of his new custom embroidered Equinox hats and sweatshirts, and a nice recommendation for the local embroidery business who made them for him. Your webmaster decided he need a new hat and these things require 'design patterns' and higher initial costs but.....

Click here for a larger image
****************************
July 29, 2017. Stu made a key decision at the Camden Classic Cup regatta, July 27-29 in Maine. Read all about it by clicking here
****************************
August 7, 2017 Stu sent in a couple of pictures taken from the race committee boat at the Dolphin 24 New England Championships being held as part of the Camden Classic Cup regatta, July 27-29 in Camden, Maine. They have been put up on their home pages - click their names to go there Paper Moon and Marionette
*******************
August 24, 2017. Stu is giving away a Dolphin spinnaker - you pay shipping costs - update September 1, 2017 GONE - TO MAINE!!!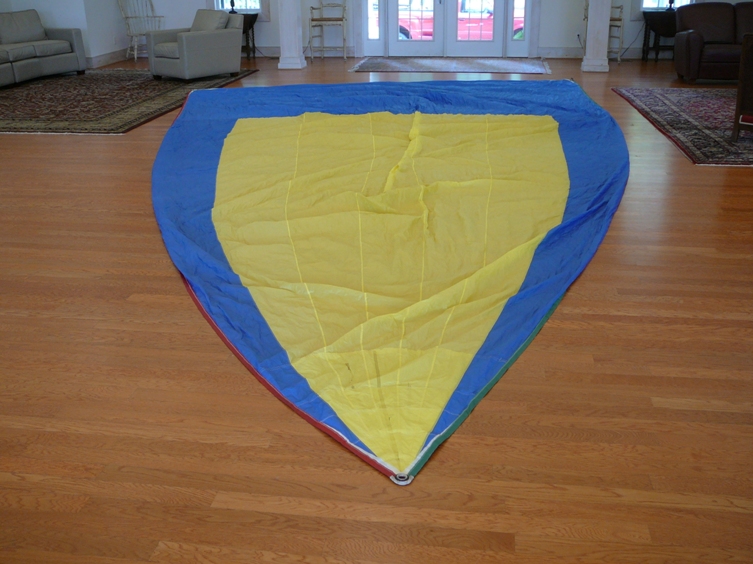 Click here for a larger image
***********************************
September 28, 2017. Catch up time - Stu and First Mate Cathy got lots of pictures at the Dophin 24 New England Championships up in Camden, Maine. We put together a gallery here on the website - click this link to go there - http://dolphin24.org/stu_cathy_gallery.html
And, its the end of September so its Turkey Shoot time again! Stu gave us a heads up - 80 boats entered so far. Here's the regatta website and a link to the preliminary scratch sheet for Equinox's class.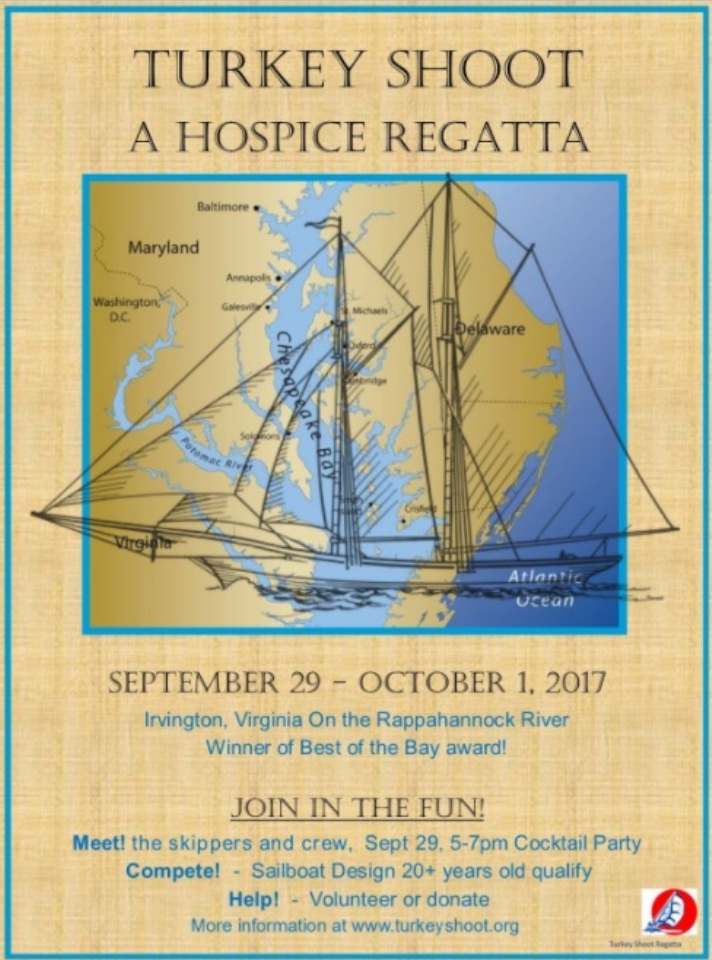 Good Luck, Stu!
Update October 2, 2017 Stu sent in the following report (edited)
Ron,

This website (https://yachtscoring.com/emenu.cfm?eID=4142) will give you all info about this year's Hospice Turkey Shoot.

Saturday featured winds at 18kts with gusts to 29kts. 1st time I ever reefed the main, so it was interesting. We were overpowered with anything more than a jib in front of the forward lower shrouds, except on a broad reach. Sea Gal won the triangle + 4th leg beat on Saturday. We finished 4th a minute 45 seconds behind the CD 27.

Sunday's winds were flakey, 11 - 18kts with lots of 45 degree shifts. In Sundays pursuit race (10 miles) we were 4th behind a Francis 26, a minute 45 seconds back. You can see all the boats and numbers on the above link. I will send you a crew photo when I get the camera off the boat.

All in all, it was two days of fun for a good cause.

Best,

Stu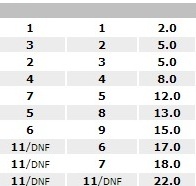 October 4, 2017 postscript - The crew (Jack, one of Stu's "sailing buddies" is hiding below)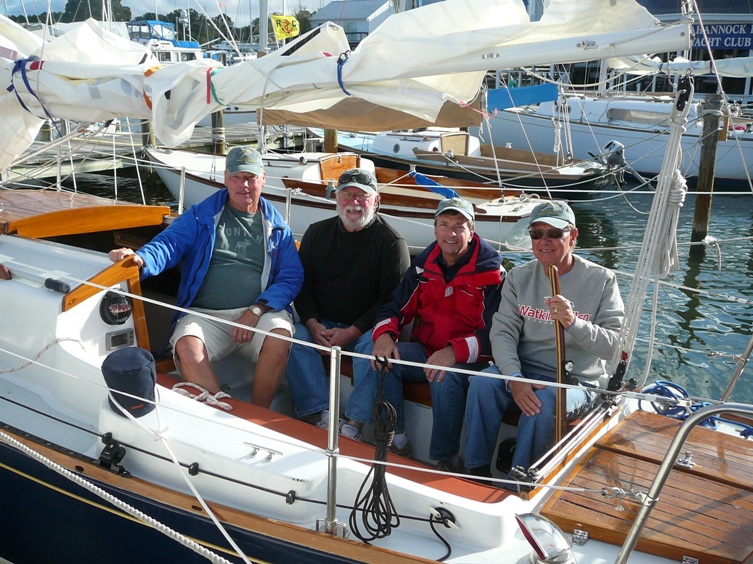 TURKEY SHOOT 2017 crew - L/R - Stu, Mike Geissinger, Brad Perry, Fred Pevahouse
October 8, 2017. Stu sent in a keeper photo of Equinox at the mark - breeze 18 knots, gusts to 29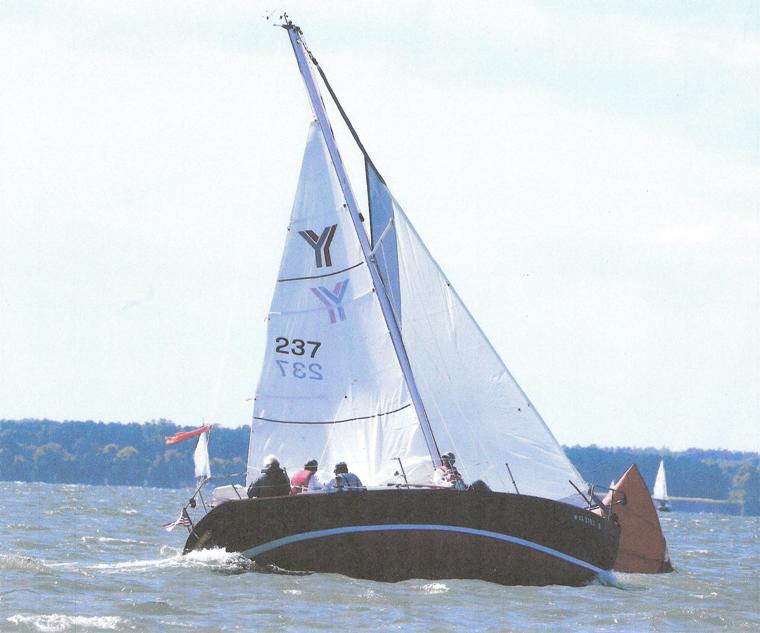 ********************************************************
November 8, 2017 Stu and Equinox were off cruising on Chesapeake Bay and, to prove it, sent in the following note (minor edit) and a neat sunset photo. Webmaster Note: That Cape Dory has a familiar look.....We'll stand by for an Equinox photo taken in Mailboat Harbor/Tangier Island, and Stu's related cruising report.
Ron,

Thought you might enjoy this picture of God's handiwork. Albatross, a CD 30 is in the foreground. Equinox is off to the left out of the picture. We were on a cruise to Onancock VA, Tangier Island, VA and Crisfield, MD. The vessel in the background on the right is the Lady Maryland, the only Pungy schooner left in existence.

Picture was thru a friend's phone. It is "very dark". The only thing you can see of the schooner are the masts against the sky. I'm on the left, but even in the original, you can't actually see our faces.

Best,

Stu

Click here for a larger image

**********************************
March 15, 2018. We got the following update from Stu, and the good news re Mark Wagner/DOL FYN and the 2018 Camden Cup Classic (CCC) click this link to go to there http://dolphin24.org/ccc2018.html
Stu had a key role to play at at the CCC last year - click this link to go there http://dolphin24.org/12_new_dress.html
Ron,

Marionette is looking good! (http://dolphin24.org/12_new_dress.html)

Got an e-mail from Mark Wagner this morning. Looks like he wants to race this year and asked if I was still interested in joining him for the CC. If things work out, I'm planning on coming. Equinox is nicely wrapped for the winter at Rappahannock Yacht Yard in Irvington VA, next door to the RR Yacht Club (photos below).

The 2012 9.8 hp Tohatsu that came with her has been removed. After attempting to repair the same problem 5 times I have given up. First I need to sell the 9.8, then either go all the way with a Honda or replace with a brand new Tohastu if the controls haven't changed. Winter has been long here in VA. When we 1st moved here in 2006, we played golf all winter. Not so the last three years.

Stay warm,

Best,

Stu

Click on the photos for a larger image

***********************************************
March 23, 2018 Well, we may not get Equinox up for the 2018 Camden Classic Cup/NE Dolphin 24 Championships, but we got Stu, again. Click here to check out his ride http://dolphin24.org/markwagners_DOLFYN.html
*************************************
July 22, 2018 - We got the following update from Stu. Mark Wagner/Dol Fyn had to withdraw from the Camden Classic/NE Dolphin 24 Championships so his crew, Stu, lost his ride - but he was hoping to come up again and watch.....
Ron,

Sorry I will not be joining you this year. Discussed with my friend and decided not to come up just to watch (it was great last year). I'm looking forward to lots of pictures and the results.

Please say "hello" to all fellow Dolphiner's for me. I still haven't been able to sell the 2012 9.8 hp Tohatsu. Cathy won't let me buy a new one until this one is sold. After eight weeks of advertising, one offer that fell thru when the person decided to buy new instead (warranty).

I've been busy at RRYC helping with the Spring Wednesday. night races, and the 2018 Typhoon Nationals, but miss just puttering on Equinox (still shrink wrapped at the yard).

Fair winds,

Stu

********************************************
October 7, 2018. Responding to a webmaster Turkey Shoot follow up plea we got the following reply from Stu
Ron,

It was a successful 2018 Turkey Shoot even without Equinox - still shrink wrapped from last October.

I had lots of fun. I helped run the water taxi for boats that anchored in the creek Fri/Sat/Sun. I also towed a boat without an engine (in the shop) to the start line both days and stood by to get it back into her slip after the races. My old boat partner on CD 30 Albatross sent me this from his phone so I thought I'd share.

The weather here is still nice. I always liked the Fall best for sailing (and sleeping aboard). I'm planning on being ready for next spring.
I wish it had worked out for the CCC. Maybe next year.

Best,

Stu

Click on the photos for a larger image
**********************************
January 20, 2019
We got the following update and 'crew message' from Stu regarding the 2019 Camden Classic Cup/Dolphin 24 New England Championships July 25-27 in Camden Maine - details - click here
Ron,

Happy New Year!

Open to coming up to the Camden Classic Cup this year if someone needs a crew.

Hopefully, Equinox will launch circa May 1st. Motor should be done and looking forward to a good year of sailing.

Best,

Stu

Webmaster Note: re the Camden Classic Cup - if you want to get in touch with Stu, contact me (RonBreault@cs.com)

***********************
April 15, 2019. We have a one liner update from Stu
Ron


Hoping to launch early May with POS Tohatsu outboard running well with all new fuel system, including tank.

Best,

Stu
************************************************
June 6, 2019 - Its D-Day! Stu has sent in his Equinox update
Ron,

Equinox is finally in her 2019 slip on the eastern branch of Carter's Creek in Irvington, VA. The entire fuel system was replaced from the tank to the carburetor, including all the fuel lines and fuel pump. I have sailed the boat several times since the May 25th launch without incident using non-ethanol gas and running the carburetor dry after each use. I'm hoping that the engine will continue to perform well for the season.

There are several races coming up, including a single-handed race on June 8th and a PHRF race on June 22nd.

Best,

Stu
Click on the above photos for a larger image
***************************************
June 26, 2019. We got the following storage idea from Stu
Ron,

I removed the settee back on Equinox's starboard side (shown in the photos below when 1st Mate Yacht Services was doing the restoration for the previous owner). This gives me a wider and more comfortable space for sleeping aboard. The problem then became what to do with the life jackets, cushions, etc. while underway on the starboard tack so they won't slide to the cabin sole.

My wife suggested a child's hammock. This one is 6' x 3 1/2' and weighs 13 oz. It was less than $20.00. If I want more room at the forward end while sleeping I just move the carabiner aft. The arrangement has worked very well. I can move the entire hammock to the vberth if I want even more room.

Best,

Stu

Click on the above photos for a larger image - and, since Stu had his camera Equinox posed for the following pic

**************************************
July 14, 2019. Update from Stu and the Rappahonnock River YC (RRYC) Spring Regatta Race results and report.
Ron,

Thought you would enjoy this. As I'm not docked at the RRYC this year (about a mile up Caters Creek) we didn't join in the after race festivities. Sorry the was no one taking photos, as there would have been some good ones. However, it's been great because I've set up the slip so I can leave and come easily when I'm alone. I wish more of our local boats would compete.

We have a Sailmaster 22, a Cape Dory 25, a Typhoon Senior, a Sea Sprite, a Cape Dory 27, and several other boats in the 22' to 27' range that with which I think we could stay competitive. Hippo is a custom 24' cutter rig with a centerboard that can plane off the wind with its' drifter. Freedom is a 28' Alerion. The J-30 has a nice set of racing sails. Pocahontas is a Gloucester 24 (local VA built) with it's O.B. on the transom so they can get it out of the water. They flew a hank-on 150 in the 1st race and were way overpowered. I reefed the main at the dock before we left the dock in the morning (it was a good idea) after reading the weather forecast. We reefed my 150 roller furling just behind the forward lowers for easy tacking. I think gusts were 16-18 kts. It was a fun day. We finished 4th.

The Hospice Turkey Shoot is Oct. 4th, 5th, 6th this year. I signed up today (14th boat). I'll send you the link. A friend just told me he's friends with Pat Saunders who owned Equinox when it was Stargazer. She now has a Typhoon. Looking forward to meeting her when she returns from RI.

Hope you are getting some nice days. Too many days in the 90's here. I only done 3 solo overnights, but they were great.

Best,

Stu

Click here to go to the Rappahonnock River YC Race results and report

****************************************************

December 2, 2019. The Rappahonnock River YC sent out its December newsletter, The Headway, which contained the minutes of their annual meeting.

Lo and behold, on page 5 was a picture of Stu accepting the 2019 Volunteer of the Year award for his untiring efforts helping with the races.

Congrats Stu!

*****************************************
February 14, 2020 Stu sent us a Valentine's Day present - an incredible video of a December 19, 2019 volcano erruption on White Island in the Bay of Plenty, New Zealand. Dolphins have a special connection to New Zealand - the Falcon 24 http://dolphin24.org/technical_Dolphin_with_fin_Keel.html
We set up a special page in our Stories Section to connect to this story and video. Click here to go there.
**************************
June 26, 2020. We've got important news about Equinox which is developing. We'll update in coming days. Stay tuned.
**********************************************
**************************************************************************

***********************************************

********************************************
Here is the history we had on Equinox up to when Stu bought her.
June 15, 2016. We have a report that Equinox has been sold. Standing by for more information.
************************************
January 23, 2016. We just learned that Equinox has been listed FOR SALE on Sailboat Listings. Here is the link to the ad http://www.sailboatlistings.com/view/51231, and below is a copy. There's a number of pictures on the ad, including one we already had - we'll move it up here because its such a great photo and worth a second look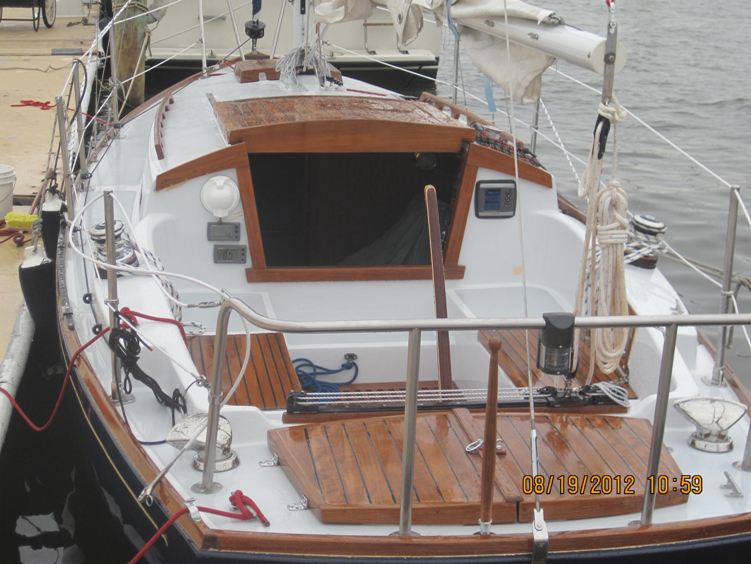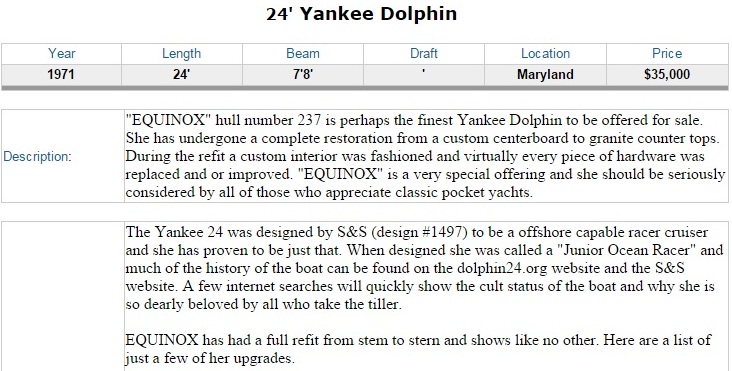 Equipment: The Yankee 24 was designed by S&S (design #1497) to be a offshore capable racer cruiser and she has proven to be just that. When designed she was called a "Junior Ocean Racer" and much of the history of the boat can be found on the dolphin24.org website and the S&S website. A few internet searches will quickly show the cult status of the boat and why she is so dearly beloved by all who take the tiller.

EQUINOX has had a full refit from stem to stern and shows like no other. Her condition is excellent

Here are a list of just a few of her upgrades.

Harken Roller Furller, Harken Winches, New Centerboard New 4 stroke outboard, Propane stove, New running rigging, Awlgripped hull, deck and mast, Custom teak interior, Garmin chartplotter, Raymarine Instruments

Location: ANNAPOLIS, Maryland
Contact Seller 410-268-2337

*********************************************

******************************************************************************

*********************************************************************************************
This is what we had on Equinox up to this point. On November 22, 2010 - We learned that Lowell Baier has bought Mo-Dean, Yankee #237, and that she will be under going a professional restoration by First Mate Yacht Services in Annapolis, Maryland. She will be renamed Equinox. Click here to go to Mo-Dean.
Webmaster Note August 21, 2012. In order to avoid unnecessary suspense we'll insert an 'after' photo right here, then go back to our normal chronological posting.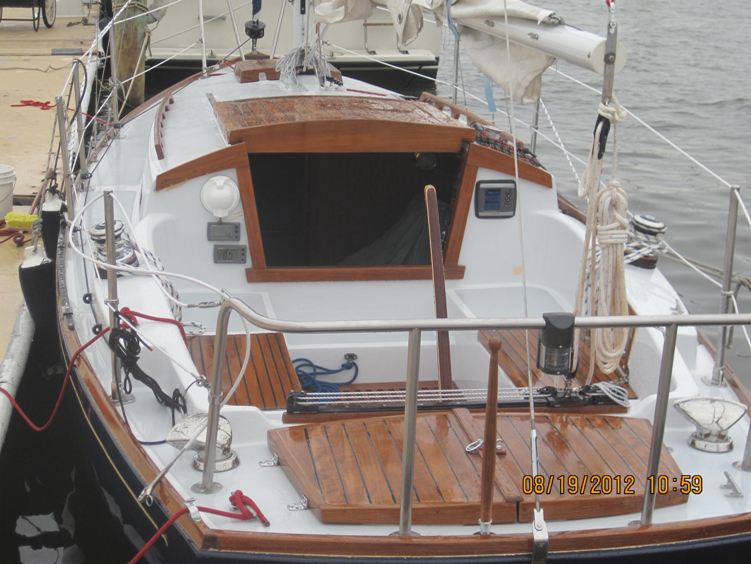 A Keeper
********************
February 3, 2012. We have been in touch with George Prosser of First Mate Yacht Services in past months as this restoration project slowly progressed. We had lost track on the current status and will follow up. Here's a picture that he sent us back in June, 2011 - just after some painting work.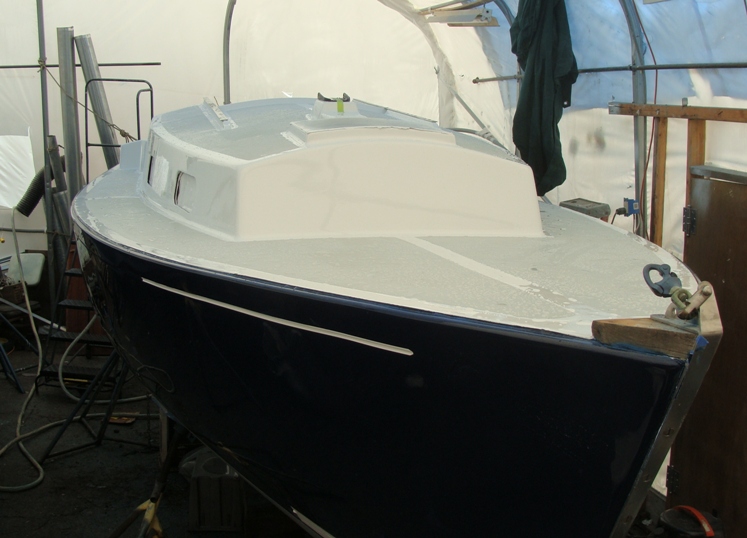 Stay Tuned
August 18, 2012. We have the following update and pictures from George Prosser of First Mate Yacht Services.
Ron

Here are some pictures of Mr. Lowell Baier's Dolphin 24 "Equinox". We are down to the last few bits of work and doing a sea-trial later today. She is a little beauty!

Regards,

Diane for George First Mate Yacht Services, Inc. 410-267-7782

This is a new, stainless steel centerboard - more info coming

Webmaster Note August 21, 2012. The 'blue box' next to the motor in the photo above left is a Seaward LPG Locker kit.

To find out more about these kits click here

That's a Tohatsu 9.8hp outboard in the well.

Stay tuned
August 21, 2012. Equinox was launched for her sea trials. Looking good, I'd say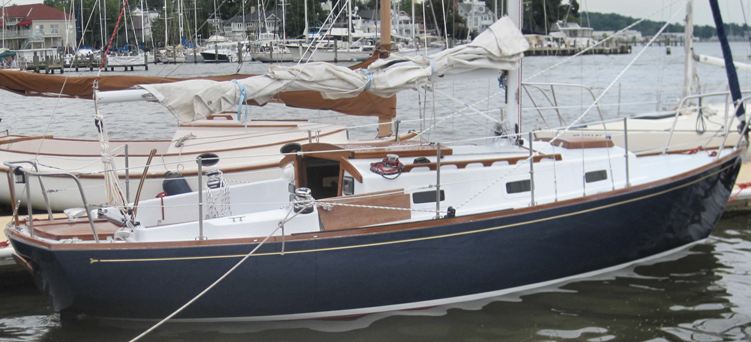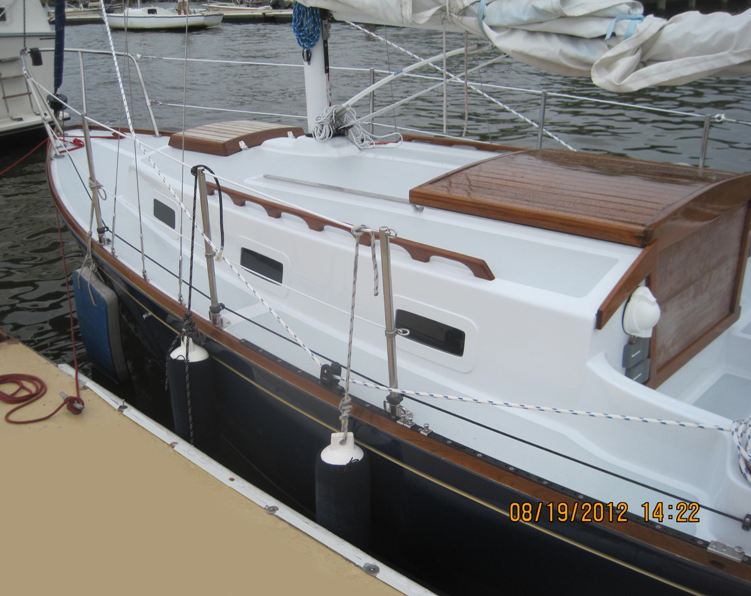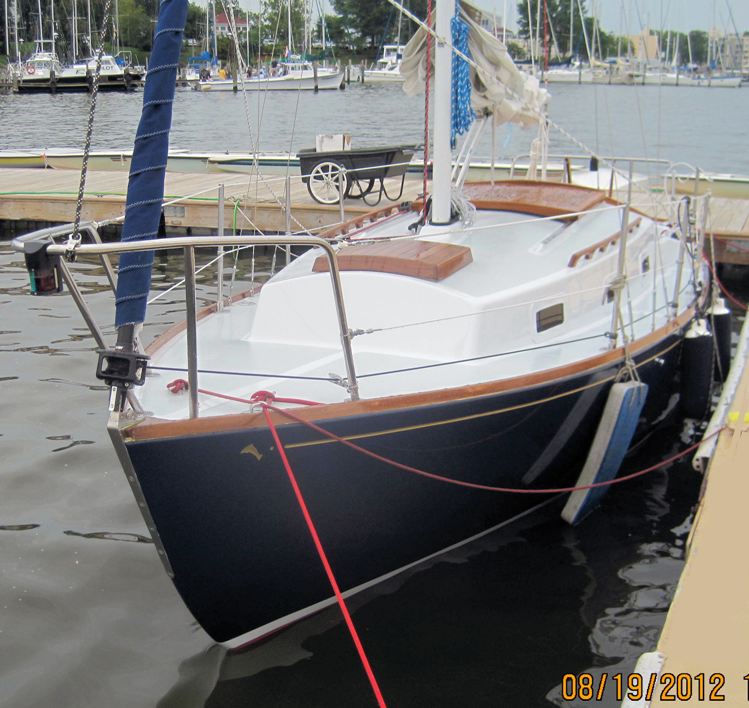 Nice work - I'll bet she sails well too!
********************************************