March 12, 2017. The recent effort to put together trophies for the July 27-29, 2017 Dolphin 24 New England Championships in Camden, Maine has gathered together great pictures and stories about these trophies. Here we will try to consolidate these materials in one file, adding pictures and stories that did not make it to the various webpages.
We'll start with the 2017 Dolphin 24 New England Championship (click here) to go there). NOTE: these trophies are in addition to the keeper trophies provided by the regatta.
The 2017 Camden Classic Cup will be the host for our 2017 Dolphin 24 New England Championships, and we have been working on a 'permanent' trophy with the help of Ron Noe, winner of the last Dolphin 24 Nationals Championship (1964), and past owner of En Charette (Savili), Lunn #200. With a little luck, that trophy we hoped would be found buried in one of those boxes he has in his attic/cellar. We hoped to reconstitute it as our New England Championships Trophy.
Ron did find his 1964 Nationals Trophy, a pewter tankard with glass bottom, but it was in pretty tough shape.....However, while searching, he found another trophy won that same year that we thought would do just fine.
Ron and his Encharette won the 1964 Off Soundings Club Spring Series - 52(!) entries in his Class B - and they were was awarded the trophy below.

It's a sterling silver dish with a perforated edge (left). We decided to mount it on teak blocks with new gold/brass, black lettering engraving plates, and a new center section steel disc for the new engraving held on by a neat magnet on the rear of the silver dish.

Click on the photos for larger images
.
The magnet, below. On the right is the trophy on it's partially cleaned up blocks, freshly polished with new center plate in place, not yet engraved, and gold/brass plates not yet done.

Click on the photos for a larger view

In the 51 years since Ron won this Off Soundings Club series Dolphin 24's have won their class 19 times! In the 1960s and '70s there have been as many as 8 Dolphin 24 entered in this class.

A summary of Dolphin 24 winners in this regatta will be in a separate 'exhibit' on display in Camden - a mock up of which you can see below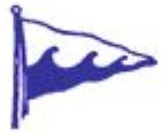 The Off Soundings Club is a yacht racing organization founded in 1933, with a membership of approximately 500 experienced racing sailors. Most of the membership is based in Connecticut, Rhode Island, Long Island, Massachusetts, New York State, and elsewhere in New England. The club does not operate a shore facility, but concentrates on managing two high-quality weekend race series per year, spring and fall, for its members and their invited guests. Spring racing, held in mid-June, usually occurs in Block Island Sound, out to and around Block Island. Fall racing, held in mid-September, occurs in eastern Long Island Sound and Gardiners Bay/Shelter Island.

"If you don't know how to lose, the penalties for past winners will teach you humility and the social graces of getting beaten. It's a wholesome and fun weekend for everybody racing. You go out and race harder next time. Whether it's fog or rain or calm or gale, it's smiling faces in slicker suits, or shorts or sweater; it's old friends and new; it's something very special; it's Off Soundings and it's got an awful lot of very good sailors and good sportsmen."

In the Spring Series Dolphins have won their class 19 times out of the 51 years since Ron Noe's Dolphin , En Charette , first won it in 1964. They had fleets in their class up to 52 boats, with as many as 8 Dolphins racing in the peak years 60's/70's.

1964 (52 entries) First, En Charette, Ron Noe

1965 (39 entries) First, Tiki, Joe Waldon

1968 (48 entries) First, Savili (En Charette) Carleton Granbery

1971 (40 entries) First, Savili (En Charette) Carleton Granbery

1974 (23 entries) First, Savili (En Charette) Carleton Granbery

1972 (30 entries) First, Tigress, Andy Anderson

1980 (15 entries) First, Marionette, Tom Marstrand

1981 (21 entries) First, Odile, George Watt

1983 (19 entries) First, Just Friends, Ed Purcell

1984 (22 entries) First, Tiki, Joe Waldon

1988 (11 entries) First, Just Friends, Ed Purcell

1994 (15 entries) First, Tigress, Andy Anderson

1996 (11 entries) First, Savili, (En Charette) Ed Dickerdorf

2004 (10 entries) First, Marionette, Ron Breault

2008 (12 entries) First, Marionette, Ron Breault

2012 (6 entries) First, Marionette, Ron Breault

2015 (6 entries) First, Marionette, Ron Breault
Here is the new permanent trophy still awaiting its two brass/gold engraved plates but with an important 'international' component added. The trophy now has a custom made cast bronze dolphin - see right - mounted on the lower block.

For the past 5+ years she has been laying on your webmaster's computer moniter base reminding me to check what going on 'down under'

.

This dolphin came all the way from Australia and was made by Alan Mountford (Blue Gum) Queensland, Australia. Her story is found by clicking here.

On her cruises in Maine Marionette has many times been escorted by dolphins, and it seemed this dolphin should to go to Maine also.

And, she will go in style.

Click here for a larger image
The engraved plates arrived on the 9th of March and during a 6" snow storm was a good time to fasten the plates before shovelling started. Here's the 'reconstituted' trophy with its accompanying descriptive display.

And, we got Ron Noe (at right) to pose for a picture with his reconstituted 1964 trophy. Ron will be in Camden on Saturday, July 29, 2017 to help us present the award.

Click on the photos for larger images.
****************************
March 12, 2107. While the above project was going on we had another Trophy to work on - this one named after a long time early O'Day Dolphin owner, Ed Glover, who passed away in September, 2016. His boat, Dolphin, spent many years in a barn in Hope, Maine, and is now owned by his good friend and business partner Jamie Weymouth - and Jamie is racing her in the New England Championships. Years back they sailed Dolphin together and the picture below was instrumental in the decision to have an Ed Glover award. At this writing this award has not been assigned to a specific achievement. The award will be a bottle of Jack Daniels.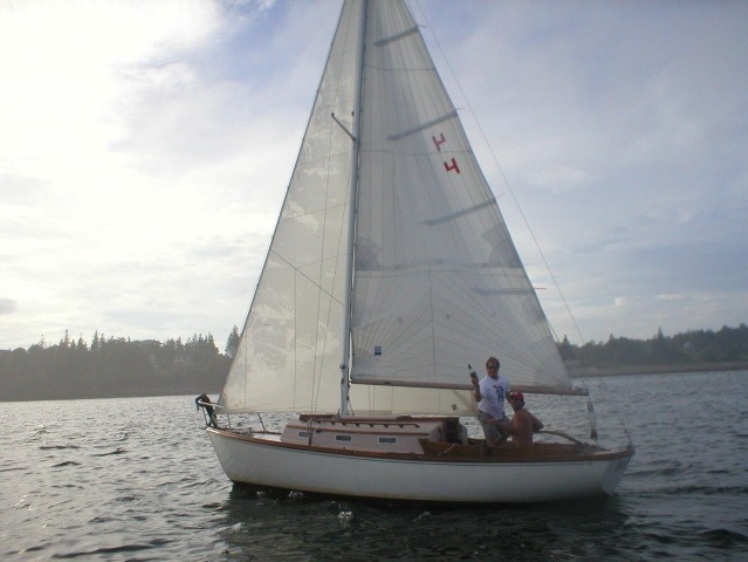 Click here for a larger image and you 'might' make out Jack's label.
Dolphin owners/crew, past and present, who are not racing, are invited tp come and watch Dolphins racing. And, if they wish , can assist in support roles - yet to be fully developed....
An example, Stu Polhamus and wife Cathy are coming up from Irvington, Virginia to meet other Dolphinites. His Equinox (http://dolphin24.org/Equinox.html) is his 3rd Dolphin, having bought his 1st Paciic Dolphin #271 new in 1977. In an exchange of emails, that started with a webmaster effort to get Equinox to compete, Stu emailed back (consolidated and edited)
Ron

Cathy and I have decided to come up (via automobile). Will arrive on the 26th and leave on the 30th. Sounds like a fun time. Will sign up for the parties both nights. All for a good cause. I think we actually belong to that 'assistance' program. We will be in Rockport

Best,

Stu
The ink was not yet dry on Stu Polhamus's offer of 'assistance' but we already have an assignment for him - the selection of the winner of the Ed Glover Award.
Stu knows what he is in for - his comment re his assignment
Interesting. "Jack" is one of my sailing buddies also......
So, this brings us to the trophy - a bottle of Jack Daniels can stand by itself but Ed would have preferred the right 'holder.
A quick tour around the Internet looking for Jack Daniels' bottle holders - and there it was - RusticShedHeads - $35

(photo at right)

Hey - Dophin24.org website staff can do that! We just happened to have a model in the liquor cabinet, there's scrap wood all over the barn, nautical rope, too cold to work on the boat....

Click here for a larger image

Jack in the Box! Perfect fit! - note the latch

The Ed Glover Award will have a brass/gold plate with black letters - it is on order. It will go below the latch, centered on the door. And, there will be a full bottle behind the door! Click here for a larger image of the photo on the right.

Wonder what we will award this trophy for?

Think I'll have a drink....
Here is the 'finished" trophy, with engraved plate and an accompaning 'exhibit' explaining this award which will be on display at Camden - a draft of this exhibit is below.

And, Jamie Weymouth advises we may be able to get Ed's 98 year old mom, Grace, to help Stu Polhamus with the award presentation.

Stay Tuned
The Ed Glover Award
Ed Glover passed away in September, 2016. He bought his Dolphin 24, Dolphin, in the late 1990's, checking in with Jim Huxford in 1999, our first webmaster, now deceased. His email to Jim is below - excerpted.

"Dolphin" One of the first O"Day Dolphins. I bought a Dolphin 24 a couple years ago, called "Dolphin" and spent most of her life in Long Island sound, then retired to Maine. She is a sweet sailing boat, on most any point of sail.

She is mostly in her original state, with all varnished teak and original gelcoat. The inboard was converted to a 10HP Vetus Diesel in 1990. I re-installed the marine head with a holding tank under the starboard settee. Some of the sails appear to be original inventory and are in remarkably good condition, but has a new main, blade and cruising spinnaker.

I do not know the hull #, have not located it on the transom or stern quarter. Any other information, advice you might have would be of interest, thanks in advance.

Smooth Sailing, Ed Glover, Spruce Head, Maine

Dolphin has been in her barn in Hope, Maine for several years. Jamie Weymouth took over her care in the Spring of 2016 and she is racing here in Camden. Below is a picture of Jamie and his best friend and business partner, Ed Glover, years ago sailing in "Dolphin ", and with their best friend 'Jack", in hand. Jack had a hand in the decision to have an award remembering Ed.

*********************************