May 15, 2022 We got the following email from Jamie. His Craigs List ad link is below along with a photo and ad info. Jamie has 2 other Dolphins - http://dolphin24.org/Avellar2.html and http://dolphin24.org/Camden_Black_Dolphin.html

Ron,

Its sad to say I will be selling DOLPHIN. But I have offered a $1000 rebate if the new owner races in the Camden Classic Cup this summer. Below is the link - more photo's to come once I clean her out more. Hope to see you this summer at the Classic.Cup

https://maine.craigslist.org/boa/d/camden-dolphin24-early-oday/7483200089.html

Cheers,

Jamie Weymouth

DOLPHIN an early O'Day Dolphin 24 - possibly hull #4. FOR SALE $8500.

New Main sail, New standing rigging
New top side paint
New Raymarine Wind, speed & Depth system
New Harken Traveler, New Bow roller
New Outboard motor bracket, New boom
Most of the running rigging is new as well. Many used sails included. Anchor and lines and much more than I want to list.


Needs some TLC below I hadn't got to that part yet. Wanted to make her safe for the family first. Has an old rebuilt Yanmar G-!0 that someone with the knowledge might be able to get her running again.
6hp British Seagull with some parts


Needs a forestay since I removed the furling jib for my new boat.

I was half way through the project but found another Dolphin so I decided to pass her on to the next lucky owner. Like any boat I have much more into her than the asking price. I will knock off $1000 if the buyer races her in the Camden Classic this Summer.

This is the history we have on DOLPHIN
March 22, 2016. Jamie Weymouth has checked in as the new owner of DOLPHIN. Jamie is no stranger to Dolphin as he has been on her many times with former owner Ed Glover. Below, we have a picture of the two of them, and their good friend Jack. Who's holding the bottle of Jack is not yet known. Pending receipt of new pictures we'll start with this one.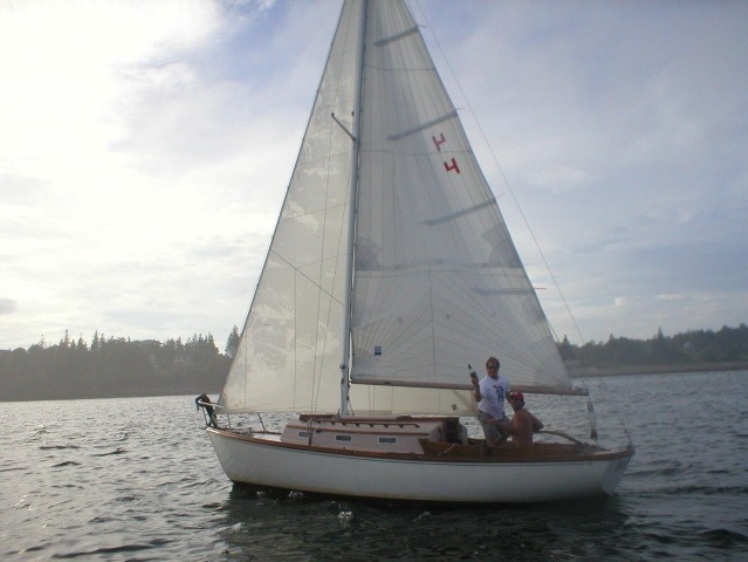 A good zoom might pick up the Jack Daniels label....
Jamie has also bought Black Dolphin, Lunn #219 and had her shipped up to Camden. Click here to go there.
We'll stand by for interesting developments from the Camden fleet.
Welcome aboard Jamie!
August 2, 2016. Your webmaster was in Camden over the past few days racing Marionette in the Camden Classis Cup regatta (we won our class!) and used this as a opportunity to deliver to Jamie something he needs to take care of while he takes care of Black Dolphin.

Right - Jamie and his Black Dolphin model - click here for a larger image

And click here for more on this Black Dolphin model, and other models

We are standing by for Jamie's report on his big boats
Webmaster Note February 12, 2017. Last December Jamie advised that his good friend and partner, and past owner of DOLPHIN, Ed Glover, has past away. They were planning to work together on Dolphin this winter. A quote from Jamie
I'm glad I own Dolphin - this boat will be a joy to sail and remember all the times I sailed with Ed. Jack and all.

******************************
June 3, 2017. DOLPHIN is getting ready for the Camden Classic Cup/NE Dolphin 24 Champpionships. The following email and photos from Jamie. Note the serious toe rail....
"Dolphin has finally seen the sun. Lots of work ahead. But it is a start."

Click on the photos above for a larger image - click the return arrow on your browser to get back here

****************************************
July 12, 2017. Jamie sent in the following update
Getting closer. She not going to be the prettiest boat this year but at least she will be in the water.

July 27, 2017 DOLPHIN checking in at the Dolphin 24 New England Championships - her new sails haven't arrived yet, and her cosmetics need some TLC but her promised motor was installed and she made it down from Belfast arriving shortly after RECOVERY.

We stand by for a report from Jamie but here's a few pictures - we're talking really neat classic details on this boat

Note the toe rail above, and tiller below

Click on the pictures above for larger images
August 19, 2017 . Here's a few more from 'the gallery'
Click on the pictures above for larger images
*******************************************
March 13, 2019. We got the following email from Jamie re the 2019 Camden Classic Cup July 25-27
Ron,

I just entered. See you this summer.

Jamie

**********************************************
August 6, 2019. Check out our 2019 Camden Classic Cup website page Here a great shot of DOLPHIN at the starting line.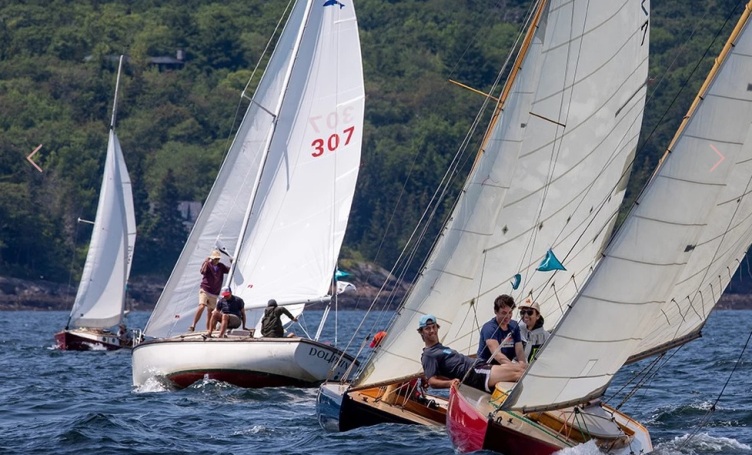 ********************************
July 27, 2021 Yesterday, your webmaster was cruising up Rt #1 thru Northport, Maine, killing time before the Camden Classic Cup regatta later this week. Ever vigilant he saw a Dolphin 24 in the Northeast Boatyard. Here's that story http://dolphin24.org/NorthportDolphin.html
*******************************
***********************************************
*********************************************************
****************************************************************
The following is the history we have on DOLPHIN up to this point.
January 25, 2016. Ed Glover advised today that Dolphin will have a new owner, and it looks like she will stay in Penobstot Bay, Maine. We'll stand by for the new owner to check in
Fair Winds Ed
June 15, 2015. This is a 'head's up'. We got a short email from Ed advising he is going to sell Dolphin. He'll provide more info soon.
Hi Ron
I am going to sell her. $4,500 as is : or $9,000 if I haul her out of the barn, varnish and polish. I will give you some more details in a further email
All the best
Ed


Stay tuned

*******************************************

*************************************************************
The following is our website content timeline on Dolphin. We first found out about this boat in early website days from an email we found in Jim Huxford's old website archives. There was no date but it was in with some others dated in 1999....
"Dolphin" One of the first O"Day Dolphins


I bought a Dolphin 24 a couple years ago, called "Dolphin" She was built in 1960, as I understand by Marscot Plastics, a division of US Boat - according to the scant literature I have.

"Dolphin" spent most of her life in Long Island sound, then retired to Maine. She is a sweet sailing boat, on most any point of sail.

She is mostly in her original state, with all varnished teak and original gelcoat. The inboard was converted to a 10HP Vetus Diesel in 1990. I re-installed the marine head with a holding tank under the starboard settee. Some of the sails appear to be original inventory and are in remarkably good condition, but has a new main, blade and cruising spinnaker

I do not know the hull #, have not located it on the transom or stern quarter. Any advice you have to locate this would be appreciated.

Any other information, advice you might have would be of interest, thanks in advance.

Smooth Sailing,

Ed Glover
Spruce Head, ME

******************
February 23, 2008. We have recently been in touch with Ed and look forward to pictures and an update
********************
October 22, 2010. Your webmaster, on a recent Fall mini vacation with the Admiral in Camden, Maine, went AWOL, found a nearby phone booth in which to put on his DFI badge, and then tracked Ed down. During our conversation he mentioned seeing a Dolphin with a light green hull - this is in addition to Ed knowing about Abbie Burgess, another(!!??) blue/green hull Dolphin found by your webmaster on this trip. We need to follow up on this...
As soon as Ed can get some Dolphin photos out of his old laptop, he will send them in. Dolphin has been in a barn in Hope, Maine for some years.
***********************
October 31, 2011. We have been holding off on this but, while we don't know exactly which barn in Hope, Maine, that Dolphin is in, we are sure she is in Hope. While we are still hoping for more info on this we have decided to call her a 'found Dolphin'! We also called Ed and left a message on his answering machine. And, later today he called back! See above.
************************
November 1, 2011. Your webmaster and Ed Glover finally got together by phone and email.
Ed advises that he bought Dolphin from a man who, he believes, may have been the first owner. That man lived in Connecticut but kept the boat in Maine. Dolphin was her name when Ed bought her in the late 1990's. Ed advises there is no nameplate on the boat. The sail # 4 on the main is highly indicative as, in these early days, it was fairly common to have a boat's hull number put on the sail. However, we have another boat, Ruby, nee The Rachael K, that also claims the hull #4. Stay tuned on this.
Dolphin has been in a barn in Hope, Maine for the past several years while Ed plays around with a wooden lobster boat. He is going to to do some research and see if he can find the documentation of his purchase and any other details which may help us track down the first owner.
Here are 2 more pictures. All were taken 6-7 years ago sailing on Muscle Ridge Channel in western Penobscot Bay, off Owls Head and Spruce Head.
Note that Dolphin has no lifelines and has an unusual reddish buff colored deck (Marionette, Marscot #12, has a reddish deck color - we call it red ochre)
***********************