October 24, 2010. Bill Thomas checked in Clover, formerly Jim Kurt's The Rachel K, with the following email and pictures: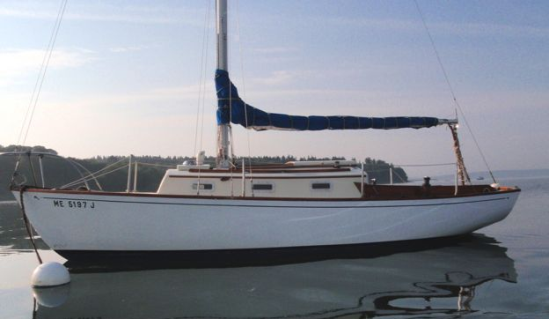 Hi Ron,

I wanted to touch base (something I should have done months ago) and let you know that my wife, Jane Ahlfeld and I bought Jim Kurt's boat the 'Rachael K.' last fall. We are very excited about the Dolphin design and proud to be the new owners of Jim's boat.

Jane and I are both instructors at the WoodenBoat school during the summer. Jane teaches navigation and small boat sailing. She also has her captains license. I teach small boat building, on water kayaking and small boat sailing and camping. Even though we live in southern Maine we spend most of the summer working on Penobscot Bay so we will be keep our Dolphin on one of 2 moorings off Eggemoggin Reach. One is in the Benjamin River, the other Great Cove which is the WoodenBoat waterfront. This season we got off to a late start but did have the boat in the water for about 8 weeks. In short, we love the way the Dolphin sails and look forward to cruising the coast of Maine during our weeks off each summer.

We have renamed the boat 'Clover' and have her at home right now tucked in to the dooryard in front of my shop. I'm planning on a major refit of the interior as well as deck painting and installing a new rudder this winter. I hope to start a blog on the progress of refurbishing the interior and systems.

Your website is fantastic and has served as a very useful tool. Our first big project was rebuilding and reconfiguring a used trailer to be able to tow the boat home. I have attached a drawing that you might find useful. Feel free to put it on the website. Also attached are some photos of 'Clover' in the water and on the trailer.

We are looking forward to crossing paths to other Dolphins owners.

Sincerely,

Bill Thomas

Clover approaching the Deer Island Bridge on Eggemoggin Reach
Clover in front of Bill's shop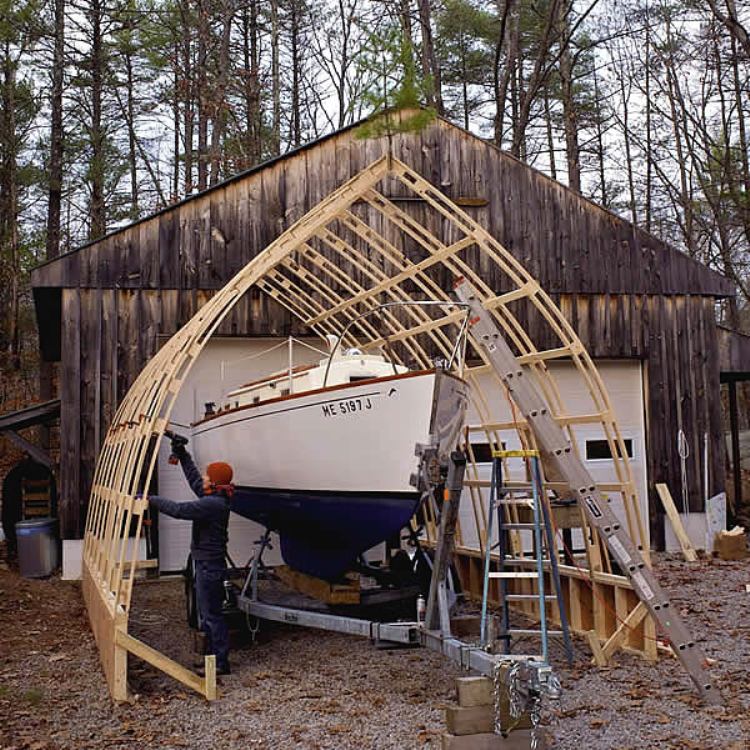 April 13, 2014 Webmaster Note. Bill's a professional at this game we play, and he also has a website. I noticed the above picture on his website this morning, and thought of those poor blue tarp souls without a shop or barn for their boat. Photo at left is Passage #10 at her old work site. Marionette was restored on the same site.

Here's the link to Bill's website http://www.billthomaswoodworking.com/index.html and here is his comment re the shed

The shed has turned out to be a great addition to the shop space. This winter Ruby is in another shop and I've really used the bowframe for a lot of other things. I'll miss having the empty space next winter when Ruby is back home. It'll be good to have her her though as I hope to get started on the interior work next fall.

Bill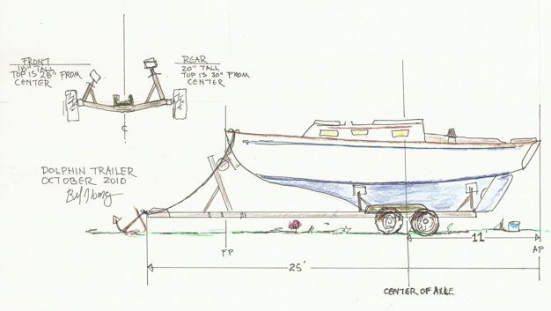 Bill's sketch of his trailer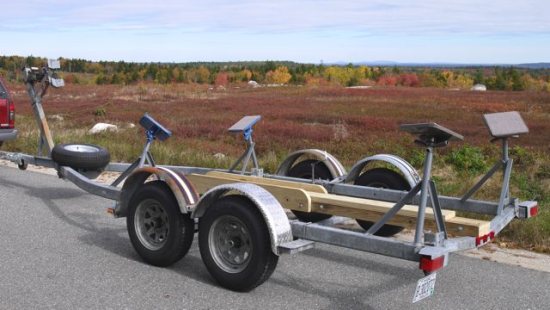 Clover's trailer
********************
November 10, 2010. Bill sent in a report on the building of Clover's trailer, It is included in the Technical Section/Trailers - click to go there.
*************************
June 27, 2011. We have an update from Bill on Clover. First they have changed her name to Ruby. Second, a major restoration continues and she won't be in the water this year. Third, Bill and Jane will still be cruising the Maine islands though - they are also kayakers - Dolphin style space issues in the tent, but no headroom issues in the boat. Here is Bill's email - edited.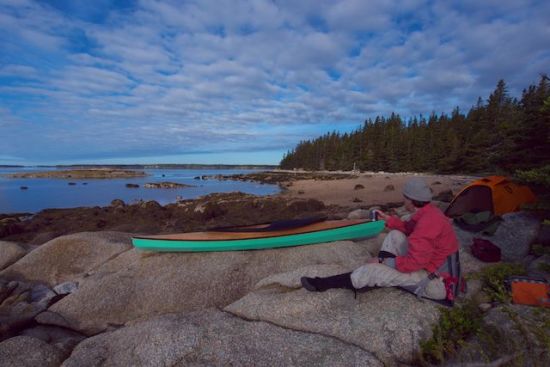 Hi Ron,


Great to hear from you. Not much to up date on Clover, except that we have changed the name to Ruby and instead of swinging on her mooring at WoodenBoat she's still on her trailer in our drive. Given the layout of our summer and a very busy spring she's not going in this year. We'll instead use the time and resources we'd spend on splashing her on much needed boat work and upgrades. Next spring she'll be in early and ready for a full out Maine summer.

We'll also be using some of that reallocated time to cruise Maine coast in our kayaks. As we paddle around Maine's islands I'm sure we'll be, in addition to living the the moment, planning next summer's adventures in Ruby. Above is a photo of my last cruise.


Bill

ps The boat in the photo I sent is a Fox Canoe, one of my designs. Last week I built 5 with students at the WoodenBoat school

*******************************************
August 11, 2012. We received the following update from Bill (edited), and an interesting dinghy side trip.
Hi Ron,

Ruby, sadly, is on the hard again this year in - she needs a new rudder. I had thought a yard I will not name, was going to make a new on last winter but they did not get to it. Strange as that's how they make a living. Long story short, I'll make the rudder myself this winter, and with luck, jump on some other needed safety and cosmetic up grades. First on the list is a bow-frame addition to my shop so I have unfettered access to the boat regardless of the weather. So, here's to next spring and Ruby's pending relaunch.

I like your tender ('TEER.) I've got a new design, Mischief - see below, which I did for family week at the WoodenBoat School. She's a simple boat to build. One of the design criteria was kids had to be able to build her and have fun. She also rows very well and is quite stable. I'll be able to give her a real test next week as she'll be out working as the tender for my class. Her duties will include carrying 7 people and gear to and from the boats each evening and to tag along quietly behind when not needed. I'll know her much better next Friday, that's for sure. Best get moving I need to pack gear for the class.

Hope to see you this summer.

Bill

ps  I have a prototype of the pram for sale. As is, she needs to be finished. I'm asking $250 if you know anyone that needs a project, and a good pram.

We've added Mischief to our Dinghy Section - more pictures too. Click here to go there

***********************************
November 22, 2013 We got the following update from Bill
Hey Ron,

Just checking in, and bring you up to date on Ruby.

The short version, I've made a new rudder her old one pretty much fell off when we hauled her. She's striped of all her fittings and getting all new paint. I'm wooding all the parts and bring the varnish back up. All the deck fittings will be re-beded when she goes back together. It's not exactly what we we signed up for, boats never are, but she's a really good boat and deserves the work.

I've got a busy winter lined up out in the shop but we'll find time to get her finished and in the water next spring.


Also, could you let Rowdy's owner know, hose clamps. I found hose clamps keep the screws on my trailer stands from backing out when I'm on the road. (see below) More as soon as I get caught up.

Thanks for keeping such a great sight going!

Bill Thomas

Webmaster Note: Bill's been keeping an eye on Jerry Slaughter's work on ROWDY (Marscot/O'Day #5), and her trailer. Click here to go there.

Above - new rudder after the 6oz glass went on. Made from 2 pieces of 18mm marine grade plywood.

Right - the new rudder in primer

Webmaster Note: a reminder here for those of us feeling inadequate - Bill is a PRO at this stuff - his day job is at Wooden Boat teaching students there how to build boats

| | |
| --- | --- |
| | New paint and a deck beam being fitted |

| | |
| --- | --- |
| | We left the toe rail in place and will varnish that on the boat. |

****************************************
February 12, 2014. We got the following update and photos from Bill re Ruby's ongoing restoration. Click on the pictures for a larger view, click the return arrow on your browser to get back here.
Hi Ron,
Thought I would bring you up to speed with our progress on Ruby. We have painted the deck, house and topsides with AwlGrip. I decided the job was beyond my skill level if I wanted a really top shelf job so I had Josh and the crew at Northeast Boat spray on the finish. She looks stunning. We took a bold step and moved away from white. We'll go with a blue bottom and white boot stripe. Still not sure what color for the cove stripe. The work has been pretty straightforward except for dealing with the seemingly limitless quantities of silicone calk used to bed every fitting.

"stunning" has it just about right


I'm cleaning up the wooden parts now and hope to have 7 coats of varnish on everything by the middle of March. I'll keep you posted. Wooden parts ready to be taken back down to bare wood and varnished. I'll do this in my shop

Bill

***********************************************

| | |
| --- | --- |
| | February 28/March 4/March 16, 2014. Bill answers an inquiry about Ruby's eyebrows. Click here to go to our Technical section |

****************************

March 23, 2014 These updates on Ruby are tough for amateurs to take

Hi Ron,
We're still in the embrace of winter here but thoughts and actions are starting to move towards spring and getting back on the water. Ruby's paint is finished.

Do we have to keep looking at this!!! Chin up, those of us who still paint with a brush...

All new Awlgrip on the exterior and several new coats of white paint on all the glass down below. I'll send more and better photos as soon as I can. The rudder is finished, but does it fit? We'll see soon.

Do you think he'll tell us if it doesn't fit? See June 1, 2015 below

My current project, 8 coats of varnish on all the wooden parts before they go back on the boat - just the right amount of wood. I should make a new lazarette hatch, maybe next winter.I'll keep you posted.


Note wood stove in the upper left corner; the 2 long curved pieces on the left edge of the table are the undercut cabin top grab rails


We sure are going to be careful with her!


Bill Thomas

Webmaster Note: We set up a page in the Technical Section/Rudders for Ruby's Rudder. Click here to go there. We'll set up one for the topsides and deck painting job when he sends in his new pictures. Maybe by then we'll be over this bout of depression

******************************************
April 7, 2014. Ok, We have a couple of Bill's new pictures of his paint job. Below is his email and a teaser. Click here to see the page we set up for Ruby's painting
Hi Ron,


Still a ways to go before Ruby gets wet this spring. The paint and varnish are done though. Just got to put her back together. How hard could that be? I can already tell I'm going to enjoy the renewed nonskid!

Bill




and

The purists will note Bill got the "O D" dots just right (the story? Click here and go to bottom of page)
***********************************
April 28, 2014. Bill has been exchanging comments with Jerry Slaughter (ROWDY, Marscot/O'Day #5) regarding bedding compounds and the infamous toe rail/clamp problems common to Marscot/O'Day built boats. He also commented on Ruby's toe rail. Click here to go to ROWDY's toe rail - here are his comments, excerpted and edited as they apply to Ruby
The only thing I did not pull off my boat was the toe rail. Every fitting was leaking but the rail seemed ok. I did rework the scarfs, check for visible signs of leaks and then varnish the rail with 6 new coats of top shelf varnish. I hope that does the trick.

I do know that 15-20 years ago a local yard pulled the deck off, replaced the shear clamp and rebedded everything along the joint. The toe and taff rail were remade then as well. The yard that did the work has a good reputation. (Seal Cove Boat Yard, Harborside, Maine) I repaired the forward deck beams last winter. I'll keep my fingers crossed this summer. Maine weather is harsh but the boating season is short. For us 4 months is stretching it out.

I'll bet in the last 20 years Ruby never spent more then 18 weeks a season on a mooring. She used to live on what might be the best most sheltered mooring in Maine. Note: Your webmaster knows something about this mooring (see below)


Bill

Webmaster Note: Marionette has spent many a night on this same mooring, and weathered Hurricane Irene there in August 2011!

It sits in the cleft of the heart shaped island known as Harbor Island at the top of Eggemoggin Reach. This Island protects Bucks Harbor and has been in Ruby's prior owner, Jim Kurt's family for generations. It recently sold to the Maine Conservation Trust.

For details check out Marionette's log at http://www.dolphin24.org/marionette_summer_2011.html

************************************************
June 14, 2014. So, your webmaster was up in Maine last week with the Admiral for the annual 'spring fix'. We were driving north on Rt #1 from Camden to Belfast, and as we motored through Northport I noticed a small boatyard on the left - the Northeast Boat Co - and in the distance I could see a blue hull boat with familar lines and those distinctive portlghts. With a roll of her eyes the Admiral approved a U turn and we returned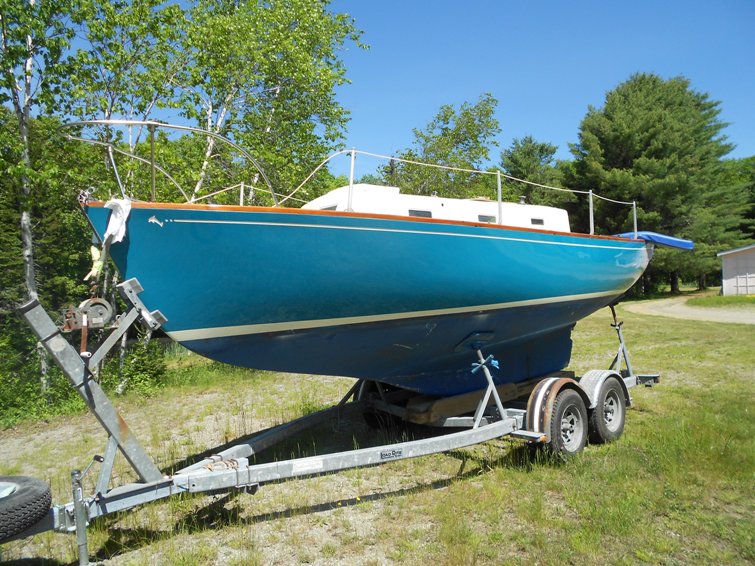 A chat with owner Josh Hobson and we found out she was Bill Thomas' Ruby in for some work. She was a long way from home. This effort is meant to be inspirational to DFIs everywhere.
*****************************************
February 27, 2015. Your webmaster is on Bill's mailing list for his woodworking business. He sent out a newsletter which included a Winter, 2015 update and photos. We could not help but notice Ruby's bow peaking out from her winter shelter in South Berwick, Maine.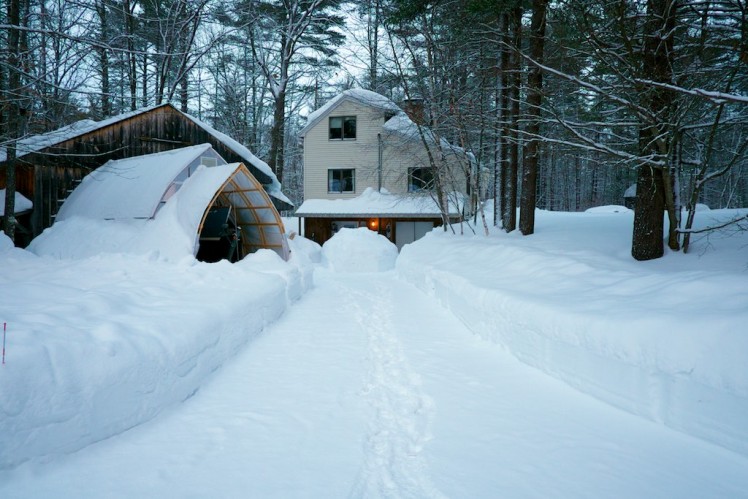 Ruby's off season mooring.
Here's an excerpt from Bill's newsletter
This winter started off looking like it might be an open one, cold but perhaps not too much snow. Well that sure changed! In the past 4 weeks we have gotten more then 65" of snow and at 6 this morning it was ten below. I've spent a big part of the past month moving snow out of the way. But I have to say I do love this weather.
For more pictures check out Bill's website at http://www.billthomaswoodworking.com/current.html
*****************************
June 1, 2015 We got the following update from Bill
Hi Ron,

Sorry for being so out of touch. Thought I'd try and catch you up on Ruby. We are trying hard to splash her in June. Our summer work in someways really enables us to launch and use our boat and in some ways makes it really hard. I can't quite figure this conundrum out? I do owe you and answer to a question you ask on the site awhile back. Regarding the new rudder I built, you ask "Do you think he'll tell us if it does not fit". Well we'll never know the answer to that question because it fit, perfectly!

To my way of thinking Ruby is more then ready to slide back into the water this summer. Thanks to help from Northeast Boats She has all new Awlgrip on her house, deck and topsides. We have also wooded all the wooden parts, applied 9 coats of varnish and rebedded every single deck fitting and part! Down below the overhead and most of the hull have been sanded and painted as well. The engine was gone over and the fuel tank flushed and cleaned out.

I did not get to any interior work this winter but instead focused on a new kitchen for our house. The new cabinets where built from reclaimed old growth vertical grain doug fir. Beautiful stuff and I'm sure a bit of it will find it's way into Ruby when I do get to the reworking of her interior. Our plans are for some luxurious camp cruising this summer.

Here's to a great summer for all Dolphins and their families! Bill

At Northeast Boats

Back home in her shed

Looking out at Summer

Back home last Fall

The kitchen that kept me from working Ruby this winter. Still some stuff do but up and running. I'll get back to the finishing details in the fall.

******************************************
March 25, 2016. We were waiting for Bill's update when over the transom we got his 'end of winter Instagram' https://www.instagram.com/billthomasmaker/. Among all the photos, hiding ioutside his woodshop, was this gem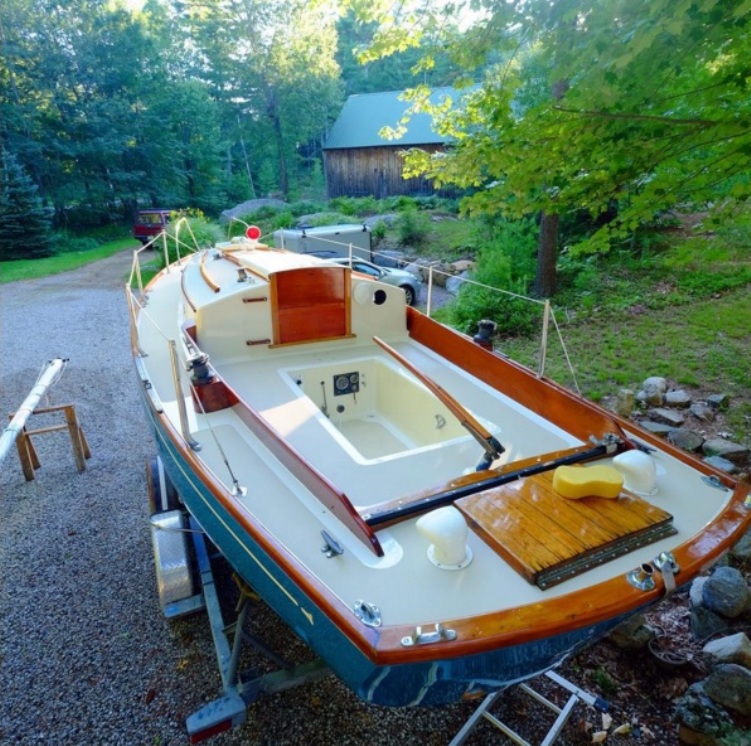 Ruby loves having her picture taken - the sponge is a prop lest we forget how she got to be so pretty....
March 25, 2016 Postscript: Bill was feeling pretty bad about making us wait for his update, reacting immediately with the following comments and pictures (minor edits).
Hi Ron,

Been way too busy trying to round up work and doing work. News letters, website up-grades, ads and then finally doing work just gobble up the days. Hopefully I'll plow through a bunch of stuff in April and can slow down a bit.

Ruby should come up from under wraps in April and move back into her old shed so I can do some inside painting and get her ready for the season. Dates are in flux but she should be in the water up in Brooklin this summer. I'm only teach there 3 weeks but Jane is there for 6. When I'm not off teaching at other locations or in the shop getting ready for classes I'll be up that way.

Time to get this new paint salty.

Bill

Click on the above pictures for a larger image

***********************************
August 13, 2016. Bill sent in the following launch at Brooklin Boat yard photo.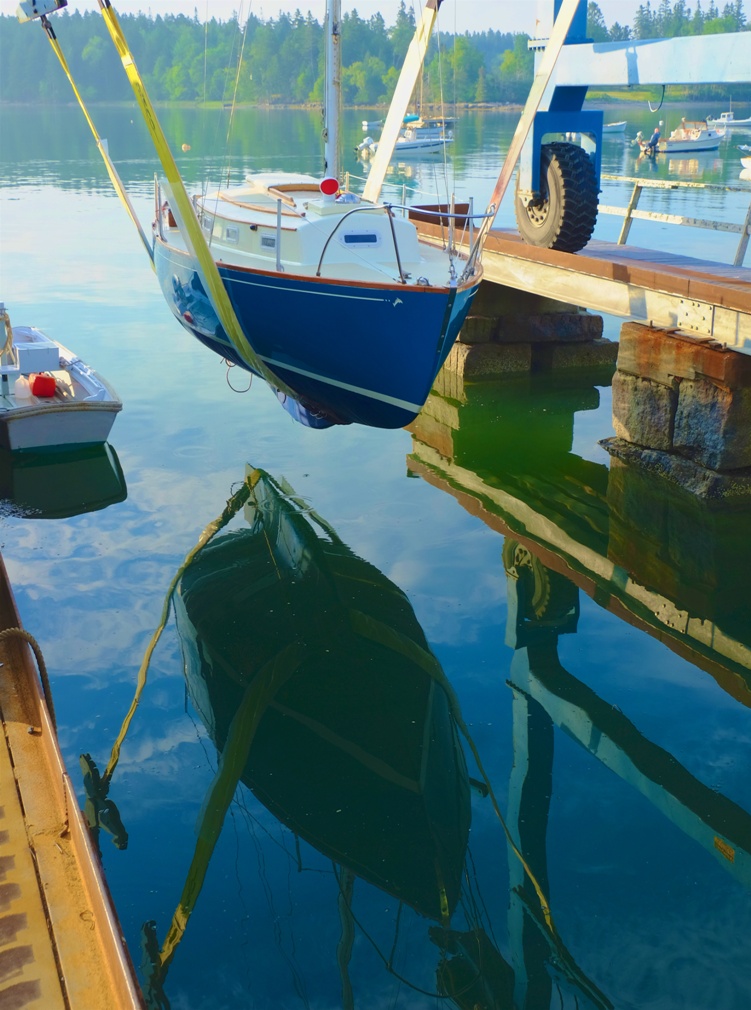 I think we'll keep this one....
at the Wooden Boat dock - we'll keep this one too.....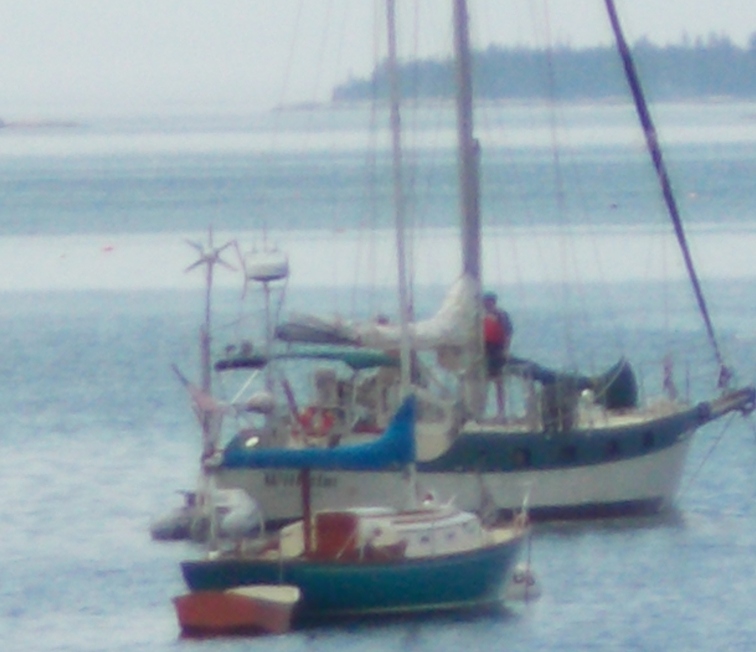 August 17, 2016 update - And here, taken by your webmaster from the shore, in the fog at her Wooden Boat mooring - maybe we won't keep this one..... .

August 19, 2016 - above - taken by your webmaster from Marionette cruising by with 'chute' up.

At right found in your webmaster's inbox when we got back to our house. I'll bet Bill built that dinghy.....He did - that's Mischief

Click these photos for larger images
**************************************
September 12, 2016 Bill and Jane are closing out Ruby's summer. I am sure she was glad to get back on the water in her new dress....
Ron

Great seeing you at the school even if it was just for a moment. The pace of summer! And we have to haul this week. So very sad.


Bill
********************************************************
September 16, 2016. Bill's report - Ruby's sad - she's hauled.....Click the photos for larger images.
"we hauled - so sad"
***********************************
January 28, 2018. Bill sent in a couple of emails and pics (edited and consolidated)
Hi Ron

Hope you're well and warm this winter. Weather is all over the place! Cold all week and warm this weekend. Ruby's tucked in and safe. I say she's our last boat because she is the perfect boat for us. You of all people know what gems these boats are. If we keep sailing our own boat we'll keep this boat forever. If we scale down no other 24' could ever replace our Dolphin.

Fall vanished, I'm not sure what happened, and winter set in hard and cold. My plan right now is to stay very close to home until mid March, to keep the fires burning and to dig deep into a big backlog of client projects.

We've also been working hard to build a new website and are almost, and I mean like just a few hours work away from going live with the site. But, those few hours are elusive little devils .......Expect an announcement soon about the Bill Thomas Maker website. Right now here's a link to our present website. http://billthomaswoodworking.com/

Stand by, and stay warm,

Bill
**********************************************
May 12, 2019. Just in from Bill - what to do in between seasons - he's a boatbuilder/teacher. Here's an excerpt....For the full story click here
Spring has been slow in coming, but it is coming. On its heals will be summer and time on the road leading classes. I'll be teaching 7 weeks between now and early September. A full calendar for sure but the classes I get to teach, the students I meet, and the places I get to work, I can hardly wait to get started. Out in the shop, along with getting close to 20 kits ready for classes, I'm finishing up two kayaks for clients and I have two furniture projects going together. It is going to be a busy spring and summer.

Life is about balance, the things that matter most doled out in appropriate doses. For me I try to balance work with rest, friends with time alone and most important of all, to spend time outside. While teaching I get to travel and camp and in the fall I like to take some longer trips. But for now, when work is narrowing my options for getting away I fall back on short quick hiking or kayaking trips.


| | |
| --- | --- |
| Last Tuesday I worked a full day and then tossed a basic kit into the van and headed up to the White Mountains. Found a place to camp, made a simple meal. Built a fire and then slept well. Wednesday I was up early and did a hike into the Great Gulf Wilderness. Dinner out and home by 9. I was gone less than 30 hours and drove less than 200 miles but it feels like I had a real adventure. These short outings to hike or bike or paddle or even just take the van and explore Maine are so important! | |

***************************************************