April 7, 2014. We have been threatening for some time to gather together the pictures we have of the paint job that Bill Thomas got for his Ruby, Marscot/O'Day # 4. This is because we have had some concern for the mental state of those of us still struggling with our brush technique. Lets start with how she looked BEFORE Bill decided to paint her.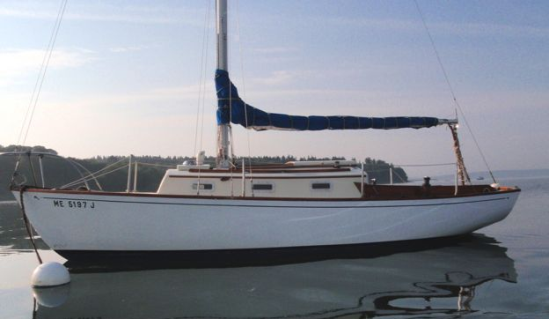 Most of us would like our boats to look this good
On February 12, 2014 we got the following update and photos. Click on the pictures for a larger view, click the return arrow on your browser to get back here.
Hi Ron,
Thought I would bring you up to speed with our progress on Ruby. We have painted the deck, house and topsides with AwlGrip. I decided the job was beyond my skill level if I wanted a really top shelf job so I had Josh and the crew at Northeast Boat spray on the finish. She looks stunning. We took a bold step and moved away from white. We'll go with a blue bottom and white boot stripe. Still not sure what color for the cove stripe. The work has been pretty straightforward except for dealing with the seemingly limitless quantities of silicone calk used to bed every fitting.

"stunning" has it just about right
On March 23, 2014 Another update - tough for amateurs to take
Hi Ron,
We're still in the embrace of winter here but thoughts and actions are starting to move towards spring and getting back on the water. Ruby's paint is finished. All new Awlgrip on the exterior.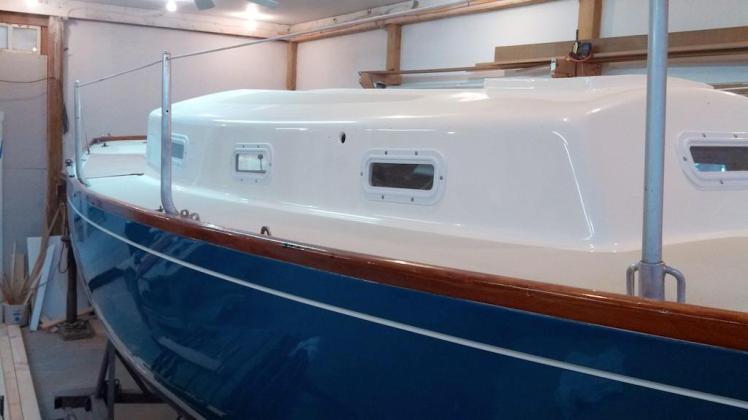 Do we have to keep looking at this!!! Chin up, those of us who still paint with a brush...
*****************************
On April 7, 2014. We have a couple of Bill's new pictures of his paint job. Only wood assembly left to go. Below is Bill's email
Hi Ron,


Still a ways to go before Ruby gets wet this spring. The paint and varnish are done though. Just got to put her back together. How hard could that be? I can already tell I'm going to enjoy the renewed nonskid!

Bill
We're missing a close up of the arcing Dolphin at the bow end of the cove stripe.....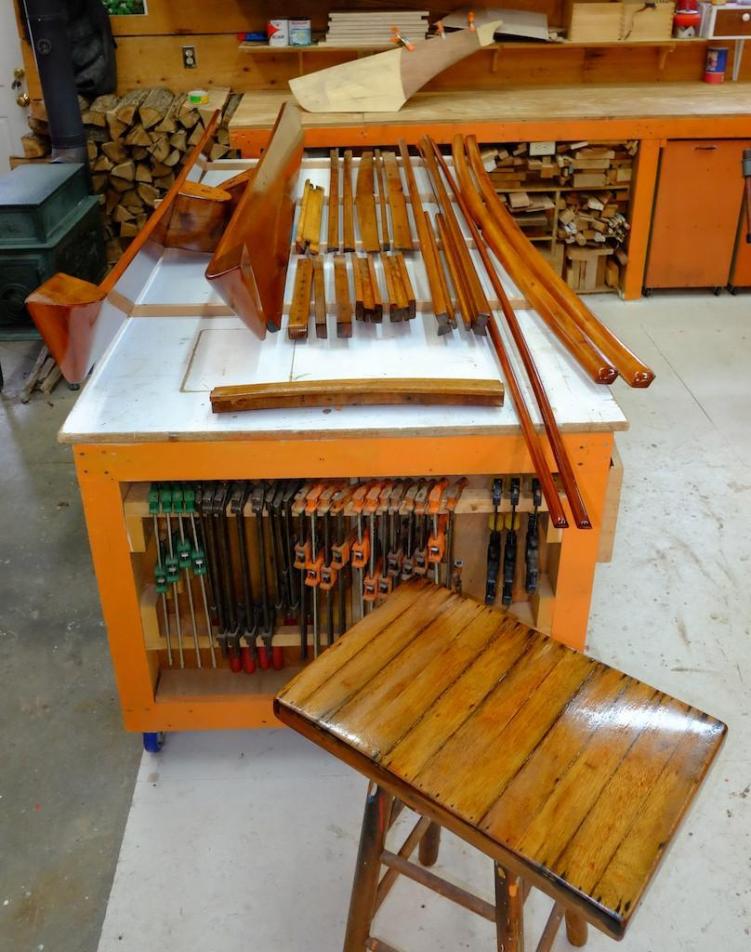 plus the main hatch and companionway boards
Just in over the transom

The purists will note Bill got the "O D" dots just right (the story? Click here and go to bottom of page)
Stay tuned