October 19, 2009. The Rachel K's long time owner, Jim Kurt, called and reported that The Rachel K has been sold. The new owners, Bill Thomas and his wife Jane Ahlfeld, live in Maine and work at the Wooden Boat School in Brooklyn, Maine. They have renamed the boat Clover (now Ruby) - click to go to her page.
Back on September 27Jim sent in a hand written letter announcing that, after 43 years, he has he has decided to part with The Rachael K. She's not too old, he is! The following is his simple, and very interesting ad. His covering letter describing the boat and its restoration appears at the end on this page, and is required reading.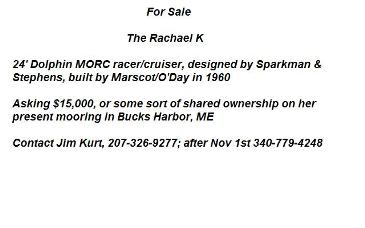 *****************************************
| | |
| --- | --- |
| | Your webmaster and Marionette were on a mooring in Bucks Harbor, Maine back in 2001 (in the pre Dolphin 24 website era) and saw this beauty tucked up in a small cove off Harbor Island, the island that protects Bucks Harbor on its south side. This is such a special place to keep a Dolphin that I had to take pictures, and years later found them and posted them here. A little investigative work and I managed to track Jim down. |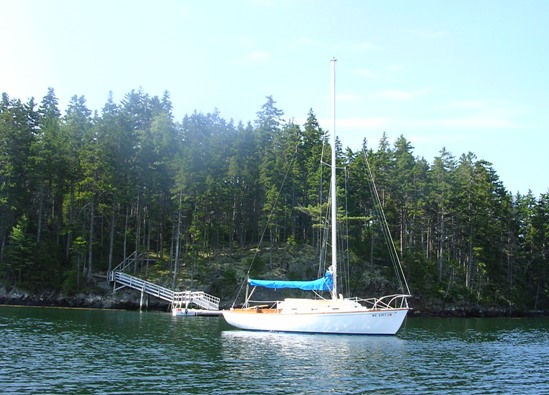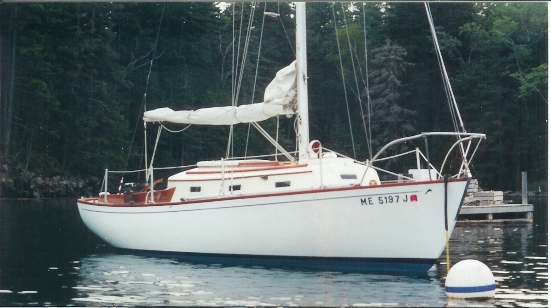 Close up

This is Harbor Island, about 25 acres - with Jim's cottage on the east shore just peeking out (lower right hand corner) of the trees facing Eggemoggin Reach. The island protects the anchorage in Bucks Harbor and in the V of this heart shaped island is The Rachel K's mooring. A perfect protected little harbor of her own.
Webmaster Note, June 7, 2013. This island has been in Jim's family for nearly 100 years. Recently, the Maine Coast Heritage Trust announced that it had acquired the island. Click here to go to their announcement.
Important to Dolphin 24 webmasters is the fact that Jim still retains his 2 moorings nestled in the cleft of this heart shaped island (a wonderful hurricane hole as Marionette can attest having weathered Hurricane Irene there in August, 2011). With luck, Marionette will once again hang on Jim's guest mooring late this summer.
***********************************
Webmaster Note July 1, 2020. The cover of the July issue of the magazine Down East brought back many memories. Rachel K and Marionette spent many nights together in the cleft of Harbor Island.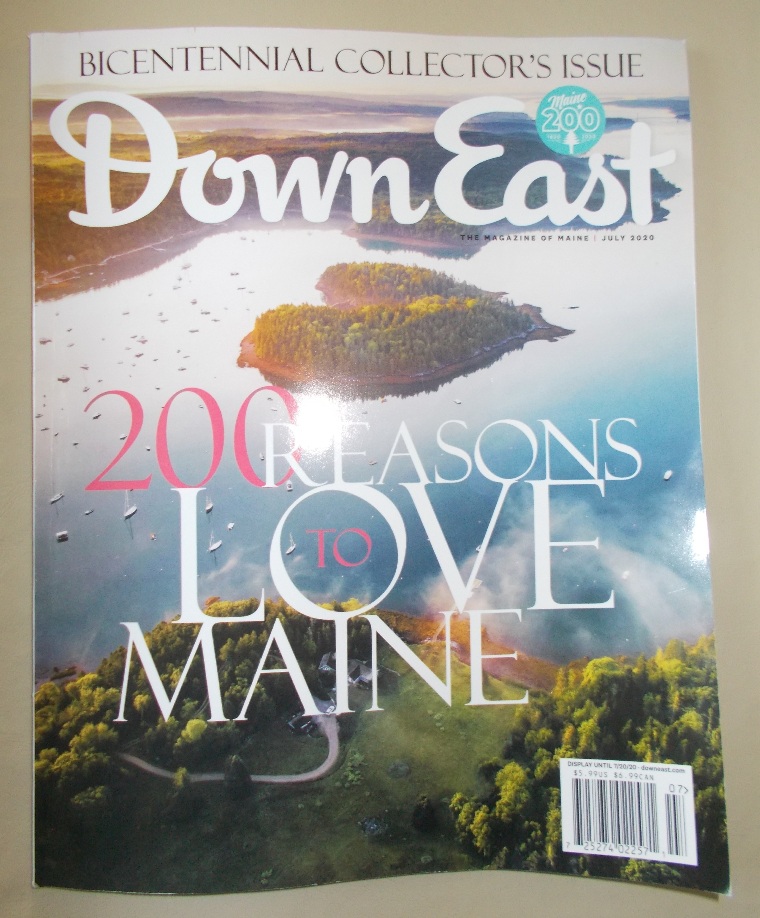 ****************************

******************************************************
At this point we'll go back to our normal timeline on Dolphin homepages - we set up this page in November, 2007.....
November, 2007. Your webmaster made a short trip to Blue Hill, Maine to check out possible places to rent for a family vacation during the summer of 2008. Bucks Harbor is on the southern end of the Blue Hill peninsula. Here is a picture of this area developed years later in 2011 after a day sail on Marionette with Jim Kurt.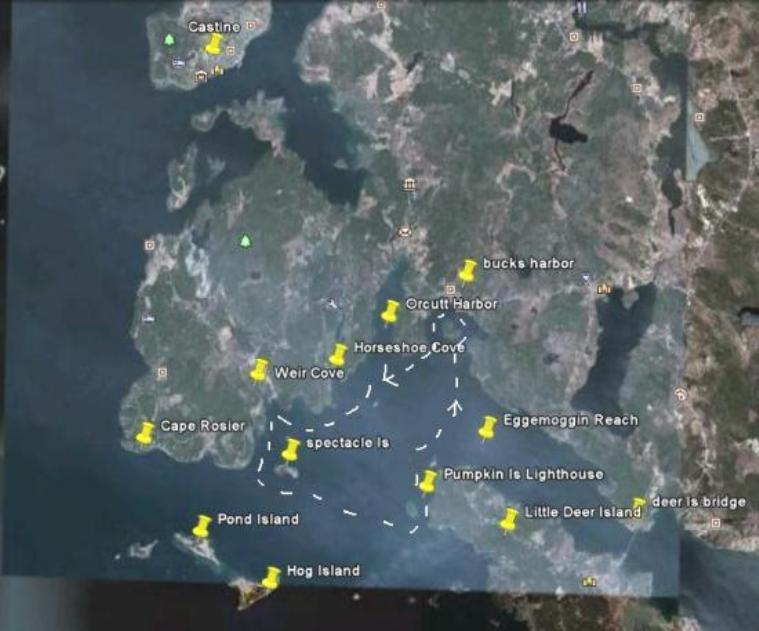 The track encompasses an idyllic daysail out of Bucks Harbor west along the top of Eggemoggin Reach, around Spectacle Island, east to the top of Little Deer Island, throught the gap at Pumpkin Island, and back to Bucks Harbor
This trip provided the opportunity for Jim and I to meet and have a cup of coffee together in Bucks Harbor on November 5, talking about Dolphins. At the end of our meeting Jim promised a detailed report on The Rachel K's major restoration which was carried out by nearby Seal Cove Boatyard (located in at the top of Horseshoe Cove) around 1990. We met again June 27-28, 2008 when I arrived with Marionette on her summer Maine cruise, and we occupied his guest mooring for a few days.
Jim bought his Dolphin in 1965 from a guy in Lexington, MA. Her name then was Warlock and she was light blue. He kept her at Sachem's Head YC (SHYC) in Guilford, CT - home to a small fleet of Dolphins in the 1960's and 70's. She had the same Palmer one cylinder gas inboard as many other early Dolphins. Jim raced her competitively for 17 years at SHYC and the Off Soundings Club off shore regattas. Jim moved her to Maine, and in the early 1990's, commissioned a major restoration project carried by nearby Seal Cove Boatyard. The deck was removed to address separation and rot in the infamous sheer clamp and also some rot in the main bulkhead. A new toe rail, paint job, new diesel engine, and wood/varnish work resulted in this oldest known Dolphin (at this time) getting a new life. The Rachel K still races in local races at Bucks Harbor Yacht Club.
A picture taking session was scheduled for later in July but your webmaster took this early morning shot of The Rachel K at her very special mooring, framed through Marionette's portlight.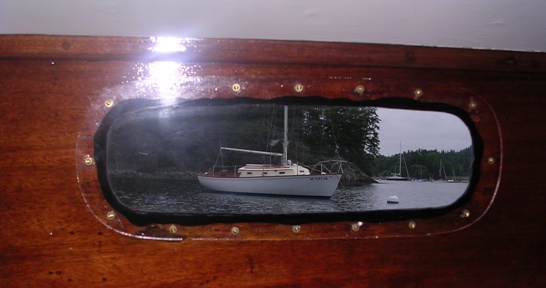 ******************************
July 17, 2008. With Jim's permission your webmaster took the following pictures: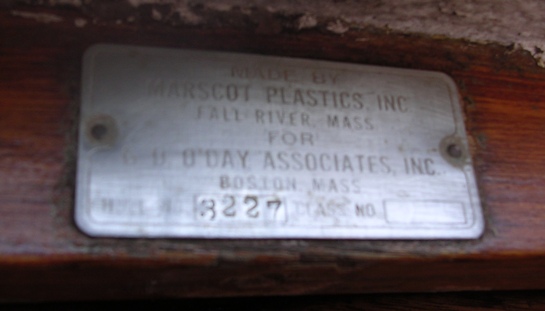 Rachel K's nameplate, which was hard to see in detail, was located on the aft inside wood trim of the main hatch. Based on current theory the Class No. box at lower right should be where the hull # is located - it appears to be blank. This is not a good picture but you can just make out at the lower left hand corner after the word Hull? what might be the number 4? or is this a poorly imprinted NO as indicated in Passage's nameplate below. Notice the number 3227. Clearly this is not the Dolphin sequence hull #'s. Maybe it is Marscot's sequential hull numbering system independent of class of boat? If these numbers indicate a sequence then The Rachel K might have been built 4 boats before Passage and therefore be Dolphin #7 - and we think we know that Hull #7 was Stan Secora's JATO.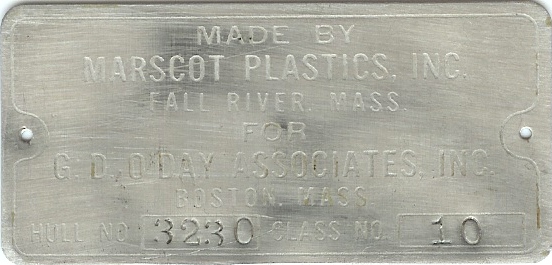 Now here is Passage's nameplate. We think she is Hull # 10 but the 10 is shown in the Class No. box. She has the number 3230, only 3 numbers up from the Rachel K's? I've got to go back and check Rachel K's nameplate again. Webmaster Note: Someday, someone will tell us exactly what Marscot/O'Day's Dolphin hull number system was, and we will sleep better.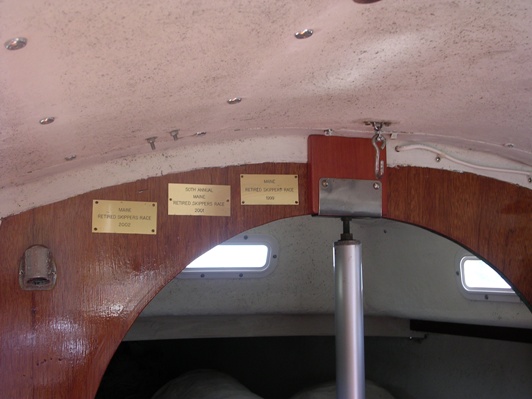 This is Rachel K's adjustable mast strut.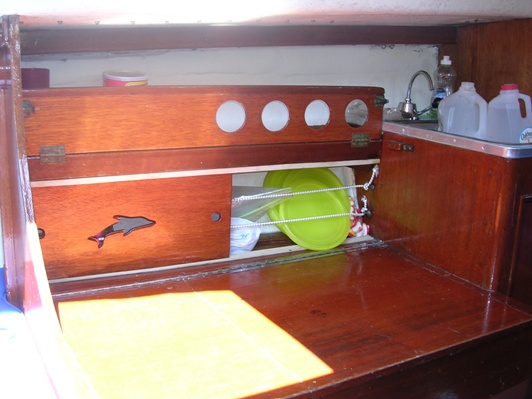 Port side galley with Dolphin cutout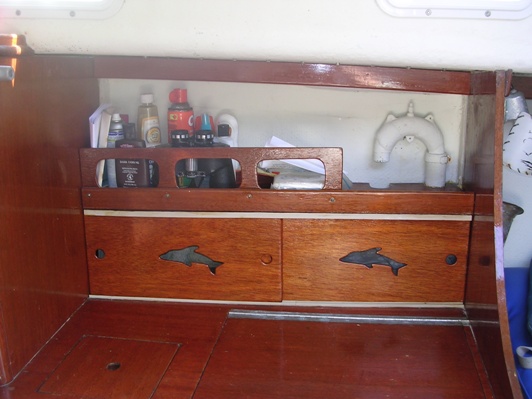 Starboard inside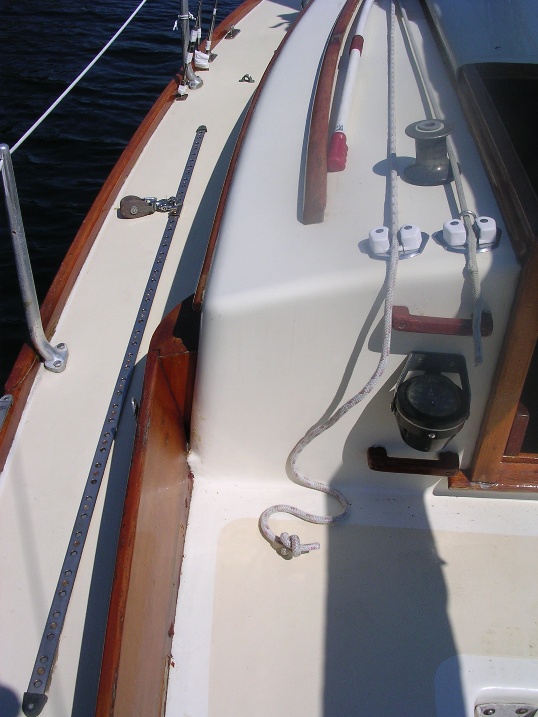 Rachel K's inboard track and halyards led back to cockpit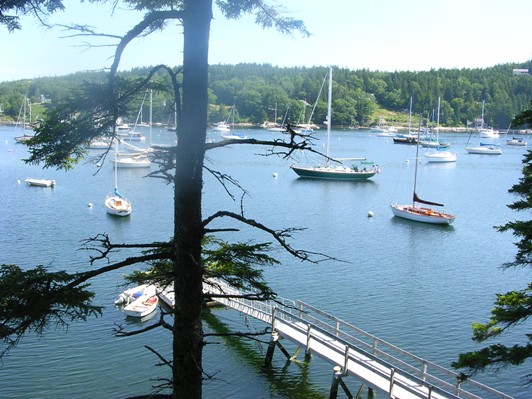 Jim's dock on Harbor Island - The Rachel K on her mooring at the mid left, Marionette on Jim's guest mooring at the right. That's a Hinckley Bermuda 40 (green hull) off her bow.
Jim's letter...
The Rachel K, Restorations and Improvements

September 25, 2009

Here Ron, is the detailed report I promised you back in 2007. Although it won't be as detailed as yours on Marionette, I will endeavor to cover the major steps along the way. There are many things close to the same that each of us have done separately to our boats - the jib and spinnaker led back to the port side cabin top, main sheet traveler track and adjustment, and the addition of a large aft deck lazarette hatch, etc.

Cutting the opening for this hatch showed me how strongly these early Marscot Dolphins were built with hand laid up glass. This, plus the joy of racing and cruising her (for over 40 years), has convinced me that they can – with proper care – last forever. I have loved her enough to take on a number of improvements. She will be 50 years young next year – and on her way 'to forever' under my care.

My boat had the simpler of the two available layouts down below. Your pictures show my additions to her shelf retention's. On the port side a full length shelf folds down to provide a secure two position platform for making sandwiches and pouring drinks while heeled over going to windward. The strut under the main bulkhead is removable for cruising but provides strength to the cabin top for the deck stepped mast and tight standing rigging for racing.

The "K" came to our summer place in Maine for use on vacations when I was transferred to Ohio from Sachem's Head, Guilford, CT on Long Island Sound in 1978. In Maine she was professionally stored and maintained by the Seal Cove Boat Yard in Brooksville - http://sealcoveboatyard.com/. This yard is well known for their skilled work on their many restorations and rebuilds of mostly classic wood yachts.

Old friend Bob Vaughan, whose family has owned the Seal Cove BY for over 70 years, and I had many times talked about what we should do to The Rachel K. In 1998 we set out to get it done. The deck was removed to address rot in the fiberglass enclosed sheer clamp – a generic problem with these early Dolphins. Over the years fasteners for toe rails and stanchions had let in water to the clamp and many winters of freezing cold temperatures had frozen the moisture, lifting the deck little by little. Silicone treatments of the resulting gaps were not doing the job, and the main mahogany plywood bulkhead was starting to show signs of delamination.

So we carefully took off the deck, replaced the clamp with Spruce and Honduras mahogany set in fiberglass mat and woven roving with vinyl ester resin.

While the deck was off the Refinishing Shop cleaned the bilges, removed interior mold, added a low bilge drain, rewired everything, adding a new 2 position battery switch for the 2 batteries under the lower companionway step, and painted the interior fiberglass surfaces Latex off white.

A main mission was to replace the original gas Palmer 1 cyl, cranky old engine with a larger, almost new Volvo 2 cylinder 10hp diesel (she is 70 lbs heavier than the Palmer). I love this engine – 6 knots under power, with only a quiet 2000 rpm. Starts in the cockpit with a key!

On deck, Bob's crew eliminated the deck to cabin stress cracks and the raised non skid molding so wear would not cause water to enter the glass laminate. We replaced the bronze sheet winches with self tending, larger, and less noisy, modern winches. And boy does she look good – showroom good – like a Dolphin should!

In 2000 we had Hall Spars make us a new, lighter, white mast with double lower shrouds. It's a beauty! Thanks Ben (Hall), an old friend. And in 2008 we had a new main sail, made by Bohndell in Rockport, Maine – very Weatherly.

The other sail inventory includes a 160% genoa, and a 150% cruising genoa with a high clew – I can see under it; a 110% blade jib as well as 2 smaller jibs for heavier and heavier duty use. Matched with a double slab reefed main they can bring "K" home comfortably in over 30 knots of wind.

Spinnakers – she has a light weight one for reaching close as well as dead downwind; and a heavier, red and white star cut.

Now, I must tell you – she is now for sale, ugh. Nothing wrong with the "K" – it's her skipper. He's too old at 79 years next season. My ad is attached.

Regrettably,

Jim Kurt, Bucks Harbor, Maine

*********************
June 28, 2010. I spoke with Jim today and found out that The Rachel K is still under wraps at the Seal Cove Boat Yard. He will follow up for us and see if we can't get the new owners to check in.
We got to talking about rudders and Jim told us an interesting story about his aluminum rudder. Seems like The Rachel K was racing in her first overnight race- this being held out on Long Island Sound sometime back in the late 60's/early 70's. They were leading the race and, on the last long beat to the finish line off Pine Orchard YC in Branford, CT, they lost control of their rudder. The tiller would move but there was no response.
They managed to keep reasonable steering control with the sails, he on the main sheet, his son on the jib sheet, while the 2 other 'boys' fashioned a makeshift rudder from the spinnaker pole and the boson's chair. They finished the race getting the gun and First in their Class. Jim's crew was his wife Rae and their 3 sons, Larry, David, and Kurt.
They made their way in to the docks at Pine Orchard YC, and were tying up when 3 Club officials came over and asked them to move the boat down to another slip on the other side. Without further word out came the 'steering oar', they reversed out of the slip, motored over to the new slip using the oar, no problem - the 3 officials just watching....
The Rachel K has an aluminum rudder - the picture at left is of Bodes Well's rudder, now Dick Watson's Sea Glass, O'Day # 29. The aluminum tube had corroded and was partially broken near the waterline where the rudder tube exits the hull and is incorporated into the leading edge of the rudder.

Somehow, this particular rudder has stayed with the boat. Jim said that these early Dolphin aluminum rudders were made by Jim Armitage's Star Marine Hardware, originally somewhere out on Cape Cod, later in Madison, CT - his company was eventually bought by Kenyon, Marine.

Jim Armitage repaired the broken rudder.The Rachel K still has her aluminum rudder and it's pretty heavily pitted. Had he kept the boat, Jim was planning on fiberglassing it this Spring.

This tidbit on aluminum rudders is also included in the Technical Section/Rudders/Design change. Click here to go there.
**************************
August 8, 2014. Your webmaster found out just a few weeks ago that Jim Kurt (83) had passed away in March of this year while at his winter home on St John in the Virgin Islands. On August 4, I was in Bucks Harbor aboard Marionette and visited with Rae Kurt, his loyal crew for all those years and for whom his boat was named - The Rachel K. We spent an hour on the porch of their lovely home, a few steps away from the Bucks Harbor YC, talking about racing Dolphins in the Off Soundings Club, and good times with Jim.
I gave Rae a few pictures I had of Jim taken when sailing with him on Marionette. She liked them very much and said she would display them at at an upcoming memorial service being held for Jim in Bucks Harbor (Brooksville). Two of them appear below.
Here is Jim's obituary as it appeared in the Guilford, Connecticut edition of the New London Day
Franklin 'Jim' Kurt, 83, Guilford and Brooksville, Maine
Published 07/14/2014
Franklin "Jim" Kurt of Brooksville, Maine, formerly of Guilford, died peacefully at age 83 on March 21 in St. John's, Virgin Islands. He is survived by his wife Reverend Rachel H. Kurt, and sons Lawrence Kurt of East Haven and David Kurt of Gary, North Carolina. He is also survived by three grandchildren, one great-granddaughter, and one soon to be born. He was predeceased by a son, F. Thomas Kurt, II, and a sister, Kim Kurt, of New York, New York.

Jim was born in New Haven and attended Wesleyan University before joining the Naval Reserve during the Korean War. While living in Guilford, he served as president of the Guilford Jaycees and on the Planning and Zoning Board. He worked at Schellens True Co. in Ivoryton before moving to Ohio to be the director of planning for the Dana Corporation. He served as president of the Rotary Club in Genoa, Ohio.

Jim was an avid sailor and served as commodore of the Coral Bay Yacht Club, St. John, Virgin Islands, and was a member of the Sachem's Head Yacht Club in Guilford.


A memorial service will be held in Brooksville, Maine, on Aug. 15 at 10:30 a.m. Rev. Rae Kurt requests that congregations with whom he worshiped over the years sing Jim's favorite hymn, "This is My Song" (tune to Finlandia), in memory of a kind and gentle friend.

Jim on the helm and his son Dave sailing Marionette on Penobscot Bay, Maine.

Your webmaster down below, taking pictures, fixing drinks and organizing lunch.

Click on the two pictures above for larger views; click the return arrow on your browser to get back here

Fair Winds Jim

*************************************
January 24, 2015. Jim's son Dave has been reminising with his family - we set his emails and photos up on a special page in the Stories Section. Click here to go there.