June 29, 2017. We got the following email from John O'Malley which qualifies him as an official new owner check in
Hi Ron,

I'm delinquent in reaching out. Absolutely love what you have done with the Dolphin website! What a tremendous resource.

I don't think I ever registered for a login to the forum. Or if I did I didn't keep it. How would I go about getting a login?

(Please disregard. I tried a guess and got my login and pw! - Whew!!) Many thanks.

Best Regards,

John O'Malley

Welcome aboard John!

This space reserved John's first Sea Glass pic

*****************************

**************************************

******************************
This is the the history we have on Sea Glass up to this point
March 11, 2017. We got the following email (minor edit) from Dick Watson advising that Sea Glass has been sold to John O'Malley. We'll stand by for John to check in.
Webmaster Note: That inquiry that Dick refers to below was probably from someone desperate to enter the the New England Dolphin 24 Championships being held July 27-29 in Camden, Maine!
Hi Ron -

I hope winter has been ok for you. Just wanted to let you know that we sold Sea Glass last Fall to a friend of ours here, John O'Malley. Sorry, I must have forgot to let you know as just received an inquiry from Maine about her. I hope all is well,

Dick
June 1, 2016. Sea Glass is
FOR SALE
.
Here is Dick's email and below that, his ad.
Hi Ron -

I hope sailing season is getting off to a good start for you.

Sue and I are putting Sea Glass up for sale as we are moving to a different boat, and wanted to see if you would mind putting the listing up on the site? It is attached, or let me know if you need anything different. It has been a great boat, sad to part with her.

Dick

Sea Glass - O'Day Dolphin 24' Sailboat & Trailer

For Sale - $14,500

Hull #29 - designed by Sparkman & Stephens, built by O'Day Corp

1975 Ideal Trailer included

Trailer & Boat fully titled & registered in Illinois

Currently on in–water mooring in Wilmette Harbor (Chicago), Illinois

Current owners purchased her in Maine, April 2009

then followed refurbishment work of approx. $25,000, from 2010 to 2015, including going from an outboard motor to an inboard, new, Yanmar 1gm10 diesel engine.

Sea Glass has been actively cruised and raced from 2009 until May 2016 on Lake Michigan

Contact Dick or Sue Watson dickwatson777@gmail.com or swatson@wdc-ltd.com

or (Dick's cell 312.925.0798 / Sue's cell 847.867.4926)

Click here for a full listing and more pictures

************************************************

********************************************************************************************
The Watsons have renamed Bodes Well - She is now Sea Glass. On May 9, 2012 Dick sent in this picture taken of Sea Glass in Wilmette Harbor taken that morning. We'll start this page properly - with her picture.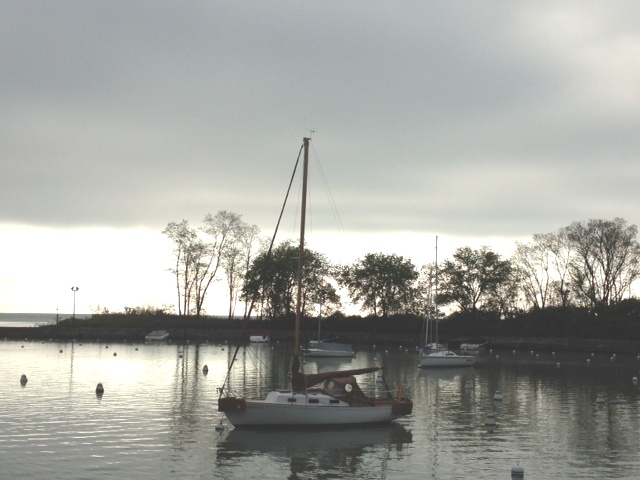 "looks more like November than May"
February 9, 2010. Dick Watson checked in. He bought Bodes Well from Kim and Frank Bellizia, Southport Island (Booth Bay area) Maine in April, 2009 and had her shipped to Waukegan, Illinois. The Watson's live in Wilmette, Illinois and this season Bodes Well will join the Wilmette Fleet Dick is repowering Bodes Well with a Yanmar diesel and has exchanged emails with your webmaster. A consolidated/abbreviated/edited version follows:
Hi Ron –

By way of introduction, my name is Dick Watson, and I am in the process of having an inboard (among other work) put into Bodes Well (#29), which we bought from Frank and Kim Bellizia last Spring. (I believe the guys at the Boothbay Region Boatyard, where Bodes Well was, had mentioned they met you in the last few years on one of your trips up there).

Any idea if the original Palmers put in (or the new Yanmar's being put in) had/have a straight shaft transmission, or a 7 degree angle shaft ? (7.5 degrees was the pitch on the Palmer in Passage, Hull 10 - max pitch is 15 degrees - same as for the Yanmar 1GM10)

The boat was in Waukegan (N of Chicago) last year, but we live in Wilmette, and are joining the Wilmette Fleet this year in Wilmette Harbor. We will update you in the Spring with some pictures of the changes to the boat, once done.

I know you hear it a lot, but thanks for all of the work on the website.

Best Regards,

Dick

************************
May 11, 2010. Dick's been busy with Bodes Well and with the arrival of a picture of her original aluminum rudder it seemed a good excuse to update her page. Bodes Well had an outboard hung on her transom and Dick is going for an inboard diesel. The boat originally had the old Palmer 27 which was removed years ago. The original aluminum rudder has had 50 years of wear and tear to go along with having to withstand persistant galvanic attack. A new rudder is being considered. Anyway, this is the first picture we have of a 'bright' aluminum rudder. Looks pretty good from 1000 miles away. Click here for a large view.

We'll put a copy of this picture in our Technical Section on Rudders when we get more info.

Dick promises a major update with pictures of his engine installation coming - target launch for Bodes Well is end of May.

Stay tuned
*****************************
July 9, 2010. Dick sent in a picture of his repaired aluminum rudder -

'tis a thing of beauty" !

Ron -

Updated picture of Bodes Well's/Sea Glass' rudder after welding / epoxy / base paint.

Will send a lot more info on the inboard installation and other once all done in a couple of weeks.

I hope Summer is going well,

Dick
*****************************************
July 29, 2015. We got the following report from another former fleet captain, Dick Watson, on goings on with the fleet (minor edits)

Hi Ron -

Well, this might be a first for you, and we thought you might like as an addition to the Dolphin 24 website The Wilmette Fleet, participated in Sheridan Shore Yacht Club's Race Weekend - 8 Dolphins on over 5 races Fri-Sun this past weekend.

We decided to decorate our boat (Sea Glass #2726), temporarily named Sea Wench for the weekend) ) for the traditional Saturday night Race Weekend Party, which was Pirate themed. A group of 6 Dolphin sailors (cc'd here along with other members of fleet past and present), anchored outside the harbor, readied the boat and costumes.

Then we motored in under cover of sunset and cannons (a potato launcher) to the rousing applause of all party goers that were already on deck (and had no idea this was going to happen). It turned out to be a surprise and well received - pics attached.

I hope your Summer is going well.

Dick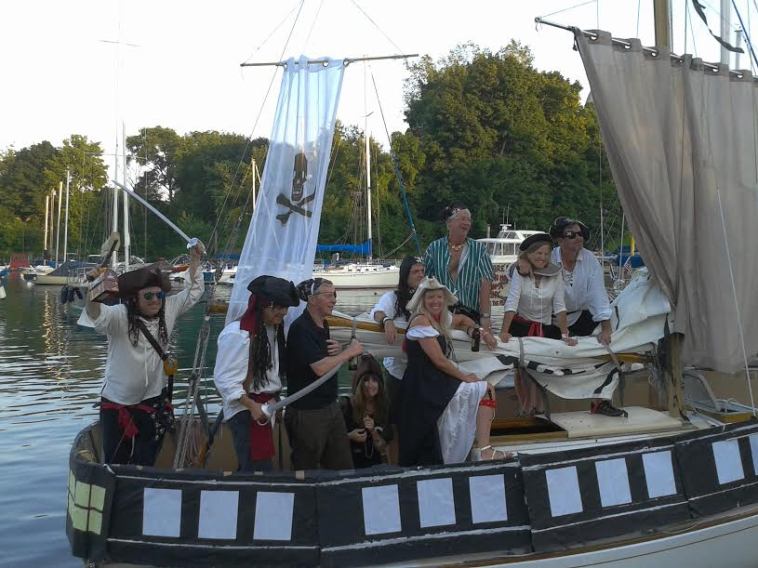 ********************

***********************
The following content and pictures are what we have of Bodes Well's story while she was in the Bellizias' care in Maine. On April 30, 2009 Frank checked in and reported Bodes Well was sold to the Watson's in Illinois on Lake Michigan. The Wilmette Fleet has another boat!
We got the following pictures when your webmaster was cruising in Maine in 2008 in Marionette.
*****************
Bodes Well at her dock on Southport Island, near Boothbay in Maine. Formerly Tony and Karen Petrillo's Gem in Niantic, CT, she is an early O'Day built boat. To go to Gem click here.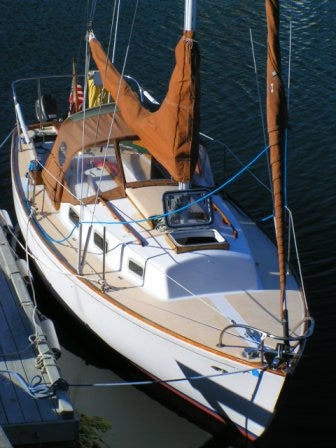 BODES WELL, Dolphin 24, FOR SALE

Her hull is from 1960 (Hull #29, verified, built by O'Day, designed by Sparkman & Stephens), but during 2000-01 the previous owner in CT completely refurbished her from stem to stern. If a prospective buyer reaches the point of serious interest, I will put him in touch with the previous owner so he can give a full rundown on what he did, and at point of purchase, I will include builder's specs as well as specs on the various pieces of equipment.

We bought her in 2003 and have sailed her in Maine for five summers. She is currently on land at Boothbay Region Boatyard on Southport Island, and the only reason we are selling is that during '08 our business took a dive, so for financial reasons we have to cut back on luxury expenses. Otherwise, I would keep sailing her! We are sad to see her go but are hoping for an appreciative new owner.

LOA: 24-1 Displacement: 4250

Beam: 7-8 Ballast: 1650

Draft: 2-10 Sail area: 296

Draft C/B: 5-2 LWL: 19

Solid fiberglass hull and deck. Teak toe rail, full keel and C/B. Very strong and capable cruising or daysailing boat. Sleeps 4.

New 2002: Schaefer roller furling

Schaefer mainsheet traveler

Re-cut furling headsail with matching canvas cover

Hummingbird in-hull depth sounder

New 2001: Custom dodger and cabin bunk cushions

ICOM fixed-mount VHF radio, lifesling, Garmin GPS

New 2000: Standing rigging, stanchions, stern rail, sail cover, life lines, forward hatch, Harken ports. Single-burner flush mount Origo stove, S/S sink and galley pump, Porta Potti with holding tank, Y-valve, macerator pump and bronze thru-hull. Laminated tiller, Forespar tiller extender. Nissan 8 HP O/B with 4-gallon portable tank, heavy duty transom engine mount, deep cycle battery, DC panel, battery switch, wiring, cabin lights, mast light, running lights, running rigging, compass, 6-gallon freshwater tank with deck fill and hoses. Danforth anchor, chain with rode, hawse pipe, manual and electric bilge pumps (the electric needs repair), transom mount VHF antenna.

New 2003: Portside Lewmar winch and winch mount

New 2004: Jibsheets

New 2005: Metal rudder was rebuilt

Other Equipment: Flares, 4 PFDs, winch handles, teak winch handle box, teak magazine rack, teak paper towel holder, teak handheld compass mount, teak navigation rack, teak binocular box, 3 fenders, docklines, clock, barometer, sun shower, radar reflector, top-of-mast wind indicator, ensign and pole, deck mount for grill.

She comes with main, 150% Genoa, small jib (needs #5 luff tape for use with the roller furling as we never used it), spinnaker and spinnaker rig, but no pole. We only used the Genoa, however, which is fine for all sailing conditions. We did not launch in 2008, and the last time I saw her was October 2007. Any work she needs will be cosmetic, and you will know what that is upon inspection. The paint in the cabin is peeling and needs repainting, topsides should be fine, not sure about the deck, given exposure this summer, aluminum mast is patchy, wooden boom was varnished in '07 She is otherwise solid and sound and a darned good sail. We have never trailered her, but she can be, with the right trailer and vehicle.

She is for sale for $5000.