.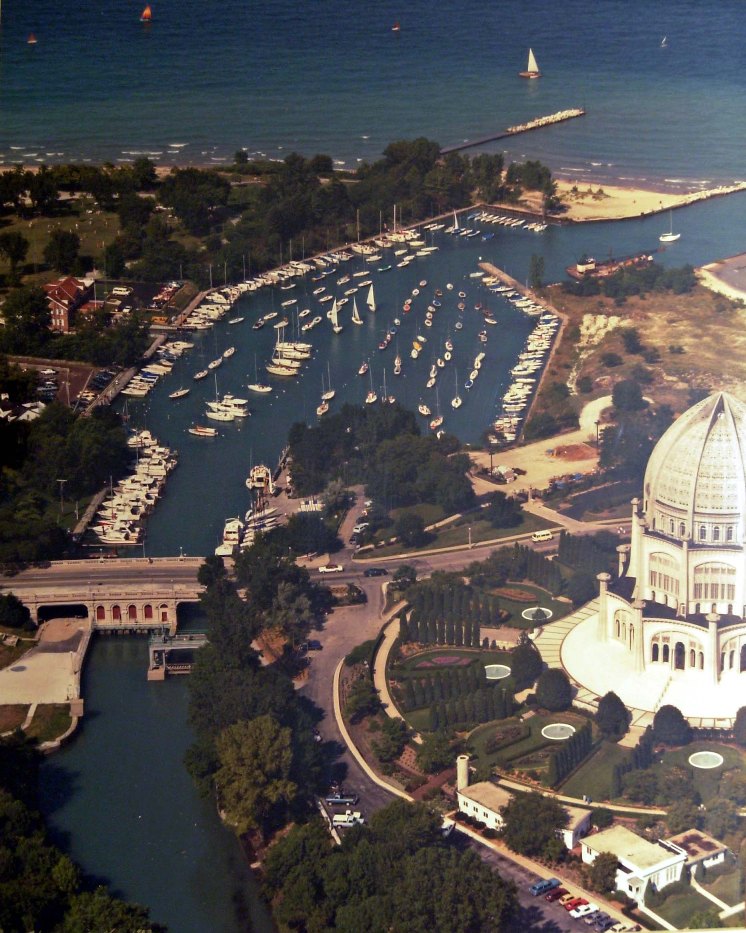 This is Wilmette Harbor on Lake Michigan, about 16 miles north of Chicago - photo taken 2007?. Somehow, 15 Dolphins got together to make this their homeport. Sheridan Shores Yacht Club is in the center of the picture on the left bank. The 'landmark' building is the Bahi Temple. 2007 Fleet Captain** Kristin Keenan (Duet) and Historian Jack Farley will help get us the story. **April 10, 2009 - John Hellmuth (Echo) is the new Fleet Captain. May 9, 2012 Dick Watson (Sea Glass) is the new Fleet Captain.
Click here for a large view. Dolphins are visible in the harbor!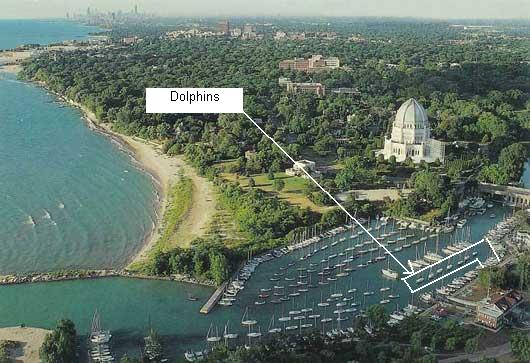 Above is another shot of the harbor with the Chicago skyline in the distance.
Dolphins occupy a string of moorings and adjacent slips on the north side of the harbor identified above. The river that flows under that bridge is dammed just upstream - in sight middle, far right of photo. More about this later...
We got some pictures from Ted taken during Wilmette's annual Race Weekend - July 28-29, 2007.
| | |
| --- | --- |
| Checking in first is Ted Prohov and Wally Barry with their Yankee #190 Wada (Boat). | George Fitzpatrick's Delphinus, sail # 6195 and Ron and Larry Falbe's Celerity, sail # 6004. |
Delphinus is an O'Day built boat. Celerity is Yankee hull #101, She was Fleet Historian Jack Farley's boat for nearly 38 years.
Fleet Captain Dick Watson sent in a summary of the Wilmette Fleet Roster on May 9, 2012. If the boat name is underlined click on it to go her. We are working on filling in the blanks
Wilmette Dolphin Fleet Roster (updated March 25, 2021)
Hull #

Sail #

Builder

Name
Present Owners
Comments

15*

15

O'Day

Porpoise
Nancy Broeckl/ Terry Glenn
Sold - Sailed out of Belmont Harbor, Chicago

29

2726

O'Day

Sea Glass
John O'Malley
was Bodes Well; was Gem

59**

E178

O'Day

Harbor Rat

Dominic and Janice Byrne's boat;

was Duet; Black Dog
was Dave & Kristin Keenan's boat

60?

E146

O'Day

Windswept
Mike Owczarek

60?

E176

O'Day

Valhalla
Russ Holmquist & John Johnson
was Ursala, 1st at Wilmette?

62

6195

O'Day

Delphinus

Hooman Bahmandeji

; was George/Mary Fitzpatrick; Dominic Byrne
was Bomar III

63

6463

O'Day

Auriga
Daryl and Doug Varney
was Dan Orth/Fred Lafnitzegger's boat

?

E177

O'Day

Rachel
Hooman Bahmandeji's boat; was Matt & Clayton Struve's
was Ed Reinholtzen's boat (

sold March 24, 2014

)

L204

E226

Lunn

Halcyon
John and Aleca Sullivan

101

6004

Yankee

Celerity
Larry & Ron Falbe; Jack Farley

163

163

Yankee

Madison
Jeremy De Silva? was Jeff Mathis
was Umbria

190

190

Yankee

Wada
Ted Prohov/Wally Barry/John O'Toole

202

202

Yankee

Aurora
Paul Malm

225

225

Yankee

Cast&Crew
Dr Barbara Royal
was Sport (III) Updated May 3, 2021

251

251

Pacific

Echo
John Hellmuth

189*

?

Yankee

Sinn Fein
John O'Toole
Unofficially a fleet member

?**

?

16771

No Name
Jim Rohner
Lost in 2008 storm

110

??

Yankee

Kestrel
Peter and Kathleen Connelly
new, June, 2012
235

???

Yankee

d'Artagnan
Dan Hofstetter and Jim Griffith
was Bob Sontagg's boat
239
???
Yankee
Harbor Rat Too
Dominic and Janice Byrne' s boat; was Dave & Kristin Keenan's
was Bob Colson's boat
* Technically were/are not fleet members
** No longer at Wilmette
Ernest Heinemann, #60, was the founder of the Wilmette Fleet. He sold Ursula, #60, leaving in 1971 to race a 34' er in Chicago (Belmont?). He came back in 1975 and bought Gulliver, sail # 146. Jack Farley and partners raced Celerity for 35 years and 4 of her crew have, or did own Dolphins.
.*******************
On September 13, 2008 a major rainstorm dumped a record amount of rain upstream of Wilmette Harbor that resulted in a sudden release of pent up flood waters. The rush of water caused as many as 30 boats to get loose with lots of damage and several total losses - one of which was Jim Rohner's Dolphin 24 "No Name" (not listed on the Roster above). We hoped to get more on this story and we did, thanks to Ted Prohov (Wada Boat). This article appeared in the October, 2008 Sheridan Shores YC newsletter Sheridan Shorts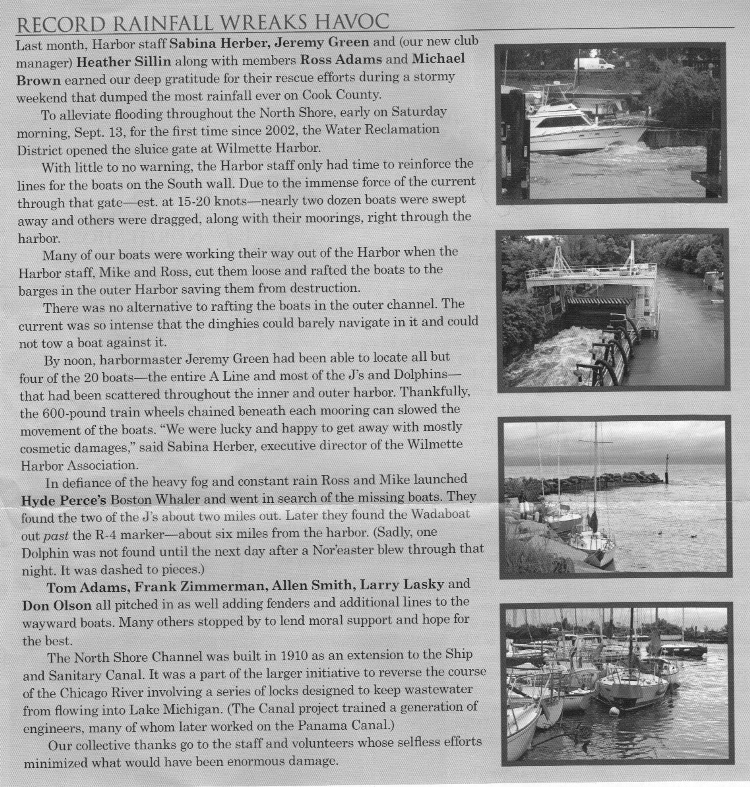 *********************
| | |
| --- | --- |
| | November 12, 2009. A photo from the September issue of Sheridan Shorts, the newsletter of the Sheridan Shores YC. We are working on identifying which boats these are. |
************************************
June 10, 2010 Former Fleet Captain Kristin Keenan sent in the following report on the Wilmette Fleet and on her Duet/Harbor Rat (edited)
Ron,

I wanted to give you an update (attached - updated above) on the Wilmette Fleet and give you more info on Duet. I've attached a photo of her hull/nameplate.

Duet is now Harbor Rat...we had a wonderful renaming ceremony involving a call to the gods of wind and sea and lots of red wine! Several fleet members came, which was sweet.

We were told she is 1963 O'Day. Her first owner here in Wilmette was Leon Wilke, then George Reichert, then Mike Clark, then Larry and Ron Falbe (Celerity) and finally Dave and I have owned her since 2004. Maybe you will get some clues from her nameplate.

The Wilmette Fleet is 14 strong and we race every weekend in the summer and have anywhere from 3-8 boats on the line. Harbor Rat (Duet) is the reigning fleet champion for the last two seasons and going for a third :) This year we might have a couple of races with 9 boats! John Hellmuth (Echo) is now the Dolphin Fleet Captain and I've been given a promotion to "Dolphin/Cruising Fleet Captain"....such that it is!!

Your website has been a god-send to all of us. We really appreciate all your hard work.

Take care,

Kristin Keenan

**********************
July 24, 2010 The Dolphin Fleet at Sheridan Shores YC has a special attraction on their Race Weekend, July 31st- Aug 1st - sounds good to me!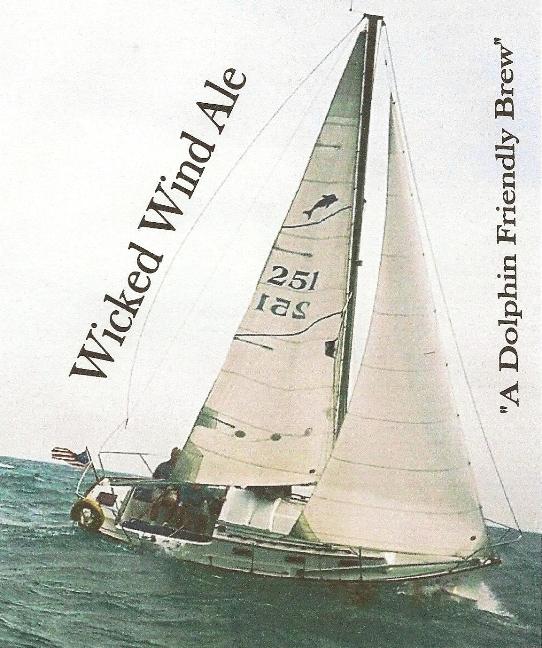 Stay Tuned
May 4, 2012. Now for a different piece of art work. Dick Watson, the new Fleet Captain, sent in the following email (minor edit)
Ron –

Thought you might like this picture – a mate of mine saw this in our park district building which displays a lot of local art.

Best,

Dick, Sea Glass, Wilmette Harbor Fleet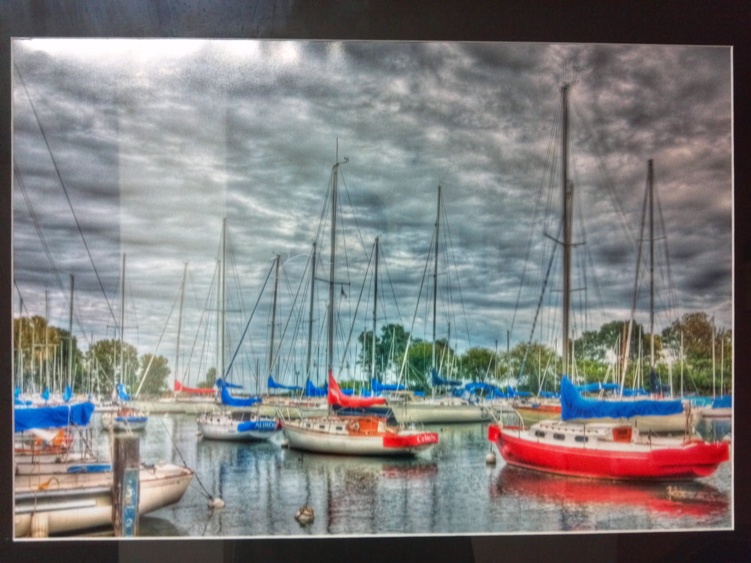 This is actually an 'artistic" photo by Howard Frank
May 11, 2011. Several readers have inquired about the 'bumpers' on the bow and stern of the in line moored board. The reason why is painfully obvious but why not fore and aft moorings? Fleet Captain Dick Watson answers (minor edits)
Ron - good question, and a couple of reasons: 1) the harbor is incredibly tight, and we have at least 7 one design fleets, so when grouped together they usually (usually...) swing same way, and 2) and the more important reason, is that our harbor is actually a catch basin built back in the early 1900's as part of Chicago's Deep Tunnel (water reclamation) project/system. So when it rains a lot, they open up the locks (you can see locks in harbor picture you put up on site) and it becomes a fast moving river. They move the big boats (who do have fore and aft moorings) next to the Dolphins so that all boats swing to rushing water, and generally is all ok, except for the one year (2008) when it was too much, and we did not get enough warning to move. That is when some boats were swept out as per article also on the site (above).


I hope that helps, Dick

ps we call them bow and stern cushions, I think. They are pretty light, may a couple of pounds each at most, and are pretty easily stored (we store both in the stern hatch), only take 5 minutes to get both off or on, and almost, if not all, are made by Bill Fox, a friend of ours who also does a lot of the local HS and College sailing gear (bags, etc.), as well as interior and cockpit cushions.

**********************
April 7, 2013. Wilmette's Dolphin Fleet is in serious danger of losing its home port. The Metropolitan Water Reclamation District (WMRD), the organization responsible for Wilmette Harbor, rejected a new long term lease bid by the current tenants - the Wilmette Harbor Association. That bid, which had the recommendation of the WMRD staff was rejected by a vote of 4-3. MWRD officials said it's unlikely a new tenant for Wilmette Harbor can be found in time for the boating season. This will affect hundred of boaters, including the Sheridan Shores Yacht Club and their fleet of 16 Dolphins.
Here is Ted Prohov's (Wada) email, and a link to the story that appeared in the Chicago Tribune on April 5th
Hi Ron,


Hope you are doing well.

I am sorry to perhaps be the one to share the sad news with you that we are facing the break up of the Wilmette Harbor fleet. The long sad story can be found in the following.

I am in the process of making an attempt to work with other fleet members to keep us together somewhere. But it is a sorry situation that has swirled in on us that may soon lead to a diaspora of dolphins.

Fair winds,

Ted Prohov

stay tuned
April 19, 2013. Good News from Kristin Keenan (Yankee #239)
Ron,

Good News!

The Wilmette Fleet will have a home for years to come. The Metropolitan Water Reclamation District of Greater Chicago approved and granted a 39 year lease of the harbor yesterday to the Wilmette Harbor Association. WHA has operated the harbor for the last 75 years and has long supported the Dolphin Fleet.

Now all we need is for the lake levels to rise. Our rain dances worked a little too well yesterday...we received well over 6" of water. We are all flooded out...hopefully some of it made it into the lake :)

Looking forward to an exciting racing season!

Will be in touch,

Kristin Keenan

*************************************
August 12, 2013. We got the following update email and Fleet photo from former Fleet Captain, Dick Watson, who advises 2013 Fleet Captain Dave Keenan (Harbor Rat Two, Yankee #239).
Hi Ron -

Early August pictures of the Wilmette Harbor Dolphin Fleet. Among the boats on the moorings in first picture near to far Celerity, Aurora, Cast & Crew, Sea Glass, Wada & Echo.

In 2nd picture along with above, to the left on the Wall are Kestrel, Windswept, Madison, Harbor Rat Too, Halcyon

We have had a pretty active racing season with anywhere from 5-9 Dolphins on the line each weekend.


I hope all is well,

Dick (Sea Glass)

near to far - Rachel, Celerity, Aurora, Cast & Crew, Sea Glass, Wada & Echo.

on the Wall are Kestrel, Windswept, Madison, Harbor Rat Too, Halcyon

*************************************
June 24, 2014 We have the following fleet update from Kristin Keenan (Harbor Rat Too) plus a tip about a Cruising Magazine article and maybe a newly found Dolphin. Click here to go to it. Dolphin24.org staff is trying to track down the authors. Stay tuned.
Hey Ron,

Hello from the Wilmette Fleet!

One of our members found this in Cruising World Magazine from the April 2014 edition....just wanted to make sure you saw it.

Hope all is well with you and Marionette. The fleet is doing well, still 16 strong. Racing hasn't been great this season because of the weather and an under-the-weather Race Committee boat. We've had only one race thus far which took place in pretty dense fog.... eight Dolphins were on the course.

The fleet participated in the Summer Sailstice International Sailing Event this past Saturday with a pot luck supper and sunset sail. A terrible storm blew up during dinner, but a few of us were able to make it out on the lake later on. We were able to catch the last bits of a fantastic sunset and even a rainbow. What a way to start the summer.

Will send an update later in the season.


Take care, Kristin, Yankee Dolphin 239 - Harbor Rat Too

***********************************
July 6, 2014. An update from Kristin, Harbor Rat Too
Hey Ron,

Attached is a photo from our 3rd annual 'Phins Fantabulous Flotilla on the Fourth. We had a wonderful dinner with the fleet that was followed by getting six Dolphins and one Catalina 22 rafted together on an uncharacteristically flat Lake Michigan. We caught the sunset and then firework shows all up and down the shore. It was one of those incredible life moments that you knew you should be savoring...it was so perfect. We all agreed most of the magic was because we were all Dolphin owners!

Hope Marionette's progress/projects are moving along - (Slowly......)

Kristin

*********************************
June 30, 2015 Past Fleet captain Kristin Keenan, and past owner of Harbor Rat Too sent in the following report.
Hey Ron -

Summer is finally starting to come to Lake Michigan and all but one of the 15 Dolphins have been launched. There have been a couple of ownership changes since last season .... Windswept #146 is now owned by Melinda and Bill Hurley; Delphinus #6195 is now owned by Hooman Bahmandeji (Hooman also owns Rachel); Harbor Rat Too (HRToo) #239 is now owned by Dominic and Janice Byrne.

Dominic used to be a partner on Delphinus back when George Fitzpatrick owned it. Dave and I came up on the "larger mooring" wait list and we sold HRToo to Dominic who was next on the "Dolphin" wait list. After 12 years and two Dolphins, we are having a hard time adjusting to life outside of the Fleet but are looking forward to learning a new boat. We still crew sometimes for their weekly races, and of course, they are some of our dearest friends.

The fleet is very active, both in racing and in socializing. We don't see Jack Farley very often but we spoke last week and he is hanging in there. Terry Canade of Kestrel #110 is the Dolphin Fleet Captain for this season if you need any information/news.

Stay safe in all your travels. We will continue to follow Marionette's adventures. Most importantly, thank you for all your hard work and passion with the website. It has been an invaluable resource for us.

Best regards, Kristin (and Dave) Keenan
(now Sabre Spirit owners)

*****************************************
July 29, 2015. We got the following report from another former fleet captain, Dick Watson, on goings on with the fleet (minor edits)
Hi Ron -

Well, this might be a first for you, and we thought you might like as an addition to the Dolphin 24 website The Wilmette Fleet, participated in Sheridan Shore Yacht Club's Race Weekend - 8 Dolphins on over 5 races Fri-Sun this past weekend.

We decided to decorate our boat (Sea Glass #2726, temporarily named Sea Wench for the weekend) ) for the traditional Saturday night Race Weekend Party, which was Pirate themed. A group of 6 Dolphin sailors (cc'd here along with other members of fleet past and present), anchored outside the harbor, readied the boat and costumes.

Then we motored in under cover of sunset and cannons (a potato launcher) to the rousing applause of all party goers that were already on deck (and had no idea this was going to happen). It turned out to be a surprise and well received - pics attached.

I hope your Summer is going well.

Dick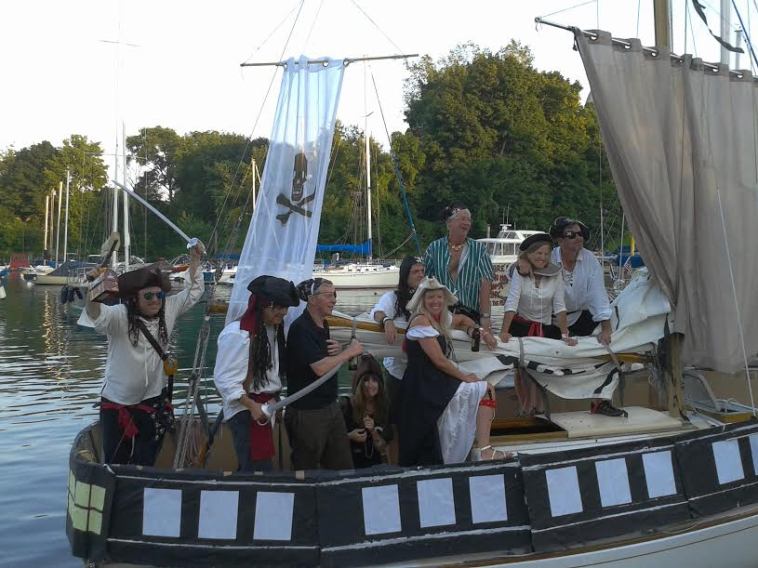 ***********************************
February 23, 2016. We got the following update from the Wilmette Fleet Captain Terry Canade.
Ron,

Thanks for all you do to keep us Dolphins informed and connected.

For 2015, I served as the Dolphin Fleet Captain for 15 Dolphins in Wilmette Harbor – about 19 miles north of downtown Chicago. Our fleet races with the Sheridan Shore Yacht Club. Our racing season began in late May and ended in mid-September. Ten Dolphins participated in at least one race. Our regular season consisted of 15 races and one 5-race weekend regatta in late July.

Lake Michigan looks ice free on this pleasant February morning, but Wilmette Harbor will not open for a couple of months. We hope to have warm weather to climb into our boats for annual repairs in April. Thereafter, we will look forward to another season on Lake Michigan.

Let me know if you need additional information. If you are ever in Chicago, please let us know and we will organize a fleet event.

Fair winds,

Terry Canade
Kestrel #110

******************************
September 10, 2016 - Terry sent in the following update (emails consolidated and minor edits). The club has been dealing with issues involving renewing their facilities lease at Wilmette Harbor.
Ron,

Thanks for your patience. We are hoping that things will settle soon into a plan for a long future at Wilmette Harbor, now that all leases have been secured for the next 36 years. The lease issues did not appreciably disrupt our sailing season.

Our Dolphin fleet – 15 in the harbor – has enjoyed a nice sailing season. Chicago continues to experience some hot Summer weather to allow Lake Michigan to reach and maintain swimmable water temperatures – for us, that is high 60s and low 70s (unlike last year, when a super cold winter left miles of ice which kept the lake cool for most of the Summer months). Most of the Dolphins will keep sailing on Lake Michigan until mid-October.

Dolphins have participated in weekly races since June. The Dolphin racing season ends on Saturday, September 17, Three boats remain in contention for our fleet championship in one of tightest series in years. We like to keep the final results a bit of mystery until our annual awards dinner in November. The contenders more or less know where they stand, but we typically do not make a formal announcement until the dinner. I will make a note to follow up with annual results to you in mid-November.

Thanks for all you do to maintain Dolphin24.org

Best regards,

Terry

Wilmette Dolphin Fleet Captain 2016
Kestrel, Yankee Dolphin Hull No. 110

*************************
November 15, 2016. Terry sent us the 2016 Wilmette Fleet Captain Report
Ron,

The 15-boat Wilmette Dolphin Fleet officially concluded its 2016 season earlier this month with our annual awards dinner at the Wilmette Harbor Club about 19 miles north of downtown Chicago on the West shore of Lake Michigan. The Wilmette Dolphin Fleet participated in 12 races, one per week on alternating weekend afternoons. Nine Wilmette Dolphins participated in at least one race during the Summer.

The Wilmette Dolphin Fleet awarded three trophies at the awards dinner. D'Artagnan (#235 - Jim Griffith and Dan Hofstetter) won our fleet championship. We award a trophy for our Saturday series to recognize longtime Wilmette Dolphin Fleet advocate Jack Farley. This year, Echo (#251 - John Hellmuth) won the Farley trophy. We also award a trophy for our Sunday series to recognize the longtime heart and spirit of the fleet, the late Wally Barry. This year, Aurora (#202 - Paul Malm) won the Barry trophy.

In addition to our regular season racing, the Wilmette Dolphin Fleet actively participated in our harbor's annual mid-Summer Race Weekend Regatta. D'Artagnan won the weekend, with Aurora and Echo completing the top three. The Wilmette Dolphin Fleet also contributed to the Race Weekend festivities, after the main musical act for the large Saturday night party at the harbor canceled. The nascent Dolphin band, The Swells, performed familiar cover tunes to keep the harbor crowd dancing and enjoying the night. The Swells feature representatives from Sea Glass (#29 – Dick Watson – bass; daughter Mandy - drums); Madison (#163 – Jeff Mathis - lead guitar); and Kestrel (#110 – Terry Canade – rhythm guitar, vocals) and that night welcomed a special guest from Wada (#190 – Ted Prohov – harmonica).

Wilmette Harbor is now closed for the season, despite tempting late Fall weather in Chicago. We look forward to getting our fleet back in the water in May 2017.

Thank you for maintaining Dolphin24.org which remains a valuable resource to our fleet.

Have a good Winter,


Terry Canade
Kestrel # 110
Wilmette Dolphin Fleet Captain 2016

******************************
March 15, 2017. Terry advised that the 2017 Fleet Captains are Jim Griffith and Dan Hofstetter, d'Artagnan, Yankee #235
***********************
Cinco de Mayo, 2017. Fleet Captains Jim Griffith and Dan Hofstetter share with us their report to the Wilmette Pod of Dolphins (minor edits)
To the Pod guys and girls . . .

The harbor? 'Tain't the way it was the last time you looked. Tomorrow? Won't be the same as it is today. In short, the Club, the deck, and the wet part are under major renovation. So get out our diaries and race schedules and make some notes.There has been a question as to some boats being too light, so Hyde and Jeremy will weigh the boats as they go in. They will keep the list.

> May 6, 5 pm, WHC Open House with the new Club caterer, Hel's Kitchen. Reserve!

> May 27, 28, first races, weather willing.

> June 11, Sunday. Anybody know who Perle Mesta was? The Washington, hostess, extraordinaire. Pod Dolphin is fortunate to have four Perle Mestas. The two for June 11, 7 pm, are Mary and John Hellmuth. They will host the season kick-off party. Details to come.

> June 13 and every Thursday thereafter at 7 pm, tennis at the Gillson Park a courts, under the lights.

> June 24, Summer Solstice Sail, in the evening, of course. We hear there will be some kind of substantial prize involving a 40 foot sailboat. We're short of details on this, but we'll check with that renowned compendium of information, Terrence Canade.

> July 15, the Little Mac Race, to Belmont and back, as we test our coastal navigation and wind knowledge.

> July 28, 29, 30 - Race Week. Five races. We like that designation, since it extends over Thursday and Friday as well. Pompous? Perhaps, but cest la vie. The other two Perle Mestas, Allison and Terry Canade, a/k/a the July Mestas, will host this bash. By custom and by unanimous Pod vote, no alcoholic beverages will be served.

> September 3, Labor Day Open House.

To participate in this ribaldry on the water or on shore, ya gotta pay your dues. You have twice received your dues notices. And half the fun of Pod stuff is apre racing. Racers and non-racers, come and tipple on the deck.

Cheers,
Jim and Dan

***************************
November 26, 2017. Below is Fleet co-captain Dan Hofstetter's 2017 report for the Wilmette Dolphin Pod, with highlights of the Race Weekend held July 28-30. Dan's report is followed by the Wilmette fleet season series results (minor edits)
Ron:

The 2017 sailing season saw a newly configured Wilmette Harbor, with floating docks and many changes afoot.

The season Race results are attached. In total, 9 races were held with d'Artagnan winning the Fleet Championship, Aurora winning the Barry Trophy, and Echo winning the Farley Trophy.

The highlight of the season was Race Weekend on July 28-30, an invitational open to all Dolphin owners. Friday, July the 28th was a blowout with high winds, but 2 Saturday races and 1 Sunday race were held, with up to 6 Dolphins participating. The Saturday night party was a wonderful outdoor affair complete with the only all - Dolphin musical revue (much thanks to Terry Canade, Jeff Mathis, and anyone else I failed to mention), who provided revelers with covers of hits of yore.

The Race Weekend results are as follows:

SATURDAY FIRST RACE - Wind 17 NE


1st 235 d'Artgnan - Griffith, Hofstetter, Glick
2nd 202 Aurora - Kane, Malm
3rd 2726 Sea Glass - O'Malley
4th 251 Echo - Hellmuth, Watson

SATURDAY SECOND RACE - Wind 17 NE


1st 202 Aurora - Kane, Malm
2nd 235- d'Artgnan - Hofstetter, Griffith, Glick
3rd 251 Echo - Hellmuth, Watson
4th 2726 Sea Glass - O'Malley

SUNDAY - Wind 11, N


1st 202 Aurora - Kane, Malm
2nd 235 d'Artgnan - Griffith, Hofstetter, Glick
3rd 163 Madison - Mathis, Byrne
4th 251 Echo - John Hellmuth, Spencer Hellmuth
5th 190 Wada - Prohov
6th 2726 Sea Glass - O'Malley

RACE WEEKEND OVERALL SERIES RESULTS


1st Aurora, - Malm, Kane (with two firsts and a second with nice spinnaker work).
2nd d'Artgnan, - Griffith, Hofstetter, Glick (with one first and two seconds with spinnaker problems).
3rd Echo, - John and Spencer Hellmuth.

Regards, Dan Hofstetter, Wilmette Dolphin Fleet Co-Captain

Dolphin Fleet Standings as of September 23, 2017 (6 Races required to qualify for any season series)

d'Artagnan: 1, 1, 3, 2, 2, 1, 1, 2, 4 = 1.88 (AVRG)
Aurora: 4, 5, 1, 1, 2, 2 = 2.50 (AVRG)
Echo: 3, 2, 3, 3, 3, 1, 3 = 2.57 (AVRG)
Wada: 2, 2, 4, 4, 2 =
Madison: 1, 1 =

2017 Racing Season Recap:

6/17/17: 1) d'Artagnan; 2) Wada
7/1/17: 1) d'Artagnan; 2) Wada; 3) Echo; 4) Aurora
7/2/17: 1) Madison; 2) Echo; 3) d'Artagnan; 4) Wada
7/8/17: 1) Aurora; 2) d'Artagnan; 3) Echo; 4) Wada
7/22/17: 1) Aurora; 2) d'Artagnan; 3) Echo
7/28/17‐7/30/17: Race Weekend (Does Not Count Per Fleet Rules)
8/5/17: 1) d'Artagnan; 2) Aurora; 3) Echo
8/19/17: 1) d'Artagnan; 2) Aurora
8/26/17: 1) Echo; 2) d'Artagnan
9/23/17: 1) Madison; 2) Wada; 3) Echo; 4) d'Artagnan; 5) Sea Glass

******************************************
September 8, 2018. We are standing by for a Wilmette Fleet report on tomorrow's big event (All Fleet Race Day), but we have an interim report from Fleet Co-Captain Dan Hofstetter (d'Artagnan), and a following tidbit off the Wilmette website (Dolphin's Rule!!)
Ron:

High winds with small craft advisory will probably curtail racing this weekend.

The average turnout on the starting line has been 2-3 Dolphins this summer, which is low compared to past years, as a number of owners have moved into larger boats. However, there are still about 15 Dolphins in Wilmette Harbor and I'm trying to develop ways to increase racing attendance. Perhaps some photos (drone) would help.

Regards, Dan


Co-Cap'n, Wilmette Dolphin Fleet

All Fleet Racing Results

WHC All Fleet Racing kicked off the season with the first of 4 races on June 16th.

Eight boats participated, representing five fleets.

The day was hot with the promise of 10 to 20kt winds but diminished to 3 - 5kts by mid race.

Congratulations to D'Artagnan of the Dolphin fleet winning the race on an adjusted time basis.
*************************************
September 11, 2018. Wilmette Harbor has makeover. Here's Dan Hofstetter's email and drone photo
Ron:

This is the Wilmette Harbor Club's new configuration. Dolphins are moored to the wall adjacent the parking lot. There
are also some moored to the 3rd line.

Regards,

Dan

Postscript - Unfortunately, no racing yesterday; small craft advisory, winds of 30 knots with waves 10-12 feet. Last race is this Saturday. Subsequently, the season's race results will be compiled. I will send a copy to you, once completed.

*******************************
January 28, 2019. John is checking in as Wilmette Fleet Co-Captain. Here is his email
Hi Ron –

You may remember me (Echo-251), we wrote to each other a few times several years ago when I was captain of the Wilmette Dolphin Fleet. Well, things have circled back and I am co-captaining with my good friend Ted Prohov (WADA-190).

It is exciting that you have been racing your Dolphin in Camden. My family has a cottage on Christmas Cove/Rutherford Is. (end of the Damariscotta River and across from E. Boothbay) not too far from Camden. We will be up the 2nd half of August this year.

I often think I have spotted another Dolphin up there but it usually turns out to be a similar O'Day 25 or 26 design. Let me know if there will be Dolphins participating this summer. Who knows, I may be able to get a couple of us up there –Too far to tow our Dolphins from Chicago but could crew....Webmaster Note: Dolphins will be there, 2 already entered - check out our webpage for the 2019 regatta http://dolphin24.org/ccc2019.html.

As far as news from the Wilmette fleet – we are 14 strong however the number of Dolphins on the race line has been lower than usual. Many races with just 3 on the line, but sometimes as many as 6. We hope to encourage more this year.

Hope you are weathering the storms well. I attached a few pics.Webmaster Note - check out Echo's page for the photos

Cheers,

John W. Hellmuth
***********************************
May 5, 2019. Dolphin owners got the following invitation!!
Hi Ron,

The NOR for the Wilmette Harbor Race Weekend won't come out till we are closer to the race but attached is a "Save the Date".

We would love to have any out of towners join with their Dolphin or more likely to crew on one of ours. We will find homes to board visiting racers or can recommend local hotels.

Attached are a couple pics from previous race weekends.

Cheers,

Co-Captains Ted and John

**********************************************
December 9, 2019 We received the following Y/E update from Dolphin 24 Fleet co-captain Ted Prohov (minor edits)
Ahoy Ron,

Finally getting around to it - here's some recent photos for the site collection - a part of the pod (fleet) that is moored along the harbor wall. Myself and others are further out in the harbor, but it makes a nice group photo.

WOW!! Above photos will warm a Dolphin 24 webmaster's heart!!!

Also, a photo of the flying WADA (Ted's Dolphin) out of the water as she's hoisted onto the trailer for the winter.

Gives a good view of the wonderful lines of a Yankee bottom.




The fleet is surviving, but the racing participation has greatly diminished with only 8 boats involved, only 3 showing up most frequently. Too bad, but that's the way it goes here. Less and less fleets racing and fewer boats within them coming out to compete.

We've been pushing ahead with all fleets races with some success, but of course it is not the same as one design. Feeling very nostalgic about this situation and concerned about what it portends for the future. However, the Dolphins continue to find interested owners who are pleased to have such well designed and performing yachts.

As the boats come out and get hauled off day by day the harbor ramps down for the season. A sad time of year for me, but one that brings a new list of maintenance and improvements to work on for 2020.

Thanks for being worldwide commander of the Dolphin armada and fostering the community.

Fair winds,
Ted Prohov

******************************
October 16, 2020. Dan Hofstetter, d'Artagnan, Yankee #235, was in touch with the webmaster about ordering a copy of THE BOOK, Voyaging with Marionette, and passed on this tidbit about 2020 Dolphin 24 fleet racing at Wilmette http://dolphin24.org/wilmette.html
The Wilmette Dolphin Fleet had a great season with only two races cancelled due to weather. Sailing is one of the few things one can do these days and remain safe.

I will send a blast email to the Wilmette Dolphin Fleet with the link for the publisher's bookstore. You may be seeing some more book sales soon.

Regards,

Dan
d'Artagnan (#235)

********************************
March 25, 2021 - Fleet co-captain John Hellmuth (ECHO) sent in the following report. It will take website staff a few days to update changes - patience
************************************************
April 17, 2021 - John posted an Echo photo on the Dolphin 24 Facebook page - check it out here -
https://www.facebook.com/photo?fbid=10216548019767171&set=pcb.3852651868175250
**************************************
April 24, 2021 - John posted the Wilmette Fleet Annual Fleet Championship board. Check it out here
https://www.facebook.com/photo?fbid=10216583587536343&set=gm.3872984562808647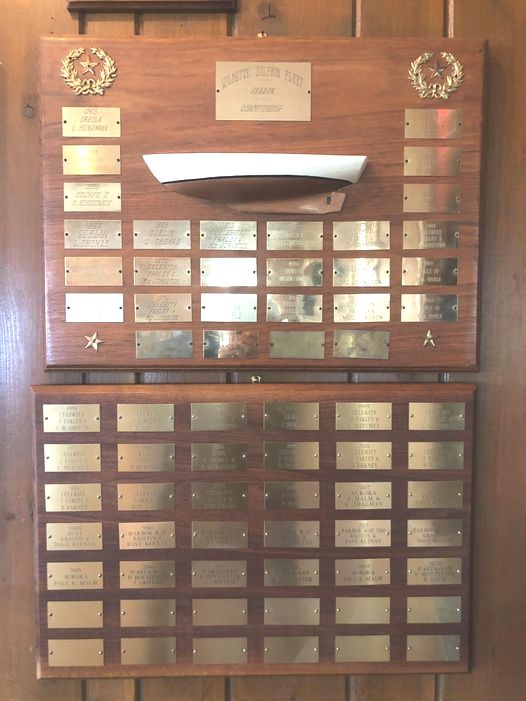 **********************************
May 3, 2021. Wilmette Dolphin 24 Fleet Captain John Hellmuth advised us that Cast and Crew (nee Sport III) has a new owner. We stand by for pictures and updates. Click here to go to Cast and Crew.
Hi Ron,

We have a new owner of Cast and Crew - Dr. Barbara Royal. Cast and Crew is # 225. It is listed on the Dolphin site as Sport III but was sold to Mark (and Kim) Piekos back in 2010 who renamed her Cast and Crew.

Cheers

John

**********************************
May 8, 2021 Fleet Captain John Hellmuth posted the following WOW! pic on the Dolphin 24 Facebook page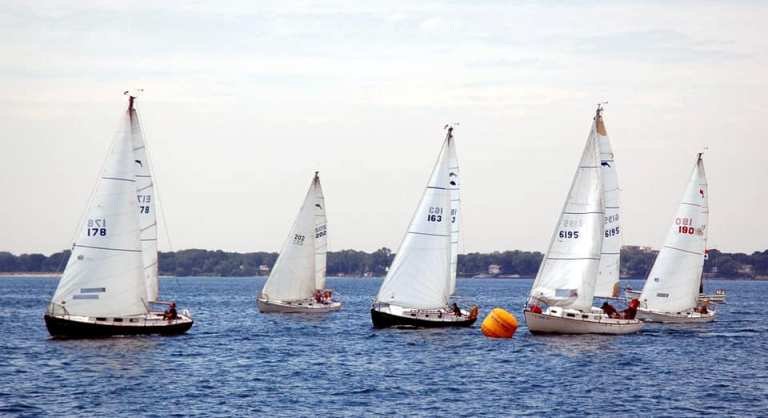 **************************