August 22, 2012. Kristin and Dave Keenan, current owners of Harbor Rat, O'Day #59, Wilmette, Illinois, have bought Serene from Bob Colson, Dana Point, California. We'll set up a new page for her soon. Webmaster Note June 15, 2013 - Click here to go to Harbor Rat Too.
Here is Kristin's email (excerpted/minor edits)
Hey Ron,

We wanted to let you know that we bought Serene (Yankee #239) from Bob Colston yesterday.

We've had our eye on her for a while....and every time we looked, we got to talking (and talking). In the meantime, we got an estimate ($$$) on Harbor Rat's issues and then we talked some more.

I flew out there yesterday to take a look at Serene. I was hoping it would be a very easy decision... it was...she was as beautiful as her pictures promised she'd be. Now we have to figure out how to get her home to Wilmette. (and, holy cow, we own two Dolphins!)

I will keep you updated. Always something exciting happening with Dolphins....that's a good thing!

Kristin

***************************************
August 12, 2012. This is the link to an updated Craigslist ad http://orangecounty.craigslist.org/boa/3199688038.html - the price has been reduced to $8600. The updated ad appears below. Back on February 10, 2012. DFI Jonnie Walker (Madalyn Joy, Yankee #227) told us about seeing the Craigslist ad for Serene.
24' Yankee Dolphin - $8600 (Orange County)

Updated August 12, 2012

Reply to: see below
| | |
| --- | --- |
24' Yankee Dolphin #239. Legendary, Sparkman & Stephens design. This is a classic 1971 long keel. . . blue water cruiser. Completely refurbished with over 1000 hours of loving labor and $22,000.00 of hardware, in 2008. Two owner boat. "Dry-sailed" since 2008. Restoration includes the following updates:

• Hull has been re-gel coated.
• Custom stainless steel bow and stern pulpits.
• 4 new Anderson stainless steel winches (2 self tailing).
• Stainless steel opening ports.
• "Garhauer" blocks and vang.
• 3/16th SS standing rigging. (Norseman fittings)
• New custom made masthead.
• Near new, custom made, SS Bimini.
• Mercury 9.9 Hp, outboard engine, with 20 hours on it.
• Luxurious interior. . . custom upgraded, by master wood craftsman.
• New head. . . Never used.
• Heavy duty trailer, with new bearings. (needs new brakes)

Health forces sale. Serious inquires only. Please call Ph. 714.463.0288

• Location: Orange County

*************************************

****************************************************
March 11, 2010. Dolphin Field Investigator (DFI) Glen Korpi, who also keeps his Yankee #146 AGAPE at Dana Point, originally told us of this boat. At one point last year when Glen was looking to find and buy a Dolphin 24 this boat, although not for sale, caught his eye. He also sent in some pictures.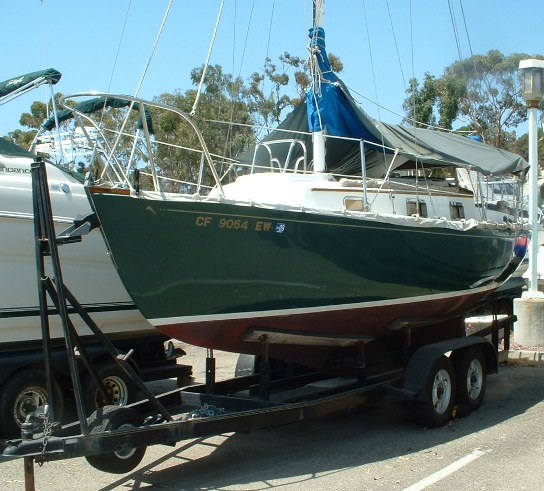 We reached Bob last night. He bought Serene for $2000 from the original owner in Newport Beach, CA. He has put several multiples of that number into her! She is pristine. He has had her for about 14 years. Her name when he bought her was also Serene. She does not have her name on the transom.
| | |
| --- | --- |
| This is a real stern rail! and a deep swim ladder | 2 lower arrows - part of an A frame? upper right arrow - spreader bird guards? |
In his other life Bob is a cabinet maker so has a couple of legs up on the rest of us. His A-frame mast raising system looks pretty neat and I hope he will share more info about the design with us.
Bob also reports seeing a Dolphin 24 in Long Beach, CA with an unusual raised house. We hope to find out more about this boat soon. WE DID!! Click to go there!
****************