April 2, 2016. Your webmaster spoke with John Uncher and confirmed that #227 has been cut up. He still has the mast and some hardware if anyone is interested. He will post details on the Forum. John's phone # is below.
Rest In Peace Madalyn Joy
***********************************************
*****************************************************************
December 30, 2014. Back in late October we heard from former Dolphin owner (now wandering in the wilderness) Jason Rose (Mahi Mahi, Yankee #166) that John Uncher had told him:
"I have a few items..no bulkheads..no trailer...some one got it for the lead...don't think its been chopped up yet..."
Josh Gardiner of Camden, Maine, a website follower currently out looking for his own Dolphin, told us that he had talked to John recently and its likely that #227 has left us. We don't have 100% certainty that she has been chopped but it is likely. #227 RIP
******************************
June 14, 2014. John Uncher has updated his offer to sell #227. See his email below
Good afternoon Ron,

I am not going to be able to finish all the fine work that Jonnie has accomplished on this fine boat.. I would like for some one to enjoy finishing the project as I am just not going to have the facilities and what little skill that it will need to complete..

I am offering the boat and trailer for trade for a trailer .. I have a Hunter 25.5 that we are using but need a trailer for it. Any one interested please contact me any time.

John Euchner, Email address joeuch@gmail.com
Phone 678-899-5245

**********************************
May 8, 2014. We found this ad on Craigslist and believe it to be for Yankee #227. Contact info via the ad http://chattanooga.craigslist.org/boa/4447490237.html
Dolphin 24 Sailboat - $890 (North Georgia)

condition: ready for refinish

This is the famed "Yankee Dolphin 24" Look at the owners web site - there is a ton of info on this design and on this particular boat. A ton of work has been completed, just a lil bit more to go. Have many or most of the supplies that you'll need to finish that goes with it, just more love labor and your ready to enjoy the river, lakes the coast..
**************************************
July 5, 2013. Jonnie has advised that Madalyn Joy has been sold to John Eucher from northern Georgia, We are standing by for John to check in. Fair Winds, Jonnie
*****************************************
May 5, 2013. Well, Jonnnie's been in touch...
Hi Ron

Not the best news, but here it is. Our situation has changed fairly substantially. Some good some bad, which is fairly normal. But I'm being honest with myself and I just don't have it to keep working on Madlyn Joy. I never really recovered momentum from the interlux failure.

I've posted her on craigslist in Chattanooga. Here is a link http://chattanooga.craigslist.org/boa/3784061080.html

I'd like to have someone that wants to put the pieces back together. Trailer goes with her, and I'm asking $750 Thanks for keeping a great owners group together Ron!


-Jonnie
Here is the Craigslist ad - minor edits
24' Project Sailboat on trailer

1971 Yankee Dolphin 24

Life situation has changed.

Topsides and bottom 85% sanded for paint

Needs new bulkheads, old bulkheads are with the boat for pattern.
All parts in marked bags for reassembly

Sails in good shape - Main, Jib, 130 Genoa, Spinaker

Standing rigging in good shape
Running rigging needs replacing

No motor, this boat has an outboard motor well, and takes a 6hp outboard

On trailer, currently stored inside.

Can be viewed Monday through Friday 9-4.

$750 obo
Location: Calhoun

*****************************************

**********************************************************************************
The following is the history we had on this boat.
March 22, 2010 - We first heard from Jonnie back last December when he reported that he was looking for a Dolphin. We had a few exchanges, then silence. Today, we got the following email, minor edits. We'll use a picture of Paul's pending new ones.
Hi Ron,
I couldn't take it anymore….I bought Paul Balaster's Dolphin in Houston TX. We trailered her home last week, 851 miles. We slept in her in Walker, Louisiana in a Wal-Mart parking lot. Can't help but think that's a Dolphin first.

She is in pretty good shape, but definitely needs some lovin....Interesting rig on her and a good suit of sails. The rig has an adjustable backstay with a nice block for quick adjusting, and a set of jibsheet blocks moved inboard onto the deck for the working jib. There is either a 130 or 150 and also a spinnaker. All the sails are in excellent condition. Oddly enough….no one design spec oil/kerosene lamp!

The mast support beam is cracked, and the centerboard is stuck up, possibly glassed in…..(doesn't look glassed in). Apparently there was a leak from the centerboard trunk when the 3rd owner back had her splashed (!!!) and they sealed the centerboard up…..Not sure where it went from there but will investigate soon. I had the pleasure of meeting Russ, the owner before Paul, on the dock and he spent some time with me….he did all the re rigging and some other work on her.

We are planning on fixing the mast support, working on the centerboard and painting the bottom and deck (bare fiberglass on the deck) and putting her in the water, we have reserved the slip directly across from our Cal 25 MKII so we will have both boats nose to nose this season. I will continue working on the interior while in the water…assuming there isn't any wind. If there is wind I will be doing something much more worthwhile.

So to my first of, I'm sure, many questions…..in the Yankee version of the Dolphin…..can I take out the forward bulkhead without affecting the mast? Or do I need both for mast support? The mast support is cracked, where the head door slides across, and so is the forward bulkhead support, where you pass into the v-berth….I want to do minimal before getting her in the water….hopefully by May 1st, and there is plenty of interior work to be done. Webmaster Note: This comment has not been cleared by our lawyers. As there is no structural support (bulkhead or strut immediately below the the mast step I suspect both the existing bulkheads are part of the structural support system for the mast load. See http://www.dolphin24.org/technical_Yankee_Arrangements.html

By the way the outboard plug is the typical Yankee…..and came with a broken off broom handle to slide in and hold in position….I may upgrade to a 1" dowel some day but it seemed to work!

We took pictures loading her onto the trailer in the slings…..I'll take more to try to document some of the work we do.

One more question….you have any thoughts about a British Seagull for an outboard motor for Dolphins? The Century models are 4-5.5 hp. And I'm wanting something smaller and lighter than the 6hp for easy in and out….this is primarily for clearing the pass out of our marina….(we sail in the mountains) Webmaster Note: I know nothing about the Seagull Century models - If you get one tell us about it. Readers have read ad nauseum about my preference for a removable, light weight, low hp outboard in the well - assuming, that is, one starts without already having a nice lightweight diesel inboard)

Thanks Ron,
-Jonnie

Stay tuned
April 1, 2010 - Jonnie sent in a couple of emails and advised he posted a bunch of 'restoration in progress' photos on Flicker - see below. The name of the boat will be Black Sheep but probably in Latin - Jonnie and his wife are working on the spelling...
There are 37 pictures up on Flicker http://www.flickr.com/photos/48889791@N05/ Click on the link to see them. Our technical staff 'screen shot' a couple of them, and given time, maybe will get a couple more to put up here. The screen shot quality is not great but maybe we can get Jonnie to send in the key ones.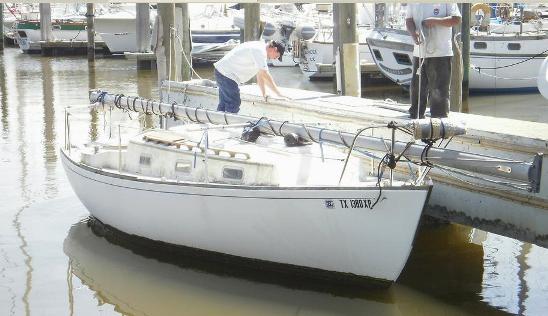 Ready to haul in Texas
This is a key photo - 227's nameplate. Jonnie's consolidated emails follow - minor edits

April 1 2010

No pics in the Wal-mart parking lot, Ron…sorry…..

I did a photostream because it was 90 megs of pics and I didn't think you'd want that crashing into your e-mail system. Here's the link
I got to do some work on her today - took out the interior - only took like 10 minutes (right). Getting the galley out was a chore, but not as bad as getting it down from the trailer - see above. Went sailing in the middle of the excitement - two pics there.

With the wood out I think I'm going to pressure wash the inside, then bilge it out. I'll rework the galley in the shop and try not to destroy it going back in. Everything was wonky inside

I don't know if it was in process of a restoration and just put back together quick or what but there were Phillips screws next to flat head screws and the joinery was all kinda of... the drawers and cabinets were loose - They are real loose now.

Just had the guys from the cabinet shop over and are talking about veneering some of the older wood with either teak or mahogany. I am also thinking about veneering the new bulkheads and the existing galley - we have one of those horrid two tone monstrosities.

They said that we can laminate the original mast support where it cracked, The forward mahogany board is the one that cracked…not the main oak one - oak one is huge.

I will probably put in some plywood temporary bulkheads to get her in the water in May and then figure out what we want to do. We are seriously thinking about changing the look of the forward bulkheads. I like the way the O'Days are more open. Also if you look at Feather, the potty bulkhead has been cut back. I don't know if there is a head on Feather. We are planning on doing curtains for the head anyways. The door to the head on our Cal is a pain in the butt. Kinda thinking about doing some curve on the bulkheads…Will see what happens.

After I pressure wash and paint the inside we will go onto deck and bottom paint - topsides seem ok so I'm going to put that off.

Can I do all that in a month? We will find out!

-Jonnie

*********************
August 21, 2010. An update from Jonnie follows (minor edits)
Hi Ron!

just a note to let you know the restoration is going well......

Deck is stripped and sanded....paint should be in this week. I'm gonna spray her deck with brightsides, and add the intergrip for the non-skid areas. Also gonna paint the cabin top on the inside....plan to loose the fake wood grain on the doghouse walls.

I've been working hard on the interior, sanding all the mahogany down.....I was shocked at how pretty the wood is once you get the finish off of it. I'm planning on doing a oil rubbed finish.....rather than a hard finish. I am attaching some pics of pre and post sanding but its a bit fuzzy.

To replace the bulkheads I found a semi local place: http://www.southerncrownboatworks.com/. Bill is EXTREMELY knowledgeable.....I am going to go down next week and get a sheet of 1/2" Meranti which apparently is also sometimes known as Philippine mahogany. He says it has a similar grain structure and only the color will be different....but he has 14 different mahogany stains. I am going to finish half of a piece from the boat, and leave half natural and we are going to try to formulate a match so that the bulkheads are the right shade. I was thinking about redoing the bulkheads in teak....but once I sanded the mahogany a bit.....its beautiful. I want to stick with mahogany.

I cleaned the outer teak......and am going to try to make the existing toerail work.....I think I can drill out the mounting screw holes a bit deeper and gets bungs to sit.....but it is pretty worn.....so I may go back at a later date and replace it. The big deal for me about putting a new toe rail on is filling all the existing holes, and then trying to make new ones while bending the new toe rail into the correct position. ewwww.

Another cool thing that happened is that Chris, the 4th po (prior owner) back contacted me through the dolphin24.org forum!

I got a little more info about the splashed leaking hull (see March 22, 2010 email above) Apparently when he bought her she had been sitting on a trailer in the middle of Houston for many years, he did some work on her and put her back in shape.....but the centerboard was not very functional. After working with it he got it to move some.....but said that it looked like water had gotten into it and swelled it (I'm guessing its a wood core C/B, I haven't gotten into that yet) and that it was scraping the sides of the trunk. Once they splashed the hull it was leaking pretty bad in the rear of the trunk from an odd small hole, so they hauled her out and since the board wasn't working well anyways, they 5200'ed a stainless plate over the C/B trunk, and then set about fixing the hole. Apparently that fix worked because when I hauled her out the stainless plate was gone........and there was no water leaking from the C/B trunk. Webmaster Note: For more on this see below.

All for now......but I just got a new camera and I'm going to try to get picture happy and document better!

Will keep you posted!

-Jonnie

******************
October 10, 2010. More on #227's leaking centerboard trunk - see above note. Jonnie sent in the following email (edited) and photos on an usual, and interesting, repair. This report is also included in our Technical Section/Centerboards.
Hi Ron,

Just an update.The deck is done, and I am working on painting the cabin before putting it back together! I had been out of town for two weeks and it rained - filling up the bilge....When I came back I noticed a leak coming out onto the trailer.

| | |
| --- | --- |
| | So I e-mailed prior owner Chris and asked him about the centerboard trunk patches that had been done. We surmised that on the top of the trunk was the probable offender. In the picture at left I have cut away the floor and you can see by the picture that it was not 100%. |

| | |
| --- | --- |
| | I ground the glass cloth off and there was a dark area, and I could wiggle my screwdriver into it....definite crack - drilled down and it went through real easy....too easy.....Then I drilled a series of 3/8" holes and tried to figure out how best to fix it.... I ended up shop vaccuming out the debris and using a Dremel Tool with a mill bit. I opened the hole up smooth and got out a lot of the loose glass fibers. At left is a picture of the cleaned up hole and you can see the top of the centerboard the picture is. To the right of the CB trunk at the top right corner of the picture is the cutout for the deeper section of the bilge. |

This drawing shows the exact location of the repair

Then 1 milled in an edge under the hole....put a few dabs of marine-tex on the edges and then placed a precut piece of glass cloth in and used a 1/8" piece of stainless pinstock to push it into position....then I put the last side down from the top and filled in with 1/4" marine-tex on top of that to fill the hole. Then another piece of saturated glass cloth over the whole trunk, and a 2nd larger over the first - wrapping both pieces down the sides. I stirred the marine-tex in the hole to make sure there were no air bubbles.

All in all I felt really good about the patch....I don't think I contacted the centerboard at all. I think I bonded to solid glass all round, and I am pretty sure thats where the leak was coming from.

Monday, I will fill it back up with water and see if it holds...but my guess is it does hold!

Jonnie

Stay Tuned!!
October 12, 2010. Update. Here's an edited excerpt from Jonnie's email.
Ron

Good news and bad news. The patch I did is water tight! But there is another old patch further forwards....and its leaking.

For the full scoop go to Technical/Centerboard Trunk Repair page
October 13, 2010 - Another CB Trunk repair report - click on the above link to go to it.
*********************
October 14, 2010 - All this work on the centerboard trunk has inevitably led to work on the centerboard itself. We have opened up a new page on this project. Click here to go to it.
**************
October 22, 2010 - Jonnie sent in the following updates on his remake of the dinette table, stained glass! galley doors, and spray painting off the forward cabin/V/Berth (minor edits). Webmaster Note January 11, 2012 .These will also be included in the Technical Section under Interiors.
Hi Ron

just wanted to give you an update. The centerboard is resting while I wait for some West goo.I'm going to use their high build filler to fair it.. Also, I have a machinist friend who is brainstorming with me for a better pin.

I think tomorrow will be the last day of prep before I start spraying the cabin....hopefully.

Here are some pics of the new Formica for the dinette table.

And here's the stained glass for the galley doors. I shouldn't have created such an intricate pattern for the mermaids, but I think they came out good.

The big news is we finally officially named her!!!!!! Black Sheep is out. Hull #227 is now the S/V Madalyn Joy. I hope that doesn't make a lot of work for you. (Webmaster note: it has been a long day....)

-Jonnie

***********************
Nov 3, 2010. Jonnie's been working on painting #227's interior. Here is his email (edited) and a before and after picture.
Hi Ron

Here are a couple of pictures, before and after, of the v-berth. The final coat went on today....the major painting is done!!! The wood veneer was actually (I believe) a sticker of sorts that was put on under the original gelcoat or whatever they finished it with...it was not real wood, nor was it pretty! I painted right over it!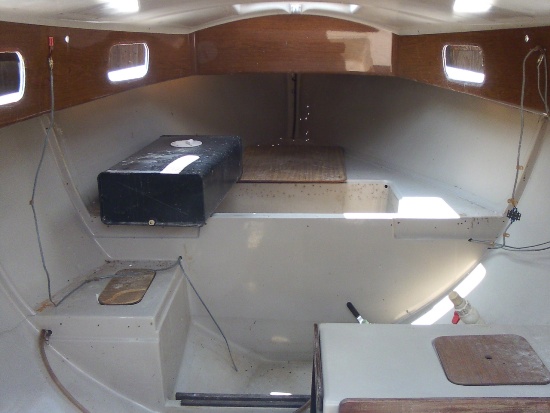 Before
After

Feather's teak veneer is pretty...this was 70's fake wood. I just sanded it with 220 on the orbital sander like the rest of the cabin. I gave it one coat of primer and two coats of paint. I used Prekote and Brightsides Urethane.

Trying to keep tabs on the $$ side - I've spent around $250 in sand paper, burned up one orbital sander, and burned up one shop vac...

I got the epoxy for the centerboard...will start fairing it soon. I'm going to try to get some of the deck hardware back on today. Rain is coming and I'm tired of bilging and wiping her out.

Jonnie

********************
Nov 10, 2010. Update on the Centerboard Repair project - in Technical/Centerboards. Click to go there.
June 23, 2011. Update on the Centerboard Repair project, including centerboard measurements - in Technical/Centerboards. Click to go there.
************************
Jan 10, 2012. Jonnie is not happy about the results of his painting job using Interlux Brightsides, and he is ready to tell his story. This most important subject calls for its own page in the Technical/Repairs section. Click to go to it.
Jan 11, 2012. While Jonnie is fretting about his painting woes he definitely has the big picture in mind. Our exchange of emails has him in Clearwater, Florida, sailing on his other sailboat and heading for the Keys. The following is consolidated and edited
Morgan and I are cruising on our Cal 2-25 this winter. We sailed her out of Knoxville down the Tennessee River, down the Ten Tom (Tennessee-Tombigbee Waterway - http://tenntom.org/), across the panhandle, and across the gulf. We are in Clearwater, Florida now, and on our way to the Keys. We are anchored in Clearwater Beach, the wind was blowing 10 knots from the SE, so I took out the sail kit for our Nutshell Pram and sailed about a mile upwind to a public dock about two blocks away from a Publix supermarket. I got a few provisions and then had a lovely sail downwind back to the boat.


Hopefully I'll have the wherewithal to strip Madalyn Joy's decks and repaint the whole boat next spring/summer. Most of the prep is done... there is some fill/fairing that needs to be done close to her waterline, but otherwise she's pretty close.

The interior is ready - all sanded and finished nicely. I need to recover the cushions but that is like a week's job maybe.

So in theory she could get splashed this year....but then of course there are all those little life things that get in the way....but I'm keepin the faith!!!

I think she will be a great Bahamas boat. Keys too. Our Cal draws 4.5 and we have to worry sometimes....Each time I do I think about Madalyn Joy just waiting for us to take her to skinny water.

J..
Webmaster Note: Regular readers will, no doubt, note that this interchange has motivated your webmaster to redo Madalyn Joy's page using our new "Tables Technology" - this positions pictures on a page so that they self adjust to whatever size moniter the reader is using. We'll see. Also Jonnie's October and November, 2010 updates, above, on his remake of the dinette table, stained glass galley doors, and spray painting off the forward cabin/V-berth have been included in the Technical Section under interiors.
*************************
December 20, 2012. A couple of days ago your webmaster gets the following email and photo from Jonnie
Hi Ron,

Just a quick note..I snapped this pic in St Augustine last week....it proves what I always knew. J.
So after a couple of days of trying to figure out what Jonnie always knew, the following exchange occurred.
Ok Jonnie
I give up! What did you always know? Ron

Ron - That the pot of gold at the end of the rainbow was in the marina office! Those guys get all the money!!!!! J.

*****************************************************