June 28, 2019 - We heard from the Yachtworld broker that Feather has been sold. We stand by for the new owner to check in
***********************************************
November 27, 2018 - PRICE REDUCED - click this link for Yachting World's latest ad
https://www.yachtworld.com/boats/1968/yankee-dolphin-sloop-2846625/
Current Price: US$ 12,499
Price Drop! Sellers Want Offers

FEATHER was designed by the world famous Sparkman & Stephens. Her hull number is 104 and was built in 1968. She has been restored from the top of her mast to the bottom of her keel. She has a newer Awlgriped aluminum Buzz Ballenger mast and boom. She has all newer 1x19 ss shrouds with bronze open bodied turnbuckles. She has (4) bronze Harken winches for halyards and sheets. Her decks and topsides have been sprayed with Awlgrip. All her teak has been stripped and sprayed with two part Awlgrip Awlbrite varnish. Her beautiful teak interior has been stripped and varnished. Her traveller and mainsheet system are newer from Harken. She has newer Ullman Dacron main, jib, and Nylon drifter.Call for details, this is a restoration that is 90% complete. You have the opportunity to finish the interior to your specifications.

Please contact Greg Weil at 805.350.0437

************************************
February 14, 2016. Feather is FOR SALE again - below is the link to the Yachtworld ad YW#: 14024-2846625 and lots of pictures further down the page.
http://www.yachtworld.com/boats/1968/Yankee-Dolphin-Sloop-2846625/Santa-Barbara/CA/United-States#.VsCcBvkrLIU
And the following note from the broker, Stephen Millard
Seller would like to sell with slip but will now break up. Let me know
Stephen - 805 708 4011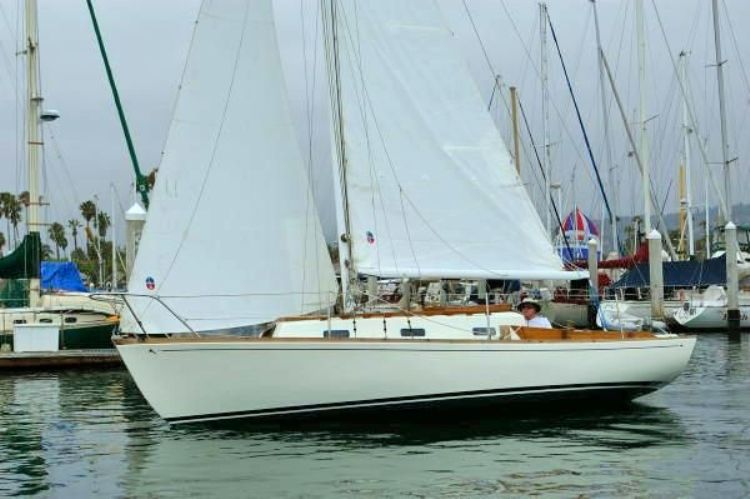 Feather, 1968 Yankee Dolphin 24, Santa Barbara, California - $18,000
FEATHER is the most beautiful restored Yankee Dolphin that you will ever see. She is designed by the world famous Sparkman & Stephens. Her hull number is 104. She was built in 1968. She has been completely restored from the top of her mast to the bottom of her keel.

She has a new Awlgriped aluminum Buzz Ballenger mast and boom. She has all new 1x19 ss shrouds with bronze open bodied turn buckles. She has (4) new bronze Harken winches for halyards and sheets. Her traveller and mainsheet system are new from Harken.

Her decks and topsides have been sprayed with Awlgrip. All her teak has been stripped and sprayed with two part Awlgrip Awlbrite varnish. Her beautiful teak interior has been stripped and varnished. All her interior cushions are new.

She has a new Ullman Dacron main, jib, and Nylon drifter. FEATHER is in absolute pristine condition both on deck and down below.

SHE IS AVAILABLE WITH A NICE UPWIND (Sail In) SANTA BARBARA SLIP

Detail specifications

Designer: Sparkman & Stephens; Keel: Centerboard

Dimensions LOA: 24 ft 0 in; Beam: 7 ft 8 in; LWL: 19 ft 0 in; Maximum Draft: 5 ft 2 in; Displacement: 4250 lbs Dry Load

Engine Honda 2.5 HP Engine, Built: 2010; Outboard 4S


Accommodations
FEATHER has a very nice interior layout with a v berth forward that sleeps (2) and a convertable dinette table that drops down making a nice double that sleeps another (2) persons. All her cushions are new and never slept on. Her nice teak interior has been stripped and varnished. Where not varnished she has been repainted with an off-white satin marine enamel.

Sails & Rigging
New) Custom Ullman Dacron Main Sail With One Reef; (New) Ullman Dacron Jib; (New) Ullman Drifter


Deck
All brightwork has been sprayed with Awlgrip Awlbrite two part varnish. Her deck cleats, chocks, winches, and forward cabin opening port are bronze. Feather has been completely restored by a boat yard in Santa Barbara that specializes in yacht restoration. Any filler used to fair boat before painting is made by West System and is epoxy. Even her center board has been faired to a smooth finish.

Stuff

> Ballenger Awlgriped Aluminum Mast And Boom; (1) Main Halyard; (1) Jib Halyard; (1) Spinnaker Halyard
> Tides Marine Main Sail Luff Track System With Cars; Reef Hardware For (1) Single Main Sail Reef
> All New SS 1x19 Shrouds With Bronze Open Bodied Turn Buckles
> Harken Main Traveller With 4 To 1 Mainsheet System
> (2) New Bronze Harken Primary Winches; (2) New Bronze Halyard Winches On Mast; Lazy Jacks
> Sunbrella Acrilon Deck Cover (Deck is covered from back of cockpit to mast)(covers all brightwork)
> Bronze Opening Port At Front Of Cabin (for nice ventilation)
> Varnished Teak Hand Rails; Varnished Teak Bow Hatch; Teak Cap Rails; Varnished Teak And Holly Tiller
> SS Bow Pulpit; SS Stanchions
> (4) Bronze Dock Cleats(4) Bronze Dock Chocks
> 3 To 1 Boom Vang; Boom Topping Lift With Cleat
> Stern Lazerette; Built In Cockpit Ice Box (in seat of cockpit); Hand Bilge Pump
> Windex Masthead Wind Direction Finder


Additional - Boat Hook; New Centerboard Lifting Pendant
> Custom Varnished Wood Sculling Oar (system designed by the famous cruiser Larry Pardey)
> Coast Gaurd Approved Life Jackets; New boat cover 2015


Please call Stephen Millard, listing broker, with any questions regarding this beautifully restored Yankee Dolphin
Cell: 805-708-4011

*****************************
October 7, 2016. Steven Fruth, Melia, Yankee #158, sent in the following pictures
Click on the photos for a larger image
*******************************************

*********************************************************************
*************************************************************************************
January 23, 2008. Field Investigator Mike Zint first alerted us to this boat, sent in this photo back on July 23, 2008, and the following email (edited)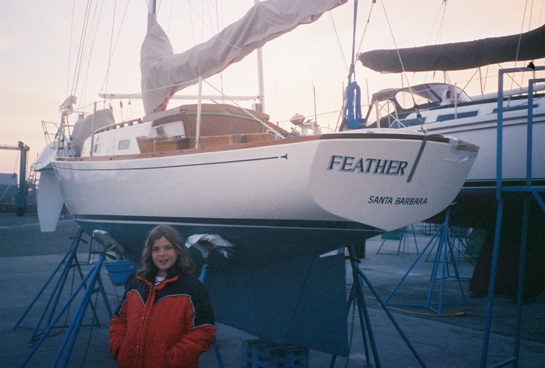 Identify This Boat (we did, and the girl too, but we're not telling!!)
I found your web site last night and was surprised to not see FEATHER on the Roster. Any information about this boat would be appreciated. We found FEATHER just coming out of refit in the harbor marine boat yard in Santa Barbara last summer and have been smitten ever since. I 'm searching for a west coast boat for sale. (Mike finally found his Dolphin - Click here to go to Grand Finale)

Mike Zint
***********************
We have since found out a lot about FEATHER and she is for sale. Her owner spent a small fortune having her professionally restored. FEATHER'S particulars are listed at YachtWorld.com and can go directly there by clicking the link above

There are a lot of pictures and a nice write up. Here a few of the Yachtworld gallery of photos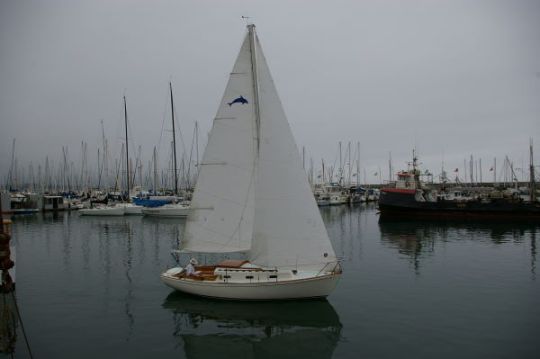 Ghosting along - a Dolphin in her element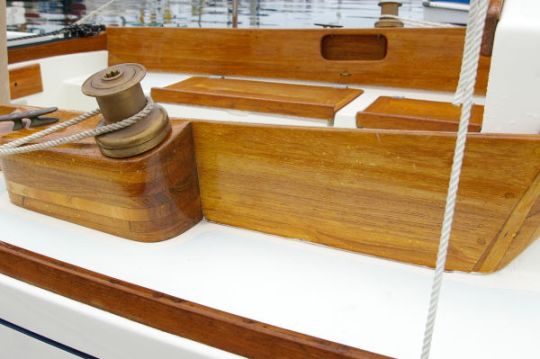 This hurts - I used to think my varnish work looked pretty good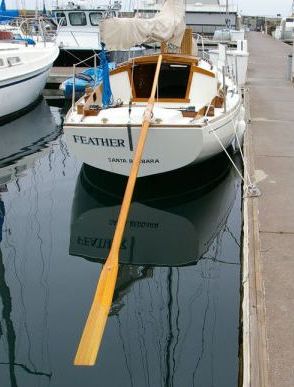 Traditional power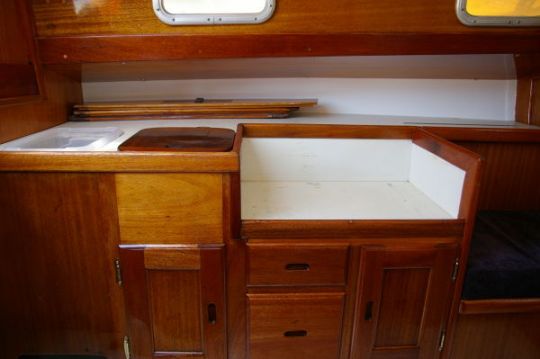 Galley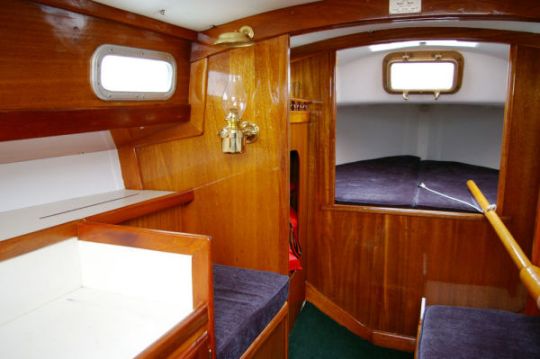 Looking forward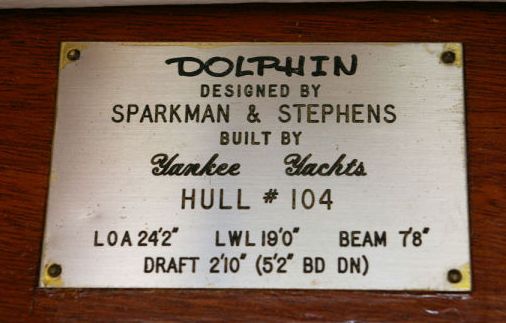 ************************
January 24, 2010 FEATHER was offered at $19900 The following photos are from the gallery at Yachtworld's ad, where they can be better seen.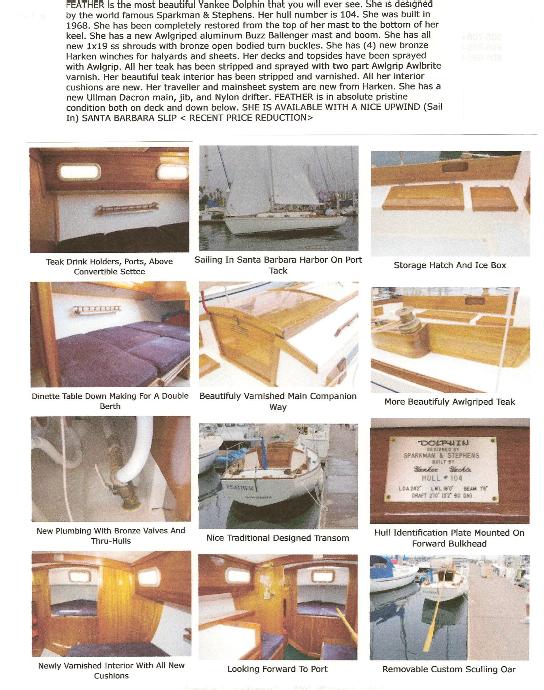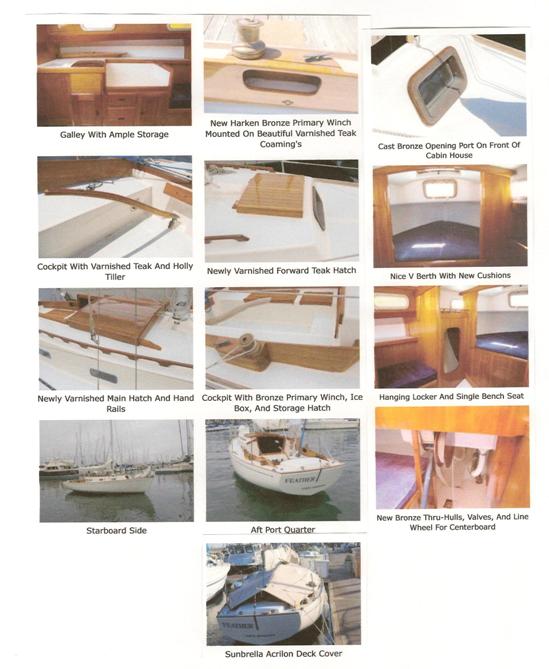 ********************
February 3, 2013. We have a sighting report - Feather is still in the Santa Barbara Harbor. Back on April 30, 2010 Stephen Millard at Chandlery Yacht Sales in Santa Barbara advised us Feather was sold. We have been standing by since for the new owner to check in.
Just wanted to let you know that FEATHER has been sold to a new owner who understands what a magnificent boat she is. She will stay in Santa Barbara, CA.

Stephen Millard, Chandlery Yacht Sales