Recent inquiries prompted updating this page providing 'professional' technical advice on hardware, standing rigging, running rigging, selecting blocks, line and related systems for our Dolphins. There are many ways to skin this cat - the equipment suppliers and retailer catalogues, and their online cousins are a good source. Most of us have these catalogues - West Marine, Defenders, Harken's and others - usually not far from hand to anyone restoring an old boat. Getting online and doing some research is the next step in serious evaluation. Zooming in on some of the pictures of other Dolphins on this website, using the Forum, and walking around marinas with a camera are other possibilities.
Once past the basic information gathering stage the real fun starts. What's on sale, good bargains on Ebay or available at used marine parts stores, and especially what's in your spare parts box, are influential factors. And, for the traditionalist, those old bronze winches, eye straps and wood cheek blocks might be heavy but are also irresistible.
Individual boat characteristics may have an impact. For example, on Marionette her mast has the old double groove, large diameter internal sheaves for her original wire/rope halyards.

We decided to go to all rope halyards - more than strong enough, and easy on the hands. Not wanting to change these sheaves made selection of a larger diameter line than otherwise necessary so it would not 'jam' in the small groove.
Intended use and prevailing conditions are variables. Hard core racing on San Francisco Bay with its strong breezes are a lot different than fair weather, light air cruising on western Long Island Sound.
Personal preferences on handling can be important - you can get a grip on a hefty 7/16" mainsheet in wet, heavy breeze, but those same sheets dragging in the water dead downwind make you wish you had at most a 3/8" or 5/16" diameter line. Some racers would carry 1/4" main sheet just for light air..
The following links are useful interactive sites that allow you to input your data and get useful guidelines for loads and new equipment. Harken once had a webpage specific to the Dolphin 24 (Yankee). It seems to have disappeared but their rigging tips are useful. New England Ropes is another useful source. We'll put up other sources as readers advise of their utility. And, don't forget to check the specific related pages in the Technical/Hardware Section.
> Harken Rigging tips http://www.harken.com/system-diagrams/

September 5, 2013 update - Harken's site has some really interesting, and useful information, including load calculators. For example what's the main sheet traveller car connection load to a Yankee (full) main in 25 knots? 1196 lbs. Here's the link to that specific calculator - you do the math http://www.harken.com/content.aspx?id=9094 (thanks to Steve Ludwig (Yankee #80) who did the math and told us

> New England Ropes – Interactive Line Selector - http://www.neropes.com/LineSelector.as

> Standing rigging guidelines - http://www.boatus.com/seaworthy/rigging/default.asp; http://www.boatus.com/seaworthy/rigging/checklist.pdf
> Measuring standing rigging - http://www.apsltd.com/t-HowToMeasureStandingRigging.aspx
*****************************
December 17, 2020 - Mike Zint,
Grand Finale
,

Pacific Dolphin #

300
passes on the following
I've got my mast back down and have to replace my backstay and starboard top shroud. All are 3/16 dia

********************************************
March 8, 2022 Responding to questions from a possble Dolphin 24 buyer regarding mast shroud fittings, how they fastened to the hull/deck/arch, and any 'issues',we have the following posts made on the Dolphin 24 Facebook page https://www.facebook.com/groups/dolphin24sailboats If you type the responders names in the search button (upper left) you will go to their boat page.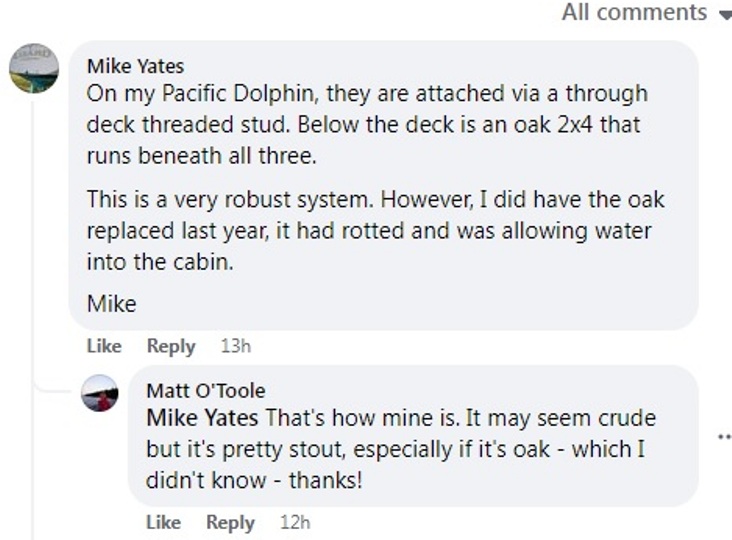 Stay tuned
March 10, 2022 - More Facebook info
Mike Yates Pacific Dolphin #271 http://www.dolphin24.org/Tuuli.html
On my Pacific Dolphin, they are attached via a through deck threaded stud. Below the deck is an oak 2x4 that runs beneath all three. This is a very robust system. However, I did have the oak replaced last year, it had rotted and was allowing water into the cabin.…

Matt O'Toole Pacific Dolphin #250 http://www.dolphin24.org/two_moons.html
Mike Yates - That's how mine is. It may seem crude but it's pretty stout, especially if it's oak - which I didn't know - thanks!

Tom Charpentier Yankee #186 http://www.dolphin24.org/186.html
Mike - My Yankee was missing the cleat on one side. I replaced it with some solid teak I was able to find and made some doublers out of Okoume.

Tom Charpentier Yankee #186 http://www.dolphin24.org/186.html
I can only speak to the Yankee's design, which is three eyebolts tied into the hull/deck joint with a wooden backing cleat. While the strongest design would probably be to directly tie the chainplates into the main bulkhead, I think this arrangement is plenty strong. The hull is well-supported against flexing by the bulkhead in this area. My last boat was a MacGregor 25, which had the chainplates simply bolted to the hull with no bulkhead to support the load. Tensioning the shrouds was useless since the hull flexed so much it constantly changed the tension of the rig.

Connor Sauby Pacific Dolphin #267 http://www.dolphin24.org/juniper.html
My Pacific is similar. 3 thick (3/8" or so?) Bolts through the deck which have eyes on the topside for the shroud fittings. They're bolted through the deck and through a thick piece of wood. Not sure the wood species, but the previous owner replaced them with new ones

Helen Chien (the potential Dolphin buyer)
Thanks to all for responses

**********************************