June 25, 2014. Mahi-Mahi has been sold to Kate Kevill, of Port Jefferson, New York. She has a new name - Click here to go to Whimsy.
May 5, 2013. Jay Rose checked in as the new owner of Mahi-Mahi and will soon be moving her from Noank, Connecticut across Long Islnd Sound to Port Jefferson, New York. Jay has been looking for a Dolphin for years. Below is his email - edited, and he followed up with a couple of pictures
Hey Ron!

I emailed Peter and Carol King more than 2 years ago about buying "Mahi-Mahi" and they told me to contact them when I was ready. Well this was the year... After so many years I finally have my Dolphin!

We broke open a bottle of Moscato, did the deal and celebrated! :) Peter and Carol are the best people ever! If you know anyone who needs a sailing charter adventure, these are the folks. Here's their website....

http://sailingcharters.com/tours/king-yacht-charters/

I will be emailing you updates as I bring her to her new home in Port Jefferson!

Cheers!

Jay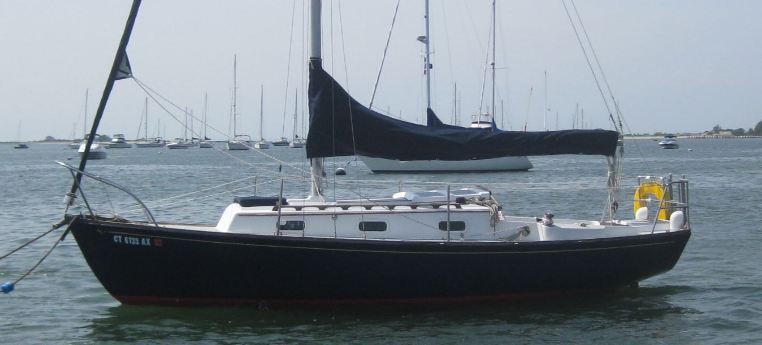 Here is Mahi-Mahi at her new home port, Port Jefferson, New York. Welcome aboard, Jay!
Jay also sent in the following pictures taken on his May 5th visit to Noank .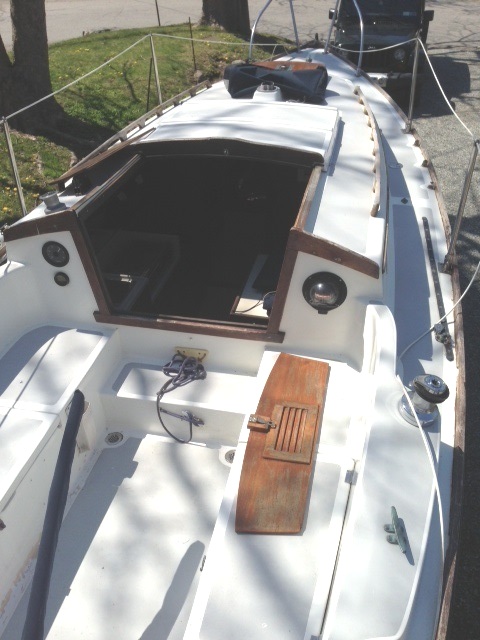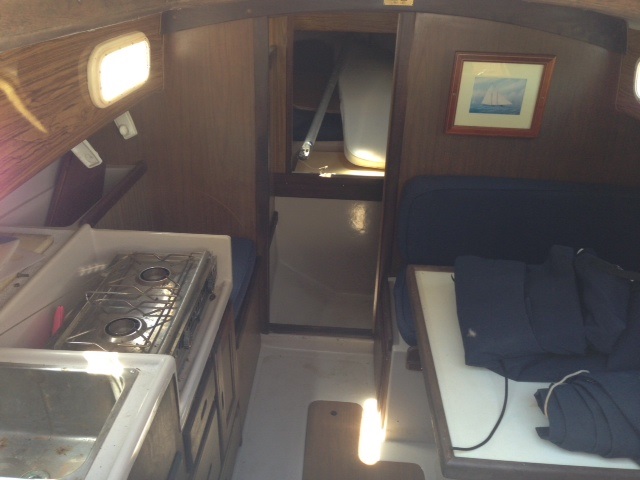 ************************************************
May 6, 2013. We got a followup email from Jay, and a photo of Mahi Mahi's nameplate - excerpts below.
Peter and Carol purchased the boat from a client of theirs in 2000, Rina Springett of White Stone, Virginia. They gave me a copy of the old VA title. I'll be doing some research to find out who owned her before Rina. Unfortunately Rina has passed so I'll have to do a DMV search as the Kings did not know who was the prior owner before Rina..

Here is a picture of the nameplate.

Jay
*************************************
May 12, 2013. Jay is working on getting the history of #166. Here is his email - minor edits
Hey Ron,

So, it seems Mahi-Mahi is a storied boat with many, many owners who all moved on to much bigger boats after having cruised her.

As you know, I purchased her from Peter and Carol King on 5/4/2013. The Kings - from Noank - purchased her in April 2000 from Charles and Rina Springett from White Stone, Virginia. The Springetts got her in July, 1998 from John Schnoering from Deltaville, Virginia who owns a boat yard there. I hoping he'll have some documentation for my file. Charles too, is also trying to dig up some paperwork for me.

Charles and Rina had sailed Mahi-Mahi on the Chesapeake when he had her, and he installed a proper head and holding tank. He also replaced the standing rigging and switched out the old centerboard for an indestructible, custom solid aluminum CB. Peter had pointed this out to me last week. Charles moved on to a Bristol 43 and he's been sailing the entire East Coast and Caribbean ever since. She was named Mahi Mahi when Charles got her

Well, just waiting for get more links in the chain... I'll keep you posted.

Thanks so much Ron

Jay
**************************************
May 30, 2013. We got the following update and photos from Jay
Hey Ron!

Well, here's an update. Today Mahi-Mahi was moved to Bridgeport for the mast-stepping, rigging and... what she needs most... a good cleaning! I have some great pics of her leaving the Kings' house. That's them waving goodbye, one last time :)

There's another pic on I-95 en route, and then the final pic of her at Cedar Marina where she'll be for the next week to get bottom paint, wash and wax and an engine tune-up for the sail home :)

No word yet from John Schnoering, the last owner I could find from the 1990's. Still working on it!

I'll keep you posted!

Cheers!

Jay

Click on the above pictures for a larger image. Use your browser back arrow to get back here.

***********************
June 24, 2013. We got the following email and pictures from Jay.
Hey Ron!

Well, after a few weeks of delays and rigging problems I finally sailed Mahi-Mahi home. The cruise from Bridgeport to Port Jefferson took about 4 hours in about 12mph SW winds. According to my GPS she was around 6 knots or more sailing close-hauled right on the wind. I thought that was shockingly fast! Isn't the hull speed supposed to be less than 6 knots? Anyway, after the guys at Cedar Marina measured a template for a teak cockpit floor to be installed in the coming weeks, I left around 10:30am and was having cocktails at Danford's by 2:45pm :) I still have some rigging issues that need some time but now that she's home I'll be able to go up the mast and fix them.

The wind died just as I reached Port Jeff, which was disappointing because I wanted to sail to my mooring. However, my Yamaha 3hp struggled a bit with the outgoing current in the entrance to the Harbor but at full throttle had no problem. She still has too few hours on her to keep her at full throttle for too long. A few more trips and I won't have to worry about breaking in the engine.

Attached are some pics moored at home in Port Jefferson Harbor. Use whatever you like :) She is truly breathtaking!! I can't wait for the Autumn to give all that teak some attention!

Still searching for more prior owners. I'll keep you posted!

Cheers!

Jay

A keeper...
*******************************
************************************************************
At this point we pick up Mahi Mahi's story as we had it until Jay bought her. Thanks to Paul Ingle (Seminole, Pacific Dolphin # 284), who has sailed in these same waters, we have the following information about Mahi Mahi. She has a dark blue hull with a red boot stripe, and is 'smashing', according to Paul who saw her while sailing off the Mystic River near Noank, Connecticut. Her owners are Peter and Carol King, owners of King Yacht Charters. They lead charters all over the world in conjunction with Cruising World Magazine. Check out their website at http://sailingcharters.com/. I'll bet those boats have standing headroom....
Webmaster Note: "Smashing" is a Dolphin 24 descriptive term that we, surprisingly, have not heard before. It properly joins the Dolphin lexicon - Pretty! Beautiful! Gorgeous! Really Good Looking! Really Nice! Nice Boat! She's Something!
The following picture was taken by Paul Ingle a few years ago on the Mystic River at her mooring off Noank.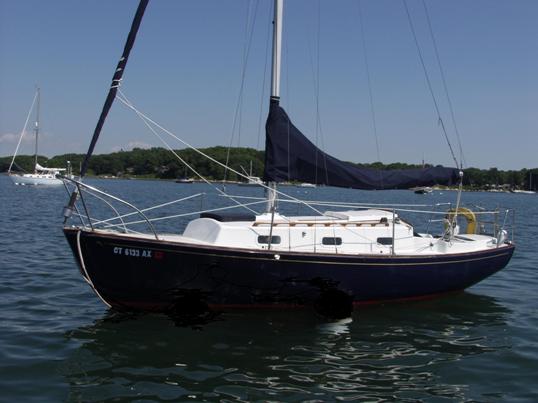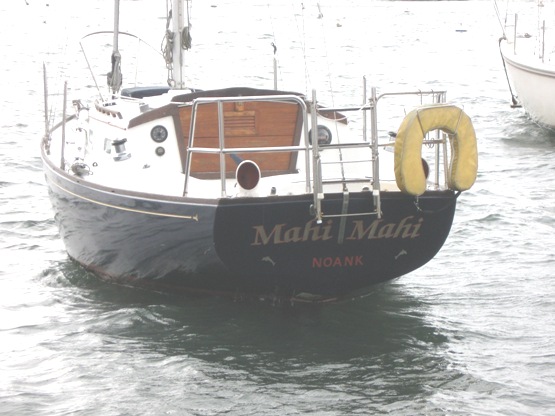 October 24, 2009 - DFI/Webmaster Ron Breault cruising around on a rainy Saturday morning snapped this photo from the dock.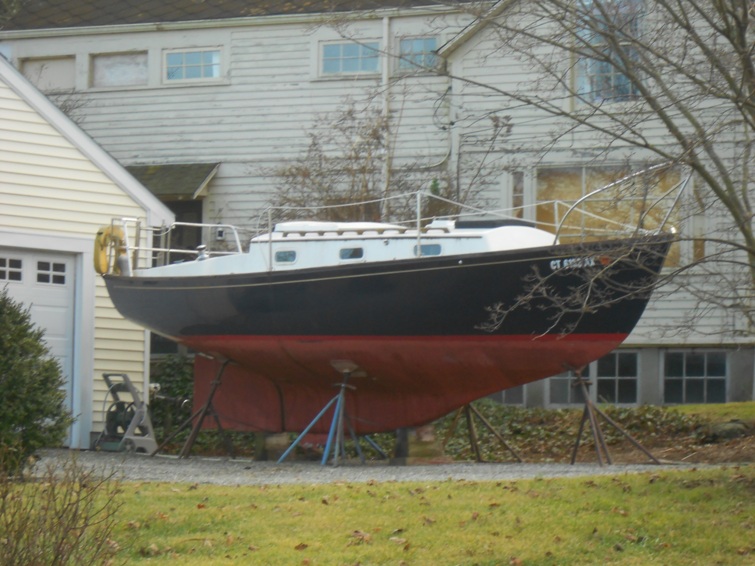 Here's an off season, January 2013 photo of Mahi Mahi on Peter and Carol's driveway
*******************