October 19, 2021. We got the following emai from Kate (edited)
Hi Ron,


I am upsizing to a 1988 Tartan 34 and will be selling Whimsy. She is currently in PJ Harbor on her mooring and will be hauled out on 10/26. I have had her since 2014 and made a number of updates, which are listed below.

I am attaching a few photos, but have more. I can send photos of her interior in another email if you like.

I have just listed her on Boat Trader's last night.

https://www.boattrader.com/boat/1970-yankee-dolphin24-8074072/

DESCRIPTION

1970 Yankee Dolphin24

Whimsy is a 1970 Yankee Dolphin 24, hull #166. She is a wonderful daysailer and a great starter boat for people just getting into sailing. She has a tiller, is very responsive and easy to sail. She has a full keel with a centerboard and so is stable, but also able to go into more shallow water. Her outboard engine sits in an engine well and can be started by pushing a button. All photos on-line were taken in the past few days, with the exception of the photos of Whimsy under sail. One of those is from June 2021, and the others from earlier years. All the electronics on the boat work including lights, VHF radio, Garmin and automatic bilge pump.

There are 35 photos on this Boat Trader ad!!

Best,

Kate Kevill

Whimsy updates 2014-2021
New outboard motor 2015. Yamaha 9.9 hp, 4 stroke long shaft. With electric start. Maintained professionally annually.
New standing rigging and roller furler 2017
New head and holding tank 2016
Automated bilge pump switch 2015
Repainted topdeck in 2021, Awlgrip paint
VHF radio 2015
GPS and transducer 2015

*************************************

*********************************************************************
June 25, 2014. Kate Kevill checking in as the new owner of Yankee #166. Welcome aboard, Kate!
Hi,


I bought Mahi Mahi from Jay Rose. I've renamed her Whimsy. She required a bit of work on the rigging, but is now ready to sail for the season. Except that the 3 hp motor seems a bit small for the boat. She is my first boat since I had a Sunfish as a kid. I'm excited!

Best,
Kate Kevill,
Port Jefferson NY

Click here to see #166 in her past life
July 1, 2014. Whimsy's maiden voyage (minor edit)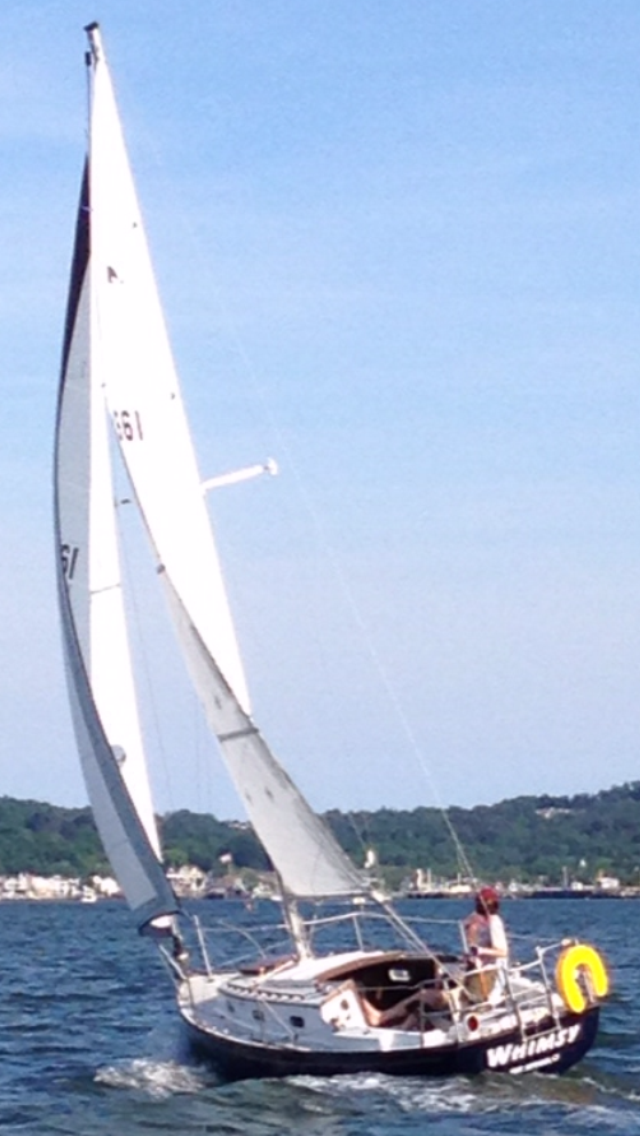 I took her for her maiden voyage yesterday. Just needs a boom vang :) - Kate
*****************************************
November 23, 2014. Former owner Jay Rose sent us this picture - we'll see if we can get this with better focus.
Hey Ron,

Kate sent me this amazing picture of Whimsy a while back. I think it's one of the most beautiful pics of a Dolphin ever! Just wanted to share!

Jay

******************************
December 29, 2018. Responding to a year end webmaster email Kate sent in the following email and photo. And, in their continuing effort to familiarize and tempt readers with our Dolphin sailing areas, website staff added a couple of 'charts'.
Hi Ron,


Happy New Year to you too.

This was my favorite Whimsy photo last year. It was taken on July 2nd in the Port Jefferson harbor

KK

50 miles - a long day sail for a Dolphin - but Fishers Island, Block Island and Maine beckon.....

*****************************