June 25, 2014. Kate Kevill checking in as the new owner of Yankee #166. Welcome aboard, Kate!
Hi,


I bought Mahi Mahi from Jay Rose. I've renamed her Whimsy. She required a bit of work on the rigging, but is now ready to sail for the season. Except that the 3 hp motor seems a bit small for the boat. She is my first boat since I had a Sunfish as a kid. I'm excited!

Best,
Kate Kevill,
Port Jefferson NY

Click here to see #166 in her past life
July 1, 2014. Whimsy's maiden voyage (minor edit)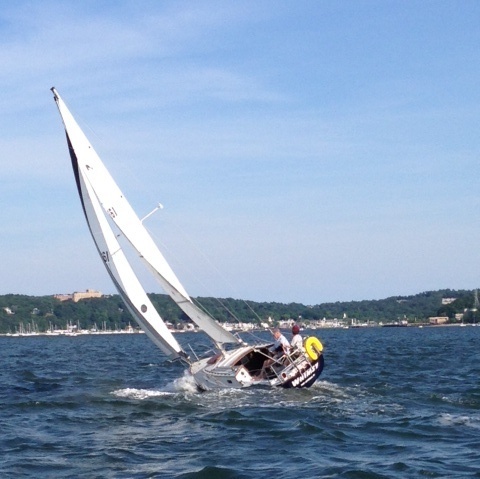 I took her for her maiden voyage yesterday. Just needs a boom vang:)
Kate
November 23, 2014. Former owner Jay Rose sent us this picture - we'll see if we can get this with better focus.
Hey Ron,

Kate sent me this amazing picture of Whimsy a while back. I think it's one of the most beautiful pics of a Dolphin ever! Just wanted to share!

Jay