After a great start to her 2008 season winning her Class at the Off Soundings Club Spring Regatta, including the best corrected time in the Around Block Island Race (click to go there) in the entire 132 boat fleet(!) Marionette left her home port in Niantic, Connecticut for Maine on a mostly single handed cruise. She had taken your webmaster to Maine single handed twice before but those were pre website days and attention to her Log was less disciplined. This particular segment of the 2008 story starts in Bucks Harbor on Eggemoggin Reach where Jim Kurt (The Rachel K) graciously let your webmaster use his guest mooring nestled in the cleft of Harbor Island shown below left.
| | |
| --- | --- |
| A short side trip to The Rachel K page will show you what a truly beautiful spot this is. Click here to go there. Click the back arrow on your browser to get back here. | Here's Marionette on Jim's guest mooring. I love to hear people passing by say "pretty boat". Other terms work but pretty is most common. Click on the picture for a larger view, then click your browser back arrow to get back here. |
The following chart segment is of Penobscot Bay to Bar Harbor/Mt Desert Island - arguably one of the best cruising areas on the planet - and the focus area for Marionette's Maine cruise in the summer of 2008. If you click here you will see a large scale version of this chart with Marionette's Aug 6-8 cruise 'faintly" lined out in red. It's a large scale chart - you can use your zoom button to better see the course. Click your back arrow to get back to this page.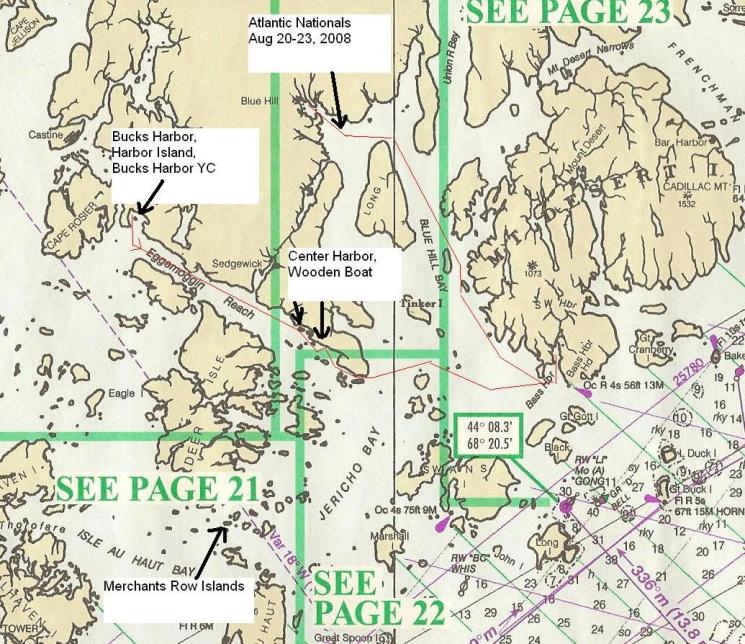 Webmaster Note November 10, 2012. The above (and below) charts replace much criticized predecessors - click on them for a larger view. Then click on the new image for large scale views. Click the return arrow on your browser to get back here
At 9AM, on an overcast August 6th, Jim cast off my lines at Bucks Harbor YC. I motored out the west channel intending to sail down the west coast of Deer Island and spend a couple of days in the islands off Merchants Row. But the weather forecast was not good - rain and thunderstorms later in the day - so I decided, despite the 5-10 knot headwind, to beat up Eggemoggin Reach to Center Harbor in Brooklin, Maine. Normally, as the name implies, this is a reach but today the wind was on the nose from the wet, and patchy fog, east.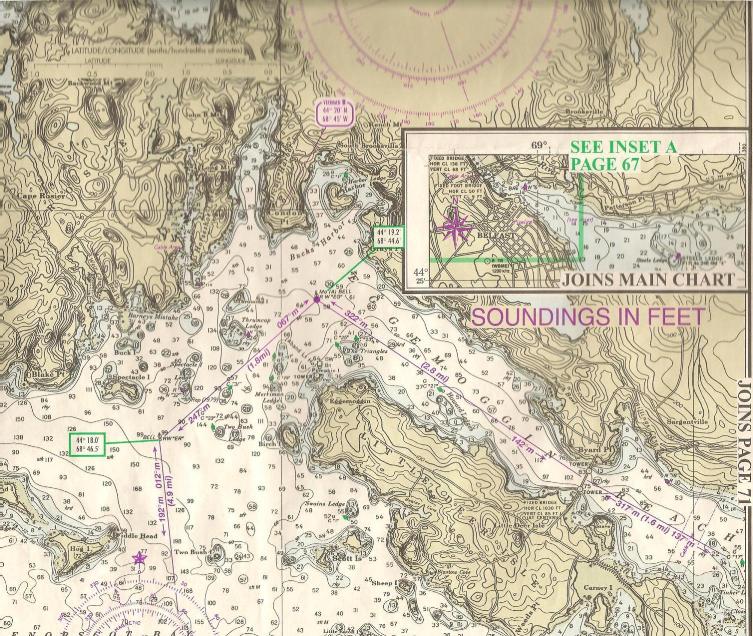 Marionette's track, Eggemoggin Reach - west end (click images for large view)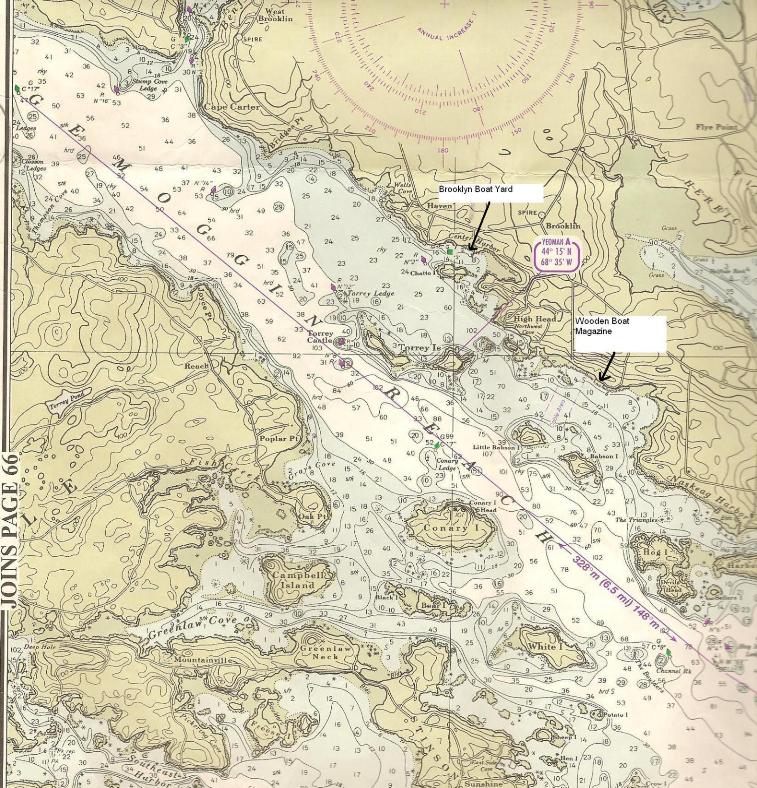 Marionette's track, Eggemoggin Reach - east end (click images for large view)
Brooklin is where Steve White's famous Brooklin Boat Yard (BBY) is located, specializing in classic wood yachts and restorations.

Also Wooden Boat Magazine's 'campus' is located just east of Center Harbor. Their boat building school is there and their anchorage is a favorite destination for the Penobscot Bay/Camden schooners and cruising sailboats.
| | |
| --- | --- |
| | As expected, it started to rain just as Marionette entered Center Harbor, and wrestling with foul weather gear commenced. A mooring was obtained from BBY right next to a beautifully restored Friendship sloop. The weather was not cooperating for picture taking so I wrapped up my laptop carry bag in plastic and rowed my dinghy 'TEER to the boat yard docks. (Webmaster Note: One cannot tow an inflatable in this tradition bound area, so my inflatable had been sent home replaced by a proper wooden dinghy - for more on 'TEER, click here - click your browser back arrow to return to this page) |
I walked about one mile in the rain into the village of Brooklin - which has a small but nice library with wireless access! No rest for your webmaster as Dolphin.org and related matters need daily attention.

Webmaster Note February 7, 2016 : Another story surfaced the need to update this page with the following photos - hint - it has something to do with guys who own pubs and sailed on schooners....

This library has an outdoor screened room, perfect for roaming webmasters.....(file photo from another, sunny day, trip)

Click the photo at left for a larger image
As lunch was skipped, an early dinner was planned at the downstairs Pub Bar of the Brooklin Inn across the street. Two enjoyable hours of conversation and libation followed with a guy from the UK who, with his 3 friends, had chartered a Hinckley Bermuda 40 for some cruising in the same area.
Click on the above photos for a larger image
The rain had stopped and your webmaster walked back to the harbor, and with doubts about where this mini cruise was heading, given the forecast for rain the next day, rowed out to Marionette and was asleep by 8:30.
The next morning came with a light mist, patchy fog and no wind. Your webmaster, totally encased in foul weather clothing, slowly motored Marionette out of Center Harbor at 7AM, past the Brits sound asleep in their Bermuda 40. Instead of taking the prudent way out and around the Torrey Islands to the main channel, Marionette took the inside "Dolphin" route (see chart above) , centerboard up and eyes peeled, rocks everywhere - following Rule #1 - where the lobster pot buoys are, no problem, plenty of water. Where there are none, watch out!
I know this is supposed to be a short story but we are getting there. The next destination was a couple of miles east - the anchorage out in front of the Wooden Boat Magazine docks and boat building school campus. This anchorage, protected by the Babson Islands, is a favorite destination of the Penobscot Bay/Camden schooners, and a kind of Mecca for cruising classic sailboats. A very good place to look at boats.
The mist was less misty, and the anchorage was waking up, so I picked up a vacant mooring and considered rowing to shore. I still had not decided where I was going on this mini cruise. Maybe Bass Harbor on Mt Desert Island and hook up with Gary deLong (Savili). Click here to go to Savili Click your Browser's back arrow to return to this page. Eventually, I wanted to end up in Blue Hill Harbor where I had stashed my car so I could get home for the weekend. Maybe, I thought, I would just go directly to Blue Hill and avoid another day in the rain.

The picture of the Wooden Boat campus and anchorage at left, professionally taken on one of those gorgeous Maine days, can be seen in a larger version by clicking here.
Still not sure, I cast off the mooring and slowly motored out the anchorage. On my way out I noticed the familiar lines of a J-105 on a nearby mooring. It had a light blue tarp over the boom to give some protection against the rain. As I approached I saw that the name on its quarter was Ragtime. A J boat named Ragtime!!? This is one of the most famous names in our sailing world. Rod Johnstone, in 1976, designed and built a 24' one design boat in his garage in Stonington, Connecticut, called it a J-24, named it Ragtime, and proceeded, over the next 30 years, to revolutionize the one design keelboat racing world, and shake up the sailboat world in general. Click here for a link to his story
| | |
| --- | --- |
| | As I passed by her stern a gray haired guy poked his head out from under the tarp. I vaguely recognized his face and said "Ragtime? You must be..." He responded 'yes". I had met Rod a few times over the years - we are both members of the Off Soundings Club - but to him I could have been anyone with all my foul weather stuff on and my Tilly hat pulled low. I told him who I was and I could hear his wife laugh. He asked where I was headed, and I told him I was not sure given the weather, but east anyway. He said he was heading the other way - back home. Then he asked "Was my boat an early Dolphin? "Yes, I said, hull #12". |
Now, are we ready for the punch line?
"SHE IS A BEAUTIFUL BOAT"
he said, as I motored away.
With that classic Dolphin morale uplift from one of the real design gurus of sailing, himself out there in a small boat under a boom tent, I decided to buck up and deal with a little rain in the forecast. With little or no wind, and actually little rain over the next 4 hours, I motored through Neskeag Harbor (with all its rocks) and out, into, and across Blue Hill Bay to Bass Harbor on Mt Desert Island. Somehow, the vodkas and tonics with Gary DeLong (Savili) aboard Marionette that evening tasted better than usual.
**********************
January 6, 2019. Anyone wonder why Rodney Johnstone might remember a Dolphin 24's lines? Click here
***************************