Patience here - Savili has a 'complex' history
October 12 2017. John Gish, Portland, Oregon has formally checked in as the new owner of Savili. We have set up a new page for her. Click here to go there
******************************************
February 14, 2016 - Savili has been sold. We standby for the new owner to check in.
Fair Winds Gary
***********************************
****************************************************************
Sometimes it takes a while - Following is the effort to find Savili her new home. Some of the links have expired.....
November 16, 2015. Jonesport Shipyard reports that Savilli is "under contract". Stay tuned
Savili

http://jonesportshipyard.com/forsale/

| | |
| --- | --- |
| MAKE: | Lunn/O'Day Dolphin 24 Sloop |

| | |
| --- | --- |
| YEAR: 1960 | |
| UNDER CONTRACT! | |

Update March 4, 2017 Click here to see ad and more pictures of Savili
September 30, 2015. We got the following update from Mark Green on Savili's lower price and some nice comments on the Dolphin24.org website.
I looked at the Dolphin for sale in Jonesport this past spring but decided to pass because I don't have the time right now. Just got a voicemail from the broker saying they have dropped the price to $3000 and are entertaining offers. The boat needs love but to my inexperienced eye would be a fun and rewarding project.

In doing my research on the Dolphin I found your web site so I thought I would pass this information along. Thanks for taking the time to create and update this web site.

Mark Green, Hancock, Maine

Thanks Mark

****************************************************
August 17, 2015. Updated ad in Points East Magazine for Savili - click here $4500 or best offer
July 24, 2015. Savili is still FOR SALE at Jonesport Shipyard, Maine. Click here to go there. Also, Click here to see a PDF with offering spec - also see comments from Kim Granberry whose dad Carleton was a former owner of Savili at the bottom of this page.
June 22, 2015 Savili is still FOR SALE at Jonesport Shipyard, Maine. Click here to go there. Also, Click here to see a PDF with offering specs
June 29, 2014. Savili is still FOR SALE at Jonesport Shipyard, Maine - advertised in Points East Magazine, July Issue, $4500 OBO. Click here to go there.
***********************************
December 9, 2013 There an update on Savili's listing at Jonesport Shipyard in Jonesport, Maine. Click here to go there.
*****************************
March 17, 2013. Back on August 2, 2012 we received one of those tough emails - here is Gary DeLong's email - edited
Hi Ron,

Hope this finds you well. I have been giving serious thought to putting Savili up for sale. Sailing solo isn't as much fun as it use to be so I may bite the bullet and let her go. Of course, I may wake up tomorrow, go into a frenzy of tearing off shrink wrap, painting, etc....

Best, Gary
This is an update on Savili's listing at Jonesport Shipyard in Jonesport, Maine.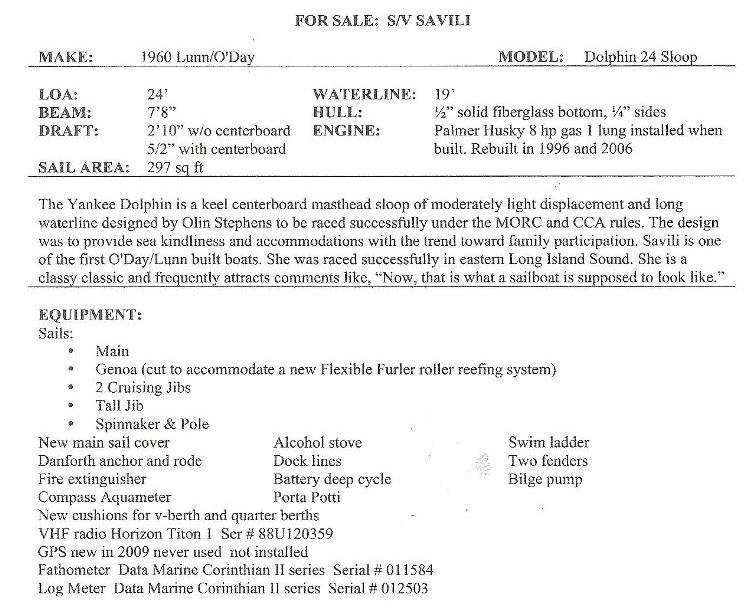 See her at Jonesport Shipyard, 285 Main St, Jonesport, Maine 04649
Phone 207 497 2701 - email info@jonesportshipyard.html
Asking $6,500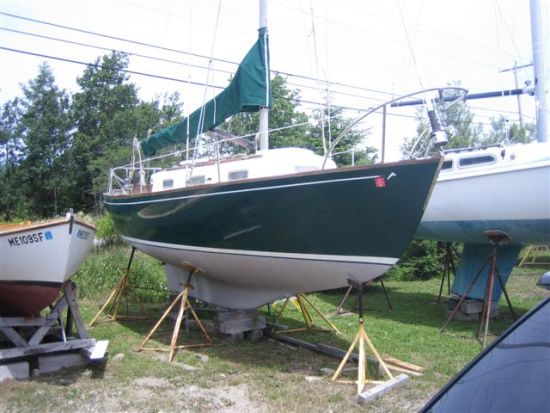 Click here for more pictures of Savili from the above ad
*************************************
****************************************************************
*******************************************
This is the remarkable history of Savili as we know it
Savlli is one of first O'Day/Lunn Laminate built boats, and certainly one of the boats that established the Dolphin's outstanding reputation as a small racing auxiliary. As En Charette she was raced successfully in eastern Long Island Sound by Ron Noe of Essex, CT. Ron bought her from Hugo Hilderdorf of Patchogue, LI, NY who Ron believes was her first owner. She was a stripped out boat below and Ron built out the interior to keep weight as low as possible. She had a white hull and a Palmer 8hp inboard.

Webmaster Note: The hull numbering system that O'Day instructed Lunn to use was to start their series with 200. So, if correct, Savili is Lunn hull #1. Except, we have a report from Bob Larson, an early investor in O'Day, and US Yacht, the company that marketed and sold the Dolphin 24 starting in early 1961, indicating that he delivered the first Lunn built boat to a customer in New Jersey...So, we will have to live with Savili as 'one of the first' Lunn built boats, pending further information. For more on this click here.
Ron sold En Charette to Carlton Granberry of Guilford, CT (Sachem's Head YC) who renamed her Savili. She won the Off Soundings Club Charles J. Koch Trophy for best combined Spring and Fall Series results in the highly competitive 40-50 boat Class B-2 for 1968, 1972, 1976 and 1977. Carl sold her to Robert Coulter (see March 10, 2012 below) who sold her to Ed Diekerdorf of Mystic, CT. Ed painted her hull green and raced her as well. In the late 1990's Savili was sold to Gary DeLong who sent the following email to Jim Huxford's Dolphin 24 website dated November 4, 1999
Subject: New Dolphin owner
Date: Thu, 4 Nov 1999 20:23:37 -0500
From: "Judy D."
To: Jim Huxford

Dear Jim Just learned about the site and couldn't wait to log on. After years of sailing an O'Day Javelin and crewing on other people's bigger boats, two summers ago I bought hull # 200 built by Lunn in 1960. I absolutely love the boat. Her name is Savili, a name I inherited. It's a Samoan word meaning "fresh breeze." She looks exactly what a sailboat is supposed to look like and sails like a dream. She was raced a lot in Fisher's Island Sound in Connecticut and always did very well in the Block Island race scene.

I keep her in Jonesport, Maine which is way downeast and in the summer she is moored on the Western shore of Great Wass Island. She has a very different cabin layout from some of the pictures of other Dolphins I have seen. I would like to reconfigure and get the Porta-Potti out from under the table! She still has the original engine which is an eight hp Palmer gasoline. It runs like a charm but I am thinking of going with a small diesel but not until I do lots of other stuff. My first priority is some deck leaks which I will tackle next spring. Please sign me up for any memberships and let me know what I owe or whatever.


Gary DeLong, Bar Harbor, Maine.
********************
Webmaster Note: January 29, 2008 - we have tracked down Gary and expect an update and pictures of Savili soon.
***********************************
On July 8, 2008 Gary got in touch with the following email (edited)
Hi Ron

Savili is going in the water later this week. I have had her little one lunger original 8 hp Palmer inboard rebuilt this winter and finally got it back in and all put back together. I decided not to go the diesel route. Too expensive plus I hated to get rid of the Palmer. But with all the messing around the engine I didn't get some other aesthetics taken care of. I didn't get off the "hard" last summer so I am determined to get her in before the summer is gone. She will be on our mooring on Great Wass Island in the town of Beals. As soon as I get her in I will get some new digital photos and get one sent to you.

I love hearing about other Dolphins so really appreciate you keeping in touch with everyone. In addition to a photo.

Let me know what else you need to know.

Gary
**************************************
July 22, 2008. Gary sent in the pictures at the top of the page, and the following picture of Savili's nameplate.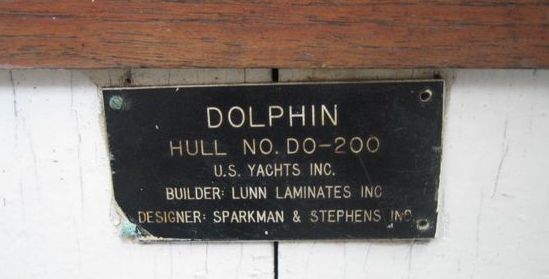 When O'Day contracted with Lunn to build 25 boats in late 1960 they instructed Lunn to assign hull numbers starting with 200. If this is correct then Savili is their first boat. US Yachts (click here to go to US Yachts) was O'Day's marketing and sales agent for the Dolphin - it is curious that O'Day's name does not appear on the nameplate. For more on nameplates and builder's numbers, click here.
***********************
February 9, 2010. A co worker of Gary's sent in a copy of a photo of Gary receiving a half model of his Savili built by Eric Sandberg in Isleboro, Maine. It was presented to him by his co-workers and staff at the Seacoast Mission in Bar Harbor. Click here to go to our models page - there you will see a large photo of this half model and information about the builder.

In his summer cruise to Maine of 2008 your webmaster had an opportunity to meet Gary in Bass Harbor. How this happened is part of an interesting side story. Click here to go there.
***************************
July 8, 2011. Marionette is on her much segmented summer cruise in Maine and traded emails with Gary, who provided the following update on Savili (edited)
Ron

Savili suffered from two years under the shrink wrap. I have been enjoying bringing her back to at least somewhat respectable sailing condition. By next summer she will be her old self. I worry a little about the standing rigging. It doesn't seem to have any broken strands but I have no records as to when it might have been changed. Ha. The list goes on....

Gary

*************************
March 10, 2012. Savili remembered - a voice from the past
I just bought my son his first Optimist and was looking up my dad's old boats. I can't tell you how delighted I was to find Savili in good shape and well-loved. My father (Robert) owned her between Carl (Carlton Granberry) and Ed Diekerdorf from about 1979 to 1981 and also sailed her out of Sachem's Head. I'll be in Bar Harbor this summer and will be sure to look her up! I can't believe the original Palmer is still running! It barely worked in 1979!!!

Roger Coulter

********************
April 18, 2014. Senior DFI Mark Steinhilber (Rascal) sent in the following (excerpted and edited)
In 1974 and 1975, Carleton Granberry sailed Savili to back to back overall fleet wins in the Ram Island Yacht Club's "Around Fisher's Island Race." Second in Class C to Savili's first was Rascal. One can see that the other winning boats and skippers were pretty fast making Savili's back to back overall wins quite significant. The race was covered by both the Norwich Bulletin on Monday, August 18, 1975, and in the Groton News that same day

The following from the Groton News, August 18, 1975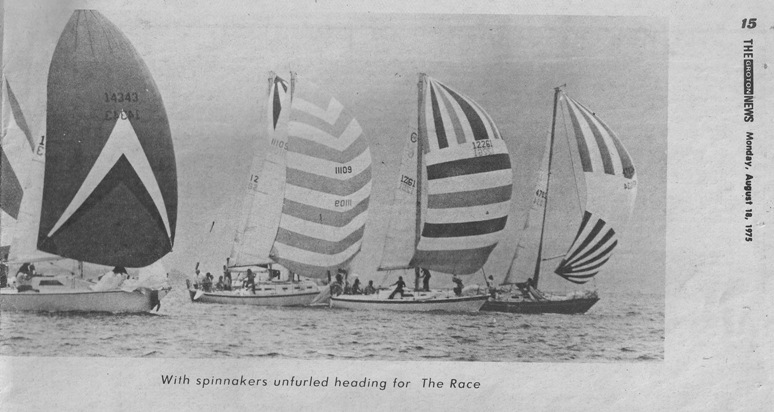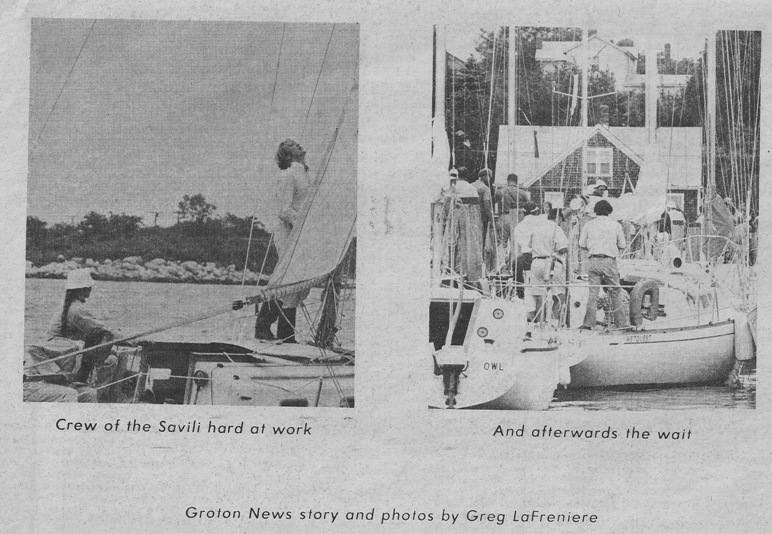 The following from the Norwich Bulletin