March 7, 2009 An introduction - a few days ago your webmaster got a call from Cliff Fisher, a long time fellow member in the Eastern CT Sailing Association, the YRA serving eastern CT. He was a friend of the Steinhilber family and former crew on Rascal in the 70's. Dick Steinhilber passed away last year and there remained the issue of cleaning out the garage where Dick kept a lot of his sailing gear. Cliff was lending a hand in this project (God help the person who has to clean out my barn and cellar!!)
Cliff came across a bunch of sails for the long departed Rascal and called me to get advice on what to do about them. This led him to our Dolphin website, and a call to Dick's son, Mark Steinhilber, now living in California. Mark was also a crew on Rascal, and a naval architect, with a good memory and an eye for detail.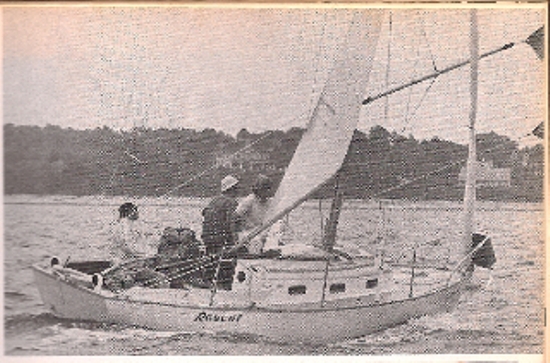 Rascal - Norwich Bulletin, August 18, 1975 (2nd, Around Fisher's Island Race; 1st Savili)
Mark sent in a series of emails which are below (minor edits):
Hi Ron:

My name is Mark Steinhilber and I grew up in Niantic. I'm pretty sure you may have known my dad, Dick Steinhilber who was a member at Thames YC for many years and who owned a Dolphin named Rascal. Our family owned and raced that boat from about 1970 or 1971 till about 1977. The boat had previously been Aborn D. Smith's boat named Trump It, and was briefly owned by Toby Hermes, both of whom were long term members at Thames and had raced against my dad for many years in Quincy Adams 17's. When we sold the boat, the new owner was the dad of a high school friend of mine, a Mr. Selman of Niantic, who eventually retired to Florida and may have moved the boat.

I raced on Rascal extensively those years, doing both the Spring and Fall Off Soundings, and many of the ECYRA handicap races in the circuit. We raced against so many of the Dolphins under many owners including Eddy Maxwell on Peerless, Andy Anderson on Tigress, later named Redheads, Walt Strang on Black Dolphin, as well as Savili, Shaman, Skua, Marionette, and others, a bunch from Sachem's Head and Thimble Islands area.

My Dad had been racing on a Morgan 24 in Off Soundings when our next door neighbor bought her Ladyship, a Green Dolphin from a mooring right across from Mystic Seaport. We helped him sail her to Niantic, and this led to my Dad chartering her for the Spring and Fall Off Soundings the next year, I think maybe 1971 or 1972. I'd have to find the Fourth place trophy to figure out the year. That fall, we bought Trump It from Toby Hermes as the boat was awaiting haul out at Niantic Boatyard where we also hauled our QA alongside the Atlantic fleet and MarLeeGo for many years.

We renamed the boat Rascal and she was on the racing scene in eastern Long Island Sound and Fishers Island Sound for much of the 70's. I remember racing against Stan Secora occasionally, but he had already finished his light blue Tartan 27 by the time I remember these details. I don't know who owned Trump It before Aborn "Denny" Smith, but it might have even been Stan Secora's boat. I do remember the interior, and it was much like the Oday brochure with most of it made out of mahogany venner plywood and a lift up lid for the Porto-potti, on Starboard I think. I am certain she was a Marscot Plastics hull, particularly because of the handrail on the cabin top, and because I had raced on Her Ladyship, a Lunn hull.

Rascal (Trump It) had no lazarette hatch, but had two White oval rubber deck ventilators back there and lifelines had been added for Off Soundings. The lifeline stanchions appeared to have come off an old Chris Craft powerboat and were very heavy, so my dad put more standard stainless stanchions on. The bow pulpit also had a T socket connection and was not a welded pulpit, and this same pulpit can be seen on other Marscot Dolphins. The forward hatch had a Sudbury lexan ventilator and the aluminum boom was held to the left of the main hatch in a straight mahogany boom crutch. We later added large cutouts to the boom crutch to save weight and it slid into two mahogany brackets on the aft cabin bulkhead.

The exterior of the cockpit coaming was painted white as was the cabin trunk sides to look more like a Hinckley, the cabin top a nice light blue, and the toerails were painted grey because of splits that made my dad think they wouldn't varnish well. We were pretty tired of varnish since we had kept the QA topsides bright finished for about a decade. We cut out slots on the bottom of the cabin top handrail to make it a better hand rail and this leads me to believe Rascal may now be Bodes Well. Besides, another owner who restored her lived in Niantic and possibly could have bought the boat from Mr. Selman. The exhaust for the PW27 on the transom was bronze with a short pipe extending to a slashed tip to help keep rust and other stains off the transom. She had an aluminum rudder that we reconfigured to the new design with more chord deep one year and also replaced the rudder shoe with a bronze casting from the foundry in Mystic.

Rascal had a bronze centerboard that we built up to a more optimum lifting surface foil shape, and my dad had special three blade propellers made that were lower drag than other three bladed props, but still got the same rating. I still remember trying to dry spark plugs in very rough weather when the riser would drain back into the engine. The exhaust eventually got a gate valve for such conditions.

As for me, I went to the Coast Guard Academy and became a Naval Architect and worked mostly with tankers in Washington DC, New Orleans, and the entire west coast. I retired from the US Coast Guard after a full career, and formerly owned and raced a J24 on the west coast. I haven't seen many Dolphins out here and was surprised to see pictures of several in Marina Del Rey. Many of the Dolphins look as good as ever, and I think those that now have trailers can only help in the expense department, based on my experience dry sailing the J24 in $an Franci$co and Long Beach areas of California.

One of the main problems that we had with Rascal, other than maintenance on the Palmer inboard and the aluminum rudder, was the deck to hull joint. On the Marscot hulls, a wooden shelf clamp was fiberglassed to the inside of the hull at the deck joint. The deck was screwed down into this wood shelf. Our boat showed that this seam was not tight when we got her, and for years tried various ways to seal the seam. We eventually removed the midship section of toerails, only to find the wood shelf waterlogged and soft. We drilled holes in the fiberglass under the shelf inside the hull to drain the water and used a lot of git rot to try to harden up the shelf so that new deck fasteners would hold the deck down securely to the hull.

In way of the Genoa tracks, I think we throughbolted the entire assembly from the track right through to large washers under the glassed in shelf. Not sure if this repair survived many years or if the boat required additional surgery. I sure would like to know what her hull number was, and where she ended up. It's great to see that Black Dolphin and Savili seem to have plenty of life left and I'm surprised that with the prices asked, these boats aren't plucked right up. I guess once you buy sails, spars, engines, trailers, and awlgrip jobs, they're not that cheap. But they sure look good. It's hard to believe that many still sport their original gelcoats.

Mark
****************
More emails (consolidated/minor edit):
Rascal's Sail number was 2798, and was same when owned earlier by Denny Smith. Rob Roy III in your roster was listed with sail number 2793.

I suspect that Rob Roy III may have been a Marscot hull 2,3 6, 8 or 9 and Rascal was possibly 5 later, possibly hull 8. But realize that the NAYRU numbers were issued completely separate from the builders numbers or hull numbers. I do see the boom strut or crutch brackets on Rachel K, Hull 4 and also on Sloop du Jour, so I know they are early Oday Marscot hulls. Sloop du Jour is likely one of the hulls in the 2,3,6,8,9,13,18 range. I do remember the Marscot builder plate on the inside wood piece of the (Rascal's) main hatch. Just can't remember the hull # almost 40 years later.

I noticed that Sloop du Jour has the boom crutch brackets just like Rascal, ex Trump did and the clam handrails had been modified to have cutouts. The lifelines have been replaced, lazarette ventilators moved, and a lazarette hatch installed. But the thing that really makes me wonder is the clear lexan Sudbury vent on the top of the forward hatch...How many Dolphins ever got one of those??? I looked at more boats and remember racing against others like Tiki with the C&C style rails among others.

Mark
********************
March 9, 2009 Your webmaster spoke with Mark today. He has proven to be a wealth of information about Dolphins in the 1970's and the various technical issues and racing modifications they made to Rascal. He mentioned she had a baby stay to help control the mast pumping. It had a bronze threaded rod that was fastened to the forefoot under the v-berth. She also had a adjustable mast strut set up under the mast step to offset any deflection caused by the mast under load. You can see one of these on Jim Kurt's The Rachael K
We are still working on getting some pictures of Rascal . Stay tuned.
*********************
March 25, 2009 Mark reports that his old friend Sandy Selman advises that Rascal was towed to Palm Coast Florida in 1979 when the Selmans relocated there. She did not get much use for years but participates regularly in the annual christmas lights boat parade.
In 1994 or thereabouts, after his father had replaced her engine with a Yanmar diesel, she sprung a leak and sank at their dock. A salvage company from St Augustine hauled her out of the water and took her away. This was a hard blow to Sandy's father and he passed away shortly thereafter.
Rascal may still be out there somewhere. Mark will sniff around.
*********************
July 13, 2010. Mark has been in touch many times and many of his technical contributions are in various sub sections in the Technical Section. Here is a report and photo of his dad at the helm of Rascal.
Hi Ron!

I've been enjoying the cool and dry California summer and watching the website for interesting goings on. First, I thought I'd send you a picture of my Dad, Richard T. (Dick) Steinhilber at the helm of "Rascal" sail # 2798, a Marscot built O'Day Dolphin during Off Soundings in 1972, heading in to the Great Salt Pond. This was the first year we owned the boat and the year before lifelines were required on Off Soundings, the same year Savili won.

Aborn "Denny" Smith had owned the boat a couple seasons previous to this - the boat was called "Trump It" and had won Off Soundings in 1969. (Click here to go to Trump-It) Rascal was sold to a Mr. Selman, also of Niantic in 1977. I talked to Mr. Selman's son, Sandy Selman who was a high school classmate of mine. He told me the boat was taken to a town called Palm Coast, Florida and was kept at the family's dock behind the house. There, she was repowered with a small diesel. She sank at the dock within the next year and was raised, but Mr. Selman had become ill. Sandy did not know whether she was salvaged or scrapped after being raised. I've searched the Internet quite a bit, but have never turned up anything about Rascal's fate. Perhaps when I get some old family photos, I'll be able to use the CT numbers to get the hull number. Or Stan Secora might remember because Denny Smith had the boat in the late sixties when Stan was changing from Hull #7 to a Tartan 27, also called Jato. There is a chance Stan sold #7 to Denny Smith, but Marge Smith suggested that Trump II was purchased from somewhere down the Sound.

Rascal was definitely a Marscot, I remember the stainless builder plate inside the main hatch slide, I just can't remember the builder hull number or the class (hull) number. As I have described before in excrutiating detail, I'm sure, she had mahogany deck trim, boomcrutch, no lazarette hatch, a unique exhaust fitting only seen on Redheads/Tigress, the "set screw-piece together bow pulpit only seen on the Marscots, and the "Sudbury Laboratories" lexan forward hatch ventilator also seen on Sloop Du Jour. She looked very much like the Rachel K down below, no formica, but had the later style inverted "U" shaped main bulkhead seen on later Marscots, #19 and up.

Rascal suffered from the infamous sheer clamp rot. About 1973, we removed the toe rails, dried the wood out by drilling drain holes inside the boat, and then soaked the wood with "Git-Rot." A cosmetic layer of fiberglass tape was applied on deck and overlapping the first 7/8ths of an inch of the topsides. Then the toerails, now painted grey were refastened with boatlife caulk as was the deck plate around the chainplates. The Genoa track was through-bolted all the way through the entire sheer clamp and fiberglass sheath inside the boat. After a couple years, the fiberglass tape developed splits and rotten "wood juice" started to bleed out again from the wood sheer clamp.

I'll send more Rascal photos when I get some from my mom in Niantic.

Mark

****************
November 9, 2010. Mark sent in some old photos from the mid seventies, including the one that appears at the top of the page.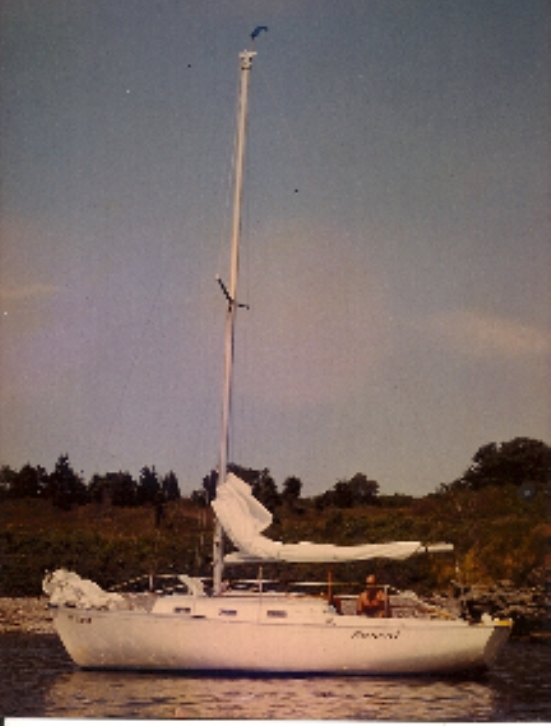 At anchor in the cove at Dutch Island, Narragansett Bay, about 1975.

November 9, 2010. Postscript. Responding to some follow up questions Mark added some detail regarding the photos above. The picture at the top of the page shows a couple of 1970's era racing set ups you might have missed, and two others show the 'in' foul weather gear of the period (minor edits)
The genoa is actually in a "poor man's furl", still hoisted, but hand rolled from a little less than the midpoint, then tied high up on the headstay with a sail tie using a slip knot. Very quick to re-set the Genoa that way, but the bowman has to tie it while holding on over his head… It works good in less than 15 kts of wind, with a tall foredeck man, and a boat no more than about 24 ft long, so the tie is about1/4 to 1/3 the way up the headstay. The 'spinnaker turtle' was actually a plastic wastebasket as was commonly used for this purpose in the 60's and 70's. Sailmakers back then didn't always supply anything more than a stuff bag, or the turtles may have been lost overboard.

Also notice the "droopy" boom. That mainsail had extra area for running because the aft end was about 6 inches lower than the tack. It probably didn't help that much and probably started to curl the leech if made much larger, but people and sailmakers were trying all kinds of stuff back then and it sure did get some discussion at the parties after the race.

Also, check out the old olive green U.S. Navy oilskins that we had - my dad at the helm above, and me on the rail above left. We used them for the first couple of years and they were from my Dad's time in submarines in the 1950's.

*****************************
December 8, 2012. Mark sent in the following email and photo (minor edits)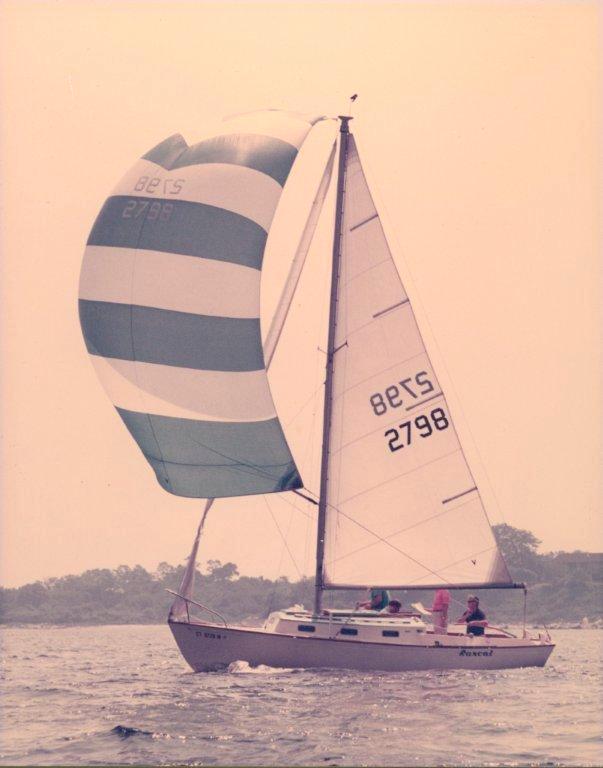 Ron,

My mom found one of our pictures from a Ram Island Race, probably 1975. Likely racing against Redheds, Black Dolphin, Dauphine, Peerless, and others. Photo shows boat actually does have seventh portlight in standard location. Hull number is most likely 16, 17, 26, or 27. Marge Smith said they bought the boat somewhere in Pennsylvania. Rascal is still the only boat with engine exhaust on portside of transom. I'd guess she was #27 because of the sail number, easy to add 98. All the boats from #19 through #29 look very similar, especially mast step arch in cabin, yet Rascal had no seafoam green Formica at all. It was all varnished mahogany with no icebox.

Mark

Postscript Note: Notice the outside of Rascal's coamings are painted white. Mark responded to a query

Yes, we painted the coamings and cabin sides white the second year we had the boat. The cabin top got painted a light blue green to match the waterline color.

***************************
April 18, 2014. Mark's been going thru the old boxes again. Here's the latest - based on the photos we have so far Rascal's crew must have loved spinnaker work
In 1974 and 1975, Carleton Granberry sailed Savili to back to back overall fleet wins in the Ram Island Yacht Club's "Around Fisher's Island Race.". (Click here to go to Savili and more photos of this event) Second in Class C to Savili's first was Rascal.

This photo from the Groton News on Monday, August 18, 1975 shows what happens to Rascal when close reaching with the pole way up high… Rascal wears a new "Radial Head" spinnaker design from Hard Sails.

click on photo for a larger view

********************************************
July 13, 2014. Senior DFI and former Rascal crew Mark Steinhilber has checked out Dol Fyn's pictures and is convinced that they are the same boat. His email is below (minor edits).
Ron

I'm almost certain that's Rascal. Sidelights, exhaust on port side of transom, that's her interior, aluminum edges on mahogany plywood bulwarks, that's the screw jack under the mast arch and main bulkhead, companionway stairs, two white ventilators at stern, no lazerrette, forward hatch has been replaced because the ventlator on it like Sloop du Jour's was cracked.

Note the uneven spacing for the screws on the cabintop rails. I recognize that. The unusual bow pulpit we had has been replaced, not surprised. Rudder still shows some of the shape modification at the top and a reduced prop aperture opening at the bottom. Only thing that throws me is that we had a corsair magnetic compass in the cabin trunk on the stbd side in a cut out. That's now gone. Our sail number was 2798 and we had mostly Van Zandt sails, lots of them.

Wow! Waited years to see her turn up. She looks a lot better than I expected thanks to the Dunkers They might know her past as Trump It with the Smiths, and that she had also won Off Soundings with them.

Thanks to the Dunkers for taking such good care of Rascal and Trump It. She really looks good!

Mark

Webmaster Note: We had Dolphin24.org staff check out the similarities and, while they reserve final judgement pending legal dept consultations, they agree with Mark - Dol Fyn was Rascal/Trump It.

In addition to Mark's observations They note 1) the extreme unlikelyhood that 2 different early O'Day Dolphins would have sunk, or partially sunk in St Augustine and 2) the wood boom crutch fittings on the aft port side of the house.
July 14, 2014 Postscript - Check out the Dolphin24.org case study on the Rascal - Dol Fyn connection.
**********************************