Sloop du Jour is a beautifully maintained early Dolphin about which we needed to get more information. We first found about this boat when, one misty October evening at haul out time several years ago at Crockers Boatyard in New London, CT, your webmaster saw this boat and took this picture.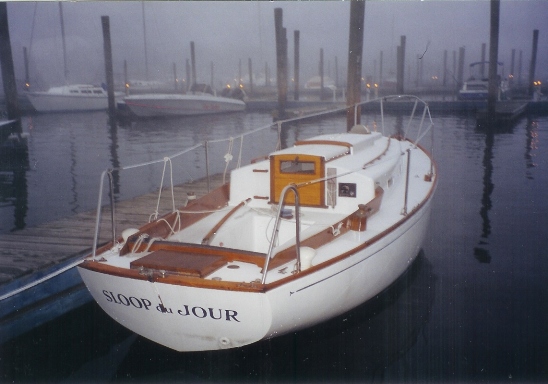 She just glowed in the mist
***********************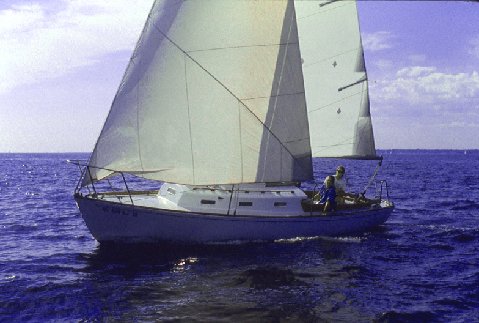 Photo of Sloop du Jour taken 15+ years ago by Paul Ingle, Seminole
**********************************
June 14, 2009 - Peggy Benkard, who owns Sloup du Jour, keeps her at West Harbor, Fishers Island, New York. She told us of another Dolphin 24 that was at Fishers Island Peach Blossom. This boat belonged to a Paul Cox, now deceased. Peggy told us Paul sold it several years ago to someone from Michigan. She also advised that Peach Blossom was older than her boat, and had a pole strut down below to support the mast. This developed into an interesting story. Click here to go there.
***************************************
On July 28, 2009 your webmaster finally met Peggy Benkard on Fishers Island. I had hoped to sail over to West Harbor in

Marionette

but the weather, again, did not cooperate so I took the 11:00 ferry from New London. At least I got there by boat! We spent several pleasant hours talking about Dolphins and looking at the website, having lunch (she bought), reviewing the 'Black Book' she received when she bought the boat in 1976/77 (more on the Black Book later), taking pictures on

Sloop du Jour

, fruitlessly looking for the hull number nameplate, a memorable driving tour of that part of the Island on the other side of the guarded gate, and finally, ice cream cones at Toppers before catching the 4:45 ferry back to New London.
Peggy bought Sloop du Jour from Sam Jones of Fenwick, Old Saybrook, CT in 1976/77. Her name then was Julep. She was stored for the winters at Saybrook Marine Services (now the Between the Bridges Marina) in Old Saybrook, and owner Stu Woodman handled the sale. Peggy replaced the original Palmer engine with a Volvo diesel. In the 'Black Book" was a quotation letter dated June 4, 1962 from Bob Larson, President of US Yachts, the sales and marketing agent for O'Day, to a Fred Crossman of Maplewood, New Jersey. This letter suggests that Fred was the first owner. Click here to see that letter. Click your browser's back arrow to get back here. Or, Fred got a quote on a new boat but instead bought a used boat? Efforts, so far to track down Fred have been fruitless. This letter is an unsolved mystery.
Here are a few of the pictures we took of Sloop du Jour:
| | |
| --- | --- |
| boom crutch | coaming joint |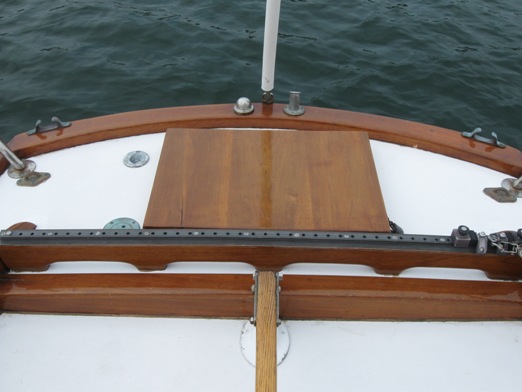 Lazarette
Sam Jones told us that this hatch was built by Seth Person whose boat yard on the Connecticut River, built Finisterre, and wood 12 meter boats for the America's Cup. I'll bet he made the raised traveller bar as well.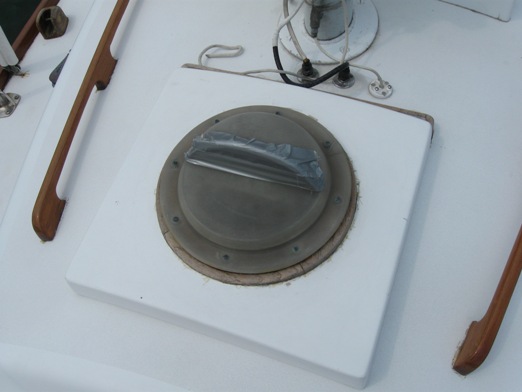 Peggy is planning to replace this vent, possibly with a stainless solar powered fan vent.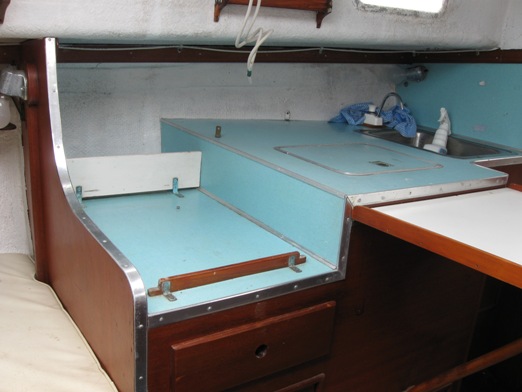 port side galley
| | |
| --- | --- |
| Fold out table | Table leg and lockers |
Sloop du Jour's galley set up is interesting. The table hinges up from in front of the galley, and is held in place by that angled leg in the lower left picture. Lockers are below the cutout for the stove.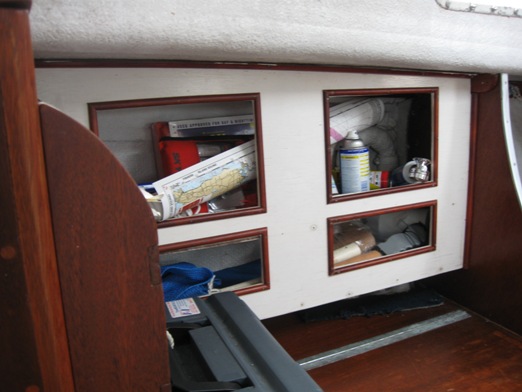 Starboard settee lockers
Peggy's 'Black Book' contains many old photos. Among them are the same group of photos we have of Dick Bertrum's Hull # 1. Also there are photos that may have taken when Sloop du Jour was being commissioned, or when work was being done on her after she was delivered, or both. These are very interesting and the the subject of another page on the website we are calling the Black Book Photos. Click to go there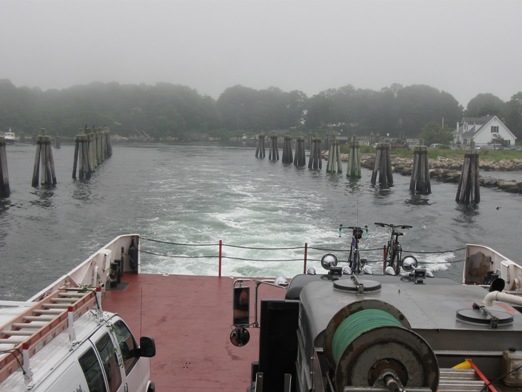 Leaving Eel Pond on Fishers Island by ferry. The fog was so thick on this less than 1 hour passage that the ferry actually stopped after about 20 minutes into the voyage and repeatedly blew its fog horn into about 200 yards of visability. We never saw anything. Hopefully, their radar did.
******************
March 14, 2012. We know Sloop du Jour was Sam Jones' Julep in Fenwick, CT, bought by him in the late 1960's. Up until now we did not know where Julep came from, and did not know how old she was - no hull #.
New DFI analysis indicates that Don Haydon sold his Dionis, O'Day #21, to a man from Fenwick in the late 1960s. Fenwick, a borough of Old Saybrook, CT, the smallest borough in the state of Connecticut, is located on Long Island Sound at the western side of the CT River. It had a 2000 census population of 52 and a very nice golf course. A famous resident of this borough was Katherine Heburn. As we are confident that only one Dolphin could have entered the tiny Fenwick community in the late 1960s (Sam Jones would certainly have known about it if there 2 Dolphins there!) we feel that Dionis must, therefore, be Julep.
**********************
July 9, 2013. It was four years ago this month your webmaster and Peggy meet to discuss Dolphin matters, and that's a long time to wait for my turn to buy lunch. But now, we're even! Marionette made the 2 1/2 hr voyage from Niantic Bay to West Harbor tieing up at the Fishers Island Yacht Club Docks - with Sloop du Jour on her mooring just off our port quarter.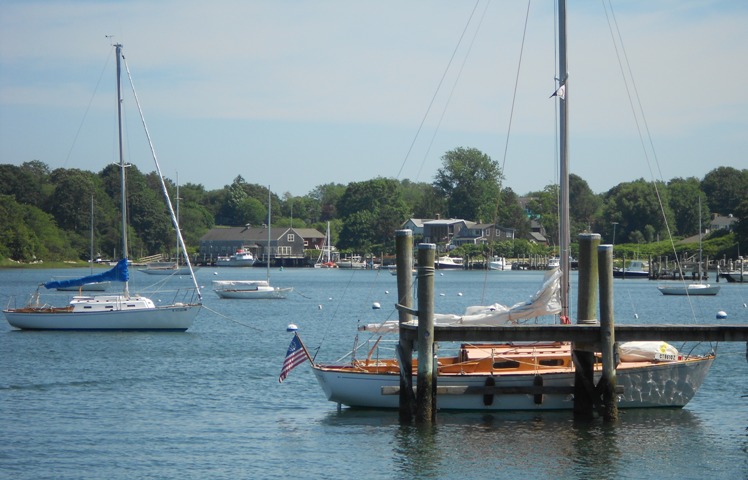 .
After lunch Peggy and I conducted an extensive review of various Dolphin matters at the Fishers Island Library, making good use of their large screen computer monitor.

One tidbit was the discovery that Porpoise, another Marscot/O'Day Dolphin 24, based summers at Fishers Island but whose home port was Peach Blossom Creek in the Chesapeake Bay area, won the Around Fishers Island Race (year still to be determined)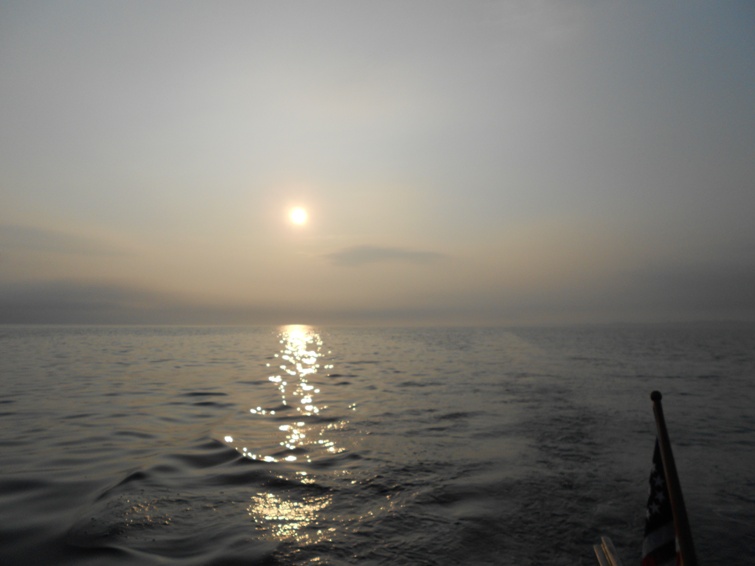 Leaving Fishers Island the next morning - again in the fog
**********************************
July 8, 2016. Larry Kurt, ex crew on his dad's The Rachael K, sent in this photo.
Sloop du Jour on the right on her mooring at West Harbor, Fishers Island - those are International One Designs (IODs) in the background
*****************************
October 6, 2019 Responding to a webmaster plea we got the following update from Peggy (minor edits). We have added this to our Technical Section Index - Motors
Hi Ron!


So nice to hear from you - indeed i do owe you a followup on Sloop du Jour's engine travails. It was just about a year ago
that Crocker Marine diagnosed the situation. The following is from Greg Crocker, and I am sending you his diagnosis which might be of use to others in the same situation. (The engine is a Volvo Penta - not the original Palmer.)

"I have been working on the engine for an hour or so and have come to some conclusions about the issues. The current engine is 20+ years old and has been salt water cooled its entire life. Salt water and iron engine blocks will eventually fail/corrode. Scale and debris is building up inside of all water passages. After removing the exhaust riser and looking for blockages, there are no blockages to be found. There is a brass "distribution tube" passing through the cylinder head that supplies water to the cylinder block/head and out to the riser. I believe this part, or the area it passes though, has been blocked by rust and scale causing the current overheating; water cannot leave this tube to the cylinder block/head, but can leave to the riser and overboard. The brass tube will need to be destroyed in order to remove it and diagnose further. The price of the new tube is $130 plus 2-3 more hours of labor to remove and install."

Well, this story has a happy ending. The tube did the trick, and the engine has been working without a hiccup since then!
I did not enter the Round Fishers Island Race this year due to schedule conflicts - - but who knows, maybe next year!

I hope you had a good summer of sailing on Marionette,

Sending best wishes,

Peggy (Benkard)

*********************************