July 30, 2009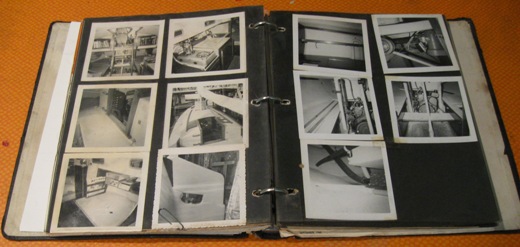 When Peggy Benkard, Sloop du Jour, bought Sam Jones' Julep back in 1977 she received a black 3 ring notebook that came along with the boat. It contained the O'Day brochures, US Yacht's price lists, the Palmer 27 8hp inboard operating instructions and diagrams, copies of Kenyon and other company brochures for the various accessories, other interesting stuff, and several pages of old photos that were presumably of the boat in its final stages of commissioning, or shortly thereafter. There were no explanatory notes. The photos are collected here with some theories about what they represent. We look forward to comments from anyone who actually knows...
Patience - getting these set up might take a couple of days
********************
July 31, 2009 With the technical assistance of Mark Steinhilber (Rascal), who is a marine architect, we have been trying to accurately identify early Dolphins that have surfaced that do not have identifying builder nameplates. Sloop du Jour at left is one of these. She appears to be one of the first 29 Dolphins built by O'Day, but initially we were advised she was built in 1962. Note the sail number....

Our research, so far, indicates that in the O'Day period 1960-1965 approximately 75 Dolphins were built. Marscot/O'Day built 29 boats in 1960, Lunn Laminates built 25 in 1961, and between 1962-1965 only about 20 boats were built by O'Day and its other subcontractors, FL Tripp and Sons, Westport, MA (4 or 5 boats in 1965/66?), and J.J. Taylor and Sons, Canada (10? boats maybe, only one reporting in to date). Included in these 20 or so boats are 4 bare hulls shipped to John Shumaker who went on to start up Yankee Yachts.

Among other objectives, we are trying to understand why, after such good introductory sales of the Dolphin in 1960/61, that its sales should decline so dramatically in 1962-1965. The Dolphin had a growing reputation as a good performance MORC racer/cruiser even though other competing small fiberglass racer/cruisers were entering the market like the Tarten 27 and the Cal 24. Yankee Yachts formation as a successful west coast builder and its sales of 175 boats from 1965-1972 proved that there was demand for it.
There is some evidence to indicate that Marscot/O'Day built even more boats, or major components of the boats (hulls, decks, cabins, etc) than reported in 1960, and they may have used some of these components when they resumed production in 1962. In the by hull number Roster sequence, up until recently, we had no boats yet identified from #29 to # 56. Up until then we thought this gap might have been reserved in O'Day's system for the 25 boats built by Lunn? We now have Flipper, O'Day Hull # 41. So that theory, maybe, bites the bullet - but we do have a twisted explanation

Here at left is an early photo of Don Barnett's Casandra Rose, O'Day # 56 reportedly built in 1962. Note the wood trimmed fiberglass combings and the shape of the portlights. We do not exactly know when this boat was built, but it was after Sloop du Jour.

Clues to the puzzle may be found in a careful examination of the progression of the various feature changes in the boats. March 30, 2010 For more on this and a list, click here.This brings us to the black book photos.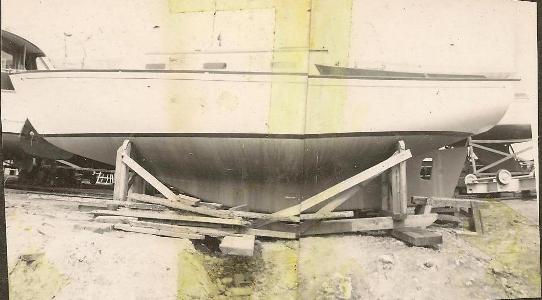 We had assumed this photo was taken in 1962 and that is the boat that would become Sloop du Jour in 1977 - we were originally advised that Sloop du Jour was built in 1962, even though she appeared to be one of the boats built in 1960. With that proviso lets get on with our analysis.
The photo was cut in half at some point and makes the frame look like it buckled. Lets assume that the frame did not buckle and that there is some other explanation for what looks like a trench... We are in a boatyard here with a marine railway. Maybe this picture was taken at the Palmer Scott Marscot Yard in Fair Haven, Massachusettes, or at the across the river old Beetle yard in New Bedford? We are trying to make the case that this is a boat about to be commissioned in 1962 and these photos are part of that process.
These photos seem to confirm we are looking at a new boat getting ready to be commissioned.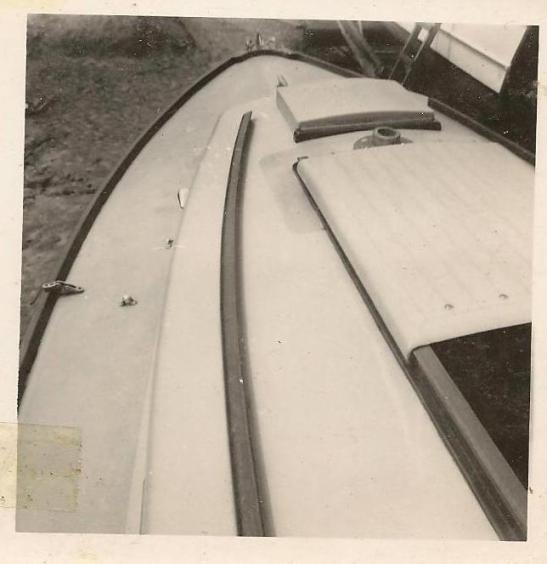 | | |
| --- | --- |
| | Notice the clam shape rails, and the fiberglass main hatch - these are the same features/parts that the 1960 boats had. Some time later in her life Sloop du Jour acquired her present main hatch hood and new hand rails. |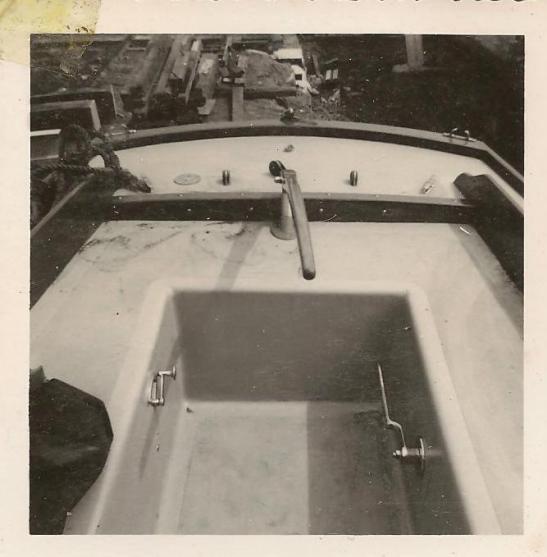 The 'stuff' in the background indicates we are still in the same boat yard. Note no traveller bar and no lazarette hatch - 15 years in the future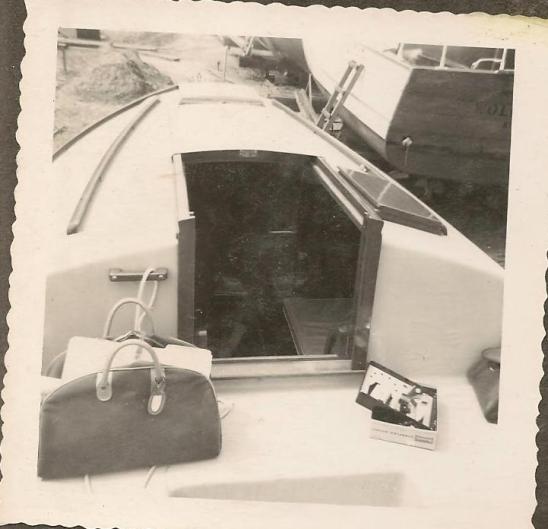 Still in the yard - maybe the owner is going to install something, a panel? There's a starboard settee cushion.
Before and after - the coffee pot, stove and sink look brand new? Note the hinged table, dark, wood? surface; also, the shelf rail to keep stuff from sliding to leeward, and the set back sink
Instrument panel/shelf installed on aft end of cabin.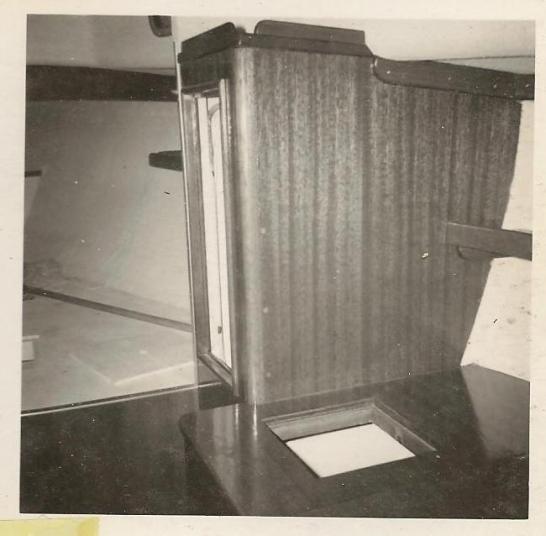 Hanging locker and starboard settee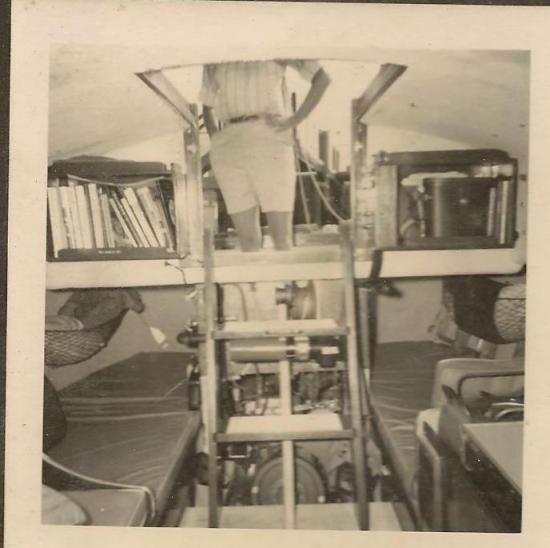 This picture, with all its gear, books, stuff in hammocks, makes one think that it was taken later, not at a commissioning...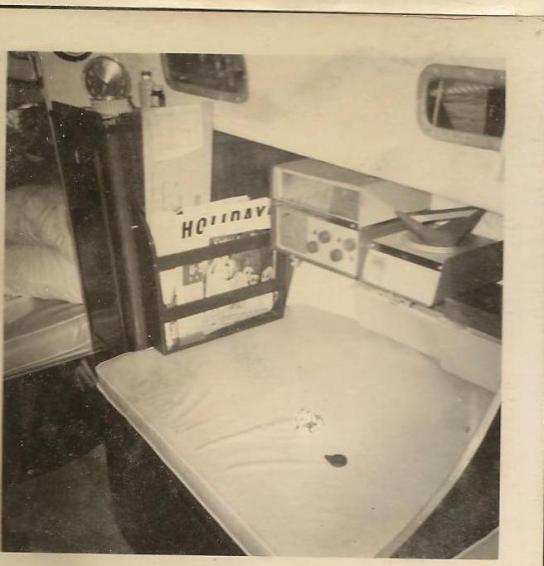 Same with this photo - magazines and pillows - Note the Radio Directional Finder (RDF) and radios.
V-berth and main bulkhead and arch from the port side v-berth; shelf with fiddle.
The Palmer P27 8 hp single cylinder gas engine
Fuel and water tank fill lines, exhaust and transmission lever - yep, I agree, that's a piece of shock cord...
Maybe you will need a magnifying glass - the price for the base motor was $425
*********************
So what do these photos tell us? If the reported build date is correct they give us a base line for a very early 1962 built Dolphin, one of the first, if not the first built after Lunn stopped building boats, perhaps built with parts originally fabricated by O'Day in 1960, inventoried while Lunn was building its boats, and assembled into a boat later. At some point after this boat, O'Day changed their construction and went to a teak (?) topped fiberglass combing, an open hand rail, a low bridgedeck and wider tapered companionway and main hatch, a molded mast step, larger rounded portlights, and dropped the boom crutch supports. Hopefully, we will find out more about this boat from prior owners once these photos are seen (after 30+ years hidden away in that black book!)
Or, perhaps this is really one of those first 29 boats and the original assumed production date, 1962, is not the real build date but some other date, ie., date sold or first registered. We do know that the previous owner, Sam Jones (Julep) had her hull/deck joint rebuilt and this is a strong clue that this boat originally had the now infamous O'Day sheer clamp. We need to find out if Sloop du Jour has 'a centerline parting line' that would indicate that it's hull was originally formed by joining two half hulls - the method O'Day used on its first 29 boats. Stay tuned
******************************************
April 18, 2012. We know Peggy Benkard bought her boat from Sam Jones, a man from Fenwick. Sam Jones bought this boat in the late 1960's and named her Julep. Up until March 14, 2012, we did not know where Julep came from, and we did not have a hull #. We updated the Roster pages then but it took us a month to get this page updated.
New DFI analysis indicates that Don Haydon sold his Dionis, O'Day #21 to a man from Fenwick (!!) in the late 1960s. Fenwick, a borough of Old Saybrook, the smallest borough in the state of Connecticut, is located on Long Island Sound at the western side of the CT River. It had a 2000 census population of 52, and, a very nice golf course. A famous resident of this borough was Katherine Heburn. As we are confident that only one Dolphin could have entered the tiny Fenwick community in the late 1960s (Sam Jones would certainly have known about it if there were 2 Dolphins there!) we feel that Dionis must therefore be Julep. Also, note the sail number in the picture above....
And therefore, this boat, hull #21, was one of the first 29 boats built, and was actually actually built in 1960. Below is a picture of Julep sporting her hull # in her main sail number #4621.

#4621