October 8, 2015. John Shumaker, founder of Yankee Yachts passed away on October 5, 2015. He was 86. The following was posted on the website Sailing Anarchy by his son Steve.
I'm not sure if this is the right place for it, but here goes:

My father, John L. Shumaker, Jr. died Monday, October 5. He was 86. He started his boatbuilding career in 1962, building the Sparkman & Stephens Designed 24' Dolphin in a yard owned by Joe Cummings near Marina Del Rey, California. The first boat was our family's, named Yankee. He built 3 more at that yard. The construction of those first 4 boats was fiberglass, but the deck, cabin trunk and all interior furnishings were wood. The masts were hollow laminated spruce.

He and my mother decided to name the company Yankee Yachts, and moved it to an old steel building on Hindry Avenue in Inglewood, California in the mid 1960s. Subsequent Yankee Dolphins were build with fiberglass decks. While at the Inglewood plant, he commissioned S&S to design a 30 foot auxiliary, the Yankee 30 and a re-design of the Interclub dinghy, the 11-foot Minuteman.

In 1969 the plant was moved to a new facility in Santa Ana, California, where Dolphins, Yankee 30s and Minutemen were built. Added to the line were the S&S designed one-tonner Yankee 38 and a 1/4 tonner, the Yankee 26. The Dolphin was replaced with a 24-foot Seahorse trailer-sailer, designed by Robert Finch. The Yankee 28, a Robert Finch design was also built.

At it's height, Yankee Yachts employed more than 100 employees, but in the 1974 recession, the business failed. After liquedating the company, Dad and Mom moved my sister and I to rural north San Diego County, and started raising avocados and horses. However, John always considered himself a boatbuilder. In 1999, he and I started a 14' planing dinghy design out of wood, one of his dreams being to build a wood boat from scratch.

I'll try to show photos and more details in subsequent posts. Any that remember Yankee Yachts (it was a long time ago) or have stories of my father are welcome to post.

***********************************

**************************************************

This is a company about which we still need to get a lot more information - and we are working on it. The key man was John Shumaker. From the S&S files we know that, in 1961, he was their first west coast Mermaid 24 plans client. John was a sailor and an aeronautical engineer working for North American Aviation on the famous/infamous B-70 project. John told your webmaster he originally intended to build a wood Mermaid for himself and a partner. Part way into the project he decided that this was not what really he wanted to do. His partner took over the Mermaid project and he would buy a bare fiberglass hull from O'Day, have it shipped across the country and use the Mermaid plans to build a wood boat on that hull. He ordered the bare hull in 1964, Hull #71 and it was the first Dolphin John Shumaker built. He named it Yankee. At the time John was not a boat builder and this boat was to be his personal boat. Exactly how he transitioned from building a boat for himself to deciding to become a boat builder is a story we are working on getting. Later that year he ordered another bare hull from O'Day, #72, and built his second boat for John Ambrose - Amber Rose - click here to go to her.
We know that S&S was interested in having a west coast builder - especially one that would support the Dolphin better that O'Day had. John told us that at some point, probably in 1964, or early 1965 Olin Stephens came out to see him and asked if he would be interested in building Dolphins commercially. In early 1965 John ordered 2 more bare hulls from O'Day. His boats were, and are, recognized for their fine wood interior features.
John's son, Steve, wrote an article for the Yankee 30 Owners Association, a boat designed by S&S and produced by Yankee Yachts. A part of it is reproduced below.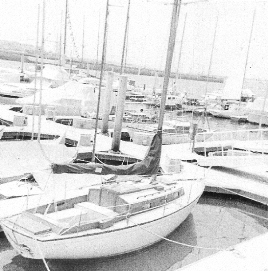 "The first boat he built was the Yankee Dolphin, Hull No. 71 (the previous Dolphins were built by O'Day). He had O'Day provide him with a fiberglass hull and he built the deck, cabin, and interior out of wood. He even built a hollow, laminated spruce mast for the boat. The boat, Yankee, was gorgeous. I think he named the company after the boat; I have vague recollections of he and my mother trying to come up with a name for the boat and later (I think), the company. The first four boats were built in the same manner. Subsequent Dolphins, like the Yankee 30s, sported fiberglass decks and aluminum masts."
To see more about Yankee, #71 click here
In the meantime, O'Day was not selling many Dolphins. Sparkman & Stephens was concerned about O'Day's lack of enthusiasm and wanted a builder who was excited about this boat, who was willing to get behind it and build a quality boat. In the S&S files are letters to O'Day asking them to build more Dolphins as they had received letters from people asking how they could buy one, and generally complaining that the boat was not being adequately supported by O'Day.
In a February 26, 1965 letter to Rod Stephens, O'Day's CEO Lyman Bullard notes that despite its good performance as a racer, there were sales problems in large part due to the increasing numbers of boats competing in the 24' range, with lower prices - a situation that did not exist when the Dolphin first came out on the market. He further notes that O'Day had taken over the sales from US Yachts in 1964 and was now advertising (the Dolphin) themselves.
And most interesting, in this same letter, he advises that Mr. Shumaker on the west coast is having more success. "He has built 2 boats with which we provided him the kits last year, and has ordered 2 more for prompt shipment". It seems that S&S's concerns about lagging Dolphin sales were about to be addressed by a successful west coast effort. S&S would eventually redesign the Dolphin based on field experience and come up with what was called the Yankee Dolphin.
Mr Shumaker had been busy. He had spoken with Olin Stephens who asked him if he would consider turning his small operation into a full commercial boat building business. John had built his Yankee and one other boat on bare O'Day hulls and had ordered 2 more. One of these hulls he used as a plug to make his own hull mold. And, he was making changes - like the internal wood arch support for mast support that appears in the Sept 29, 1965 Yankee Yachts sketches. In 1966 he built 3-4 transition boats - Yankee glass hulls but otherwise wood boats, the last one was No Worries, # 79. In 1966 O'Day Corporation was acquired by Bangor Punta, which later that year also acquired Jensen Marine, manufacturer of the Cal line of boats. Things changed fast in this period and O'Day, with S&S's urging, stopped making the Dolphin.
In November, 1966 S&S negotiations with O'Day produced an as is/where is value for the Dolphin molds and tooling at $7000 and S&S had efforts underway to find an east coast builder to use the tooling but there is no record of what actually happened to this tooling. In a phone conversation John Shumaker told me he visited O'Day in Fall River, MA to evaluate whether or not to purchase the O'Day molds and tooling but he decided to build his own fiberglass molds and tooling. John recalls that "the O'Day molds were green..." He used one of the O'Day hulls as a plug and built his own deck mold.
And finally, in 1966 S&S issued the new Dolphin 24 design #1497-11 named Yankee Dolphin with a higher ballast and lower displacement, an improved rudder design and dual lower shrouds. It had the same sail plan but was 200 lbs lighter with 200 lbs more ballast. Two internal S&S reports - Improving the Performance of The Dolphin and a Yankee vs O'Day Comparison help us see the rational for the design changes and the differences between the designs.Yankee eventually changed the Dolphin construction from a bolt on external lead keel to a molded fiberglass keel with internal ballast, and supplied a glass wrapped steel plate centerboard.
Yankee built their own deck and house fiberglass mold which appeared on Hull # 80, their 1967 brochure/show boat which had wood combings, later modifying the mold to include combings.
Ultimately Yankee Yachts produced more Dolphins than any other builder.- about 175 boats. Yankee built Dolphins until late 1971 or early 1972 and stopped when demand for the Dolphin dried up. They produced other well regarded boats like the Yankee 30 and 38 but ran into financial difficulty and stopped making boats. They sold their Dolphin tooling to their former employee and plant manager, Romaine Corbin, who continued production under the name of Pacific Dolphin.
John advised that his personal Dolphin, #71 Yankee, was sold to someone on the east coast and we have been actively searching for her. We found her in September, 2008 sailing on western Long island Sound. Click here to go to Arion. We have spoken with John several times and litlle by little we are getting Yankee's story. Stay tuned..
S&S issued a Yankee Dolphin Arrangements Plan on March 27, 1967
Click to see the 1967 price list and the 1967 Sales Brochure
The following pictures indicate the evolution of Yankee Dolphins in their early years.
The photo above left is of the cover boat from the 1967 sales brochure - Sail #80. Note the wood coamings and wood main and forward hatches. The photo above right is the cover boat from the 1969 sales brochure. This boat has fiberglass coamings and hatch covers. Click here to go to an interesting side story on this photo and # 118
Webmaster Note October 24, 2016. A little late on this but better than never. Steve Schumaker, son of Yankee founder, John Shumaker, posted the following historical tidbit on the Forum/History Section on October 20, 2016 http://dolphin24.org/forum/forum_posts.asp?TID=291. Click here to see a larger image of the photo above left.
Hull #80, Yankee, is seen on the cover of the brochure for the second model of Yankee Dolphins. Those had a fiberglass deck/coachroof and aluminum mast, but wood coamings and hatch covers. It was our family's second Dolphin, the company owner needing to have a current model for sales and promotional purposes. The cover photo features my Dad at the helm, my mother next to him, and my aunt. The photo was taken in Marina Del Rey, but Ben Sears, an illustrator my Dad used extensively, put in a more scenic background.
***************************************************
February 24, 2009. A recently rediscovered ad from the Sunday New York Times, March 30, 1969. "The Hit of the 1969 New York Boat Show" These scanned copies of bad copies of old newspaper clippings leave someting to be desired....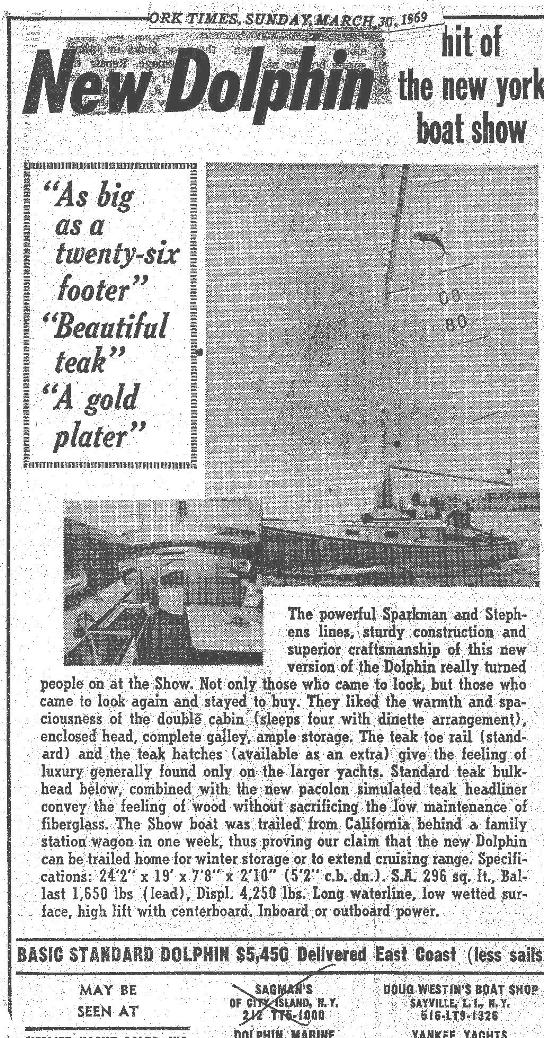 *******************************
November 29, 2018. Mike Freil (Makarios, Yankee #241) brought this series of SailingAnarchy.com posts, in October and November, 2015, by John Shumaker's son Steve and others responding to the announcement of John Shumaker's passing. There's a lot of material there so we set up a special page. Click here to go there.