Webmaster Note: Regular readers will note that we have deviated from our normal chronological posting order. Shipperke was struck at high speed at sea in early August, 2012 by a large powerboat, and the subsequent total loss declaration by the insurance underwriters has left Alden Harris with a major decision on his hands. With time for assessment Alden is now considering a rebuild/repair option.
Here are his most recent updates (edited) starting October 2, 2012.
Hi Ron,

I've made a lot of progress and I'm getting down to the bare bones. It appears that the Pacific boats were made of three components - the liner was glassed to the hull and the deck was fastened to the hull. I'm near to taking the toe railing off after which I should be able to see the full extent of the damage.

At this point I am encouraged to restore the boat. My plan will be to pull of the deck, repair the cockpit and liner which is attached to the deck, repair the hull, remove the engine, repaint the interior, repaint the hull, remove the old blistered gelcoat, repaint the deck, then put it all back together.

This is my current plan unless I discover something unforeseen. I should know soon if a restoration is realistic or if its back to plan B and the scrap yard.

Alden

| | |
| --- | --- |
| Schipperke at a nearby church parking lot | hole at hull/deck joint - crack in liner |

*********************************
October 4, 2012. Mark Steinhilber, our 'staff' marine architect who raced on his dad's Dolphin Rascal, keeps an eye, thankfully, on goings on in the Dolphin 24 world and sent in the following:
The repair is easier that he's talking about. I don't see the need to remove the entire deck, and I have had practice and been through a Coast Guard Marine Inspector fiberglass repair school for lifeboats. He only needs to remove the areas of damage and delamination in the deck, and the hull but they should be done sequentially and separately so that the damaged sections of one still provide some support while the other component is being repaired. The liner may be removed where damaged and either not put back, or put back as a repaired section.

The key in repairing the hull and the deck is to essentially repair them separately, meaning to put an interface between them with release agent while the deck is repaired in place, and the same while the hull is repaired in place. Then, the hull and deck may be rejoined at the flange similar to when the deck was mated to the hull. This process has the benefit that the deck will not be distorted while being repaired in place, it should be in it's correct place with any damaged or upset areas removed. The repair is made by scarfing back with a slope of at least 10 to 1 slope. The same layup schedule of mat , cloth and fiberglass roving should be used and I believe that the same type of resin (polyester) should be used so the repair has the same structural qualities and STIFFNESS/FLEXIBILITY as the surrounding fiberglass hull or deck structure. Others suggest epoxy due to improved bonding strength, but the repaired area will end up stiffer and under load, the flexure will be different (distorted). Any good fiberglass repair book or guideline will provide good instructions for repairing either the deck, or the hull, and I recommend that you repair each independently, but in place. They should not be part of the same layup when surrounding areas of the hull to deck joint are mechanically fastened with bolts and sealed with a caulking material. Just my $0.02. Mark S.
Here is Alden's response (minor edits)
Ron,

That's great advice especially using a polyester resin in keeping with the original bond. I probably would have used epoxy thinking I was making it stronger.

I thought by taking off the deck I would be able to get to the damaged sections easier. I also thought it would be easier to get the engine out and also to paint the interior if I took off the deck. But Mark's right. There could be some distortion and it may be difficult to get it all back together. Also, the bond between the deck and hull is very strong everywhere else and I suspect I would have to cut through it. Not a fun job.

I do want to paint everything so stripping the boat is necessary. I believe that I must have removed about 700lbs of gear including cushions, sails, teak, lines, anchors, hardware and fasteners. The engine and gas tank are another 300lbs. I'm curious to see how the boat might sail without all this stuff in it.

Thanks again Ron for all your help. We, us Dolphin owners, are all lucky to have such a great resource as you.

Will keep you posted.

Alden

****************************************************
October 8, 2012. Alden pulled out the Vire inboard
Ron,
Making a lot of progress. Pulled the old Vire gas engine out. It took all day. Everything was rusted and corroded. It's a miracle it started let alone ran at all. Even more surprising is that we motored with it for a few hours at a time. Pictures attached.
Alden

Click on the pictures for a larger view - click your browser back arrow to get back here

*************************************
October 24, 2012 - Status report (edited)
Hi Ron,

After about 60 hours of work, my boat is almost completely stripped. All of the interior teak, bulkheads, engine, screw shaft, rudder shaft, batteries and electronics and wiring, head and thru hull fittings, hatches, deck hardware, mast and boom fittings etc have been removed. I just removed the starboard toe railing and will start on the port rail tomorrow. As most of the hardware had been attached over thirty years ago, many of the fasteners were frozen and very difficult to remove. I'm pleased with the progress I've made. One more week and I should be ready to start sanding and grinding.
Alden

| | |
| --- | --- |
| | ps. I found a lot of rotten plywood in the bilge and found that it came from under the cabin floor but only around the engine. I definitely think the boat was flooded at one point. |




| | |
| --- | --- |
| taped fitting holes | Port side toe rail removed |

| | |
| --- | --- |
| V-berth stripped | Prop and shafts |

*****************************
February 22, 2013. Decision time...
Hi Ron,

A settlement was reached in the case and unfortunately it is not nearly enoug to cover the costs of repair. Regrettably, I have had to make the difficult choice to scrap Schipperke.

I will make a list of all the salvaged parts I will have for sale in case anyone is interested.

On a side note, do you happen to know if the 1650 lbs of ballast was all lead? Webmaster Note: The Pacific Dolphin brochure said ballast was lead - some builders were not truthful on their encapsulated ballast but my guess it was lead ....a gold mine!!! Maybe it is lead pigs encapsulated - sometimes the encapsulation material was concrete

Thank you again for all your support.

Alden Harris

**************************************
March 14, 2013. We got the following email (minor edits) and pictures from Alden
RIP Schipperke

Ron,

Well, it's done. I took Schipperke to the recycling center on Sunday and she was put out of her misery or so I tell myself.

It was sad and the sound of glass splintering was an all too familiar sound that brought back bad memories.
Before going to the recycling center, I cut the keel from the hull in hopes of salvaging the lead. The neighbors were so annoyed by all the noise I had to quit.

But I did discover that the top of the keel, at least, was filled with lead shot and resin. Whether or not the whole keel was this way I'll never know. The process of separating the lead shot from the resin produces a toxic fume.

I ended up giving the keel to a local boat yard worker.

The following is a cross section of the bilge... Notice how thick the glass is.

Schiperke was very badly damaged. In addition to the large crack in the hull, the liner was cracked, bulkheads were cracked, the keel was bent two inches to port (the hatches would longer close), the centerboard had been lost as well as the rudder, the mast was damaged, stern pulpit destroyed, toe rail destroyed, the inboard flooded etc etc.

She also needed other repairs included repairing a very bad case of pox (some of the blisters were 8" in diameter). It would have taken me years and a great deal of money to bring her back if she could have ever been brought back the same as she was.

Several people have already purchased most of the sails and parts. I'll have a few left over pieces that I will post in the forum as you suggested.

As brief as it was I really enjoyed my Dolphin. I can't thank you enough for all your help and support. One of the worst outcomes of this is no longer being a member of the exclusive club you have created.

All the best,

Alden

***************************************************************************************
*****************************************************************
We'll go back now and pick up Schipperke's accident story here.
September 5, 2012. The cost to repair Schipperke is more than the insured value of the boat so Alden initially offered her for free to someone willing to undertake repairing her. Alden now advises that he has not yet been able to find anyone interested in rebuilding Shipperke so it appears he will have to scrap her. On a positive note he has already had a number of requests for parts. He plans on putting the money from the sale of parts towards a new boat. His August 23, 2012 email and contact info are below.
Hi Ron,

As expected the estimate for repairs on the boat far exceeds it's insured value. Because of the extensive damage I will not be able to repair her. I don't have the facilities to do any of the work myself. It is repairable, however, and I would like to find someone who would be willing to take on the project. Otherwise I will have no choice but to part her out and scrap her - which is the last thing I want to see happen.

Please put the word out to other Dolphin owners that I am offering the boat for free. Alden has reconsidered!!


Regards,

Alden - email address aldentharris@gmail.com

************************************
September 5, 2012. Alden received a nice email from Romaine Corbin's widow, Kathleen - which he, and she, shared with us.
Dear Mr. Harris:

I am the widow of Romaine Corbin who built your Dolphin 24. Sadly, Romaine died suddenly in 1995 of a heart attack.

Every once in awhile I check the Dolphin 24 website to catch up on the loveliest fleet of sailboats, and I feel good about the legacy of 50 Dolphin 24's Romaine built under the name Pacific Dolphin.

Words cannot express the sorrow I feel for the damage done to your boat, but the gratitude I feel that you were not hurt and that your beautiful children were not with you at the time is without end.

Thank you for crediting Pacific (Dolphin) Yachts and Olin Stephens for the strong boat that held together and got you to safety. Your kind words really warmed my heart.

I am so hoping that someone will rescue #263, put her back together, and give her some more years of happy sailing. I will continue to check the Dolphin 24 website to see what her fate is.

Kindest regards,

Kathleen (Corbin)
***************************************

Here is what happened
August 12, 2012. Tragedy!! Alden Harris' Shipperke was hit at high speed by a 58' powerboat off Redondo Beach, California. Alden was alone on the boat, sailing, on his way to Marina del Rey returning from a cruise to Catalina Island. Fortunately, his wife and 2 children were not on the boat at the time. Shipperke suffered major damage and had to be towed to shore. She had a four foot gash on the beam, two broken bulkheads, flooded engine, batteries and electrical destroyed, back stay and upper shroud broken, centerboard and rudder sheared off, keel bent, stern pulpit broken, crushed dinghy, and more.
At some point we will provide additional details but as this is a current legal/insurance matter we'll stand by for now. Alden sent in the following photos.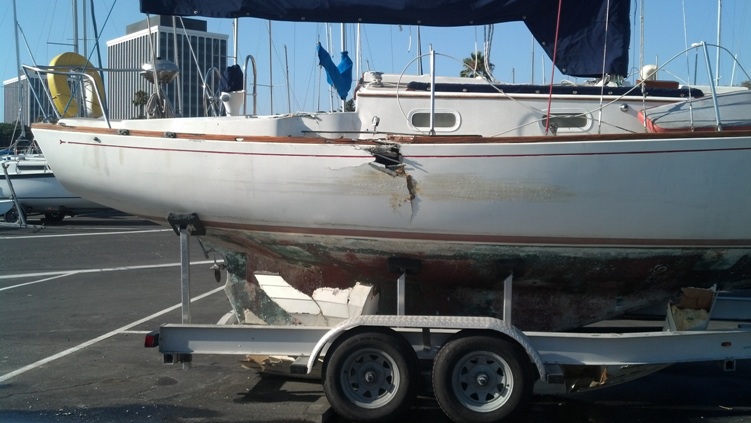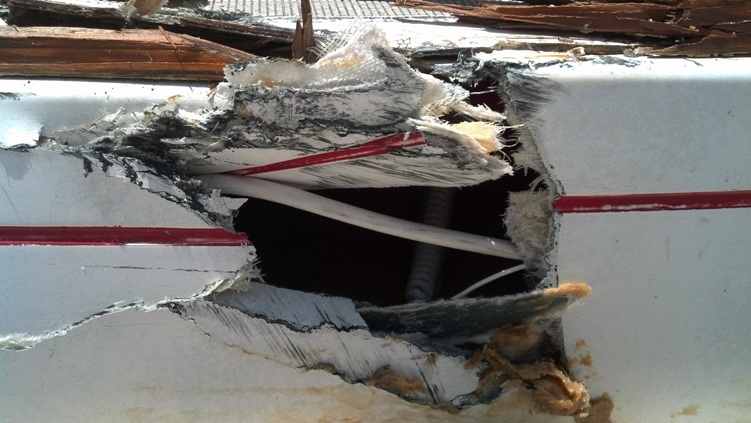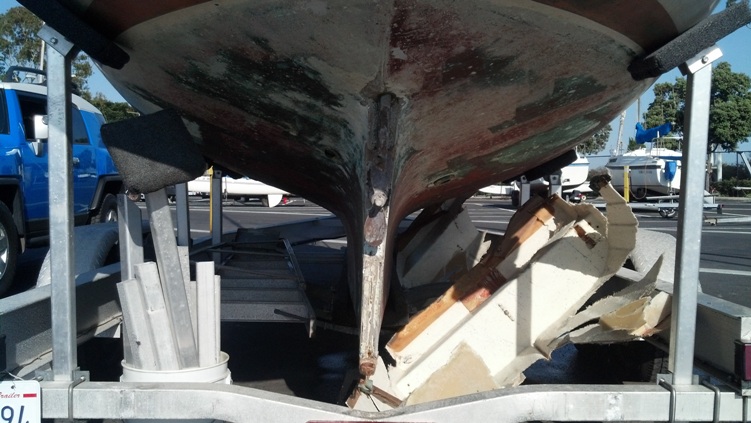 Alden's closing comment when he emailed this news -
"To the credit of Pacific Yachts and Olin Stephens, Shipperke took a fatal blow but she kept afloat and protected me. Very impressive for a twenty four foot boat over thirty years old"

Stay Tuned
August 15, 2012. Many 'Dolphinites' have emailed their concern and interest in Alden's and Shipperke's status. Your webmaster and Alden have been in contact and he knows and appreciates their concern. He has engaged a lawyer and the 'process has begun'. Here is an edited excerpt from Alden's latest email.
Hi Ron

I am really unaccustomed to so much support. I just settled on an attorney so the process begins. I'm devastated by the boat. In such a short period of actually sailing her I have very special memories. I do not want to destroy her. We'll see how it all goes.

Again, thank you so much.

Alden
Stay Tuned

************************************************

*******************************************************************************
This is how our Shipperke story started. On June 29, 2012, Alden Harris checked in as the new owner of Pacific Dolphin #263 - formerly Jimmy Canale's Schipperke, San Diego, Caifornia. (Click here to go there). Pending new pictures from Alden here is Pacific Dolphin #263 at her old dock at Shelter Island/San Diego. Below that is Alden's email.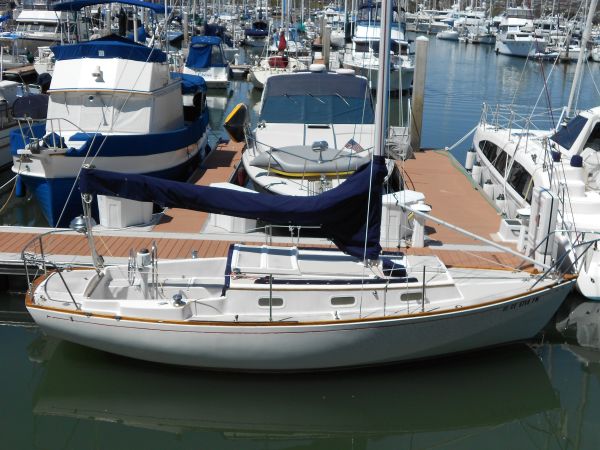 Ron

I was introduced to Erik Evens (Robin Lee) through an email from you. I met him. He was very helpful showing me his boat. I gave up looking for an affordable Dolphin. Then by chance I saw Jimmy's in San Diego. I called but it was too late! Very disappointed for sure. He called me yesterday. The deal fell through. I drove down this morning and bought it! What a little beauty.

Anyway, I have a trailer but need to cut the posts down as my last boat had a four foot keel. Is there any info out there as to how high the posts need to be? I'd like to custom out the trailer before I make the drive from MDR.

Thanks for your help.

Alden Harris
We had an exchange of emails including some poppit height measurements from Marionette's trailer, and Alden replied
Hi Ron

I'm really excited to get the boat and cruise the Channel Islands with my kids before starting a major restoration in the winter. A very lucky find.

Looks like my trailer will work perfectly. I had it made for my last boat. Pictures attached.

I plan to use this site a lot and hope to contribute what I can.

Sincerely,

Alden

*************************************
July 12, 2012. We left Alden a few days ago getting ready to go down and pick up his new boat. This turned out to be a little more complicated than first envisioned (minor edits).
Hi Ron,

Well, I finally got the boat back to Marina Del Rey. It took me over a week and five trips to San Diego, but I did it. She's in the "Mast-Up" storage area next to the public ramp. It's a very convenient and inexpensive way to store and launch a boat. Saves on slip fees, bottom paint, dive-cleaning service and other maintenance issues associated with keeping a boat in the water. There is a public dock at the entrance to the basin that charges $0.50/ft with water and electrical hookup for up to a week at a time in case you don't want to haul the boat out every day. A few more tweaks to the trailer such as removing the calipers and disks so they don't rust and I will be ready.

San Diego is 300 miles round trip from where I live. The reason I had to make so many trips is because I had to be back in LA to pick up my kids from camp by 2pm.

On the first trip I had a chance to look the boat over and leave a deposit with Jimmy Canale.

On the second trip, I drove the trailer down but I forgot the trailer extension! I paid Jimmy the balance and we made the deal. That day I tried to get her on the trailer but I just couldn't get the trailer deep enough into the water. The rudder almost got hung up on the back of the trailer. Everyone watching of course and no one offering to help. One guy had an extension but wouldn't lend it to me.

I decided to have the boat hauled the next day and motored over to the nearest boatyard. It was Sunday and no one was around.

I had all day so I set about to drop the mast. Only 120lbs. It looked easy enough. It wasn't at all. It was low tide so I was able to tie off halyards at mast height from the dock and lower it to the deck. The mast step tweaked some as I had a hard time controlling the lateral movement. I'll either straighten it or replace it. (see photo above).

Four hours later the mast was lashed down and the shrouds taped to the mast. I hadn't eaten all day so I showered at the marina where the boat was originally slipped then went to Humphrey's for dinner and a live concert. I had two hamburgers and four beers and slept soundly for the first time on my new little Dolphin.

The next morning I spoke with the yard master. He wanted $400 to haul the boat! I used to pay $40 in MDR. I checked with two other yards and finally settled on Driscoll for $300. It was a good thing I went with this yard as they turned out to be very helpful and accommodating in the end. By this time it was already getting late and they had another boat to haul ahead of me. I had to leave to pick up my kids. So, before I left I cut down the posts on my trailer according to the measurements you gave me and from other Dolphin owners and left.

A few hours after I arrived back to LA, the yard called me and told me the boat wouldn't fit, the posts were too short! I still don't understand why there is almost 12" difference between my trailer and others but they were all all too short. I tracked down the original builder of the trailer who had moved a 100 miles east of here. He sold me $400 worth of aluminum posts and cross beams. Half of it I will be returning since I never used it.

Trip number three to San Diego we finally hauled the boat. I started to size and cut down the new posts but ran out of time again. There was nothing I could do. I had to get back to LA to pick up my kids.

Trip number four, I decided to go back down on a Sunday and spend the whole day customizing the trailer and strapping everything down so that it would be ready to move the next morning. I would have moved it that day but the yard was closed. And I had to go back to LA to get a truck with a trailer hitch.

Trip number five yielded success. It was a nerve racking first trip towing the boat 150 miles but we made it and now I wonder what I've gotten myself into. I am smitten, of course and look forward to my first sail and trip to Catalina with my children.

I've begun to compile a long list of repairs that need to be made and parts that need to be replaced. Yesterday I tossed out all the old stuff. Today I will scrub the interior with Lysol.

The hull may need to be regelcoated. At least it will need a new paint job. I will probably compound and it and buff out the oxidation first to see how it looks.

It is curious to see that the boat sat deeper than the water line. I wonder why? See below

The deck definitely needs gelcoat. The standing rigging is in good shape. The sail inventory is not too bad although I will probably go with a CDI 150 roller and a new main.

The engine is a Vire and looks like it needs a rebuild. I'm debating whether to rebuild, repower (Beta Marine Diesel), or remove it entirely and go with an outboard. I like the idea of a diesel with an inverter etc. We'll see. The Vire didn't seem to push the boat along too well especially when trying to poke through any wake. Looks like the gas tank has some life left.

I'm not crazy about the wheel and pedestal especially on such a small boat. I like the feedback from a tiller. It does save room in the cockpit though.

There is no stove. I'm debating whether to remove the sliding galley and build out a sink, gimballed propane burner and refrigerator. I don't think there is a water tank either. What I thought was a water tank I think may be a holding tank. (update July 20, 2012 - there is a flexible water tank and it was the holding tank. The rigid tank was a water tank. And there were 7 thru hull fittings)

Has anyone installed a self-steering wind vane? If I keep the wheel I make go with an autopilot. Depends how well I can get the boat to balance.

My ultimate goal is to set up the boat for extended cruising, short cruises to the local islands. And I like to single-hand mostly.

While cleaning I found the flag and it was an Australian flag. It was meant to be. I grew up in Sydney, right at the South Head of the entrance to the harbor. It's where I learned to sail, on 18' Skiffs and everything else. We'd watch the Sydney-Hobart fleet leave every Boxing Day.

Hope this wasn't too long. I'll keep you in touch.

Regards,

Alden

********************************
July 14, 2014. Alden's been worrying about his thru hulls fittings - one in particular. None of us worry enough about our thru hull fittings - here's his email (minor edits) - and a picture of a worrisome thu hull fitting - a gate valve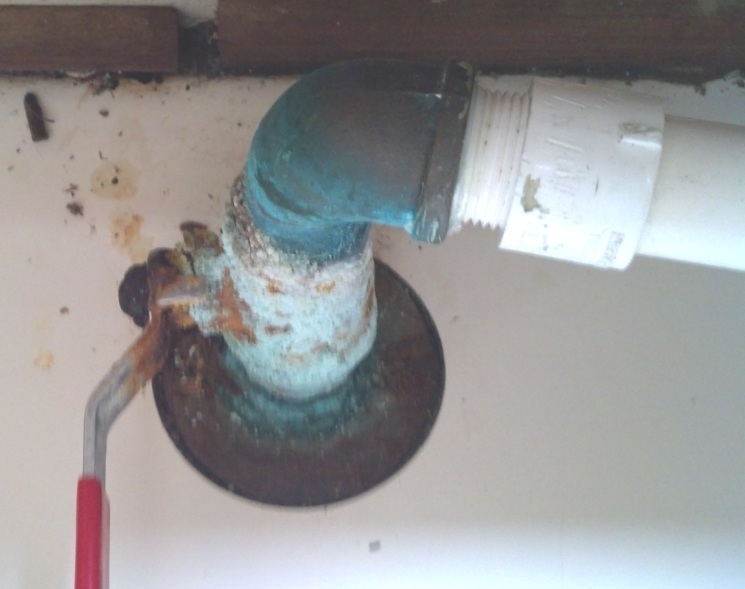 Sink Drain valve (corrected July 20, 2012)
Ron,

Re the waterline issue - I am speculating that a valve may have failed at the dock and the boat filled unnoticed and sat for a while for the oil line to settle on the hull like that (see above waterline picture). That would have taken some time. Or, even more likely, since it is an intake valve, it may have only leaked while the engine was running. The water I pumped out was not enough to hold the aft end down. But it could have been left over. It just reminded me that he (previous owner) seemed very concerned about that valve. I checked the water line/stripe on the boat and it looks like the original.

Anyway, all the valves need to be changed or reconditioned. I took a picture of the one above (the sink drain).

Alden

*********************************
July 20, 2012. We have the following update/progress report from Alden (minor edits). We'll start with a photo of 263's interior which slipped through the cracks in a previous update.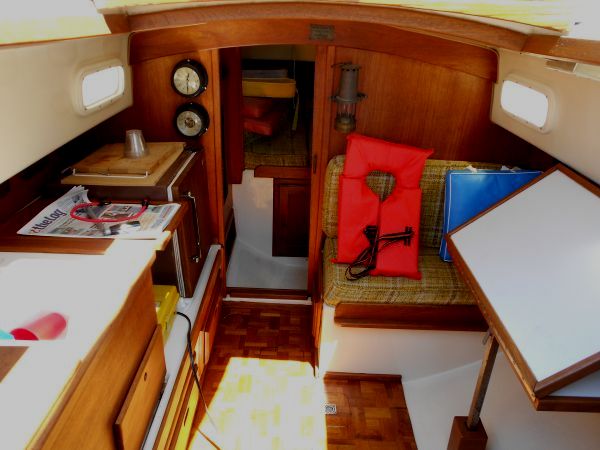 Hi Ron,


I don't expect for you to post everything I send. Just wanted to show you the progress I've made. I finished the thru hull fittings and will install ball-valve sea cocks as soon as the sealant has cured. There are before and after pictures attached.




I also took apart the 15 gallon water tank, cleaned it and will repaint it and reseal it.

I took the sliding galley out for now. I replaced the wheels only to discover that the groove they slide in narrows and jams it half way. I would prefer something permanent anyway, propane gimballed burner, stove, ice chest or refrigeration etc. Webmaster Note: If not familiar with Pacific Dolphin's sliding galley click here for a description and close up pictures http://dolphin24.org/seminole_sliding_galley.html


I straightened the stainless mast step, re caulked it and reattached it to the deck.

Working on the rigging now and wiring. The mast will go back up this Sunday.

I attached a couple of other pictures.




This is the elaborate hose set up to the holding tank, which is a flexible water tank

| | | | |
| --- | --- | --- | --- |
| | | | |
| valve out | Yikes! | looks much better | mystery port |

At left is the Vire gas engine and the drive shaft (needs attention).

Above right is a photo of a thru hull under the floor boards that has been plugged. No clue?


More to come and a sail by next Friday I hope.


Regards,


Alden
**********************************************
July 23, 2012. We got the following report from Alden and stepping #263's mast. We have included these comments on the appropriate pages of our Technical Section.
Hi Ron,

I used a system from the website to step the mast. It took me a few hours as I was by myself. Once I got the shrouds and fore stay sorted out and attached, the base of the mast bolted into the mast step plate and the boom squared off it took about five minutes to get the mast standing. I used the main sheet and blocks to help raise the mast as I lifted and guided the mast up with the other hand.

It was tough keeping the mast from wanting to sway to one side or the other and it was difficult to tighten the main sheet through the cam cleats while holding the mast. At one point, when I had the mast at about shoulder height, the blocks on the main sheet came together. I had run out of line. I looked around and muttered "help". But there was no one around. So, I dropped the main sheet, put all my weight under it and did a weightlifter's "snatch" move and pushed the mast up the rest of the way. And that was that. It would have been really easy with two people. Using the boom really helped.

The mast is stepped but not tuned. The wind indicator doesn't seem to turn (now that the mast is up). Still have to reattach all the wiring from the mast. Nice to have a clean deck.

I forget to send a picture of the great ladder that came with the boat. It's hinged and folds up nicely for storage. Not sure that I will keep it attached to the toe-rail.

Regards,

*************************************************
July 27, 2012. Alden sent in some info regarding #263's head/holding tank system. We have included this in a new page called Head, Holding Tanks and Related. Click here to go there.
**********************
August 5, 2012

Hi Ron

I launched Shipperke last Friday and I'm happy to report she didn't sink. I surprised the family. I had kept it a secret this whole time. They were really excited.

The first day out I crossed paths with none other than Eric Evans on Robin Lee. I couldn't get off the helm to trim the sails. I hope we looked ok.

I'm having a tough time at the wheel. Not used to it all. She is not tracking as well as she should. Constant steering and correction. I just need to go out alone and play with the trim. Right now she's no where near sailing herself like Asparagus did in that video.

There is a slow leak in the shut off valve at the cockpit drain. I was being lazy and didn't replace it as it is in a really tight spot next to the engine. Oh, and she sits evenly an inch or so above the waterline. So my theory must have been right about the leak.

Heading to Catalina in a couple of days. I will keep you posted.

Alden

*******************************************
August 24, 2012. Alden's Shipperke may not have had the time she deserved but she did have time for memory making. These pictures from Alden' photo file 'First Day Sailing'
Ron,


Here are a couple of pictures of Shipperke in better times. We do have some good memories.

Alden
*******************************