Hi Ron:
I have some new pictures for you. First, I have a picture of Trump It (top of page) and I think she is being sailed by Denny Smith's oldest son, Denny Jr. You can just see New London Light between the main and Genoa. This is probably about the same year as Denny won Off Soundings with Trump-It.
Note that the engine exhaust is on the port side of the transom and the running lights are right above where the cockpit coaming attaches to the house. This is the only Marscot that I know of with these features that may help identify if Dol fyn is in fact, Trump-It and later Rascal.
Next, we have a picture of the Thames Yacht Club crew at the US Coast Guard Academy Luders 44 invitational. Denny Smith skippered the Thames crew to a win.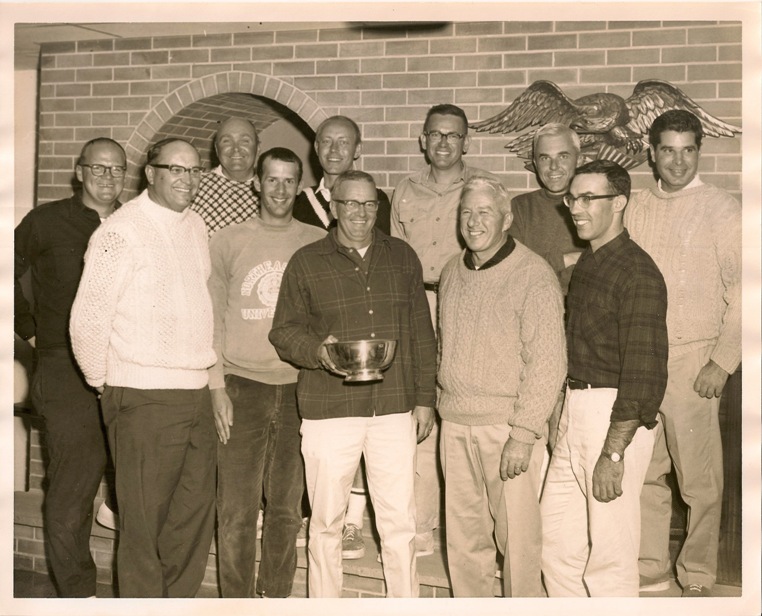 Shown in the photo, L to R: Unknown?, DIck Steinhilber, Toby Hermes???, Jim Anderson, Bill Lueze, Aborn D. Smith (Skipper), Dave Bourne, Pete Brouwer, Jim Avery, Bob Geary, and unknown? Click on photo to go to a larger view
Finally, Thames YC runs a Fall series called the Chowder Series. I believe this next picture is the awards presentation for all classes and the overall "jug" winner for 1969 as the previous winner painted on the jug was Jato, Stan Secora. In this picture are 3 Dolphin owners, although not at the same time.
Left to Right, Dick Steinhilber "Aqua Magic QA-17 (and Rascal), Dave Bourne, "Tempest" Erickson 35, Stan Secora, "Jato" Dolphin 24 and Tartan 27?, Bill Avery Presenting, Unknown - maybe Kevin Farrar?, Denny Smith "Trump-It", Dolphin, and Bill Lueze, "Yankee" Ensign. Click on the photo to go to a larger view
Perhaps this might be nice to put this photo in Stan Secora's Jato page as he won overall in 1966 and 1968, first with the Dolphin 24 Jato, and then in 1968 with either the Dolphin 24, or his Tartan 27, also named Jato. Webmaster Note: Done - click here to go there