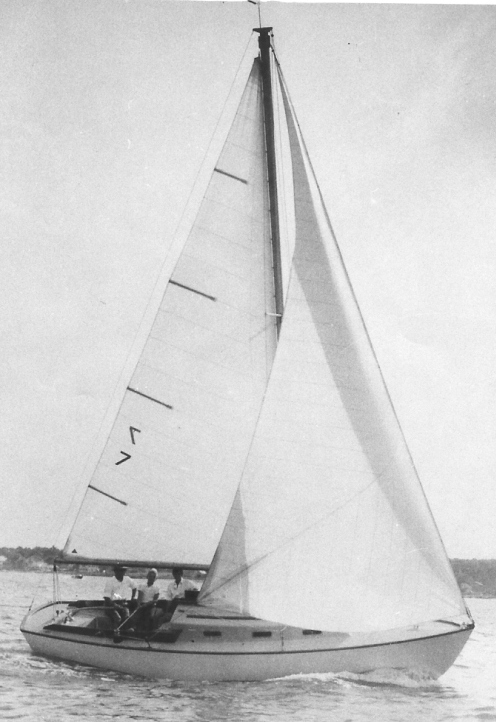 Stan is a marine architect and followed closely the building of his boat by Palmer Scott at Marscot Plastics. He made weekly trips to Fall River and New Bedford, MA to make progress payments, and finally picked up his boat in New Bedford on May 11, 1960. JATO was the first Dolphin to be launched at New Bedford, and as the sail # indicates, she was hull #7. Presumably, the earlier boats were trucked to another location to be launched. (For those who really need to know JATO is the acronym for "Jet Assisted Take Off" - there must be a story in back of this name that we may get someday)
In addition to being a great source of information about Dolphins, Stan has been a valuable source of much needed technical advice over the years, not only to your webmaster but many others in our sailing area.
Above is JATO perfectly trimmed with her 140% genoa that Stan loved. In a building breeze he liked to progressively reef, then double reef, then drop the main entirely, sailing on the 140 alone. He kept JATO for about 12 years before moving on to a Tartan 27 - he built out the interior himself - and then on to a Tartan 34 in the early 1980s.
Stan reports JATO was sold to Maurice Belsky from Holyoke, MA who had a summer place in Attawon, Niantic CT. We are looking for what later happened to JATO - she may have relocated to western Long Island Sound.
Stan relates an interesting story that happened to Maurice and his daughter sometime after he bought JATO. It seems they were motoring out of Niantic's inner bay between the highway bridge and the RR draw bridge.This is a short, several hundred yard long stretch notorious for its strong current on the incoming and outgoing tides, and over the years, the scene of many 'incidents' including one involving your webmaster and his Atlantic.

Stan kept JATO at the Thames YC on a mooring on the Thames River in New London, but during the winter she was kept at a yard up the Niantic River on Niantic's inner bay. This passage between the bridges is a well known annual ritual to him and other local sailors.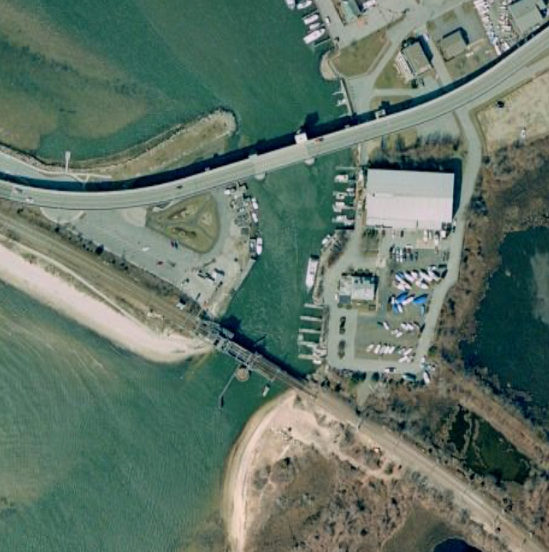 It further seems that on this day there was an outgoing tide (Rule # 1 - never go out on an outgoing tide, or in on an incoming tide) and the RR bridge elected to come down at the precise time that Maurice and daughter were traversing this gauntlet. The RR bridge has about 11' of clearance at high tide. One can visualize the situation - they cleared the open highway bridge, the current was racing out, probably impossible to turn the boat in the channel and stem the tide, the decision to go for it, and, well, the bridge hit the mast while the boat was under it. The boat heeled over hard filling the cockpit causing much concern to those on board. However, the boat kept moving with the strong current, the mast bouncing off the descending bridge girders, it finally freeing itself and cleared.
Stan was called to come to the boat yard to inspect the boat, and other than some scuffs, the mast and boat seemed fine. The crew had a more lasting impact from the experience, and Maurice's daughter is understood to never have set foot on a boat again!
There is a 'saying' about S&S design specs for their masts - relayed to your webmaster by Harry Morgan of S&S, and a former mast designer himself. This conversation came about as a result of an inquiry about replacement masts for Dolphins - completely independent of the above story. He said "S&S masts have a reputation for being bridge breakers based on their conservative design". No kidding.
*********************
May 21, 2009. Stan gave your webmaster the 5 pages of his JATO log that covered her first launching on May 11, 1960 at the Marscot railway in the old Beetle Cat yard in New Bedford. This is where the Dolphins were finished. The parts were molded in a Fall River mill building trucked here where Leo Telesmanik and his crew bonded them together to make the basic boat. Then they built in the interiors, combings, toe rails, hatches, bolted on the keel, etc., and if necessary, commissioned them for launch. Leo, who passed away in 2001, was a legendary New England boat builder (Beetle Cats). Click here for more on Leo Talesmanick.
Stan's log is a fascinating peek at the early days of our Dolphin - 49 years ago this month. Stan, his wife and their dog picked up their new boat and, over the next several days, sailed her to her homeport at the Thames Yacht Club in New London, on the Thames River in Connecticut.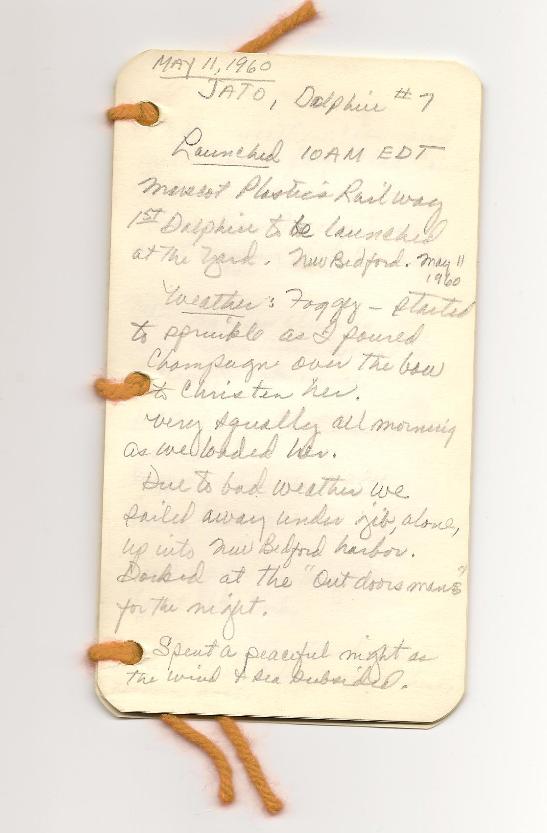 Page 1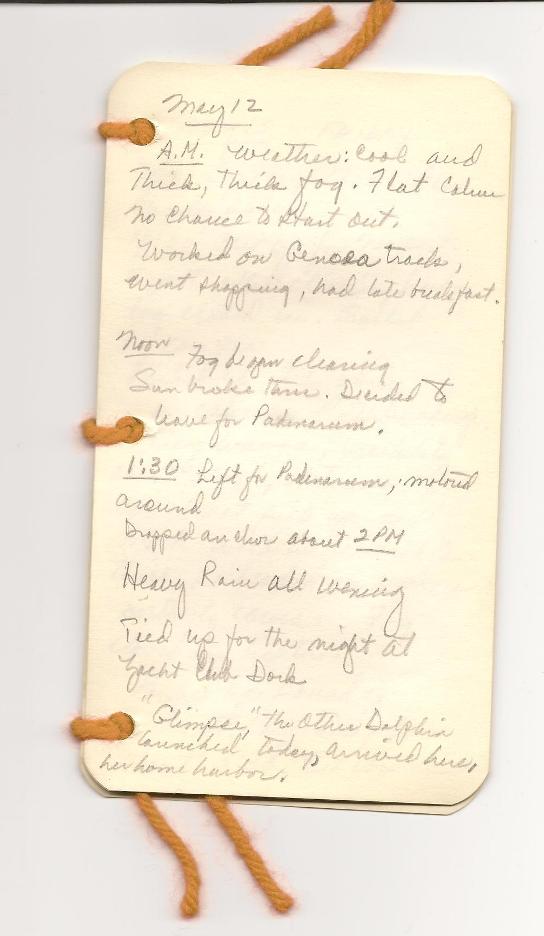 page 2
Breakthrough!! Glimpse "the other Dolphin"! When I saw this I asked for more info about this boat. Stan said that as JATO was being readied for launch, some of the yard crew were working on another Dolphin that was being trucked to the small port that Stan was sailing to - Padanaram. This was to be her homeport and had a blue hull. Stan did not know her hull number but thought she was #8 (this is enough to give Glimpse her own page and enough to give our DFIs (Dolphin Field Investigators) something to work on.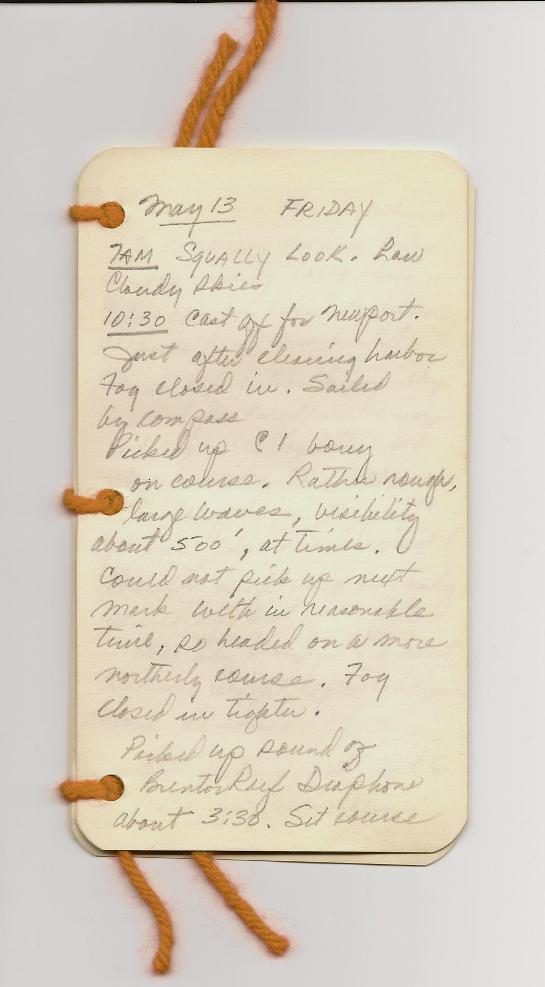 Page 3 - Friday the 13th - can we sail today?
Brenton Reef is a good place to avoid in the fog, and especially on Friday the 13th! It's in Rhode Island Sound off of Newport Neck. Passing Brenton Reef on a westbound passage out of Buzzards Bay Portugal is a bit off to port and Newport is on your starboard side. In those days there was a Lightship permanently moored off the reef.. You kept the fog horn on the Lightship well off to starboard and started a northerly heading if you were heading for Newport. If it were not so foggy you could see the Newport mansions looking down at you.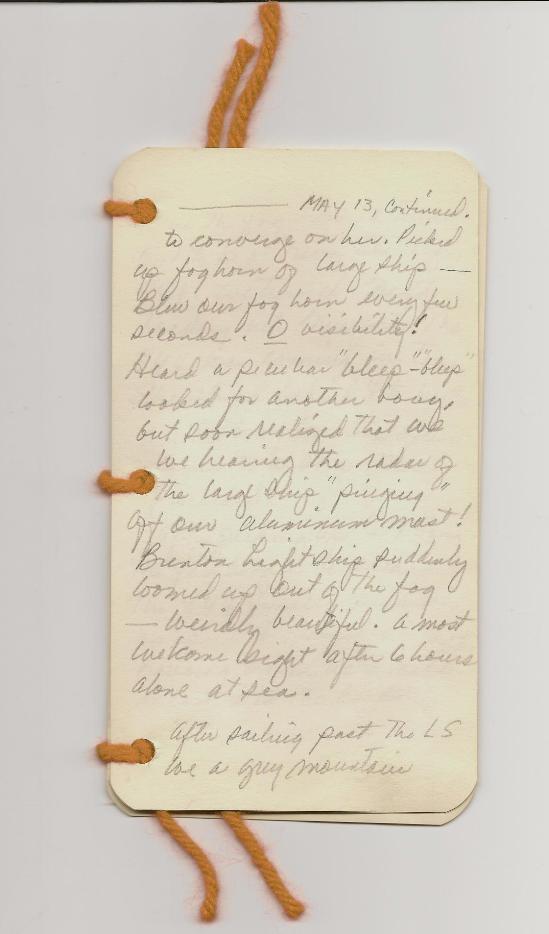 page 4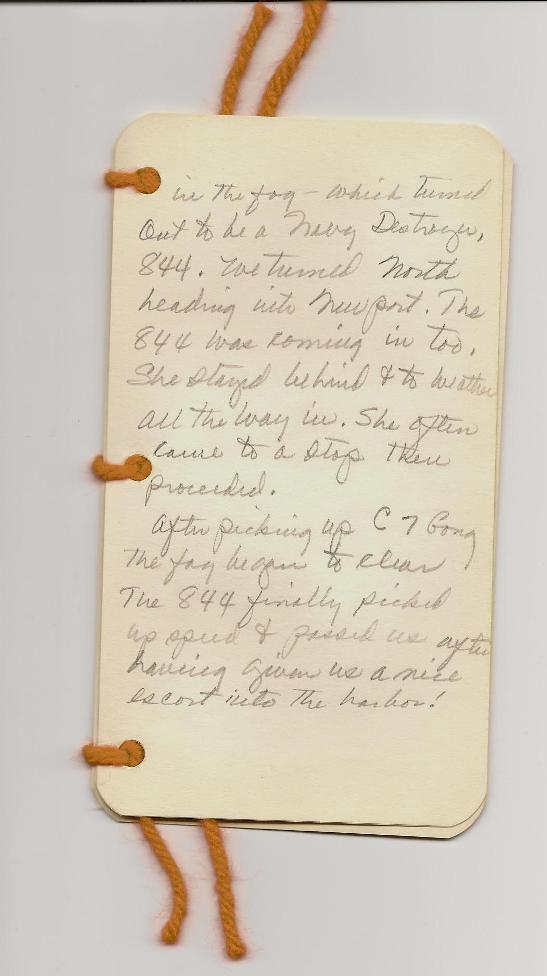 page 5
So, JATO got a Navy destroyer escort into Newport in the fog on Friday, the 13th. They take care of their own - Stan worked for the Navy at the Electric Boat Shipyards checking to be sure those nuclear subs being built were good ones.
Stan told me that the next day was a good sailing day, and they sailed from Newport to New London and brought JATO home.
This story is repeated in the stories section titled JATO's log. It includes a chart of JATO's course past Brenton Reef into Newport and a picture of the Lightship. Click here to go there.
********************
January 30, 2011. Stan passed away on Tuesday, January 25, 2011. He was 90. He was a major contributer to this website, a friendly and expert technical resource for many local sailers, and a friend who advised your webmaster 15 years ago that Marionette would be a good boat to buy. He will be missed. His obituary that appeared in the New London Day follows:
Waterford - Stanley J. Secora, 90, passed away after a brief illness Tuesday, January 25, 2011 following a long, happy, and healthy life.

Stanley was born September 22, 1920 in New London, CT., the son of the late John L. and Julia M. Secora. He was a proud graduate of the Bulkley School and went on to become a naval architect. He took great pride in his employment as Supervisor of Shipbuilding for the U.S. Navy. One of the earliest members of the Thames Yacht Club, he dedicated much of his life to his love of sailing. He and his late wife, Leslie Langenkamp, were outstanding sailboat racers together. Stanley was committed to the quality of his work, the happiness of his family, and the safety of his country.

He dearly loved and was loved in return by his son and daughter-in-law, John and Margie Secora, his granddaughter Heather and her husband Stephen Harmon, granddaughter Marcy and her husband Jack Griguoli, and their daughter, Stanley's "Gem," great-granddaughter, Ashley Valentine Griguoli.

Friends and family are invited to a gathering in his memory on Sunday, January 30, 2011 from 1 to 3 pm at the Thomas L. Neilan & Sons Funeral Home, 12 Ocean Avenue, New London, CT.

One of the many things Stanley enjoyed in his later years was listening to upbeat classical music and news on NPR. In lieu of flowers, donations in his memory may be made to www.npr.org.

************************
August 15, 2013. Senior DFI Mark Steinhilber (Rascal) sent in a fascinating tidbit about JATO. Click here to go there.
*********************************
April 18, 2014. Senior DFI Mark Steinhilber (Rascal) is at it again. Here is his email (excerpted) and a neat photo
Thames YC runs a Fall series called the Chowder Series. I believe this next picture is the awards presentation for all classes and the overall "jug" winner for 1969 as the previous winner painted on the jug was Jato, Stan Secora. In this picture are 3 Dolphin owners, although not all owning at the same time.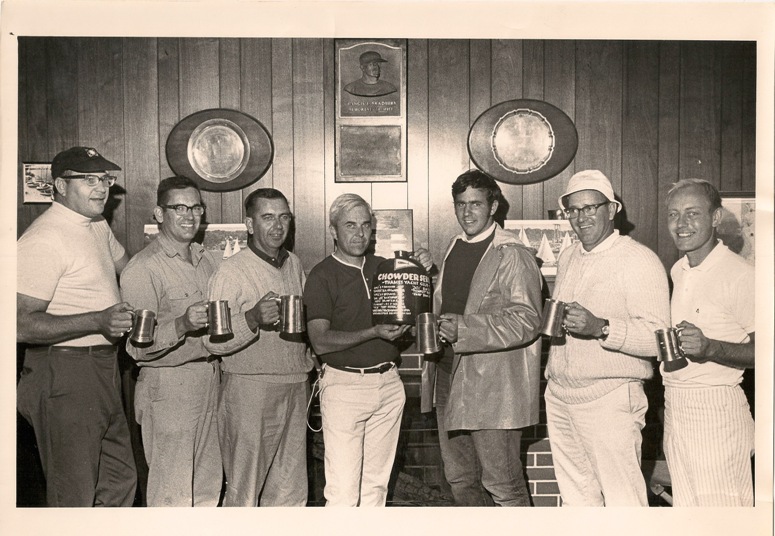 Left to Right, Dick Steinhilber "Aqua Magic QA-17 (and Rascal, Dolphin 24), Dave Bourne, "Tempest" Erickson 35, Stan Secora, "Jato" Dolphin 24 and Tartan 27?, Bill Avery presenting, Unknown - maybe Kevin Farrar?, Denny Smith "Trump-It", Dolphin 24, and Bill Lueze, "Yankee" Ensign.
***************************