August 28, 2015 We spoke with the Belmont Boat Works this morning and they advised "Elizabeth" has been sold. We'll stand by for the new owner to check in.
************************************
August 23, 2018. Its been 3 years and as your webmaster was driving thru Belmont on his long trip home (Marionette's Log, Maine 2018) this was a must stop. The guys at Belmont Boats Works were very understanding but did not know what happened to this boat. They said they'd check and let me know. I got this email today
Hi Ron,

I checked with the boss, and he said that a fellow came in wanting the trailer that boat was sitting on, and he told him he could have it, but he had to take the boat, too.

We don't have a record of who that was, so chances are the boat is sitting somewhere, unloved, or has gone to the landfill.

Sorry not to have more useful information or a more optimistic prognosis! I'm keeping your card and will notify you if we see one around.

Best Regards,

Dan MacNaughton

Service Coordinator, Belmont Boatworks
*****************************************
*******************************************************************
*********************************
This is what we have on Elizabeth's history
July 16, 2015. DFI report - On July 14, Bastille Day, your webmaster was driving up from Connecticut through Maine to watch the arrival of Hermione, the replica of Lafayette's 18th century tall ship, in Castine. The driving route was on Route 3 through Belfast which meant a quick stop at the Belmont Boat Works to see how Elizabeth was faring. Sadly, she's still in that field.....at least she has a great view, and the snow is gone.
Click on the above photos for a larger image
March 23, 2015. Update from Luke replying to a What's Up Inguiry. Its been a hard winter....
Hey Ron.

She rests entombed in snow on hill on Belmont, Maine. Her trailer is still good, and the boat is little more than a fiberglass template with a lead keel. How are things on your end?

Best- Luke
September 26, 2014. Luke is moving soon - here's his email (edited)
Hi Ron,

Here is the deal. I would like to see it go I a good home. If free is the magic word than let's use it. Free boat to someone with a trailer. The clock is ticking. I may donate the boat to a tech school in the area for them to refurbish also. Thanks for your interest in the Dolphin.

Best
Luke

****************************************
September 13, 2014. Price Reduced - see Craigslist ad below Minor edits).
Here's the link http://maine.craigslist.org/boa/4663901412.html

VINTAGE 1961 Dolphin 24 $100 (Belmont) condition: salvage

Legendary small sailboat designed by Sparkman & Stevens. Olin Stephens "favorite design".

This old girl is in ROUGH shape. Though she was sailing just 5 years ago.
This is a great PROJECT for someone who can do the job right and enjoy this once beautiful boat.
Bring your own trailer and she is yours.

NO SCRAPPERS. She deserves better.

*******************************
August 13, 2014. DFI Mike Friel gave us a head up about a 1961 Dolphin For Sale near Belfast, Maine. She is at the Belmont Boatworks in nearby Belmont and owned by 'Luke'. This may be a newly found Dolphin! (Nope - she's Elizabeth) Mike advises Luke is asking $500 for the boat plus $600 for the trailer. This boat once belonged to a friend of Luke's in Long Island, New York.
We are working on getting in touch with Luke. Pending more information we'll call her the 'Belfast Dolphin'.
Stay tuned
August 14, 2014. We spoke with Luke. His friend is Halsey McGowan and this Dolphin was Elizabeth. At the moment she has no name on her transom. Luke will get in touch with us later with pictures and more info. He said he picked up the boat where Halsey had left her - in a field in nearby Lincolnville, uncovered. But he currently has her covered. She is at the Belmont Boatworks which is near Belfast, Maine. Here is a file photo from Elizabeth's home page.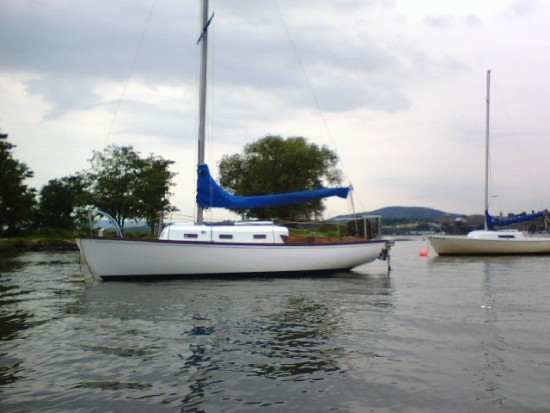 Better times - about 5 years ago
Luke is looking to get $500 for the boat and $600 for a trailer built for the Dolphin, which looks to be in good shape. He can be reached at 603-547-7477.
Stay Tuned
August 18, 2014. Your webmaster was on his way to Blue Hill yesterday to catch up with Marionette and, surprise, our driving route took us right by the Belmont Boat Works! Dolphin24.org staff get triple time on Sundays so a quit stop for a picture.

Click here for a larger view
August 20, 2014. Mike Friel sent in a couple of interior pictures.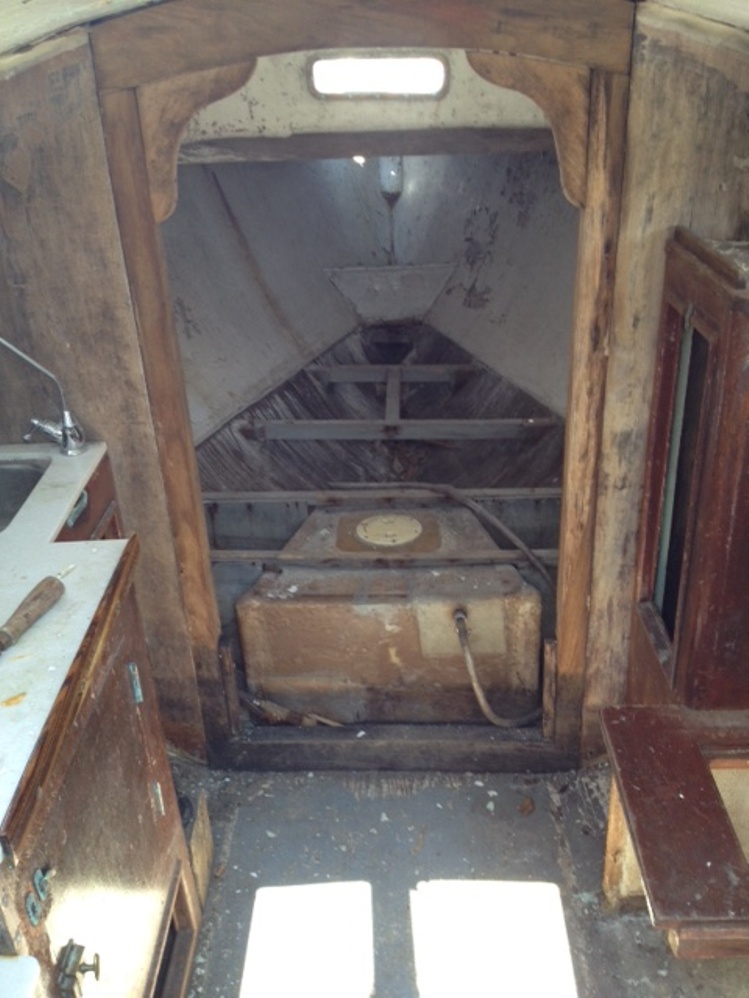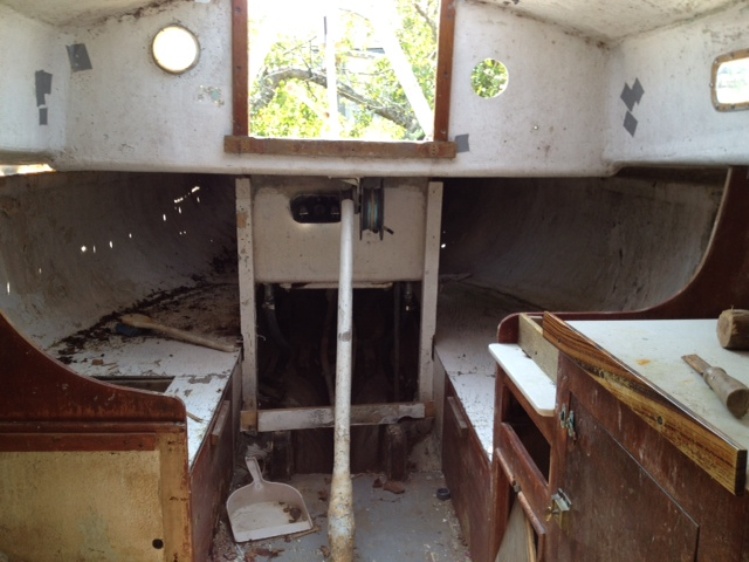 Click on above pictures for a larger view