Marionette's summer activity started some weeks before - in her barn. The 2014 PLAN included a 'major' refit that I will summarize below. We took a one year 'sabbatical leave' on her slip for this season at Niantic Bay YC so we could execute 'The Plan' to 1) pretty her up, 2) trailer her to Rockland, Maine in late July and 3) start an August/September season cruising the mid coast of Maine.
You can skip this following part - its headache inducing.
fiberglass surfaces inside have had a fresh coat of paint

portlights inside have had, at last, a trim ring painted
centerboard winch locker is almost finished - top companionway step reinforced
transom well inside has been painted
toe rails have been sanded and varnished/2 coats
topsides have been chip filled (3M Acryllic white putty), sanded, undercoated, and 2 finish coats applied (Brightsides White) Note: The 10 foot test was passed. (There was a close call to report - 2 different $7000 quotes for stripping and Awlgripping Marionette's topsides were successfully filed away in the drawer.....)
cove stripe and the boot stripe taped and painted (this time the correct shade of Teal green. The taping necessary to do this was a miserable failure with many 'retouches' necessary (Note: The transom got a pass this year - minor touch up only)
repaired paint chips and paint cracks in deck, repainted deck
varnished coamings (I passed on revarnishing the house, wash boards and hatches - ran out of time)
touched up varnish down below;
Flitz polish the outside of the portlights and the compass face
one fresh coat of bottom paint (Interlux Micron)
washed and painted trailer
wash mast and grease standing rigging
get trailer serviced/brakes checked, etc
check out/run 2 motors
load Marionette with her sails, running rigging, life lines and stanchions, anchors and rodes, cruising gear, two 4hp motors, two portable fuel tanks (a 3 gal and a 6 gal), paint and varnish the dinghy ('TEER would ride up in the bed of the pickup truck), etc., etc., Note: an interesting side trip here is to look at what the stuff weighs http://dolphin24.org/weight.html
August 4, 2014. Here she is ready to leave Old Lyme, Connecticut for Rockland, Maine - destination Journey's End Marina, departure 5:45AM (missed schedule by one week). The tow from Old Lyme, Connecticut to Rockland, Maine is just under 300 miles and my friend Mark's new truck made it in just over 5 hours, including stops for coffee and gas. Marionette's trailer is single axle 'home built' on her original steel cradle. To find out more about it, click here.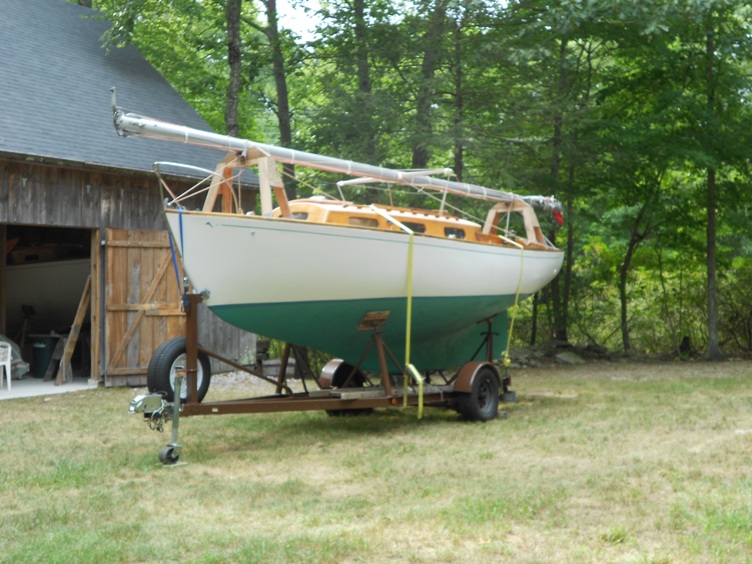 Click on pictures for a larger view - click the return arrow on your browser to get back here
| | |
| --- | --- |
| coffee break - check trailer, etc | trucks drink too - $88 to fill it... |

Arrival 11AM, mast stepped and in the water by 12:30 - super job by yard personnel
After our ritual lobster rolls for lunch at the nearby Landings Restaurant Mark left for the long drive back to Connecticut leaving the trailer here at Journey's End for the planned return trip in late September.
The 10' + tides in Rockland provide a 'balcony' view at low tide.

On this particular occasion a number of passersby on the boardwalk above would pause and watch the work going on down on the dock below - fitting the stanchions and lifelines, setting up/tuningthe mast, boom, mainsail, etc.

Comments like 'pretty boat' were heard, and appreciated.

Then, I heard "Hey Ron - is that you?" from a blond woman standing above.

This elicited an affirmative response, and an interesting Dolphin related side trip - click here to go there.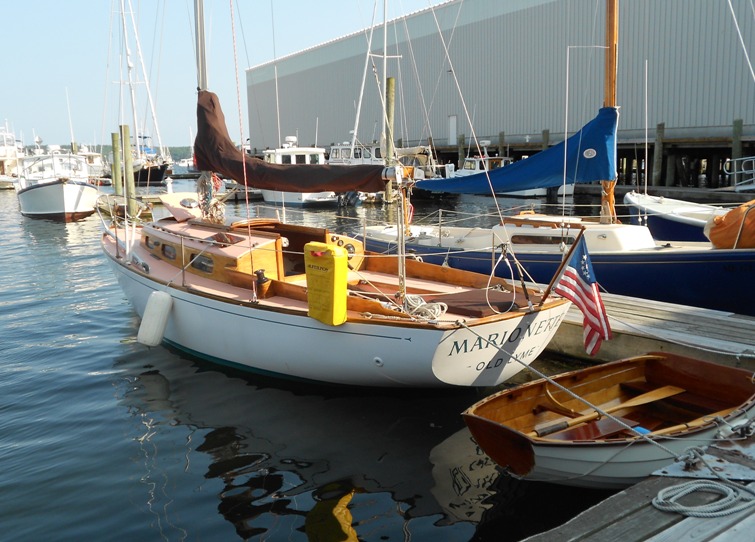 Ready to go - note the S&S designed Sailmaster 22 next door - sometimes called a 'baby dolphin"
Speaking of next door, while not exactly slipmates these two 'ships', clearly visible from Marionette's slip, offered a perspective on the different ways to go to sea.
| | |
| --- | --- |
| US Coast Guard Brig Eagle | 180' - her tender is bigger than Marionette |
The Eagle's home port is New London, Connecticut just a few miles from Marionette's home port of Niantic. The Rockland US Coast Guard station is right here and Eagle is in a berth normally occupied by the Abbie Burgess, a 175' Coast Guard bouy tender, which reminds me of Art Krause and his Dolphin 24, also called the Abbie Burgess. As we are in Rockland this is a story worth revisiting - click here to go there. Click the return arrow on your browser to get back here.
August 5, 2014. Forecast wind NE, 0-5, patchy fog. Left 7:15AM after my complementary coffee at the Marina office (nice touch, I thought). Destination - Bucks Harbor on the other side of Penobscot Bay at the top of Eggemoggin Reach (about 25 miles), then tomorrow to Blue Hill - around the bottom of the Reach and up Blue Hill Bay (another 25 miles)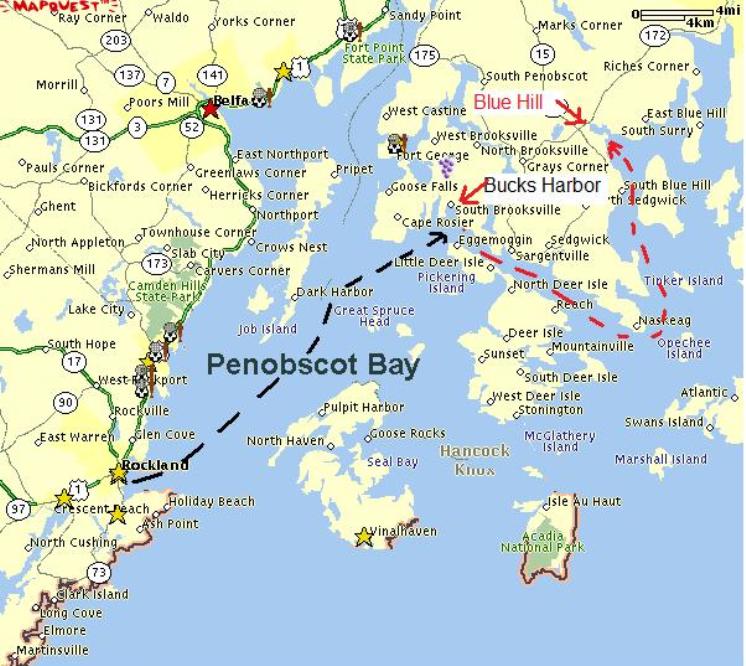 There are many, many more islands than this scale 'chart' shows' - more detail later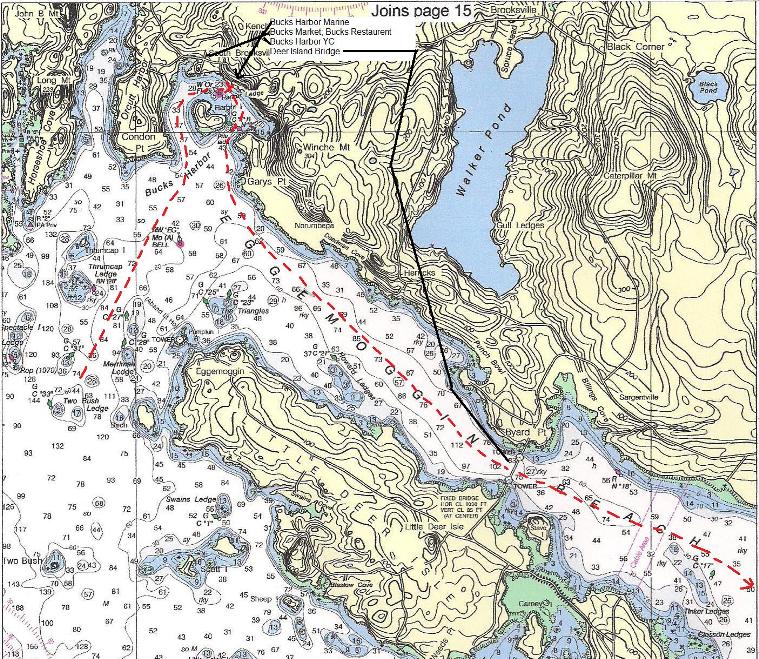 This chart has detail of Bucks Harbor, top of Eggemogggin Reach and Deer Island Bridge
| | |
| --- | --- |
| Leaving Rockland - fog getting thicker ahead... | Schooner off Butter Island - fog getting thicker... |
Motor sailing with main only, tiny breeze on starboard tack, making 5 knots towing, not bad. Not much to see....

Arrived Bucks Harbor Marine at 1PM, fog lifted. I had reserved dock space weeks ago - right in front.

Bucks Habor Marine is famous for their great outdoor showers. Plus its short walking distance to the town's only store Bucks Market, and the only restaurent in town Bucks, and the Bucks Harbor YC, and Jim Kurt's house. Jim's Dolphin 24, The Rachael K, was homeported here.
Lets talk about their showers. That building to the right above has their conventional indoor heads and showers. But they also have 2 outdoor showers with outstanding views of Bucks Harbor.They are on the left edge of the building - between it and the right tank. Some say they are the best showers on the Atlantic coast - I won't quarrel with that.
| | |
| --- | --- |
| Shower #1 | Shower #2 |
At left is the view from inside shower #2, my favorite. From it I can see Marionette, and Jim Kurt's Harbor Island in the distance. The east channel entry/exit to Bucks Harbor is the opening to the left.

The cleft of the island right over Marionette's transom is where she weathered Hurricane irene in 2011 - on Jim's guest mooring.

Shower #2 has more privacy and the eastward looking view. Each shower has a separate changing section, seating and lots of hooks.

Disclaimer: Bucks Harbor Marine is not paying me for this endorsement!
The fog has lifted, and there is a light breeze, but I am not going sailing - I am going to visit Rae Kurt and pay my respects. Jim Kurt passed away this past March at his winter home on St John/US Virgin Islands. Jim was a member of the Sachem's Head YC in Guilford, Connecticut, and an active racer member of the Off Sounding Club. Over the years I, and Marionette, have spent many nights on Jim's guest mooring in Bucks Harbor - several of those years Jim's Dolphin 24, The Rachel K (Hull #4), was on the mooring next to us. And we spent many late afternoons on his porch having 'a glass', and talking about Dolphins.
| | |
| --- | --- |
| The Rachael K | Jim on Marionette's helm with son Dave |
Click here for The Rachael K, and Jim's obituary
At 5:45PM I walked over to Bucks Restaurent for an early dinner at the bar. It was BOOKED!!! Their bar, perfect for the singlehander, has been converted to a service bar and more tables added. Just enough time to get a take out sandwich and some homemade potato salad from Bucks Market next door. Dinner on Marionette with a cold beer, and asleep by 8 - yes 8!
August 6, 2014. A very quiet night - until 4:45 AM when the first of the lobster boat guys arrived at the dock. Marine forecast, 0-5 knots, areas of heavy fog, scattered showers, possible thunderstorms later in the morning. Underway at 6AM, motoring - did not even remove the mainsail cover...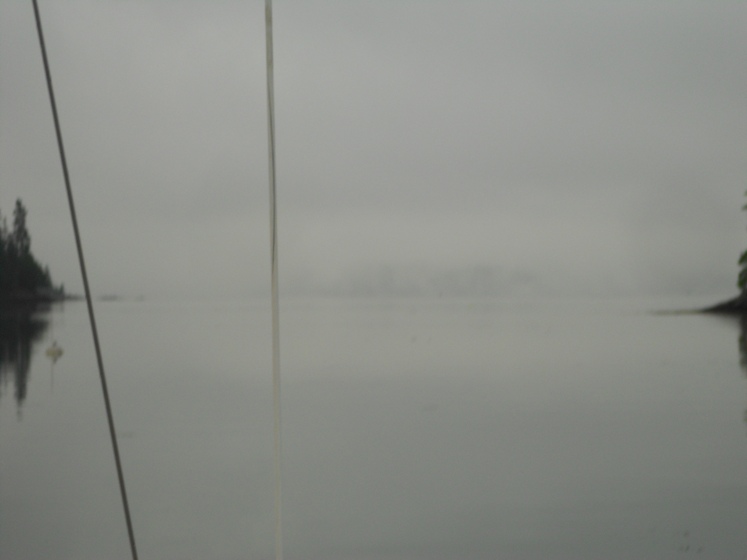 The view leaving Bucks Harbor, east channel - not good
I have a handheld GPS but its not fancy - I get Lat/Long numbers on where I am but no colored charts showing exactly where I am relative to all the nearby shores. I have all the key waypoints entered for my intended course, so, if I pay attention, and go slow, I won't get lost, and maybe I won't hit a rock or go aground. I didn't. The sound of Marionette's outboard was sometimes mesmerizing, if not annoying, and sometimes masked the sound of nearby invisible lobster boats manuevering.
The two towers of the Deer Island Bridge were just visible but could not see the shore. About 3 hours later with light rain falling, next to zero visability, and thunder rumbling, fully encased in foul weather gear, I thought I would check into the Wooden Boat School/Magazine anchorage in back of the Babson Islands, pick up a mooring and maybe wait a couple of hours until at least the thunder stopped.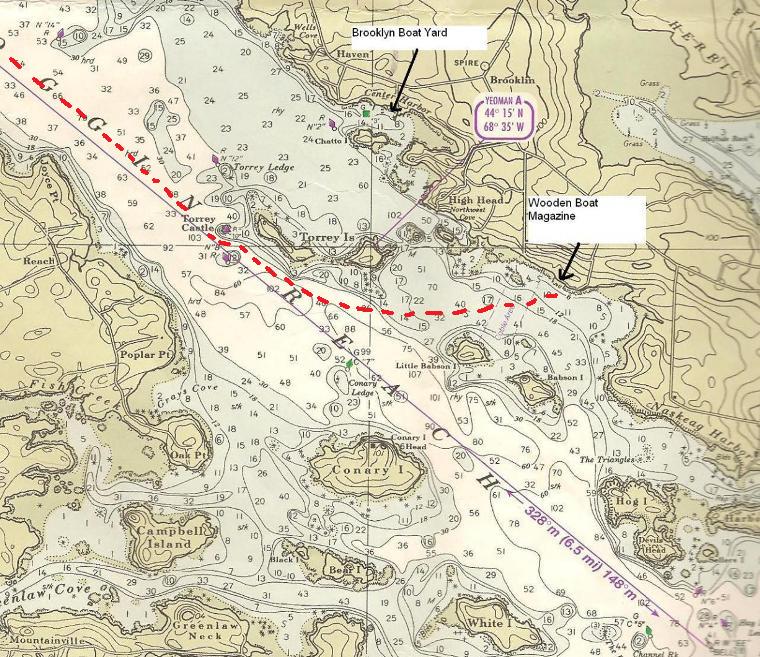 Stay with me on this. I was on course in the middle of the Reach, current was negligible, could not see either shore less than 1/2 mile away either side. I had the Torrey Castle fixed beacon in my GPS - its on the north side of the Reach, with Torry Island just off to its left. I do not have the Wooden Boat anchorage coordinates in the GPS. My 'waterproof' chart is on the seat right next to me. Going real slow....
Hey! There's the Torry Castle beacon just ahead on my left! Then I could barely make out N8 on my right. Torry Island is not visible but there seems to be a darker mass over there. Lets see, all I need to do is keep that mass on my left, watching out for the rocks off what should be a second dark mass on my left. There! I see the rocks! How far do they go out? I think that must be the last one, besides this is a Dolphin with her board up! I'll stay on my compass course and in a couple of minutes start easing left a bit and eventually I should see the dark mass of Little Babson Island on my right...
Nope, never saw it, but after a few minutes - seemed like an hour - I did see a schooner ahead! with a sail up, going nowhere!

Then another schooner! Its moored. I'm in the anchorage! I headed NE by the compass until I saw the Wooden Boat pier and its floating dock.

A couple of hundred feet away was a vacant small boat mooring and I picked it up. It was starting to clear a bit - there was no wind, the light rain had stopped, still heard thunder in the distance.

I got in 'TEER and rowed over to the float. There were a couple of people there watching. I asked for Jane Ahlfeld, who with Bill Thomas, owns Ruby, Jim Kurt's old boat. She's a sailing instructor there at the Wooden Boat school. A few minutes later she had made arrangements for me to hang on that mooring for a couple of hours - as long as the wind stayed flat.
| | |
| --- | --- |
At left above, Marionette peacefully on her temporary mooring - no rain, no wind, the fog had lifted a bit, no thunder. Above right 1/2 hour later looking at the Wooden Boat pier/float from Marionettte - looks like its clearing? Lets go!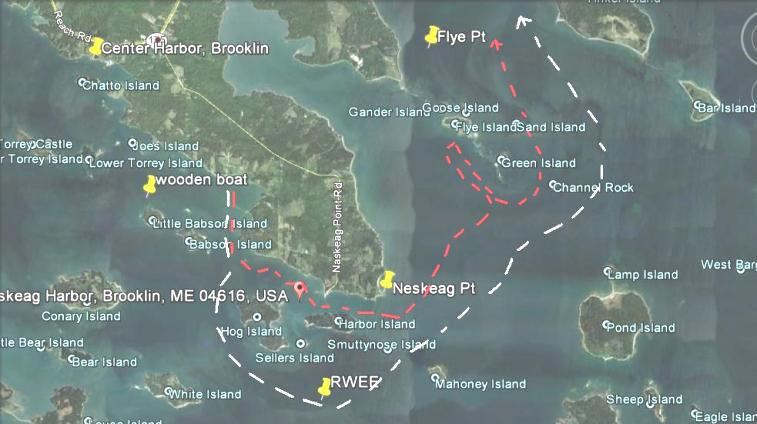 So, we left. The 'normal' course is out of the anchorage east of Babson Island, then out into the Reach, left around the RWEE bouy, through Pond Island Channel past Channel Rock, and north up Blue Hill Bay leaving Flye Point and its lighthouse out on Green Island, the last of a string of small islands, to port (the white route). However, Dolphins being Dolphins, despite it being low tide, but with the past experience of having done this a few years earlier, Marionette followed the shorter, shallower, Neskeag Harbor route (in red).
The inner harbor at Blue Hill is very protected but has a major drawback. With tide ranges of 10-12 feet the inside of the harbor dries out so you have to plan around the tide window so you can dinghy yourself out, and more importantly, back.
PUP is our 'high capacity" ferry, and a favorite of our 9 yr old grandson for gunkholing. She made the trip up from Old Lyme, Connecticut in the back of the station wagon. After a couple of days we decided that we would keep PUP at the Town Dock, only a 5 minute walk away.
On August 21 our plan was to sail Marionette up to East Blue Hill, a tiny village a few miles east of Blue Hill (see map above near top of page), and keep her there overnight. We got to the town dock about 8:30AM. Its hard to believe but the season is short way up here in Maine and some were already hauling their boats. For some this area is their summer place and late August is time to close up so kids can get back home for school start up. The 'closing dinner' at KYC is August 25, and August 31 is their last full day of operations.There were 4 Atlantics in at the town dock - they draw just under 5' so they have a shorter window...Click on the pictures for larger views.
| | |
| --- | --- |
| | We left PUP to guard our mooring in case the big lady nearby decided she liked our's better |
Towing 'TEER we motored out thru the outer harbor and, once outside, a nice light breeze came up. While grandson G watched for dolphins and seals - we saw many - son Mike set up the 140% jib and raised the main, and we enjoyed a very pleasant close reaching sail in upper Blue Hill Bay north of Long Island.
An hour later the breeze died and we motor sailed the last couple of miles to East Blue Hill.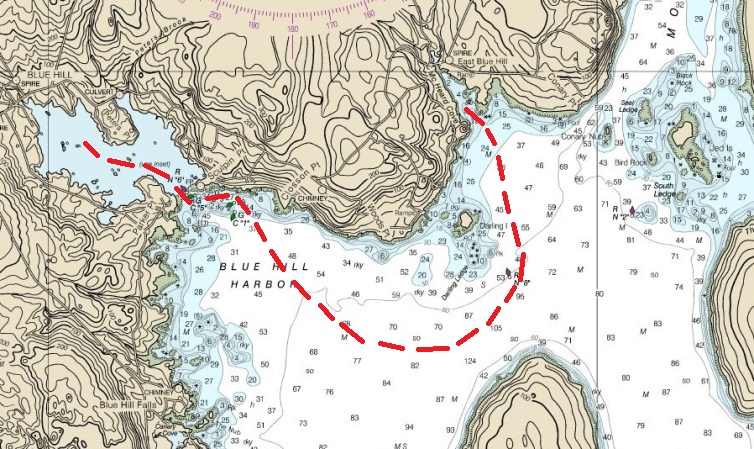 Marionette on her new mooring in East Blue Hill (above left), Acadia and Cadillac Mountain in the background.

East Blue Hill harbor (above right) looking out on the bay

Marionette's crew waiting at the nearby East Blue Hill Library (open 2 half days a week) for our ride back to Blue Hill
Postscript: Attended a presentation by Bob Stephens at the the Blue Hill Library last night. Bob is a marine atchitect and a principal at the design firm of Stephens Waring Yacht Design. His topic was titled "What Makes a Beautiful Boat".

I thought he could have led off his presentation with a different picture but....

For what another leading marine architect thinks is a beautiful boat Click Here
**************************

August 31, 2014 - Its been an uneventful 10 days. We sailed Marionette back from East Blue Hill to the inner harbor at Blue Hill - then some day sailing in light breezes. Pup getting a lot of action on local gunkholing investigations. On Thursday, August 28, daughter (and senior DFI) Nicole and husband Bruce sailed Marionette from Blue Hill to Bucks Harbor - about 25 miles, reversing the trip taken in the fog on August 6 - see above. They had beautiful weather and a 12-15 forecast

from the NW

.

It was a nice spinnaker run down Blue Hill Bay then, as they turned the corner

at Neskeag Point the breeze picked up, and by the time they got to the Deer Island bridge, they had gusts to 28 - on the nose! Made for an exciting sail - we are promised a special report for this log. Click Here

This chart of lower Blue Hill Bay is an improvement from the foggy one above, and shows the 3rd option for rounding this point - the middle road...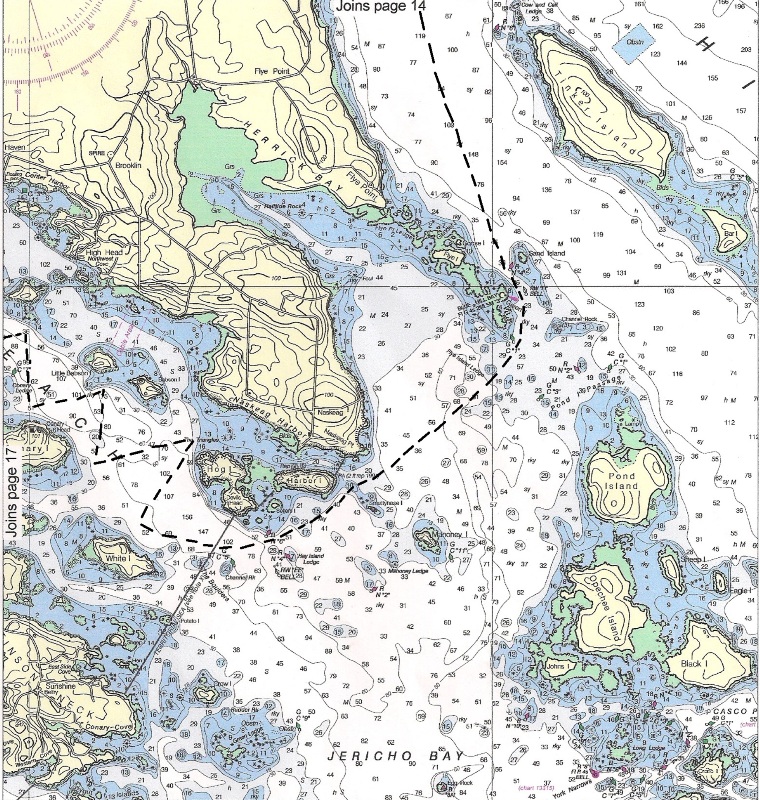 *****************************
September 9, 2014. Marionette spent the first few days of September on Jim and Rae Kurt's guest mooring at Buck's Harbor. On Sept 4th, lawn properly mowed back home in Old Lyme, I drove my car up to Rockland, with a special guest/passenger riding in the back, and with a plan to get to Bucks Harbor and sail Marionette across Penobscot Bay to Rockland, haul her and prepare her for the trip back home. The planned fall cruise up in Maine did not make it past the planning stage. Friend Mark will drive up on Saturday, the 6th, and I will follow driving my car.
I left at 3:30AM!!, was in Rockland at 8:30, and left the car at Journey's End Marina. My taxi picked me up at 9, and at 11, I was in Bucks Harbor. I really tried to find someone with a small, fast power boat to take me across the Bay - at 30 knots it would take less than 1 hour, but no luck.

I bailed out 'TEER who was sitting at the Bucks Harbor YC dock, rowed her to Marionette sitting on Jim's Guest mooring, wrestled with my pennant set up for a while, and cast off at 12:15.

No wind....forecast 8-10 knots SW, my course SW, a 1/2 knot unfavorable current. Motor sailed, main trimmed with the traveller way up, making 4.5/5 over the ground.

Click here for a large view
Two hours later we cleared the islands in eastern Penobscot Bay (see 'chart' above). The breeze had been coming in light but spotty - and right on the nose. Once in the Bay it came in hard, 12-15+, right on the nose. Waves 1-3 feet. Spray over the bow into the cockpit. Trying to steer through the waves. Was tempted to bail out and have a nice close reach with a small jib past Isleboro into Camden or Rockport, and make for Rockland tomorrow, but I got my foul weather jacket on, and powered on. This was, after all, a delivery.....
At 5:30, things had calmed down and I passed the lighthouse on the Rockland breakwater. At 6 we were at the Journey's End dock. Not a nice way to end a summer program but nothing broke, a little wet. Was met at the dock by the dock office girl who knew I was single handing and coming in past their 5PM closing time. She had waited and helped me bring "TEER up the ramp!! That's service!! A quick beer and sandwich at a nearby bar and was In the sleeping bag by 9 - a very, very, long day.
| | |
| --- | --- |
| | |
| Rockland Breakwater Lighthouse | Journey's End dock - the little boat... |
Click on the pictures above for a larger view
Up early Friday morning, prepped the mast, removed boom and rigging/halyards, removed stanchions and lifelines, loosened turnbuckles, (used soft cotter pins!), and stored our faithful, Johnson long shaft 4 hp motor below. At 9AM the yard crew came over, moved Marionette to the lift area, and let me help and ride her up. By 10AM she was on her trailer parked, with her mast resting on the saw horses on deck. Here's the slide show...Click on the pictures for larger views.
| | |
| --- | --- |
| | |
The yard boat eased Marionette over to the lift and the crew let me steer the boat onto the lift straps, help align them, and take pictures. The operator lifted and moved the boat to the edge of the seawall and their crew and I just walked off at the bow pulpit. The operator was not sitting up on the lift - he had a remote controller on his belt and was able to walk around and check things. Maybe their insurance guy would frown at the customer being on the boat but the system worked beautifully. I've been watching this action for maybe 45 years on my boats and I've never seen it done better or more efficiently.
I know this is over the top but she just loves having her picture taken
The 'cold' water up in Maine plus regular waterline scrubs made the bottom wash easy. I asked them to wash down her topsides and deck - no problem. The fork lift crew was waiting with our trailer and the lift placed her on the poppits. This is when you remember - the straps at the back should be placed aft of the winches, not at the winches - no problem. Then they moved her over to the crane area - she moves so nice, don't you think?
The rigger wore slippers over his workshoes so as not to mar the deck. Marionette's mast sawhorses, not to be outdone wore slippers as well. The horses and mast tie down lines were all stored on the trailer. All together, watching a professional boatyard crew do its work was a part of a good boating experience.
I strapped Marionette down, tied off the mast, lashed the ladder, and, lets see, its Friday, 11AM. Mark is coming up with the truck tomorrow at 11. What can I do to fill the next 24 hours....I've got a car! I have a guest in the back seat! And a dolphin webmaster's job is never done. How about lunch, lobster roll of course, at Spruce Head Island? The prompt for this decision was the big Coast Guard cutter Abbie Burgess that pulled in just as I was being hauled.
Click on the photos for a larger image
If you don't know the connection between Abbie Burgess and Spruce Head Island you not been keeping up with website updates. The story of Abby Burgess is here. Our Dolphin Abby Burgess is now Cliff Dasco's Maya Elena, and she is sitting in Cliff's barn just up the road from McLoons Lobstah Shack. Besides getting lunch I was able to check out Cliff's new barn, built just for Maya Elena, and I'm sure she knew I was in the neighborhood. Cliff sent his apologies - poor guy - he had to work.
Then it was nice ride down to Tenants Harbor, first visited maybe 35 years ago in my 'big' racer cruiser, Marbles, and also several times in the past 15 years on Marionette. Next, back to Rockland for a quick visit to the Wyeth Center at the Farnsworth Museum (even though she's not on this trip this makes my Admiral happy). After all this work it was time to check into my hotel (I am not going to sleep on Marionette when she is on her trailer!), get a shower, and, with the help of my passenger/guest on the back seat, prepare for the evening's activities.
So, who is this mysterious passenger?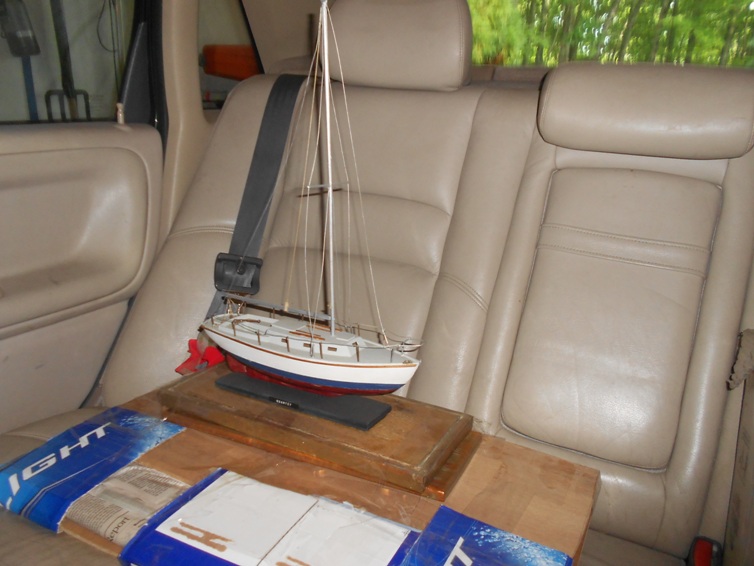 This is Quartet, Flipper and now Paper Moon - click here for a larger image
Paper Moon is Fred Croft's O'Day #41. The story of this model, and the lives of his boat, are covered in the above links. This model has been in my safe keeping for 4 1/2 years and Fred and I finally are going to get the model in his hands. Admiral Kristie, Fred's long time crew on Paper Moon, live in Lincolnville, only a 20 minute ride away from Rockland, and they were coming down for an artist's gallery showing in Rockland that evening. It seemed logical that we should meet for a drink, some Dolphin talk, and make the formal transfer of the model. There might have been more than one drink but it was a wonderful night's work for a Dolphin webmaster. The transfer was made, memorably, under the watchful cameras of the local bank parking lot.
The next morning Mark showed up about 11. We hitched Marionette up, had our Lobstah rolls for lunch at the Landings, and I followed Mark and Marionette for about 6 hours back to Old Lyme. We had threatening weather, including actual tornado warnings, and a couple of extra stops to tighten the mast tie down lines. Webmaster Note: Following your boat being trailed at 65 on the Interstates for 6 hours is nerve wracking. If you're in the truck you can't see most of what's going on back there. Mark and I had small, handheld 2 way radios o we could communicate, and, well, I was like a nervous parent....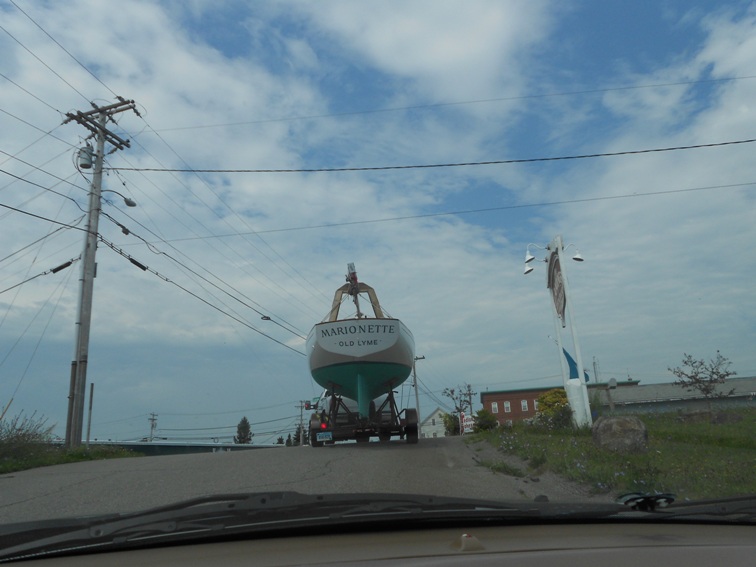 Leaving Rockland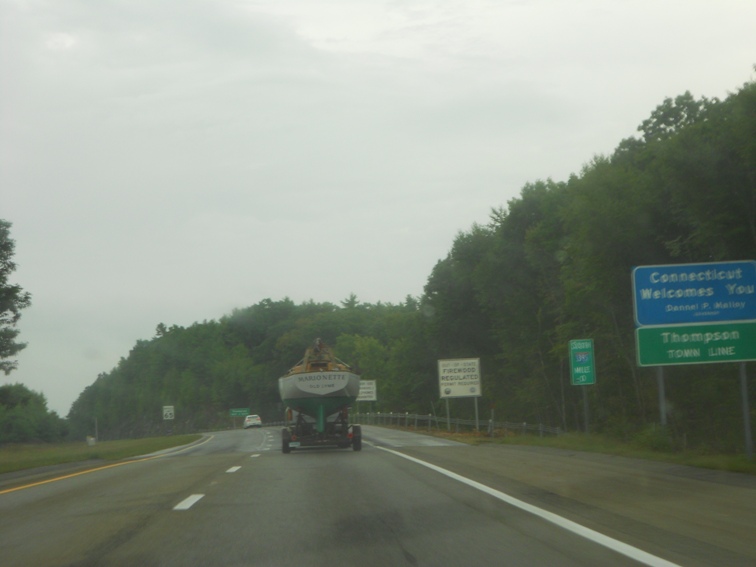 Connecticut Welcome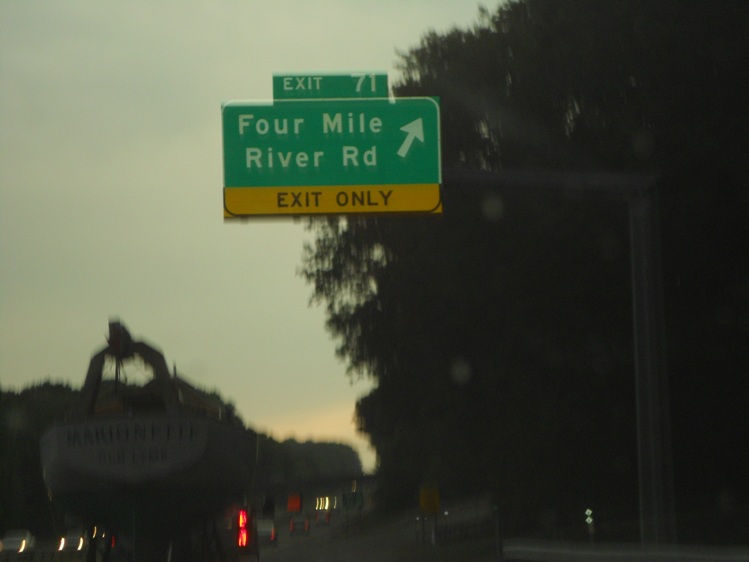 My exit - one mile to go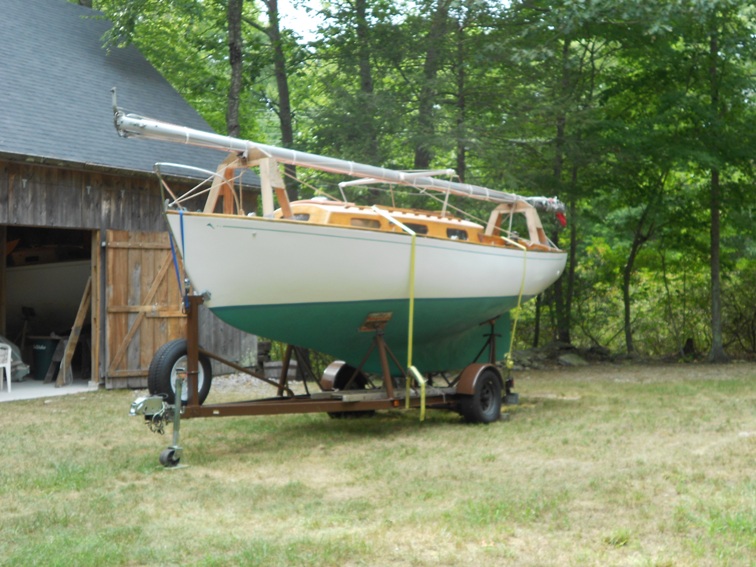 Back Home