I use a 4hp Johnson 2 cycle outboard that I bought used in 1995. it mounts in Marionette's transom well. This motor, which I also used in early days as a dinghy motor on the inflatable when cruising (see updates below), weighs 32 lbs and with its Power Prop drives the boat at 4.7 knots, no headwind and flat water. This meets the Off Soundings Club rule that the auxiliary power be capable of driving the boat at 80% of the square root of the waterline length (4.36 knots - updated to OSC rule issued 2017, June 5, 2017) . This engine burns .5 gal/hr at full throttle. Despite a serious overheating problem I had in 2010 that fried the head gaskets this motor has performed flawlessly for 15+ years. More on this later.
| | |
| --- | --- |
| | |
When not in use it is stored, prop end in first, in a 4 foot long, 12" dia heavy wall plastic drainage pipe located under the bridge deck/cockpit and fastened to the starboard side quarter berth locker wall. The mounting screws on the motor can clamp the head to the pipe but this is not necessary as I use a heavy shock cord which is all I need. Coupled with the companionway step system we have this storage system has been very satisfactory.
Click here to see a more detailed discussion of the motor storage, companionway steps, bridgedeck lockers, electric panel and cooler which are all in this same area.
I could have bought a long shaft motor, and sometimes I wish I had, but since I planned to use the motor as a dinghy motor as well, another compromise had to be made. I can reverse if I have to by twisting the motor but I, and my back, have never regretted not purchasing a motor with a reverse gear – an extra 33 lbs! I have many times wished I had an inboard, and many times have been glad I don't have one.

I raced Atlantics for nearly 20 years – they are Starling Burgess designed classic 30 footers and don't have any power. (For more on Atlantics click here) I am comfortable with sailing in and out of slips – crew, guests and observers are often less enthusiastic. Anyway, Marionette made the decision for me – she did not have an inboard. A brand new light diesel installed is the cost of a 2 week vacation in Provence, and choices do have to be made...

Note the motor is canted aft a bit to give prop clearance in the rarely used reverse head position. Also note the rudder shape - a 'barn door" and not close to the original design. For more discussion on the interesting rudder shapes for Dolphins click here
| | |
| --- | --- |
| | |
Marionette's transom locker is set up pretty nicely for an outboard system. The well has a neat plug with handle and slide locks. The spaces either side of the well are set up with positioning blocks for the various size tanks, and with heavy shock cords and snap clips/pad eyes to hold the tanks in place.
| | |
| --- | --- |
| | There is a removable panel that slides in grooves at the end of the cockpit (left and see picture at top right of page - panel is 'stored' between bronze hooks on aft starboard side of cockpit). A 3 gal tank I use for racing lasts for 5 + hours at full throttle. I monitored this consumption rate very carefully on some cruising trips and the burn rate is .5 gal/hr at full throttle. For more on Marionette's transom well, and transom wells generally, click here. |
Subject to conditions I use a conservative 20 nm as the planning range with this tank. This can vary widely as conditions dictate. No wind or current and a full 3 gal tank will take me 27nm. A strong headwind and chop and I am lucky to average 3.5 knots and under these conditions that 3 gallon tank will take me 18-19nm. Towing a dinghy reduces speed another .3 knots so range with a full 3 gallon tank is reduced by another 2 nm. Note: all this stuff makes one appreciate how the old mariners planned their voyages. Sail on the tide, an eye on the weather...
I have two 3 gallon and two 6 gallon plastic tanks. When cruising I usually carry a 3 gallon and a 6 gallon tank that store on either side of the motor in the transom locker. The 3 gallon tank is easy to move into the dinghy. Also, I sometimes carry an additional 2 gallon container (also stored in the transom well) giving me about 11 hours running time at full throttle. Click here for a larger view and more on the transom locker and hatch, engine mount and plug.
For more comments on outboard motors from other Dolphin owners click here.
******************
August 8, 2011. We are finally updating this page on developments regarding's Marionette's motor.
Because of motor problems in 2010 that, because there was no back up, had the net effect of canceling a planned cruise to Maine, we now have a back up motor for Marionette. The events in 2010 are covered in some detail on Marionette's page. I decided it was (past) time for contingency planning, given that this motor was 16 years old. I am still committed to a light weight motor program and this means a 2 stroke. Since they are no longer made I shopped around for an identical used motor and found that this particular motor was much in demand because of its reputation as a reliable motor and was 'ideal' for a dinghy. In fact a local Evinrude/Johnson dealer salesman told me he was trying to find one for the owner of the dealership - without much luck!
A nearly identical motor, but with a 5" deeper shaft, was found for $25 at a local marine education facility. It had been donated to them along with a 22' sailboat. The motor was stored indoors and, while appearing almost brand new, was not running. I got it for $25, and spent $400 rebuilding it at the shop that has taken care of my current motor. Their comment on seeing the motor for the first time was that it looked almost new. After a few weeks waiting for parts, and inspecting and cleaning the guts, replacing all the gaskets, the throttle control, water pump, etc. I am told its like a new motor.
The 'new' engine (I will call this Motor #2) with its 5" deeper shaft (28 1/2 inches from the bottom of the head to the prop shaft) adds 3 lbs in weight (35lbs), but it should provide better top speed performance as the prop will be deeper and out of the turbulence zone. We'll see. And it did! - .5 knots higher top speed than the original motor (see September 28, 2012 update below)! That's plus 10%!! Given the 'rule of thumb' that a sailboat motors 50% of the time, I have been using my short shaft motor for 15 years....I think I shall not pursue this line of thought further - I feel a headache coming.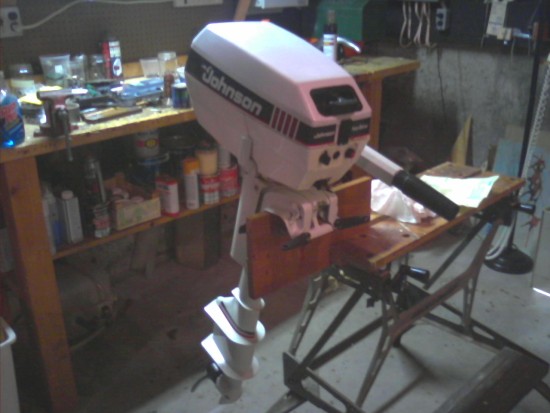 Note the shaft extension
After several days using this 'new' motor up in Maine I decided that I could safely remove the original #1, now designated the back up motor, from its storage spot in the port quarterberth and 'stash' it in the barn at the farm where I have been renting a cottage for an annual family vacation in the last 3 weeks of August. I felt if something went wrong with my 'new' motor while Marionette was in Maine I could at least get to my back up motor without having to drive all the way back to CT. Good idea!
Nope, well good and bad. Bad idea to take it off the boat - because on Friday, August 6 I ran out of breeze while sailing out on Eggemoggin Reach. As my destination was only 10 miles away, and the breeze was light, I left the motor in the transom well instead of storing it below - anticipating that the wind might die. It did - I reached down to pull the cord and it pulled out without engaging. It rewound ok but it seemed the engagement lug? was not engaging.
Earlier I had motored from my mooring to a nearby marina to get fuel and had to wait 15-20 minutes as the fuel dock was busy - shutting off and restarting several times. No problems with the motor. So, with a very light wind it took me a couple of hours to sail back to Bucks Harbor, the wind picking up smartly as I entered the harbor. I must report that I executed a flawless mooring approach that would have done credit to the Dolphin 24 community - had anyone been there to witness. These details are covered in Marionette's Log - Summer 2011.
So, with the good idea part kicking in. I drove back to the farm to pick up the back up motor (#1). It is now in Marionette, and the 'new' motor (#2) will be delivered to my motor guy in Connecticut for repair. I wonder if there is an owner website that deals with this motor and its problems? Anyway, stay tuned for developments.
Unrelated to the above events, on July 27, I was visiting a friend in Bucks Harbor, and in his shed I noticed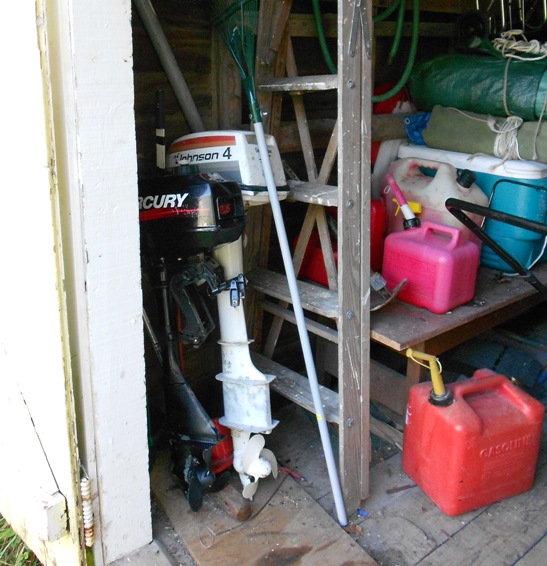 Note the long shaft
Sooo.... It seems this motor, a somewhat earlier version of my other motors, had stood in this same corner of the shed for 5 years, had never been run since having been acquired at nominal cost from someone, who was moving away.

Under pressure from "she who must be obeyed " to get rid of all this 'stuff", my friend and I struck a deal at a nominal price.
September 24, 2011. My motor guy advised back in August that Motor #2 had a 'worn pawl' which is why it was 'temperamental' in sporadically engaging the starting gear. With a new pawl, I took her back up to Maine on August 15 for a second sea trial. It started up fine a couple of times but then, I had the same problem with starting. I replaced #2 motor with the back up motor (#1) which performed flawlessly. We hauled Marionette in Rockland, Maine on September 19 and trailed her back to Connecticut. Both motors are now back in Connecticut and are scheduled to visit my motor guy who has been evaluating motor #3......
****************************************
October 14, 2011. Status Report Motor # 3. My engine guy says this motor was a good buy - it runs super! The cost to clean up, thoroughly inspect and test run, change the water pump, and winterize the motor was $200. That plus the initial investment of $100, and $9 for a can of spray paint - total $309 - and I have another long shaft, back up motor for Marionette! Weight - 35lbs. Sea Trials scheduled Spring, 2012. Stay tuned.
**********************
December 5, 2011. All 3 motors are now winterized, touchup painted, and stored in the basement. Number 2's new pawl, spring and starting gear have been fine tuned, bench tank tested, and this motor is also ready for Spring Sea Trials. Over 50 years combined experience in these motors...good as new, I hope.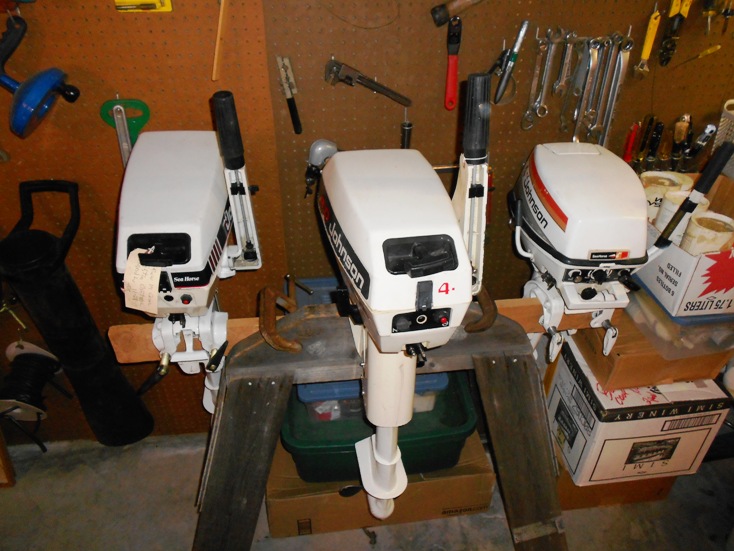 ***********************
September 28, 2012. We started the season with Motor #1. As usual it ran beautifully. Spring melded in to summer and limited trials were held with motor #3. After some time getting used to the different controls she seemed to run fine at the dock but real sea trials have yet to be held. Back to the cellar rack, and Motor #1 kept her well deserved title and job.
Marionette needed to be delivered to Essex, Connecticut - a 'village' 6 miles up the Connecticut River where she would race in the end of season Clark Memorial CT River Race on Saturday, September 29, then on September 30 sail up to Hamburg Cove in Lyme, Connecticut, be decommissioned, and get hauled on Monday, October 1. It seemed that overdue sea trials for Motor #3 were in order - and it turned out to be under ideal conditions .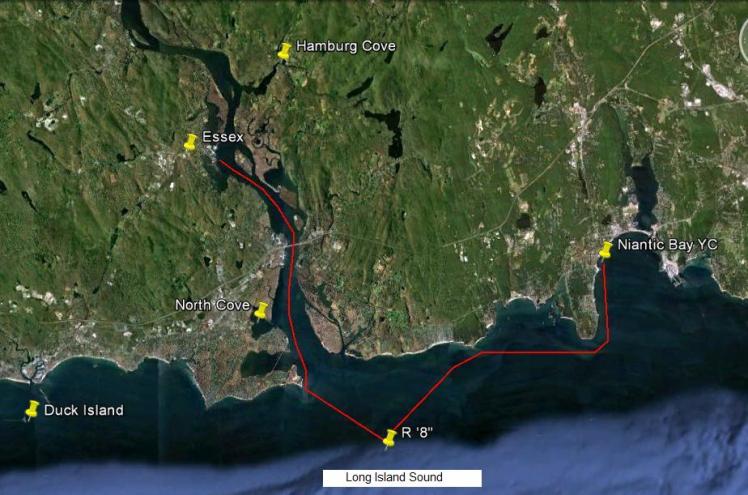 Bell R "8" guards the shoals off the mouth of the CT River
The route for this trip is out of the Niantic Bay then westerly on the Sound, then northerly on the River, a 17 mile sail/motor sail from Niantic Bay YC scheduled on Friday, Sept 28 late in the afternoon as the formidable easterly flowing ebb tide current on Long Island Sound would go slack around 3PM, and the southerly flowing current on the River would be slack at Essex at 5PM. Sunset is 6:30PM.
But, the weather forecast changed! Friday, heavy rain, winds of 15-20, gusts to 30. Yikes!! So, with little to no wind forecast for Thursday, a decision was made to leave Niantic at Noon and motor against the current hoping to arrive in Essex about 5:30PM - the current on the Sound would be against us at 1-1.5 knots, and up river against us anywhere from 1-3+ knots. . So, at least we had ideal test conditions for Motor #2.
If anyone is still with us on this narrative we made the trip, dock to dock, in 4 hours, averaging 4 knots over the ground. The knot meter reading a steady 5.5 to 5.7. Every now and then we had puffs of breeze and, as the main was up, and trimmed, the knotmeter got to 6. The motor with its long shaft ran flawlessly, quieter than the short shaft, no cavitation.
On arrival, Motor #3 was pulled out of the well, is now cleaned up and on the rack for the winter. Motor #1, continues to rest in her storage spot below the cockpit. It is 3 lbs lighter, and we do race tomorrow! At this point #2 is destined to become

Marionette's

workhorse motor. Further testing, ie fuel consumption rate, will wait until next year. On the next couple of long trips we will carry both #1 and #2 until #2 demonstrates her long term reliability. As far as the 5" having more draft and the additional 3lbs in weight being an issue for a dinghy motor, this has become a moot point.

'Teer

is this single hander's dinghy of choice - and she is rowed in grand style.
This motor narrative is a seque into a short story about this weekend trip to Essex. Click here to go there.
************************