For those of use who already have Dolphins with transom wells, or those thinking of getting their outboard off their transoms, or those unwilling to spend $7-8K to repower with a beautiful, quiet, relatively light diesel with feathering prop, and also don't want an outboard on the transom, here is a place to spend some time.
Like everything else in the Dolphin sailing game there many variables and trade offs in the transom well part of the game.
This page started with an email and photos from David Baumer about the transom motor well plug from his Aeyla Makaira, Yankee # 81. Then a question came in from Mink Zint who had discovered this weird looking thing in the box of parts that came with his newly acquired Grand Finale, Pacific Dolphin #300. He wanted to know how the plug was secured in the well.
Since your webmaster's Marionette, O'Day # 12 has a completely different plug system, this led to an email and some photos from Terry Bullock, Yankee # 109. Central to this issue is that many, if not most, Dolphin owners with outboard motors, have large ones, 6-9hp, with long shafts and reverse gears that are really too heavy to take out when sailing. So for them, the motor stays in and the plug mostly never gets used.
For those purists with light, more moveable motors, and still serviceable backs, their motor is usually stored below after getting under way. Then the plug is inserted to stop the 'scooping' effect of the transom well opening when sailing upwind in a breeze, and the accumulation of several gallons of water in the lee side of the transom locker. This is "slow"!
Ok, lets get on with this...
*********************
November 9, 2008 email from David Baumer, Yankee # 81
I want to share some more photos of Aeyla Makaira (Yankee Dolphin 81) and thought the plug for the motor-well would be a good place to start. On the boats I had until now, outboard motors just hung from the transom (or on a spring loaded bracket that raised and lowered like we had on my Dad's O-Day Mariner). Yankee Dolphin 81 came with a motor-well plug made from the piece cut from the hull. The cutout piece has a fiberglass flange and long handle fastened to it. The flange is made out of six tabs fiberglass tabs taped to the cut out with fiberglass cloth and polyester resin. The handle is a piece of teak plywood also taped to the cutout with fiberglass cloth and resin.

David Baumer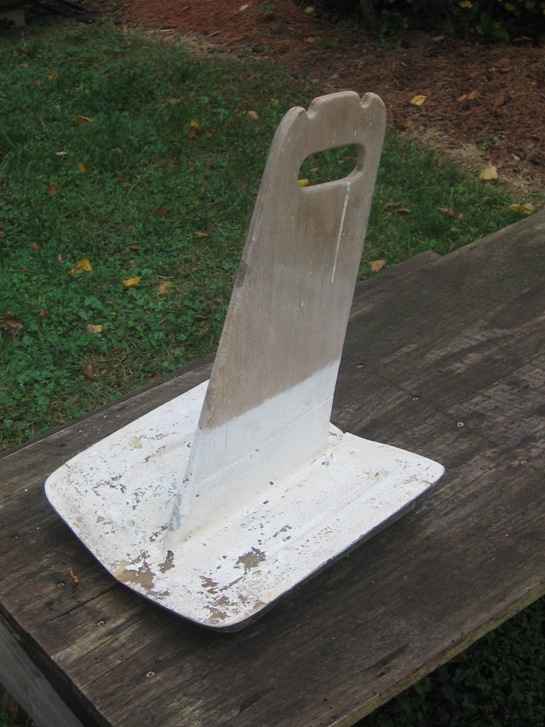 The Plug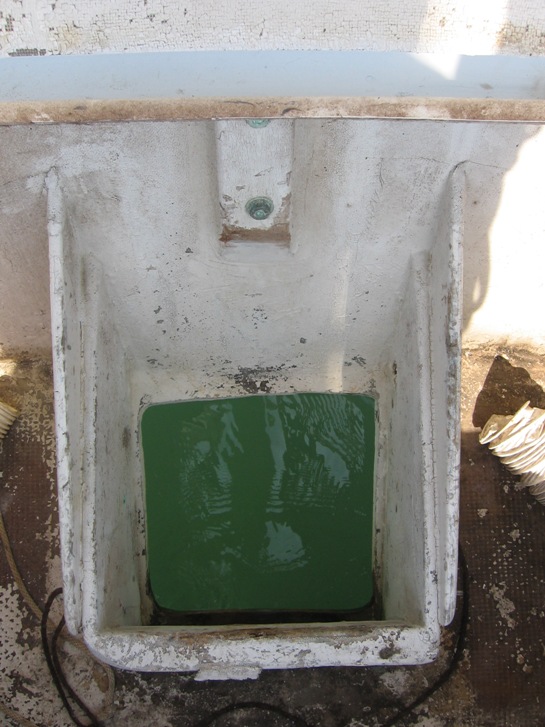 The Transom Motor Well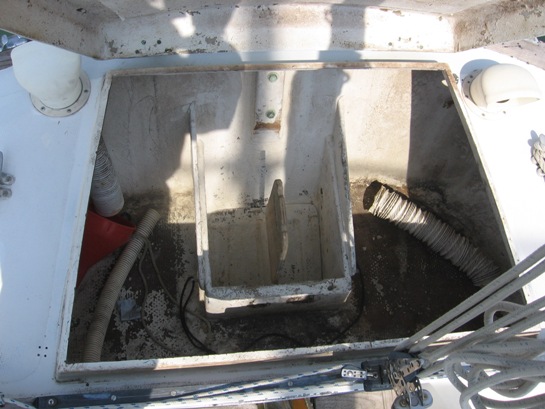 Plug in Place - not fastened
*********************************
November 17, 2008 email from Terry Bullock, Yankee #109
Hi Ron
Finally had time to go to the boat Sunday. It was in the 80's - 20kts in the morning and dead calm from 11 on. Here are a few photos of the plug. I never use it and probably should - I have found duck feathers in the well on occasion. The plug is a snug fit with a lip around the edge to keep it from going through. The handle coming up from the plug has a hole in it that aligns with holes in the well sides. If you were to pass line through it the plug would be held in place while under way.

Terry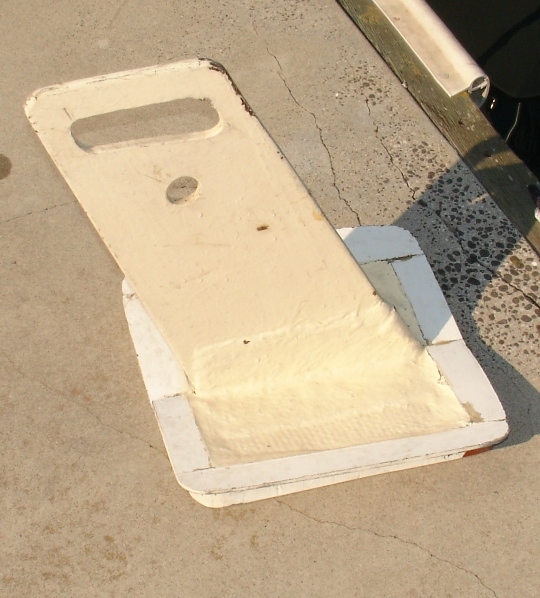 Yankee # 109's Plug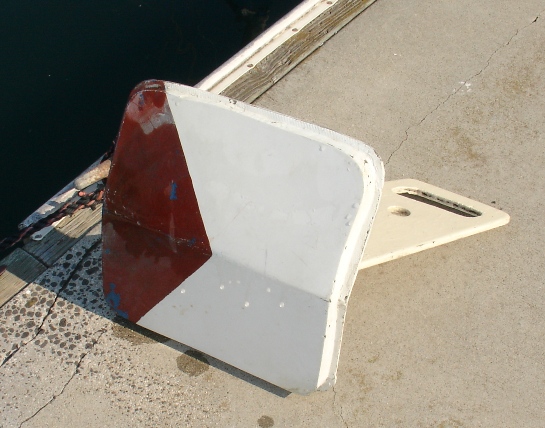 The V is where the waterline intersects
Rod Stephens, if he were still with us, would certainly tell us that this should be in place while sailing, securely tied in so it does not pop up. This is fast, and when heeled passing a bigger boat to leeward - you could pass them to weather because you point higher but if you pass to leeward they get to peek at your bottom which is so much prettier because it does not have a big hole peeking out at them.
It would be great to have a picture of this kind of plug showing exactly how it is tied in. I have feeling it does not happen? Even Terry, who has a 4 hp, just like Marionette, prefers to keep this space open for his nesting ducks...
*****************************
Marionette's Transom Well Plug In our continuing effort to keep Rod and Olin smiling, this is Marionette's transom well plug.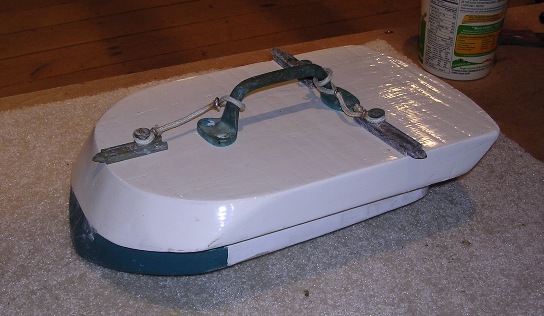 a work of art...
The sliding fittings engage 3 brass plate 'keyholes' in the sides of the transom motor well - see middle green arrow below for starboard side keyhole. The shock cords are just long enough to let the sliding keys engage and stop them from sliding out.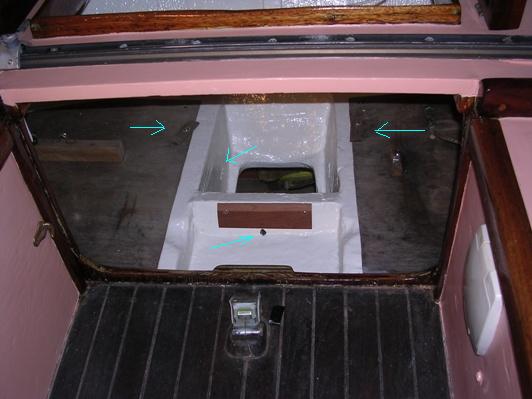 Marionette's Transom Motor Well
Accessories - Two small wood locking pieces just vi sable above (outside green arrows) at either side hold in place a fitted plywood plate (at left) that covers much the opening with the engine in place.

I rarely use this but it seemed a good idea to have one - a disturbing amount of water can and does enter the transom locker when sailing in a breeze. If I had a motor that exhausted its cooling water and exhaust goes through the prop then a closely fitting plate would be better.

The plate at left is used to seal the top on the transom well opening with the engine out and the hull plug in place. The plug does not have a watertight seal in part because there is a drain hole in the trough just forward of the motor mount (see lower green arrow above) that drains into the well.

Anyway, this plate prevents any accumulated water in the well that has not yet drained out past the (non watersealed) plug from being forced up into the transom from following seas. It also allows a flat plane on which to more easily store fenders and stuff. It has a hook on a shock cord that passes thru the plate and thru a camcleat to seal off the opening. The red hook fastens to the handle on the plug. I use this plate all the time. It has thin foam strips under the edges to help keep it water tight.
*************************
February 1, 2010 Erik Evens, Robin Lee, Yankee #118, made a post on the Forum regarding Robin Lee's transom well, plug, and new Tohatsu 6 hp motor. This can be seen in full by clicking here Below are edited excerpts of that post relating to her transom well and plug
| | |
| --- | --- |
| | Here's a full report on my lazarette and motor well on Robin Lee, with some new insights. Here's a couple photos of my lazarette/motor well. The three side walls of the motor well, the "lips", have the following dinensions: Above the floor of the lazarette compartment: 4" at forward end (where motor mounts), and 9-1/2" at aft end (inside of transom) Above waterline: 13" at forward end, 18-1/2" at aft end. Note that there are three holes you can see in the port sidewall of the motorwell: 1) A drain hole in the aft corner, right above the floor of the compartment, to drain slosh-over water back into the well. 2) a 1" diameter forward/center hole, for fixing the plug in place when underway (more on that later). And, 3) a penetration for the plastic through-hull fitting I installed to drain my bilge pump into the motorwell. |
| | Here's a photo of my well plug: This also appears to be standard issue Yankee product. It has a glass-over-plywood vertical fin which serves as a handle to insert and remove the plug, and which has a 1" diameter hole in it, similar to the side walls of the motor well. |
| | Here is the plug in place: Terry Bullock (Yankee #109) has already noted that the holes in the side walls of the well align with the hole in the fin handle, and that the plug can be fixed in place by passing a line through the three holes and tying it off. I was thinking about that, how the holes align perfectly, and also thinking about the fact that the holes are all 1" OD. It occurred to me that maybe Yankee supplied the boat a rod that passed through the three holes and locked the plug in place. I bought a piece of 1" doweling, and tried it out: |
| | Sure enough! A perfect fit, and the plug is locked firmly in place. It's so obvious to me now that this was Yankee's intent with these holes. Other Yankee owners may chime in and tell me this is old news, but my boat didn't come with the dowel, and I had to figure it out by myself. |
*******************************
September 23, 2013. Lon Zimmerman (Yankee #246) had an interesting idea about the problem of lifting the outboard out of the well. Your webmaster had an exchange of emails with him on this subject (minor edits)
HI RON,

I READ THROUGH THE CURRENT INFO ON OUTBOARDS. ONE ISSUE NOT MENTIONED IS LIFTING THE ENGINE OUT OF SALTWATER AT THE END OF THE DAY. WHEN I LEFT MY TOHATSU 4HP LONGSHAFT IN THE WELL DURING A FOUR DAY TRIP, THERE WERE SIGNS OF CORROSION. NOW I HAVE BEEN LIFTING THE OUTBOARD OUT AND STORING IT AT THE END OF EACH DAY. I HATE TO THINK OF MOVING THE OUTBOARD TO THE TRANSOM.

THE WELL ON THE DRASCOMBE DRIFTER ALLOWED THE MOTOR TO TILT UP OUT OF THE SALT. HAS ANYONE DEVISED A LIFT OR SLIDE SYSTEM THAT GETS THE OUTBOARD OUT OF THE SALT AT THE END OF THE DAY?

LON
BLUE DOLPHIN, YANKEE #246

Hi Lon


This is the dilemma!! And why I use light weight, 4 hp, 2 stroke outboards. They weigh 32lbs (35lbs for the long shaft) and I can manage the daily, or sometimes, 2nd day lift without over straining my back. Sometimes I just take the motor out of th well and lay it in the cockpit if I don't feel up to storing it below and plan to use it the next morning - risky, unless sleeping aboard.

Check out Steve Ludwig's system http://dolphin24.org/80_pushpit.html. When coupled with his idea of a solar panel mount it seems a good, long term solution

Ron
HI RON,

I HAD LOOKED AT STEVE'S SET UP PREVIOUSLY. I TRIED RIGGING A SNATCH BLOCK OF THE END OF THE BOOM TO HELP ME LIFT THE TOHATSU IN AND OUT. SO FAR NOT A GREAT SOLUTION. I BEGAN LOOKING FOR CREATIVE SOLUTIONS --

HERE IS ONE INTERESTING IDEA -- A SLIDING OUTBOARD LIFT. COULD SOMETHING LIKE THIS BE INTEGRATED INTO OUR OUTBOARD WELL?

I ALSO TRIED AN OLD MINNKOTA ELECTRIC 55 LB THRUST - IT WORKED FINE TO PUSH THE BOAT, BUT IT BARELY FIT THRU THE OUTBOARD WELL OPENING , IT HAS TO TWISTED AND JIGGLED TO FIT THROUGH.

I HAVE A COUPLE OF OTHER IDEAS I MAY TRY AS WELL.
***************************************
January 11, 2015. For those who have heavy outboards in the well there is the question/problem of what to do to lift your lower unit out of the water - when at your slip/mooring, or while sailing - here's what a couple of Dolphins have done regarding a transom cutout.
This is Wanderlust, Yankee #150.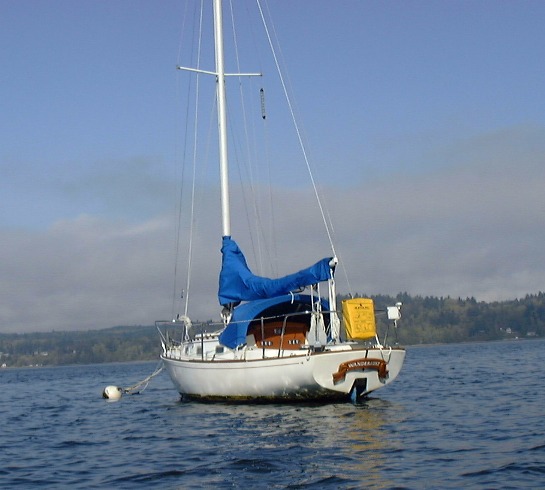 A cutout so you tip up the motor. Former owner Bryce wills advises he did not like this setup. It ruined an otherwise beautiful transom and his Yamaha 6.6hp long shaft did not clear the water when tipped up. He sailed with the motor down and in neutral.
Below left is a photo of Kitty C, Marscot/O'Day #11, and right, Peridot, Marscot/O'Day #14
Clark duBois, who owned Peridot, commented on his cutout below. These two boats, along with your webmaster's Marionette, Marscot/O'Day #12 were bought in 1960 as 'kits' in different unfinished stages by 3 guys on Southport, Connecticut who finished the boats themselves.
None of us liked a dirty engine between the two big quarter berths. We all added a sealed bulkhead just aft of the foot well and put an outboard within the hull. Mine was off center, port side, and big enough for an 18 HP Johnson. I started with a 10 HP, went to an 18, and then to a 6 HP. On the starboard side was room for gas tanks, oil, and other gear that could get wet from rain leaking past a simple hatch. I cut a notch up the transom so the motor could tilt up. Phil (Zarega, the orinal owner of #12) could not accept this and had a center motor and only a hole in the bottom. When sailing the bottom holes were plugged by the piece we cut out.

*********************
January 13, 2015. Lon Zimmerman (Blue Dolphin, Yankee #246) sent in a link to a YouTube video about modifying a Triton with an outboard in a well, so the lower unit could be lifted out of the water - looks really well done. Here's the link
http://www.youtube.com/watch?v=PuFLhAJI1zA
Cruising around the same (very interesting) site where this Triton was being retrofitted, we came across another YouTube video of an Alberg 30 that had an inboard and was going thru a conversion to a transom well mounted outboard with a transom cutout. Here's that link
https://www.youtube.com/watch?v=NbY9daCH0t0
***********************************
Check out the Technical Section for more stuff on this subject
http://dolphin24.org/calmantes_transom_plug.html
http://dolphin24.org/Marionette_transom_locker_stuff.html
http://dolphin24.org/outboard_motor_comments.html
http://dolphin24.org/80_pushpit.html
June 2, 2019 - check out Matt Kapp's comments on the transom plug/flooding - Sanguine, Yankee #219