April 9, 2021. Richard Michael Fisher checking in as the new owner of Sanguine (minor edits)
Ron-

I am the proud new owner of "Sanguine", previously owned by Matt Kapp, a loyal member. I could not find a dues request on your website, so I am sending $ 50 to you. Webmaster Note: NO DUES necessary on this site!! (but I told him he could buy a copy of the webmaster's book Voyaging with Marionette if he wanted!! SOLD!!)

She's coming to Oyster Bay in May and I'm sailing her back to Newport, where she will be on Mooring #1032 in the Point section of Newport Harbor (North of Goat Island causeway).

Will follow your site and send pictures.

Richard Michael Fisher, Esq

WELCOME ABOARD, Richard Michael!!

*******************************

This is the history we have on #219 up to this point in time
April 3, 2021 - We have a field report from Shane Waldon (whose family once owned TIKI that Sanguine has been SOLD! We stand by for the new owner to check in - and we wish
Matt Kapp - Fair Winds!!
ps Shane told us that he's been "peeking in" on the used Dolphin market - and to keep him in mind if a ready to sail Dolphin comes up for sale in the Northeast or central east.
***************************
***********************************************
**************************
Feb 7, 2021. Matt advised he's moving up in size to a Tartan 34C (a bigger Dolphin 24 cousin) and is selling #219. Here's his email and ad.
Hi Ron,

I hope this email finds you well. Just wanted to let you know I have decided to move up to another classic S&S design, a 1975 Tartan 34c, and have reluctantly put Sanguine on the market. She's been such a wonderful boat and it will be sad to see her go. Here is a description and link to the listing. Would you mind posting it on the "For Sale" page?. DONE!!

Many thanks!

Matt

www.mattkapp.com
(646) 479-0904

https://www.sailboatlistings.com/view/89849 (lots of pictures)

DESCRIPTION:

Classic Yankee Dolphin 24 (hull #219) from the boards of the legendary Sparkman & Stephens, who considered this fun, fast and forgiving pocket cruiser/weekender one of their best designs.

Numerous upgrades including Awlgripped hull, Yamaha outboard, dodger, solar panel and standing & running rigging (full list below). Winter storage, bottom painting and spring launch included.

Located in Oyster Bay, New York.

Active Dolphin owners association: http://www.dolphin24.org/219.html

UPGRADES/EQUIPMENT

Awlgripped hull (2011 - Custom canvas winter cover (2012) - C-Head composting toilet (2017)

Lewmar Delta anchor, chain & rode (2017) - Magma Kettle propane grill (2017) - Yamaha F6 outboard with three years left on warranty (2018)

PowerFilm 20W folding solar panel (2018) - Stanchions re-bedded (2018) - Bosworth Guzzler manual bilge pump (2018)

V-berth Plexi hatch w/ Marinco solar vent (2018) - Genoa UV guard (2019) - Dodger (2019)

Garhauer genoa blocks (2020) - Standing & running rigging replaced (2020) - Rudder Craft mahogany & ash tiller (2020)

Asking $7000


********************************

******************************************************
August 10, 2017. Matt Kapp checking in as the new owner of Sanguine (ex Polly). Here is his email and we stand by for pictures and progress reports.
Hi Ron,

Love the Dolphin web site and in fact it played an important role in my decision to buy Sanguine (formerly Polly) in June. Nice boat and I'm happy to pick up where the previous owner left off (he did some amazing upgrades including new Awlgrip, wiring, panel, etc.). Among the upgrades I've done so far: new anchor, chain & rode, new teak (yes, teak!) C-Head composting toilet, new solar panel, outboard overhaul, etc. and the list goes on...

If you can add me to the group membership so I can access the Forum that would be much appreciated. Many thanks in advance and will keep you posted on my progress with the boat.

All best,


Matt Kapp

Welcome Aboard Matt!

and

Fair Winds Noah!

Click here for a larger image

****************************************
April 4, 2018 Responding to a snow bound webmaster plea for a Sanguine update, Matt replied as follows:
Hi Ron,

Nice to hear from you. Sanguine is doing well (if still covered in snow!).

In late October we sailed her from Barron's Boatyard on City Island to Oyster Bay, where she's spent the winter. She's penciled in to splash at the end of this month.

Among the most recent upgrades & repairs:- PowerFilm 20W folding solar charger (feeds into 12v outlets and stows neatly, very handy!)

> New genoa UV guard


> New V-berth clear plexi hatch w/ Nicro solar vent (very affordably pre-cut by Select Plastics/Hatchmasters in Norwalk, CT)

At right is a photo of the new V-berth hatch (with tattered old genoa UV guard above, since replaced).

Click here for a larger image
And just a few of the items on the to-do list: - New prop for the Tohatsu 9.8 (among other ongoing outboard woes)

- Replace pop-rivets on the mainsail track (about a dozen are missing)
- Re-bed several stanchions (debating between 5200 or Life-calk)
- New Whale pump for galley sink
- Replace missing starboard bow chock
- To name a few!


Cheers,


Matt
Webmaster Note:

In keeping with our ongoing effort to familiarize readers with our Dolphin sailing waters here is Oyster Bay, New York.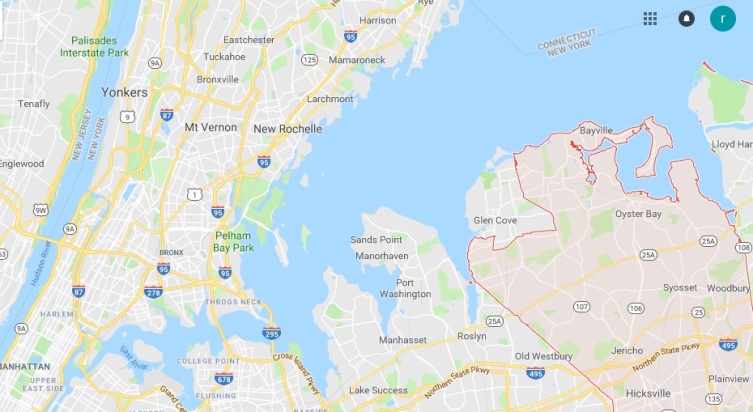 *********************************************
June 11, 2018. We got the following update from Matt
Hi Ron,

I hope you and Marionette are well and enjoying some late spring sailing! Sanguine splashed in mid-May in time for a quick trip from Oyster Bay down to Port Washington and back over Memorial Day Weekend.

The Tohatsu 9.8 died (again) as soon as we got to Port Washington (conveniently conspiring with an unexpected squall to make for some interesting mooring-field maneuvers). We then had a five-hour up-Sound slog the next day into ENE 15-25 kts and steep 3-5 foot current-opposed breaking seas. The upside is the Dolphin handled marvelously, far beyond my expectations, with one reef in the main and various amounts of jib out. Never overpowered and tracked beautifully.

The downside is the Tohatsu, which we just can't seem to get to run anywhere near reliably. So I'm thinking of re-powering with a Yamaha F6 or possibly a Mercury 6hp. Curious to hear your thoughts on this and if it makes sense to post something on the Dolphin24.org forum to see what other Dolphin owners think.

Many thanks!


Matt

Webmaster responds - Marionette's 1st race of the season on June 3 - we had 15-20 knots, gusts to 25. Not fun (4th of 8, ugh...). Check out Technical Section http://dolphin24.org/technicalindex.html and in particular this link - http://dolphin24.org/outboard_motor_comments.html.

We've got the Forum back up and running - you can cruise thru it and find outboard motor stuff, and post your inquiries to maybe get updated info. Good Luck.

Standing by for those Sanguine pics.....

****************************************
June 18, 2018 update.
Hi Ron,

I've decided to dispense with the Tohatsu and will likely go with a Yamaha F6.

Attached is a photo of Sanguine in her new 2018 mooring field, awaiting aformentioned re-motor. (Webmaster note: this great photo of Sanguine deserves to be at the top of her page - scroll up)

Will keep you posted! Cheers,


Matt
********************************************
December 31, 2018 Responding to a webmaster Happy New Year, and update plea, Matt came in under the Y/E wire with this report.
Hi Ron,

Same to you! I'm up in Camden Maine now (think I saw a Dolphin shrink wrapped in a driveway today!). I'll get you a full OB motor report etc when I get back home. So far so good.

Also thinking about putting a louver vent in the center companionway hatchboard in hopes of reducing the moisture issue in the cabin. I put in a solar nicro vent in the new plexi v-berth hatch but it's not enough. I saw another dolphin had a louver vent in the companionway board. I hope it makes a difference because I'd rather not add it if I don't have to. We'll see!

Cheers,


Matt

Webmaster Replies

Camden

is Dolphin country! Several in the area - especially late July - Dolphin 24 New England Championships/Camden Classic Cup (2019 is July 25-27).

Mark your calendar!!

Re hatch louvers - check out http://dolphin24.org/covers.html - main hatch cover section - louvers are good but need 'protection'.

A variation of Marionette's hatch cover' system' might work for Sanguine's washboards, and keep air flowing, water out -

photo right
January 4, 2019 Continued .... (minor edits)
Hi Ron,

Happy New Year! Here's a pic of the Yamaha F6 and a short video taken when it was first started. No issues with the motor since purchase in early August (and got a six year warranty just in case).

Installed a Yamaha 10-micron fuel/water separator filter between the tank and motor which will hopefully ward off potential carburetor issues of the kind that plagued the Tohatsu 9.8. Fingers crossed.

The F6 pushes the boat to hull speed at under half throttle. And early observations indicate a minimum of 8 hours run-time at hull speed per 3.1 gallon tank or roughly 40 nautical miles per tank, not bad at all. Also prelim observations indicate standard zinc anode on lower unit will need to be replaced twice per season (also exploring options for bigger anode to avoid this). It took some finessing to get the motor at the precise mounting level to make space for the pull-start (motor is manual pull-start only) to work through the cockpit cutout, but no issues since then with that either.

Projects for this spring:

- Rebed remaining leaky stanchion bases.

- Install Sea Dog stainless louvered vent in companionway hatchboard.

- Replace hoses.

One other thing I forgot to mention - out on the Sound in anything over 20 knots the outboard well invariably floods. I now use wood plugs for the twin drain holes (which can be periodically partially drained on each tack) but looking for a better solution to keep seawater out of the well. I've seen at least one solution for this on the Dolphin site, but still not sure how I'm going to address this and open to all suggestions! (Webmaster note; Check out http://dolphin24.org/calmantes_transom_plug.html

Thanks again, Cheers

Matt

****************************************
June 2, 2019 - We got the following update from Matt
Hi Ron,

I hope all's well with you and Marionette.

Attached are a few photos of Sanguine racing in western Long Island Sound last weekend. As ever, such a sweet gentle sailer... Still rebedding stanchions and working on a solution for outboard-well seawater ingress and egress, but loving the new dodger so all's good for now!

Cheers,


Matt
***************************************
June 6, 2019 - Matt had an exchange Cliff Dasco (Maya Elena) re his Composting Head. Click here to go there.
****************************
August 25, 2020 - Update posted on the Dolphin 24 facebook page
""Finished tuning the rig and finally made some heavy-grit headway on the brightwork over the weekend".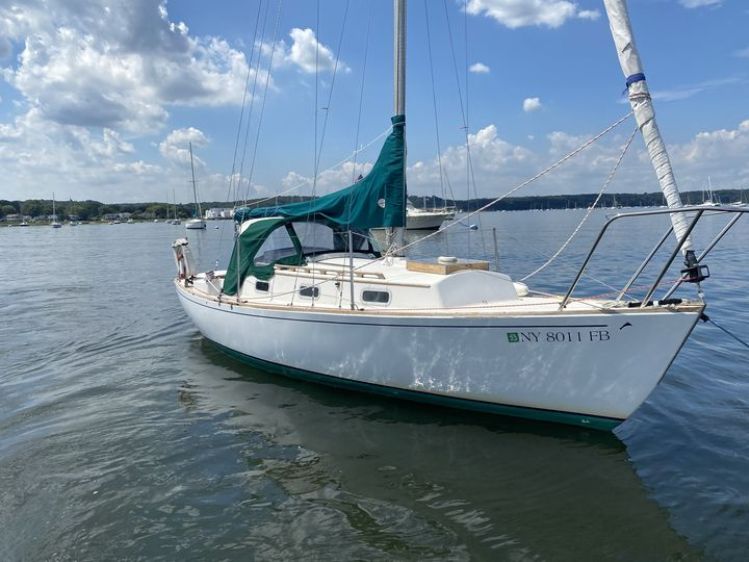 **********************
**********************************
****************************************************************************
***************************************
This is the history we have on Yankee #219
May 25, 2017. We got a tip from a guy looking for a Dolphin that there was one for sale on Yachtworld. A little research and we found the ad - it was for Yankee #219! We are trying to reach Noah to get filled in on what's happened to Polly, now Sanguine. Here is the ad (minor edits), some photos and contact info
Yachtworld
1971 YANKEE Dolphin 24
Length: 24'
Engine/Fuel Type: Single OB/ Gas/Petrol
Located In:New York, NY
Hull Material: Fiberglass
YW#:80655-3084703

Current Price:
US$ 7,500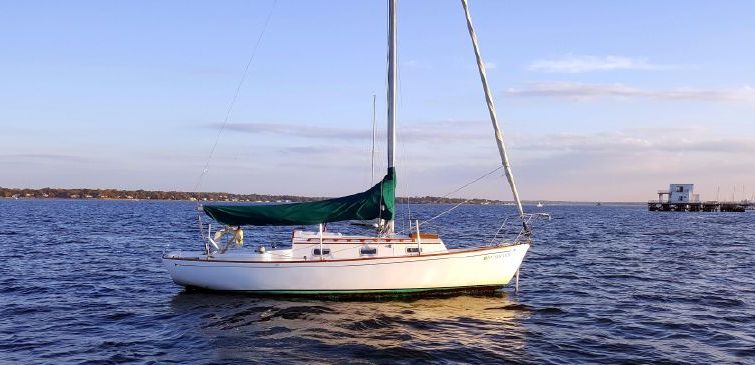 Welcome to the world of classic Yachting, where you will be seduced by the elegance, and beauty of this twenty-four foot sailing yacht. Designed by the famous Naval Architecture firm Sparkman and Stevens, her aesthetically pleasing lines will have your heart.
An early accomplishment of the firm, she boasts both beauty and efficiency, making for a truly eye-catching vessel that will have all your friends wanting to join you. Her cabin is cozy and compact, perfect for camping out and cuddling up with your dearest, when moored at an anchorage far off somewhere. With her privately enclosed v-berth cabin, and her wide convertible settee in the main cabin, there's plenty of accommodation to invite a friendly couple for an overnight.
Her spacious galley is sure to provide many salivating meals, prepared with the help of your Origo 3000 Alcohol stove. That means a safer way of cooking when at sea, or waiting out rough weather. Her long and protected cockpit will have you feeling safe and able at the helm, all within easy reach of engine controls, sheets, and furling line. Behind you as you steer, her like-new Tohatsu Engine sits within an outboard well, a well-suited placement of power when in a heavy following sea. That's because the center of propulsion is deeper than on a conventional outboard-mount. This is your chance to own one of the finest yachts designed, right here on City Island.
Come claim your Yankee Dolphin 24, while she's still available, on the hard, ready to launch this Summer.
Please contact Fred Chandler at 347-927-3350
Click here to go to the Yachtworld ad
Click the above photos for a larger image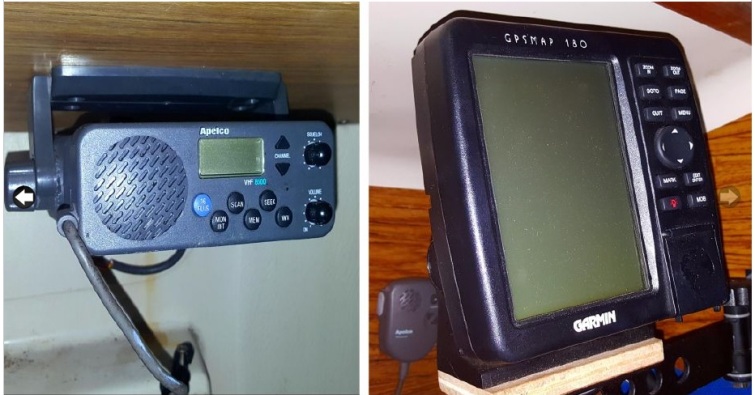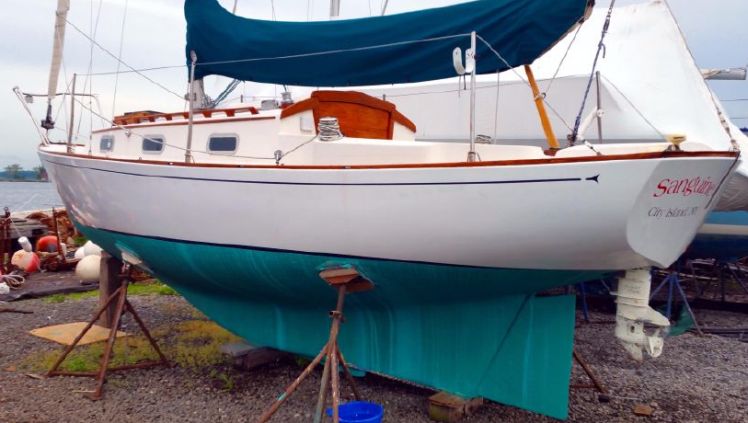 **********************************
This is the history we had on Yankee #219 up until now.
April 21, 2010 Noah Kornblum checked in last night as the new owner of Polly. We first heard about this boat on March 12, 2010 from a post by Ed Fountain on the Sailnet Forum. It appeared for sale on Craig's List on 3/9/2010. Below are the pictures and listing information from the ad.
Here is Noah's email
Hi, My name is Noah Kornblum, and I am the proud new owner of Ed Foutain's Yankee Dolphin 24 (#219). He had named her Polly, and my wife and I plan to keep the name. Your web site is beautiful and clearly a labor of love. (So is your boat!).... Thanks! Noah
Stay tuned for more about Polly (including her new Homeport, and hopefully some pictures.
**********************
Yankee Dolphin 24 Sailboat - $5000 (Bronx, NY)
Date: 2010-03-09, 10:50AM EST
Reply to: sale-qrczy-1635735256@craigslist.org
Classic Sparkman and Stephens "mini offshore racing cruiser", 1971
Solid, well equipped family cruising boat.
Located Western Long Island Sound
Lots of info on the web
Location: Bronx, NY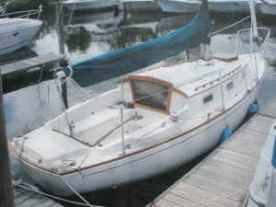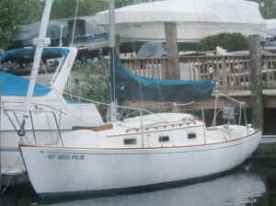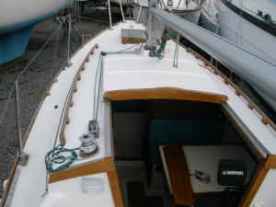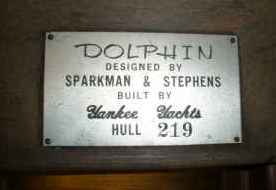 November 8, 2010, Noah checked in with a Dolphin 24 website book order and an update on Polly. Here is his email - edited.

Hi Ron,

Polly will have her hull professionally stripped and painted this winter at Baron's Boatyard in City Island NY. We will rewire the mast and update standing and running rigging as required. The sails will be inventoried and perhaps a new main if needed, but don't tell my wife (ha ha).

Best Wishes,

Noah
*****************************
January 29, 2011 Noah sent in the following update and pictures.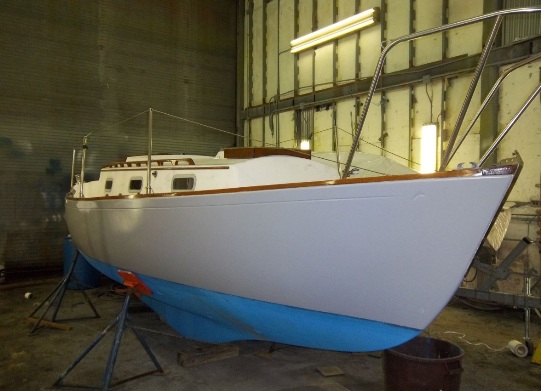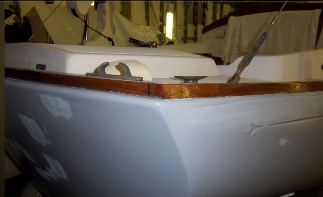 Hi Ron,
Hope you are well. Thought I'd share these with you. Polly is getting a long needed face lift. These photos were taken at Barron's Marine in City Island NY. This is after two primer coats, but the final Awl Grip hasn't been done yet. The teak toe rail has been repaired and final varnish coats in the spring...Standing, running rigging and sails to be upgraded as needed in the spring fit-out. Nice day-dreaming pics for a snowy day.

Fair tides and winds, Noah

*****************************************
Postscript August 10, 2017 - missed this!! May 7, 2012. Noah sent in a copy of his dad's book At Sea in the City, a book about sailing around New York City in Tradition, an ancient (1910!), 24' Crosby built, New England catboat. It deserves a place on our recommended reading list - a fascinating read. Noah has sailed with his Dad on Tradition, and his dad sails with Noah on Polly. Click here to go to our Readling List Section for more on this book.
*****************************