February 25, 2016. A routine follow up with Jim produced the following reply (minor edits)
Hi Ron,

I spent a good deal of time working on Tiki, and never seemed to make headway. The list of repairs necessary was just too long. And as much as I like working on boats, I enjoy sailing them more -so I gave her to a friend. He worked on her a bit, and in the end cut her up. I was sad to see her go, but the list of work that needed to be done was daunting.

I then found 233 up in Burlington, VT. After being sunk in San Diego by some people interested in her electronics (including the thru-hull knot meter paddle), the former owner, Chris Mc Pherson, moved her out to Vermont. Some hunters mistook her that fall for the elusive and sometimes dangerous Great White Moose that is known to lurk in the woods of Vermont, and shot her clear through. Chris was planning on working on her to get her back in shape, but had an accident at home later that winter and passed away. His partner donated the boat to a charity, and it eventually found its way to me.

She has been renamed Maggie, and has been brought back to sailing condition. Repairs and rebuild continues, but they are don't generally get in the way of sailing. I attached a couple of pictures of her when I bought her (one shows the temporarily patched bullet entrance wound), and a few of her sailing now. The picture in the harbor is out at the Isle of Shoals (off the shore of new Hampshire) blowing 20+. There's a breakwater at the top of the harbor that calms the water a bit. I have a lot of fun blowing through crowded harbors under sail in Maggie. The second picture is my version of self steering. A bit of weather helm was overcome by a quick wrap of the cockpit bucket line - she tracked like that for a couple of miles.

Jim

Webmaster Note: Click here to go to Yankee #233, Maggie (pictures Jim references are on Maggie's page)

Fair Winds TIKE

**************************************

*****************************************************************
This is TIKI's Story
On April 7, 2009 Shane Waldon, former owner, reported Jim Homet had picked up Tiki up in Branford, Connecticutt, and they left together for her new home in Portsmouth, New Hampshire. And on April 8 Jim checked in - they arrived safe and sound.
Jim has been looking at Dolphins on this website for months and checked in on November 22, 2008. After connecting with Shane, he came down, checked Tiki out, and found his Dolphin. He picked her up in an Easy Loader trailer he modified by adding a 2nd axle and poppits. Click here to see that story.
Stay tuned for more on Tiki's new life.
June 19, 2009. Jim Homet confirms that the number in the left box on his nameplate is 4196. This is an important tidbit in our Nameplatology exercises For more on Builder's Numbers and Nameplates, click here
**************
April 27, 2009. Jim sent in some emails and pictures updating Tiki's restoration:
Hi Ron

I've pulled the old Palmer 27 out of Tiki, and threw it overboard. It was a surprisingly light little engine.

The cockpit scuppers had backed up while she was in the yard in Connecticut, and Shane was away. The interior had flooded to about a foot above the level of the forward bunks. The residue was a oily mess, and I ended up borrowing a friend's pressure washer for the interior. It was a fairly heavy-handed cleaning method, but worked well. The interior doesn't smell fresh yet, but smells more like simple green then old oil. Also the interior had been repainted, and that coat was peeling badly. Most of the loose stuff is off now.

| | Tiki's teak toerail had been replaced with a bronze slotted toerail for racing. It's seems like a pretty effective way to hang snatch blocks on the rail. The original toerail had been removed, and the sheer had been epoxied over with a 3" fiberglass tape. The epoxy had UV damage and eventually failed. |
| --- | --- |

There is about a 3/8" gap between the hull and deck which was filled with what looks like old bedding compound. That is no longer watertight, and the wooden sheer clamp is wet. I had a screwdriver in my hand from removing the bronze toerail, and I dug into the sheer clamp a bit to see how it felt. I first had to slosh out the standing water which was very muddy. The wood seemed fairly solid, but came away stringily. The clamp definitely needs attention, but I haven't decided on an approach yet. I'll try and document whatever process I follow.

By the way, there was a discussion about sheer clamps on your site by a guy whose name, I believe, was Halsey. He at one point said that he decided to not replace the sheer clamp as someone had advised him that it was not key structurally. I remember seeing something contradictory in your site a few months ago ( and since it is my memory, I may not have my facts right). I think there was a builder of the Pacific Dolphin who was commenting on the 100 or so alternating bolts and screws specified by S&S for the sheerclamp, and his take was that it was a very strong method of securing the hull deck joint. I got the impression that he thought this was one of the keys to the boat's strength.

Jim
Webmaster note: I do not recall ever hearing of a later Yankee or a Pacific Dolphin having this sheer clamp problem. The original S&S 1959 design drawing #1497 does not refer to an S&S deck/hull joint fastening specification - instead the drawing has a notation:
"RE: reservations dk to hull connection = (O'Day flanged hull & bolted & bonded)"
It may be that Yankee/Pacific had a different deck/hull fastening system. Maybe we can get some input on this from those owners... Jim is referring to Halsey McGowan who has Elizabeth, an early O'Day built boat similar to Tiki. Some of these boats appear to have had heavier glass tabbing of the clamp than others. Halsey and I had a conversation about his sheer clamp problems - click here to go to that discussion
As Jim progresses further with this clamp issue we will incorporate it into the relevant Technical Section

***********************
June 19, 2009. Jim sent an update on Tiki (edited)
Hi Ron

Tiki will be a while before she's ready for a trip like that. I removed all the deck fastenings, and lifted the deck with wood spacers to get some air in there. The sheer clamp on the starboard side appears to be made out of three or four pieces of wood. I think it may have been repaired earlier. I pulled the forward piece out which was approximately 5' long, and it appeared to be made out of pine! It was saturated to the point that you could pull pieces off like string cheese, and bend and twist it with relative ease. Yikes! I need to finish some other projects before I tackle this one, so I have her somewhat dry under a heavy tarp.

Do you happen to know if any of the spar fittings are still available? The cast gooseneck fitting on Tiki's boom is broken. I could have it repaired, but I would feel better replacing it. (Webmaster Note: we are following up on the type of gooseneck)

Also, I sail on Tuesday's out of Little Harbor in New Castle, and I swear I saw a Dolphin on a mooring! The boat's name was Vintage, it has a dark blue hull, white topsides and a black spar. The cockpit coamings looked like they were molded of fiberglass. A quick look at the NH Port Authority mooring list shows it registered to someone named Thibodeau (it also shows it to be 24'). Let me know if this is new to you, and if so, I'll try and find out more info. Webmaster Note: This is new to us, at least under the Vintage name. This sighting, and report, moves Jim into that elite group - DFIs (Dolphin Field Investigators)! Stay tuned

Jim
**********************
March 31, 2010. closing the loop - Jim's sighting of Vintage coupled with the cooperation of the Portsmouth Harbormaster's office has resulted in contact. Click here to go to Vintage.
************************************
****************************************************************
This is the history we have on Tiki up until Jim bought her. The following is a picture of Tiki being sailed by Shane Waldon's grandfather, Joe Waldon.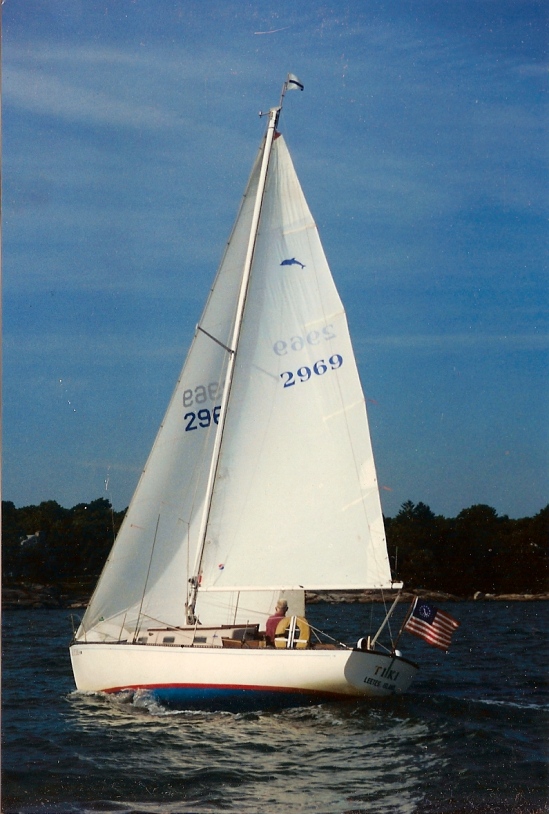 Tiki Sailing off Thimble Islands, circa 1995
March 15, 2009 Shane is Joe's grandson and he has decided to finally stop paying year round storage bills and will give Tiki away to someone who will restore her. A hard decision - Shane and I first talked about his plans for Tiki last December, and he has made up his mind.
Shane is looking for a nameplate and advises that one of the old pieces of paper he got with the boat indicates she was a 1960 O'Day. He'll keep looking for that paperwork) . Shane said he thought his grandfather bought the boat new so it has been a one family boat. (March 24, 2009 Update - Shane found an old registration indicating Tiki was built in 1960. These registrations have been known to be unreliable as to actual build vs actual registration date, but that date is what we will assume. Also, Tiki was not bought new by Joe Waldon. Shane's dad recalls that Tiki was bought sometime in the 1960's from someone on Cape Cod. Tiki was the name of the boat when he bought her. Joe and Stan Barnes (Shamon) sailed her from the Cape to Branford.)
Shane inherited Tiki when Joe passed away 10 years ago. He has been away a lot of the intervening years as a professional sailor/boat captain on the not for profit sailing scene, and has not been able to spend any time with her.
Tiki has been out of the water for those 10 years and looks pretty weathered. Shane thinks she is basically sound. Inside, she is not bad but about 3 years ago the cockpit drains blocked, water filled the cockpit and got into the boat through the centerboard line hole. The yard drilled a couple of holes at the keel/hull joint and drained her. Since then she has been cleaned out and dry, and she has a winter cover. We expect some inside pictures soon.

The Palmer inboard has not run for more than 10 years. She has a professionally installed heavy duty transom bracket. The outboard motor is a very low hours 10 hp, 10 year old, 4 stroke Evinrude, a bit heavy, but Shane will consider offers for the motor. There are several bags of sails that go with the boat plus some 'stuff' that Shane will inventory and advise. The boat is at the Bruce and Johnson Yard in Branford, CT.

You will need a trailer, have pay the yard a couple of hundred to load her and she is yours. As we get more information on Tiki we will post it.
Contact Shane Walden (address removed, contact Webmaster if you want to reach Shane)
*******************
We had a field report back on January 22, 2008 advising Tiki was at a marina in Branford, CT. Tiki sailed out of Sachems Head YC in Guilford, CT with that club's fleet of Dolphins - Shamon, Odile, Lady, Rachael K - all of whom are listed in the Roster. Stan Barnes, Shamon, knew Joe Walden well, and advises Tiki was a competitive boat at the club.
Another field trip, this time by your webmaster, resulted in the following pictures.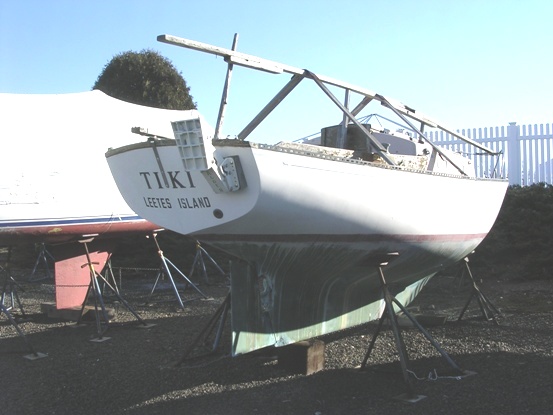 Leete's Island is off the Branford/Guilford, CT shore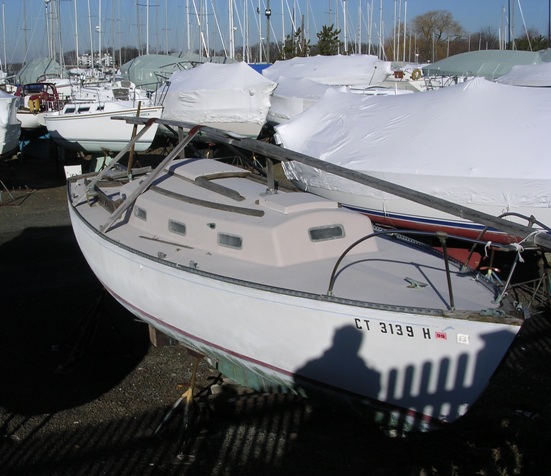 Guess who the shadow is...Note that familiar old Dolphin light pink/beige deck color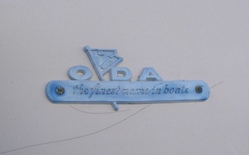 The O'Day Logo (Y missing)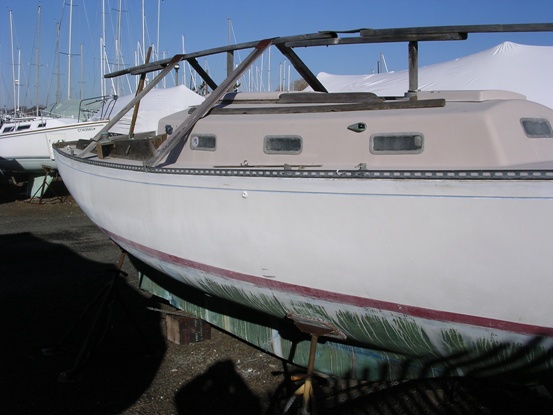 Note the slotted toe rail in place of the original wood toe rail
**********************
March 22, 2009 Shane found the top picture of Tiki sailing off of Branford's Thimble Islands, circa 1995, and Tiki's Builder's Nameplate. The nameplate was mounted on the aft facing inside edge of the main hatch trim.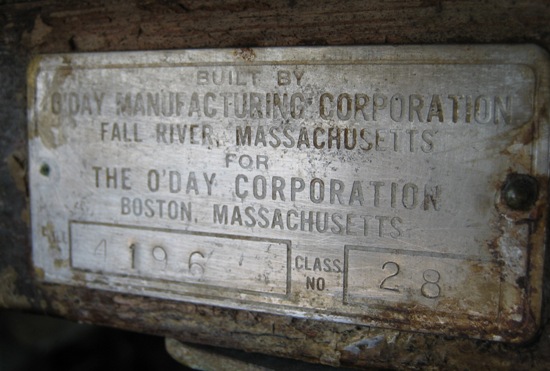 *************************************
December 14, 2014. On a review of the Off Soundings Club archived regatta results at the Mystic Seaport Museum's Blunt Library, we found that Tiki was 1st overall in the 1965 Off Sounding Club's Spring Series - 41 boats were entered.
************************
September 8, 2020. Shane sent in a special pic......minor edit
A Dolphin inlay belt buckle - It's a prized possession of mine. My grandfathers Beloved "Tiki."

All The best

Shane Walden
Thanks for sharing Shane
Postscript - the buckle back.....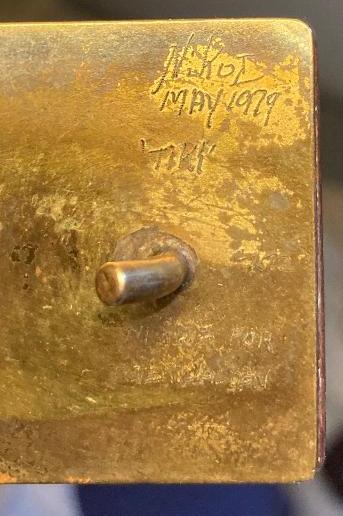 ******************************************