August 15, 2017 Manfred Noack checking in as the new owner of Yankee #233. Here is his email
Hi Ron,

Maggie is indeed here. I am now struggling with a number of knotty technical issues such as electric propulsion, instrumentation, certain changes to the rig and the sanitary system as the existing one is illegal.

Maggie is still on the trailer and my estimated launch date is mid September at which time I may be able to send you some pictures.

Hope you are having fun in Maine!

Best regards,

Manfred


WELCOME ABOARD MANFRED!!

*******************************

August 19, 2017. So, your webmaster was driving near the shoreline in Branford a couple of days ago, on a non webmaster assignment, and decided to take a peak in at the boats at Dutch Wharf Boatyard.

Lo and bohold, what did we see - a Dolphin!!
Click on the bottom photos for a larger image
**************************************
August 30, 2018 We got the following update from Manfred
I have installed a bladder holding tank, a VHF radio with mast top antenna and a (nominal) 6hp Torqeedo electric outboard powered by two AGM batteries. Of course the problem with that is range. So I would still need a gasoline outboard for cruising. Unfortunately the new 4-stroke outboards are too heavy for me to lift.

Yet to come are lazy jacks and a pendant to immobilize the boom during reefing and mainsail take-down. Oh, and Maggie is now Electra.


We have also been out sailing for a couple of 'sea trials'.


Best regards,


Manfred
Standing By
September 27, 2018 We got the following update and photos from Manfred
Hi Ron,

Here is my long-awaited update:

TECHNICAL* Fitted an electric outboard from Germany's Torqeedo

- Fitting required modification of the well, e.g. cut-outs for the pylon housing the motor.
- Input Voltage 24 V
- Power at full throttle 2KW (equivalent to 6 hp according to the manufacturer).
- Power source: 2 AGM lead acid batteries of 105 Wh capacity each in series.
- in calm seas and wind, the Torqeedo moves the boat at about 5 knots at full throttle.
- range not known at present but it is highly dependent an throttle.* Installed bladder type holding tank below V-berth. This was very difficult and required the installation of two 6" inspection ports to be able to make the hose connections.

* Mainsail and Mainsail handling Modifications.

- Installed a Tides Marine Strong set of sliders
- This works very nicely: the main drops under its own weight.
- At suggestion of North Sails, Milford CT, modified the main for full-length battens.
- Also fitted retractable lazy jacks.

* Maggie is now Electra

Ron, would you like to go on a little sail on Electra? YES!!

Best regards,

Manfred

Electra at Branford Yacht Club, Branford, Connecticut

| | |
| --- | --- |
| Click on the photo above and photo at right for a larger images | |

**********************
October 5, 2018. We got the following update from Manfred and a Torqeedo motor photo.
Hi Ron,

In answer to your question, the electric outboard is the Torqeedo Cruise 2.0. The picture below also shows one of the two cut-outs, (the one at the transom) which are necessary to enable the pylon to pass through the well.

By the way, we are planning to participate in an informal race in Branford's "Around the Buoys" Sunday series, You are invited to join us on Electra at 9:30 am at Dutch Wharf where the boat will be berthed for the rast of the season because of dredging at the Branford Yacht Club. (Webmaster reply - love to but other commitments - good luck - send us a report!)

Best regards,

Manfred

********************************
May 7, 2019. Your webmaster was on a field trip yesterday visiting with Manfred and Gisele Noack (high classified subject matters - hint Gisele is an expert on book binding). manfred showed me the trophy Electra just rec'd for her performance in the Round the Bouys race in Branford last October. Website staff put together the following from the online website presentation. Manfred promises a photo of the trophy but did send in a couple of Electra photos.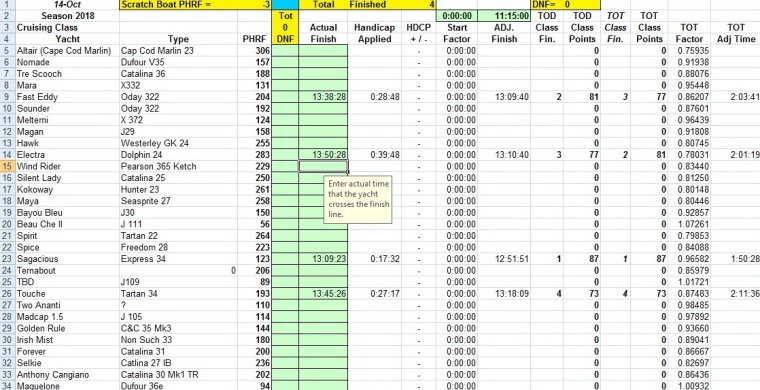 Check out line 14

Click on the photos above for a larger image
*******************************
***********************************************
******************************
This is the history we have on Yankee #233 up to this point
July 17, 2017. We've just got word that Maggie has been sold to Manfred Noack, North Branford, Connecticut. She will be homeported in Branford harbor. We standby for more details
FAIR WINDS JIM!
June 29, 2017. Your webmaster 'happened' to be in the Portsmouth area and got a neat Maggie picture of her on Jim's driveway - see below ad/trailer pic.
October 1, 2016. Jim Homet has recently got a Tartan 30 and decided to put Maggie up FOR SALE. Here is the Craigslist ad and contact info

Yankee Dolphin 24 - $7500
condition: excellent
length overall (LOA): 24
make / manufacturer: Yankee Yachts
model name / number: Dolphin 24
propulsion type: sail
year manufactured: 1971
ad updated June 23, 2017 https://nh.craigslist.org/boa/6092429704.html
Reply to
fsxmx-6092429704@sale.craigslist.org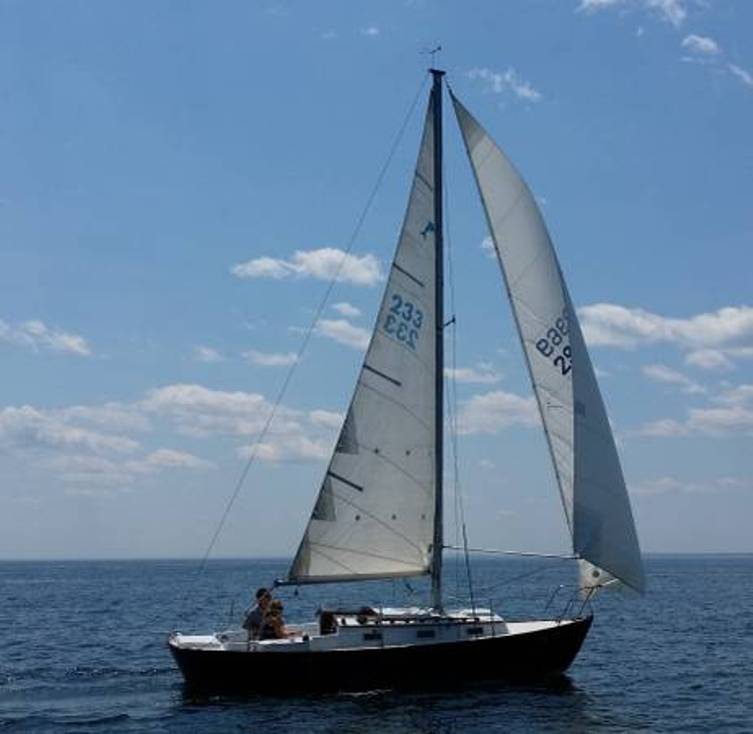 Classic Sparkman & Stephens designed Yankee Dolphin. Maggie is a very fun boat to sail, quick on all points, and easy to single-hand. Won 2015 PSA Commodore's Cup and 2015 Gosport Regatta in cruising division. Won 2016 John Paul Jones Race in Racing division.

*Deck painted in 2015 with interprotect 2000 base and Interlux Perfection two-part poly white. *Hardware seated with butyl.
*Topsides professionally sanded and sprayed in Interlux Perfection Flag Blue
*Boot Stripe in Micron CSC Shark White
*Bottom stripped and barrier coated by previous owner -2016 Blue Water Copper shield Ablative in regatta red with 45% copper
*New running rigging in 2015 with new masthead sheaves and internally run halyards. Lines run back to cockpit with matching Garhauer rope clutches.
*Cabin-top winches and primaries cleaned and greased in 2015
*New custom IPE 5/4 cabin-top handrails 2014
*10' genoa tracks with two cars on each
*Spinnaker pole
*New interior cushions 2016

Sails include:
*Hanked-on Yankee Jib, Jib, 130 Genoa, 155(?) Genoa, 170(?) Genoa
*Two Mains
*Three Spinnakers -one good and two as backup

The boat's engine is a Johnson 4hp long-shaft 2 stroke. The engine is kept out of water in aft locker, and when necessary mounted in a hidden motor well. The motor is very rarely used as we generally sail on and off the mooring.

Trailer is a custom built Aros from California. Double Axle 8400# Galvanized bunk trailer with keel board, and tongue extension. Trailered Maggie cross- country.

Click here for a larger image
**********************
February 3, 2017. Your webmaster exchanged emails with Jim Homet. Maggie is still for sale though her earlier Craigslist ad had expired. Here is his email (edited)
Hi Ron.

I was originally going to move up to a Tartan 27, but then got fixated on the Tartan 30. I hope to extend my cruising grounds, and a bigger boat fits the bill. So currently I have The Tartan 30, Dolphin 24, Marshall Sanderling 18, and two Cape Cod Frostys for winter racing. I have to thin the herd for the sake of my marriage!

I love Maggie's sailing style. I singlehand a lot, and with the jib I feel like I can tack like a dinghy. I love to work upwind through crowded harbors, and up the Piscataqua against the tide. Plus I like the roller-coaster stomach feel when a gust hits and we immediately heel to 25 degrees. I sailed at least once a week last summer and never used the outboard to sail on or off the mooring. I'm not that comfortable yet with the Tartan.

Thanks for the help through the years.

Best - Jim

******************************
Febrrrruary 14, 2017. So, with Maine, Rhode Island and Connecticut represented at the upcoming NEw England Dolphin 24 Championships in late July in Camden, Maine (http://dolphin24.org/ccc2017.html) website staff, house bound on a cold, and snowy weekend with gusts to 50 knots , was trying to come up with an entry from New Hampshire. Maggie and her racing successes came to mind.
This prompted an exchange of emails between Jim and your webmaster with a reference to "the Great White Moose lurking in the woods of Vermont".
Hi Jim

Pretty much snowed in the past 36 hours down here in Old Lyme. Had a sleepless night worrying about what to tell Gov Sununu when he calls worried about New Hampshire not having a representative at the New England Dolphin 24 Championships up in Camden this summer. http://dolphin24.org/ccc2017.html

And, I'll bet Maggie is sad, wants to go and wonders if anybody will take her? Maybe her buyer will be a state resident and will take her - maybe make it a condition of sale? Or, if the buyer is not a resident, a condition of sale might be that you can charter her for a week? Pretty short trip from Portsmouth, by road or sea....

Tell Maggie if we get any entries from Vermont we will run a special security check on owner and crew to be sure they have no weapons aboard. I know she has a thing about Vermonters.

Ron
Jim replies (minor edit), and he attached a photo of Maggie dressed in her Valentine's Day costume
Hey Ron,

We got slammed here in the seacoast as well.

I'll definitely keep that (plan) in mind!

Maggie, by the way, carries no apparent emotional scars from the treatment she received in Vermont, but I am sure she would be wary of a crew dressed in all orange.

Jim



*******************************************

*************************************************
*******************************************************************************
Here is the record we had on Maggie up until when Jim advised she was for sale.
February 25, 2016. Responding to an email from your webmaster, Jim Homet, former owner of Tiki, O'Day #28 sent in the following reply (minor edits)
Hi Ron,

I spent a good deal of time working on Tiki, and never seemed to make headway. The list of repairs necessary was just too long. And as much as I like working on boats, I enjoy sailing them more -so I gave her to a friend. He worked on her a bit, and in the end cut her up. I was sad to see her go, but the list of work that needed to be done was daunting.

I then found 233, (Gaia) up in Burlington, VT. After being sunk in San Diego by some people interested in her electronics (including the thru-hull knot meter paddle), the former owner, Chris Mc Pherson, moved her out to Vermont. Some hunters mistook her that fall for the elusive and sometimes dangerous Great White Moose that is known to lurk in the woods of Vermont, and shot her clear through. Chris was planning on working on her to get her back in shape, but had an accident at home later that winter and passed away. His partner donated the boat to a charity, and it eventually found its way to me.

She has been renamed Maggie, and has been brought back to sailing condition. (Click here to go to Gaia's page)

Maggie sailing off the Isle of Shoals, September 15, 2015

This picture is in the harbor out at the Isle of Shoals (off the shore of New Hampshire) blowing 20+. There's a breakwater at the top of the harbor that calms the water a bit. I have a lot of fun blowing through crowded harbors under sail in Maggie.

Repairs and rebuild continues, but they are don't generally get in the way of sailing.

BEFORE PICS - click on the photos, above and below right for larger images - click the return arrow on your browser to get back here

This picture at right is my version of self steering. A bit of weather helm was overcome by a quick wrap of the cockpit bucket line - she tracked like that for a couple of miles.

Jim

Webmaster Note - a little space to fill here - The beautiful Isles of Shoals lie in the Atlantic Ocean about 6 miles off the New Hampshire/Maine coast. Marionette has been through here several times on her way to and back from Maine. Click here for a Yankee Magazine article.

********************************
June 28, 2016. We're a few days late getting this report from Jim up on Maggie's page. Here is his report, and our exchange - consolidated from several emails
Hi Ron,

I found this picture online taken by Sean D Elliot of Maggie finishing first at the 2015 Gosport Regatta last September.

Click here for a larger image - Click here to go to Sean Elliot's website

We were completely overpowered here, and losing ground fast to the Northeast 38 behind us - and the dangling lazy sheet didn't help matters - but we hung on to win by a scant 19 seconds. Sean D Elliot was gracious enough to give permission to share this photo on your web site if you care to.

Tomorrow is predicted light, and we are hoping to run the spinnaker on her for the first time. I set Maggie up similar to a J24 with twings up forward and turning blocks aft, so the only thing up in the air is how we launch from the pit.

The solent stay is also set up for the jib, though I haven't practiced using it to change headsails yet.

It looks to be another fun summer - wishing you one as well.

Jim
Ok, lets take a peek at the Gosport Regatta. Gosport Harbor is at the Isle of Shoals about 10 miles offshore from Portsmouth, New Hampshire, and is formed by breakwaters joining Star, Cedar, Smuttynose, and Malaga Islands, It is used as an anchorage by local fishermen. The map above shows the harbor. This map below shows Portsmouth, New Hampshire, on the south shore of the Piscataqua Rive - the river is the state line between New Hampshire and Mainer. The regatta starting line is at the mouth of the river. The organizer is the Piscataqua Sailing Association, an interesting grouping of 5 area yacht clubs. Click here to go to their website.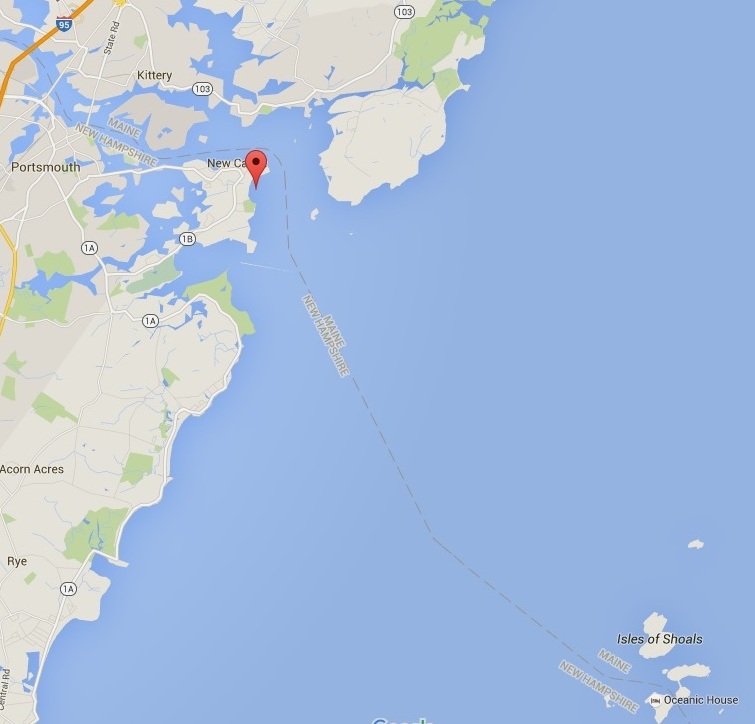 This regatta is a 'pursuit race' with handicaps built into the start time of each yacht. Based on their PHRF handicap each yacht starts at a specific time, highest (slowest) rated boat first - in a perfect race all boats will finish at exactly the same time. The least enviable position is to be the slowest boat as faster boats continue to get closer...... Maggie was racing in the Cruising Fleet and this is the finishing results.
2015 Gosport Regatta Results - Cruising Fleet
Conditions - Sunny low 60's. 18-20 knots apparent at the start with a bit of chop and rollers. 12-15 knots up at the finish

| | | | |
| --- | --- | --- | --- |
| Finish | Boat | Type | Finish Time |
| 1 | Maggie | Dolphin 24 | 12:35:06 |
| 2 | Lenity | Northeast 38 | 12:35:25 |
| 3 | Aracati | Great Dane 28 | 12:38:46 |
| 4 | Windwalker | Gulf 32 | 12:40:02 |
| 5 | Blue Skies | O'Day 32-2 | 12:41:41 |
| 6 | Kokopelli | Catalina 30 | 12:42:06 |
| 7 | Greyfox | Tartan 30 | 12:42:22 |
| 8 | Daily Dose | Sabre 32 | 12:43:07 |
| 9 | Zephyr | Bristol 29.9 | 12:47:24 |
| | Artemis | Alberg 37 | W/D |

We asked Jim about Maggie's PHRF handicap his comments about 'Pursuit Racing" are informative....

Maggie has a PHRS 264 racing (spinnaker) and a 267 cruising (non Spinnaker. I took a 9 second cruising handicap for having a 130% whisker pole (11'-7"). I sail wing on wing a lot with the pole out far, and the genoa by the lee. I feel really fast that way.

Pursuit racing is terrible.... I raced in the same fleet with my Marshall 18 for years which has a 309 rating. In either boat, I am usually the first to start and the bigger boats just continue to close.

When you are in the back of the fleet, you can capitalize on other boat's mistakes, and you have the feeling of being the hunter. In the front you are just hunted.

Here's a link to a great video of the regatta and Gosport Harbor https://unh.app.box.com/s/pbrvgh73igpm6m3fpvwf1z6gl2u9b4ek

Back a few months ago Jim commented on his 'solent' stay - you can barely see it rising from the foredeck (just above the last registration number). These comments, and a webmaster reply did not make it to Maggie's page then but the above comment on his 'solent' indicated a need to share them - they are below (minor edits). We have also included these comments in our Technical Section/Comments on Sails and Boat Speed. Click here to go there.
Hi Ron

I sail single-handed a lot, and when racing I'm often either underpowered or overpowered. I don't have auto pilot so I need to speed up the process of changing sails. I plan on trying to run a solent stay to carry my Jib while the Genoa runs on the forestay.

I had APS make up an Amsteel line with a low-friction ring spliced into the lower end. The solent will be connected permanently to the masthead fitting with a block off the stemhead fitting. This will allow me to tighten the solent to act as a stay when I need it, and then pull that back to the mast when I don't. The low-friction ring will allow a 2-1 advantage.

My thought is that if I need to switch between the genoa and the jib: 1) I drop the genoa 2) Tighten the solent 3) Raise the jib
The idea is in my head now, and I think it will work, but would appreciate any insight.

Jim
Webmaster replies
Hi Jim

My first reaction to your email was to look up solent rig - I had heard the term but never knew what it was - maybe you have seen this link? http://www.cruisingworld.com/how/two-headsails-are-better-one So, clearly I can't advise on it. Interesting idea to be able to pull the furled solent rig back to the mast - and an interesting, maybe complicated, system?

My single handed perspectives have changed over the years. Initially, I had, still do, a reefable 140% genoa - with a line led back to the cockpit reeved thru a block at the stem head and ending at a higher tack grommet, maybe 3'? up the luff of the sail. The halyard is led back to a camcleat on top back edge of the cabin house. There is a double set of sheets - the lower set attached to the bottom clew, the higher set attached to a clew maybe 4-5'? higher up the leech.

It worked - no need to go out on the deck - but I became less enamored with all the lines, and the baggy lower part of the sail - it did have a line of reef grommets that I never used. Nowadays, I pay closer attention to weather conditions/course, etc, and if there is any doubt I use my old Atlantic jib as a blade sail. This sail fits perfectly in the foretriangle and has a beautiful trimmed shape - as long as I'm going to weather. Its very stiff and a hassle to take down as it can't be stuffed in a bag, only rolled - not a singlehanders ideal set up. I have a small jib which is a joke going to weather but is sweet reaching.

Note: I do not have furling jibs - all hank on - probably crazy - but years ago I heard a nightmare story about a guy and his wife sailing their 40'er, unable to get their jammed partly furled jib down.....

Depending on weather, I use my 170% genoa in the mornings, and try to be where I want to end up by early afternoon - before the breeze picks up. I always reef the main 'early'. If I'm going in the afternoon and the breeze is up, I'm ready - reefed and small jib

I may have missed a few comments - they are summarized, more or less, here - http://dolphin24.org/sail_comments.html and the links off that page.

If you go thru with the 'solent' send in pics and experience comments

Ron

ps Pre website days, back in 2003, I think, my son and I left Cape Ann early in the morning, sailed thru the Isles of Shoals with whales breaching on our port side, dolphins jumping on our bow waves, spinnaker set, whale watching boats heading out from Rye at flank speed. We dropped our chute on entering Casco Bay just before dusk, picked up a mooring at the Dolphin Marina, South Harpswell, Maine.

It was the best sail I ever had!!
Jim raced Maggie in the John Paul Jones Destination Regatta this past weekend - Race 1 Portsmouth to Rockport out on Cape Ann, Massachusetts, overnight there, and Race 2 back to Portsmouth. Maggie had a DNC in Race 1 but won Race 2. He was racing in the spinnaker class. Here is his report just in.
The first spinnaker run was a success by the way. I was in a race from Rockport, MA to Portsmouth, NH last Saturday (June 26). It was basically a downwind drag race without any gybes required, and in light air.

I launched from the foredeck as it was also a downwind start, and I didn't need the genoa. For some reason the pole went north (right in front of the committee boat as RC was wishing me a nice sail) . I dropped the spinnaker quickly and drifted for a bit as I rigged a downhaul. I got back into the race without too much delay, and concentrated on trim, hydration and suntan lotion application. I ended up winning the racing division on corrected time with 6 boats entered including a J24. The race didn't require any particular skill on my part, but it certainly proved that the dolphin is a fast boat with a good rating - especially in light air. AMEN!!

| | | | | | | | | | |
| --- | --- | --- | --- | --- | --- | --- | --- | --- | --- |
| Pos | Sail | Boat | Type | Rating | Finish Time | Elapsed | Time Allow | Corrected | Time Behind |
| 1 | 233 | Maggie* | Dolphin 24 | 264 | 15:21:00 | 4:21:00 | 1:24:39 | 2:56:21 | 0:00:00 |
| 2 | 162 | Here Comes The Sun | Olson | 126 | 14:47:43 | 3:47:43 | 0:42:27 | 3:05:16 | 0:08:55 |
| 3 | 20420 | Veladare | C&C 42 | 87 | 14:37:58 | 3:37:58 | 0:29:46 | 3:08:12 | 0:11:51 |
| 4 | 3247 | Vox | J-24 | 168 | 15:06:32 | 4:06:32 | 0:57:41 | 3:08:51 | 0:12:30 |
| 5 | 163 | Aracati | Great Dane 28 | 225 | 15:33:17 | 4:33:17 | 1:19:20 | 3:13:57 | 0:17:36 |
| 6 | 54 | Flying Norseman | SeaScape 27 | 99 | 15:07:22 | 4:07:22 | 0:37:44 | 3:29:38 | 0:33:17 |

*************************
September 27, 2016. Jim sent in the following update on his Solent rig, and announces he is planning to sell Maggie (more on this later).
Hi Ron,

I have succeeded in finding a way to not rig the Solent stay. I had a spare mainsheet block setup that I attached right behind the forestay. It worked to tension the solent, but there was so much line everywhere that is was very difficult to use in heavy airs. The concept is still valid, but I think a single block has to be connected to the stem fitting and run through a bullseye back to the cabintop winch. That, combined with a retrieval line on the blade, will allow you to handle everything surrounding the solent from the cockpit. You would only have to go forward to douse the genoa.

On another note, I have decided to put Maggie up for sale. I was practically given a Tartan 30 earlier this month, and I have been contemplating cruising a few weeks next summer. I'd love any suggestions you might have on the best way to sell her.

Thanks as always,

Jim