October 23, 2011. A recent email exchange between Doug Pease (Aspara, #153) and your webmaster, commenced with Doug sending in a short video of Aspara sailing herself, no one on the tiller, using just triming of the sails, and ended with a discussion regarding fully battened mainsails, heel angle and boat speed. This highlighted a need to collect comments such as these in a single location. Here they are (minor edits)
Oct 18, 2011. Hi Ron - I thought I'd pass along this short clip of Aspara steering herself without an autopilot. I've had many people raise their eyebrows when I tell them that the boat will maintain a steady course to weather without autopilot, so I thought I'd take a short film of it, to confirm that it's true, etc. I sheet the jib in fairly close, and crack the main off about 45 degrees; the boat 'walks' uphill all day, even in rough seas, maintaining a very steady course. Here's a link, with pretty dodgy sound quality, for those who are interested:

Regards, Doug Pease

******************

Oct 19, 2011. Thanks Doug. Interesting, and valuable, addition. It seems like Aspara is going really fast? Is this a video speed consequence? Or is she really going fast

Ron

**************************

Fri, Oct 21, 2011. Hi Ron. The video is real time. She's going pretty fast.

I think it's the full-batten mainsail, a custom job from North. It maintains a pretty efficient shape, and it's a dream reefed down in a blow. The vang helps. Though the full batten is a good way to add some roach, the usual side-effects of this extra square footage up high -- weather helm or skittishness in the tail -- don't seem to be issues on Aspara.

If the water's relatively flat, and there's 8-10 knots of wind, she just scoots. I don't know why. I just love the boat, though; I really do.

Doug

*************************

Oct 21, 2011.

Doug - This is also my experience. My main has long battens, not full, and a high roach. In flat water, up or down wind, not so much reaching, she is really fast. Occasionally, I race PHRF against boats with ratings as low as around 160 - Marionette has a 252 spinn rating. If the breeze is light enough so that she and the other boats are not pushing their 'hull speed' limits - usually this means pretty flat water - she sails to a higher % of hull speed than the competitors do. So, in these condition, we are almost unbeatable, baring a bonehead tactical decision.

Ratings aside, she can sometimes beat these bigger boats - boat for boat - boats like C&C 30, Tartan 34, Beneteau 30 and Ranger 26. Besides good sails, especially a large main, I think her hull shape must be very efficient with only a slight or no heel.

An interesting tidbit. The Dolphin 24 fleet at Wilmette, IL went to high aspect mains years ago in an effort to get more favorable PHRF ratings in their local racing. Some have told me that they think this was a mistake - they got the lower ratings but the boat just does not 'go as fast'...

Ron

*********************

Oct 23, 2011. Ron, I think you're on the mark regarding keeping the boat flat. I love to sail Aspara on her ear, with a tuck in the main, and the jib furled nicely. In the winter here we get here (20-25 knots). I think the boat is fantastic on these days.

I'm from the central coast and we only know days like these, so it's a lot of fun. The truth is, she really goes fast when she's flat, when the wind is ten knots, and the roach on the main gives her some lift without torquing the tail and tweaking the rudder.

Fortunately, those conditions are commonplace on Santa Monica Bay, so we go pretty fast a lot of the time, from May to September. However, I only really get that warm reverence for the boat when she's loaded up, when no one else is on the bay, and the gray thunderheads are clambering down, and the toerail is dipping, going "Scoot, Scoot...I can do more, I can do more..." As a Northern'er, that's when I love this boat...

Regards,

Doug

**************************
Stan Secora's 140% genoa. Stan (JATO, Marscot/O'Day #7) passed away earlier this year. He was a marine architect, and avid racer in his Dolphin that he bought new in 1960. Locally, he was a friend to many sailors and a 'technical advisor'. Here in Long Island Sound we often have light conditions until the sea breeze comes in - some times, it is a reefing breeze. He told me his favorite sail was his 140% genoa. In a building breeze he liked to progressively reef, then double reef, then drop the main entirely, sailing on the 140 alone. Here is JATO and her perfectly trimmed 140.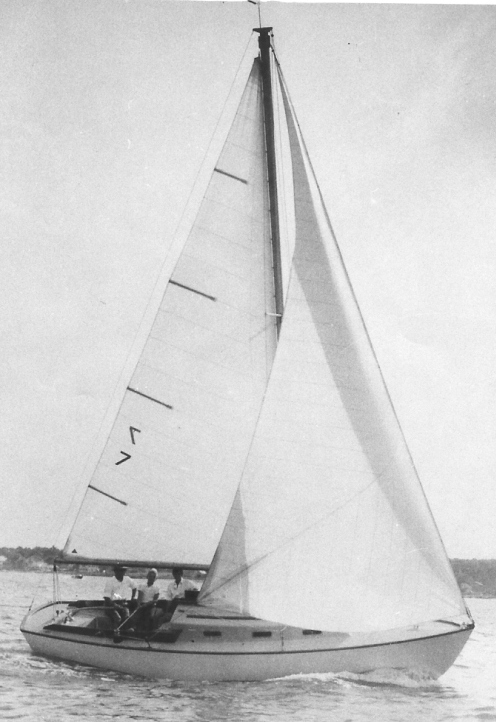 Stay 'tuned
Marionette's 'Blade' sail. When the breeze is up and likely to get stronger, and there is a lot of upwind work ahead, the crew on Ron Breault's Marscot/O'Day #12, Marionette like to go with an old jib from our Atlantic, Relish A-91, a heavyweight cloth sail, about 7/8ths height on the forestay, with short battens. This sail has to be rolled up, not bagged. The sheets lead to a short track inside the shrouds right next to the cabin trunk in line with the mast. Despite its age this sail has a beautiful shape and tacks inside the foretriangle. The windward sheeting traveler is fairly wide and we play it a lot in the puffs, letting it down to keep the boat on its feet.. This combination of full main with eased down traveler and blade jib keeps the boat moving fast and pointing, delaying the eventual reefing and depowering.

At left, Marionette racing in these conditions, center is the close inboard track, and right is the traveler set up
******************************************
July 26, 2012. A recent request for information/comments on sailing up wind in a heavy breeze under main alone prompted the following response from your webmaster. It follows the line of thinking expressed above.
Thanks for your email. The old timers raced Dolphins with 5 in the crew (crowded) so going to weather in a breeze they could have rail meat to hold 'er down. These days, we typically are short handed when sailing our Dolphins.

When a Dolphin starts to heel excessively she is 'unbalanced' with too much pressure coming aft - from the main. At least one of the 'old timers' Stan Secura, a marine architect, and owner of #7, JATO, told me he liked to start with his 140% jib and a full main. As wind increased this was the progression

1) ease off/play the traveler in the puffs
2) put in 1st reef, traveler centered
3) ease off/play the traveler
4) put in 2nd reef, traveler centered
5) ease off/play the traveler
6) drop the main (NOT THE JIB!)

Personally, at this point, I think we would/should have started with our smaller blade sail, about 7/8ths of the fore triangle (picture above left) . When I am by myself or short handed, and expect the breeze to pick up I start with this smaller sail. We don't lose much and the mental comfort level makes up for any lost speed.

We had, on an earlier boat, a 140% heavy weight jib that was 'reefable' from the cockpit. The jib halyard was led back to the cockpit, a line tied to a tack grommet about 18" above the normal tack grommet and led through a block shackled to the stemhead fitting, and led back via another block shackled to the starboard chainplate fitting to the cockpit. We used a double set of sheets with the second set led to a clew grommet maybe 4' up the leech of that jib. We then could reef the jib as necessary.

First, lower the halyard and keep the same lower sheet lead, then as the wind builds, change the sheet leads to the higher clew. That sail had reefing grommets in the sail along the line from the reef tack to the reef clew so an adventuresome crew could tie in the loose foot of the sail. Even if not tied in, with the old lower sheets snugged, the bottom of the sail did not flog - didn't look very pretty but....

If typical conditions in your sailing area lead to 25 knots or so later in the day, then setting up the boat for jiffy reefing from the cockpit would be well worth the effort, and the relatively nominal cost.

Ron, Marionette, #12

ps Dolphins don't like going to weather in a mean chop - those nasty 2-3'+ steep, closely stacked waves. This usually means there is a reefing breeze, and when reefed Dolphins often don't have enough sail area up to punch through the waves. Easing sail and close reaching will often give better results but it hurts to see other bigger boats pointing higher. Reefed with less heel but pointing higher is slower and requires closer attention to the helm - steering through the waves is an art form - probably genetically derived.....

**********************************
March 22, 2013. We received an email from Larry Duthie (Thistle, Yankee #99) part of which had some questions on how we race/trim Marionette. Our answers are somewhat repetitive to comments above, but may be illustrative. Here is Larry's email - excerpted, and your webmaster's replies.
Our club begins racing season April 13, and I think I'd like to try it this year single-handed. I won't use flying sails and will take advantage of a slightly better rating because of that. So, I have three questions, and I'm asking you because I know you race yours very successfully -- although with a crew.

Thanks, Larry Duthie, Thistle (hull number 99)

P.S. And any other advice you can pass along would be nice.
Webmaster reply
Hi Larry
My comments are inserted in red into your email. 2 caveats - my usual racing crew is daughter Nicole, and son Mike - both were college all americans, Nicole steers, Mike on the main, sail trim, including the spinnaker and is a big brother tactician; yours truly is navigator, foredeck, moveable ballast and rock watcher 2) remember the advice value formula - advice is worth what you paid for it


First question from Larry: Before stepping the mast this year, I think I need to bend the arms on the Windex out so I can use it for more accurate tacks. The angle between the arms is now less than 90 degrees (probably about 75 degrees). I'm thinking that a 90-degree spread would be better -- but your thoughts on this would be appreciated.

Reply - My Windex - 90 degrees is fine - it makes us feel good to know its there, but is really only used downwind when the wind is really light and up high, maybe not yet down on the water. Tight upwind tacking angles, assuming the jib leads and traveler positions are the same on both sides, are based on flowing telltales on the jib and main luff and on leaches. Outside jib tell tales flowing straight back, inside flowing with a slight upward tilt. Trim the 140 or 170 jib about 1.5 inches off the spreaders, easy leeches, no cupping, no flapping either; jib luff tension tight but not too tight - softer if really light; when in doubt, softer; main on centerline, traveler eased as necessary, and also in puffs to keep boat 'on its feet' and avoid 'weather helm'. Unless its really blowing (and when it is, reef early) outhaul and cunningham/downhaul snug but not too tight, vang eased - a full main is a good thing, a really flat main does not give enough drive. Point high in flat water, drive off a little in light chop, more in heavier chop; Do what you can tactically to avoid heavy chop in a strong breeze - slow.

Second question from Larry; How would you suggest I make tacks so as to accomplish them smartly. Any techniques to incorporate? (Our winches are OEM and not self-tailing.)

Reply - Tough one single handed - bigger jibs like to hang up on the new leeward shroud - crew walking it around helps a lot.

Don't 'undertack' - that's slow - better to tack into a slight, tight reach, bringing in the sheet by hand until too hard, then get the boat moving and trim in once boat is settled and coming up to speed. Before you tack bring the traveler up to the centerline - re-adjust after the tack is completed.

Marionette's set up for jib sheets for single handed, and crewed, tacking works really well - 2 cam cleats set up in the inside edge of the cockpit seat. The sheet lead comes off the winch and you just pull it down to the cleat.

And third question, any advice on trimming -- both upwind and down (and reaching for that matter) -- would be appreciated.


Reply - In our area, against the kind of boats we usually race, Dolphins have the reputation, if well sailed, of being excellent light air racers. Reaching is relatively not 'good' in a Dolphin - Pointing and downwind in light winds are a Dolphin 24's best conditions. When we have light wind forcasted - 10 knots, less even better, and a course that is mostly upwind and dead downwind, those are 'our conditions - good for a single hander too!!) My kids think they are sailing a J-24 and gibe a lot in shifts. I used to think I was really good at jibing the pole - until I heard them whispering to each other back in the cockpit - "hold off he doesn't have it yet, wait, ok, now he's got it, go! "They time steering the boat and position the spinnaker to make me look good....

My theory - A Dolphin's underwater shape is relatively very efficient when on her feet. As she and other boats approach their theoretical hull speeds (5.7 knots for a Dolphin) she is fairly tender, and heels, her hull shape is less efficient. To compensate upwind, one reefs, but then there's not enough sail area to punch through chop - which she does not like. Put enough crew on the rail so she stands on her feet, then you carry more sail, ok - but then, at some point you reach hull speed and Dolphins need a lot of breeze and waves to surf. Bigger boats have longer waterline lengths and higher hull speeds They make time on you in that difference

Maybe a better way to say this is that in light winds a Dolphin tends to sail to a higher % of her theoretical hull speed than bigger competing boats - ie., C&C 30, Tartan 34, Pearson 30. As the breeze builds the Dolphin approaches hull speed and that advantage disappears. If all boats were sailing at exactly their hull speeds, then we'd all finish tied on our rating time.

Also, the type of handicap is important. TOD Time on Distance is typical PHRF handicapping, and tends to favor faster boats in short time courses, stronger breezes; TOT Time on Time handicapping attempts to level the playing field - some say advantages slower boats - light air means longer race times, - We like TOT!!!

Tactically, in 'our conditions' sail conservatively, don't make mistakes, watch the tell tales, don't stall - sail fast, don't tack unless you have to, stay out of the corners - unless you absolutely 'know' the breeze is filling in from the left or right. Don't take flyers, unless the conditions are not 'Dolphin conditions' and then you may as well take a shot.

On a light air day and a 15-18 mile race, if they can see you in the distance as they cross the finish line, they lost!!!

Good Luck!!!

Ps clean, smooth bottom and board; don't worry about winning the favored pin or boat end on the line; try for a clean, good boat speed start near the favored end; stay out of tacking duels - tacking is slow. Keep an eye on the guy who usually wins - where is he?

Pps Don't forget, with board up Dolphins draw 2'10" and can get in close where bigger boats can't go. With an onshore light breeze and a lee high shore the breeze often lifts/accelerates as it needs to clear the higher shore. This is a sometimes double benefit, you can sail a shorter course than the bigger boats, and you get a bit better breeze.

Larry replies

Great advice, Ron. thank you. Nothing like experience to fill in the blanks. Your advice on tacking is really appreciated. Your tips, although free, are valuable and will get put to use. And if I do well, I'll let you know.

Larry

*********************************
January 15, 2015 We have put together a page concentrating on Dolphin owner comments on 'Heavy Weather Sailing' - some excerpts were taken from this page where it seemed appropriate - reefing, etc. Click here to go there
******************
May 9, 2016. Joe (Yanqui, Yankee #197) just bought a new mainsail. Here are his comments (minor edits) and then a postscript that most of us can identify with....
We will be taking delivery of a new mainsail. We got a quote from North Sails and from Precision Sails. The Precision quote was really good. Lots and lots of options and they were extremely responsive. We ultimately went with North Sail, because I've worked with the owner of the Portland location before and I like having him come out to measure up the boat. In the end, I guess I'm still hesitant about big purchases online or over the phone. We've gotten two sails from North already and loved both (headsails for Yanqui and our previous boat, a Montgomery 17).

Precision sent a very, very detailed pdf quote giving a lot of options based on three different sail qualities. They ranged from $642 to $1424. The guy from Precision immediately followed up, too. I felt bad not going with them because their price was fantastic and they were so responsive.

North's quote was $1757. That's with two reef points and four battens. Of course, that's also with Kerry, the owner of the shop, coming out to the boat and measuring.

I have several boats and I'm not hesitant to use cheap sails. I bought sails for my Hartley TS-16 from an extremely cheap site called Intensity Sails and have been extremely happy with them. But I'm expecting to own this boat for a long time and don't mind the extra money for a matching set of North Sails.

May 15, 2016 Postscript I've gone back and forth with used sails. I've had good luck with past boats buying "close enough" sails that were new, but cheap for whatever reason. The internet is a boon for that stuff, obviously, since you can just search by the dimensions you're looking for.

What I've come to realize is that my old thinking that "the new stuff just isn't made as well" isn't necessarily true. I've gotten some ridiculously cheap sails that worked perfectly, especially for what I've asked of them. And I've ended up sinking so much money into bargains that I have ended up spending more than if I'd bought something new. If I add in my own time spent coordinating it all, I'm sure I blow right past. And I'm 99.9% certain that long before I've figured any of this out, I'll be dead already. Oh well.

The bigger issue for me, and I think for a lot of boaters, is being realistic about what I actually need from a particular boat or piece of equipment. My headsail furler is a perfect example. I put a CDI Flexible Furler on our last boat. Cheap, simple, easy to install, and it did everything I asked it to. But Yanqui got me imagining trans-Pacific crossings, so I spent probably twice as much on a Harken which I've never asked to do any more than I asked of the CDI. All sailing the same piece of river. Which is ironic, since I think the Dolphin is the perfect size of boat; not so big you can't solo, not so small you can't bring someone along. The Columbia is filled with heavy displacement, deep keel ketches sailed by people with one eye half the time. At least I got my choice of boat right.

Anyhow, I'll be interested to read other people's experiences with buying used sails.

Joe
Webmaster Note: Those interested in this subject can find more comments on the Forum. You'll have to cruise around the General and Technical Sections to find them - http://dolphin24.org/forum/default.asp
*************************
June 28, 2016. Jim Homet (Maggie, Yanke #233) and your webmaster had an exchange of emails regarding his 'solent' forestay. Here is the exchange.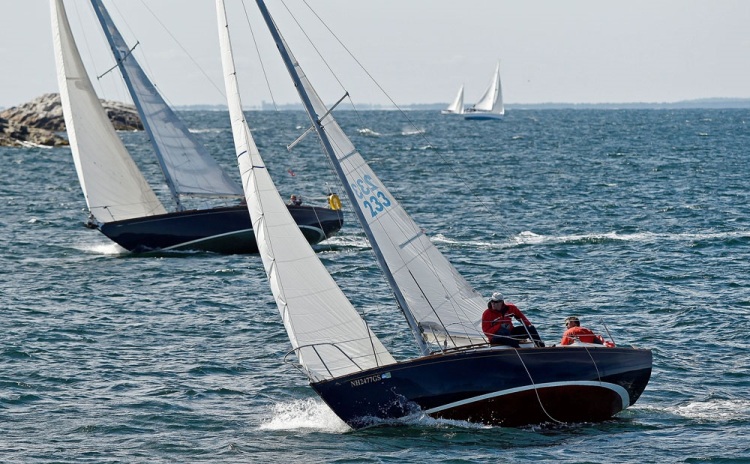 Back a few months ago Jim commented on his 'solent' stay - you can barely see it rising from the foredeck (just above the last registration number). These comments, and a webmaster reply did not make it to Maggie's page then but a subsequent comment from Jim on his 'solent' indicated a need to share them - they are below (minor edits).

Hi Ron

I sail single-handed a lot, and when racing I'm often either underpowered or overpowered. I don't have auto pilot so I need to speed up the process of changing sails. I plan on trying to run a solent stay to carry my Jib while the Genoa runs on the forestay.

I had APS make up an Amsteel line with a low-friction ring spliced into the lower end. The solent will be connected permanently to the masthead fitting with a block off the stemhead fitting. This will allow me to tighten the solent to act as a stay when I need it, and then pull that back to the mast when I don't. The low-friction ring will allow a 2-1 advantage.

My thought is that if I need to switch between the genoa and the jib: 1) I drop the genoa 2) Tighten the solent 3) Raise the jib
The idea is in my head now, and I think it will work, but would appreciate any insight.

Jim

Webmaster replies

Hi Jim

My first reaction to your email was to look up solent rig - I had heard the term but never knew what it was - maybe you have seen this link? http://www.cruisingworld.com/how/two-headsails-are-better-one So, clearly I can't advise on it. Interesting idea to be able to pull the furled solent rig back to the mast - and an interesting, maybe complicated, system?

My single handed perspectives have changed over the years. Initially, I had, still do, a reefable 140% genoa - with a line led back to the cockpit reeved thru a block at the stem head and ending at a higher tack grommet, maybe 3'? up the luff of the sail. The halyard is led back to a camcleat on top back edge of the cabin house. There is a double set of sheets - the lower set attached to the bottom clew, the higher set attached to a clew maybe 4-5'? higher up the leech.

It worked - no need to go out on the deck - but I became less enamored with all the lines, and the baggy lower part of the sail - it did have a line of reef grommets that I never used. Nowadays, I pay closer attention to weather conditions/course, etc, and if there is any doubt I use my old Atlantic jib as a blade sail. This sail fits perfectly in the foretriangle and has a beautiful trimmed shape - as long as I'm going to weather. Its very stiff and a hassle to take down as it can't be stuffed in a bag, only rolled - not a singlehanders ideal set up. I have a small jib which is a joke going to weather but is sweet reaching.

Note: I do not have furling jibs - all hank on - probably crazy - but years ago I heard a nightmare story about a guy and his wife sailing their 40'er, unable to get their jammed partly furled jib down.....

Depending on weather, I use my 170% genoa in the mornings, and try to be where I want to end up by early afternoon - before the breeze picks up. I always reef the main 'early'. If I'm going in the afternoon and the breeze is up, I'm ready - reefed and small jib

I may have missed a few comments - they are summarized, more or less, here - http://dolphin24.org/sail_comments.html and the links off that page.

If you go thru with the 'solent' send in pics and experience comments

Ron

ps Pre website days, back in 2003, I think, my son and I left Cape Ann early in the morning, sailed thru the Isles of Shoals with whales breaching on our port side, dolphins jumping on our bow waves, spinnaker set, whale watching boats heading out from Rye at flank speed. We dropped our chute on entering Casco Bay just before dusk, picked up a mooring at the Dolphin Marina, South Harpswell, Maine.

It was the best sail I ever had!!
Comments from readers regarding their 'inner forestay"/Solent are encouraged.
September 28, 2016. Jim followed up with these comments of the 'solent"
I have succeeded in finding a way to not rig the Solent stay. I had a spare mainsheet block setup that I attached right behind the forestay. It worked to tension the solent, but there was so much line everywhere that is was very difficult to use in heavy airs. The concept is still valid, but I think a single block has to be connected to the stem fitting and run through a bullseye back to the cabintop winch. That, combined with a retrieval line on the blade, will allow you to handle everything surrounding the solent from the cockpit. You would only have to go forward to douse the genoa.
****************************************
June 20, 2017. Your webmaster and Max Sheppard (Sea Fox, O'Day #35) had an exchange of emails re big breeze spinnaker sailing. Max and Sea Fox are planning to race in the upcoming Trans Winnebago race - they won last year! Webmaster comments/replies are inserted in in red below Max's questions/comments. And readers are invited to check out comments relevant to these matters - Racing Crew
Hi Ron,

We are getting ready for another trans Winnebago race and the wind is predicted to be gusting to 27 knots at an angle slightly forward of the beam. With this angle of wind it will be too high to fly a spinnaker. Do you have any recommendations for sailing fast for 30 miles on a beam reach in 27 knots guests?

Based on Sea Fox's/and your experiences reported in last year's race I think you already have most of the answers to the questions you pose. I have inserted my 2 cents in the body of your email

This past weekend we were on a similar spinnaker beam reach with the breeze at 16-18 and gusts in the 20's. The helmsman and main sheet and spinnaker sheet trimmer worked hard together to keep Marionette from rounding up as she surfed down the face of 5-7' waves. This can be pretty scary. The helmsman usually had both hands on the tiller and when the surfing/gusts hit had to anticipate easing the boat to leeward - the traveller down to leeward and no playing the main.

The spinnaker trimmer sometimes would have to ease the sheet to help, then had to winch the sheet back when back in 'control'. When the breeze really got up we would steer a bit higher course than 'ideal' so we had room to to steer to leeward in the really big puffs and avoid that windward 'death roll'. Here the experience, skill, strength of crew is critical, and words are hard to describe what it takes. The bigger boats are better able to deal with these conditions - more crew/ less heeling to deal with - and Dolphins are faster sailed flat/slight heel so these conditions are always a challenge. We sailed with a full main, reefing only when we approached the leeward mark, then double reefing on the upwind leg

The windward shore is pretty shallow and closer to the finish. Do you think there would be any advantage to bring the board up and sailing along the windward shore hiding from the waves and some of the strong breeze?

When racing around Block Island we often try and get out of dirty air from big boats passing, go inside and look for a more favorable breeze, or less wave/chop - sometimes lift the board and dare anyone to follow us into "Dolphin territory". Typically, this tactic works better when conditions are light and the breeze might 'lift' as it reaches the shore - especially if there are high bluffs. We have a 140% heavy genoa that we like to use in close reaching and stiff breeze. It has a 2nd tack higher up on the luff - maybe 2 feet, and a 2nd clew higher up on the leach. We lead the halyard back to the cabin top and rig a second set of sheets to the higher clew. We can go up and down with this set up as conditions permit/warrant.

I feel like most of the boats will stay on the Rumbline the whole way I just don't see us having a lot of luck in 3 foot chop versus some of these bigger boats..... any advice would be greatly appreciated.

Dolphins don't like chop and upwind work and excessive heeling is problematic - slow, have to 'ease off, longer course ..

Thanks,

Max Sheppard

Max Replies - Wow Ron that sounds like a rough race! Did you find problems with lee helm with the 140% and two reefs? Next time I am on the Sea Fox I will send you pictures of my traveler set up. Having a background in inland Scow sailing we alway play the traveler. Sea Fox has a traveler track behind the cockpit but the traveler is trimmed on both side of the cockpit forward of the helmsman. Thanks again for all the advice. I can't even beginning to tell you how helpful your web site has been to me over the years. I will send you pictures soon.

We just came back from 2 days of very challenging racing, out to and around Block Island - from no wind to 15-20 and higher gusts, 6-7' seas, downwind under full main and spinnaker, and upwind with double reefed main and a 140% heavy jib. That story is covered here http://dolphin24.org/marionettes_log_2017.html. Let me say first that with a good, experienced crew you have more options to safely execute. And, from your experience reported last year it sounds like you have good crew


Thanks Ron, I was also considering the use of a staysail as my mast is set up for it in combination with a 7/8th of the fore triangle jib. Any thoughts on this approach?

I have no experience with a staysail on Marionette. I have had good experiences using a 100% 'blade' sail in heavy upwind conditions which are covered here. http://dolphin24.org/blade.html Most important is playing the main sheet traveller. Marionette's is set up so the traveller can be adjusted up or down from either side so the helmsman can ease and bring in the traveller from the windward side and keep the boat from too much heeling and having too much weather helm.


************************
August 22, 2017. Marionette raced in the Camden Classic Cup/NE Dolphin 24 Championships July 27-29, winning both of her races. Marionette's crew was webmaster Ron, and his son Mike 'drove'. Post race conversations with crew of other Dolphins racing prompted Mike to write down some of the things he felt important to making a Dolphin go fast - particularly in the kind of kind of conditions we had - light/moderate/NO wind.
Below are his 'first installment' comments (minor edits). It should be noted here that Mike, besides being a regular crew racing on Marionette over the past 20+ years, is a former Head Sailing Instructor, a former Collegiate All American sailor, a former I-420 National Champion, just to mention a few highlights of his sailing background.
Subject: Dolphin speed tips from Camden

Set up: Reasonably smooth bottom but no special pre-race wash needed due to cold water in Maine. Shroud tension nominal, whatever that means (means webmaster set up - check out http://dolphin24.org/tuning_a_Dolphin24_mast.html) 170% genoa with leads set up two inches aft of the aft face of cabin, sheet evenly bisecting the leech and foot edges of the sail.

Jib halyard tight enough to just remove all jib cloth scallops and wrinkles along the luff but not create vertical buckling. ...

Pre-start:

1. Write course down on paper and use chart to determine compass heading between all marks: know where you are on course and be able to find your next mark.

2. Look far upwind and out to the sides of the course, identify wind strength differences: sailing in the most wind velocity on course is top priority. If a land breeze will be replaced by a sea breeze, make a deliberate choice about where you want to be when the new breeze comes in.

Usually a strong sea breeze will fill everywhere and you want to get it first; in light breezes a battle can last for hours during which the best wind may be closer to land - and you need to avoid the dead zone in between.

3. Look at the weather forecast and understand the overall pattern and what wind strength will be across the duration of the race. Sail upwind. Confirm or change jib/genoa and mainsail reefing, if any, based on heel and speed, factoring in what conditions will be like during first leg (first hour) of race.

4. Do a wind shot, is the forecast accurate to where you are sailing? Sail upwind on both tacks and note the compass course and mark arrows on chart with the wind direction and time of day. Plan first leg based mostly on visible wind strength but with consideration of direction and predicted change in direction. Rule of thumb: sail the long tack first.

5. Sail up and down the starting line or close enough to get a sense of wind and current in the immediate area. If you have to sail closehauled to get to one end, that's the favored end because it's further upwind. (If you can sail on a broad reach down to one end, that's the unfavored end.)

6. Plan your start so that you are on the favored half of the line and can implement a game plan to go the direction you want to go. Are you planning to go on a long starboard tack after the start to get toward the left side of the course? Don't start with a boat close to leeward!

7. Assess the current and make adjustments to your start and first and second leg plan. Look up low and high tide times and try to understand how current directions are in the area, perhaps talk to locals. In light conditions especially, remember that when your boat moves in current an equal and opposite direction wind vector combines with the true wind direction and your forward motion.

Next installment would be some ideas about keeping speed during the race.

*******************************************
May 2, 2018. Mike O'Brien (Yankee #196) recently inquired about loose footed mains. We asked Stu Polhamus (Equinox, Yankee #237) who is on his 3rd Dolphin, and who races Equinox with a loose footed main, for his comments. We also referred Mike to an online article which website staff thought was helpful http://www.voyagersails.com/loose_foot.html
I bought a new loose footed main from Peake Sails (far east). You can see the loose foot in the Equinox gybe mark photo from the 2016 Turkey Shoot. They put the Yankee Yachts emblem on the sail and not a Dolphin. The loose foot was recommended as you can adjust the shape of the foot. Flatter seems to work better as wind speed increases. I sail with the old main except when racing. It's been O.K.

Stu

Left - Equinox on the reaching leg of the triangle course

Above - rounding the gybe mark (note the jib sheet positions - we'll hear more about this....)

Click on these two photos for a larger image

*****************************