June 14, 2017 - Its taken awhile to get Marionette's 2017 log together and into the impatient webmaster........Patience
Serious work started April 30 - moved her out of the barn and washed her.. When she's out of the barn she knows we are on a short leash - I can't forget her because I have to drive right by her several times a day, and also I get to see her non stop from the house windows.

Docks at Niantic Bay YC were scheduled go in at the club on Saturday, May 13. Plan was to deliver the boat and mast on May 14 to the Cove Landing Boat Yard at Hamburg Cove up the CT River (see 'chart' below), step the mast and launch on May 15 early in the morning, set up sails, lifelines, halyards, sheets (already tired), sail/motor down the river, then east on Long Island Sound to Niantic Bay. High tide at Essex is 3:19PM. Its about about 20 miles, mostly with the current - leave about 2:30/arrive before 7.....

Had 2 weeks to finish painting down below (inside hull already done), touch up painting outside here and there (really needs some major work.......) load all her gear, unwrap and clean mast.....maybe replace the battery?! YEP!! $278!! (report coming)

Click here for a larger image
Stay tuned
Well, best laid plans of mice and men......

We trailered her the 5+ miles from her barn to Cove Landing Marine in Hamburg Cove on Sunday, May 14 (Yep - Mother's Day.......) Then rain.....more rain....

Got mast stepped and launched on May 18.

Then needed a new battery ($278!), then electrical panel problems (photo at right) disguised by the old defective battery, then replaced burned out Auto Tiller Socket ($47 - Otto was pleased!), then outboard #1 cover fitting problem (update inTechnical Section), etc...., etc.....

Then heavy rains over the next days postponing departure.

The following pictures of our time at Cove Landing Marine are worth thousands of words - patience...

.Click on the photos at right and below for larger images.
Drone view....Cove Landing Marine, Hamburg Cove, Lyme, CT

pre drone era photo.....

Above - your webmaster recognized this one. We have a whole section on this website about this -
Above, a neighbor - Ariadne, an International 500, built about the same time as Marionette.

Right, another neighbor - STARLING

designed by Starling Burgess - we know him!

More rain...That's Nor'Easter in the background - the Off Soundings Club principal Race Committee Boat - She's fired her 'winner's cannon' a few times at Marionette

So, finally left Hamburg Cove, Tuesday, May 23, at 8:30AM - 8 days late vs the plan, no rain, motor sailing, main only, down the CT River, arrived NBYC at Noon -. OB Motor #1 ran beautifully.

Above picture - the Pavillion at Saybrook Point, at the mouth of the CT River - arguably the most beautiful place to play bridge on the continent!!
Finally At NBYC - still not a lot of boats here - Click here for a larger image
Click the photos for larger images

Then a busy couple of weeks getting her ready for a 4 day trip, June 8-11, from Niantic Bay via Stonington out to and around Block Island and return - the Off Soundings Club Spring Series regatta - below packing sails, cushions, gear on Thursday AM June 8 at NBYC
| | |
| --- | --- |
| | |
Click on the photos above for a larger image

Left at 12:30PM, June 8, breeze at 6-8 knots, right on the nose, current favorable - motor sailed, main only, arrived at Stonington Harbor YC, 4PM, about 18 miles,

This Google Earth 'chart' shows the the 4 day trip

Thursday, June 8, Day 1 - Solo motorsail NBYC to Stonington; pick up by 'crew' at Stonington Harbor YC, and drive back home

Friday, June 9, Day 2 - 8AM, Crew (webmaster and his 2 'kids', Mike and Nicole, drive to Stonington, leave car, sail Stonington to Watch Hill where Race 1 started at 10:30, 112 boats in 13 classes; down wind start in 12-14 knot breeze to Block Island, 1BI, really big seas, building to 18-20! by the time we reached 1BI, gusts to mid 20's!!!'

Our helms(person) Nicole, US Women's Match Racing Champion 2015 and 2016, had her hands full - both hands on the tiller, wrestling to keep Marionette, reaching under her big spinnaker, from rounding up while surfing up on 6-7 ft steep waves; then looking forward? to a double reefed beat to Mark X in those waves made steeper by an opposing current, and a downwind finish at R2.

Mark 1BI was rounded and then start of the double reefed beat to Mark X. About 3:30PM when approacing R2 and looking ahead to more tough windward work to get to Mark X, Marionette decided to withdraw with the webmaster pleading MDM. Then entry to Great Salt Pond; then our traditional tie up at Payne's Dock; then drying out Marionette and her sails, and her crew , (a brutal, if beautiful day for Dolphin sailing); then the party under the tent and dinner at Aldo's

Saturday, June 10, Day 3 - 8AM, sail out of Great Salt Pond to Race 2 start area at R2 (Nor'Easter was the RC Committee boat). Course was counterclockwise around Block Island, about 20 miles on the rhumb line.

Our start was at 9:30AM; forecast 14-16 knots, building to 18, gusts to 20+; actual 10-12 knots at the start - a beat to the southwest end of the island, then Zero +/- at the end of the island, gradually building to a spinnaker run on the south/southeast side of the island, 15 to16 knots by 1BI, then 18-20 knots and higher gusts on the beat to the finish at R2 at 4:45PM. (Another brutal 7+ hours of Dolphin sailing); then our drying out party; then our party and awards under the tent; then dinner at Dead Eye Dicks.

Sunday, June 11, 8AM - motor sail out of Great Salt Pond; no/little wind, mostly motor sailed with main all the way to Stonington, arriving 11:30AM, touch and go drop off "crew kid" Nicole at SHYC to get her car, and webmaster and "crew kid" Mike motor sailed to Niantic, arriving at 4PM (current unfavorable)

Two races - Marionette 'retired' (RET/MDM) in Race 1 (Webmaster pleaded with crew claiming MDM (Mal de Mere) approaching R2 and unwilling to face the remaining hard beat to Mark X and a run back to R2): But, in Race 2 - the Around Block Island Race - Marionette won her class!

Alpha Class, Off Soundings Club 2017 Spring Series

Here's a couple of pictures. Usually, if you click on them you will get a larger image.
Stay tuned

June 17, 2017. The photo above - just in over the transom. Click here for a larger image

Photo credit to Roz Weinstein taken from their boat on a mooring in Great Salt Pond - Marionette on her way out for Race 2 on Saturday, June 10.

Roz and her husband Bob 'introduced' your webmaster to big boat sailing, and to Block Island, 40+ years ago, back in the mid 1970's, when we, along with a 3rd couple chartered a Pearson 35 and sailed to Block Island.

Bob was the only one aboard who really knew anything about sailing and, instead of motoring in, we sailed that boat right up the channel into Great Salt Pond. Hooked!!

Editor's Note: R2 is the bell marking the entrance to Great Salt Pond. Staff needs to reposition it about 1/2 inch northeast just off that point.....a work order has been issued

Stay tuned
July 4, 2017 We dressed her up for the 4th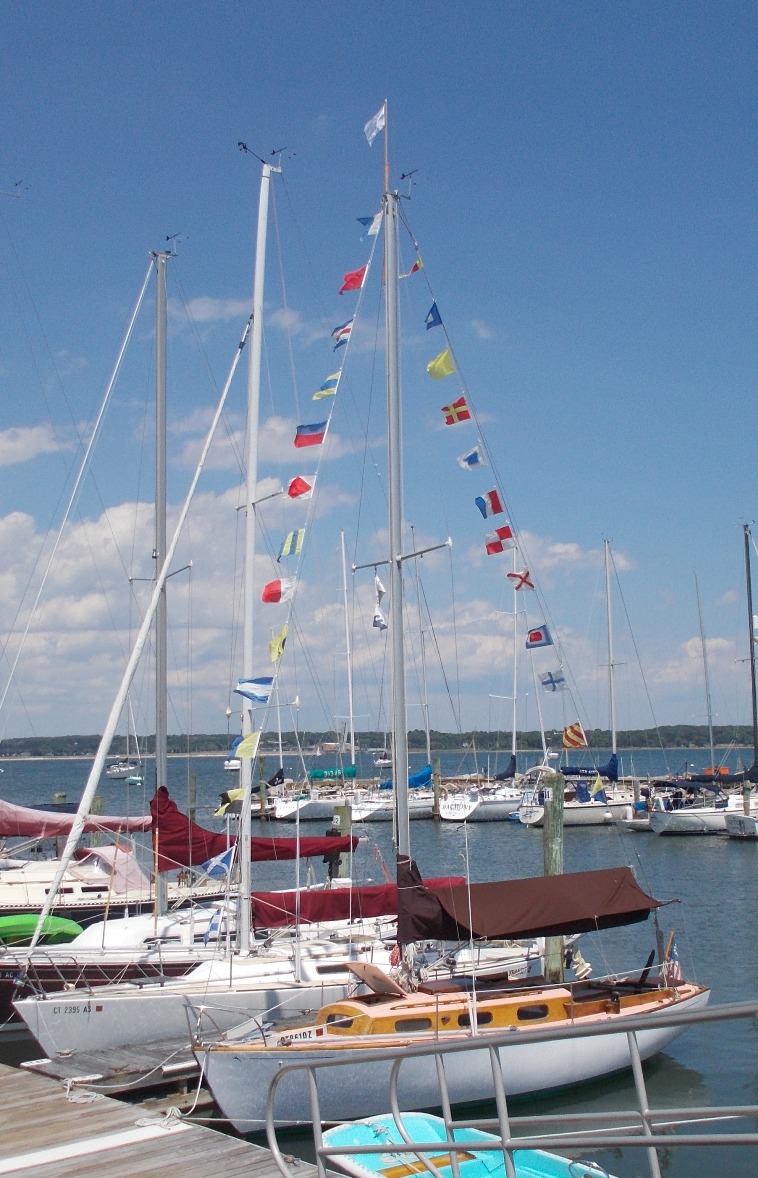 At Niantic Bay YC - click here for a larger image
************************************
July 14, 2017 A quiet summer, so far, some local day sailing. Decision was made not to sail Marionette to Camden, Maine for the Camden Classic Cup regatta (New England Dolpin 24 Championships) but trailer her instead. So the above report of May 23 was inverted and on July 10 Marionette motor sailed/sailed back from Niantic Bay up to the Connecticut River and up the river to Cove Landing Marine where she was hauled, mast unstepped. She rejoined her rebuilt trailer (http://dolphin24.org/Marionettes_trailer.html)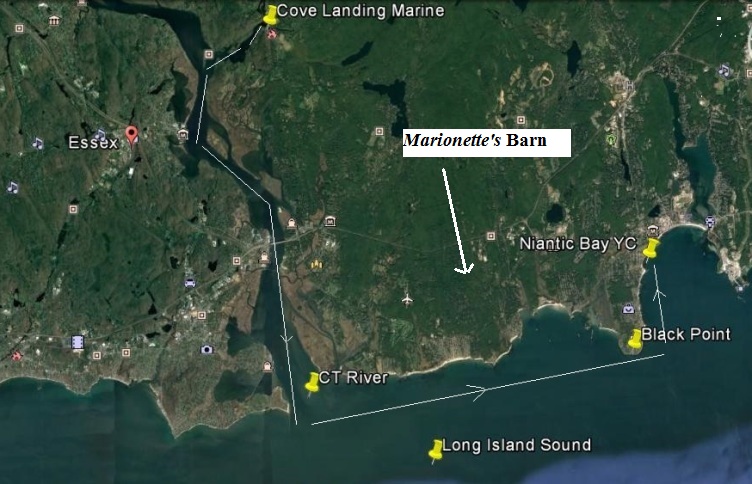 Staff is out to lunch - lets just make believe the arrows are inverted.....

| | |
| --- | --- |
| Ready to be hauled | Hauled |

Going Home - Stay Tuned

August 13, 2017 A busy month - getting ready to go to Camden, Maine for the Camden Classic Cup regatta (CCC) and the New England Dolphin 24 Championships. We left early on Saturday, July 22 driving up I-95

Piscatagua River bridge on Interstate 95 - New Hampshire/Maine state line - 2+ hours to go.

There was a Dolphin here Jim Homet's Maggie, Yankee #233, now on her way to new owner Manfred Noank in Branford, CT

We arrived in Rockport, Maine at 11. Rockport has a beautiful harbor (below). Rockport Marine has the red buildings at the head of the harbor.

Rockport Marine staff was ready for us and we were in the water, mast stepped by 1.

This is what a 10' tide fall looks like - a lot of water.....

| | |
| --- | --- |
| Once Tom Watson' (IBM fame) PALAWON III? | |

Little 'TEER waiting her turn

Part of a poster on one of the Rockport Marine walls. Connection? Get your clicker ready!

The owner, Taylor Allen, is married to Martha White, granddaughter of EB White (Charlotte's Web etc. fame), daughter of boat designer and Brooklin Boat Yard founder Joel White, and sister of Steve White, president of Brooklin Boat Yard.

Safe to say, I think, that EB had a boat focused legacy.....

Neighbors
We (son Mike and your webmaster) spent Saturday afternoon and Sunday setting up her lifelines, tuning the rig and basically hangin out. Mike had his bike with us (training) so really early morning rides were in the program.
We left Monday morning, July 24 - very light breeze on the nose - for Camden, basically just around the 'corner' north up Penobscot Bay - motor sail, main only - less than 2 hours dock to dock.

Marionette at Camden Harbor Master's dock

- a neighbor.....

Rockport Lighthouse on Indian Island

Curtis Island Lighthouse - Camden Harbor

Marionette eventually would be docked with 3 other Dolphins at the harbormasters dock at the head of the harbor.

Check out http://dolphin24.org/ccc2017.html for more pictures

So, what to do on a Monday afternoon?

Drive to Cushing, Maine to see the Olson House, of course.

This house, of Andrew Wyeth fame, where he painted Christina's World. Of course, being Monday, it was closed....

Webmaster Note: Mike's Mom is named Christine (not the original!) and this picture hangs over her desk at home. Get the picture?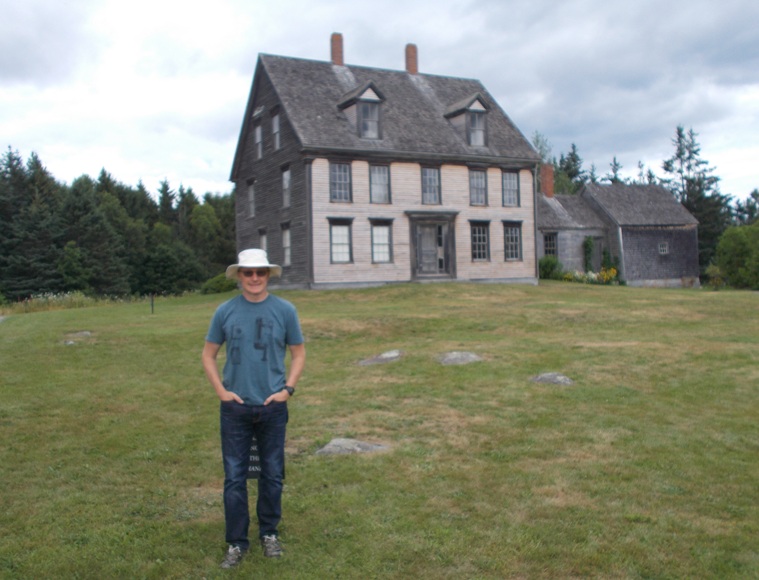 Mike posing in front of Christina's World
| | |
| --- | --- |
| Did I mention that 'TEER was pretty much on vacation on this trip? She did get lots of 'pretty boat' comments in Camden as her location on the dinghy dock immediately below the Harbormaster's office invited close inspection from above. | |
We did a little bit of 'day sailing' in the area to warm up for the coming regatta. Outside the outer harbor is where the really big boats lived - here I'm sure to witness the coming regatta. It would not do these 'yachts' justice to reduce their pictures so here they are - full page width. Note the 4 spreader 50"+ sailing dinghy carried on deck of one, and the helicopter carried on the other.


Back to reality - on Wednesday, July 26 Jay Picotte's Recovery arrived, followed by Dolphin. There's more pictures of their arrivals on the http://dolphin24.org/ccc2017.html page, and on our CCC Regatta Gallery Page.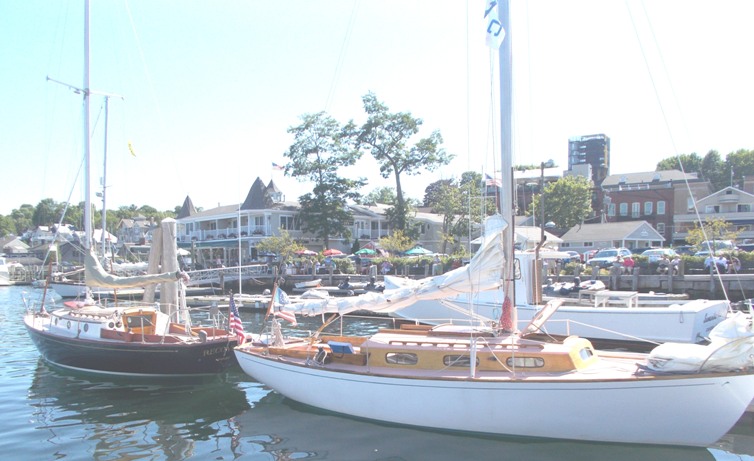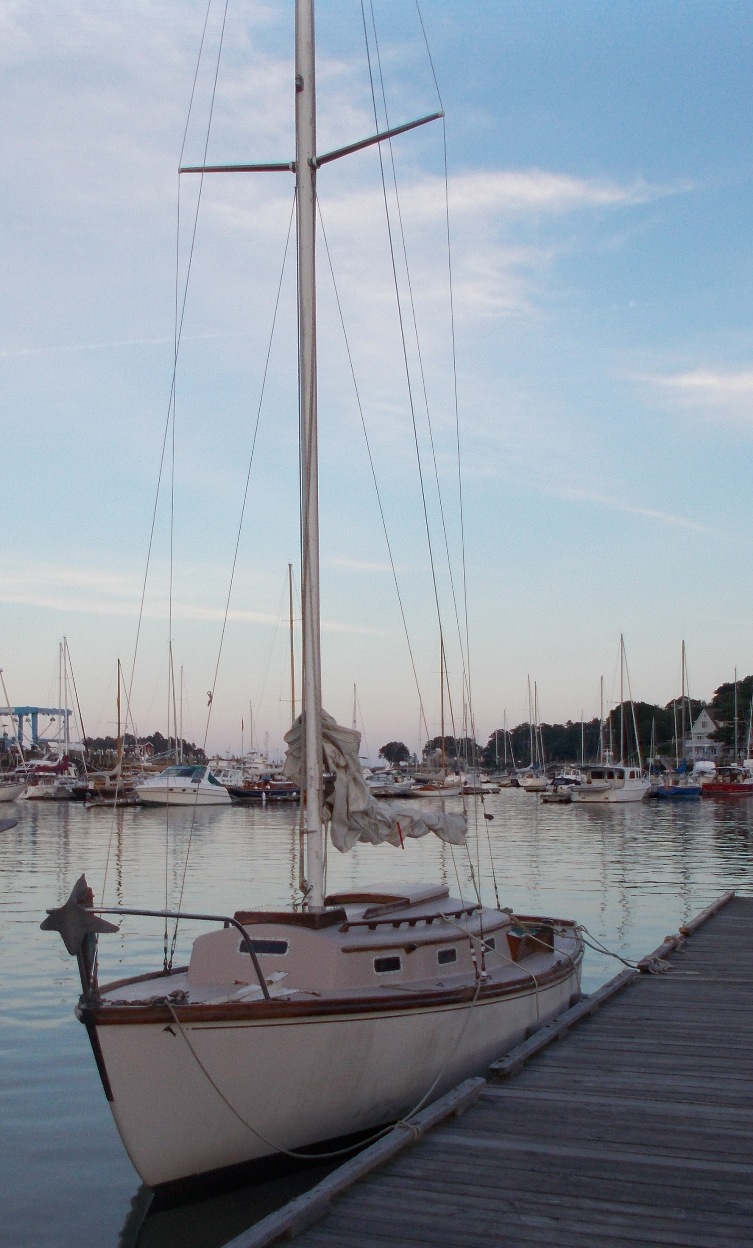 Things get officially underway on Thursday, July 27. Met with Stu and Cathy Polhamus (Equinox, Yankee #237) for breakfast at of favorite breakfast place - The Marriner - They came up from Virginia so Stu could decide the winner of the Ed Glover Award, and also take a bunch of pictures http://dolphin24.org/stu_cathy_gallery.html.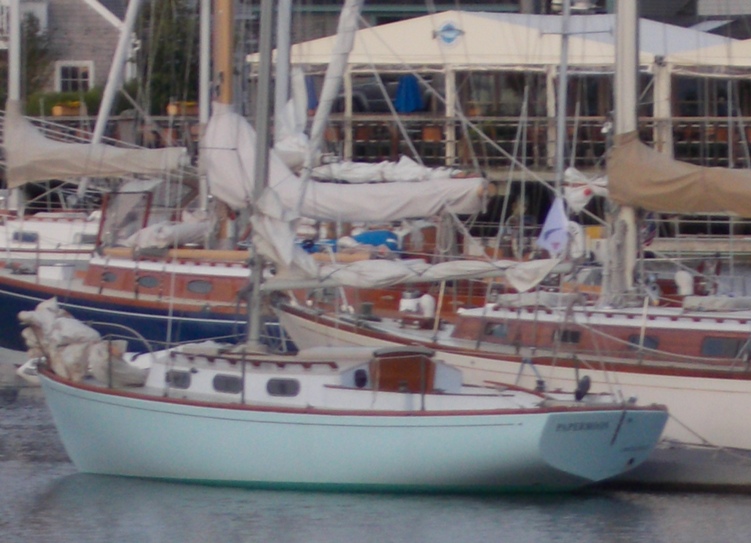 Paper Moon
Regatta check in was 4-6 PM Thursday at the Rhumb Line restaurent at the Lyman Morse facitities right on the harbor.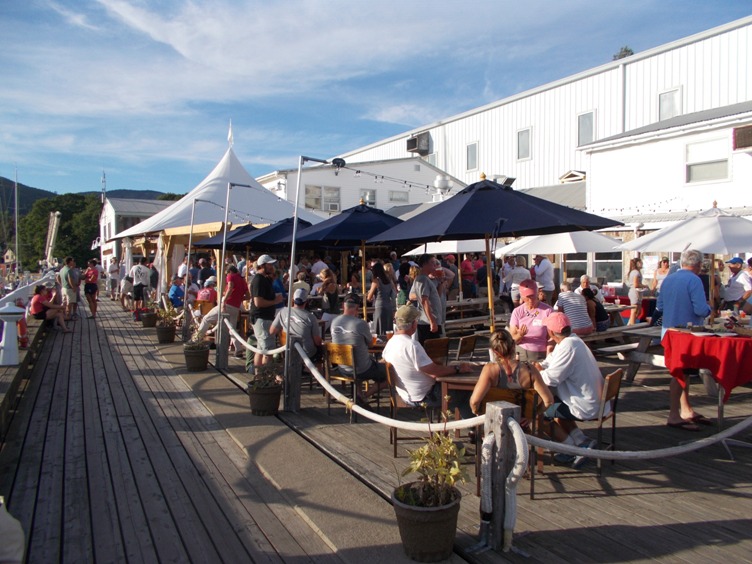 All 51 entries got a big red bag filled with goodies, the sail instructions, etc - many walked to the Rhumb Line, others showed off....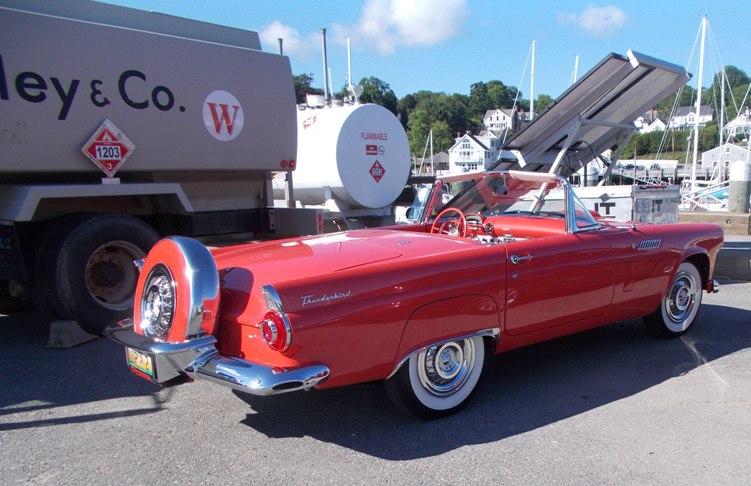 Awesome!!
Then, dinner in a nearby pub, cafe, beer hall, bistro, and back to the pod for a good night's sleep - big day tomorrow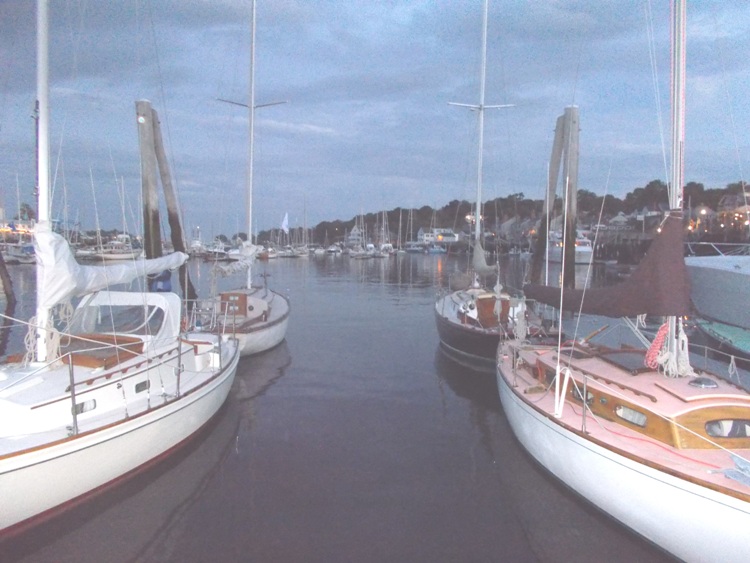 4 Dolphins at dusk
Friday, July 27 - 1st Race started at noon. Courses were 12-15 miles out on West Penobscot Bay.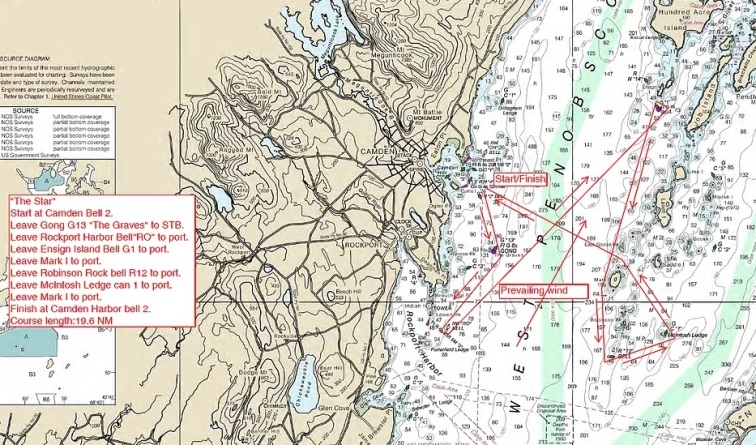 Light breeze, Dolphins were the last class to start. Too busy to take pictures - lots of pictures http://dolphin24.org/ccc2017.html and http://dolphin24.org/stu_cathy_gallery.html. Wind got lighter and course was shortened. Marionette won the Dolphin Class by a margin of 19 min, 12 sec - Recovery 2nd, Dolphin 3rd. Party after racing at the Rhumb Line
Saturday, July 28 - 10:00AM the Parade of Sail (more pictures at http://dolphin24.org/stu_cathy_gallery.html) Marionette proudly flying her colors and battleflag (2 blue arcing dolphins against an orange background...

Marionette all dressed up and ready
Race 2 started at noon, light breeze that got lighter, sometimes died - had to avoid the 'holes' and keep moving. We did and won the shortened race by 41 min 36 sec, Recovery 2nd, Paper Moon, 3rd
| | |
| --- | --- |
| | Marionette going for the pin end start |

Final Results - Dolphin Class
Super post race party at Camden YC started at 6, open bars (3) heavy grazing appetizers, dance band, awards and fireworks at 10.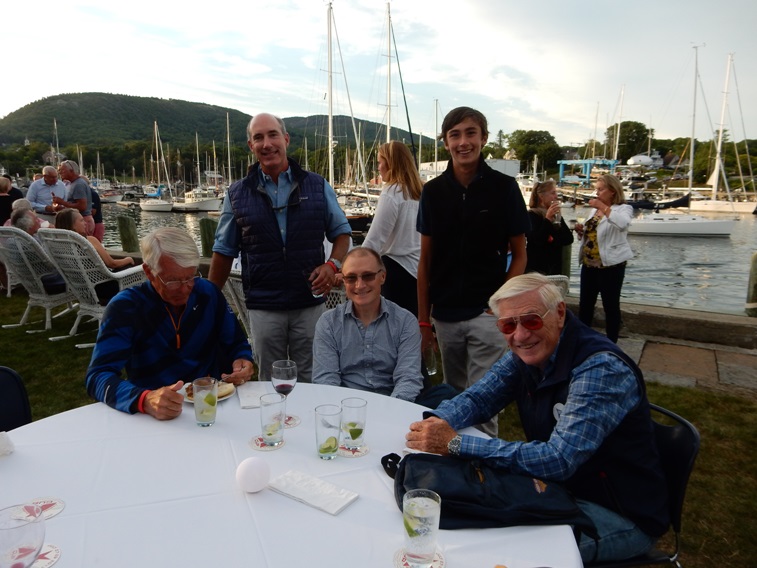 left to right - Recovery crew Michael Burns, Jay Picotte, Michael Gooch-Breault, Ben Picotte, Ron Breault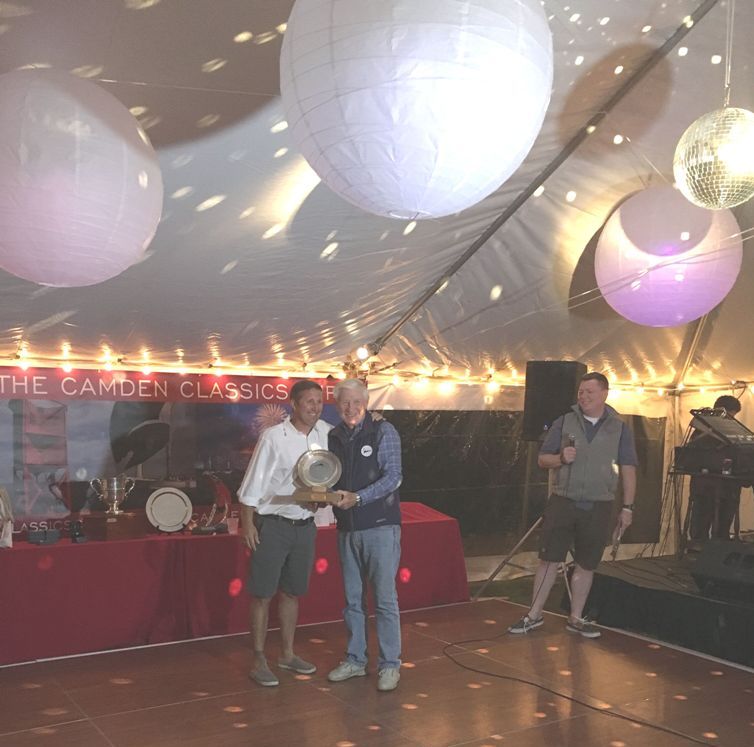 Drew Lyman presenting the 'Ron Noe' Dolphin 24 New England Championship Trophy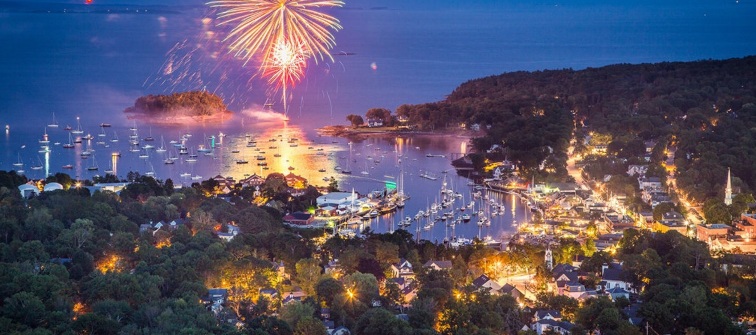 Sunday morning, July 30. Back to reality....long drive back to Old Lyme, CT. Leave Marionette in Camden, come back on Thursday, August 3, watch the finish of the Castine - Camden race - the first leg of the Eggemoggin Reach Series. Original plan was to follow the racing fleet on the August 4 leg from Camden to Brooklin on Eggemoggin Reach. Decided to bring Marionette back to Connecticut, reward her for her racing successes this season by having Cove Landing Marine give her a professional makeover of her topsides, deck and wood trim and cabin. While she passes the 10' test and still gets her 'pretty boat" comments, she deserves to pass the 2' test as well. (more on this later)
Thursday morning - Aug 4 Arrived Camden at 10AM (4:30AM start!!) Watched the racing fleet coming in from Castine - all towing dinghies as required by the sailing instructions.

Marionette ready to leave early Friday morning for Rockport where she will be hauled. Click here for a larger image

Dinner at the bar at Francine Bistro - a favorite

Friday morning early - breakfast at the 6AM opening Marriner Restaurent - no more blueberry pancakes until next year.

Heavy fog, no wind
Left at 7:30 No wind, no views, full stomach. Our tactics are to stay close to shore - board up, the 'loom' of the trees barely discernible, but staying just outside the inner rows of lobster pot buoys. We made it 2 hours later. As we motored thru Camden's inner harbor Brian Connelly, a crew on Senshin, a Center Harbor 31 (Brian is looking to buy his own Dolphin!), took and sent in these 2 photos of Marionette leaving. Click the photos below for a larger image. Note that we are single handed.
| | |
| --- | --- |
| The fog began to lift as we approached the Rockport lighthouse | Noon - hauled, unstepped, strapped and ready to go - Click here for a larger image |
Mark, my trusty pick up truck driver was coming up early Saturday morning so your webmaster had time to kill. Plan was sleep aboard Marionette - no gentle wave motion to rock you to sleep - to do more 'exploring', dinner again at Francine Bistro (besides great food - (Pemaquid oysters, Hanger steak - you meet all kids of interesting people at the bar). The Rockport area is known for its limestone quarries, one of which is behind a dam at the head of the harbor.
Rockport ramp and limestone kilns - head of the harbor

At right - a Dolphin!!!???

Click here for more info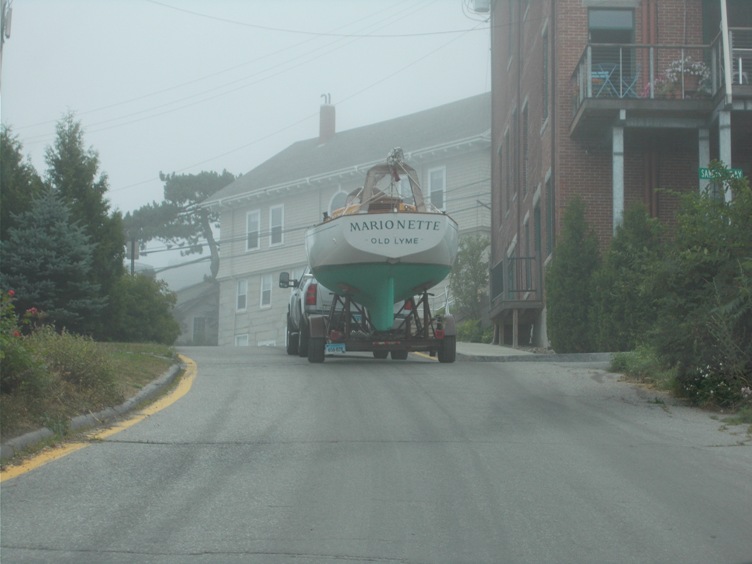 10:30 AM - leaving Rockport Marine on a foggy Saturday morning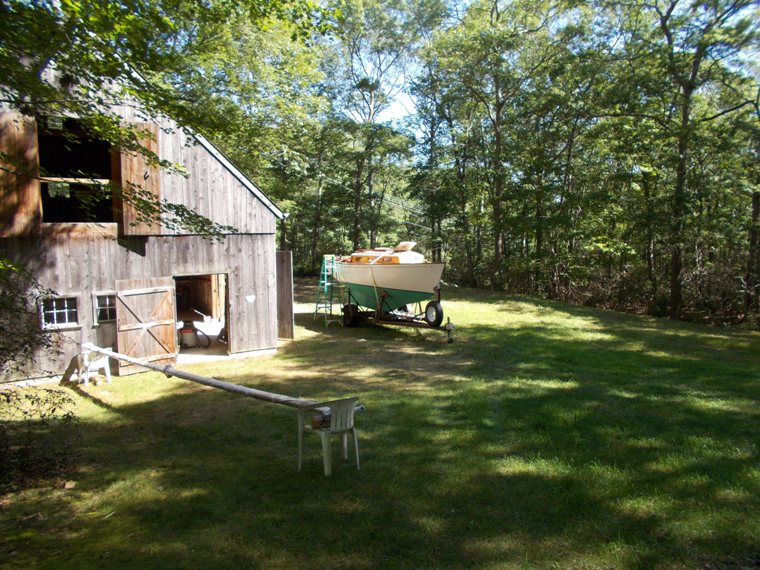 Heavy traffic - arrived at her barn in Old Lyme, CT about 4:30.
The next few days were spent stripping her down, cleaning her up, putting away all her gear and getting her ready to deliver her back to Cove Landing Marine for her new dress.......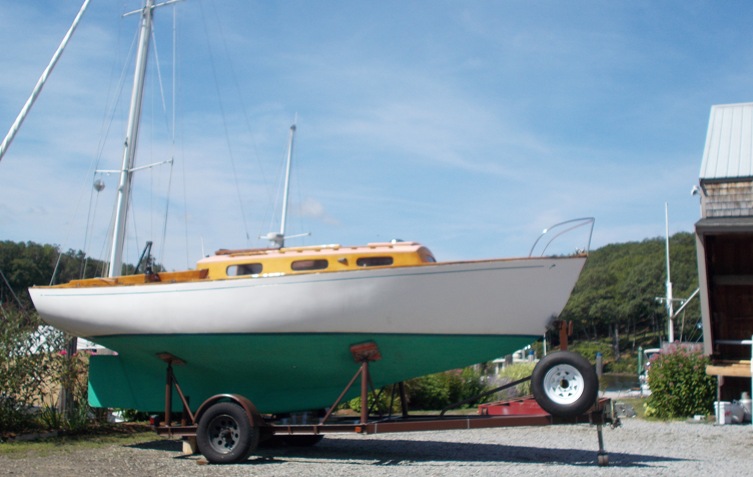 She's here and ready! Stay tuned!
September 5, 2017 - Marionette has been such a great gal on the race course this summer, and over the years, that she deserves, and is going to get, a new dress - in her lingo that means professionally redone topsides (sanded down to gelcoat, minor repair touchups and Awlgrip - 2 coats) stripped deck, recoated, and all wood sanded, rewooded as necessary and 7 coats of varnish. Below she's in her shed at Cove Landing Marine - patiently waiting. No rush - we have all winter......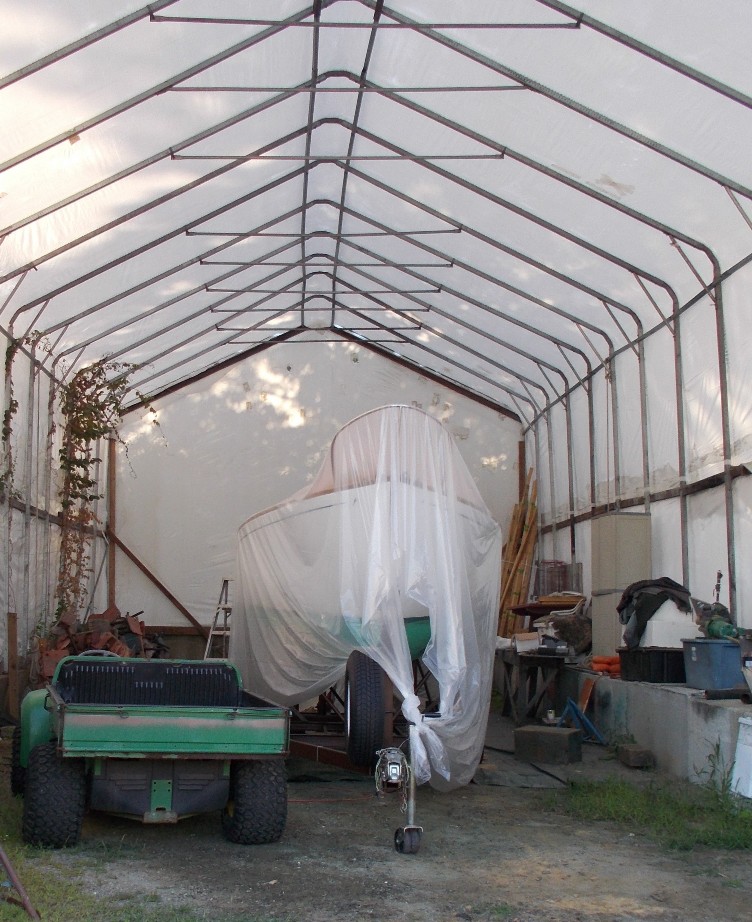 e
Patience
November 5, 2017 - Update, she has been moved from the shed to the shop (right).

And,

her new dress will now also include a lightly sanded bottom and a fresh bottom coat - Hydrocoat SR

Click on the photos for a larger images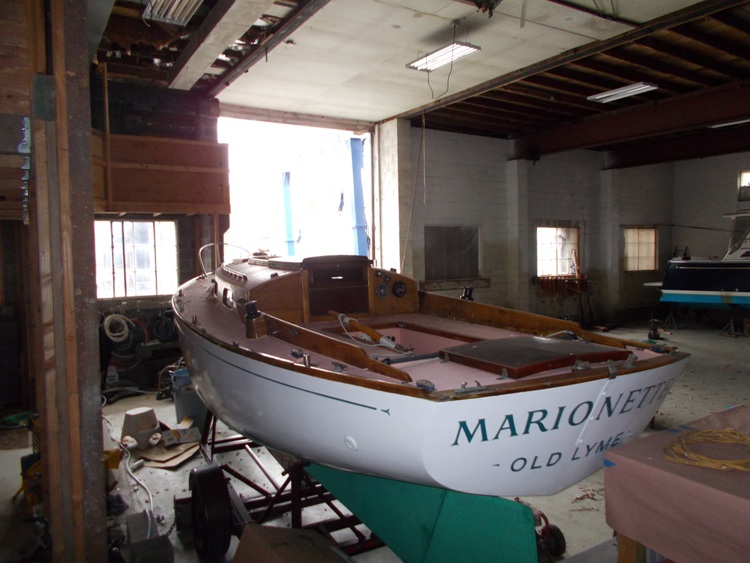 Patience......
******************************************
June 9, 2020 - Just in over the transom, a needed addition to the 2017 Log. Your webmaster is a member at the Farnsworth Museum in Rockland, Maine, and they have a newsletter about their exhibits and artists - their June, 2020 edition just arrived. This painting of Rockland Harbor by Yvonne Jacquette brought back great memories, some captured above..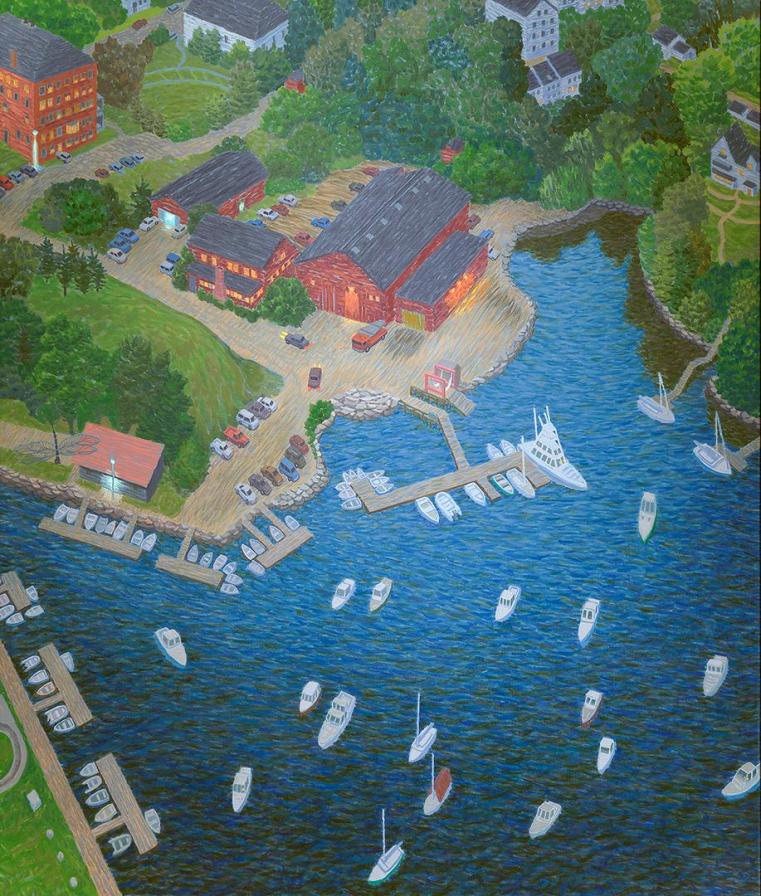 By Yvonne Jacquette, Rockport Harbor, Maine, 2001. Oil on canvas, 70 x 59 1/2 inches. Museum purchase with
support from the Friends of the Farnsworth Collection, 2002
From the Farnsworth Collection
***********************************