Its taken awhile to get Marionette's 2017 log together and into the impatient webmaster........
Serious work started April 30 - Moved her out of the barn and washed her yesterday. When she's out of the barn she knows we are on a short leash - I can't forget her because I have to drive right by her several times a day, and also I get to see her non stop from the house windows.

Docks at Niantic Bay YC were scheduled go in at the club on Saturday, May 13. Plan was to deliver the boat and mast on May 14 to the Cove Landing Boat Yard at Hamburg Cove up the CT River (see 'chart' below), step the mast and launch on May 15 early in the morning, set up sails, lifelines, halyards, sheets (already tired), sail/motor down the river, then east on Long Island Sound to Niantic Bay. High tide at Essex is 3:19PM. Its about about 20 miles, mostly with the current - leave about 2:30/arrive before 7.....

Had 2 weeks to finish painting down below (inside hull already done), touch up painting outside here and there (really needs some major work.......) load all her gear, unwrap and clean mast.....maybe replace the battery?! YEP!! $278!! (report coming)

Click here for a larger image
Stay tuned
Well, best laid plans of mice and men......

We trailered her the 5+ miles from her barn to Cove Landing Marine in Hamburg Cove on Sunday, May 14 (Yep - Mother's Day.......) Then rain.....more rain....

Got mast stepped and launched on May 18.

Then needed a new battery ($278!), then electrical panel problems (photo at right) disguised by the old defective battery, then replaced burned out Auto Tiller Socket ($47 - Otto was pleased!), then outboard #1 cover fitting problem (update inTechnical Section), etc...., etc.....

Then heavy rains over the next days postponing departure.

The following pictures of our time at Cove Landing Marine are worth thousands of words - patience...

.Click on the photos at right and below for larger images.
Drone view....Cove Landing Marine, Hamburg Cove, Lyme, CT

pre drone era photo.....

Above - your webmaster recognized this one. We have a whole section on this website about this -
Above, a neighbor - Ariadne, an International 500, built about the same time as Marionette.

Right, another neighbor - STARLING

designed by Starling Burgess - we know him!

More rain...That's Nor'Easter in the background - the Off Soundings Club principal Race Committee Boat - She's fired her 'winner's cannon' a few times at Marionette

So, finally left Hamburg Cove, Tuesday, May 23, at 8:30AM - 8 days late vs the plan, no rain, motor sailing, main only, down the CT River, arrived NBYC at Noon -. OB Motor #1 ran beautifully.

Above picture - the Pavillion at Saybrook Point, at the mouth of the CT River - arguably the most beautiful place to play bridge on the continent!!
Finally At NBYC - still not a lot of boats here - Click here for a larger image
Click the photos for larger images

Then a busy couple of weeks getting her ready for a 4 day trip, June 8-11, from Niantic Bay via Stonington out to and around Block Island and return - the Off Soundings Club Spring Series regatta - below packing sails, cushions, gear on Thursday AM June 8 at NBYC
| | |
| --- | --- |
| | |
Click on the photos above for a larger image

Left at 12:30PM, June 8, breeze at 6-8 knots, right on the nose, current favorable - motor sailed, main only, arrived at Stonington Harbor YC, 4PM, about 18 miles,

This Google Earth 'chart' shows the the 4 day trip

Thursday, June 8, Day 1 - Solo motorsail NBYC to Stonington; pick up by 'crew' at Stonington Harbor YC, and drive back home

Friday, June 9, Day 2 - 8AM, Crew (webmaster and his 2 'kids', Mike and Nicole, drive to Stonington, leave car, sail Stonington to Watch Hill where Race 1 started at 10:30, 112 boats in 13 classes; down wind start in 12-14 knot breeze to Block Island, 1BI, really big seas, building to 18-20! by the time we reached 1BI, gusts to mid 20's!!!'

Our helms(person) Nicole, US Women's Match Racing Champion 2015 and 2016, had her hands full - both hands on the tiller, wresting to keep Marionette, reaching under her big spinnaker, from rounding up while surfing up on 6-7 ft steep waves; then looking forward? to a double reefed beat to Mark X in those waves made steeper by an opposing current, and a downwind finish at R2.

Mark 1BI was rounded and then start of the double reefed beat to Mark X. About 3:30PM when approacing R2 and looking ahead to more tough windward work to get to Mark X, Marionette decided to withdraw with the webmaster pleading MDM. Then entry to Great Salt Pond; then our traditional tie up at Payne's Dock; then drying out Marionette and her sails, and her crew , (a brutal, if beautiful day for Dolphin sailing); then the party under the tent and dinner at Aldo's

Saturday, June 10, Day 3 - 8AM, sail out of Great Salt Pond to Race 2 start area at R2 (Nor'Easter was the RC Committee boat). Course was counterclockwise around Block Island, about 20 miles on the rhumb line.

Our start was at 9:30AM; forecast 14-16 knots, building to 18, gusts to 20+; actual 10-12 knots at the start - a beat to the southwest end of the island, then Zero +/- at the end of the island, gradually building to a spinnaker run on the south/southeast side of the island, 15 to16 knots by 1BI, then 18-20 knots and higher gusts on the beat to the finish at R2 at 4:45PM. (Another brutal 7+ hours of Dolphin sailing); then our drying out party; then our party and awards under the tent; then dinner at Dead Eye Dicks.

Sunday, June 11, 8AM - motor sail out of Great Salt Pond; no/little wind, mostly motor sailed with main all the way to Stonington, arriving 11:30AM, touch and go drop off "crew kid" Nicole at SHYC to get her car, and webmaster and "crew kid" Mike motor sailed to Niantic, arriving at 4PM (current unfavorable)

Two races - Marionette 'retired' (RET/MDM) in Race 1 (Webmaster pleaded with crew claiming MDM (Mal de Mere) approaching R2 and unwilling to face the remaining hard beat to Mark X and a run back to R2): But, in Race 2 - the Around Block Island Race - Marionette won her class!

Alpha Class, Off Soundings Club 2017 Spring Series

Here's a couple of pictures. Usually, if you click on them you will get a larger image.
Stay tuned

June 17, 2017. The photo above - just in over the transom. Click here for a larger image

Photo credit to Roz Weinstein taken from their boat on a mooring in Great Salt Pond - Marionette on her way out for Race 2 on Saturday, June 10.

Roz and her husband Bob 'introduced' your webmaster to big boat sailing, and to Block Island, 40+ years ago, back in the mid 1970's, when we, along with a 3rd couple chartered a Pearson 35 and sailed to Block Island.

Bob was the only one aboard who really knew anything about sailing and, instead of motoring in, we sailed that boat right up the channel into Great Salt Pond. Hooked!!

Editor's Note: R2 is the bell marking the entrance to Great Salt Pond. Staff needs to reposition it about 1/2 inch northeast just off that point.....a work order has been issued

Stay tuned
July 4, 2017 We dressed her up for the 4th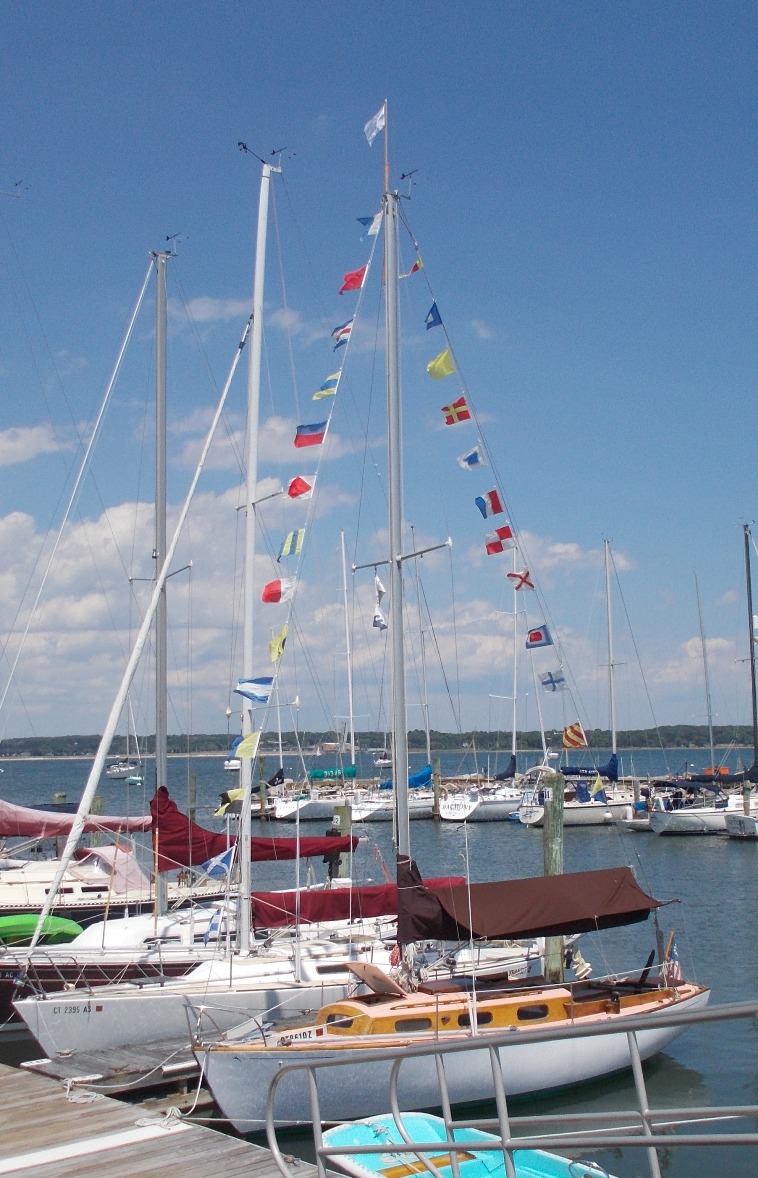 At Niantic Bay YC - click here for a larger image
************************************
July 14, 2017 A quiet summer, so far, some local day sailing. Decision was made not to sail Marionette to Camden, Maine for the Camden Classic Cup regatta (New England Dolpin 24 Championships) but trailer her instead. So the above report of May 23 was inverted and on July 10 Marionette motor sailed/sailed back from Niantic Bay up to the Connecticut River and up the river to Cove Landing Marine where she was hauled, mast unstepped. She rejoined her rebuilt trailer (http://dolphin24.org/Marionettes_trailer.html)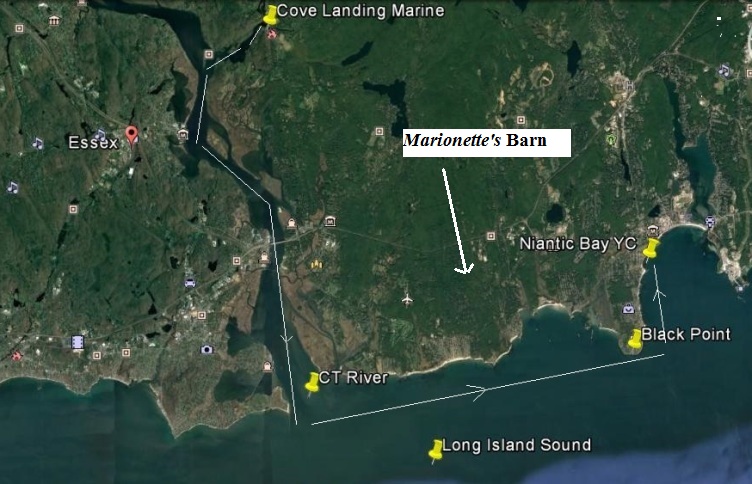 Staff is out to lunch - lets just make believe the arrows are inverted.....

| | |
| --- | --- |
| Ready to be hauled | Hauled |

Going Home - Stay Tuned