Webmaster Note: When Jay read the November 8, 1968 S&S internal memo to Rod Stephens on this site in the Technical section (click here to read it) he noticed that items 4. and 5. referred to improvements made by a Harold White Jr to his boat Imp. This was his boat - Recovery's old name. Harold was a successful Dolphin racer in the mid 60's. Click here to go to Imp
Another Webmaster Note: Jay has the best of two boating worlds - and another good looking boat built by Tripp - Waterlily. Click here to see her
***************************
November 26, 2007. In response to an inquiry on the Forum regarding dodgers Jay sent in some pictures of Recovery wearing her dodger, and the following email (edited by your webmaster). One of the pictures has another shot of Recovery's Herrshoff nesting dinghy on deck.
November 26, 2007

Hi Ron

I noticed that there was an inquiry about dodgers on the forum.

Attached are some shots of Recovery from this past summer, most with the dodger up. I can't recommend one enough for anybody who cruises (that's really the only time I use it). It provides protection from spray when sailing but really comes in handy at anchor or on a mooring when the boat is always pointing upwind. Then, it eliminates wind when sitting in the cockpit and I can leave the companionway hatch open in all but the hardest downpours. It also provides some standing headroom which is nice when putting on pants or when you need to stretch out. In fact, I often stand in the protected companionway under the dodger while underway, which is nice after long spells sitting.

Click here for a larger view

The pictures with the dinghy on deck are the day after returning from a week-long cruise to Martha's Vineyard. (click here for a larger view) I've made the trip countless times but set an all-time record for speed on August 18th, making it from Newport to Vineyard Haven, covering about 42 miles, in 6 hours. We sailed on a day with WNW winds of 25-30 and had the current in our favor through Vineyard Sound where we were doing 8.5 - 8.7 over the ground at times. The whole trip we did a lot of surfing and averaged about 7 kts which is almost unheard of for a Dolphin. It was a crisp, clear, cool day and I can say it was probably the best sail of my life. The trip back was another story.

I hope you had a good summer and are doing well. It appears that Marionette is getting some TLC this year. The interior looks great. Recovery could use the same treatment, if only I had a barn....

Jay

********************
Jay's day job is curator of the Newport Museum of Yachting. He has been involved in the Museum's recognition of Olin Stephens' 100th birthday in 2008 and his commerating his work at Sparkman and Stephens. Click here to see more on this.
*********************
January 7, 2009. Jay sent in a few more pictures of Recovery and more comments on his restoration work.

You will have to look close. Jay 'confesses' that this is a really faux paint job on his fiberglass combings as well as on the fiberglass transom and forward hatches! Fooled me. He did not like the look of Imp's fiberglass combings, or her original hull color (white), or her oval portlights. No problem. Recovery is an example of what you can do when you really know what you are doing... The wood toe rails were the original with bolts glassed over inside and had lots of cracks, splits and open scarf joints. After thinking about undertaking the big job of replacing the toe rail completely, Jay decided that he buy some time and fill the cracks, splits and scarf joints with 5200, and then paint them. That was 5 years ago. No leaks and practically maintenance free although some attention and 5200 will be needed this spring.

Hard to believe that these combings and that transom hatch are faux painted fiberglass. I'll bet there are some other glass combing Dolphin owners out there that are going think hard when they see this picture. Speaking of good looking this looks like good, high potential crew.
| | |
| --- | --- |
| | |
| A helicopter shot of Recovery - Jay must be connected to get one of these | |
************************************
February 5, 2010. Jay sent in the following interior pictures. Note that Recovery's nameplate has surfaced in the website's files - see photo near top.
An updated version of one of the above pictures



From the V-berth looking aft

Starboard Communications and Audio Center - and the Dolphin lamp!

**********************

| | |
| --- | --- |
| | May 11, 2010. Jay sent in a 'Winter Cover' Report which kicked off a new page in our Technical Section on this subject. Click here to go to it |
************************

July 19, 2010 - July 19, 2010 - Jay sent in a photo of this beautiful model he had built by Seacraft Classics/Abordage (click to go to their website). They worked off photos and detail instructions Jay provided. This photo shows the model in its display case in Jay's living room.

To see a larger scale photo click here. The detail you can see in the large scale photo is incredible. Note the anchor at the bow, wooden shroud rollers, bronze winches, coiled main sheet, flag, etc.

This model has been included on our models page in the Technical Section . Click here to go to that page

| | |
| --- | --- |
| | July 20, 2010. Jay also sent in a couple of pictures of the white oak rudder he had built for Recovery. Those pictures and a description are included in the Technical Section/Rudders. Click here to go there. |

| | |
| --- | --- |
| | July 29, 2010. Your webmaster was in Newport July 16-18 on a 'working' cruise and filed a report. Click here to go to it. Jay was a gracious host and we got to go out on his (also) Tripp built Angler 22, Waterlilly. Elsewhere on this site we had a picture of this boat and just realized that we had no mention of her on this page. She is well worth a mention! Here she is at the dock at Fort Adams ready to take us to check out Recovery on her mooring. Click here to go to Waterlilly. |

**********************
March 17, 2016. Responding to a follow up inquiry we got the following email from Jay
Hi Ron,

Sorry it's taken me so long to respond. I've been crazy busy. I left IYRS/Museum of Yachting a couple of years ago. Things are good. Recovery was re-powered over the winter with a pre-owned Yanmar 1GM replacing the Yanmar installed in 1982. I'm still sailing and cruising her every summer although not too far or often. Usually just one trip to Cuttyhunk and the Vineyard.

I do check in on the website occasionally and I'm always amazed at what you've done. I'm glad you're well. Let me know if you're headed toward Newport any time.

-Jay
Webmaster Note: Shucks! Lost the inside contact to getting the neatest slip in Newport - out at the tip of Fort Adams! http://dolphin24.org/marionette_Newport_cruise.html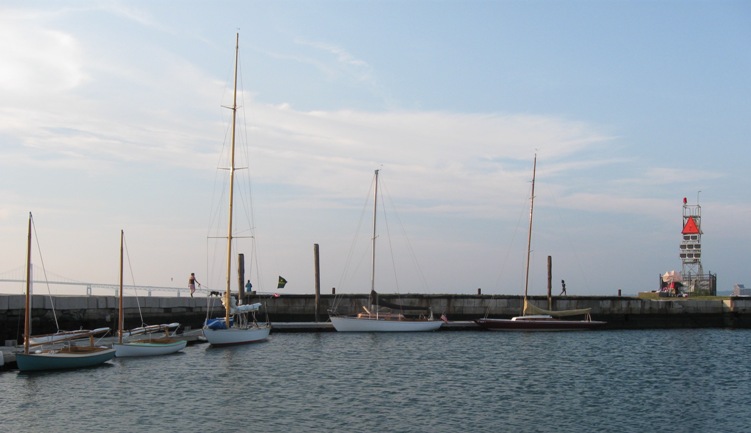 Marionette at Fort Adams Basin
*******************************
January 14, 2017 We got the following update from Jay (minor edit)
Hi Ron,

I haven't gotten her out sailing as much as I'd like the past few years, usually about 10 day sails/season. Been 3 or 4 years since I've cruised anywhere. Proud to say I've had her commissioned and sailing every season for 21 years. Keep me posted on your plans next summer. I hope you can make it back to Newport. (in the planning phase...)


-Jay

**********************************************