October 23, 2018. Ok, this is a bit off the beaten path. An email came in over the transom from Dave Hemenway, followed by a photo, a Dolphin 24 webmaster looking for something to do, an exchange of emails, some research, and here we are (emails consolidated/edited).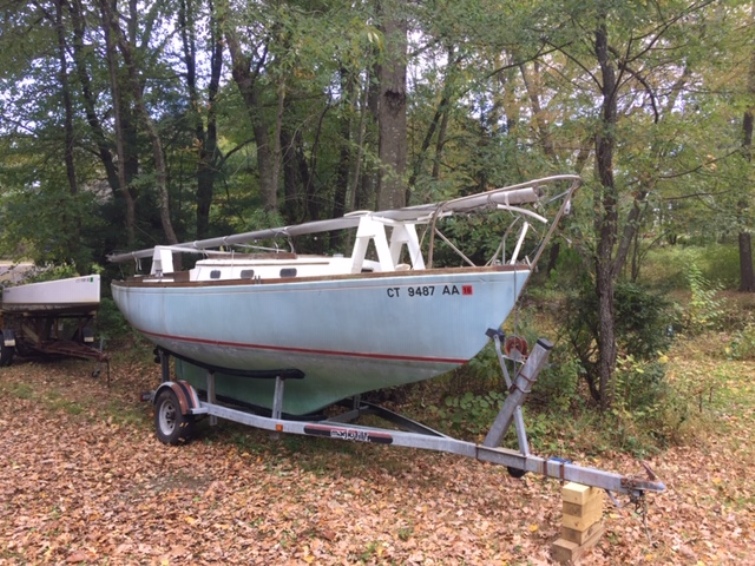 Blue Chip (look familiar?)
Ron,

I have greatly enjoyed reading your excellent Dolphin 24 website. I recently acquired a Seafarer 23 which looks like a Dolphin 24, but she is about a foot shorter and has slightly less draft. She is also a S & S design.

Her current name is Blue Chip and she has been a New London and/or Mason's Island boat for many years. Have you heard of her? Do you consider her a variant of the Dolphin 24 class? I will be sailing her out of New London and am interested in not too serious racing.

Have Fun!

Dave Hemenway
Oakdale, CT

Postscripts

Thanks for getting back to me. I was a Thames Yacht Club member for many years and raced with them in small and big boats.

I was thinking of racing my Seafarer 23 in some classic yacht races. I also have a few International 110s that I could race in that series.

I have quite a few boats that I work on in my Cappy's Boat Shop. This is just for fun, not profit.

I am also interested in your neat boat lifting method (http://dolphin24.org/no_travel_lift.html)

Click here for a larger image of Cappy and her boat shop

I believe my Seafarer 23 was built in Holland and imported by Seafarer when they were on Long Island.

Thank you for your kind comments on Cappy's Boat Shop. One of my major goals at the shop is to save good old boats like the Seafarer 23. I currently have five International 110s, my Dickerson 36 that I have owned for thirty plus years, and numerous kayaks and dinghies.

I am now in the process of finishing up and selling most of the fleet except for the Seafarer which will probably become my primary boat since I like to mess around in thin water and I want a trailerable boat.

Postscript: I am removing most of the wood on my Seafarer 23 which I have renamed Hope
Webmaster Note: There's information about the Seafarer 23 Kestrel at SailboatData.com. Its been been reported that Bill Shaw (http://dolphin24.org/history_bill_shaw.html) was the S&S project designer for the Seafarer 23, as he was for the Dolphin 24. Here's the spec photo from the Sailboatdata.com website.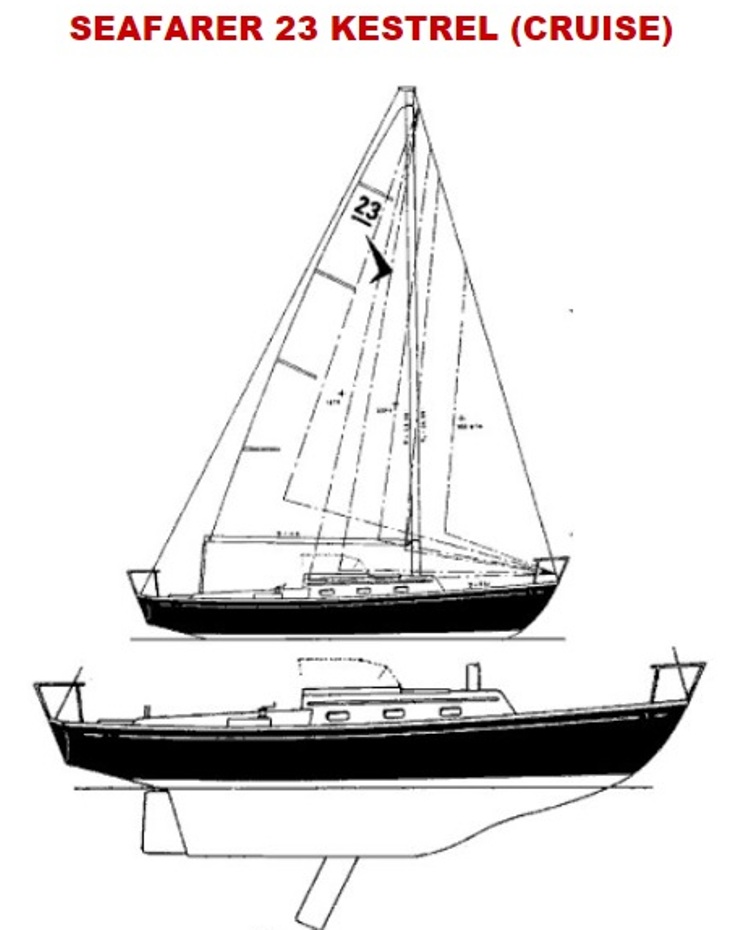 Stay tuned
October 31, 2018 When Dave checked in with his Seafarer 23 (a Dolphin 24 'cousin'), this brought back memories to Jay Picotte http://dolphin24.org/restorations_recovery.html. Webmaster note: Jay's boat was likely the Seafarer 23 Kestrel Daysailer model, built in Huntington, New York - see https://sailboatdata.com/sailboat/seafarer-23-kestrel-daysailor - 2 side portlights, not 3 as in Dave's version.
Hi Ron,


I saw the entry on the site about the S&S Kestrels. I used to have one. I sailed her for a few years out of Oyster Bay, New York and then Burlington, Vermont. She was a pretty little boat but didn't sail as well as the Dolphin......She had an outboard in a well.

Here's a 1993 picture of her in Edgartown. Look familiar?

Jay

She does look familiar....Check out Jay's boat Recovery
**********************************************