Bill Shaw was a young designer who started working for S&S in 1952, leaving in the early 1960's. He had a major influence on the Dolphin 24. Bill, shown here in a picture that appeared in Soundings magazine, passed away in 2006. Webmaster note: Bill's passing was one of the reasons I decided to do the website - these guys were leaving us and were taking a large part of the Dolphin story with them! Bill Shaw had a remarkable career. After his time with S&S he went on to become chief designer of Pearson Yachts in 1964, and later their long time general manager, retiring in 1991.

In the 1950's, S&S was the recognized expert in the Cruising Class of America Racing Rules (CCA). This rule appealed to owners who cruised their yachts off shore as well as raced. It encouraged and rewarded seaworthy and seakindly boats with shorter masts and longer booms that kept the center of effort and heeling moment down. Accommodations below were rewarded, stripped out hulls were penalized.

The Midget Ocean Racing Club (MORC) was formed in the mid 1950's and Bill Shaw was one of its founding members. MORC was developed for small offshore racing boats up to 24', later raised to 30', and it was based on the CCA rule. Bill Shaw was the lead designer at S&S working on this Rule. In an after hours project Bill designed his Shaw 24 to the MORC rule and later said of her " I did a half-size prototype of Finisterre, just to test the principles."
Update April 29, 2017 - Click here to go to a chapter in the book Racing at Sea written by Bill Shaw about MORC
This is Finisterre
| | |
| --- | --- |
| | To understand why Bill selected Finisterre as the model for his Shaw 24 click on her name. The reader might note that both boats are centerboard yawls. The racing rules of the 1950's favored sea kindly boats with less heeling - shorter masts and longer booms. To encourage these factors a mizzen's sail area was rated at 50%. Many cruising sailors liked this arrangement as sailing in a breeze under 'jib and jigger' made life easier. Finisterre was designed by S&S for Carleton Mitchell, who passed away in July this year at the age of 96. Sounding's Magazine's October, 2007 issue has a great article about Carleton written by Senior Writer Doug Campbell. With the permission of Soundings Publications, LLC it is reprinted here. The photos are from the Mystic Seaport Carleton Mitchell Collection. Click here to go to the article. |
This is Trina
The owner of the first Shaw 24 built was Wilber Scranton and he named her Trina. After her launching she had, (like Finesterre) an exceptional racing record under not just the MORC rule but CCA and others. This attracted the attention of many, including George O'Day, an avid racer with a marketing concept to build affordable racing/cruising sailboats for " Sailboat Living" - the slogan that O'Day used successfully to build that company to one of the largest sailboat builders in the US.

Webmaster Note

:The Trina page also contains general information about Shaw 24s.
Bill also had a hand in S&S's first design for fiberglass production - the New Horizon 26 - which was commissioned by Ray Greene, a mid west builder and an early fiberglass pioneer and promoter of using fiberglass in boats. This was a controversial circa 1957/58 project within S&S that seemed to focus on expanding the use of low cost fiberglass production as its hallmark - it had fiberglass davits for its fiberglass dinghy, and below had most of its accommodations made of fiberglass - not wood.
The 'Birth Certificate" of the Dolphin 24 was the internal memo that Olin Stephens wrote on December 8, 1958 was sent to Bill Shaw, Rod Stephens, Drake Sparkman and Gil Wyland (S&S's Chief Engr). It refers to the design objective as a "modified Trina - New Horizons type", so an understanding of how the Dolphin 24 evolved depends on the role of the New Horizons 26 as well as the Shaw 24. Issues such as S&S's traditional vigorous inspections of builders - not always welcomed by builders, the new challenges of fiberglass production technology with its ability to produce parts and complete boats rapidly, the still uncertain reliability of fiberglass production technology, new ways of marketing mass produced sailboats, etc., were not readily resolved. Additionally, S&S, with Bill as the lead designer, designed the Tartan 27 in 1961 which became very successful. This was the boat which Ray Greene said essentially stopped sales of the New Horizons 26.
Taken together these facts indicate that Bill Shaw had a major role in the birth, and early days, of our Dolphin.
One of the interesting long running sagas is how Bill Shaw and Olin Stephens would meet at various events over the years and the conversation would inevitably turn to the relative merits of the Shaw 24, the Dolphin 24 and the Tartan 27. This happened again at the transom of my boat, Marionette, at the 2001 Designers Rendezvous at Mystic Seaport, Mystic, CT. This took place with boats like Brilliant, Bolero, Columbia, Courageous, Cyane, Palawan and other famous S&S boats all around us, and still ahead on their inspection route.
Marionette was there as a representative of the Dolphin 24 Class, and long time owner and author Dyke Williams was there with his TRINA. After a discussion near TRINA who was on her trailer nearby - and which discussion I missed (!#xx!&!) - the 3 of them came over to Marionette and, true to form, the friendly rivalry continued with me straining for every word. This was relatively early in my Dolphin education. The Tartan 27 was plainly in view across from Marionette. I had previously seen, and admired TRINA, but the parting words from Olin as they turned to walk away, and that I remember were
"I always liked the Dolphin's lines".
In his Good Old Boat Magazine article on Dolphins Dyke Williams had a picture of Bill Shaw standing on a ladder looking over TRINA's starboard quarter between the end of her boom and her mizzen. It was taken at the S&S Designer's Rendezvous at Mystic Seaport in 2001. That picture is below.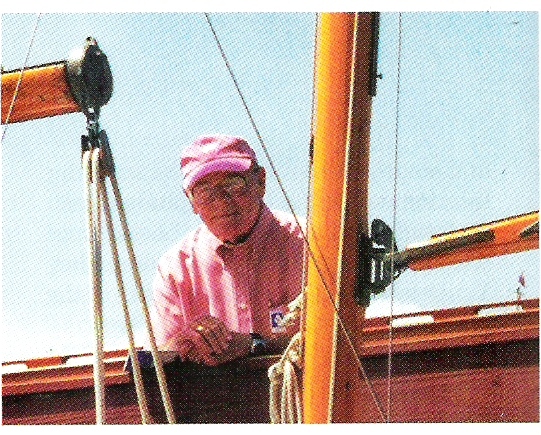 August 20, 2009. Bill Shaw passed away on August 20, 2006 at the age of 80. As mentioned above his passing 'flipped a switch" with your webmaster and was a prime motivator for this website. The following is the obituary article by Steve Mitchell that appeared in Good Old Boat magazine.
William Harold Shaw, of Bristol, died Sunday, Aug. 20, 2006, at his home surrounded by his family, after a long, courageous battle with Alzheimer's disease. He leaves his beloved wife of 55 years, Elizabeth "Beth" Thomson Shaw.

He was born in Providence, at his home on Ohio Avenue, to Myrtie Morris Shaw and Harold Victor Shaw. He attended the United States Merchant Marine Academy at Kings Point, N.Y., where he graduated in 1947, completing his course of study in three years with academic honors. He served as a cadet midshipman in World War II, and was later recalled to active duty in the US Navy during the Korean War. He was honorably discharged in 1952 with the rank of lieutenant.

After the Korean War he was able to pursue his dream of becoming a naval architect, first joining the renowned firm of Sparkman & Stephens Naval Architects and Marine Engineers in October 1952 as a designer. While at Sparkman & Stephens he was involved in the design of many famous yachts, including the America's Cup defender, Columbia, as chief designer. He also co-founded the Midget Ocean Racing Club (MORC) sparked by his design of the Shaw 24, Trina.

He joined the Products of Asia as manager of their Marine Division, building custom yachts in Hong Kong from 1961 to 1964. In 1964 he was hired as chief naval architect for Pearson Yachts. He later became general manager of Pearson Yachts and vice president of Grumman Allied Industries and continued to be Pearson's chief naval architect. During his 27 years at Pearson, he and his team designed over 40 different boats — sail and power, canoes and outboard runabouts.

Under his tenure, Pearson was a nationally recognized leader in the boating industry for building quality, family oriented racing/cruising fiberglass boats. He was very active in numerous sailing organizations as a member of a safety at sea committee, the IMS Technical Committee where he drafted the first set of rules for accommodation standards on sailboats, the National Boating Safety Advisory Council, and the University of Rhode Island Advisory Council for Marine Programs.

He received a number of awards for his distinguished career: The Isaac B. Merriman Award from the Barrington Yacht Club, the United States Merchant Marine Professional Achievement Award, the Charles F. Chapman Award for the marine industry, the Rhode Island Marine Trade Association and was inducted into the MORC Hall of Fame.

He was also active in a number of clubs: The Rhode Island Yacht Club, where he was the club's first junior member; the Barrington Yacht Club, where he served as Rear Commodore; the Bristol Yacht Club, Storm Trysail Club, and the Twenty Hundred Club. He was also a longtime member of the New York Yacht Club and the Cruising Club of America.

He had a number of interests that all revolved around his love of the sea. He cruised and raced for many years, was a Ham radio operator and an accomplished watercolorist.

In addition to his wife leaves four children, William H. Shaw Jr. of Bristol, Katherine Stuart of Newport Beach, Calif., Patricia Schneider of Hebron, N.H. and Marilyn Mendonca of Riverside, and their spouses; and six grandchildren, Joshua, Cameron, Emily, Marisa, Katherine and Olivia. He was predeceased by his brother, Robert Morris Shaw in 1988.
*******************************
May 30, 2013. Author Steve Henkel interviewed Bill Shaw for Sailor Magazine in August, 1985. Steve sent us a copy of this interview which appears in our Stories Section. Click here to go there
*****************************************
January 3, 2022 William Stamm, former owner of Shaw 24, Thumbalina, sent in some old Shaw 24 technical files, now on their way to Bill Shaw's daughter, Marilyn, for safe keeping.
Click here to go to Thumbalina's page for details
*****************************************