June 27, 2013. TRINA, Shaw 24, Hull #1 is now owned by Rivendell Marine, Monument Beach/Cape Cod, Massachusetts. Rivendell Marine (http://www.rivendellmarine.com/) is a traditional boat builder/restorer and owner Tom Wolstenholme knows TRINA well. He restored her in the late 1990's in preparation for her exhibit at Mystic Seaport Museum in 2001. This was part of a plan to donate her to the museum that did not materialize. She has been out of the water since then.
Tom has started the process of restoring her again.
Long time prior owner Dyke Williams has provided pictures and history of TRINA, and this website has done a lot of research on her because of her critical importance in the conception of the Dolphin 24. Lets start with a picture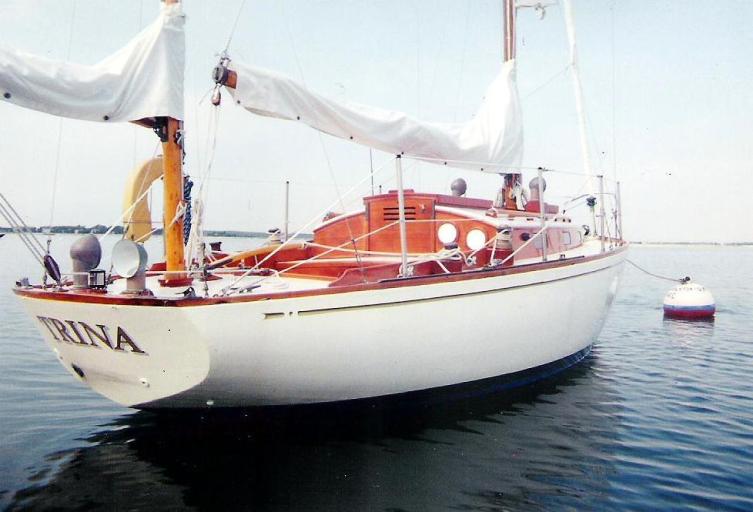 The inspiration for the Dolphin 24
****************************************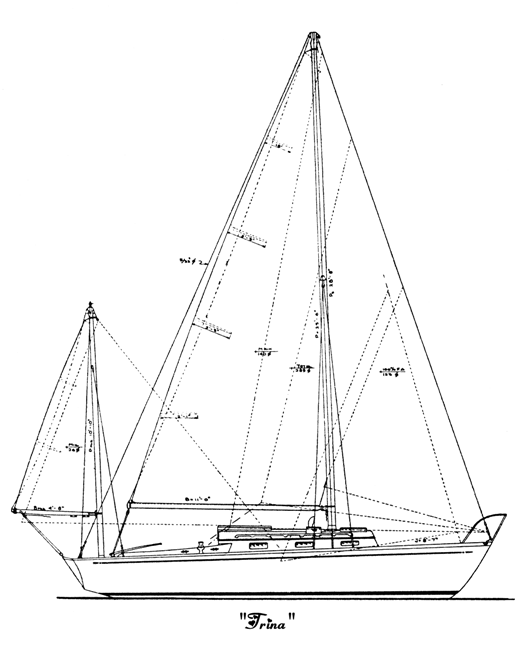 Webmaster Note: Thanks to Paul Ingle (Seminole) for this TRINA drawing.
The Dolphin 24 has a lot of strong genes, and many of them came from the Shaw 24. TRINA, Hull #1 is pictured above, and here at left at Mystic Seaport in 2004. Bill Shaw, who was working for S&S, and who was a founding member of the Midget Ocean Racing Club (MORC), worked with Olin Stephens to design a set of rules, based on Cruising Club of America's requirements, for an off shore capable boat with a LOA of 24' maximum.

In a separate, after hours personal effort, he designed the Shaw 24 (TRINA) to the new MORC rule. He later said of her

" I did a half-size prototype of Finisterre, just to test the principles."

Finisterre is the legendary S&S designed centerboard yawl - winning 3 consecutive Newport Bermuda races - 1956, '58 and '60. Click here to go to Finisterre.
Hull #1 was built in 1957 by Jensen in Denmark - double planked mahogany and cedar over oak, a keel/centerboarder with a yawl rig for Wilbur Scranton of Stamford, Connecticut, her first owner. Bill Shaw's drawings for TRINA are dated Nov 1 and Nov 10, 1956 (http://dolphin24.org/shaw24_blueprints.html). According to Han van Die men (Arlette) she was one of eight Shaw 24s built by Jensen, 7 of which were exported to the US. Some Shaw 24s were built as sloops.
While the Shaw 24 was the first boat designed to the MORC rule, Medea, a 23' sloop, may have been the first boat designed and actually launched and raced specifically to the Midget Ocean Racing Club (MORC) rule - initially a rule for off shore racing boats under 24', and later extended to boats under 30'. Following her launching in 1957 TRINA won the first nine races she entered in her first season, and reportedly won 17 (some reports have her winning 28!!) consecutive races, racing under 4 different handicap rules, including MORC. She excelled in all weather especially in light air. The magazine One Design and Off Shore Yachtsman said the following of her:
"Phenomenal is an apt description of Trina's all around performance. In her first season she took 9 firsts in nine starts - in a variety of conditions from drifting to half a gale. This represented not only a sweep of the other MORC boats but an unprecedented Spring and Fall victories in the Off Sounding Club's regattas against one of the best big boat fleets in the East."
January 29, 2017 postscript - Another commentary about TRINA from Sports Illustrated archives
Trina made her debut in the Spring Off Soundings Race in June 1957. Two days after her launching she was famous. She had won her class by a total of 44 minutes for the two days and had beaten, boat for boat, such able larger craft as Sou'westers, Pilots, a Gulf Stream 30 and an Oxford 400.

In a race to Block Island later that year Trina maintained an average speed of 5.33 knots over a course of 164 miles. While she was in the open ocean during the race, winds blew up to 35 knots and the seas were large and cresting; they bothered her not a bit.
Dyke Williams wrote an extensive article on the Dolphin 24, and TRINA's role in her genesis, that appeared in Good Old Boat Magazine - Sept/Oct 2005. It is really required reading for Dolphin owners and others interested in this design, and in TRINA. In that article Dyke reports that 24 Shaw 24s were built in wood, some as sloops. Click here to go to the article. And click here for a larger view of the above picture, and pictures of Trina's interior from that article.
The following is a comparison of the the original Dolphin 24 design built by O' Day, the later Yankee Yachts built Dolphin 24 , and Trina.
O' Day Dolphin Yankee Dolphin TRINA
LOA 24'2" 24'2" 23'11"
LWL 19'0" 19'0" 18'6"
Beam 7'8" 7'8" 7'5"
Draft, up/down 2'10"/5'2" 2'10/5'2" 2'9"/5'3"
Displacement 4544# 4250# 4800#
Ballast 1440# 1650# 1500#
LOA/LWL 1.272 1.272 1.182
Sail area 296 sq ft 296 sq ft 270 sq ft
Engine Palmer 8hp inboard 8hp outboard (std) inboard
TRINA is a true classic inside and out. Here is a close up of her cockpit.
Click on the pictures for a larger view - click the back arrow on your browser to get back here
Dyke Williams sent in additional pictures and early magazine articles about TRINA. We have them set up on a separate page. Click here to go to that page.
***********************************
Paul Ingle, Seminole, contributed the following scanned copy of an April, 1958 article in Yachting Magazine about TRINA. It was instrumental in Paul getting a Dolphin 24. We will work on a better quality image but these are 50!! year old black and white images. Paul's March 19, 2008 email (excerpted) follows. You can see the full text of his email on Seminole's page at the end.
...... December 1958, I was in the Barber Shop one day and looking at the April 1958 copy of Yachting Magazine and came across the famous story about Wilbur L. Scranton's little Shaw 24, Trina, of Milford, CT. Well, I fell in love with it right there and then, and the next time I saw Ted (Webmaster Note - Ted is Ted Melsheimer, an outside contractor working on the North American Aviation B70 bomber project near Los Angelus where Paul was an engineer) , I told him all about my "Dream Boat". He said, " You like that little boat, do you". When I said "You Bet", he then replied, " Well come on back to my shop again. I've moved all the machinery out again and I'm nearly finished strip planking one identical to it. I really like it also."

Well, the program I was working on at NAA, was about to shut down due to funding and other, political reasons, so I was headed back East at that time, and come February 1959, my wife and I were headed for Connecticut and a new career. Unfortunately, my association with Ted also ended, so I have no further knowledge to add about Ted's copy of Trina. I do, however have a copy before me of the article about Trina, and also a copy of the Shaw 24 MORC Centerboard Yawl lines from the same article..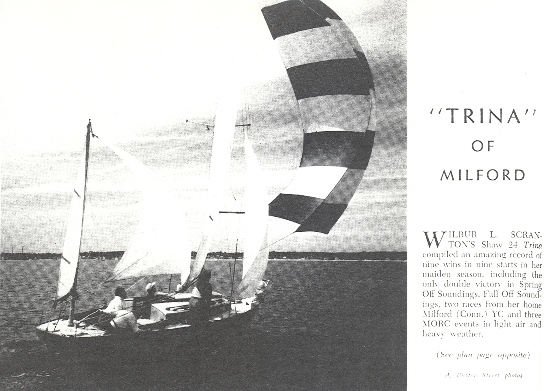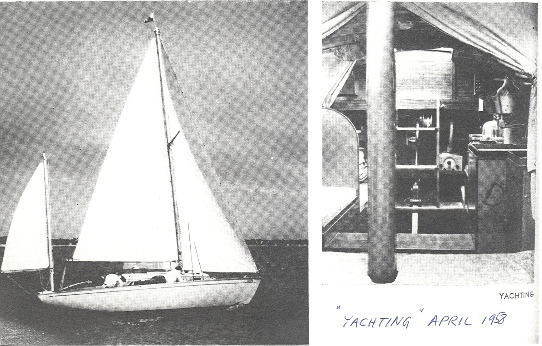 The interior photo at right is from the V-berth looking past the mast, and the pulled aside curtains, into the main cabin toward the companionway.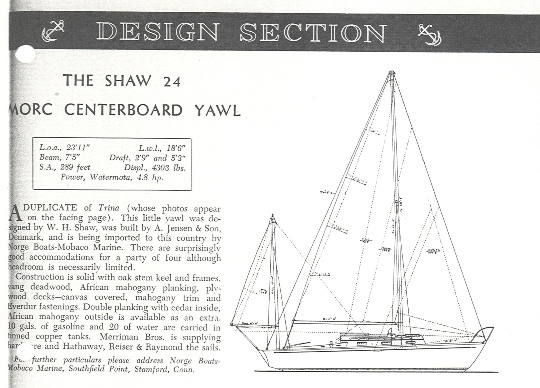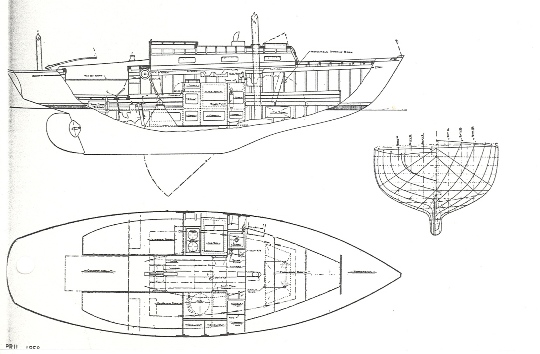 *************************
November 23, 2015. Senior DFI Nicole Breault and your webmaster were in Monument Beach yesterday, and drove past Rivendale Marine - they were closed and it was raining, but duty called - TRINA is still looking for some help.
Right - TRINA through the fence under a Quonset cover

Below - TRINA'S transom

Below Right - Another senior DFI at work
**********************
*********************************************
************************************************************
We are using TRINA's page to collect general information about the Shaw 24. Those Shaw 24s that we have found have their own pages - see below. Bits and pieces of this story are in various parts of the website. Someday, we'll have a page that consolidates all that we know about these fiberglass Shaw 24s...and on March 7, 2011 we got it! Click here to go to Fiberglass Shaw 24's.
Field Investigator Chris Becker provided some new information on two Shaw 24's which have been entered into the Roster - Richard Karin's Sailvation and James Hearting's Pshaw . In addition, we have Chris Peregrine's Ariadne with whom he circumnavigated Vancouver Island - mostly solo, Robin Farrand's and John Rogers' Compass Rose , OJ Young's Elva, the 1962 MORC national champion, Han van Demean's Arlette over in the Netherlands, and on January 28, 2009 we found out about Veninde up in Colchester, Vermont.
Ariadne, Compass Rose and Elva have fiberglass hulls. When your webmaster told Dyke Williams, our Shaw 24 historian, he was surprised, not knowing of Shaw 24s with glass hulls. Chris Peregrine told us that his Ariadne won the M.O.R.C. championship in 1962. She was built in Texas, 'stove in' by a hurricane and eventually arrived in New Orleans as the first fiberglass!! hull in the Southern Yacht Club fleet. She also won the Gulfport - Pensacola race in 1963.
So, relating to this matter, an internal Rod Stephens memo from S&S files dated February 13, 1964 will be of interest to the reader. It pertains to a conference attended by George O' Day, Lyman Bullerman, CEO of O'Day Corporation, Bob Larson of US Yachts and Rod Stephens. The last part of this memo is excerpted below.
A discussion of the competition of the Shaw 24 and Canada followed:
"The Gulf units were produced (bootlegged, seemingly) by an outfit that went broke - or worse. Rumor has it that 30 or 40 units were produced and sold. Bill Shaw has no facts and received no royalties. George and Bob agreed to see what they could find out and let us know. The Canadian competition is legitimate. The producer has limited production; perhaps 30-40 per year. These yachts will affect DOLPHIN sales in Canada. How much will depend on the workmanship and performance of the boats. However, this is legitimate competition and there is nothing to be done at this time. R.S."
******************************************
On February 17, 2011 we have received a translation of the specification sheet for Arlette, Shaw 24 Hull #8. She was built by the same builder and this gives a good idea of the quality construction of these boats. Click here to see this specification.
****************
As of January 17, 2016 these are the Shaw 24's listed on the website
************************************
DFI Eric Varty (Canopache) caught this tidbit on Scuttlebutt (June 13, 2012) - your webmaster missed it
* From Ted Jones:
As the first chairman of the NAYRU Level Rating Classes Committee, I wanted the trophies to be unique and special. We named the NA Half Ton trophy for Patrick Ellam's ocean crossing 20-footer Sopranino. A recent technology of the time allowed objects to be totally encased in a solid, clear polymer. I commissioned a coppersmith to hammer out a pair of sails representing Sopranino's sail plan, and had them molded into a clear solid block. A wooden base provided space for plaques telling of each winner. I had not calculated the mass of the plastic which was large and heavy. Carrying the theme further to the Quarter Ton Class, which was named for designer Bill Shaw's 24 foot MORC yawl Trina, I had the same coppersmith create Trina's four sails(genoa, main, mizzen staysail, and mizzen) and had the same polymer molder encase these in clear plastic. The effect was startling, and to my dismay, the solid block of polymer turned out to be huge - roughly four times the volume of the Sopranino Trophy.
***********************************
On November 27, 2012 Alden Harris (Schipperke) sent in a Craigslist ad link to a Shaw 27 for sale in Los Angeles. This is an interesting historical tidbit. Bill Shaw has his fingerprints on the Shaw 24, the Dolphin 24, the Mermaid 24 (a wood Dolphin 24) and the Tartan 27 - sometimes called a big Dolphin (standing headroom!) When Bill Shaw left Sparkman & Stephens in 1961 he went to work in Hong Kong for a company building custom yachts. The boat in the Craigslist ad was built there and has a familiar look - a big Shaw 24, with 6' headroom!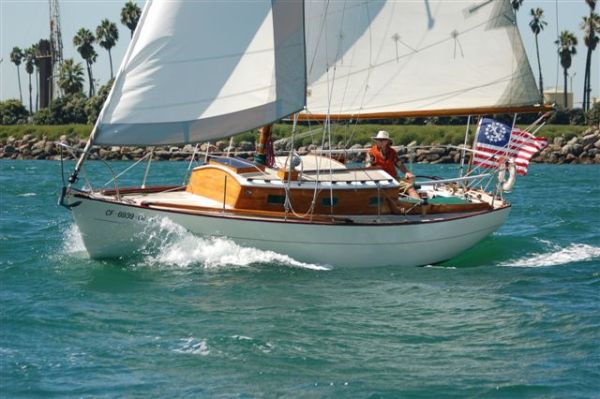 Here are the three 24 footers - click on the images to go to a larger view - click your browser back arrow to get back here.
For more information on the Shaw 27, click here
******************************************************
November 4, 2014. Al See, Elation, sent in Shaw 24 blueprints by Bill Shaw. It appears they are copies of the original blueprints for TRINA, Shaw 24 #1 which was commissioned by Wilbur Scranton. Fifty seven years ago this week Bill Shaw was working on the drawings. Click here to go to the prints and also to see full size PDFs in large scale - and a fascinating look back in time.
**************************
October 21, 2016. The influence of TRINA and the Shaw 24 continues. It took a while to get this tidbit up on the TRINA/Shaw 24 page but better late than never. Back in August 2013 your webmaster had an opportunity to visit Hank Hinckley's Great Harbor Boat Works in Southwest Harbor, Maine. His family made the Hinckley name synonymous with top quality US made performance sailboats. Hank's Great Harbor 26, Joy, was for sale at the Hinckley Brokerage in Manset, on a trailer right near the road. She was hard to miss.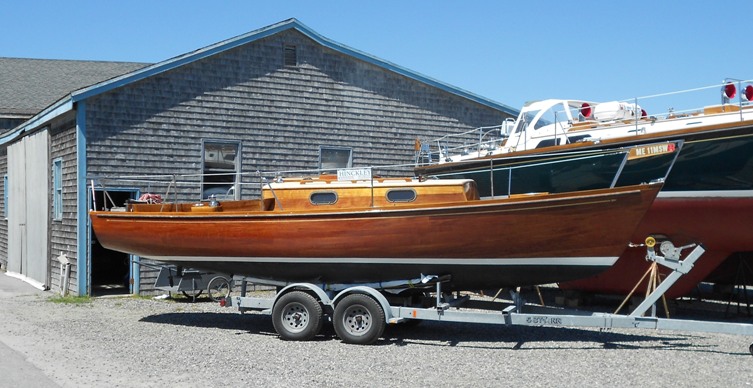 Her name was Joy - kinda looks familiar - for more on this visit click here.
*************************************
December 29, 2016 Former crew member on TRINA, Jim Giblin, sent in the following email and picture, and below is a 'report' he sent in a few days ago on his time with TRINA (minor edits). Your webmaster met with Jim this morning at Mystic Seaport and together we had a fascinating ' trip down memory lane'.
This is the only photo I have of TRINA. Bill Scranton is standing on to starboard on the house top. John Carelli, who usually raced with Bill, is to port trimming the genoa and it looks like Bill's wife Katie is on the helm. The photo was taken off Charles Island.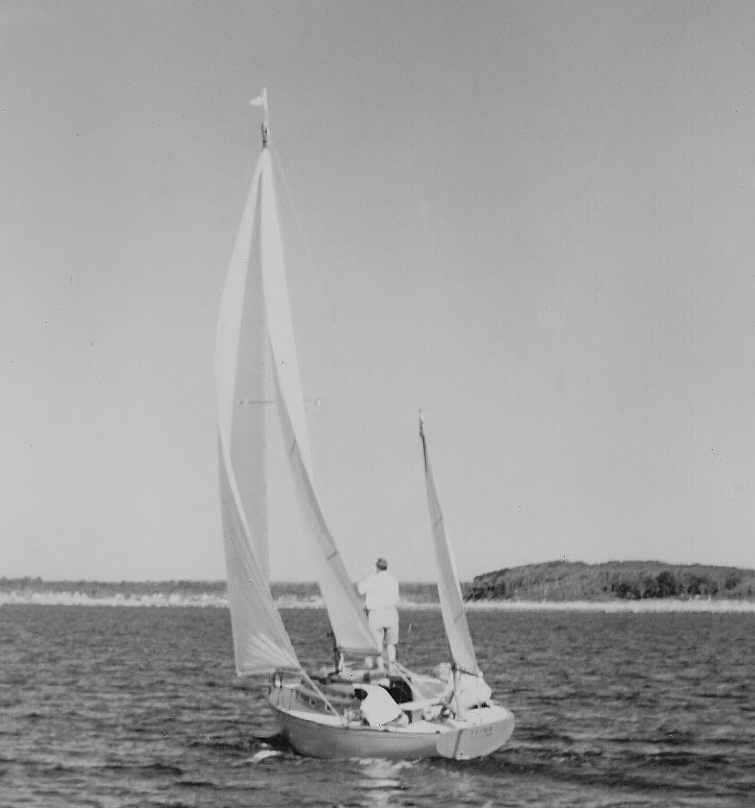 Charles Island is on Long Island Sound near Milford, Connecticut - then TRINA's home port

Owner - Wilbur L. Scranton (Bill), Woodbridge, Connecticut; Sailed from Milford Yacht Club, Milford Connecticut.

As a youngster I crewed for Kim Scranton, Bill's older son, on his various one design class boats. I also crewed on the Scranton's cruising boats on Off Soundings and various overnight races and knew the family very well.

Bill Scranton became interested in the M.O.R.C. during the mid 1950,s and I expect that is how he met Bill Shaw. I was present at the Scranton's home on two weekends, when Bill Shaw came by to review TRINA's drawings with Bill Scranton. I had the interest to listen to the discussion but not the knowledge to understand a great deal of it.

I do remember the yawl rig was primarily a rating consideration together with the ability to carry a mizzen staysail, which was thought at the time to be a great thing. (Many years have now convinced me the larger mainsail carried by a sloop is the better alternative in small boats.) TRINA rated favorably under the various rating rules of her time which, it was found, favored well designed beamy centerboard split rigs. S&S, Ted Hood, Charlie Morgan and Rhodes were the ones I remember as the most successful.

I think it is important to be clear that TRINA was an original Bill Shaw design done outside of S&S and not a scaled down FINISTERRE as I have sometimes heard. Bill Shaw's comment regarding his ½ scale FINISTERRE feasibility study is sometimes misunderstood. TRINA was certainly of the type but no proportional mathematics were applied to FINISTERRE's lines to create TRINA.

I raced on TRINA several times, the crew was usually two men and two high school kids.

Bill Scranton and George O'Day were well acquainted before TRINA was designed. I would speculate George very likely sailed on TRINA at some point and thus became interested in creating the DOLPHIN.

TRINA was a very nicely built boat, she was delivered with a very fussy British gas engine which I believe was replaced by Bill Scranton after a couple of years.

I never heard Bill Scranton or Bill Shaw ever mention the word trailering in reference to TRINA. I do not believe trailering was ever a design consideration.

Your path and mine may have unknowingly crossed at some point as I crewed for Sandy Van Zandt, at times, on his International 14 during the 1962-3 seasons. I also crewed on his Dolphin several times. He lives nearby and is a close friend of mine as well.

As additional trivia, Kim Scranton worked for Bill Shaw at Pearson for many years.

This was a pleasant trip down memory lane and I look forward to speaking with you.

Jim Giblin December 21, 2016

Stay Tuned