January 17, 2016. A Dolphin 24 webmaster's life is never boring. While working on the Irving Johnson's Yankee story (see Stories Section http://dolphin24.org/yankees_johnson.html) I connected with Henry Fuller, who owns the Cape Breton Boat Yard located in Baddeck on Bras d'Or Lake, and who I thought might have some info about the Yankee's sinking in 'mysterious circumstances' in Herring Cove, just 2 1/2 miles up the bay from Baddeck. Henry is checking with his friends and will get back to us, but he just happened to mention that he owns one of the original Shaw 24's, Galatea, built in Denmark!!
Webmaster Note January 28, 2018. Today, we got a photo of Galatea's nameplate. We thought it belonged here near the top of her page.

Click here for a larger image

and

We reserve a spot up here for Galatea's launch
Continued - here is a consolidated excerpt from his emails.
"I am in the possession of one of the original Shaw 24 wooden boats built in Denmark. I think five were built in Denmark. It has not been in the water for a number of years, but has had work done on it. I hope in the spring to do some more work. The hull is in good shape as is the deck and exterior bright work. I bought it back in the early 1960s. I will sent you some info on the Shaw 24. When I bought it is was called Galatea and owned by a fellow named John Runyon who sailed it up from New Jersey. It developed some leaks as some planking seams opened up. We sheathed the hull with epoxy and cloth and sistered three frames. The scantlings were light in the wooden Shaw 24s!

The work left on it is to reinstall deck fittings, install new through hulls. There is no motor in the boat although I have the little British gas engine that came with it. I have new rigging for the spar. I recently last winter, sent all sails to SAIL CARE in PA for inspection and repairs. They were all in pretty good shape. Before Christmas I traveled to Annapolis Royal to bargain for some bronze hardware from www.traditionalmarine.com. John Edelman has a great supply of traditional marine hardware sitting in a barn in milk crates!
We are standing by for a full report and pictures.
A couple of side trips - some years ago, pre website days, your webmaster was on a Fall driving tour of Nova Scotia and went to Baddeck to visit the Alexander Graham Bell Museum located there. Unable to resist checking out boatyards I wandered into, and thru Henry's yard and sheds while the Admiral waited impatiently in the car. There was an incredible collection of classic boats there - including several Concordia yawls. which have a connection to Dolphin 24s. The first Dolphins were assembled and finished by Leo Talesmanik, a legendary New England boat builder. Leo worked for Beetle Cat boats that became part of the Concordia Boat operations. More of this story can be found by clicking here
Henry and I were talking about the sinking of Yankee and he sent me an interesting 'sinking' article that appeared in the Gloucester Times, November 6, 1936, written by his uncle Horace W. Fuller - The sinking of Spalpeen. We thought it would make good, even inspirational reading for Dolphinites. Click here to go there.
*************************
January 31, 2017. While we wait for Henry to send us pictures of Galatea, Google has helped us get a picture of where she is. This effort is part of our continuing effort to familiarize our readers with the sailing areas of our boats.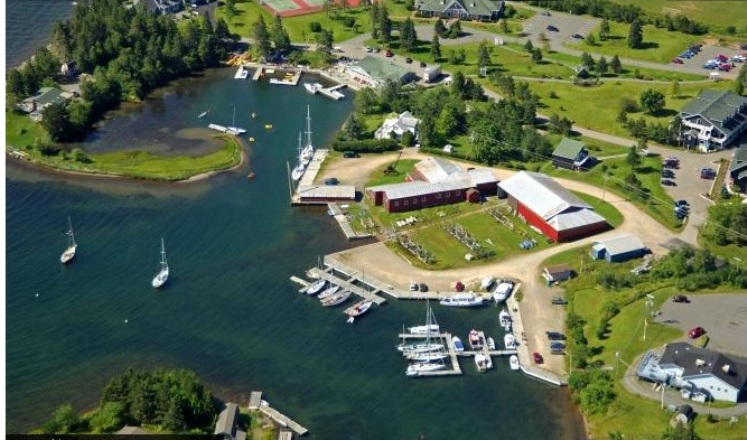 Cape Breton Boat Yard, Baddeck, Nova Scotia
Henry also owns White Mist, an S&S designed 45' yawl, that is in the design evolution chain that led to Finisterre, TRINA and the Dolphin 24. White Mist was previously owned by G. Blunt White (past commodore of the Cruising Club of America and the Off Soundings Club), and Melville Bell Grosvener (of National Geographic Magazine fame). Henry has written a fascinating history of this boat. Click here to go there.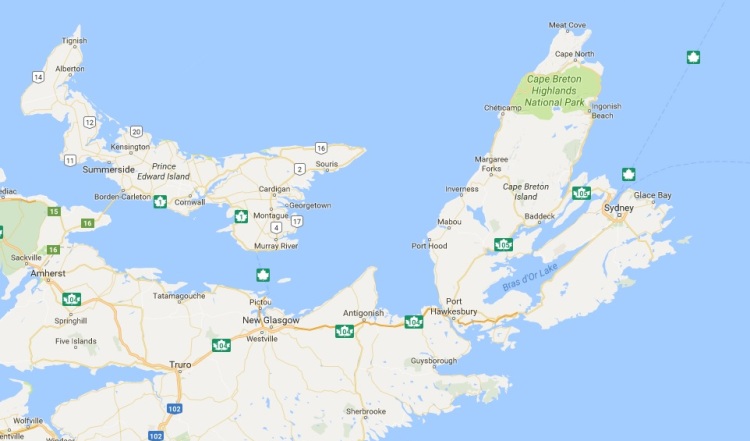 The island of Cape Breton is on the northeast tip of Nova Scotia, Canada. The Bras d'Or Lake is accessible from the Atlantic Ocean via a short canal and from the Gulf of St Lawrence via Sydney. Here is a photo album of the lake region http://www.novascotiaphotoalbum.com/Bras-dOr-Lakes/
*****************************
December 25, 2017. We received the following Galatea update.
Ron:

Here it is the night before Xmas eve. The last two days I have been exploring the Dolphin 24website. It is a fine site with great historical information that makes me understand why I must finish the restoring of "Galatea" which sits on a trailer in the blue steel sided building at CBBY. I am no longer operating a boat storage business for numerous reasons I will not go into. I have owned the yard since 1976 or you might say the yard has owned me. I am approaching 72 so my time on space ship earth is thinning out. Fortunately, I am in good health!

Galatea is in good shape. When I bought the boat from John Runyon many moons ago the boat was in reasonable shape. Runyon had sailed it from New Jersey to the Bras d'Or. He had purchased property in the Washabuck River. John was a big man about 6' 6". I never could figure out how he managed to fit himself comfortably down below. He is no longer living. I purchased "Galatea" from him a year or two after he sailed it here. The boat started to leak as, I believe, the planking was edge glued. It became a problem of how to fix this and John was not interested in spending the money. He was in his mid 60s. I offered to buy it from him for $6,000 CN. He accepted the offer. We renamed the boat "Creoula" after an aged aunt who lived in Greece, but it should probably still be called "Galatea"!

We stripped the exterior of the boat down to the bare wood. We sanded the hull and then applied a couple of coats of thinned epoxy to the bare planking. We then applied some epoxy filler over the seams sanding it fair. The next step was to sheath the boat with West Systems boat cloth applying a second coat of epoxy when the first coat was almost dry. I felt the best way to tie the exterior hull together i.e. planking was to sheath the boat. The boat has not been in the water since! No leaks. We never pulled any screws from the planking as the planks all seemed well secured to the frames. You got to stop somewhere!

We then sanded the hull ready for paint. We also replaced the toe rails with new mahogany, sheathed the deck, sanded and varnished the cabin sides and grab rails. The hull was undercoated and had a whitegloos finish coat applied with a red boot top.

We sistered, I believe, three frames in the forward on each side as the original frames were cracked but no wood deterioration. Otherwise frames are in good shape. I have had all new rigging made up. Sails were sent to Sail Care several years ago for inspection and repairs if needed. The mast and boom are original wood which we sanded and varnished. The main sail cover is in reasonable shape.

Work to be done is to put new thru hulls in place, mount stern and bow pulpits and new life line stanchions, new life lines, rewire the boat with a proper circuit breaker panel. I may paint the interior a gentle beige white using Epiphanes paint I have on hand. I may get a new ss fuel tank made. We made new bunk bottoms. I think I will get new ss tailing sheet winches as the old brass #2 Merriman ones really are outdated. I noted your comments about your sheet winches where you remarked that you wished you had put ST's your boat! I put four two speed STs on White Mist to replace original Nivens winches.

As I think you know, I own White Mist (46') which we have restored. White Mist is a fine boat. The boat was built by Nevins in 1950. Her older sister, Pilgrim (ex-Revonoc) is being upgraded right now at Gannon & Benjamin in Martha's Vineyard. Galatea is a smaller version of White Mist! (see previous email)

So, enough said. I felt I should let you know about the status of Galatea. Where there is a will, there is always a way!


Merry Xmas,

Henry W. Fuller

****************************
December 31, 2017. Henry sent in a year-ending report.
Ron:

I saw the Galatea update. I will brief you on any steps taken to get the boat ready for its future! The trouble with these boats is that the money spent is more than they are worth! I would appreciate any tips or advice you may have regarding restoring original wood built Shaw 24s! They are museum pieces today much like White Mist! (Webmaster Note: A well known principle of boat ownership - return on investment is not measured financially.....)

I want to install good electrics. Not sure about repowering. I have the old English engine, but it is too finicky for my liking. I have not set on a stove, but a Coleman camp stove seems o.k.

On White Mist I put a four foot Harken sail track at the back of the cockpit which made a great difference in trimming the mainsail. It allowed fine tuning of the sail as well as allowing to dump some wind when close hauled by adjusting the angle by letting the sail track fall to leeward!

As to sheet winches I am looking around. On White Mist I replaced the original four bronze Nevins winches with four two speed ST Anderson winches. The size was determined by the original winch bases. Today the winches would be considered under sized.

I have yet to think about a roller furling jib!

All the best in the New Year. I am glad I moved to Canada in the early 1970s........................looking back on that impulsive decision conjures up that old saying hind sight at best is a rear end shot!

All the best in 2018!

HWF
Henry didn't send us a picture of Galatea (remember that old saying "wait 'til next year"), but did send in a neat photo of him 'tramping in New Zealand'. Having 'tramped, and sailed", in New Zealand, we understand (http://dolphin24.org/nz_cruise.html) - we'll end his 2017 year with it.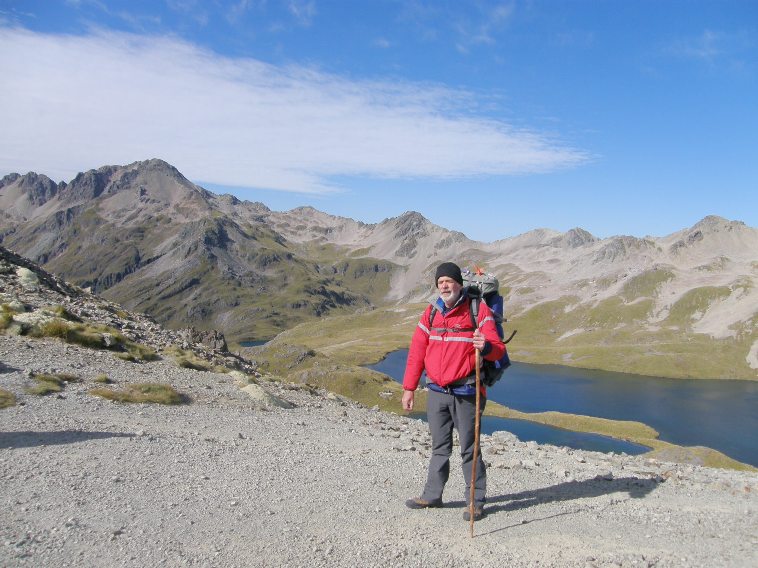 ****************************
January 7, 2018. Those of us that live on the east coast have been having a bit of weather - known as Storm Brodie (or Grayson in some quarters), with descriptive tags such as 'monster storm, blizzard, bomb cyclone", etc., - 6-12" of snow, 40-50 knot winds with higher gusts, single digit temperatures....Nova Scotia is not being spared. So, getting ready for another trip down under where its now summer time, Henry has huddled down to weather the storm, figuratively put pen to paper and sent in the following (edited). There are numerous connections in this report to various parts of our website content which are underlined/linked. Click the return arrow on your browser to get back to this page.
Ron:

First, thanks for all the website publicity regarding White Mist and the 'Sinking of the Spalpeen'. My Uncle Horace W. Fuller (Hod) owned this schooner in the mid 1930s after sailing around the world with Donald Starr on his schooner Pilgrim from 1932-34. I have attached a piece about him that focuses on his OSS days during WW II (Click here to go there) He was good friends with Carleton Mitchell, Irving Johnson and Ernie K. Ghan and many other revered sailors and many WW II warriors. In fact he was visiting Mitchell in Key Biscayne in 1988 when he developed a bowel blockage. Another Fuller uncle got him to Boston where he was operated on finding terminal bowel cancer. He died at his house on the island of Spetsai in Greece in August 1989. He had made his home in Greece since 1951. He started the charter business in the Aegean. There is a portrait of him in the Blunt White Library @ Mystic Seaport done by Poly Starr in his full dress Marine uniform.

There is a Horace W. Fuller Fund at Mystic that was started after the death of Hod in 1989 by my two then living Fuller uncles. Now Both having joined the the majority. My cousin, Ben Fuller, was curator of small boats at Mystic Seaport for many years before moving on to Maine where he now volunteers at the Penobscot Maritime Museum in Searsport. He lives in Cushing and is a year older than I - 72!

I will update you when I return from New Zealand, and I will get you a few photos of Galatea on a farm trailer in a Cape Breton Boatyard building (see photo above). I have to look for a good trailer.......

It is a cold winter's day here in Big Harbor, Cape Breton, where I live. We got hit by the 'weather bomb' here on Thursday night and yesterday. Storm force east winds followed by 24 hours of gale force south westerlies than a big temperature drop so we have slippery ice that is treacherous. Ferries to Newfoundland are still tied up in North Sydney and not scheduled to sail until Monday as Cabot Strait has still gale force winds and big seas.

I have attached a summary of what needs to be done on Galatea in terms of getting the boat in top shape. It is not a lot of work....... just putting things back in place and some interior cabin work. My intention is to start to work in March and April. Check it over for any comments or advice.

Henry

Galatea Restoration (Jan 6, 2018)

One of the projects on my to do list is to complete the work required to recommission Galatea. This boat was one of the six original Shaw 24s built in Denmark in the late 1950s. The boat was designed by William Shaw, a budding naval architect, working at the design office of Sparkman and Stephens. Shaw later had a long a career with Pearson Yachts.

The history of the Shaw 24 is well documented on the website www.dolphin24.com. This website is an eclectic compendium of information that serves to honor the Shaw 24 and its fiberglass counterpart the Dolphin 24. This site should be reviewed as it provides an evolutionary history of the design and production of what became a very popular boat.

The Shaw 24 has a special stature because its design is a diminished version of Finistere which in turn was a diminished version of White Mist. White Mist evolved from the NY 32 design. All these boats share similar hull lines, shallow draft with a centerboard and either sloop or yawl rigged. The interiors had similar attributes in terms of layout. The same holds true for the cockpits, decks cabin top.

The Dolphin 24 website provides the inspiration to recognize the importance of the Shaw 24 in the history of yacht design. Hence, owning such a boat has its responsibilities!

Galatea is in reasonable shape. The hull work has completed as well as the sheathing of the deck, replacement of toe rails, painting the hull and varnishing the exterior bright work.The mast and boom has been varnished. New rigging has been made up. The sails have been cleaned and repaired.

The work to complete the job is not arduous, but is required to put the boat back in the water. Upgrades are required of certain aspects of the boat. The wiring must be replaced as well as the fuel tank. The deck hardware needs to be put back in place with backing plates

I have outlined below the work that is required to complete the "restoration" of Galatea.

Exterior Hull:

1. Replace all through hulls with new bronze fittings and new backing plates.
2. Attach appropriate shut offs and hose barbs.
3. Check rudder post and shaft where it goes through hull.
4. Have name stencils made up.
5. Install bow and stern pulpits and new life line stanchions. Six life line stanchions are required. 26" would be a good height with two holes. Life lines could be made of Spectra rather than traditional platic coated ss cable.

Deck:

1. Install deck fittings to include cleats fore and aft, chocks fore and aft, genoa tracks.
2. Measure and purchase new ST winches to replace the Merriman # 2 sheet Winches. Check Lewmar and Harken for proper diameter base to fit on in place bronze winch bases. Look on Ebay for second hand winches!
3. Measure for main sheet track to be installed on aft deck. See if the track that came of of Mrs. Harper's boat is still around.
4. See about installing new flush compass in cockpit or on back of cabin house.
5. Check Wilcox Crittenden side lights for operation.

Interior:

1. Check over the interior of the boat for any deficiencies.
2. Check fuel tank for replacement.
3. Discuss merits of painting interior hull white.
4. Discuss merits of painting interior cabin top white.
5. Repair damaged delaminated plywood bulkheads
6. Check water tank.
7. Replace sink with new sink.
8. Check salt and fresh hand water pumps. Replace if necessary.
9. Decide on type of stove required. Coleman propane camp stove?

Boat Electrics:

1. Inspect and check over wiring. Replace wiring.
2. Design a new wiring system to include the following: new circuit breaker panel with at least eight breakers for running lights, anchor light, compass light, LED cabin lights, spreader lights. depth sounder, VHF radio, GPS(?).
3. Determine size of Deep Cycle battery required. Lead acid is sufficient.
4. Determine best solar panel for maintaining battery charge.
5. Determine best location for electrical panel (See Dolphin 24 website)

Engine:

Discuss and research best potential inboard engine for Galatea. The old original engine is a gas engine with a hand crank. It is finicky. I am not interested in an outboard given the fact there is an engine prop and shaft in place.


*********************************
January 12, 2018 Henry sent in an update on White Mist (click here to go there) and included a note about Galatea that needed to be here., as well.
........in my White Mist files I found a letter today. The letter was inquiring about White Mist. The author also asked me how I was getting along on the restoration of Galatea. I know he was very interested in the progress..........reason being that he was the individual that John Runyon bought Galatea from, Syd Rogers! I have had a compelling feeling that there was a force out there pushing me to get the restoration done. I am not sure if Syd was the original owner, but if not, close to it.

So, I have owned Galatea about 33-35 years - well over half the boat's life! I will have to check my files at the yard to see exactly how long.

********************
January 21, 2018 - We got some pics!
Ron:

Here are some long awaited photos of "Galatea" for web page! Pick the ones you like best! As you can see the boat is in pretty good shape.......exterior looks good.....like a glass hull with the epoxy sheathing. I am starting to buy some of the materials needed. How did you like the Lewmar #8 winches you installed on Marionette work out? (Webmaster replies - I like themI) I can not find small self tailing ones although Barlow has a self tailing sheet winch that looks o.k.

We will starts going cosmetics...sanding interior cabin roof and priming as well as interior planking. The deck needs non-skid applied. I found Harken traveler off another boat that will do the trick for the main sheet arrangement!

Just back from Toronto visiting the former Portuguese cook, age 79, who I spent five months with on the grand banks in 1972 on one of the last motor schooners of the Portuguese White Fleet. There were 57 dory fishermen on board. We had not seen each other for 45 years! Carlos with family migrated to Canada in 1975. His daughter-in-law found me two years ago through the internet!

Good snow here now for x-country skiing!

All the best,

HWF

More coming.....Click on the above photos for a larger image
January 22, 2018. Here they are - click on the photos for a larger image
*********************************
January 28, 2018. Henry has a large photo album with many more Galatea photos which can be seen by clicking here. When time permits we'll select a few to put on this page. And we'll stand by for a New Zealand report.
Ron:

Album photos show Galatea stripped naked of all interior carpentry joinery showing interior laid out on shop floor! Over the next month the updating of the interior should go pretty smoothly. Plywood for bulkhead replacement has been ordered. Dismantling the interior took about 2.5 8 hour days ( 20 hours). Brass screws holding the interior were all corroded. We will replace with silicone bronze!

The photos are to help us not forget how things went together! Looking to the finish about first or second week of April 2018.

Previous owner Syd Rogers would be pleased at this long awaited turn of events. And John Runyon would say I can not believe my eyes. Both sadly will not see the fruits of our labor!

A week from today I will be in the air New Zealand bound!


Best regards,


HWF

*************************************
September 11, 2018 He's baaack! but leaving again!! Responding to a Webmaster follow up Henry sent in a short update (minor edits) on his Galatea project, and a file photo of White Mist (click here to go there)
Good to hear from you. I am off to Quito, Ecuador on Sunday..........then a trip to China on Oct. 24, 2018. Hope to get back to work on Galatea in January after December trip to Thompson Ranch (Missouri - click here for a larger image).

We have all stuff removed ready to put back in place! Everything is painted and varnished. New plywood bulkheads. So, we should make progress over the winter

Standing by
******************
January 5, 2019
He's baaack! Henry sent in the following update
Hi Ron

Thanks for your email. I have been on the move....... Equador and the Galapagos Islands in September and early October followed by a two week junket to China in late October visiting Beijing, Xian and Shanghai. Then a ten day sojourn on Thompson Ranch plus a couple of trips to Halifax for board meetings.

We are back at work on Galatea.The bilge was painted today. Tim has put some of the bulk heads and cabinet work in place. By the end of the month most interior pieces should be back in place. You will note open seams in interior planking.

Galatea has been sheathed on the outside with boat cloth and West epoxy several years ago. This was done because the glue dried out and the boat leaked. Before painting the interior we applied several coats of CPES to seal the interior planking. We also filled the bilge seams with West epoxy as a hedge against potential water penetration that might cause the planking to swell. Also, the epoxy bonds the planks together from the inside.

When we sheathed he outside a couple of thinned epoxy coats were applied before the West boat cloth was applied. The aim was to unitize the hull and cut out annual painting of the hull. From what we could tell the fastenings were o.k. and I was not interested in refastening the boat!

As you know the scantlings in the wood hulls is pretty light reminding one of a Concordia. You can see where frames were sistered not unlike what had to be done on many Concordia restorations. As I may have told you, Galatea had the original Coventry gas engine. I still have it, but am looking for something else. Do you know what inboard engine types Dolphin owners may have repowered their boats with? I may have access to a single cylinder Yanmar, but they are rough. I want something simple and smooth! Webmaster note: Check out http://dolphin24.org/Beta10.html

Happy New Year,

HWF

*******************************
July 12, 2019 Here's the latest on Galatea's restoration
Not much on Galatea...........we have started to put her interior back in place. We need to put the bronze thru hulls in place.

HWF

*************************
May 13, 2020 The sad news of Commodore Harry Anderson's passing away on May 11 prompted a check in email from your webmaster. Harry was Henry's's partner in White Mist for many years http://dolphin24.org/WhiteMist.html. Here is the link to Sailing Scuttlebutt's article on Harry's passing https://www.sailingscuttlebutt.com/2020/05/12/harry-anderson-a-link-to-an-age-long-ago/
Henry gave us an update on Galatea - the excerpt from his email is below.
As to Galatea, most everything is back in place in the interior of the boat. We had hoped to finish up in March and April, but Tim, who works on the boat, had work to do on local fishing boats getting ready for the lobster season. He is a good marine electrician and works in the winter months rewiring boats and installing electrical equipment for a business in Mabou.

It looks like the 2020 tourism season here in Nova Scotia will be a bust impacting on many local Baddeck businesses. How this all ends up is part of the current global mystery tour we must face.

Best regards with a heady salute to the Commodore!

HWF

********************************
August 17, 2020 We got the following update from Henry (edited)
We are getting some work completed on Galatea. Putting a Porta Pottie in instead of a marine toilet. Interior rebuild is almost complete. Soon the thru hulls with original seacocks should be back in place.

Next will be new wiring and new circuit breaker panel. Hence, there is some light in the tunnel. Exterior hardware needs to be installed. I purchased two Lewmar self tailing winches to replace the original bronze ones! Price for these is outrageous!

White Mist sits in the shed .....looking regal as the boat is in excellent condition and is 70 years old this year. I have owned White Mist for 25 years.......one third of her life. In less than a month I will be 74!

Tourism season is a bust here!

HWF

**********************************
September 20, 2020 - Still working on Galatea - emails consolidated and edited.....

We are getting there. Trying to figure out what to do for an engine? Interior is pretty well put together.

We sheathed the outside of the boat with West Epoxy and boat cloth. We are seriously thinking of putting another layer of cloth on the bottom. Reason is to make sure that the underwater part of the hull is impenetrable and add some more resilience. Given the scantlings of the plank and the fact they were edge glued this seems prudent. All the trouble began when the glue lost its adhesive power!.

Below - taping in preparation of applying paint with non-skid!! Click here for a larger image

We will have the finest little sister to White Mist!

***************************************
September 24, 2020 - Continued......
Ron:

Decks painted with non-skid taking into consideration all deck hardware. Hopefully, we will get the deck hardware in place this fall. A couple of days should take care of this.

I bought 2 Lewmar self-tailing winches to replace the original bronze winches. The price of these winches is treacherous!

HWF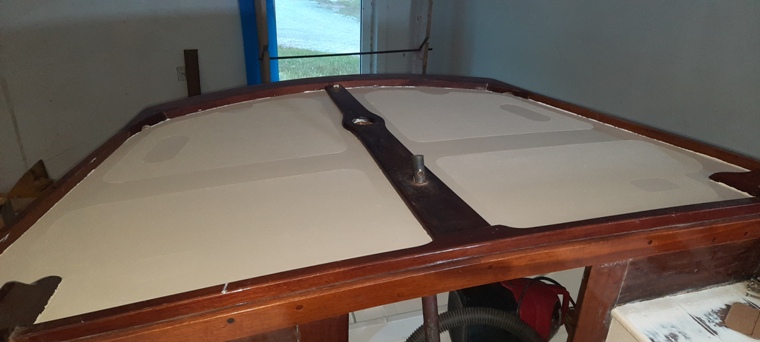 To be continued
April 7, 2021 - We've got the following update (edited).
Galatea - we are getting there. The interior is all done. The deck has been painted a Petit sandstone with non-skid. On Thursday, I left bunk patterns off at Doyle Sails in Dartmouth, Nova Scotia. for new interior cushions. We stripped the cockpit and applied epoxy and cloth on the cockpit sides and bottom. It has been undercoated and now needs the finish paint.

The next step is to put the deck hardware back in place...cleats, chocks, new Lewmar ST winches, mainsheet track, lifeline stanchions and bow and stern pulpits and genoa tracks. For power my plan is to purchase an electric motor from "Thunderstruck" in California (https://www.thunderstruck-ev.com/) I think it will work fine. However, four 12V Deep Cycle batteries will be required and another 12V house battery for the electrics which is straight forward.

Rather than put a marine toilet in, we have installed a porta potty. It fit just right! So, about four thru hull fittings will not be required. A solar panel will be mounted on davit like pieces on the stern pulpit - 48 volts are required for the electric motor. So, slowly, but surely progress is being made. Last work will be installing the engine and the electrical panel and new wiring. I bought a piece of 3/4" stainless for a new shaft in Dartmouth, NS.

However, I do not see the boat getting in the water before 2022. I have had a lot of fish to fry during the past 2-3 years.

Best regards,

HWF

********************************