March 10, 2013. Terry Glenn and Porpoise, Marscot/O'Day #15 re-introduced your webmaster to the stories of Irv and Exy Johnson who circumnavigated our world seven times with young crews, three of them in Yankee, a 92' pilot schooner built in 1897 in the Netherlands, and four of them on the 96' steel hull brigantine built in 1919, also named Yankee. It can be said the Johnson's wrote the book on sail training in square rigged ships. The Los Angeles Maritime Museum had two square rigged brigantines built in their honor dedicated to sail training for disadvantaged youth http://www.brigantines.com/lami.htm. The Johnson's circumnavigation story was dimly in my memory but I did not know about their 3rd Yankee, a ketch, in which they toured Europe. When we found out Terry had crewed on the 2nd and 3rd Yankees, the books about these cruises had to be added to my personal reading list - and they have been added to our Dolphin24.org reading list as well.
This is how it started. On September 25, 2010, we got an email from former Wilmette Fleet Captain Kristin Keenan (Yankee #239) about a Dolphin 24 sailing out of the Belmont Harbor YC in Chicago. Wilmette Harbor is 20 miles up the Lake Michigan coast from Chicago and home to 15 Dolphins. She told us that this boat was an 'honorary' member of the Wilmette fleet. Then, we tracked down the owner,Terry Glenn, with the help of DFI Nicole Breault - Terry and Nicole share a mutual friend, Chicagoan Betsy Altman, former chair of US Sailing's Inshore Committee, and fellow International 470 and Lightning Class sailor.Then Terry sent in the following:
I am the current owner of the Dolphin 24 PORPOISE, and a member of the Wilmette Dolphin fleet. Nancy Broeckl bought the boat in 1992 from C. Paul Cox of Easton, Maryland. I became a co-owner when she bought the boat (and sole owner in 1997).

The boat is an O'Day Dolphin, built by Marscot Plastics, Fall River, MA. Hull No. 3235, Class #15 in 1960. The boat has been kept in Belmont Harbor, Chicago since acquired here. Nancy Broeckl is a member of Chicago Yacht Club, which has a Belmont Station, and is their historian.

The boat has been day sailed from the harbor and has never raced at Wilmette or locally. Nancy has not done much cruising, but sailed for a few weeks on the ketch Yankee one summer when we were on the Canal du Midi in Southern France, with Irving and Exy Johnson. I had sailed with them in a circumnavigation on the brigantine Yankee, and then on numerous short cruises in European waters..

I was on Irving and Exy Johnson's fourth world Voyage, Nov.1947 to May, 1949 (18 months) They sailed the original Yankee on the first three cruises before WWII. Irving was in the Navy and at Pearl Harbor on Dec. 7. The last four cruises were on the Brigantine Yankee, a steel North Sea pilot ship. Our cruise was written up in their book "Yankee's Wanderworld" and in 2 articles in the National Geographic. I had never sailed but I realized how enjoyable it was and have sailed until now.

I hope this helps in your history of the boat, which I enjoy sailing on Lake Michigan.

Terry
So Terry is still another Dolphin 24 owner with a wonderful story to share - part of it in these books. Pictures are from the books and copywrite credit recognized.
| | |
| --- | --- |
| Published by Norton & Co. 1949 | Published by Norton & Co. 1962 |
| | |
| --- | --- |
| | The book descriptions above and left are from the inside cover of the book jackets |
************************************************
Yankee's Wander-World - Yankee, steel construction, brigantine rig
LOA 96'; LWL 81', beam 21' 6", draft 11', gross tonnage 114, loaded 200
twin 55 hp GM diesels, sail area 7,775 sq ft
Yankee's 18 months and 40,000 miles of ocean sailing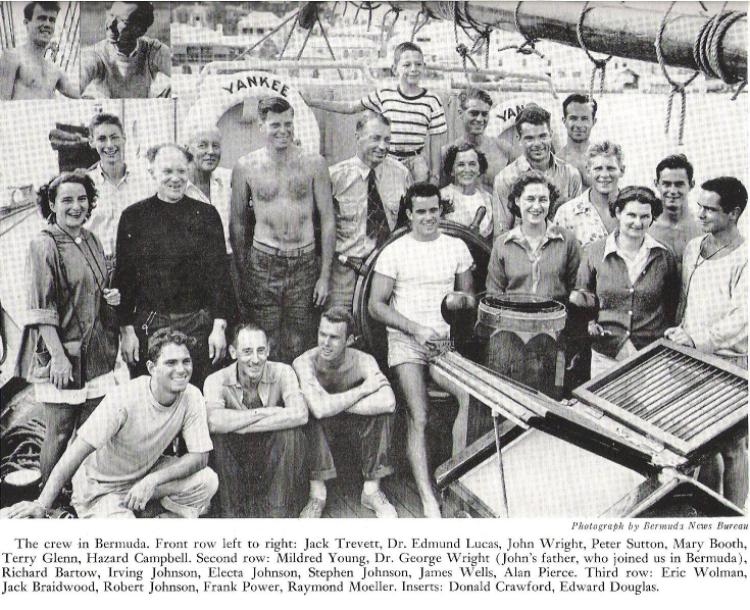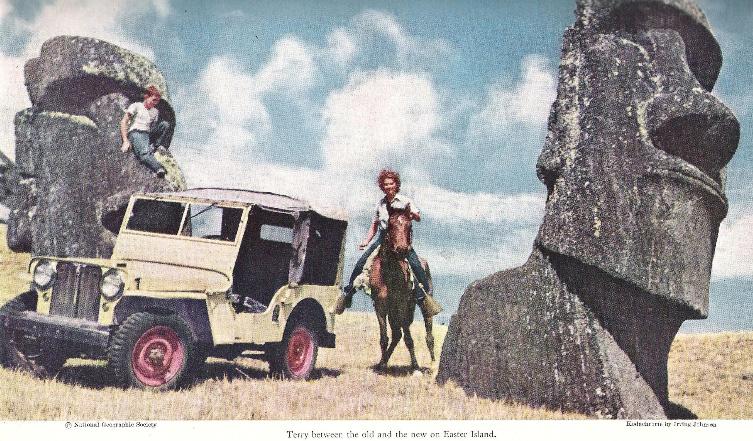 Captain Irving Johnson passed away in 1991 at 85 years old at his farm in Hadley, Massachusetts. Exy Johnson passed away in 2004, also in Hadley, at 95. Wikipedia has links to several good articles - http://en.wikipedia.org/wiki/Irving_Johnson. From 1932 to 1969 they published 8 books about their cruising life, 13 articles in National Geographic magazine, 4 in Yachting, 3 documentary films with National Geographic and one by Mystic Seaport. The last voyage of the Brigantine Yankee (Yankee #2) can be found by clicking here. The Irving and Exy Johnson Collection resides at the Blunt Library, Mystic Seaport. (Webmaster Note: The Dolphin24 website book, copy #1, resides there as well - click here to see that story)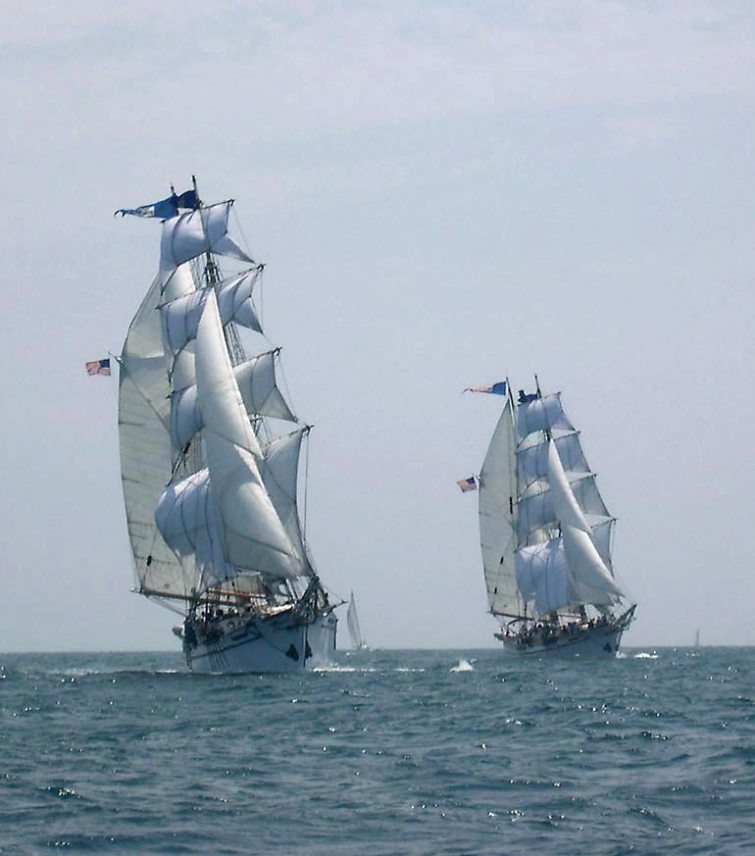 The Irv Johnson and Exy Johnson Brigantines
***********************************
Yankee Sails Across Europe - Yankee, Corten steel construction, ketch rigged (the 3rd Yankee)
designed by Irving Johnson and Olin Stephens of Sparkman & Stephens for sailing the inland waterways of Europe, built at Westhaven in Zaandam, the Netherlands
LOA 50'7", LWL 42'6", beam 15'4", draft 4'3" (twin centerboards up)
sail area 1700 sq ft; GM 3-71 diesel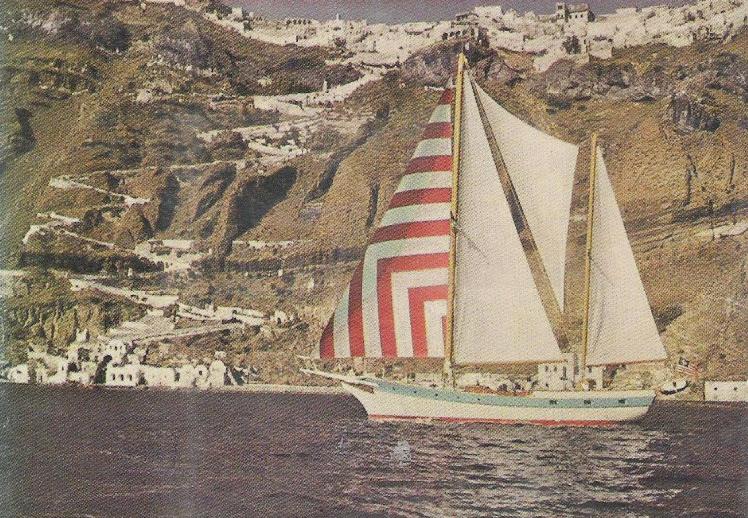 Yankee, the ketch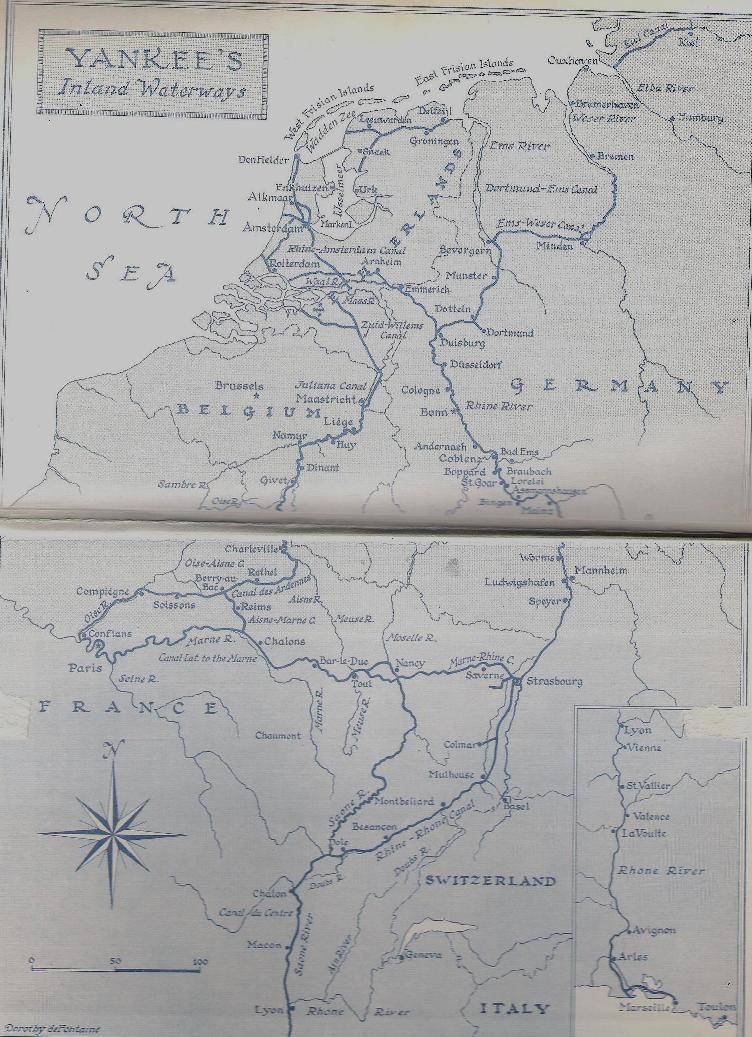 The inland waterways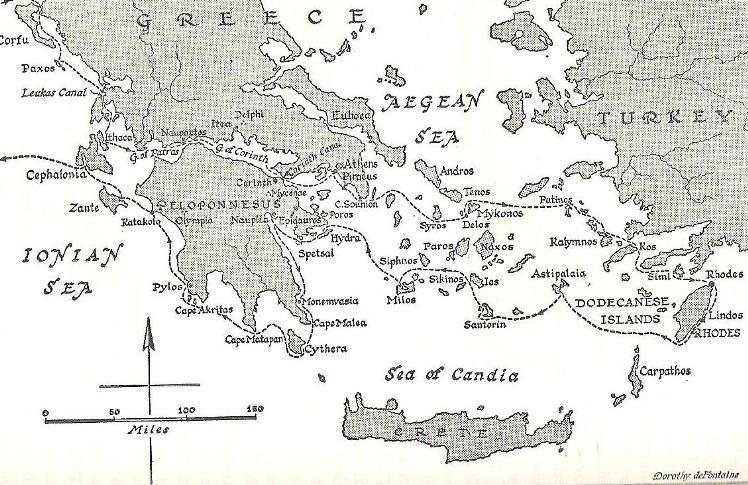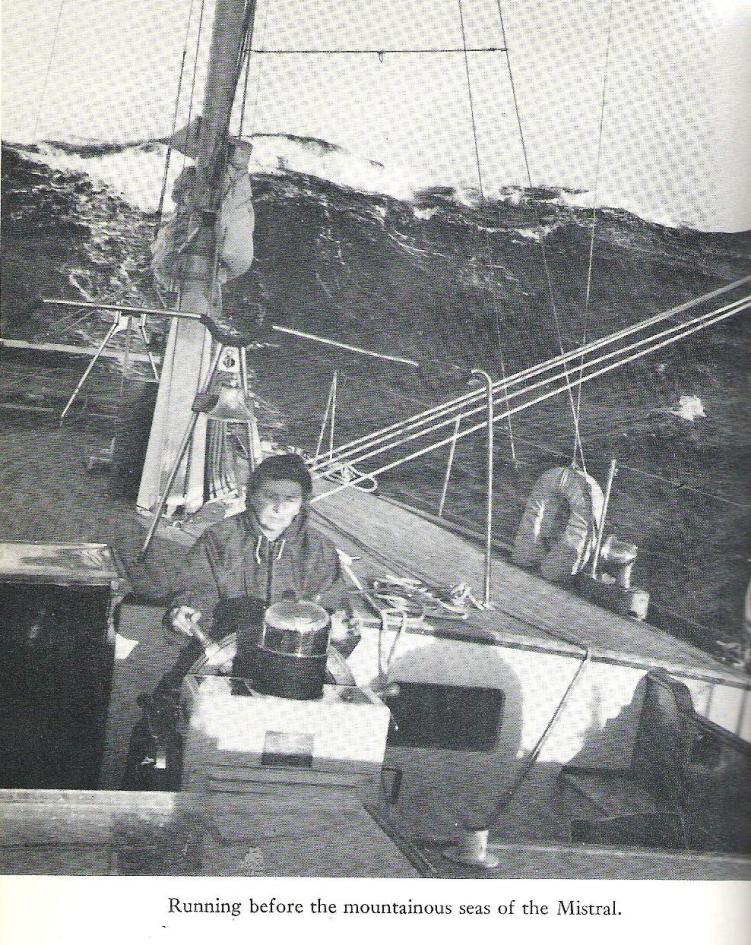 Terry Glenn has sailed on Yankee's 2 & 3, and ever alert for Dolphin related material, we came up with the following, on page 116 of Yankee Sails Across Europe. Yankee was moored in the tiny harbor of Ischia, an island in the Gulf of Naples waiting for her new crew. Exy Johnson writes:
"....a most welcome crew since all had sailed in the Brigantine Yankee, three of them around the world; Terry Glenn, lady engineer, sailor, and skier from Chicago; Ruth Donovan, the widow of General 'Wild Bill" Donovan of OSS, and Eric Wolman who was such an advanced mathematician that we had to confine our conversation to his many other interests. The fourth guest was Dr. Bob Goodwin of New Bedford, who had crossed the Atlantic with us. With such a crew a cruise to Greece would be ideal"
These books are just the kind of reading a Dolphin owner needs!!
**************************************************
The bound volume documenting Yankee's circumnavigation 1947/1948

The extreme conditions film footage that irving Johnson shot during a passage in her around Cape Horn in 1929 shocked experienced Cape Horn veterans and landsmen alike.

March 14, 2013 - Nearby Connecticut College has a bound collection of National Geographic magazines dating back to 1908, and, so a bit of staff research was indicated.

Below are pictures from some of these articles. But first we'll start with cover of the Mystic Seaport 37 minute film taken by amateur photographer, Irving Johnson in 1932 that launched his really incredible sailing journey

The ship above is the Peking, presently at the South Street Museum in New York City.
Yankee (3) - Staff has been reprimanded for failing to identify this aqueduct

Yankee (3) on a small tributary of the Nile
December 2, 2015 So, last Saturday your webmaster went to an art show in Chester, Connecticut to pick up a painting that the Admiral had ordered. The artist, Pam Carlson and her husband Bill, are good friends, and were in Marionette's crew at the S&S 75th Anniversary celebration at Mystic Seaport in 2004 http://dolphin24.org/stories_s_and_s_75th.html.
Pam introduced me to a friend of hers who was manning (femaling?) the gallery front desk - Claudia van Nes, also an artist. We started talking about boats and I found out she and her husband, have, for 14 years, owned Irving and Exy Johnson's 3rd Yankee, a 50' steel ketch (above). Immediately, your webmaster went into DFI mode, introduced Claudia to the Dolphin24.org website (she had a computer terminal right there on her desk!) and, we made a visit to the S&S 75th page - Claudia told me Yankee had been at Mystic Seaport for the S&S 75th as well! Then, we went to this page, and we talked about boats (schooners) So, I needed to 'update' the Yankee's page with some pictures of #3, and some comments about what she has been doing the past 14 years. We know she has been to the Caribbean and MaineI owed this to Terry Glenn and her Porpoise, Marscot/O'Day #15.
Claudia sent me the following pictures. Yankee is normally kept on a mooring in front of their house in Chester. For the past 2 summers. they have had an arrangement with the Connecticut River Museum in Essex, Connecticut to keep her at a slip there. Regular readers know I found Marionette there in 1995.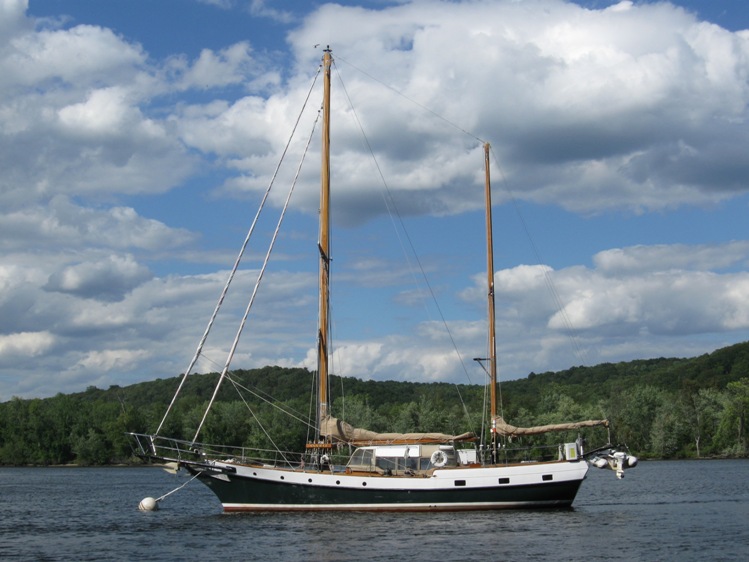 Yankee (3) on her mooring in Chester - she has had a paint job and her hull is now green (click here for a larger image)
Click on the pictures for a larger image - click the return arrow on your browser to get back here
*****************************************
| | |
| --- | --- |
| The photo above is the first Yankee. Some of her later in life, and 'closer to home' story, is captured below. | |
Ralph Clark, Captain of Yankee 1

Irving Johnson joined the US Navy in 1941 and the Johnsons sold Yankee to the Admiral Billard Academy in New London, a naval prep school for boys. With WW2 breaking out, Yankee then entered a new career phase - initially as a training ship, and, we think, when the war broke out as part of the coastal anti submarine effort. Your webmaster had the priviledge of knowing Yankee's wartime captain, Ralph Clark (left), now deceased, who was a member of Niantic Bay YC, where I am also a member, and where Marionette is berthed. More on this later....

After the war Yankee was sold to Capt. Frank Swift and sailed as a windjammer out of Camden, Maine. In 1948 she was sold again to Capt. Walter Boudreau who sailed her as a windjammer up on the Bras d'Or Lake, Cape Breton, Nova Scotia. In the winter of 1952/53(?), she was 'scuttled and sunk' (!), under mysterious circumstances" (!!), in Herring Cove near Baddeck, Bras d'Or Lake in Nova Scotia. Her location is listed on area charts and people dive down to take a look. In 1995, another NBYC club member, Thor Holth, sailed on his family's 50' Symfoni, built in 1936 in Sweden, up to Bras d'Or Lake, dove down and had a look. More about Yankee's sinking in a future update.

Symphoni closed another 'story' listed on this website, and she is worth a closer look - use the following link to go there. http://dolphin24.org/marionette_to_stonington.html.
December 19, 2015. When Thor dove down on Yankee he came back with a piece of plank from Yankee's hull, and then had it mounted with a plaque. I was shown this plaque at a visit with Candice and George Clarke, whose family owned the property on which the Admiral Billard Academy was founded, and whose father captained the Yankee before he went off to war and was replaced at some point by Ralph Clark (no relation to the Clarkes). I showed them the above picture of Ralph and George said - "yep, that's him"!
Terry Glenn, Porpoise, Marscot/O'Day #15, got us started on this story, and she has checked back in. Here is her email (minor edits).
Hi Ron

The Brigantine Yankee was owned by the Germans during WWII. Irving explained she was built for training men to pilot ships into harbors, but was taken over by the Luftwaffe during the war. The English RAF yachting committee took it over as a prize of war. Irving persuaded them to sell it to him, acquiring a boat that needed less restoration work.

The original Schooner Yankee was sold to a school for boys in New England (Admiral Billard Academy) after the Johnson's returned from their 3rd circumnavigation. Irving went on active duty with the navy and they were in Pearl Harbor on December 7. Son Robert remembers a Japanese plane dropped a bomb almost in their back yard. Irving asked Exy to check the shore for a submarine, but she reported all she saw was a sewage outfall.

The schooner eventually sank in New England waters..

I am enjoying Portland, Oregon - an interesting state. We are only an hour's drive from the ocean, which is usually referred to as the beach,. The summer here was hot. Niece Kathryn and I spent July visiting Australia and New Zealand with her older sister's family - their winter. That meant in the seventies in Brisbane.

Best Wishes for a Merry Christmas,

Terry
December 28, 2015 - Webmaster Note: Website staff has been in touch with the librarian at Baddeck Library, the past commodore of the Bras D'or YC Yacht Club in Baddeck, and the provincial archivist, to try and get details of what happened to Yankee. For a chart view of Yankee's final resting place in Herring Cove, Bras D'or Lake, Nova Scotia, click here. For a general guide to the Bras D'or Lake area, click here.
*******************************
January 9, 2016. Update Yankee (# '3'), the '50 ketch, is currently for sale and is listed on the Sparkman & Stephen website http://sparkmanstephens.blogspot.com/2010/08/yankee-design-1278.html. Webmaster Note: Listing expired - see new listing November 30, 2018 below. Update May 11, 2018 Came across this really interesting article about Yankee #3 and her current owner - click this link https://www.soundingsonline.com/boats/an-old-yankee-towns-resident-old-yankee
Today your webmaster spent sometime with researchers at the New London Historical Society, the New London Library, and the US Coast Guard Library in an effort to find out more about Yankee #1's involvement in the WW2 anti submarine program. At right, an interesting excerpt from a USCGA Library document

(Webmaster Note: excerpt added December 31, 2017)
January 17, 2016. A busy week. For those of you thinking we are taking this story too far out on a tangent, hang on. Your webmaster has been too busy to update, so here's the update
Re: Yankee #1 on Anti Submarine duty in WWII. We know Ralph Clark was captain of the Yankee sometime during WW2. Ralph, now deceased, was a member of my yacht club. And we know Ralph was captain of a schooner on anti submarine patrol in WW2 - he told me so! But was it with Yankee that he was on anti submarine patrol? The researchers at the New London Historical Society, the New London Library, and the US Coast Guard Library have been unable to confirm Yankee was on anti submarine patrol. Records are incomplete and we are hopeful that US Coast Guard headquarters, District 1 in Boston, responsible for the Thames River/New London area where Yankee was moored, can tell us. We are standing by to hear from them. We have spoken with Ralph's son Stuart, and while he could not confirm his father took Yankee on anti submarine patrol, he did say that his dad had sailed to Nova Scotia several times on Symfoni, and had a Yankee 'memento' identical to the one that the Clarke family had!
| | |
| --- | --- |
| | |
Interesting - the engraved plaque indicates Yankee sank in 1965 - see enlarged image. This week I also spoke with Capt. Lou Boudreau of Lunenberg, Nova Scotia, whose family owned Yankee, and whose father was the captain of Yankee. He told me Yankee sank on her winter mooring in Herring Cove in the winter of 1952 or 1953. Elsewhere, I have read that she sunk in 1955. We are working on getting more information on this....Lou also told me of his family's effort to bring back Yankee, a new boat, built to the same basic design. They have formed the Yankee Schooner Foundation for this effort and that website has a lot of information, including some history of the Yankee. Click here to go there.
Webmaster Note January 17, 2016. Capt Lou Boudreau and his wife Sarah-Jayne are writers, having 'swallowed the anchor' in 1996. Their website http://caribbeebooks.com/authors/ is a source of interesting reading about schooners and life aboard them. One of Lou's books, The Man Who Loved Schooners, is about his dad, the captain of Yankee, and includes stories about the loss of Yankee. Its on my reading list.
Your webmaster exchanged emails with Henry Fuller who owns the Cape Breton Boat Yard in Baddeck, about 2 1/2 miles from Herring Cove. Henry will check with some locals he knows to get more information but then offered the following - Henry has owned Galatea, one of the original Shaw 24s, for 40 years! We set up a website page for Galatea and we are standing by for pictures and more info.
Your webmaster exchanged emails with Henry Fuller who owns the Cape Breton Boat Yard in Baddeck, about 2 1/2 miles from Herring Cove. Henry will check with some locals he knows to get more information but then offered the following - Henry has owned Galatea, one of the original Shaw 24s, for 40 years! We set up a website page for Galatea and we are standing by for pictures and more info.
Left to right, 1st row: Harry Anderson, Trice Kilroy (accepting for father Jim Kilroy), Nat Bowditch, Jean Eichenlaub. 2nd row: Skip Gmeiner (accepting for L. Frances Herreshoff); Miriam O'Day, Olaf Harken, Peter Harken

Click here for a larger image of the picture at left

Patience here! Henry also owns White Mist (ex Maybe), S&S design #911 with then partner Harry Anderson, past Commodore of the New York YC. (I have to be careful here not to get off on another very tempting tangent story. White Mist is a full keel, shallow draft centerboard boat that evolved, design wise, and includes in its offspring, boats with outstanding racing records like Finisterre, Trina and Marionette :-)) They bought White Mist in 1995 from Melville Grosvenor who was the president of the National Geographic Society and editor of The National Geographic Magazine from 1957 to 1967. He was the son of the magazine's first editor Gilbert Hovey Grosvenor, and the grandson of telephone inventor Alexander Graham Bell (The Bell museum is located in Baddeck!!). The reader will recall that Yankee has a close connection to National Geographic magazine.....

Built by Henry Nevins, a renowned builder in the early 1950s, White Mist (then Maybe) was raced extensively for 10 years - Bermuda Race, Fastnet, etc., by her then owner Blunt White of Mystic, Connecticut, former Commodore of Cruising Club of America (CCA), and the Off Soundings Club (OSC). Regular website readers may recall that it was CCA guidelines and handicap rules that guided the Midget Ocean Racing Club (MORC) rule, that Bill Shaw developed while working for S&S. Bill was a founding member of MORC, and he designed the Shaw 24, the Dolphin 24's gene provider.....

Bringing this together - regular website readers may also recall that the Dolphin 24 Book, copy #1, was donated to the Blunt Library at Mystic Seaport by Miriam O'Day just a few weeks ago - your webmaster made the presentation - it will join the Olin Stephens collection, and the Ivy and Exy Johnson collection! - already at the Blunt Library. Click here to go to the Dolphin 24 Book story.
Dolphin 24s do travel in good company. In the photo at left above Miriam O'Day accepting National Sailing Hall of Fame's recognition of George O'Day's 2014 induction into the National Sailing Hall of Fame. Sitting in front of her to her right is the above mentioned Harry Anderson. Click here for a Gary Jobson/Sailing World aticle on Harry.
Ok, that's enough for tonight - need to watch the rest of the Pariots - Chiefs playoff game. Stay tuned for a few more 'twists' in this Dolphin 24 story - this is all Terry Glenn's fault!
*****************************************
February 6, 2016. Winter Storm Barbara dumped 8-9 inches of heavy snow on Old Lyme, CT, so, unable to get out of the house until plowed out, this provided an opportunity to update. We have two issues to resolve 1) getting confirmation that Yankee #1 was used on anti submarine duty in WW2, and 2) getting behind the mysterious circumstances of Yankee's sinking.
Regarding Yankee #1, we are awaiting information from Navy records now held at the National Archives in College Park, Maryland. Stay tuned.....
Regarding Yankee #2, despite the snow the US Mail got thru, and I received a book on my updated reading list, directly from the author, a copy of "The Man who Loved Schooners". When I spoke with Capt. Robert Louis (Lou) Boudreau back on January 17 he told me he would send me a copy of this book he wrote and it might help our investigation.
The book is about his father, Capt. Walter Boudreau who owned and captained Yankee from 1948 to 1952 when she went down, and it does contain interesting additional information about what happened to Yankee.

As mentioned previously, Yankee was left for the winter on a mooring in Herring Cove, not far from Baddeck. According to 'The Man Who Loved Schooners', Capt Brodreau had purchased another schooner (Dubloon) which he had taken down to Florida and the Caribbean that winter.

At the end of the winter season he and a crew were sailing Dubloon back to Nova Scotia, and arriving in New York, he received word that Yankee had sunk at her winter mooring. Leaving Dubloon at the marina where she was berthed he took a bus up to Nova Scotia. Here is an excerpt from page 71.
February 10, 2016. I know some will wonder about all this schooner stuff on a Dolphin 24 website, besides the Terry Glenn and her Poprpoise connection. Your webmaster would be remiss if I failed to mention that one of my sources for this particular story was Chip Angell, a one time captain of Yankee #2, and currently the owner of the Brooklin Inn, Brooklin, Maine. The pub at the Inn is a favorite stop for Marionette's single handed crew when cruising along Eggemoggin Reach - a favorite haunt of Maine's windjamming schooners. Another source was Capt Ray Williamson, owner of Maine Windjammers Cruises. This company, based in Camden, Maine was founded by Frank Swift who bought Yankee (#1) in 1946 and in 1948 sold her to Walter Boudreau, who took her to Cape Breton, Nova Scotia. Ray owns the 123' schooner Grace Bailey (formerly Mattie, built in 1882) with whom your webmaster's Marionette has shared a slip in Camden's harbor....
| | |
| --- | --- |
| | |
We found a couple of file photos (Log, Summer, 2001) of Marionette and Grace Bailey, flagship of Maine Windjammer Cruises. Click on the photos above for a larger image - Marionette is tucked up on her stbd quarter. That red arrow will help locate her.
Further, we have at least one other schooner/Dolphin 24 connection - Art Krause (Abbie Burgess). Art had a captain's license reportedly sailed on schooners out of Camden - we are working on getting more details. We know he captained a Friendship Sloop named Dirigo. Stay tuned
February 26, 2016. We received a 'report' from the Collections Dept at the Mystic Seaport Blunt Library regarding our continuing effort to link Yankee to the WWII anti submarine effort. Here is an excerpt/edited:
The closest we've been able to come to a yes or no of Yankee being commandeered for service is a series of articles in Rudder magazine titled "A Down Easter on the Yankee" by Robert T. Leary, published in 1941-1942. The very last article, written in May, 1942, describes the return to Marblehead after what they knew would be the last world cruise, and the uncertainty of Yankee's fate. Johnson apparently tried to keep her under the Navy's radar by setting up for charters and short cruises the following summer. Then Leary says:

But the tranquility of the scene was suddenly shattered. During her second week of summer cruising (presumably the early summer of 1941?) with an able crew of Girl Mariners [Mariner Girl Scouts] aboard, her Skipper was suddenly called to service. It was a sickening blow, and yet at the same time an honor not to be taken lightly. The famous globe trotting skipper was now Lieutenant Commander Irving Johnson, USNR.

His call was a hurry one, he could not even finish out that week and a half of cruising which would finish up the first part of her summer's cruising. Something had to happen fast, for it also looked dangerously like there was soon to be another gap in the Yankee's after guard. One week to go--and something too good to be possible began to mature. That last week--uneasy nights--restless days--then she sailed into New London.


News spread rapidly. Yankee had found a new home port. A hard, faithful life of service as a North Sea pilot vessel, an English yacht, summer cruise schooner, and world cruiser had led her to as worthwhile and respectable an old age as any famous vessel could hope to find. To her main truck was hoisted the house flag of Admiral Billard Academy, the finest and most rapidly growing nautical academy in the country. Her decks were to continue to feel the scurry of the feet of young sailors learning their trade.
We also 'found' the following newspaper clipping regarding Ralph Clark, captain of the Yankee in WWII, and a wartime cruise. We are working on the exact newspaper and date.
Note at left - the last paragraph - 'cruise to Niantic'. Your Webmaster's yacht club and hailing port of Marionette is the Niantic Bay YC, founded in 1940

March 30, 2016. While we wait for the US Navy's historical records section to provide more informarion hopefully confiming Yankee's (#1) involvement with the WW2 anti submarine program we have the following picture of her in her 'brief' 2 year assignment in Camden, Maine right after the war.

The picture (right) is from http://schooneryankee.com/pages/history.php. Mt Beattie is in the background, from which many a picture have been taken of Dolphins in the harbor (i.e. below).
********************************
December 27, 2017 Website staff has been working on Yankee (#1) and her possible World War 2 anti submarine efforts - a lot of dead ends but work continues. Yesterday, a visit to the Groton Public Library following up on a lead.

They had a WW2 exhibit up in their lobby (right) - more on this coming. And Facebook had a 'reminder' photo on December 26 that is reproduced below..

Yankee Gloucester Schooner Foundation

Groton, Connecticut Public Library Exhibit,

December 27, 2017
To be Continued
December 31, 2017. So, this effort at the Groton Library motivated further effort on the part of website staff. Morgan Ely was a crew member on one of Symphoni's voyages to check out Nova Scotia and Yankee (see January 17, 2016 post above), a 1953 graduate of the Billard Academy (!), attended the Coast Guard Academy (!), and is a Friday morning coffee shop regular where we discuss matters of world importance, and schooners, etc..

Morgan braved the cold and went to Groton to check out the area near the reported eastern end of the WW2 anti submarine chain.

Here he is with Hobbs Island in the background - Hobbs Island is just to the north of where the chain was fastened on the Groton side. Click here for a larger image.

Below is a doctored Google Earth image on New London Harbor. Yankee was reported moored just outside the chain south of Quinnipeag Rocks.

Billard Academy was located up the hill across Pequot Ave from the rocks and the lighthouse.

Hobbs Island, with its unusual 'house' is a story in itself. The house was built by a father/son team, Dave and Dan Hays, co-authors of the book My Old Man and the Sea, a story of a 25' sailboat, Sparrow, they sailed around Cape Horn, leaving New London Harbor, sailing down the coast, thru the Panama Canal, to the Galapagos Islands, Easter Island and then outside the Cape - a story owners of 24' sailboats might want to read.

November 30, 2018
Yankee (3), now homeported in Essex, Connecticut is still for sale, now with a significantly lower price.

Updated July 22, 2020

Here is the link to the current Sparkman & Stephens' ad https://sparkmanstephens.com/brokerage/sail/sparkman-stephens-original-yankee-1959/
The ad has specs and photos. Here's one.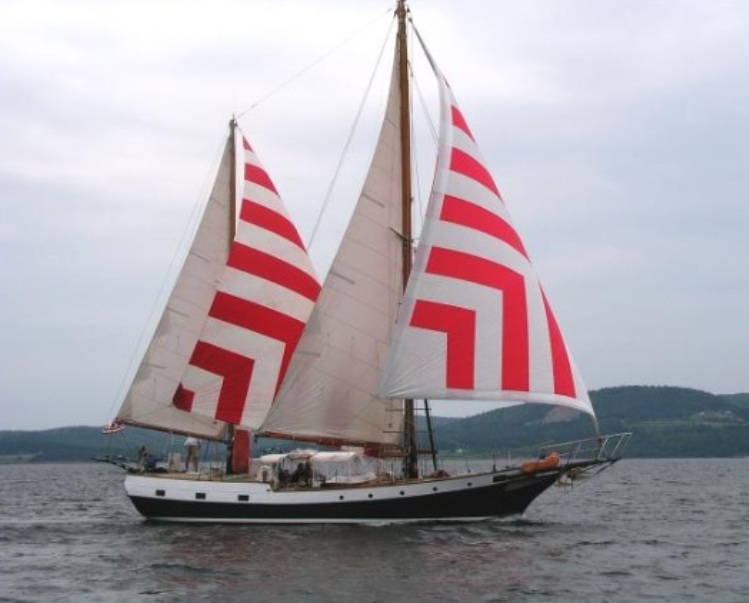 On the Connecticut River? Nope - on Penobscot Bay, Maine
July 28, 2020. Harry Morgan of Sparkman & Stephens (he's an S&S broker who years ago helped us get the Dolphin24 website started) advised that Yankee (3) has her own website - Yankeesailing.net
**************************
October 19, 2021 - Your webmaster's recent move from Old Lyme across the CT River to Essex necessitated more walking tours of the riverfront docks. This morning, there she was, Yankee (3) waiting to have her picture taken....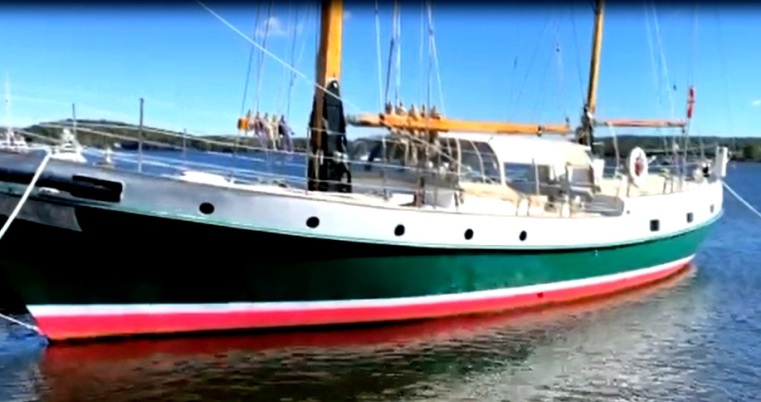 *************************