June 17, 2016. We have our check in from new owner Skip Connell
Hi Ron,

Abbie is waiting patiently for me to find some time for her.

Skip

We reserve a space here for a restored Abbie Burgess

*******************************
July 14, 2016. Your webmaster, as part of his routine DFI duties, sailed Marionette from Rockland, Maine in to Merchants Landing (Lobster Cove), Spruce Head Island to pickup a reserved mooring. As soon as I secured her on her mooring I grabbed the camera, got to shore, and found Abbie Burgess in the nearby field in front of Skip's house, patiently waiting....
Click on the photos for a larger image
I would be remiss if I failed to show the DFI duty reminder I had.

On leaving Rockland, and passing the US Coast Guard Station I looked back to take a picture. The 175' Coast Guard cutter Abbie Burgess was not there but her boarding ramp was.....

Click here for a larger image.
*****************************************
Webmaster Note October 1, 2015. Abbie Burgess has a new owner, Skip Connell, who will continue her restoration. Bear with us as this gets a little complicated (Webmaster Note April 28, 2016 - the following paragraph was updated). Skip manages the moorings at Lobster Cove on the Spruce Head Island. Over the years, Abbie Burgess has spent her summers on Lobster Cove when she was under the care of longtime owner Art Krause. Cliff Dasco was a neighbor of Art's on Spruce Head Island, and bought the boat, planning to restore her. He planned to rename her Maya Elena. The scope of this project got beyond Cliff's original plan and he decided to sell her, and buy another Dolphin 24 that was ready to sail (Resilience) - who will be renamed Maya Elana. The following is Cliff's email:
Ron:

After a long drive from Martha's Vineyard, Resilience has arrived in Spruce Head. I am attaching a few pictures (below). Adam Hayes (Resilience's former owner) was amazing in this transaction. I can not even begin to list the help that he provided on a confusing day on the Vineyard while we wired the trailer, tried to get it registered, and did a tour. Sadly, the tour was abbreviated so I will likely have more questions as we recommission her in the Spring. I also find that I have an extra four feet of trailer that will require modification next week to fit in the barn.

Abbie Burgess has moved to Gordon (Skip) Connell's yard where he will continue the arduous task of resurrecting her. Since we never officially re-christened Abbie, I do not think I will invoke any malevolent sea spirit when I rename Resilience to Maya Elena. Would you let me know who you work with at Journey's End Marina in Rockland, Maine? I think I will ask them to launch her in the Spring.

Cliff

*****************************************
September 29, 2018. Your webmaster, on a DFI field trip, stopped on Spruce Head Island to check out Abbie Burgess. She was still there - waiting...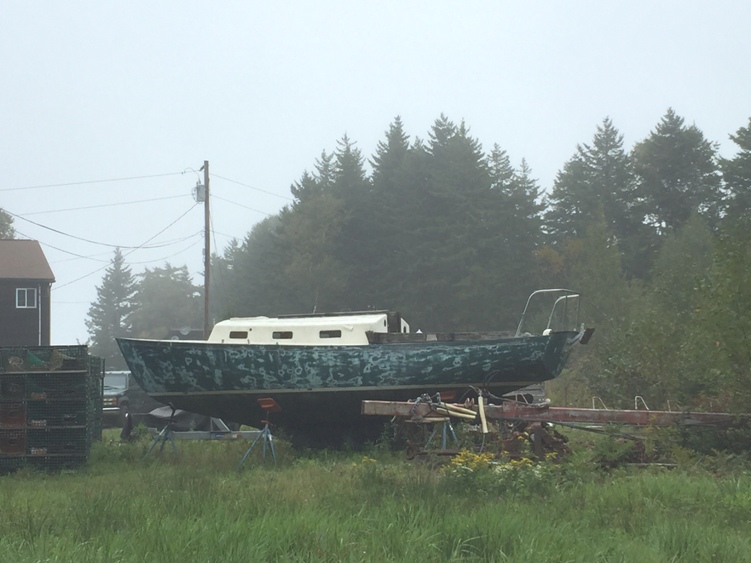 ********************************

*****************************************************************

This is the Abbie Burgess story up until this point
At this point we start the story of how we first found Abbie Burgess 5+ years ago. She was in the back lot of a small marina in Spruce Head, Maine, and belonged to Art Krause.
October 16, 2010. Here's the set up. Your webmaster is up in Maine for a few days with the Admiral - this is referred to as 'my end of season Maine Fix". We're staying in Camden on the western shores of Penobscot Bay, a top ten candidate for most beautiful sailing venue on planet earth.

At left - Camden inner harbor from the 'library" lawn at dawn
A Nor'easter has been going through here for the past two days, but there is a goal to be reached - finding the perfect boatyard to leave Marionette in the winter 2011/2012 after her planned Summer/Fall cruising in Maine, 2011. So, after a leisurely breakfast at our B&B the Admiral and I set off in our station wagon with our crew - our 7yr old rescue Airedale, Pumpkin, in the back, a light intermitent rain, and a 20-25 knot breeze.
The pressure on Dolphin Field Investigators (DFIs) never ceases so all boatyard visits require a quick drive through the 'back lots', a favorite hiding place of Dolphins. The morning searches were fruitless, but after lunch in Rockland, and despite an increasingly restless Admiral, we continued south along the west shore of Penobscot Bay, arriving around 2:30 at Spruce Head, a deep inlet off Muscle Ridge Channel, south of the more famous Owls Head. I knew there were a couple of small boatyards here - unfortunately closed on Saturday. I drove through the yards and, seeing nothing, started to leave the last yard. I noticed a few boats in a small nook off to the right of the dirt track running through the spongy wet grass and mossy main field - and the short hairs on the back of my neck bristled.
Trusting that the front wheel drive would get us out of any 'trouble" I drove over to the boats. A light blue/green hull boat with a black mast caught my eye as I approached - big name boards on the quarter and transom, unusual for a Dolphin, long shallow keel, familiar transom shape and lines, those portlights... Finally, as we got closer I could make out the forked tail on the cove stripe! "Wait Here" I commanded, catching the rolling eyes of the Admiral, and I jumped out with camera in hand!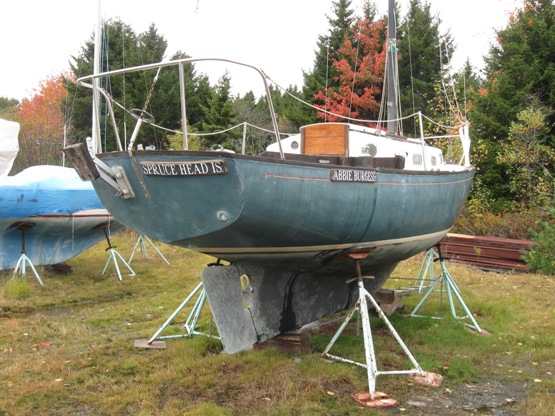 Note the backstay adjuster wheel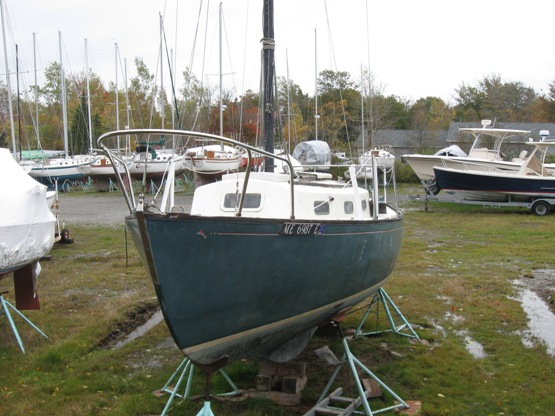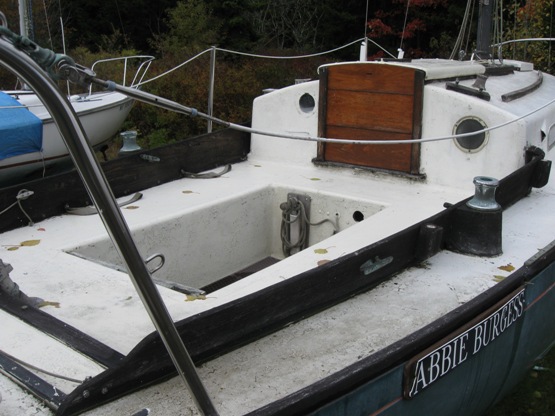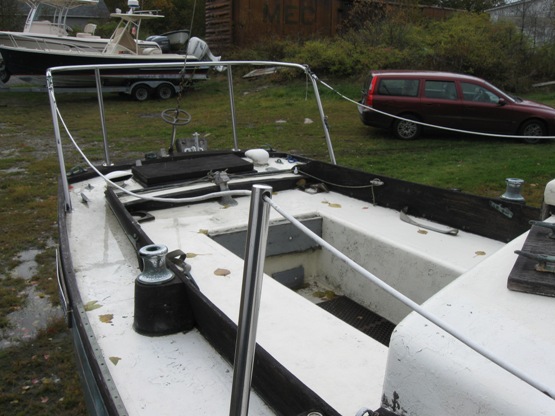 A recap - wheel type adjustable back stay, a baby stay, double lower(?) shrouds, the aft one is adjustable, from the cockpit - that's unusual - someone really wanted to tune this mast...This is a Found Dolphin, the 164th. Spruce Head is a small place, and has 2! Dolphins - the other is Ed Glover's Dolphin We have been in touch with Ed and he knew of the Abbie Burgess, and he said that he had seen still another light green hull Dolphin! We are following up on this... and we are trying to get in touch with Arthur. Meanwhile, we'll analyze our pictures and, with the help of DFI staff, try and figure out if this is a Marscot or Lunn built boat,
Stay Tuned
October 22, 2010. We have heard from DFI staff member Mark Steinhilber (Rascal). Here is his email (excerpted).
Abbie Burgess - methinks a Lunn...

1. I'm thinking the wood trim is teak and of larger scantling.

2. The bow pulpit is a short and squatty style that can also be found on Dorado in Kentucky

3. Look for a copper loop fuel tank vent on the outboard side of the cockpit coaming, a Lunn feature. Marscots had a little chrome vent fitting over the vent.

***************
December 3, 2010. Arthur Krause checked in by phone today and provided the following information regarding Abbie Burgess. He bought her in 1985 for $6000 from a woman in Branford, Connecticut named Leah. Art and his wife had just retired as teachers in Old Saybrook, CT and were moving to Maine. The boat was shipped to Maine on her trailer.
She was built by Lunn, Hull # (L) 212. Her name when he bought her was Bittersweet and she was actively raced by the previous owners. Art painted her hull blue green.
Art advised that there is a Pacific Dolphin up the coast from him located near Camden, Maine. He said her name is Whimbrel and she is owned by a Nicholas Appolino. Hmmm...Your webmaster was just there with his Dolphin finding kit - its was working because we found Abbie Burgess but missed this one. We'll try to find more info about this boat. May 15, 2011 - We did! - Click here to go to Whimbrel
********************
************************************************
May 15, 2011 - We got the following email from new owner, Clifford Dasco. He plans on renaming her Maya Elena.
Good day

I have just purchased Abbie Burgess from Art Krause. She is in need of restoration, which I intend to do over the next while. She has 11 (eleven!) sails, including a drifter which will be of little use on Penobscot Bay. Art had removed the motor and put on an outboard bracket. I intend to put a small diesel in and see where we go from there. If you have any connections with people who have restored Dolphins, I would like to get some advice. I have watched this boat moored in front of my house for years and am very happy to now get a chance to sail her (after what I think will be about a year's work!)


Clifford Dacso
I think Clifford has come to the right place! Our electronically connected staff of Dolphin 24 restoration specialists are standing by.
**********************
May 28, 2011. Art sent in the following email (edited). He is going to keep an eye on Abbie Burgess, and gave us some info that helped us find 'Leah', the previous owner, who had named her Bittersweet.
Hi Ron,

I went through my files and have some additional information.

I bought the boat from Linda (Leah) Volpe) address, Guilford CT, on April 1, 1985. I have a copy of a survey done by John R. McLaren Co. of Milford, Ct. on June 11, 1980. Linda must have bought her then. Her name (before Bittersweet) was "Esprit". Her registry number was DL 6121J. When I bought her she was at Bruce and Johnson's Marina in Branford Ct.

The engine I removed was a 1961, 8 HP, Palmer 27.

Dr. Dasco is my next door neighbor on Lobster Cove. I gave him my mooring stone so I can always sit on my deck and watch her!

I have to down size. I'm looking now for a 19 foot O'Day Mariner or something similar. The next time you come "Down East" send me an email and we'll meet and hoist a brew.

Art (You're on, Art!) And we did hoist a brew, June 16, 2011 when Marionette was launched at Journey's End Marina in Rockland!!

Webmaster Note: When Art helped recognize Marionette's launching at Rockland by coming down to have a beer, we had a nice talk about Dolphins and stuff. Art was a retired Earth Sciences teacher, a history buff, and for many years captained schooners out of Camden.

When I hauled Marionette at Rockland last September the US Coast Guard cutter Abbie Burgess was at Rockland Station right off Marionette's stern. She is a 175' buoy tender built in 1996. Click here for more about her.

The real story is about the real Abbie Burgess, a Maine teenager who became a heroine and much revered Maine lighthouse keeper.. Click the link below for her story.

************************
May 28, 2011. We also heard from Cliff who advises that he will be building a barn in which Abbie Burgess will undergo her restoration. We have exchanged emails on Marionette's barn - expressly built for her in 1997. An update on the costs involved might prove informative/useful to other Dolphin owners - click here to go to that page. He also reports that Abbie Burgess' house is badly delaminated and will require some intensive care.
*************************
February 26, 2012.
Hi, Ron.

I want to inform you that my neighbor and friend Art Krause died unexpectedly a month ago, quietly, in his sleep.

Dolphin L212, formerly Abbie Burgess, will be rechristened Maya Elena after reconditioning.


Cliff Dacso
Webmaster Note: Art helped me recognize Marionette's launching at Rockland last year by coming down to have a beer and we had a nice talk about Dolphins....Click here for Art's obituary.
Cliff followed up with this update:
Hi, Ron.

The barn is done and I will be moving Maya Elena at the end of the spring so that she will be inside. I have had the opportunity to go over her very carefully and find that she is in better shape than I thought. I have recovered the sails from Art's garage and there seems to be a full suit including the storm trys'l. I have not found the spinnaker pole but that should be an easy thing to make.

My plan is to take off the gel coat and the delaminated area on the house this summer and take her over to Rockland where there is a shop that can Awlgrip her. I have some leads on small diesels as well. Art had removed the motor many years ago but the prop shaft is still in place. I think I can remove the whole thing by pulling the stuffing box. All in all, it looks like a 12 month trajectory. Please keep in touch. I am depending on the web site for understanding the original rig and layout.

Cliff

************************
August 11, 2013. We got the following email from Cliff
Hi, Ron.

I hope that this note finds you well. I took the covers off Maya Elena for the first time in two years as I am ready to start the work. First thing, I think, will be to take off all her fittings after numbering and photographing. The fiberglass is a fright. Worse than I remembered. There is some delamination that I am going to address now. Once I have her tight on top, I will get inside and strip out the trim and see if there is damage there. Art took the Palmer out years ago. Your section on repower was very helpful. I saw a lovely little Westerbeke/Universal diesel at the Rockland Boat Show today. Also considering electric. The propellor shaft is completely seized and I have not even given thought to how to get it out.

A nice lady running a booth at the boat show, in her most condescending way, said that this was going to cost a lot of money (and since I was in shorts and a pretty grimy shirt, she assumed that I did not have it!) I will add sweat. More later.

Thanks again for maintaining the site.

Cliff
Webmaster Note. As I update Maya Elena's page I am sitting in our family's rented house living room looking out at all the lobster boats in Bass Harbor, Mt Desert Island, Maine. Getting up to Maine often is a priority with me. Last April I was driving up from Port Clyde to Rockland and detoured down to Spruce Head Island to check out Maya Elena. Here she is - waiting...
*************************************
November 26, 2013. Cliff sent in the following update. Maya Elena will celebrate Thanksgiving in her new barn.
Hi, Ron

Here are a few pictures from today's move of Maya Elena from the door yard into the barn. That's me (my most favorable side) in orange. Now the work begins. As I look her over carefully, she is in worse shape than I thought at first.

| | | |
| --- | --- | --- |
| hmmm... | look at this.... | Maine winter indoors!! |

It looks like the topsides have been painted with Sherwin Williams or something like that. The through hulls are corroded, blocked up with Bondo, or simply painted over. The stuffing box is fused and I can not tell if the propellor shaft is sound. Hardware does not match...the list goes on.

Since my daughter's wedding last month, I don't have to worry about an excess of funds any more, so the restoration will proceed deliberately. But now she's indoors where I can work regularly and comfortably. I hope to have her seaworthy by the summer so we can sail together on Penobscot Bay (HEAR! HEAR!!)

My neighbor is a very experienced boat restorer. He's doing a Herreshoff design restoration now and will do much of the fiberglass on Maya Elena. I have asked him to be on the lookout for a gently used Yanmar 10 that he assures me is rarer than rocking horse manure. At this point, it is not intuitively obvious how the engine gets onto its mounts without removing the cockpit. Do you have any ideas on this? (see below) More to follow.

Cliff
Webmaster Note: Pulling an inboard out of a Dolphin can be done! We did it on Passage (Marscot/O'Day #12). Click here to get that story. Also, check out this article in the Technical Section http://www.dolphin24.org/technical_cb%20winch.html
*********************************
June 16, 2014. We got the following update from Cliff
Hi, Ron.

I thought I would send along a few pictures of Maya Elena's rehab. You will see that she is in rather sad shape. We have removed all the fittings and wood. The paint is a disaster. As far as I can tell, the last coat was pure Sherwin-Williams! I also found out from Mike Davee at Journey's End (Rockland, Maine marina/boatyard) that the 8 HP Yanmar is no longer made, although he is trying to find one for me. The good news is that there appears to be no core damage or delamination. One thing is for sure, she will not see water this year.
Cliff

Click on the pictures below for a large view - click the back arrow on your browser to get back here
Postscript The pictures were taken in my (Maya Elena's) barn! I actually built it to be able to work on her in the winter. (See November 26, 2013 post above "Maine Winter indoors" )
*****************************
August 11, 2014. Cliff and your webmaster nearly connected as we were both in Rockland, Maine last week - early last week Marionette was being launched at Rockland's Journey's End Marina, and the Rockland Boat Show was setting up right next door.
Here is Maya Elena's update (emails consolidated and edited).
Ron:

The Rockland Boat Show was great, as usual. I spent some time talking with the rep from Classic Boats that makes the Pisces 21. This is the daysailer you would want if you had nothing but money. It is powered by an electric motor that they yard is very happy with.

Here is the link to Master Volt: http://www.mastervolt.com/marine/products/e-propulsion. I am very seriously considering this for Maya Elena although I will have to have a solar or wind battery charger as I will not have shore power. The idea of not having an internal combustion motor is very appealing. Webmaster Note: This tidbit has been added to our Electric Motor page in the Technical Section. Click here to go there.


Cliff

Postscript: Maya Elena is a mess. The guy I hired to help me is not. Now I am shooting for next summer and am doing more of the work myself. I would love the have Journey's End do the work but they are a bit rich for my blood. I am salving my boat lust by restoring a wooden sailing skiff that I bought in a yard sale....

************************
October 21, 2014 Maya Elena's barn has her own page in the Technical Section. Click here to go there
*****************************
January 5, 2015. Update....,
The deconstruction continues. We have all the hardware and trim removed and the hull is down to glass. Anyone want to get rid of an engine?
Cliff

Click on the pictures for a larger view
Webmaster Note: I hope the reader has followed this. At this point the Abbie Burgess story continues at the top of this page. Abbie Burgess never did get Maya Elena on her transom, she knew her name wasn't changing - but she did not tell us......
****************************************
*************************************************************