Webmaster Note, November 29, 2016. This is a bit complicated. The Maya Elena pictures below are of a boat previously known as Abbie Burgess. Cliff Dasco owned the former Abbie Burgess for a couple of years intending to restore her, built a barn for her, intended to rename her - but an opportunity came along to buy an already restored Dolphin (Resilience). He bought her, renamed her Maya Elena, and sold the former Abbie Burgess to Skip Connell. To go to the present Maya Elena's page, click here
Ok, now we go back 2+ years.....
October 21, 2014. Lucky Dolphin's get their own barn and Cliff Dasco's Maya Elena has hers. We need a few more pictures and details but we have a start.
Here's how Maya Elena started: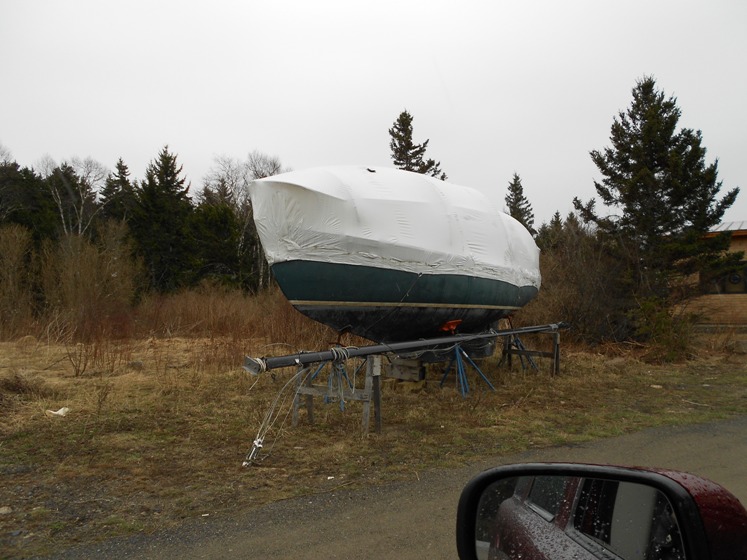 Cold and alone up here in Maine - and Cliff is down in Texas for the winter!
Here's Cliff's email (minor edit)
The barn is light frame construction. There are two bays, one for a car and one for Maya Elena. The boat takes up the whole bay.

The barn door is a roll up and reaches to the ceiling, to allow clearance on entry and (I hope) exit. Next to the boat bay, I have a small shop that I also framed out as an apartment for grandkids when they are old enough and the boat is done. I do not have a pdf sized document that is detailed.

Enclosed is a concept drawing by the architect. An interested person should contact Dave Johnson, the architect. Djohnson@skaala.com.

Cliff

Click here to go to the concept drawing PDF

September 29, 2018. This gets complicated. This is Maya's barn, but this particular Dolphin in the photo is Abbie Burgess, Cliff's first Dolphin, scheduled to be named Maya Elena, but the ceremony was never performed. Instead, he bought (Resilience) who became Maya Elena. Got it?

Click on the pictures below for a large view - click the back arrow on your browser to get back here

These Maya Elena pictures give glimpses of the inside of the barn

Stay Tuned