October 1, 2015. The former Resilience is now in her new home at Spruce Head Island, Maine. She is Cliff Dasco's 2nd Dolphin - his first was Abbie Burgess and her story is a quite a read. Click here to go there and Cliff's introduction to Dolphin 24s. Here is Cliff's email.
Ron:

After a long drive from Martha's Vineyard, Resilience has arrived in Spruce Head. I am attaching a few pictures. Adam Hayes (Resilience's former owner) was amazing in this transaction. I can not even begin to list the help that he provided on a confusing day on the Vineyard while we wired the trailer, tried to get it registered, and did a tour. Sadly, the tour was abbreviated so I will likely have more questions as we recommission her in the Spring. I also find that I have an extra four feet of trailer that will require modification next week to fit in the barn.

Abbie Burgess has moved to Gordon (Skip) Connell's yard where he will continue the arduous task of resurrecting her. Since we never officially re-christened Abbie, I do not think I will invoke any malevolent sea spirit when I rename Resilience to Maya Elena. Would you let me know who you work with at Journey's End Marina in Rockland, Maine? I think I will ask them to launch her in the Spring.

Cliff

Click here to go to Resilience's page

Cliff and his 'new' Dolphin - cllck here for a larger image

Click on these photos for a larger image

Resilience/Maya Elena will not mind that Cliff has already built her a barn and that a lot of effort has gone into trying to make her new home a happy one including a very expensive ride on the Martha's Vineyard ferry (picture left)

Below is an email (minor edits) between your webmaster and Cliff as he made his decision regarding Abbie Burgess and developed his plan to acquire Resilience and bring her to Maine.

Hi Ron

The turning point for me with the Abbie Burgess was the Rockland Boat show. I was trying to negotiate for a new engine and found that the cost was just too high. Also, as I got deeper into the boat, down to bare hull, I realized that the entire shaft, bearing, etc., was going to have to be replaced. The Meriman winches seem to have broken pawls — needed to be replaced and Meriman has been out of business for years. Parts are available, I know, but still.

All the wood was going to have to be rebuilt. The rails crumbled. I think that the centerboard has bent from numerous rock hits. In short, I was looking at over 20K to get the boat to sailable condition — at the minimum. On the Dolphin website For sale page I saw that Adam Hayes was still listing Resilience. After speaking with him, I realized that I could have my Dolphin dream sooner and for half the price that restoring Abby Burgess was going to cost.

Adam has done beautiful work with Resilience and obviously loved her. So, I made a snap decision and bought her sight unseen at his asking price. And who says trust is dead!? My plan is to see if I can find a home for Abbie Burgess. If you know anyone who needs a hull, stripped, I have one and will give her away.

As to how to get to Maine, Resilience has a tandem trailer and I will borrow a truck.

Cliff

Congratulations, and good luck, Cliff

****************************************************
October 29, 2015. We got the following email from Cliff a few days ago. Standing by for pictures.
Maya Elena, nee Resilience, nee Tern has made it to Spruce Head, Maine. The official renaming has occurred so — now pay attention — the former Maya Elena (never registered as such) now reverts to Abbie Burgess with Gordon "Skip" Connell as the owner. Resilience/Tern is now officially Maya Elena.

I had the trailer circumcised (pictures forthcoming) so that the whole situation fits in the barn. Maya Elena is now over at Journey's End. Adam Hayes suggested, and I agreed to have a pro do the winterizing of the motor so I can learn. In the process, we found that we need a water pump and maybe a new stuffing box (hope not). Journey's End (Marina in Rockland) is going to pull the motor because it is easier to work on, wire brush it, put in a new anode and water pump, and check the shaft.

In the meantime, I went through my collection of Dolphin sails and found a number of sails including a "spitfire". That is a storm jib. I had not heard that name before. Most interestingly, the sails belonged to John Hartigan and Allegro according to the bag tags. Some sails are labeled "Van Zandt/Hound" that I see was the former name of Allegro. Art Krause must have acquired them for Abbie Burgess. So, my barn is a virtual Dolphin archeology dig and some of those sails look like they were used to wrap Amenhotep. Pix to come in a bit.

Cliff
**************************************
February 29, 2016. Cliff wrestles with the renaming issue and shows trailers what can happen to their big noses when they don't fit in the barn....
Last weekend I performed a denaming ceremony in preparation for renaming the now nameless boat. There are conflicting opinions among the boat literati of how to do this and when renaming is possible. Since she is is still in my barn, at least 1000 feet from salt water, I figured that I would not be tempting the gods by leaving her un named. In fact, the data seem to show that a decent interval between denaming and renaming allows the older gods to forget that the former named boat ever existed thus avoiding the traditional wreaking of vengeance.

I carefully removed all traces of the former name (which should never again be spoken because it would remind the more forgetful gods). I scoured the boat for traces of her former name (including the key float). Because libation must accompany a renaming, I chose to use it liberally in the denaming as well. So, for now, the plan is to paint and rename in April, launching towards the end of the month. Please be careful to refer to her only as the soon-to-be Maya Elena on the Web site. I understand that some of the gods are on the web and the younger ones even have Facebook pages.

On another note, I have been following the trailer discussion. I had mine over to a trailer shop a while ago to perform a circumcision on the hitch so I could detach it once it was in the barn. Below are a few pictures, one showing the plate that was fashioned to be able to bolt it back together (not possible with a traditional circumcision). It was not very expensive and it allows me to keep her in the barn, on the trailer, without altering the barn.

I hope that we will see you on Penobscot Bay this summer.

Cliff

Webmaster Note Warning - these pictures are initially shocking - when time permits we will include them in our Technical Section/trailers with hopefully an after picture and explanatory comments.

A warning to trailers with big noses - click on the photo above for a larger image
The attaching plate
***********************************
July 22, 2016. Your webmasterhad took Marionette on a Maine cruise (correction - Marionette took your webmaster....) this summer to check on Dolphin developments. A few days on a mooring in Lobstah Cove were enjoyed. These Maya Elena pictures will one day earn him a beer from Cliff. Click on the photos for a larger image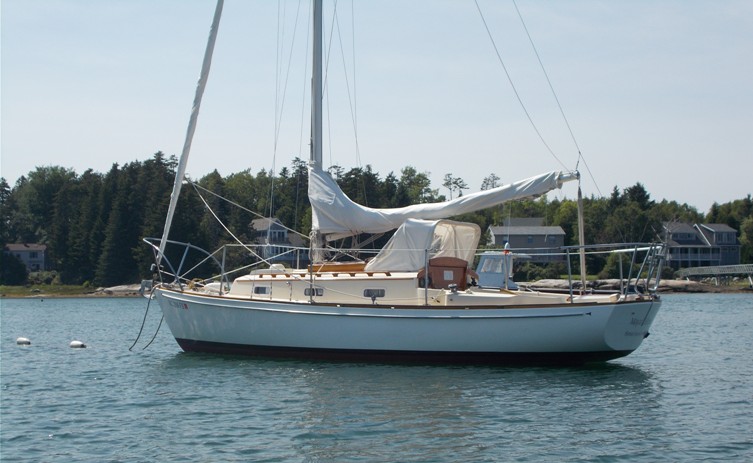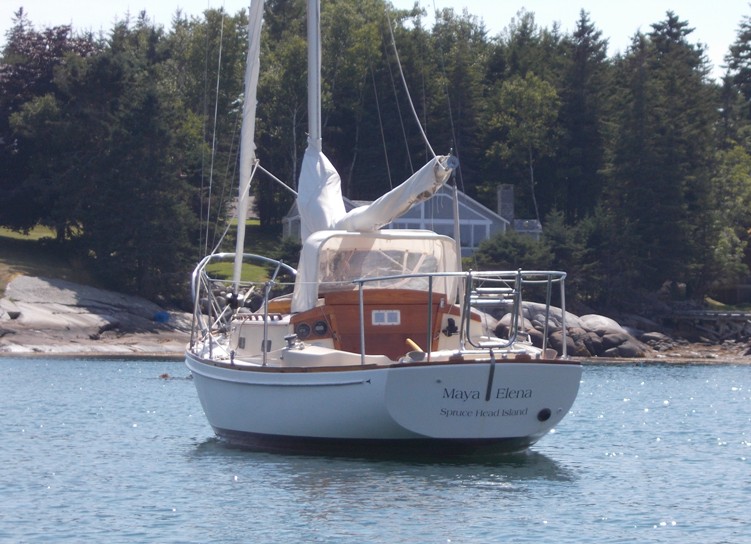 "Beautiful pix, Ron. Your beer is still cold"
*****************************
November 25, 2016. We got an update from Cliff, and an opportunity to familiarize Dolphinites with one of the most beautiful sailing venues on the planet - Penobscot Bay, and in particular, a part of its southwest entry the Muscle Ridge Channel. Here's Cliff's update, and a teaser picture he took on Maya Elena approaching Whitehead Island.
Ron:

A hearty Spruce Head mazel tov for Marionette's stunning victory in Camden. Maya Elena, sadly, is on the hard in my barn and the sails are getting washed at Bohndell in Rockport. I hauled at the end of the second week of October having eked out one more week of glorious late fall sailing - at right approaching Whitehead Island

This winter is going to be consumed with major projects. The hull and topsides must be painted for sure. I am tempted to do it myself using a single part like Aquaguard. That worked very well on the bottom this year. On the other hand, I may buy a lottery ticket and, if I win, have a yard do it. I would be interested in the views of the Dolphin community on the difficulties inherent in painting the topsides. I plan to be in the water at the end of April.

The first season with Maya Elena has far surpassed any expectation I had of the boat. She is a pure joy, stem to stern.

Have a wonderful holiday season and I hope we can meet up next summer.


Cliff
This picture above right is our invitation to play with Google Maps, scanners, and limited webmaster skills to introduce many of our readers to this sailing area on mid coast Maine - one frequented many times over the years by Marionette - http://dolphin24.org/marionettes_log_2016.html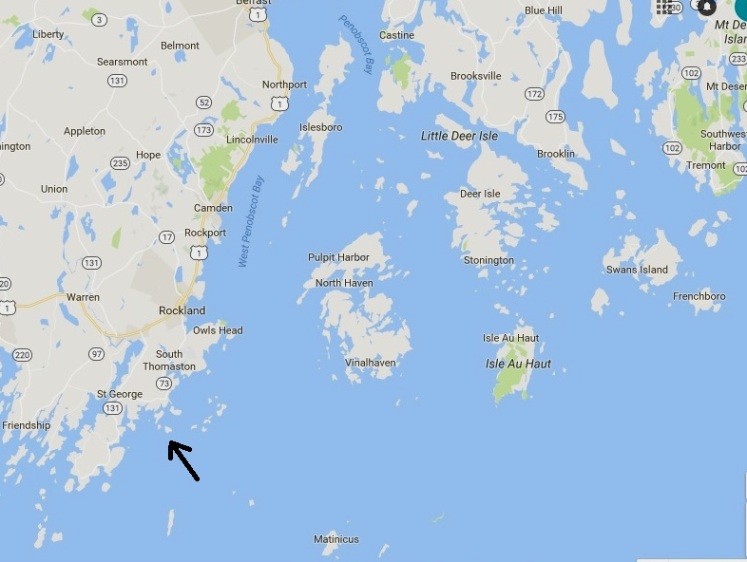 Arrow points to the starting area of the Muscle Ridge Channel
Whitehead Island, center lower left - click here for a larger image
The Muscle Ridge Channel separates the main land, its near shore islands and penninsulas, from the Dix Islands to the east. Its the 'close to shore' entry to the Owls Head area, Rockland and the central part of Penobscot Bay. Maya Elena's home is on the north coast of Spruce Head Island, just north of Whitehead Island.

The entrance to Tenants Harbor is at the lower left corner, just south of Clarks Island

left - Whitehead Island Light

We standby for Cliff to send us more photos of his home cruising area
*****************************
April 15, 2017. A fair amount of water has passed under the transom since we have updated Maya Elena's page. Important news - Cliff is painting her mast and boom - more important - this is so she can sail faster! Cliff has entered her in the Camden Classic Cup/Dolphin 24 New England Championships being held in nearby Camden, July 27-29. The Camden Harbormaster has reserved space for a pod of 6 Dolphins Maya Elena is one of those six Dolphin 24s currently planning to race (2 more are thinkin'....). Click this link to get the latest on this regatta http://dolphin24.org/ccc2017.html
Cliff is is also considering building a wooden dinghy (we are standing by for more on this project). Our recent exchange in emails (edited/consolidated) is below.
Good morning, Ron.

I am painting my mast and boom today to make Maya Elena go even faster. Please remind me of what I have to do to secure the slip for the regatta.


Cliff
Webmaster reply
Hi Cliff

So far as I know there is no advance payment needed. I have a 'deal' with Steve Pixley, the Harbormaster for reserved space for 6 Dolphins arriving Thursday, departing Sunday - (cost per boat is $42/night, I think). He 'knows' me from last year, and knows Jamie Weymouth (Dolphin) and Josh Gardner (Tern). I will talk with him next week and find out if he wants more info.

What kind of 'go fast' paint are you using?

Ron
Cliff's reply
AquGuard. It is water-soluble. It goes on a bit "brushy" but it is very resilient.

Hmmmm.....we'll stand by for more detail on this.....

***********************************
June 28, 2017. Cliff is getting ready.....
We launched last Friday. Will start intensive training for the Camden regatta (http://dolphin24.org/ccc2017.html) next week, grandchildren permitting!

Maya Elena kisses the waves

****************************************************
August 10, 2017. Cliff sent in a picture of Maya Elena and crew taken at The Camden Classic Cup/Dolphin 24 New England Championships (Pod Reunion) by the Camden Herald. We have included it on our 'Gallery' page along with more pics of Maya Elena at this regatta. Click here to go there
Ron:

It was good to see you at the Pod reunion. Although Bill Benjamin and I did not distinguish ourselves by our ability to find wind, we
did make the Camden Herald!


Cliff
****************************
August 29, 2017 Prompted by Hurricane Harvey your webmaster checked in with Cliff at his summer home at Spruce Head Island, Maine. Cliff lives in Houston, Texas where he will be heading later this week to check out what misery Hurricane Harvey has wrought.. Maya Elena is safe up in her summer, and winter, home (edited)
Thanks, Ron. We are heading to Houston on Thursday. We hope that we will be able to get through....

Cliff

Webmaster reply - Courage, and caution....

Always! Hauling Maya Elena today. It was a beautiful reach into Rockland Harbor. This year, she gets the brightwork redone and some new standing rigging.

Cliff

********************************
August 2, 2018. Heavy fog kept Maya Elena from getting from her home mooring in the cove off Spruce Head Island to Camden for the 2018 Camden Camden Classic Cup . Here is Cliff's email and a drone clip of Maya Elena sailing off Otter Island (chart/map coming)
Ron

A friend's grandson has a high-end drone. He took this movie of Maya Elena in light air off Otter Island in Penobscot Bay. Sorry I missed you at the race. The fog never lifted and I could not get out of the cove.


Cliff

Click this link to go to the video foggy morning low rez.mp4

********************
August 14, 2018. As promised above, and In our continuing effort to familiarize readers with where our Dolphins sails here's some Google Earth/Maps stuff....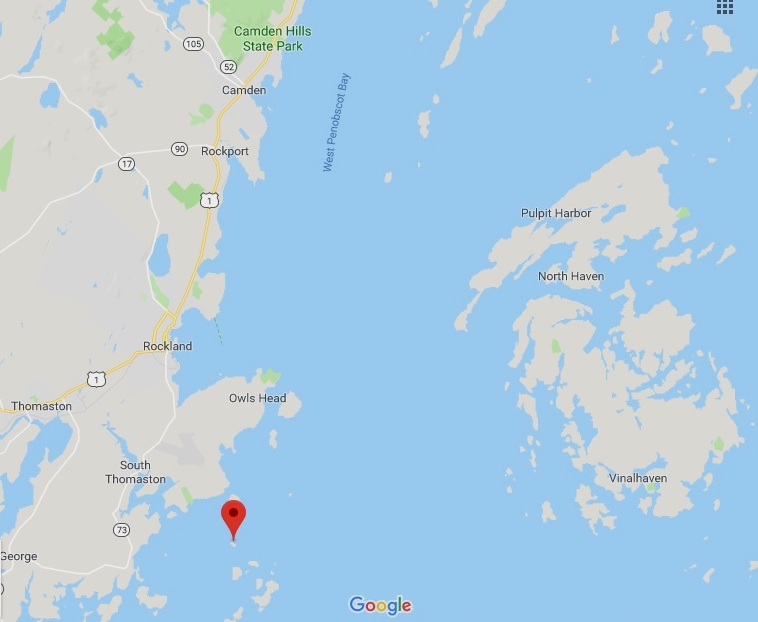 Otter Island - Big Picture
Closer
September 24, 2018 We have the following update from Cliff

Sadly, Maya Elena is back snugly in her barn

I have been availing myself of the enormous resource that is Dolphin24.org to plan my spring refit that will include (probably) a composting head and a hull paint job. The paint on her now is water-based so I am probably committed to that strategy for the spring. The varnish whisperer at Epifanes in Thomaston gave me good advice on the bright work last year so that will need only minimum work.

Please do something about the fog so I can participate in the Camden Classic next year.

Thanks for all you do in maintaining the class.

Cliff

Webmaster Note: Negotiations are ongoing with the powers that control the weather for the July 25-27, 2019 Camden Classic. At this writing it looks favorable, sunny, 7-10 knot breeze...Stay tuned

Webmaster Note: This is Maya Elena's barn but this particular Dolphin is Abbie Burgess

,

Cliff's first Dolphin

.

If you have missed this story click here
****************************************
December 19, 2018 We got the following update from Cliff
Hi, Ron.

I hope that the winter is gentle for you. I am heading for Spruce Head this weekend. If it is not too cold in the barn I am going to prep the brightwork and decide whether I am going to paint the hull. I really wish that I was not stuck with this aqueous paint everywhere. It just does not have staying power.

Cliff


*****************************
January 20, 2019. Maya Elena has registered for the 2019 Camden Classic Cup/Dolphin 24 New England Championships, July 25-27. Click here to go to the regatta page
**************************
June 6, 2019 Cliff and Matt Kapp (Sanguine, Yankee #219) had an exchange re a composting head. Click here to go there
***************************************
January 4, 2020. Maya Elena has registered for the 2019 Camden Classic Cup (Dolphin 24 New England Championships if we get enough entres!), July 23-25. Click here to go to the regatta page.
************************************
January 22, 2021 We got the following update from Cliff - responding to a webmaster prompt (edited)
Hi, Ron.

Good to hear from you. Maya Elena is up at Belmont Boatworks for the winter. She is having a nice paint job as well as installation of a proper head. My wife has informed that this is the price of her accompanying me for any cruising!.

We have moved officially to Spruce Head Island and I plan to sail the in the Camden Classic Cup this year, if it happens.
See you this summer, I hope.

Cliff

Webmaster Note: Marionette is planning to get up to Maine this summer to compete in the Camden Classic Cup, July 29-31 but we're holding off any official commitment pending Covid 19 developments over the next few months......

***********************************
June 21, 2021 - Cliff shares with us the solution to an overheating problem on Maya Elena's Yanmar 1GM10 diesel engine.
Click here to go to it in our Technical Section.
*****************************