February 1, 2018. Its very early days but not too early to think about summer plans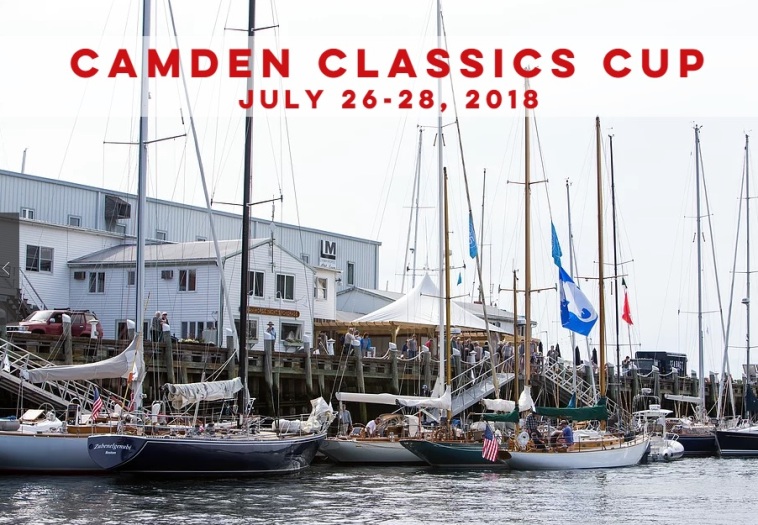 This is the 3rd running of this regatta (CCC) and Dolphin 24s were there for the the first 2!
Click here for our report for the 2016 event, and click here for the 2017 report.
If we have 4 or more Dolphin 24 entries we will have our own class - and we'll call it the Dolphin 24 New England Championships as we did in 2017 (5 entries). Great venue, classic boat parade, super post race parties, and Trophies!!
The entry fee is $300 - part of the entry fee ($50) is tax deductible and goes to support the Lifeflight of Maine critical care emergency transportation service (click here to go to their website).
Early Registrants get a $25 discount, and the opportunity for Free Dockage!! (Marionette is entered!!)
Here's the CCC Early Bird and Free Dockage announcement from the CCC website
EARLY BIRD $275 per boat - Register before June 1st, for a discounted registration fee! $50 will go to LifeFlight of Maine.

Entrance fee includes: Dockage* for the nights of July 26, 27 and 28; 2 Passes to Friday and Saturday nights' parties, launch service; Welcome Bag with goodies from our fabulous sponsors and all amenities offered to guests of Lyman-Morse at Wayfarer Marine.

*Dockage for competitors is included in the registration fee on a first come first served basis for the nights of July 26, 27 & 28. Once docks are full, you will automatically be placed on a waiting list. Should space become available you will be contacted in the order in which your registration was received. In the meantime, moorings can be rented for an additional charge. Please call the Dockhouse for options - 207-236-7108
Click here for the 2018 CCC Race Notice
Click here for the CCC Register Page
Click here for the CCC Scratch Sheet
For information at Lyman Morse
Regatta Entries - Marnie Read - MRead@lymanmorse.com; Office: 207.236.4378; Direct: 207.230.8556; Cell: 207.266.9381
Yard Manager Bob Flight 207 236 4378; bflight@lymanmorse.com (launching/hauling)
Dockmaster Nancy Rowe 207 236 4378; nrowe@lymanmorse.com(slips/moorings)
Any questions Contact RonBreault@cs.com
**********************
February 3, 2018 Update - First 2 Dolphins entered (Marionette and Maya Elena) - both with free dockage!
Stay Tuned
February 17, 2018 - We got one more! Jamie Weymouth and DOLPHIN
*****************************
April 7, 2018 Update. We got one more Dolphin Mark Wagner and his Dol Fyn on March 23rd - as of this date a total of 4 Dolphins.
Postscript: For her win in this regatta in Race 2 last year Marionette won the 2018 Sparkman & Stephens Association Challenge Cup award for best performance in 2017 for a nominated S&S designed boat - click this link to go to their website announcement http://www.sparkmanstephensuk.info/page100.html
May 23, 2018. So, your webmaster is also a bridge player, and my partner showed up at our weekly game with something he picked up at a local yacht club tag sail :-). Does this have potential for a Dolphin 24 trophy for this regatta? For what? Lets see what comes in over the transom.....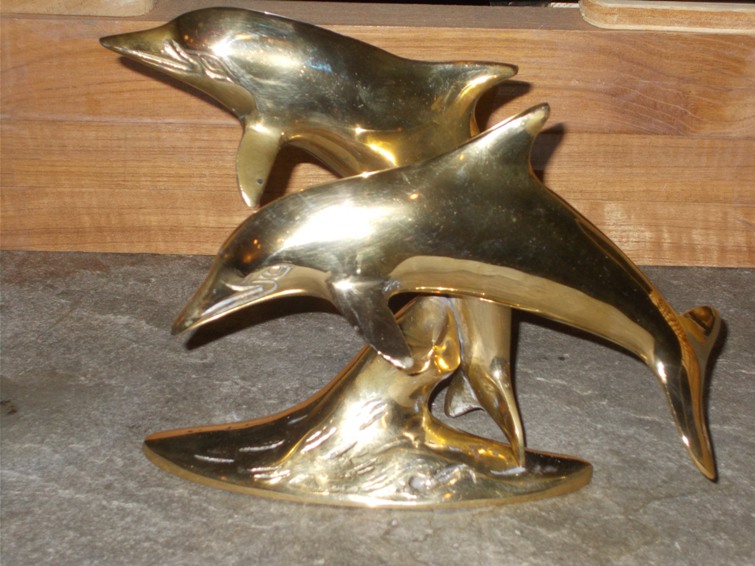 *******************************
May 27, 2018. Four days left for the $25 regatta discount and free dockage.........
*****************************************************
June 22, 2018 Update/ The regatta has 51 entries to date including 5 Dolphins. Here's a copy of the current scratch sheet. Click here to go to the latest scratch sheet.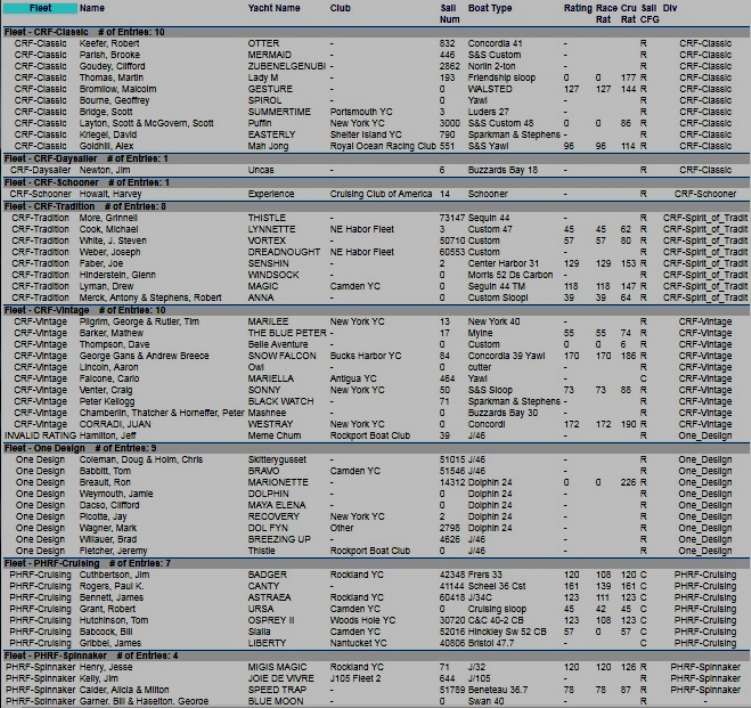 51 Entries, 5 Dolphin 24's
Ron Breault, Marionette; Cliff Dasco, Maya Elena; Jamie Weymouth, DOLPHIN; Mark Wagner, Dol Fyn; Jay Picotte, Recovery
June, 2018 issue of Points East Magazine

pages 57 and 63
Sorry for the tiny images - enlarge on your browser.....
Our 5 Dolphins will be together and we have the following information from Nancy Rowe, the Lyman Morse Dockmaster regarding the proposed location of our Dolphin pod.
Our current plan, subject to change, is to put all of the Dolphins on the rig dock. Look at the pin (in the photo below) for Lyman-Morse on the photo. Look up to where the dock veers slightly to the left where there are not any boats (red arrow). The Dolphins will be before and aft of the spot where it veers, near our crane.


See you soon!


Nancy

Camden Harbor, Lyman Morse Boatyard/Marina - click here for a larger image
*****************************************
June 26, 2018. Competitors take notice!

If you haven't this done already

- click here for instructions on the Parade of Sail
*****************************
June 30, 2018 Total entries now up to 53 (July 2 - 55!) with 5 Dolphins. Here's the schedule https://www.camdenclassicscup.com/schedule---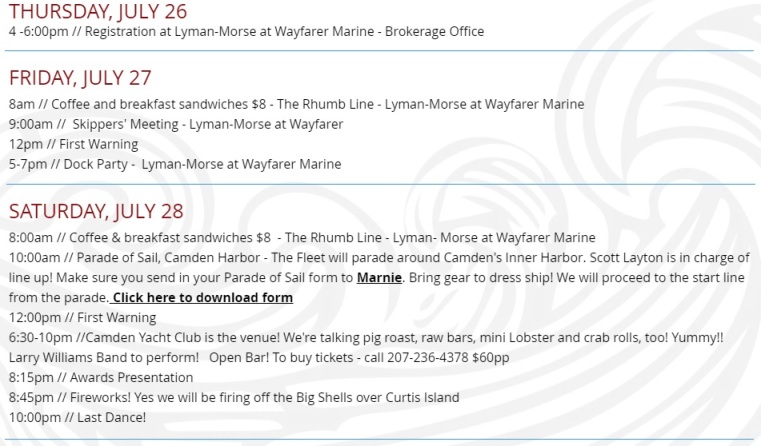 **********************
July 3, 2018 - We are now up to 6 Dolphins for our NE Championships!! Kevin McManus' - Little Haste, Yankee #188, Brunswick, Maine
*****************************
July 12, 2018. The following are the Dolphin 24 'one design' handicaps converted to CRF handicaps (Classic Rating Formula) using Marionette's 2018 (CRF) rating of 226.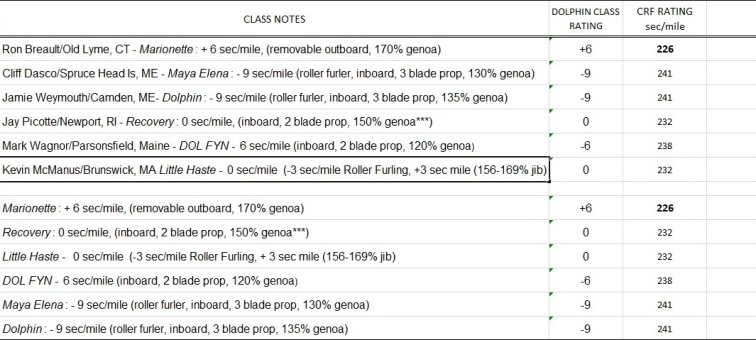 ******************************************
July 15, 2018 News - Mark Wagnor/DOL FYN has advised he is withdrawing as other life and professional responsibilities have not cooperated. And, Jamie Weymouth/Dolphin advised he does not have roller furling so his handicap rating loses 3 seconds a mile. The updated handicap ratings are below.

*********************
July 24, 2018 - Here's the updated Scratch Sheet - now 67 entries including our 5 Dolphins. Click here to go to the CCC website Scratch Sheet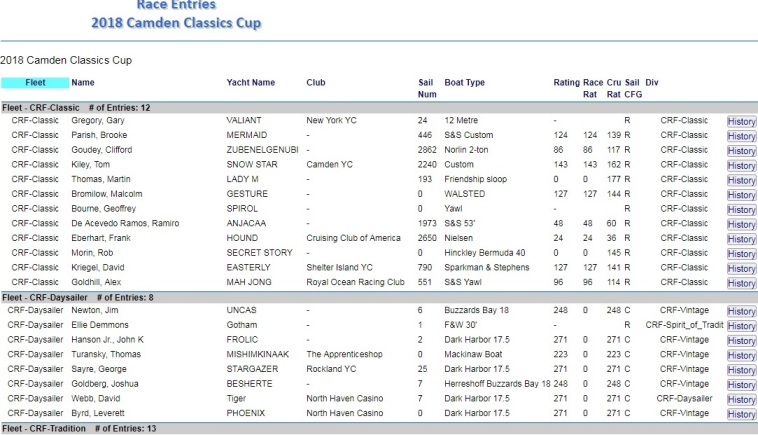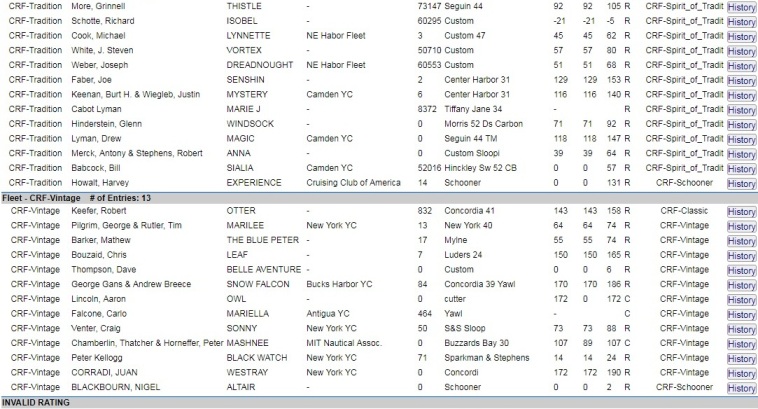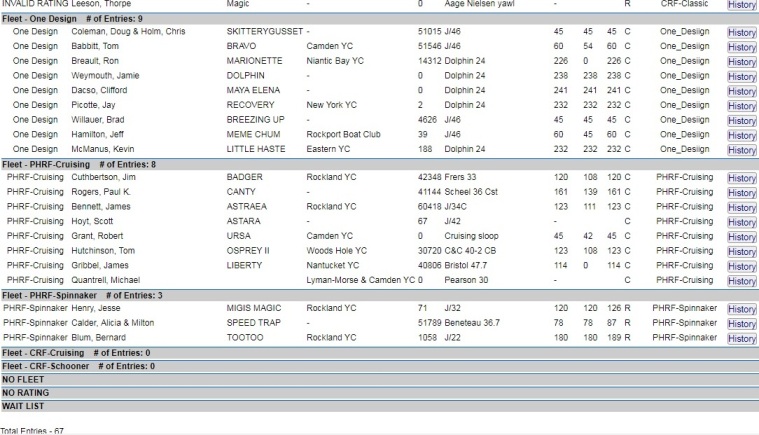 *******************************
July 30, 2018 - Updating and correcting the now removed July 29 update - there has been a scoring error - the 2nd, 3rd positions and 4th scoring positions are being reviewed - but #1 is #1 - Little Haste!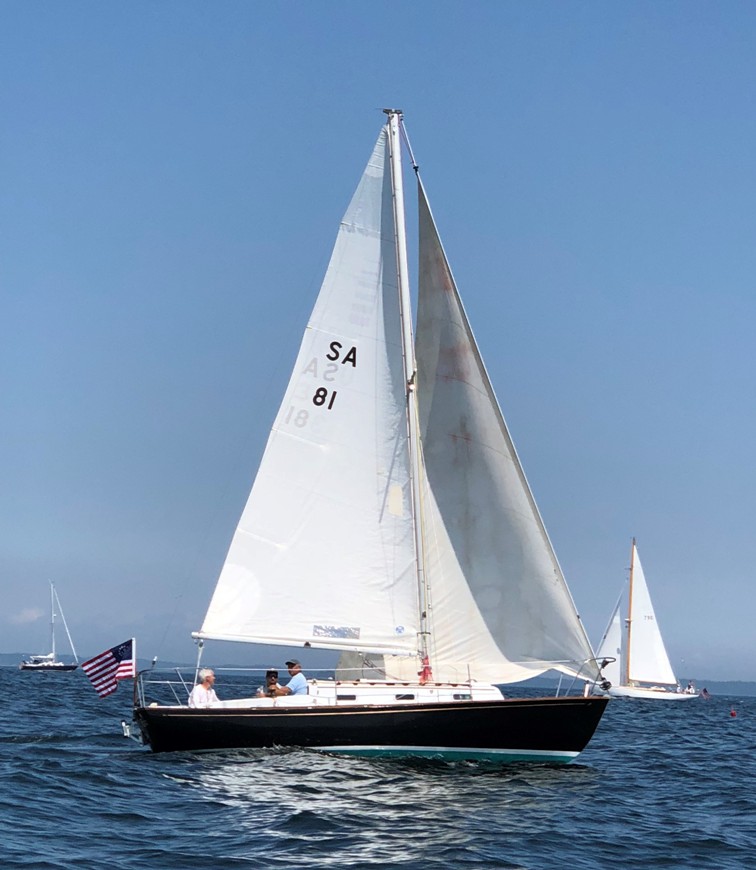 Little Haste (above) wins Dolphin 24 New England Championships at the Camden Classic Cup regatta.
Webmaster note: We are standing by for updated finishing positions, 2, 3 and 4 with the race officials. Stay tuned for a full report and pictures.
*********************************
August 7, 2018 Its taken a while but there was a fierce 3 way battle for the new Ed Glover/2nd place award (and see below). Dolphin 24 competitors each got an explanatory email from Ted Smith, the CCC Race Committee Chair. Here's the final results.

Stay tuned
August 10, 2018. Below is Ted Smith's email to the Dolphin 24 fleet competing at the 2018 Camden Classic Cup.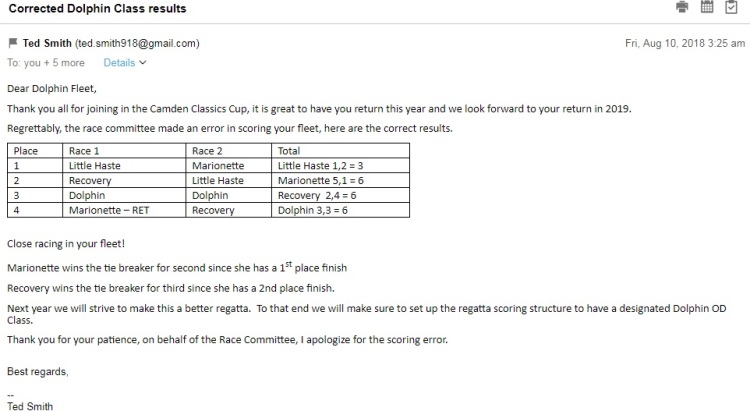 *********************
August 12, 2018 We have started to put together a photo/video gallery of this regatta and the part our Dolphins played. Click here to go there.
**********************.
August 15, 2018. Here's the 'new' Ed Glover Award with plaques. The Regatta organizers asked that we not present an award containing alcohol, so we found a good use for our Dolphins trophy. The 'old' Ed Glover Trophy -(the Jack Daniels version) has been retired and is now in the care of his old friend Jamie Weymouth (DOLPHIN)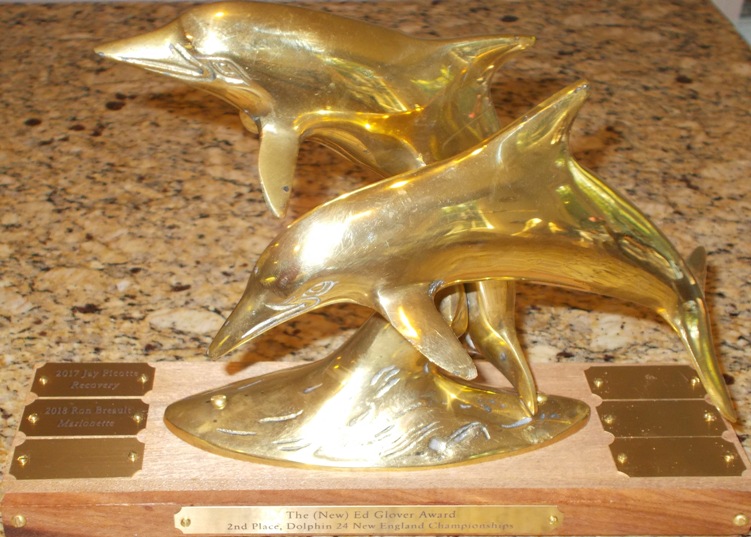 2017 Jay Picotte, Recovery; 2018 Ron Breault, Marionette; 2019 ?????
*************************
August 23, 2018 Corrected Dolphin 24 Fleet results have been posted on Regattaman - click here to go there


***********************
2019 Camden Classic Cup/Dolphin 24 New England Championships
July 25-27
Camden, Maine
Stay Tuned for details
**********************************