June 28, 2014. Today we spoke with Kevin McManus, new owner of Yankee #188. Kevin knew all about Dolphins - he was the former owner of Marscot/O'Day #18 (now Mark Grady's Running Dog). He tried to buy her back but Mark wanted to keep her so instead Kevin bought Eric Varty's Canopache. Click here to go there
He has been working on #188 and she is almost ready to go in the water. We stand by for more info.
Stay Tuned
July 13, 2015. Yankee #188 has a new name, so today we gave her her own page.
Hi Ron:

A belated update, but as the attached photo shows, Little Haste (#188) ex-Canopache, is back in the water. Still very much a work in progress, but launched (with lots of help from friends) in Marblehead last week. Currently a true sailboat, I've pulled the frozen Atomic 4 and am looking at various outboard options (you can see she's bow-heavy now without an engine). Lots and lots of work still left, but I'm looking forward to first sail!

Kevin

ps I should hasten to add that my wife Sheila has been very helpful in getting Little Haste launched!
********************************
July 25, 2017. Kevin and Little Haste get credit for an update - Kevin stopped by Marionette's slip in Camden, there for the Dolphin 24 New England Championships http://dolphin24.org/ccc2017.html
****************************
March 22, 2018 - Kevin and your webmaster exchanged emails - Kevin's update is below (minor edits) - AND, he thru in a teaser - maybe Little Haste will make it to the Camden Classic Cup/Dolphin 24 NE Championships in Camden, Maine, July 26-28!! Here's his email (minor edits)
Hi Ron:

Long time since contact to be sure. Sorry for the delay. As it happens, I've been talking with my brother-in-law, (who is an ex BU collegiate sailor with loads of experience and a new found interest in Dolphins), about Little Haste upgrades and a potential trip to Camden (Webmaster note YES!!!)

I have some priority fixes to address, most notably a stern outboard well (pulled the old Atomic 4 for good), and re-installation of the centerboard, but might be able to pull these off this spring?....... We've relocated to Brunswick, Maine to escape the Boston/Route 128 rat race but are still working - hoping to retire to spend more time playing with old boats.

It looks as though you've got quite a crew roster… congrats to your daughter! (Webmaster note - Son Mike and I are the planned Marionette crew in Camden this summer - but check this out about daughter Nicole)

I'll be trolling the website for tips on both projects and anxiously awaiting the end of this snowy winter, but will let you know how things progress.

Thanks for your work on the website, it is a great source of info about these iconic boats.

Best,

Kevin

***********************
July 3, 2018. We are now up to 6 Dolphins for our Dolphin 24 NE Championships/Camden Classic Cup! We got the following email (edited) from Kevin. Click here to go to the Scratch Sheet
Hi Ron

Hope all is well with you. First of all, an update, I've registered Little Haste for the Camden Classics Cup…working with lots of help to try to pull this off, but lots to do, including centerboard replacement and all new standing rigging (not to mention paint and varnish…) Hope I can make it happen....

Kevin

***************************
July 29, 2018 - Little Haste wins Dolphin 24 New England Championships at the Camden Classic Cup regatta!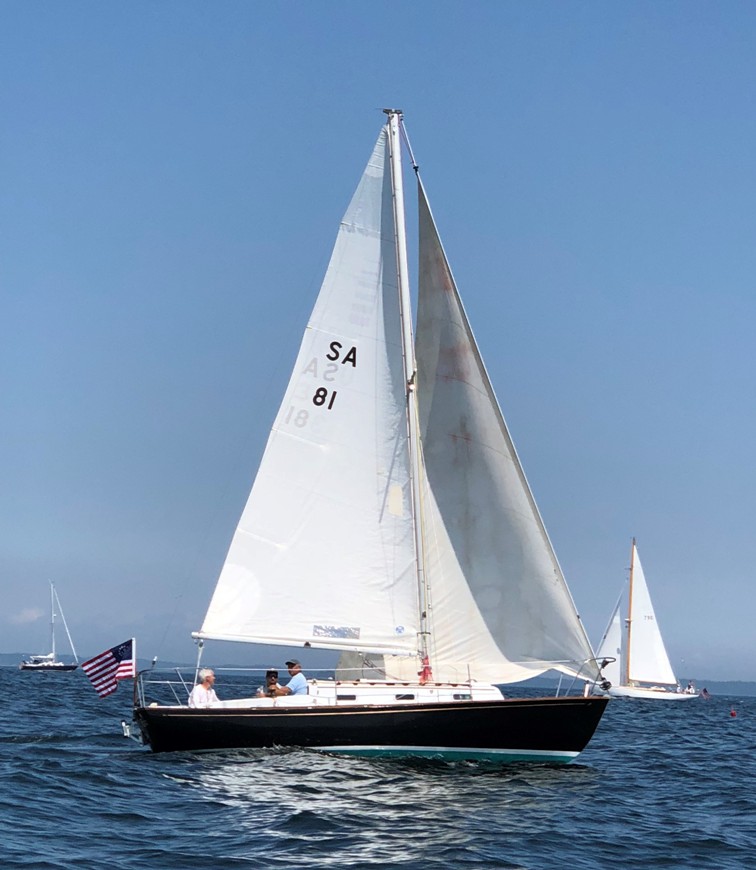 Stay tuned for a full report and pictures
****************
July 31, 2018 - Responding to a webmaster request we got the following from Kevin (pictures updated August 6, 2018)
Hi Ron:

Thanks again for all of your dedication to this sweet design. I've attached a photo from Day 1 before the breeze built and we lost our support team. The Little Haste crew/team is below:

Crew: Kevin McManus, Nick Burke, Christopher McManus

Shore Crew: Sheila McManus, Ron Bates

If you're interested (YES!) , I'll send along some other photos of the project we took on to relocate the centerboard pin to original S&S location. It was a huge help and Ron Bates was critical in working out location and successfully drilling new pin thru the lead ballast, etc.

All in all, great fun, have a safe trip back.

Regards, Kevin

Little Haste getting ready for her Camden launch

Click here for a larger image
********************************