The Camden Classics Cup regatta serves as a feeder event for the Eggemoggin Reach Regatta series that starts with a race from Castine to Camden, another from Camden to Brooklin, then the Eggemoggin Reach Regatta which this year had 119 entries. This story is part of Marionette's Log, 2016 with a lot of material to sift thru, and figure out how to get it on the website. It is still a work in progress with a number of late arriving postscript notes and photos inserted where they fit chronologically.
We'll start here.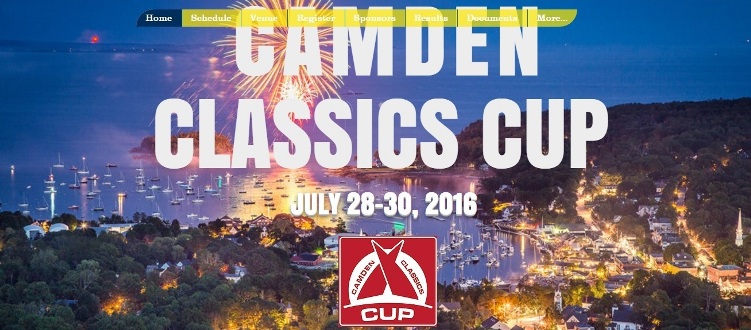 The short story is Marionette entered in the spinnaker division (she was raced double handed - your webmaster and son Mike) and she was 1st in her Classic fleet of 8 boats.
Results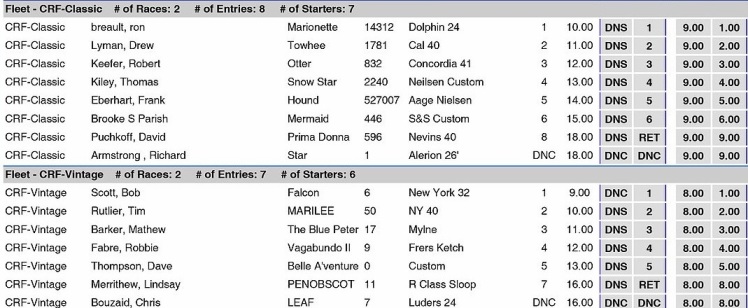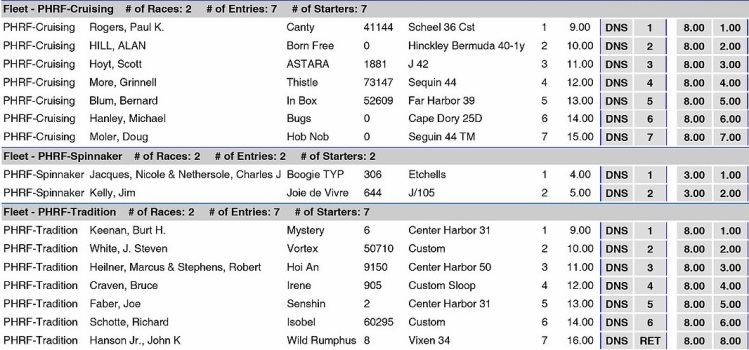 | | |
| --- | --- |
| There was very little wind and racing was cancelled on the first day. Day 2 was not much better but there was one race. Marionette usually races in PHRF but the regatta officials placed us in the CRF Classic Division (Spinnakers) - this was for boats designed before 1975. The Vintage division was for boats designed before 1949. Competing boats required a special handicap rating (CRF) - a $25 fee. Some examples of the CRC ratings are in the table at right. | |
While the racing was not great (except the end result!), the shore and support activities, and the environment, were the best this webmaster has yet experienced at a regatta. Click here to see the official schedule.
The Environment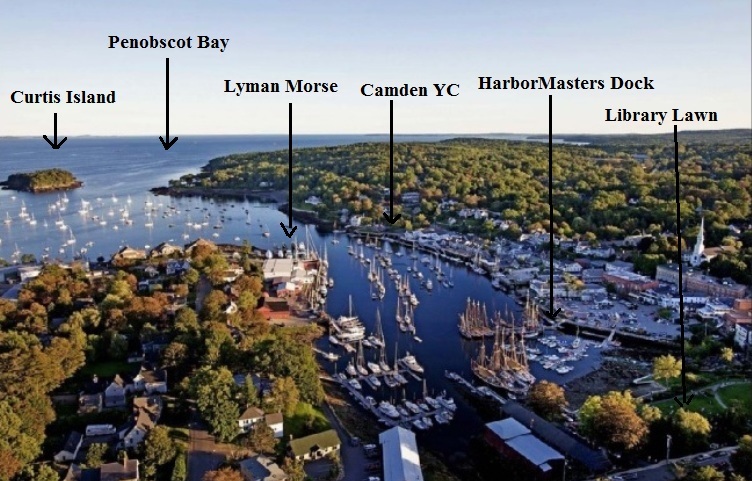 The Start. - Getting there. On Thursday morning, July 28, up at 3:15AM, on the road at 3:45 with son Mike for the 5 hr drive from Old Lyme, Connecticut to Camden, Maine. Breakfast at the Marriners Restaurant (the oldest family owned restaurent in Maine). Then met with Jamie Weymouth to deliver his Black Dolphin model, left the car in the municipal parking lot, got picked up by a taxi to take us down to Spruce Head Island where we boarded Marionette for a 4 hour motor sail (no wind/foggy) back to Camden.
We checked in at the Lyman Morse regatta office, got showers, walked around the docks checking out some of the really beautiful boats in the harbor, and the library lawn - one of the most beautiful settings.

Then a short walk to Francine Bistro, great food, a couple of glasses of wine and in our sleeping bags by 8:30.

A very long day....

Francine - on the list of favorites

Right - Josh Gardner (TERN) got this picture of Marionette and 'TEER at the Harbor Master Dock in the inner harbor
Postscript - November 5, 2016. Just in from Batson Creative's folder of CCC pictures, an interesting, and perhaps predictive picture.

At the skipper's meeting those two guys seated in the first row, paying close attention to the race committee instructions, won their division. Clue - look for that blue shirt with green collar at the awards ceremony....

Click here for a larger image
Racing Day 1 Breakfast Friday morning (8:00) at the Rhumb Line restaurant (below) at Lyman Morse (early birds got free coffee and breakfast sandwiches - we were early birds), followed by the Skippers Meeting.

Picked up lunches at the Marriners Restaurent and left our dock at 11. Rendezvous was in the outer harbor just east of Curtis Island.

Little Vigilant was the Race Committee boat. Click here to see more about this 70'er. Below - the Pin Boat

Nice committee boats for a 'classic' regatta. Click the above for larger images
We hung out for abour 3 hours waiting for breeze - nope. Time to go in, shower and get ready for the party at the Rhumb Line. Good food - good band. Prayed for wind, good night's sleep.
Saturday, July 30. Breakfast at the Rhumb Line, picked up lunches, and dressed ship for the 10:00AM Maritime Museum Parade of Sail. Thirty boats with their signal and battle flags flying, gathered in the outer harbor, lining up alphabetically under the guidance of Little Vigilant. First there was a flyover by a couple of biplanes from the Owls Head Transportation Museum.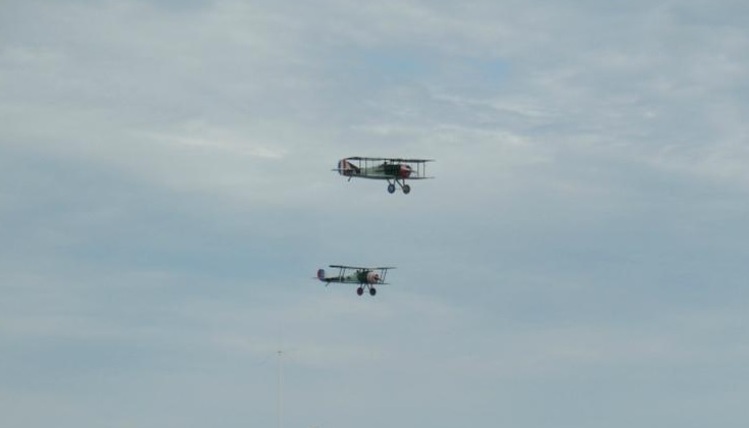 We've got video of this parade, especially Marionette showing off her battle flag - we'll get it up here after a bit of 'Technical Advice'. Pending that video here's a small sample of competing boats and their dress up.
The competition above and Camden YC right

click on the photos for larger images
The parade took us into the inner harbor, past the Lyman Morse complex, in front of the Harbormaster docks, then past the Camden YC (above right) and back out to the Curtis Island starting area. (see aerial view at top of page)
August 13, 2016 Postscript. Technical Advice arrived! Here's that video taken by Josh Gardner (TERN). Click this Youtube link
https://www.youtube.com/watch?v=lSz_jzkJv10"
The breeze was scary light from the ESE. but racing finally got off after a 1 hour wait. We were in the first start and had a light breeze - the Classic and Vintage classes were combined, 13 (bigger - some lots bigger) boats, for this start. Marionette, Mike at the helm, had a beautiful start at the RC boat. The wind was light, variable, and shifty, and it took over 4 hours to finish the 15 mile course.
August 25, 2016 Postscript. Thanks to the Andrew Batson gallery, posted on the regatta website, here's a couple of photos of Marionette 'racing'.
The boats were all spread out and, while we felt pretty good about our racing, we had no idea how we did. Two boats retired and two decided not to compete - the light air and current made for a frustrating race. The finish was off Curtis Island and, after our long motor in, we got our showers and were ready to start 'grazing' at the Camden YC at 6:30.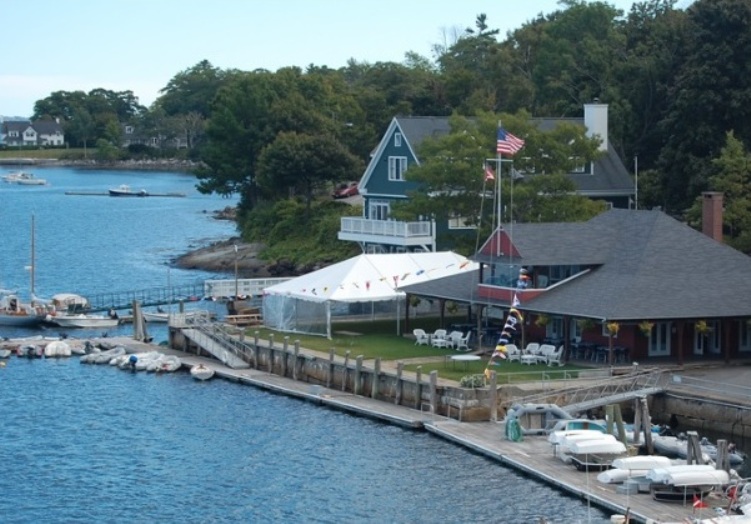 Camden Yacht Club

A wide angle view from inside the tent
A couple of hours 'grazing' on strategically placed hors d oeuvres tables, plus wait staff carrying and offering goodies from their trays, plus 3 open!! bars, plus listening and watching the Motor Booty Affair Band were the warm ups to the awards presentation

But it was well worth the wait -

Marionette was 1st in her class

Click here for a larger image (credit Andrew Batson)

Marionette won the Classic fleet by 4 minutes and 15 seconds. Click here for a larger (and darker) view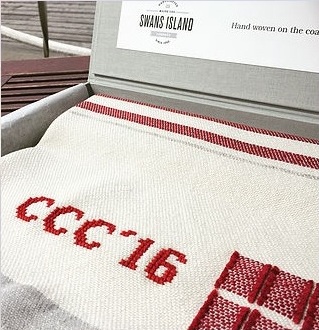 Our 1st place prize was a hand made blanket from Swans Island
Postscript Webmaster Note October 25, 2016. The following photo just in. It is from the CCC official video recently posted on their website. The webmaster thought we should see it here as well.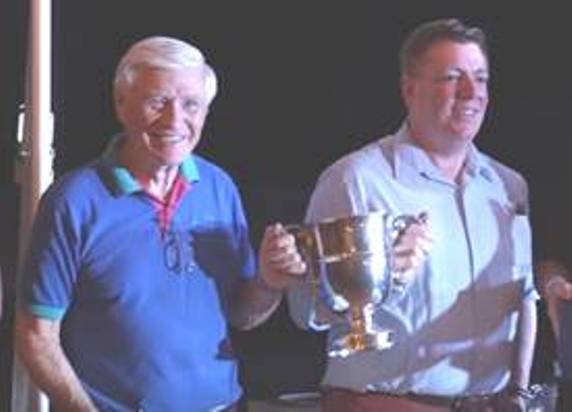 Left - your webmaster; Right - Dan Bookham, Camden Classics Cup's Community Affairs Chair; Center - the Camden Classics Cup Perpetual Trophy, a Tiffany marked sterling silver wine cooler....
To see the official regatta photos and video click here - http://www.camdenclassicscup.com/photo-video scroll down to Official 2016 Camden Classics Cup Video
*****************************
August 29, 2016. Below are photos of Marionette and the six competitors who raced in her class. Click the links below their photos for more about these boats.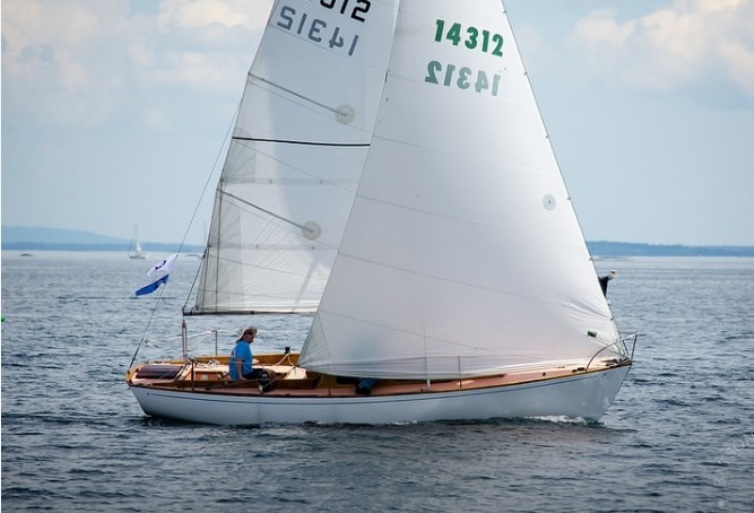 1st - Marionette, 1960 S&S Dolphin 24, LOA 24'
Click here for more info and pictures
2nd - Towhee, 1968 Cal 40, LOA 39.3'

Click here for more info on this design

3rd - Otter, 1954 Concordia 41, LOA 41'

Click here for more info and pictures

4th - Snow Star, 1968 Neilsen Custom, LOA 37'

5th - Hound, 1970 Neilsen, LOA 59'

6th - Mermaid - 1957 S&S Custom, LOA 46'

Click here for more info and pictures

7th - Prima Donna - 1954 S&S Nevins, LOA 40'

Click here for more info and pictures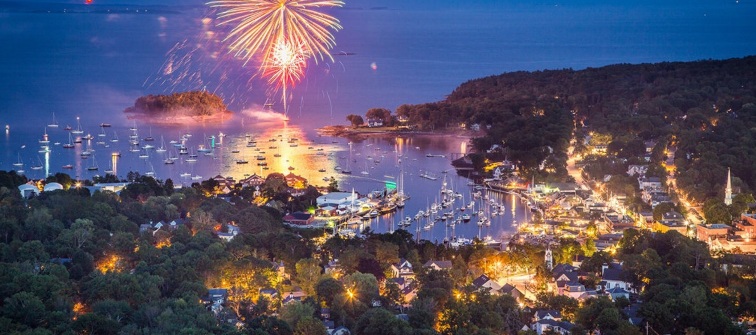 Good-bye Camden
***************************
Click here to go back to Marionette's Log, 2016
**********************************************
September 12, 2016. Not done yet! Just received by Priority Mail an important memento - a bronze 'Center of Effort' paperweight/coaster made by Correa! just for Marionette. Click the photos for a larger image.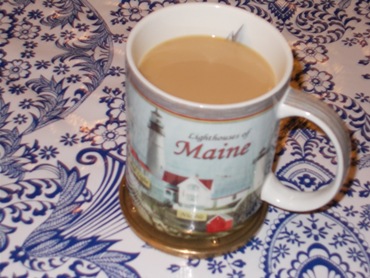 **************** Coaster in use under favorite coffee cup *****************

****************************

***************************************************

Check out this event July 27-29, 2017