September 28, 2021. Jamie Weymouth, owner of two Dolphins, sent in a Dolphin pod photo and the following email
Ron

My two Dolphins are able to play with each other for the next few weeks before getting hauled. At that point I will start prepping "Dolphin" for being put on the market in the spring. Hopefully to someone in Maine so we can keep her in the fleet for the classic (The Camden Classic Cup regatta)

Jamie Weymouth

Left DOLPHIN, Right Avellar 2

****************************
September 1, 2021 Mike sent in the following email. The new owner Jamie Weymouth is already a Dolphin owner (http://dolphin24.org/dolphin.html) - his email is below (minor edits)
Ron,

Completed the sale of Avellar to Jamie Weymouth today. Posting on the website generated quite a bit of interest, and I have passed on Jamie's email to those who inquired about my boat since he will be wanting to sell his current boat.

A sad day, but one that had to come.

Mike

FAIR WINDS MIKE!

Ron,

I just purchased Avellar 2 from Mike Horn. Very excited. Not putting Dolphin up for sale yet, but just wanted to let you know. (Webmaster note - click here to go to Jamie's DOLPHIN)

Thanks for your hard work on this site and love of the design. We might have a full class at the Camden Classic Cup next summer for you to win!

Jamie

**************************************************

*******************************************************************

************************************************

This is the history we have on Yankee #73 up to this point
August 1, 2021. For all of us there comes a time...Here is Mike's email (minor edit)
Ron

We are selling our cottage in Northport and will no longer have a refuge on the coast.

Reluctantly, I must sell Avellar II .(ex Angel) Currently, I still moor her on Islesboro. I have no pictures other than those on the website (see below). The sails are just ten years old. The main and jib lightly used and annually serviced. The genoa has never been used. Exterior brightwork and mast were varnished last year. Interior brightwork was done about four years ago. Two working Seagull outboards, one with reverse gear, and parts from a third. Cockpit cover and a full boat cover, the latter used by previous owner, but not by me.

I can be reached by email - mikehorn2@myfairpoint.net, or by phone (207,753.4322 or 207.631.0390). Price negotiable

Mike

***********************************

****************************************************
November 8, 2010. Today, Angel is scheduled to leave Marina del Rey in California for the cross country voyage to her new owner, Mike Horn, and her new home port at Dark Harbor on the island of Islesboro in Penobscot Bay, Maine. In mid October Mike, who has been on the hunt for a Shaw 24 or maybe a Dolphin 24, told us about us this boat being advertised For Sale on Yachtworld.com.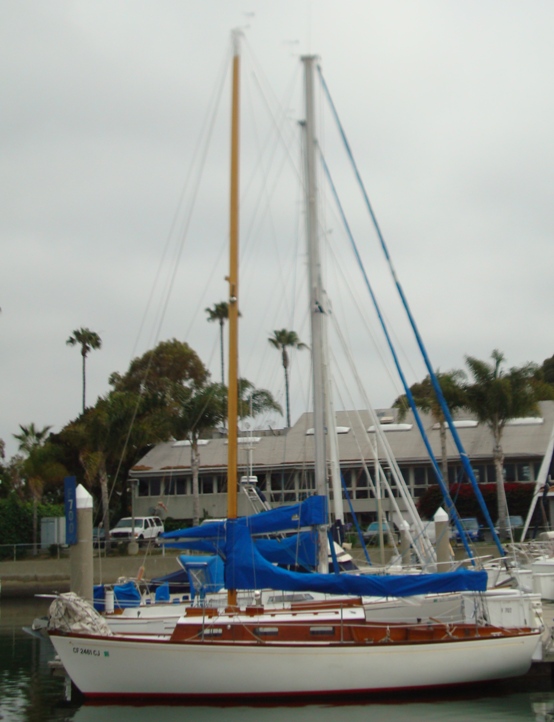 Angel at Marina del Rey
We already had this boat in our database but did not know it. We could tell from the pictures in the ad (see below) she was probably an early Yankee but we did not have the hull #. Eventually we connected the dots by comparing the pictures in the ad and pictures Frank Montelongo had sent us on June 17, 2010 of his Yankee #73. One of those photos is above. She is a beauty as all the pictures show.
Angel is the 3rd Dolphin 24 built by John Shumaker on an O'Day hull shipped to him in early 1965, and she is our 165th "Found Dolphin". More on her history later. Mike Horn had been filed in our behind the monitor 'Interested in Dolphins' database for a couple of years, and today, I moved him to our behind the monitor Rosters database where he is joined up with Angel. Welcome!
Angel is already giving Mike quite a ride, and he is not even on the boat yet! She was scheduled to be picked up on Nov 1 at Marina del Rey and trucked to Rockland, Maine. There she was to be relaunched and towed a few miles to her new home on the island of Islesboro in the middle of Penobscot Bay. Mike sent in the following update (excerpted) a few days ago.
The trucker unloaded a boat in San Diego and was then to go to LA to pick up "Angel", then on the SF to get another boat. However, he had mechanical problems and spent five days in shop and $7000 to deal with both a cracked head and blown head gasket. He is now slated to pick "Angel" up on Monday and get her to Maine on the 16th. By the way, the trucker has been excellent about keeping me informed daily of the situation and making sure that things were coordinated with the broker. The broker had had the boat hauled for the initially scheduled pickup but has since relaunched the boat. It would have cost $260 a day to keep the boat on land. Labor costs in Marina Del Rey are $120 an hour. I'll let you know if the saga takes any additional twists and turns.
The following are pictures from the ad.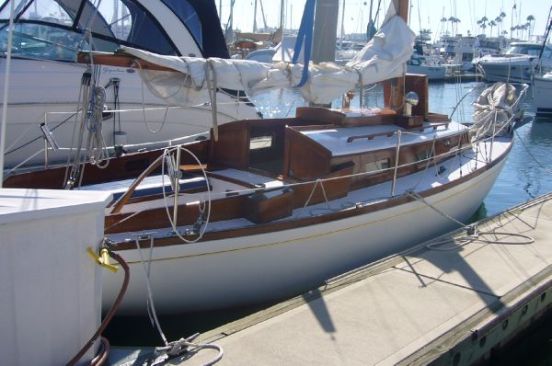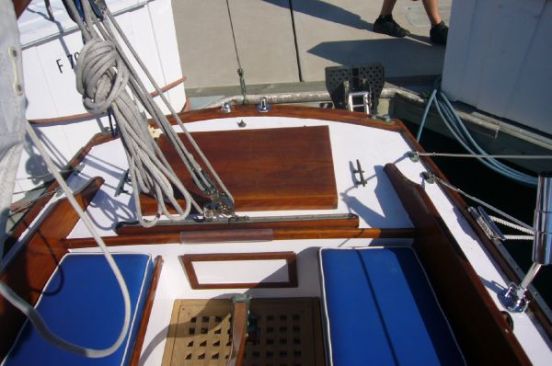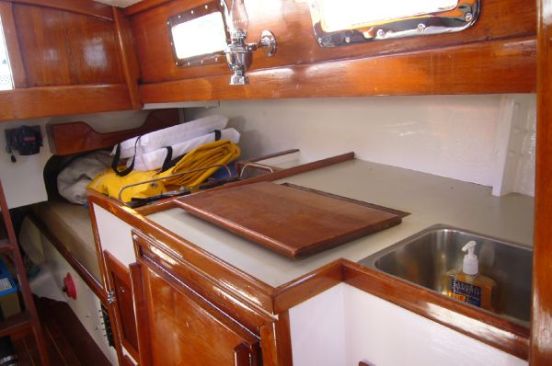 | | |
| --- | --- |
| Don't touch this!! | Here's that "Dolphin" lamp again!! |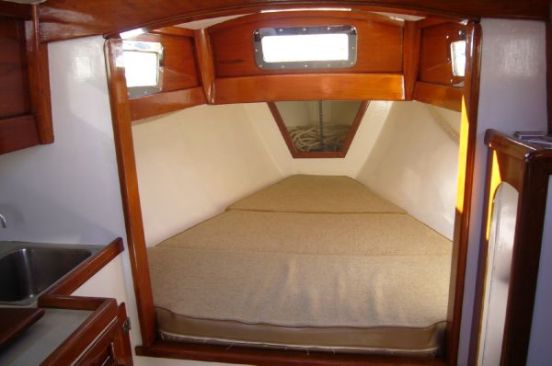 Had enough? Stay tuned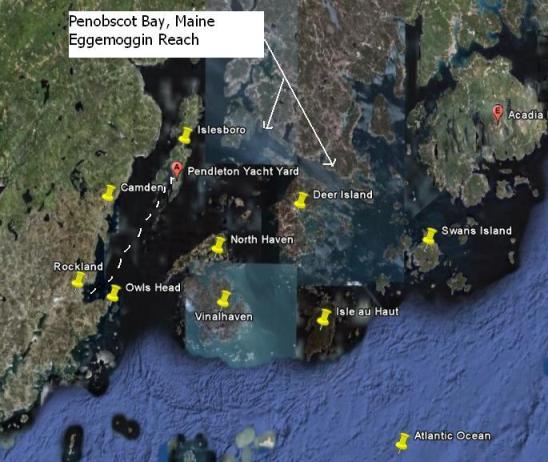 The last leg of Angel's cross country voyage
November 17, 2010 - Mike advises that Angel arrived by truck in Rockland, Maine yesterday, and was launched and towed to her new home on the island of Islesboro in Penobscot Bay. Shipping a boat cross country can be an interesting, sometimes worrisome undertaking. One could, write a book....A very small example excerpted from an email earlier in the week.
The broker sent the cabin keys to the seller and not to me, so I will have to use bolt cutters to gain access, which is necessary to retrieve the tiller (removed to accommodate one of the outboards in the cockpit) and reinstall for the tow to Islesboro.
But, all's well that ends well - from yesterday's email
While the boat sat on the truck in Rockland, several people came up to comment, "Nice boat". I guess you are used to that. We haul her out tomorrow at Pendleton Yacht Yard on Islesboro, and I will clean all the gear out. Will have some touchup to do in the spring where the deck paint meets the varnish - not quite so clean as I like. But, again, I am very pleased.

Mike

*********************
May 19, 2011. Mike has sent in two detailed work reports (no pictures yet) of his work to date on Angel and launched on May 17. Given the pictures above of what, to most of us is an enviable starting point, the work in these reports might seem incredible, especially given Mike's last words in the paragraph immediately above ".....I am very pleased".
Here are the work reports - consolidated and edited. Webmaster Note: I am exhausted just reading this! We got some more info from Mike today and those comments have been incorporated in red
Ron,

I launched yesterday in the rain, cold, and misery. Still afloat.

The ten weeks of work: stripping and revarnishing most exterior teak and the boom; sanding and revarnishing the mast and tiller; repainting the borders around the non-skid deck to make the paint/varnish lines crisp; sanding and oiling the (very nice) cockpit grating; removing and reconditioning all deck and spar hardware; rebuilding the Wilcox-Crittenden head; rewiring the mast; replacing the corroded cockpit drain ball valves and hoses; replacing the through-hulls and ball valves for the head; repainting the bay for the head; replacing the hoses serving the water tank and sink; replacing the frayed centerboard rope pennant with wire; making a temporary repair to some glass delamination in the rudder (planning to remove the rudder next year and do a more thorough job); repainting the boot-top; cleaning and waxing four times the gelcoat (original and in remarkably good condition); stripping and revarnishing all hatches.

I started modestly to improve the varnish. Although the old varnish was heavy and full of runs and sags, it protected the wood well and I have found almost no areas of water damage. There appear to be no through deck leaks at the chainplates or anywhere else. Took all three hatches off and stripped them. They now have eight coats of varnish. It appears to me that two hatches were made by one person and the third by someone else. The joining techniques differ as does the initial sanding. The companionway hatch turns out not to be square – something I recognized after all the varnishing when I reinstalled it and noticed that it does not meet both sides of the companionway opening evenly. Also, in refinishing it was clear that the hatch was not gently and smoothly crowned but more angular. Perhaps next year I will rebuild it. The boom also has been stripped and given eight coats. All the boom hardware was removed and reconditioned and reinstalled.

The toe rails also have been stripped and revarnished (only six coats). I was intending to sand the cabin trunk and coamings, but when I started sanding some of the varnish cracked and peeled off. So, I wound up stripping again. All deck hardware has been removed. The stanchions only needed polishing, but everything else needed cleaning, wire brushing, and polishing. The winches now look new. Curiously, it appears to me that various bronze jam cleats were mounted backwards.

The paint/varnish lines will be much cleaner. I still have to do some sanding and minor repair to the deck because of the effects of stripping years of paint, varnish, and bedding compounds. I will not paint the whole deck this year. The boat has been in the yard's heated shop while I did the varnishing. Yard personnel and anyone else who wanders by exclaim, "Nice boat".

There is a curious piece of hardware on the port outside coaming. It looks as though it was meant to receive a thin wire running from aft and has a handle which rotates a small drum for tensioning purposes. It clearly is not robust enough to have been for a backstay. Best guess by most people is some sort of throttle for a previous outboard rig. Update: That port-side hardware is, indeed, a remote throttle for the Seagull. I became certain when I came across a small plastic bag marked "remote throttle port coaming". However, I have not yet figured out how to connect it to the motor.

Sails were sent out for cleaning and repair. I have not really looked at them but am sure they will need replacement next winter. Just wanted to see how they perform first.

Regarding the centerboard, it would not descend. After working a slender bar up the trunk aft, I was able to pry it down. Then, first with wood and later with a strip of old bronze, I knocked back and forth in the trunk and lots of debris fell out. Most interesting were thin sheets that looked a little like styrofoam with traces of worms that I think provided most of the resistance to smooth operation of the board.

The Seagull started easily on shore the day before but was really difficult to start on launch day.

Sorry, no pictures. Pat (The Admiral) had wanted to be at the launch and take some, but she was ashore for an appointment on Tuesday. Tuesday was not the scheduled launch day (I had hoped for Thursday), but the yard is launching a New York 40 on Thursday, and I was unavailable yesterday and will be again on Friday. So, it was a hurried dash to step the mast and launch. I really should take a picture of the jib leads: they are a clever design with a rotating (ball bearing) insert with two small opposing sheaves in a circular collar, and the sliding base for the track is marked "Winwith". Curiously, the sheet winches are mounted aft of the sheet cleats. I cannot reverse them because the built-up blocks are narrower at the forward end and do not have enough space for the winches. Reversing the blocks would be a troublesome project, so I will just see how things work as they are.

One of the mast winches had to be sawn off and replaced. Fortunately, PYY had a few old winches taken off Dark Harbor 20s that were identical. I ordered spare springs and pawls from Rig-Rite over a month ago, but nothing has arrived. In the meantime, I discovered another plastic bag, this one containing winch pawls.

One other discovery: a full cockpit cover, a luxury in this lousy weather. In hooking up the batteries, I found wires carefully labeled by Frank – helpful since the L.A. marina that disconnected them labeled everything as negative. Frank really did take good care of the boat. I bent on the Hood main, which I assume is original. Have not hoisted anything yet. They say we may get sun on Sunday. If so, I am going sailing.

What a handsome design.

Mike

*********************
June 25, 2011. Your webmaster launched Marionette in Rockland, Maine last week and then had a 4 day mini cruise across Penobscot Bay to get her to her summer mooring in Bucks Harbor at the top of Eggemoggin Reach - see Google map above. Islesboro is on the way so a visit with Mike and Angel was in order. Our boats are similar in construction - all wood on a fiberglass hull so it was interesting to spend some time on each boat looking at and discussing the similarities and differences. Note her wood mast, double life lines, no stern rail, and her 5 hp British Seagull outboard. It has a 5 bladed prop and pushes the boat at around 5.5 knots, almost a full knot faster than Marionette's 4 hp Johnson. Also, what struck me down below was all that beautifully varnished wood is nicely set off by all her polished and chrome plated hardware fittings, hinges, latches, portlight frames, lamp, etc.
Angel is even prettier than her pictures. It was a windy, bumpy day but two of the pictures I took came out. Here she is on her mooring at Tarratine Yacht Club in Dark Harbor. She spent the winter at Pendleton Boat Yard which is just out of view off her stern. Interestingly, that end of the harbor completely dries out at low tide.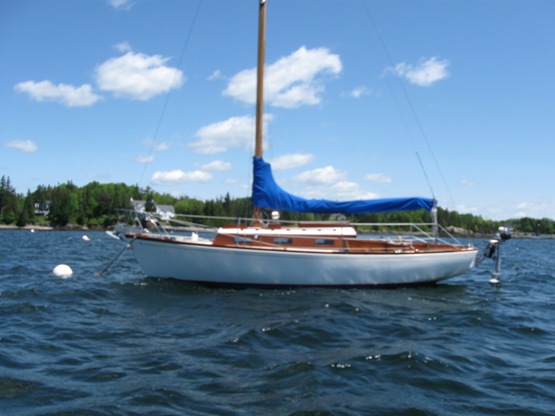 Marionette, below is tied up at the YC dock getting ready to leave. She has a single reef tied in the main and a small jib, ready to deal with the 15+ knots anticipated on her 3 hour close reach sail across east Penobscot Bay, and through the islands to Bucks Harbor.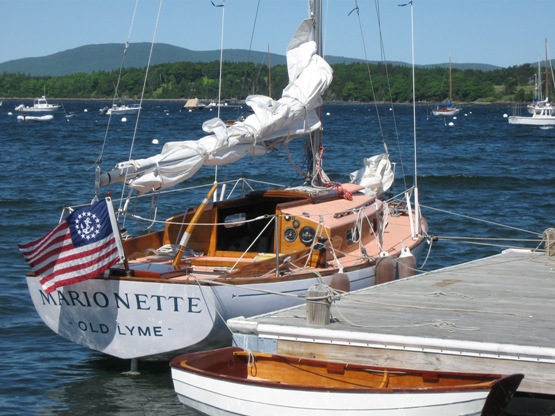 You can just make out Angel off the bow in the distance - Camden Hills on the horizon
We'll be back!
******************************************************************
May 22, 2012. Mike has had a busy winter and spring restoring Angel. This is particularly hard to do to a Dolphin that is already as good looking as this one. This might be going out on a limb but he might be a bit of a perfectioniast....Here is his report - pictures maybe later.....
Ron,

After about ten weeks of work, I think I am ready to launch this week as soon as the new name, "Avellar2" (the "2" will be a superscript) is painted on the transom. Avellar is the last name of the man I first worked for at age nine, rowing customers out to the boats he rented by the hour. It was the name of a powerboat I foolishly bought some years ago and finally sold last November. Anyway, my plan had been to work on the interior this year, so I took a few bits and pieces home to work on during the winter: varnished floorboards that are removable and painted some wood panels.

Noting some cracks in the paint on cockpit seats and floor, I thought I would repaint. However, as the old paint lifted, it was obvious that water had penetrated the MDO board of which the seats were made. And underneath the cockpit floor paint was some unidentifiable substance, yellow in color and rubbery in consistency. I thought I would replace the seats, but not only were they fastened down with screws, removable with some effort, but also glued with something akin to 5200 if not actually 5200, and that bond could not be broken. I decided to overlay the existing seats with quarter-inch Okoume plywood, epoxy sealed top and bottom and edges. The existing seat surfaces were faired and then epoxied. The new plywood was fastened with screws with a good bead of caulking around all edges that met vertical surfaces. Two coats of primer and three of finish. Looked good until the work light fell over on one seat and left a good ding, which I admit to simply filling and patch painting. New teak fiddles were made for the inboard edges to retain the seat cushions.

I tried all sorts of solvents to remove the yellow/rubbery stuff and finally had to settle for scraping, scraping, scraping, and sanding. The exposed plywood was in good shape except for some slight water staining. I epoxy coated the plywood, then primed twice and coated three times. All this took much longer than anticipated.

All the exterior bright work received three new coats of varnish, bringing the two year total up to nine coats. But before that could be done, some hairline cracks in the teak sides of the cabin trunk needed attention. I carefully reamed out the cracks with a dental pik and then filled the cracks with epoxy. Water had penetrated two of the cracks through to the interior. Other cracks were only on the exterior. There was a similar and more serious crack on the forward hatch cover. The seam had to be reamed out to a little over an eighth of an inch in width and then filled with epoxy and sealed with several prime coats of varnish before the entire hatch cover was varnished. I broke down and had the yard varnish the mast, but I did the boom.

Finally, the non-skid areas of the deck were repainted, although they did not receive the thorough treatment I would have preferred.

I painted the bottom with one of the newer, non-toxic paints, but that required three coats. The masking tape lifted some of the boot top paint, so I had to fill, spot prime, and recoat the boot (Webmaster Note: Same happened to me - more than once - I was, again, too lazy to go find and use the 'easy peel' tape I bought just for this purpose!!).

The interior will wait until next year. I did install new halyards. The jib halyard was about two feet shorter than it should have been for easy connection to the jib, so that was remedied.

I hope that you had less to do this year and that you are already in the water. (YES, less to do; and weather permitting, Marionette launches today!)

Mike
***** We await a photo of Avellar2's transom *****
******************************************************************************
March 8, 2016. We got an update from Mike. He has had some medical problems that are painful just reading.....At least they are more sympathetic excuses than - Oh, I spent the winter in the Caribbean, or skiing!
Ron,

Well, last winter I had shoulder surgery and never got the work done on the boat I had intended so she did not go in. Three weeks ago I had back surgery and can do no bending, lifting, or twisting for three more months. I have asked a boatyard to do the brightwork and hope to get the boat in in mid-summer. When last they hauled the boat, they put a number (about 18) small dings in the gelcoat that cannot be effectively patched to be unnoticeable, so they have said they will awlgrip (or alexseal) the boat at no cost to me. I am reluctant to start painting the hull because it will mean doing so again in the future, but I see no alternative. Anyway, by mid-summer I hope to be sailing her.

Any updates on your boat?

Mike

***************************************************
October 29, 2018 Responding to a Webmaster plea we got the following update from Mike (minor edits)
Ron,

Because I was called back into service to run the community (sailing) program on Islesboro this past summer, Avellar 2 did not get launched. And, as of this coming Friday, we will no longer own the house on Islesboro. The boat is still in storage on the island. I do not know what might happen in the future. If we find a small, seasonal place near the water, we will keep her. If we do not find such a place, I do not know her fate.....

I had to do a thorough cleaning of her exterior after the summer and the dirt that had accumulated on her deck was enough to grow crops in (the floor of the storage area is dirt and wind blows).

The Lincolnville Dolphin (Paper Moon) was not on her mooring there this summer, but I have seen her in her yard next to the owner's house. http://www.dolphin24.org/fredcroftservice.html

I trust you got some good sailing in, although it was a miserably light summer for breeze. (Marionette spent most of 2018 in Maine - Lots of fog and rain....http://www.dolphin24.org/marionette%20log%202018.html)

Mike

**********************************
February 12, 2020 Mike Horn and the webmaster exchanged emails and the following is his update (consolidated/minor edit)
Hi Ron

We did buy a small cottage in Northport, across the street from the water and with a view of Islesboro. I am having bypass surgery on Thursday and do not even know if the boat will go in this summer.

Terrific news about Nicole! It is interesting that when Zack Leonard called me recently to ask about early Yale women sailors, I told him I could remember Nicole's ability to trim a 420 main tighter than anyone else and still make the boat go fast.

Note; Nicole is the webmaster's daughter and a Marionette crew - http://dolphin24.org/Marionette_crew.html. Circa 25/30 years ago Mike was the head coach at Harvard Sailing. Nicole was Team Captain and an All American at Yale. There was rivalry.....Zack Leonard is current the Yale Sailing head coach.

Nothing really to report about 2019 except that the British Seagull would not shift, and the mechanic could not do anything. Used a spare for the season that only had forward and neutral. Then, this fall, I disassembled the frozen motor and managed to get the gears working. One problem: Most of the screws and bolts were metric and of a wire size not available here. Had to drill some of the original screws out and replaced them with available sizes after retapping the holes.

Looking forward to seeing how everything works if I do get the boat in the water in the summer.

Mike

Good Luck Mike!


*******************************************