August 18, 2019. Eufrasio Volpe has formally checked in as the new owner of PAPER MOON and we have set up a new page for her. Click here to go there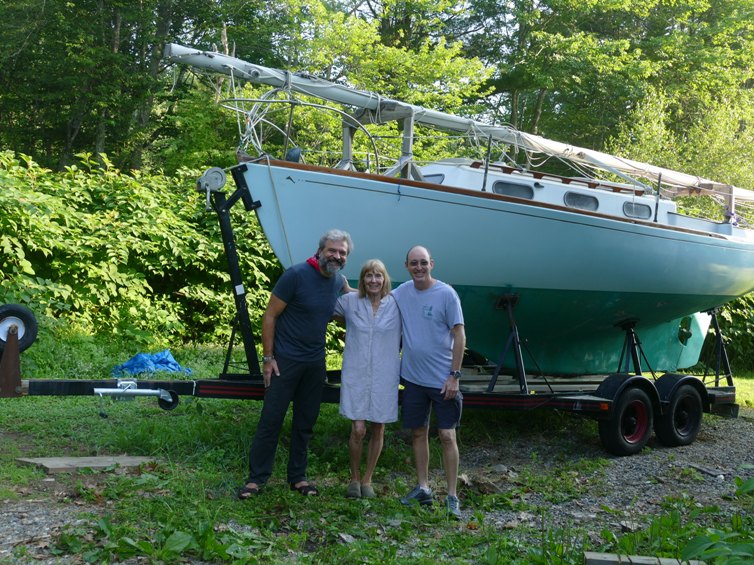 Fair Winds Kristie!!
*****************************
May 19, 2019 - We had an email from Eufrasio Volpe, and a confirming phone conversation with Kristie Scott. Paper Moon will be going to Martha's Vineyard, her old 'ferrying grounds' and have warm winters in Florida
Ron

I would like to thank you for steering me in the direction of Paper Moon and her custodian Kristie Scott! As a result of your guidance I could not be happier to report that Kristie and I have come to an agreement that will allow me to be the next proud owner of Fred Croft's Paper Moon. In his memory I will continue his tradition of care and diligence by providing her with a good home hopefully for many years to come.

She essentially will become a "snow bird", sailing the warm waters of Key Biscayne in southeast Florida and the Keys in late fall through late spring, and then the sparkling waters of Martha's Vineyard in the early summer through early fall.


Again, Thank you , thank you, thank you!!! I look forward to sharing stories and pictures in the near future.


Please forward information on how to join your organization. Webmaster Note: That's easy - you're in!!!

Cordialmente

Eufrasio Volpe

Welcome Aboard Eufrasio!

*********************************************

****************************************************************
Here is the History of #41 up to this point
May 22, 2018. The 'Admiral' and your webmaster were on a vacation trip to Maine and, passing thru Lincolnville, stopped to have lunch with Paper Moon's new guardian, Kristie Scott. She's doing well and organizing Fred's 'stuff'. She is planning to sell Paper Moon and is getting together pictures and ad information. We took a couple of pictures of Paper Moon outside 'the barn'. That wood structure on her deck is to support her protective tent. Click on the photos for a larger image.
Stand by for more information
August 3, 2018. Still working on a more detailed ad. Kristi would like $7000 but will consider reasonable offers. Paper Moon has a trailer and a nearly new Yanmar Diesel.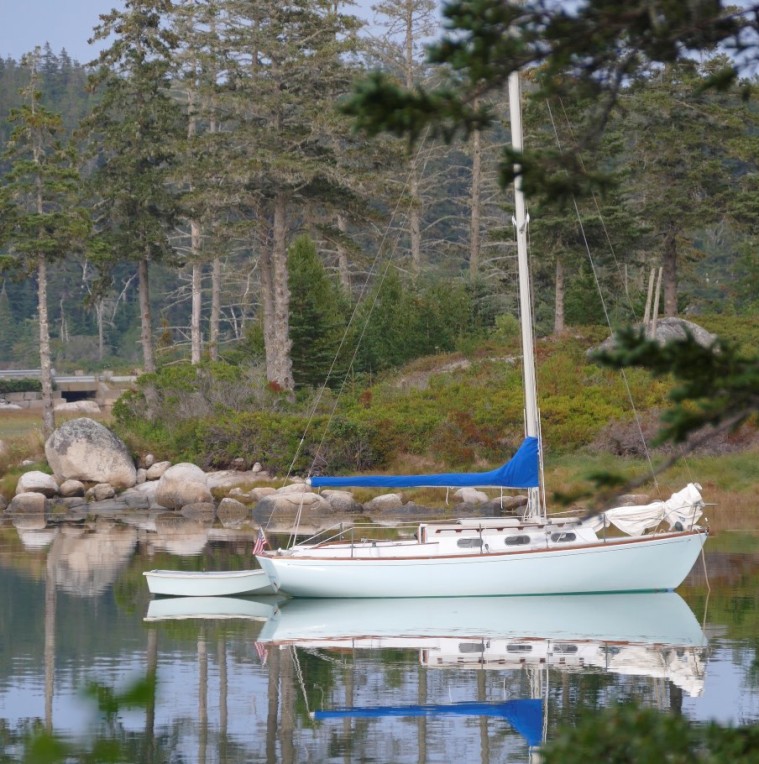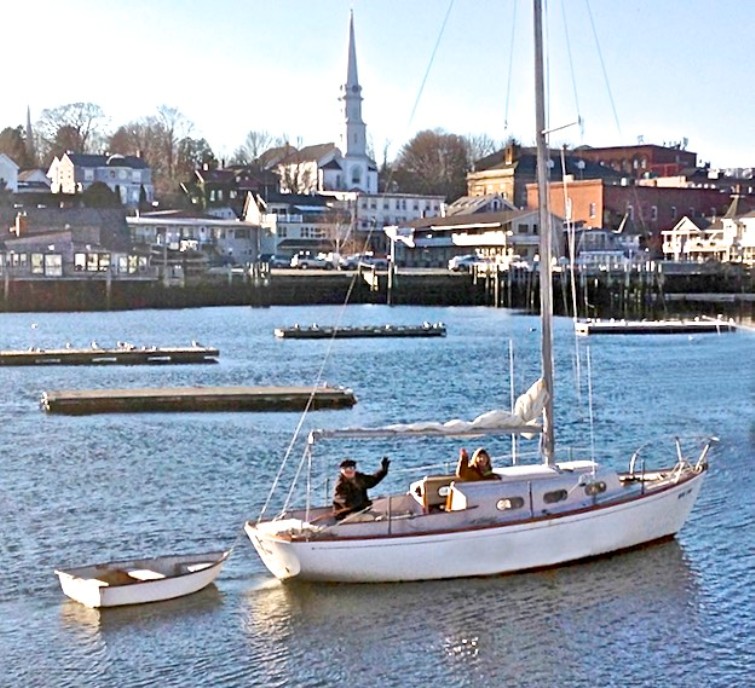 Stay Tuned
October 16, 2018. We got an email from Kristie along with some photos (email edited)
Dear Ron,

Did you get out on the water this fall? (YES - but not enough!) The fall color along the coast is lovely this year. I was able to sail with family a few weeks ago - missing Fred terribly. We loved sailing in the fall. I spent a few days cleaning up Paper Moon, even put a coat of varnish in the galley.

My best to you and Chris.

Kristie
*************************************
*******************************************
March 1, 2018. Sad news - Fred, who has been battling prostate cancer, posted his last message on Facebook.
Fred Croft, 1 hr, Lincolnville, ME ·


Good morning my dear friends, Fred here. Early this cold, windless morning, with a bright waxing moon low in the western sky, I hauled anchor for the last time, dancing lightly over the dark bay and islands, I pointed my vessel towards the great celestial seas to dance between the stars....


Goodbye for now - https://www.facebook.com/fcroft2?fref=pb&hc_location=friends_tab&pnref=friends.all

RIP Fred. Your friends here will miss you

March 29, 2018 Click here to go to Fred's Service

April 2, 2018 - Click here to go to the Martha's Vineyard (MV)Times obit

May 16, 2017 We got a note from Kristie that there will be a gathering of Fred's Martha's Vineyard friends on May 27 at the Gannon and Benjamin Boatyard in Vineyard Haven. She also sent in a couple of Fred keeper photos. We put them up on Fred's service page - click here to go there.

****************************************
September 2, 2014. Things move fast in this Internet age. Stay with your webmaster on the set up. Yesterday, Mike Horn (Avellar, Yankee #73) reported seeing a Dolphin 24 on a mooring in Lincolnville, Maine. Her name was Paper Moon. We thought this might be a newly found Dolphin, and as I was going up to Maine later this week to get Marionette, and expected to drive right thru Lincolnville, maybe I could check her out?
Then, today, I saw a 3rd party post relating to Fred Croft on Facebook that appeared on my page because Fred is a 'friend' and we used Facebook's messaging system to stay in touch during Fred's trip down the intercoastal on Flipper nearly 5 years ago. That 3rd party post mentioned Fred was seen on Paper Moon out on Penobscot Bay!
I had not heard from Fred in a while - so I sent him a Facebook message to check out his possible name change for Flipper and heard right back from him. He has changed Flipper's name to Paper Moon, and has moved her from Menemsha on Martha's Vineyard back to his old cruising grounds on Penobscot Bay.
I'm sure Paper Moon has her own story to tell and we'll tell it here on her own page in due time - but she has a very interesting past. Click here to read about Flipper.
As we did not have any pictures yet of Paper Moon we used a Flipper photo to get us started.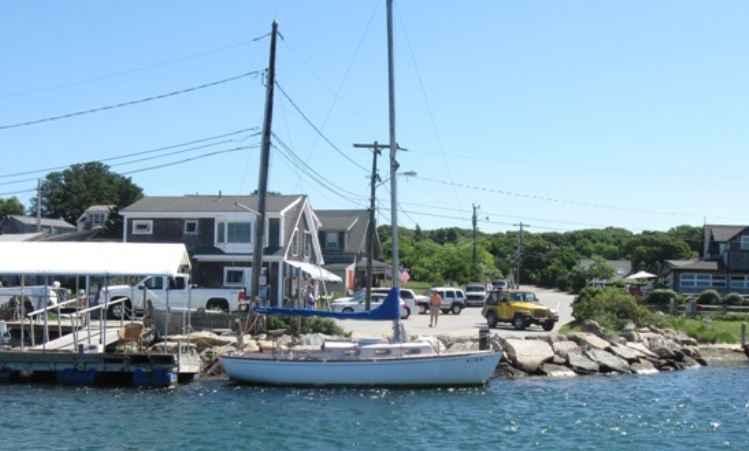 Flipper at the Bike Ferry, Menemsha, Martha's Vineyard - click here for another view
Here is Mike Horn's email(s) - consolidated and edited.
Ron

There is now a Dolphin moored in Linconville. Name on transom is "Paper Moon". She is in Lincolnville by the ferry pen. I have only seen her through binoculars, but it would appear she is a Yankee, perhaps an early transition to all fiberglass. The cockpit coaming is white and shows a configuration similar to my teak coaming with winch pads in the same place and orientation. It does appear that there is wood trim on top of the coaming, similar to the treatment on my wood coaming. I rarely carry a camera with me, but may be able to get a photo sometime.

Mike

ps I have to go to the mainland today; back tomorrow. If the boat is still there, I'll let you know

The Lincolnville, Maine Ferry Terminal
September 7, 2014. On September 5, Marionette was hauled in Rockland and this provided an opportunity to 1) deliver to Fred his beautiful scale model of #41 that I had protected on the shelf over my roll top desk these past few years, and 2) meet Admiral Kristie, his long time crew on Paper Moon. Lincolnville is only a 20 minute ride away and as they were coming down for an artist's gallery showing in Rockland that evening, it seemed logical that we meet for a drink, some Dolphin talk, and make the formal transfer of the model.
The model made the 300 mile trip up from Old Lyme, Connecticut on the back seat, her glass panels taped flat and protected by the Bud Light cardboard. The transfer was made, memorably, under the watchful cameras of the local bank parking lot

The detailed story of the model is here but the short version is that it was built by, or perhaps for, George Scott, the first owner of #41. Caroline Huber, who with her husband Michael, were the next owners in a partnership with Frances and Jane Ballard (hence the name Quartet).

The Hubers had kept the model all these years. Then Caroline heard about Fred and his intercostal voyage on #41, and decided he should have it! Fred was on the high seas and asked that I hold it for him. We waited for the just right moment to transfer it over to him - and this was the right moment.

Click here for a larger view of the photo at left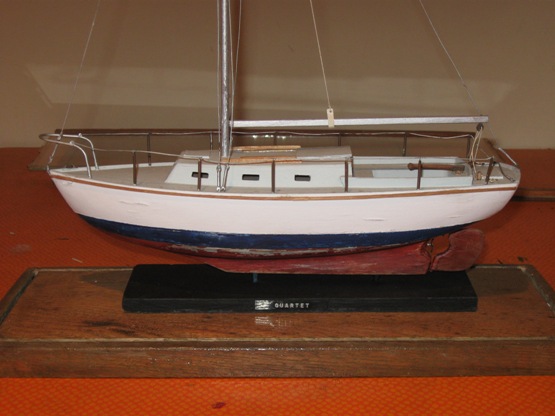 Fred and Kristie had just returned from a short cruise on Paper Moon to Stonington on Deer Island with a stop at Pulpit Harbor on North Haven. Fred renamed Flipper, Paper Moon, in September, 2013 and implied that Admiral Kristie played a part in this renaming. Together they sailed Paper Moon from Martha's Vineyard up to Maine, and Kristie gave me a couple of pictures of their trip.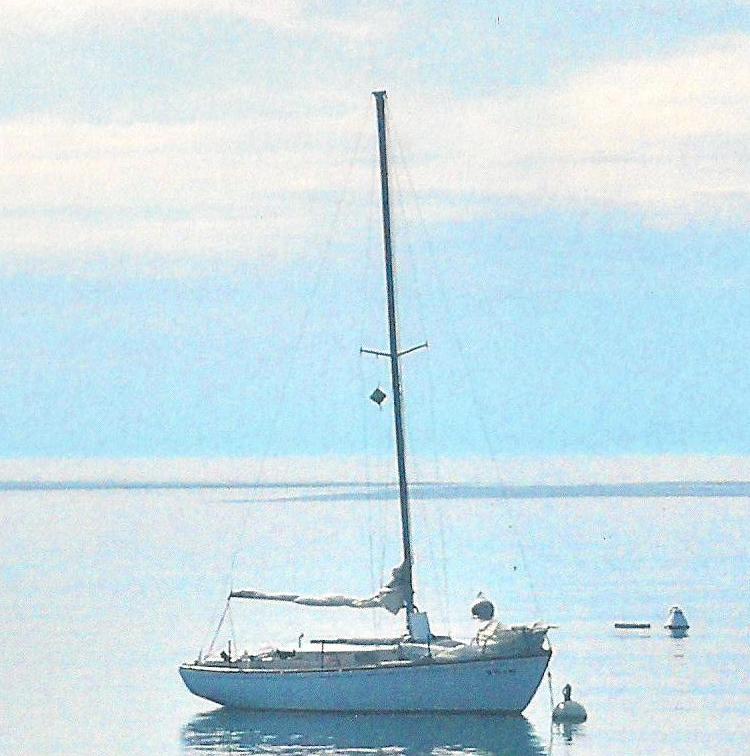 Paper Moon at Monhegan Island, Maine
Fred has rebuilt the galley section of Paper Moon and Kristie promises pictures soon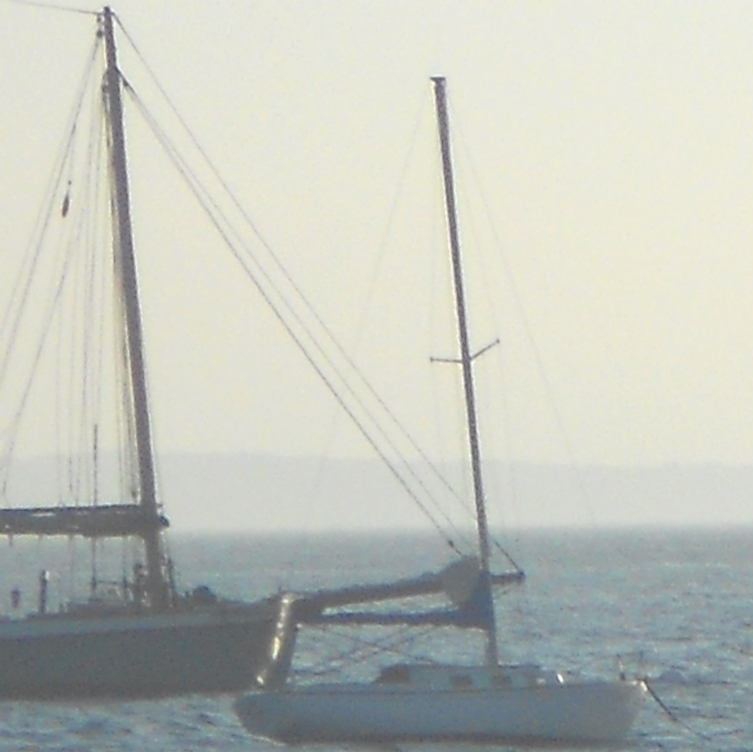 Your webmaster got this shot of Paper Moon on her mooring at Lincolnville - taken from the lobster pier early yesterday morning. That's Isleboro in the far background, home of Mike Horn's Avellar, Yankee #73.
******************************
September 10, 2014. We got the following message from Fred (minor edit)
We are down on the Vineyard for a short week and Kristie will zip some Paper Moon update photos early next week. The galley upgrade is pretty radical and I painted the cabin ,cockpit, and house. All the original pink gel-coat is gone.

Nice seeing you but I should have paid the tab at Fog. You were too fast and insistent. Next time. I will re-imburse you for the glass, however!!!

Thanks, I love the model in person

Fred

********************************
September 13, 2014. Mike Friel (a Dolphin hopeful) sent in this (better than your webmaster's) picture and email (edited) of Paper Moon
Ron,


My wife and I took a couple pictures of "Paper Moon" while passing through Lincolnville last weekend. Tried to get a pic with the "super moon" rising behind Paper Moon but that one didn't come out too well.

Here's the best picture we took of Paper Moon. Tried to get that cormorant to take Deb's phone out for a closer shot but we were afraid he'd fly off with it.

Mike

Webmaster Note: Mike finally got his Dolphin http://www.dolphin24.org/makarios.html
*******************************
February 22, 2016. Responding to a followup we got emails from Fred and Kristie with a updates on Paper Moon (emails consolidated/minor edit))
Hi Ron

Happy New Year! Paper Moon's out beside the barn all covered up and properly winterized on her trailer ready to launch at a moments notice. I came in third in the singlehanded division of the round Isleboro race last September!

Fred

The Around Isleboro Race is hosted annually by Northport Yacht Club on Penobscot Bay in Maine. It's a great, small community event whose proceeds partially fund the youth sailing program at the club.
....and from Kristie with those long awaited photos
Hi Ron

Sorry for the long delay. We may see you at the show (Maine Boat Builders Show). Busy painting interior of house and then when spring comes, paint the boat. Never ends.....

best regards,

Kristie

Click on the photos below for a larger image

We like this stove too and have included these pictures in our Technical Section/Interiors/Galleys

click here to go there

************************************

September 12, 2016 - We got a Facebook message from Fred - he won the 2016 Single Handed Around Isleboro Race! We are awaiting details.

"Still bringing home the hardware at fifty-five years old! Add me at sixty-five that's 110!" (120 - another drink Fred?)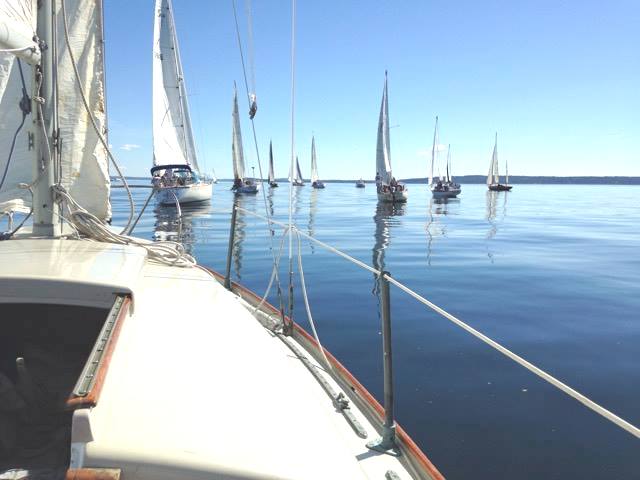 Dolphins love light air!!!
Northport Yacht Club Around Isleboro Race (AIR) September 10, 2016


****************************
June 30, 2017 We've had a few short Facebook messages and photos from Fred as he gets Paper Moon launched and ready to race in the Camden Classic Cup/Dolphin 24 New England Championships on July 27-29. At this date we have 5 Dolphin 24' entered.
Here's some photos of Paper Moon.
| | |
| --- | --- |
| New paint job - Blue Ice over green! | 3 bladed prop - a minus 3 seconds/mile handicap |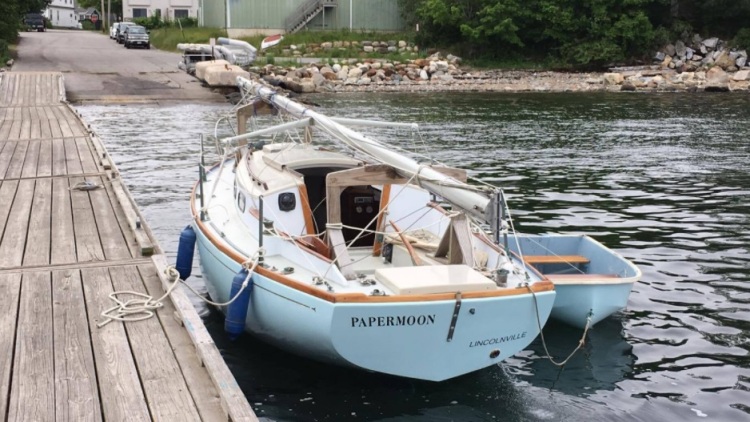 Another successful launch!
August 7, 2017 - Stu Polhamus (Equinox, Yankee #237) sent in this photo of Paper Moon taken from the Race Committee boat at the Dolphin 24 NE Championships/Camden Classic Cup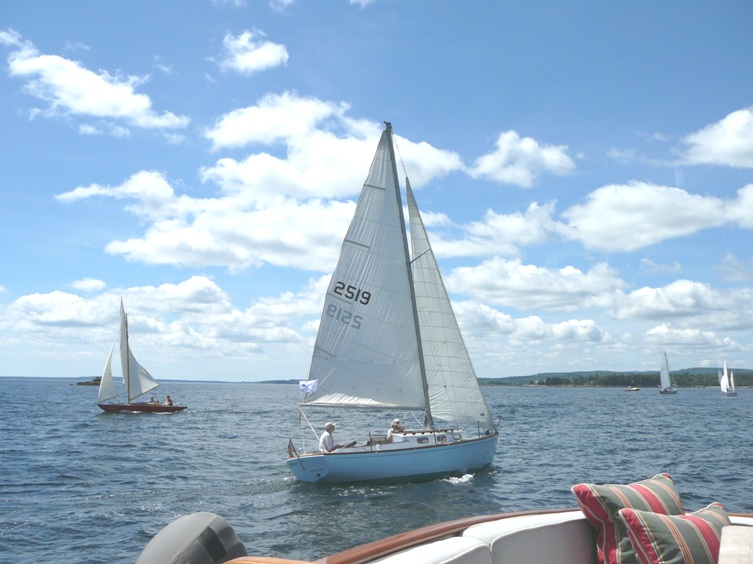 ************************
August 12, 2017 - Another photo gallery photo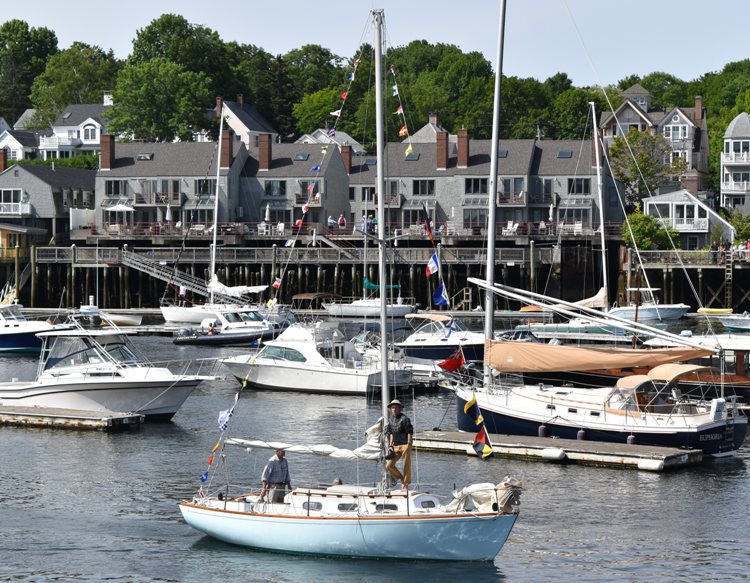 Paper Moon on Parade
August 20, 2017 - Yet one more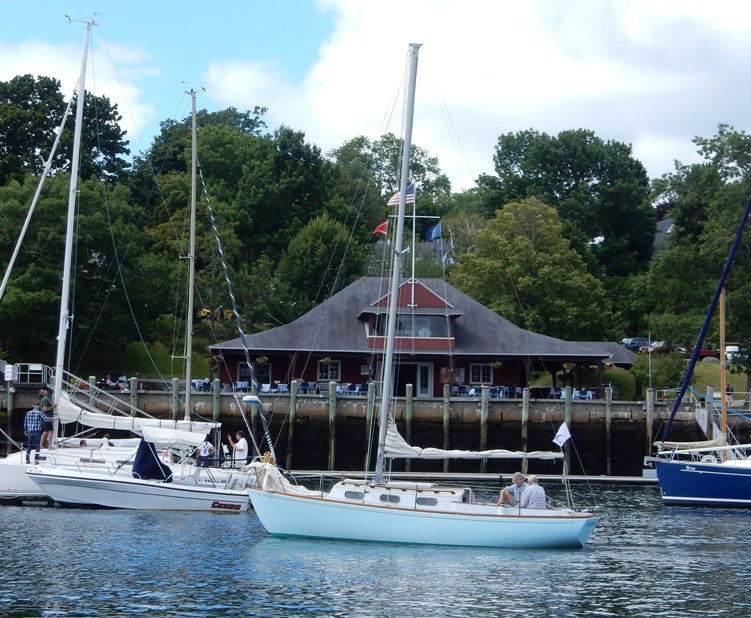 Paper Moon in front of the Camden YC - click here for a larger image