February 13, 2010. Your webmaster spoke with Caroline Huber today. Her husband Michael passed away in January, 2009. She advised that she did not have too much information about the boat. She and her husband bought the boat from a neighbor, George Scott, in Locust, New Jersey, sometime in the 1960's. At some point their good friends, the Ballards became partners with them, and they named the boat Quartet. They sold it to a young couple who also kept it in Sorrento for a few years. Then, one year, it disappeared.
That young couple was Rick and Susie Renner. They bought Quartet for $3000 in 1977, renamed her High Times in 1977 and sailed out of Sorrento until 1981 when they moved the boat to Lake Winnipausaki. Fred Croft bought the boat in 2005 and named her Flipper. Thanks to DFI Sturgis Haskins we have this 1972 picture of Quartet taken from the front porch of his Mom's house.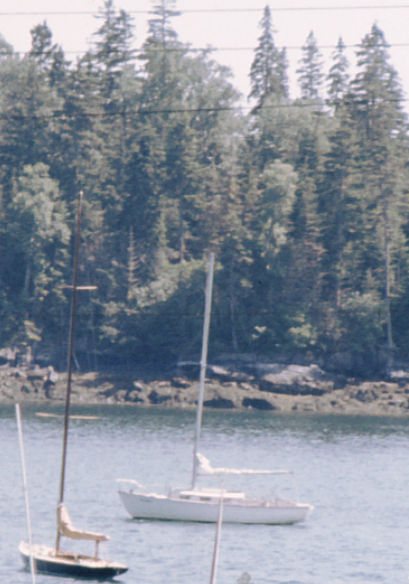 There were 2 Dolphins in Sorrento at this time - Quartet and Telltale. Sturgis has some other pictures of these boats that you can see by clicking here
*********************
February 24, 2010. Caroline Huber advised us a few days ago that she had a model of Quartet in a glass case that the first owner, George Scott, either built personally, or had built. She wanted to give it to the current owner of Quartet, Fred Croft, if Fred would like it. He was very interested!, and asked that the model be shipped to your webmaster for safe keeping. Fred is currently putting in a new motor for Flipper/Quartet down in Little Creek, Virginia and not ready to receive and care for a delicate model.
The model has arrived in Old Lyme. CT. She is a beauty!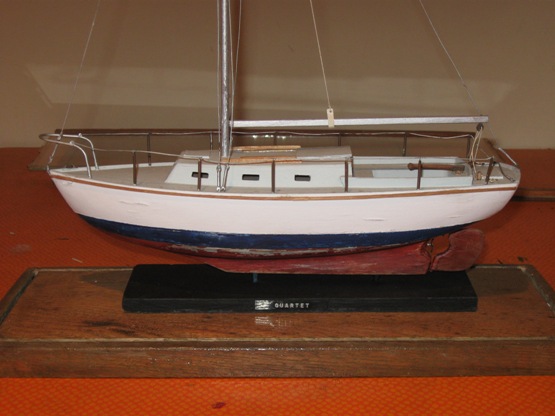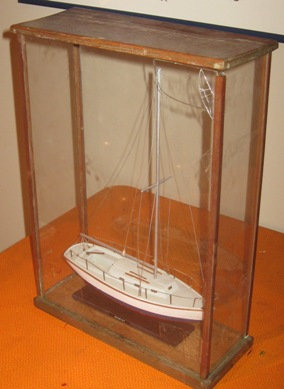 The scale is 1/2" to 1' so the model LOA is 12". Here she is shown with the glass case removed, on her base which is 15" x 6" The life lines and standing rigging are wire, the mast looks like its aluminum, and the boom painted wood. The bow pulpit and stanchions are aluminum as are the bow, stern and chainplate fittings. The tiller is carved wood with a knob. There are, to scale, miniture cleats on the mast and transom, miniature wood blocks in the traveller system, and what looks like a bronze open bow chock on the starboard bow.
Before she goes out to sea the rigging will have to be tightened a bit, the rudder will need attention and her paint needs a little work, but othewise, she is in great shape.
The glass case stands 21" high and needs some rehab.Two panels are cracked in the top corner and top edge and will have to be replaced. Some sanding and varnish needs to be done on the wood parts of the case but otherwise, it too, seems in good shape.
We should all be so lucky as Fred to have such a model.
This model is covered in more detail and with more pictures on our models page in the Technical Section. Click here to go there.
***************