April 5, 2009 There have been several requests from readers in past months for referrals to model makers who have made half models of Dolphin 24s. Not knowing of any they were advised to check out this out on the internet - there being several highly talented model makers available. As and when we get more input from others on Dolphin 24 half models we will add this info to this page.
Last night your webmaster was the recipient of an award from the Off Soundings Club - surprise - a half model of Marionette, including a diskette describing its construction! So, we will start with this half model!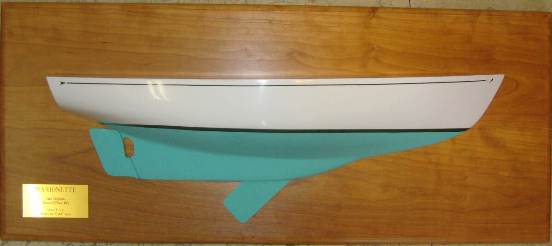 This is a simple half model taken from the original S&S lines, hand built by Todd Dunn of Bass Harbor, Maine using the plank on frame method from balsa wood with an overlay of 6oz glass cloth set in West System epoxy. It is scaled 1inch = 1 foot and the model is 24" long.
The transom picks up the visible half of Marionette's name and hailing port. The original design for the Dolphin was for an inboard powered boat. Marionette does not have a prop aperture as she is originally, and still is, powered by an outboard in the transom well. We are thinking about correcting this detail on her half model, but maybe we won't...

Ballpark costs for this type of model, more elaborate detail models, and contact information, are/WERE available on Todd's website.

August 12, 2016 Webmaster Note: Something seems to have happened to Todd's website. We followed up with him and he advises he has given up the business of making models. He will be missed.
The following are a few of the construction details of building of Marionette's half model. More detail WAS available on Todd's website.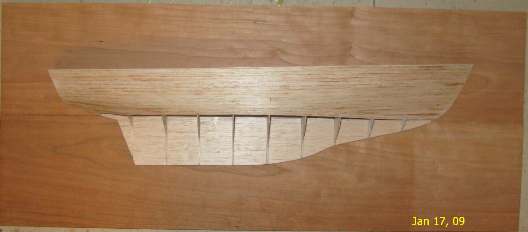 below waterline, frames in place, yet to be planked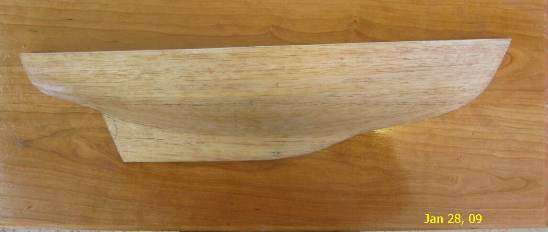 Hull finished, aperture sketched in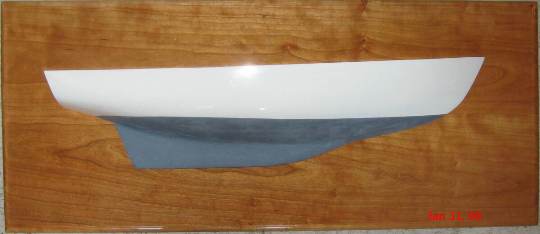 hull finished and primed, no rudder yet (Jan 31, 2009)
Todd Dunn lives in Bass Harbor, Maine. To go to Marionette's home page, click here.
***************************************
Update September 11, 2013. Your webmaster was up in Bass Harbor, Maine in August on a family vacation., alas, sans Marionettte. As webmasters are always on duty it seemed contacting Todd was a good idea. This resulted in a short story you can read by clicking here,
********************
September 14, 2009 - George Watts has a half model of Odile that he showed me when we visited in December, 2008. When this page went up I forgot I had this photo and the builder information -

In his study is this spectacular 1/12 scale half model of Odile his wife gave him years ago. It was carved by Alan McClennen, Jr., 153 Claflin St. of Belmont, MA
******************
October 24, 2009. Stan Barnes (Shamon) passed away several months ago. He hand carved a model of Shamon that I had forgotten about. It belongs here.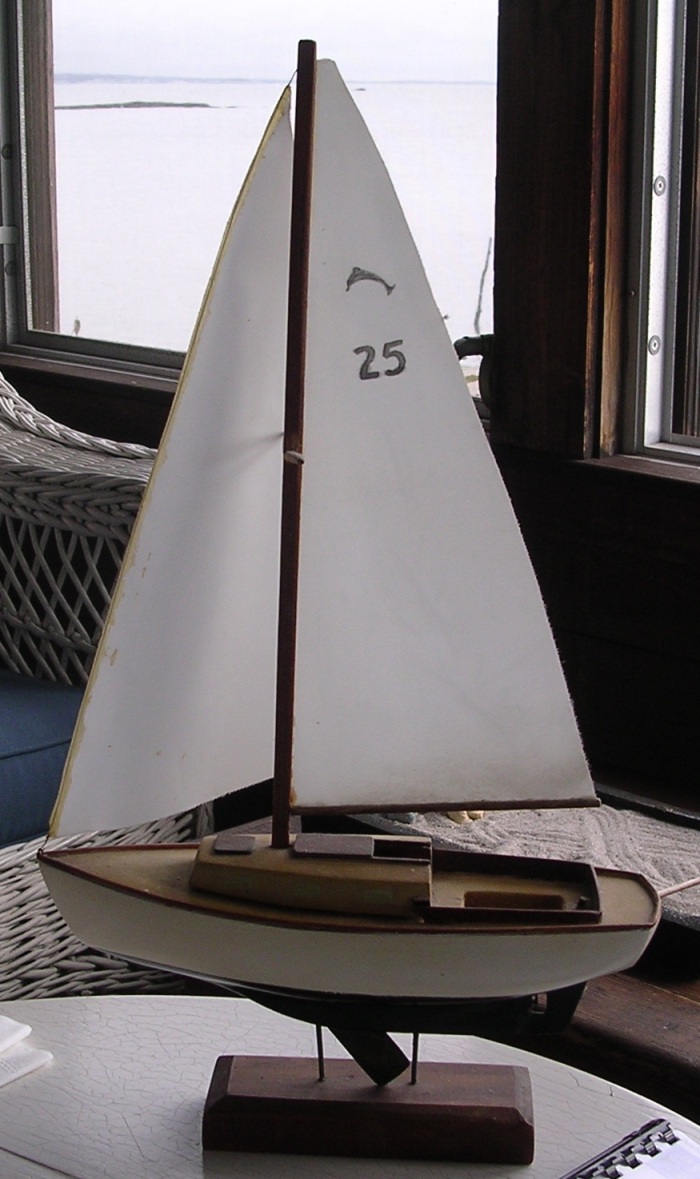 For more on this model click here
***********************
October 24, 2009. Jack Hubbard (Hornet, a 1965 Tripp built Dolphin, #T5? on O'Day Hull # 75) has a beautiful half model of Hornet that he got for winning the MORC Class at the A. Howard Fuller Memorial race at Watch Hill, RI in 1970. He sent in the following photo.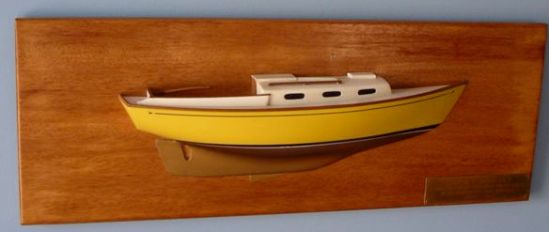 In the Summer and Fall of 2008 this half model was on exhibit at the Museum of Yachting in Newport, RI as part of their Olin Stephens' 100th year celebrations and the designs of the firm he co-founded, Sparkman & Stephens. For more on this exhibit, click here.
****************************
December 1, 2009
| | |
| --- | --- |
| | Keith Gross (Cats Paws, Pacific Dolphin # 279) sent in a couple of emails regarding his efforts to 'Dolphinize' an existing ships model into a Cats Paws model. This is an ongoing project. The picture at left was the initial effort. Below is the latest iteration including life lines, jib furling, etc., reefed and ready to go - emails consolidated and minor edits. |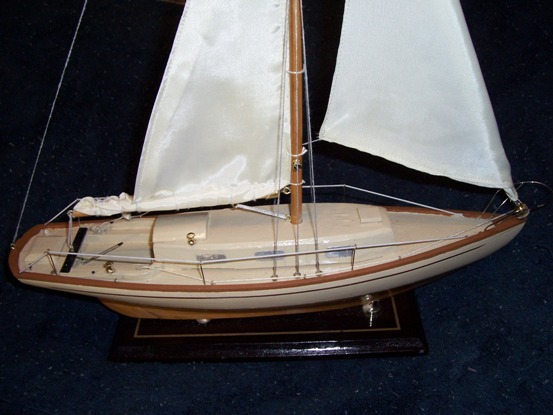 Ahoy Ron,

I was in the Technical section the other day and noticed the half hull models. While looking at them I noticed a model of "Shamon" by the late Mr. Stan Barnes. His model prompted me to attempt a modification of a sailboat model my sister got for me, to make it more "Dolphinesque". It's rather crude, some things aren't just right, but it bears a slight resemblence. It started off as some kind of big, old cutter, but the more I looked at it, the more it reminded me of Cats Paws

I couldn't leave the model alone. It was so close,but so many little things were off. The boom and the main just weren't the right size. So..., I tried to copy Cats Paws layout on the rigging. I added a back stay, centerboard winch line, roller furler, vang, masthead fitting and lite, mainsheet traveler, jib leads, halyard winches, toe rail, lifelines, and a bow pulpit. I also reshaped the front of the cabin and the transom. I wish the real thing was as cheap and easy to refit!

Later, Keith
******************
December 16, 2009 - David LeMestre built a very interesting carbon fiber profile model of his Falcon 24, Davarsa. His email (minor edits) and photo appear below.
Hi Ron

Enclosed you will find a CARBON FIBER DESIGN BOARD of a Falcon 24. I made this model following the design drawing. The composite is epoxy carbon fiber and the board is made with teck wood.

Also, I finished a carbon table for DAVARSA. I will install the table during the Christmas holiday, and will send some some pictures to you for the web site

Regards and Happy Christmas

David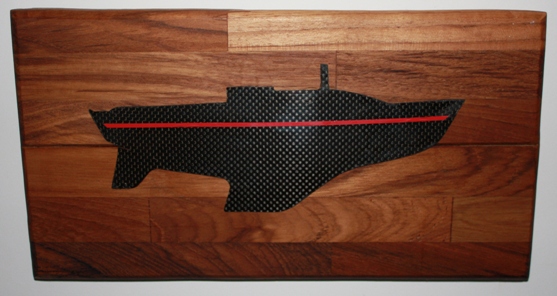 ***********************
February 9, 2010.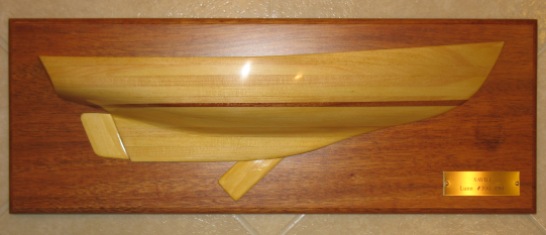 This stunning half model was made for Gary DeLong, who owns Savili, a 1961 Lunn built Dolphin #200 that he keeps on Great Wass Island, Beals, Maine. It was built by Eric Sandberg who builds his models using solid lifts, referred to as the lift method. This is the method used by builder/designers back when the half-model was the primary design tool. All his models are hand carved, and are made on a custom basis. Painted models are also available. Eric builds 15-20 models a year. Click here to see a larger scale photo. Use the back arrow on your browser to get back to this page.
The following information about Eric is provided by John Williams Boat Company where, in his day job, he is a master carpenter.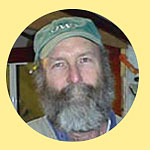 Eric Sandberg, a finish carpenter at John Williams Boat Company for the last 15 years, has been in the marine industry for over 34 years. He is a very skilled craftsman, one of the best in the area. His attention to detail and his creativity have been a perfect fit for the needs of the yard.
He resides in Trenton during the winter months. In the summer he commutes to work from his home on Islesford on Little Cranberry Island in MISS POOH, a 19' powerboat he finished himself.
Eric grew up sailing in Marina Del Ray, California. He moved east to attend Ripon College in Wisconsin where he began working at a boatyard. Eric earned a BS in Economics but continued working in the marine industry including running a passenger ferry on the Niagara River. He moved to Maine in the early 1980s to work as dockmaster, rigger, and eventually service manager for Bass Harbor Marine. He then signed on as a production carpenter with John Williams Boat Company in 1996.
Of his work Eric says

" I have always felt that the kind of work I get to do is somewhat of a privilege. Not many places provide custom wood working jobs. Each yacht owner has different objectives in mind. This allows us to expand creatively. The results are unique…there isn't as much charm in chrome and plastic."
Eric enjoys sailing, riding his motorcycle and playing the guitar. He also builds half models for Morris Yachts, Classic Boat Shop and John Williams Boat Company among others. He honed this craft under the guidance of the late Lyford Stanley, the designer of Stanley hulls built here at our yard on Mount Desert Island.
Contact information: Eric Sandberg can be reached at ebsandberg@roadrunner.com.
********************
February 24, 2010. Caroline Huber advised us a few days ago that she had a model of Quartet in a glass case that the first owner, George Scott, either built personally, or had built. She wanted to give it to the current owner of Quartet (Flipper/Paper Moon), Fred Croft, if Fred would like it. He was very interested!, and asked that the model be shipped to your webmaster for safe keeping. Fred is currently putting in a new motor for Flipper/Quartet down in Little Creek, Virginia and not ready to receive and care for a delicate model.
The model has arrived in Old Lyme. Connecticut. She is a beauty!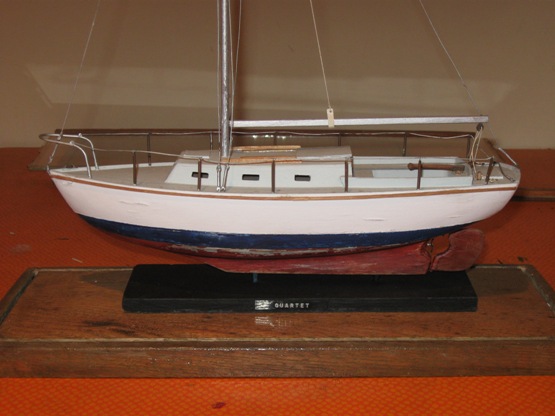 The scale is 1/2" to 1' so the model LOA is 12". Here she is shown with the glass case removed, on her base which is 15" x 6" The life lines and standing rigging are wire, the mast looks like aluminum, and the boom painted wood. The bow pulpit and stanchions are aluminum as are the bow, stern and chainplate fittings. The tiller is carved wood with a knob. There are, to scale, miniture cleats on the mast and transom, miniature wood blocks in the traveller system, and what looks like a bronze open bow chock.

Before she goes out to sea the rigging will have to be tightened a bit, the rudder will need attention and her paint needs a little work but otherwise she is in great shape.

The glass case stands 21" high and needs some rehab.Two panels are cracked in the top corner and top edge and will have to be replaced. Some sanding and varnish needs to be done on the wood parts of the case but otherwise, it too, seems in good shape.

**********************
Here's a 3 segment photo of the bow, midsection and stern. My digital camera cannot focus in on the miniture cleats and blocks but you can just make out one cleat on the mast, a wood block on the traveller and the bow chock.
We'll work on this....maybe...
Webmaster Note: September 7, 2014 This story is not over until the model got delivered - and it did. On September 5, Marionette was hauled in Rockland and this provided an opportunity to 1) deliver to Fred his beautiful scale model of #41 that I had protected on the shelf over my roll top desk these past few years, and 2) meet Admiral Kristie, his long time crew on Paper Moon. Lincolnville is only a 20 minute ride away and as they were coming down for an artist's gallery showing in Rockland that evening, it seemed logical that we meet for a drink, some Dolphin talk, and make the formal transfer of the model.

The model made the 300 mile trip up from Old Lyme, Connecticut on the back seat, her glass panels taped flat and protected by the Bud Light cardboard. The transfer was made, memorably, under the watchful cameras of the local bank parking lot.

The detailed story of the model is here but the short version is that it was built by, or perhaps for, George Scott, the first owner of #41. Caroline Huber, who with her husband Michael, were the next owners in a partnership with Frances and Jane Ballard (hence the name Quartet).

The Hubers had kept the model all these years. Then Caroline heard about Fred and his intercostal voyage on #41, and decided he should have it! Fred was on the high seas and asked that I hold it for him. We waited for the just right moment to transfer it over to him - and this was the right moment.

Click here for a larger view of the photo at left
POSTSCRIPT - This particular story has a lot of depth, and a special ending - click these links below to go there -
http://www.dolphin24.org/paper_moon.html
http://www.dolphin24.org/fredcroftservice.html
********************************
July 19, 2010 - Jay Picotte, Recovery, sent in a photo of this beautiful model he had built by Seacraft Classics/Abordage (click to see their website). They worked off photos and detail instructions Jay provided. The detail is incedible. Note the anchor at the bow, wooden shroud rollers, bronze winches, coiled main sheet, flag, etc. To see a larger scale photo click here.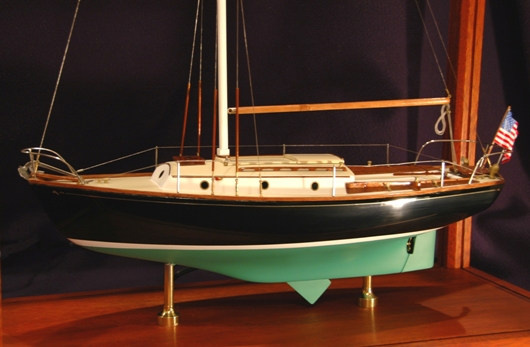 *******************
December 7, 2013. We received the following photos of the model of Ron Noe's En Charette, Lunn #200. We are working on getting some history of the model
Ron added the following comments about the model
The fiberglass hull and deck parts were made by Roy Berg and given to me along with teak trip pieces sufficient to do the work. It took me forever to complete the model thanks to a collection of reasons but when Roy and I talked recently, about 7 years ago, he asked if I had finished the model.
Roy Berg was the Chief Engineer at Lunn Laminates, and himself the owner of a Lunn built Dolphin 24, Black Dolphin. Click here to go to her. Somewhere in this webmaster's overloaded database/memory is the tidbit that Lunn Laminates made available these models to buyers of their Dolphin 24s. Stay tuned....
************************************
October 14, 2015. These things take while but Roy Berg's model of his Black Dolphin, Lunn #L219 now sits in your webmaster's office. This is the story
Your webmaster met Senior DFI Doug Berg, Roy's son, at the US Sailing Match Racing Championship at Oyster Bay a couple of days ago - this after literally years of communicating, but not ever meeting, on various Dolphin matters. (Daughter Nicole, also a senior DFI, was racing and son Mike - his Dolphin is Passage (Nicole and Mike crew on Marionette) and I were there to help her carry the trophy. Alas, this time it was not to be.
After catching up on the regatta results (click these links http://www.ussailing.org/matchracing15-final/ and https://www.regattanetwork.com/clubmgmt/applet_match_race_results.php?regatta_id=10293 ) Doug presented your webmaster with a 1/10 scale model of Black Dolphin that his father, who passed away earlier this year, had built.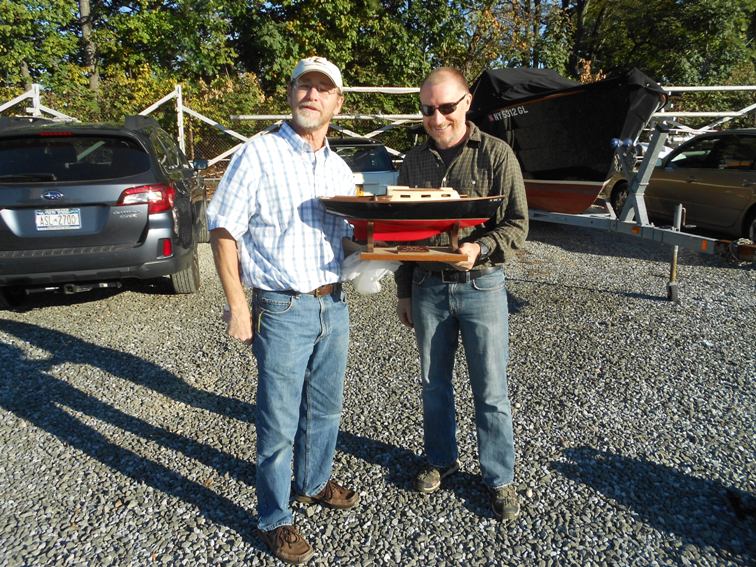 Doug and Mike holding the model - click on photo for a larger image - click the return arrow on your browser to get back here
This is a beautiful model! Roy built a mold to layup the major parts in fiberglass. He built at least one other model for Ron Noe (En Charette. Lunn first boat, hull #200 above), and perhaps several others for buyers of Lunn built Dolphins. This one he built for himself. It needed some minor restoration effort, the portside toe rail, one of the hatch slides and the rudder rehung - which was completed by your webmaster last night.
The end of the kitchen table seemed like to right place for this project. Makes it memorable for the Admiral......
Click on the photos for a larger image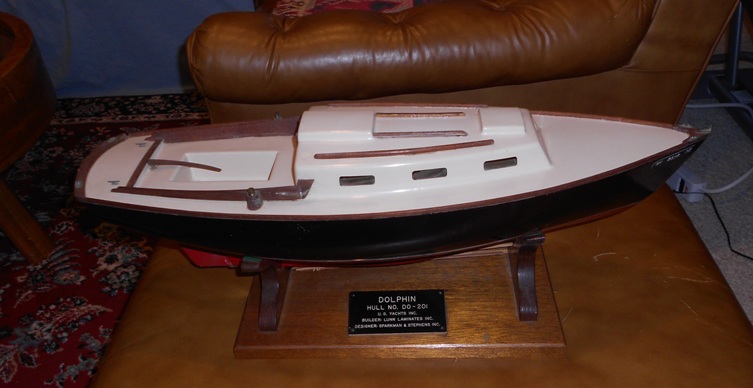 Temporary home on the Dolphin24.org office ottoman (leather, of course!) Click on the photo for a larger image
********************************
August 2, 2016. Your webmaster was in Camden over the past few days racing Marionette in the Camden Classis Cup regatta (we won our class!) and used this as a opportunity to deliver to Jamie something he needs to take care of while he takes care of Black Dolphin.

Right - Jamie and his Black Dolphin model - click here for a larger image
************************************
December 18, 2016. We have been remiss in not bringing in this story about the 'First Dolphin' - a model. Click here to go there.
****************************************
December 18, 2021 - just in over the transom from Marilyn Shaw (Bill Shaw's daughter) these photos of a TRINA half hull model
Click on the above for larger images
********************************************************************