On October 16, 2008, David advised us that he has purchased Natine, a Falcon 24 that was sailed from New Zealand to Brittany, France. He is now in the complicated process of obtaining her certification for Europe. The name DAVARSA is a derivation of DAVid, ARmelle, his wife and SAlome, his daughter. David currently lives in Morocco and vacations in Brittany.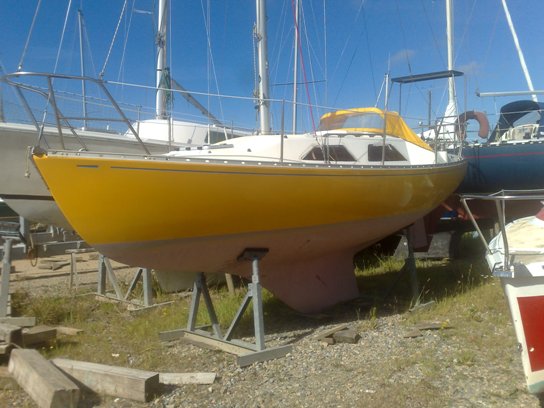 This is a picture of Natine he took in Brittany before he bought her. We look forward to more information about this remarkable boat, and pictures. For more on the fin keeled New Zealand built cousins of the Dolphin 24, the Falcon 24 and the S&S 24, click here.
********************
October 26, 2008 David has found some additional pictures taken of Natine by her former owner. They show a boat fitted out for a sea voyage. She is powered by a Yamaha 4cv outboard and has 2 quarterberths.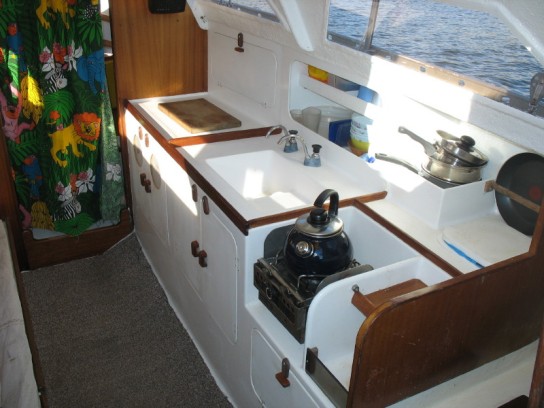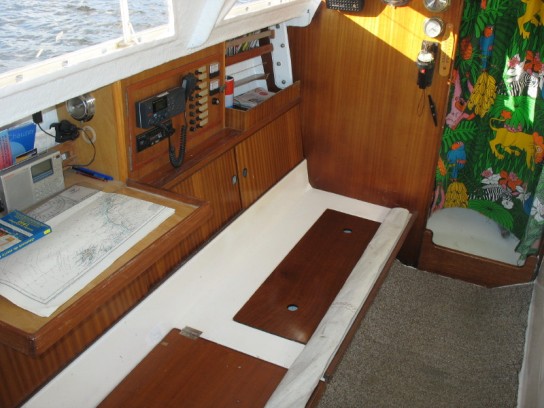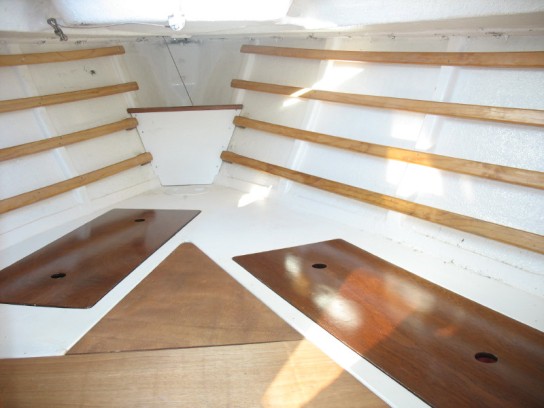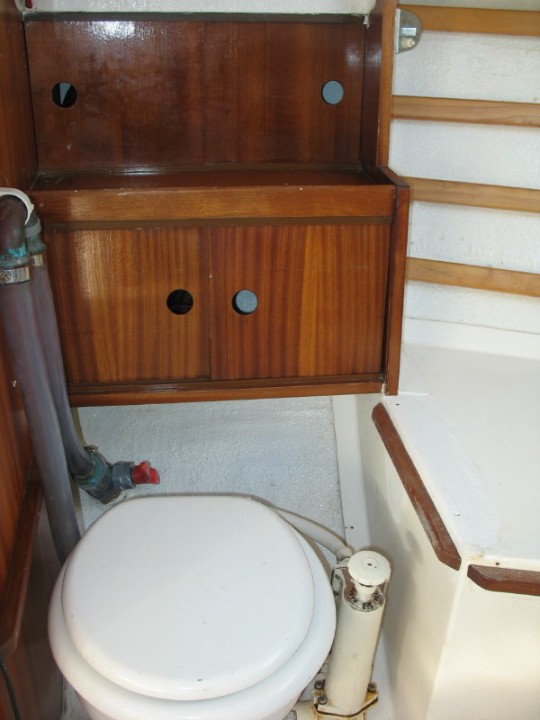 **********************
December 30, 2009 David sent in the following pictures of DAVARSA. Her name is not yet changed from Natine. He is spending the holidays in Brittany close to his new boat.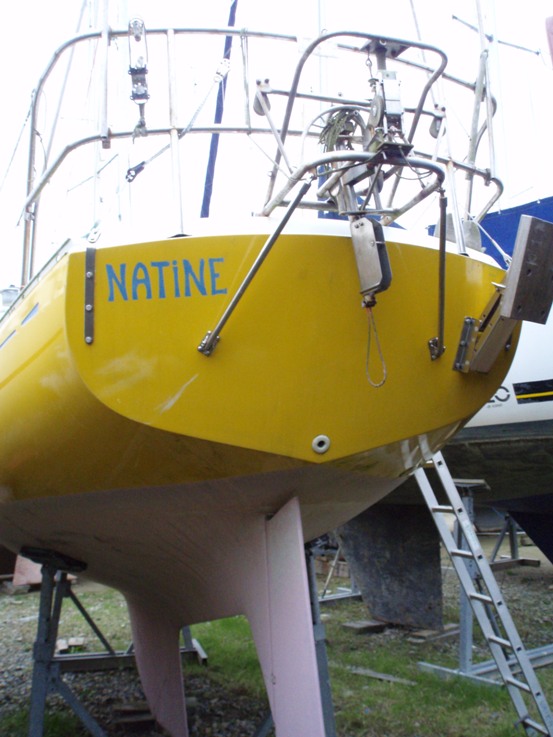 Self Steering Gear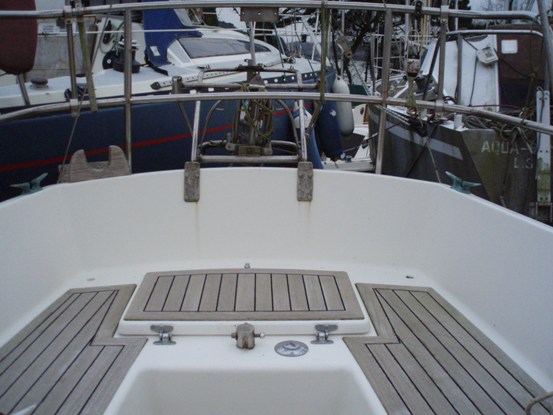 Lets take a closer look at that rudder post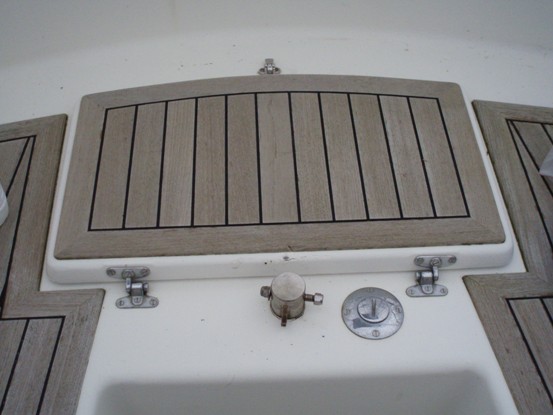 Very nice detail and fittings.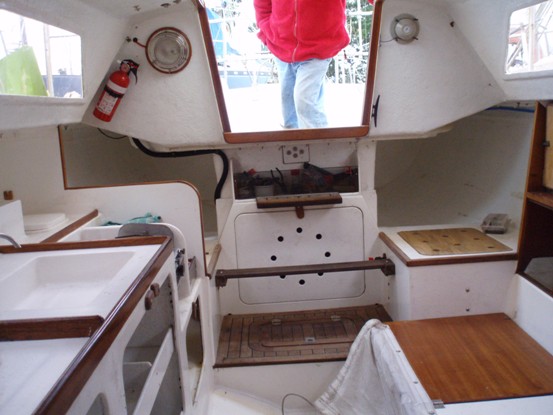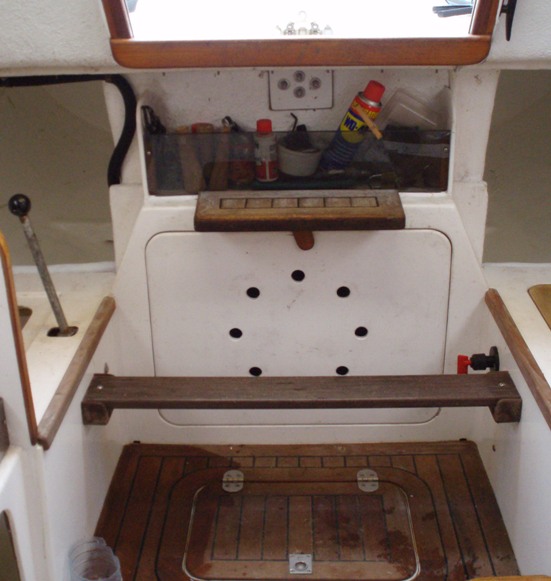 Manual bilge pump on stbd quarterberth; storage under cockpit and bridgedeck
***********************
January 3, 2009 - Click here for more pictures
*************
March 2, 2009. David advises DAVARSA has been registered in Belgium, has a European Certification (CE) and, she has been re-powered with a 6hp Mercury outboard.
*************
August 27, 2009. We have the following update from David (minor edits)
Hi Ron ,

Some news about DAVARSA. I put the boat to the sea to the end of July. Before , I did a fiberglass and epoxy resin repair between the shell of the boat and the keel, painted the underbody with a special Anti Fouling paint and prepared the boat , motor , sail ...

I am very satisfied with the power of the 6 HP motor. I had to power 5 1/2 nm at 75% power The boat had good handling in 2.5 meter waves.

Some pictures coming

Regards

David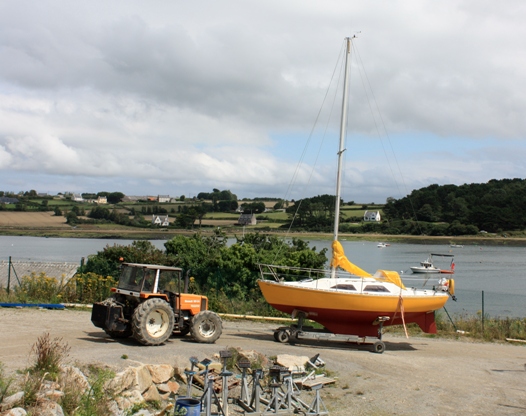 Ready to go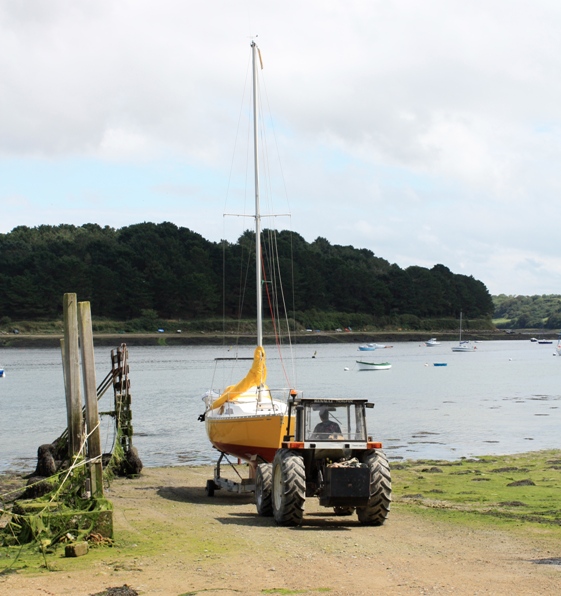 Interesting launch system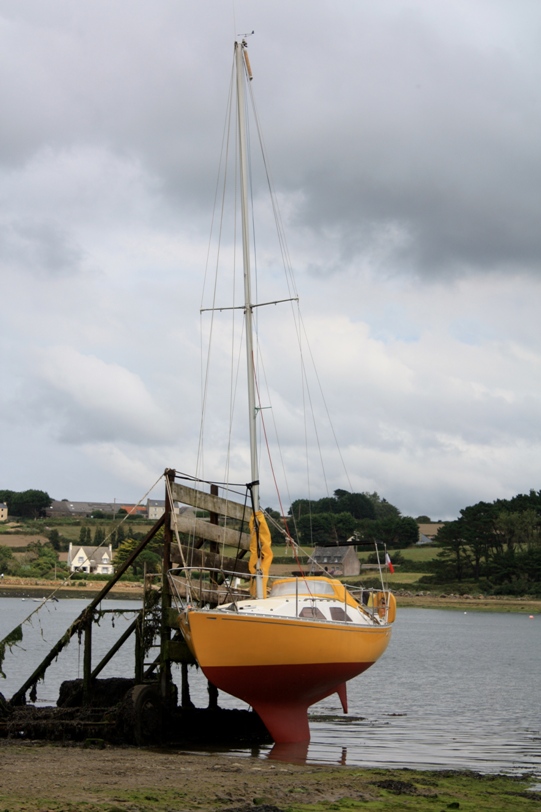 Waiting for the tide
***********************
September 3, 2009. David sent in a few more pictures of the launching, and of the repair of a crack at the hull keel joint that he mentions above.
| | |
| --- | --- |
| | |
| The crack | keel exposed |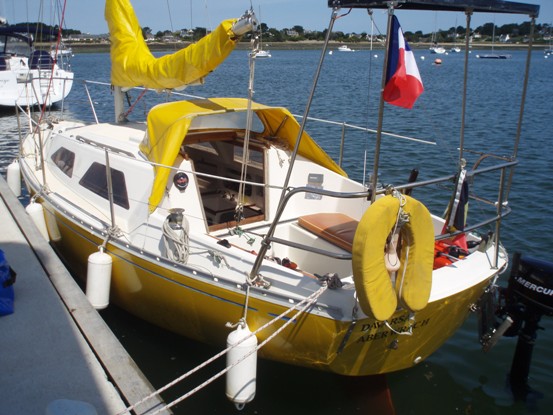 Ready
| | |
| --- | --- |
| | DAVARSA will be moored this year at Aber War;h Harbor, Paluden which is a little north and 'around the corner' from Brest, France. This is a small port that is on the entrance to the English Channel and popular with sailers crossing the Channel. David will have no problems finding his boat! |
***************************
December 16, 2009 - David built a very interesting carbon fiber profile model of Davarsa. His email (minor edits) and photo appear below, and with a larger photo, in the Technical Section/Model and Half Models
Hi Ron

Enclosed you will find a CARBON FIBER DESIGN BOARD of a Falcon 24. I made this model following the design drawing. The composite is epoxy carbon fiber and the board is made with teck wood. Also, I finished a carbon table for DAVARSA. I will install the table during the Christmas holiday, and will send some some pictures to you for the web site.

Regards and Happy Christmas

David

Click here to go to the Technical Section/Half Models and Models
******************
May 3, 2011 David sent in an update (minor edits) and the following pictures, and link to Davarsa's harbor and live web cam.
Hi Ron ,

Since December 2010 , DAVARSA has been in ABER WRAC'H harbor. This is their web site: http://www.port-aberwrach.com/ You can see her on the web cam http://www.port-aberwrach.com/index.php?LiveCam (it isn't easy to see but will give you an idea)


Last week , DAVARSA was getting ready to go out sea - cleaned up and with new, anti-fouling paint. Here is a picture of her on the tractor

Regards
DAVID

This is a boat that really has been to sea - New Zealand, the Caribbean, then Brittany - where next?

http://www.port-aberwrach.com/index.php?LiveCam

****************************
January 22, 2012. Update from David and a few pictures. David is 'into' carbon! And a couple photos of Davarsa's manual pilot system (also included in our Technical Section/Tiller lock and control systems)
Hi Ron ,

I wish you a Happy New Year, and a happy sailing season

I worked on DAVARSA - a new door , in carbon thermoplastic - it's the same raw matériel used on the new AIRBUS A350!

Regards

DAVID

Click for a larger image of photo at left (click your browser back arrow to get back to this page)
Davarsa in her slip

Classic dockline technology

...
To control and " drive " DAVARSA , it's a manual pilot (and maybe a couple of carbon possibilities?)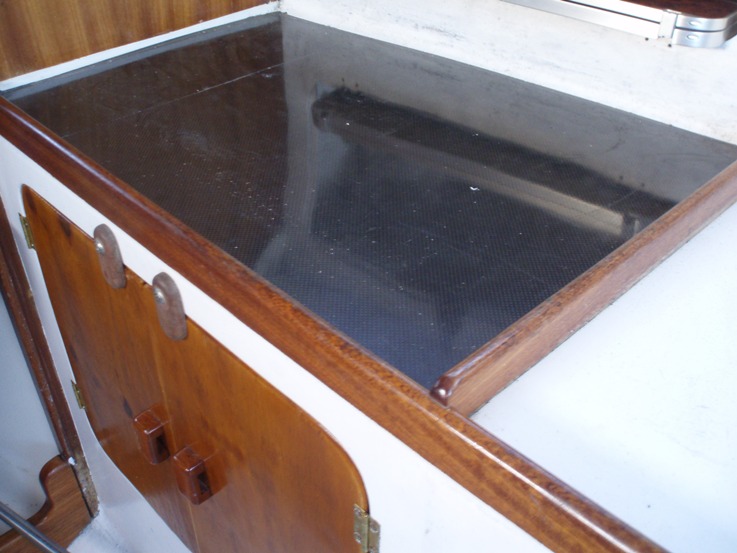 A carbon countertop for the galley (Pictures of the carbon dinette table coming)
*****************************************************************************
January 30, 2015. David is on a long voyage away from home. Despite Davarsa's history of successful transocean voyages she had to stay at home in Brittany. Here is David's email (minor edit) and some pictures of her - waiting for his return....
Hello Ron,

For the past 6 months I am living in San Luis Obispo, California. And my DAVARSA is in her storage area in Brittany, France for many months..........

Attached pictures

Regards, David

ps I would like buy a Dolphin book, if you have one book available. If yes what is the price with shipping to San Luis Opispo, CA USA Thanks

Webmaster Note: Sorry David, we are sold out. There are so many changes and updates since it was printed, 4 years ago, that just printing more copies would not be good. A new updated edition would be best. The original book did not have Davarsa's story, only Natine. I will ad your name to the interested and waiting list if we ever do another book. One possibility is to post a note on the Forum and ask if anyone has a book they would like to sell?

Click on the above photos to see a larger image